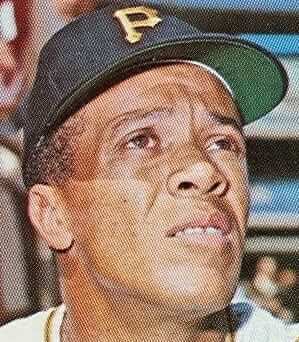 Jerry Wolper, our resident newspaper historian, recently turned up another uni-related story from journalism's digital archives. This one dates back to 1967 and involves Maury Wills, who at the time was playing for the Pirates. He was no longer MLB's preeminent base stealer (that status had passed to Lou Brock), but he was still a threat on the bases.
The story begins on April 4 of that year — the tail end of spring training, one week before Opening Day. On that date, an AP wire story about Wills appeared in many newspapers. The gist is that he had switched to a new style of spikes and that National League president Warren Giles had ruled them to be illegal. There are a few other nuances to the story, so I strongly recommend that you read the entire AP article here (click to enlarge):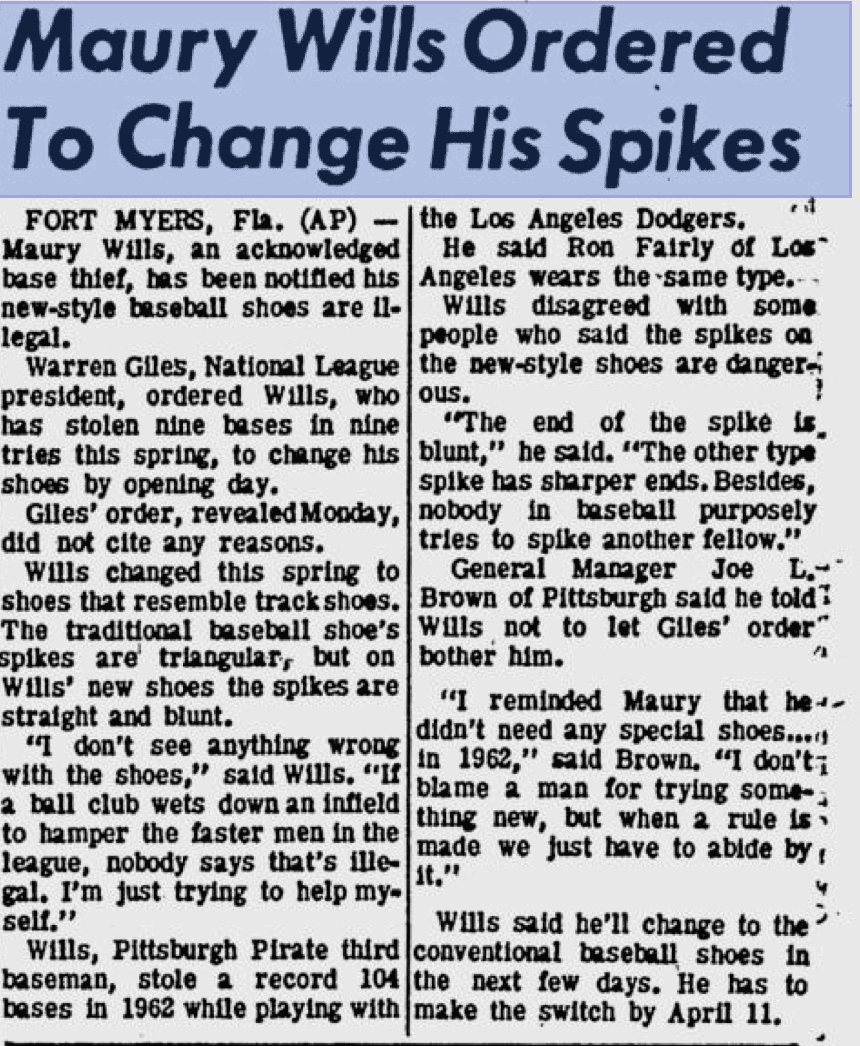 It's frustrating that there's no photo, and especially since I'm puzzled by this line: "The traditional baseball shoe's spikes are triangular, but on Wills' new shoes the spikes are straight and blunt." I thought old spikes were always straight and blunt, like this. I've tried to find photos of an old pair with "triangular" spikes and have come up empty. I'm also confused by the line about the new shoes "resembl[ing] track shoes," because track shoes in those days had much spikier spikes — they weren't blunt-tipped. Hmmmm.
I was intrigued by this story, so I did a little digging and found that four days later, on April 8, a follow-up AP article appeared, indicating that Wills planned to wear the shoes in violation of the league ruling (this one, unfortunately, is a bit blurry, but I still recommend that you read the whole thing):
So this time there's a photo, but unfortunately it's too small and blurry to be of any use (and I've been unable to find a clean version of it anywhere else). But the text in this article provides a clue regarding the spike design — it refers to "triangular metal plates" (emphasis mine), rather than triangular spikes. So I think the old-style shoes were like this, with the roughly triangular arrangement of the front and back spikes:
And I think what Wills wanted to wear was probably something like this: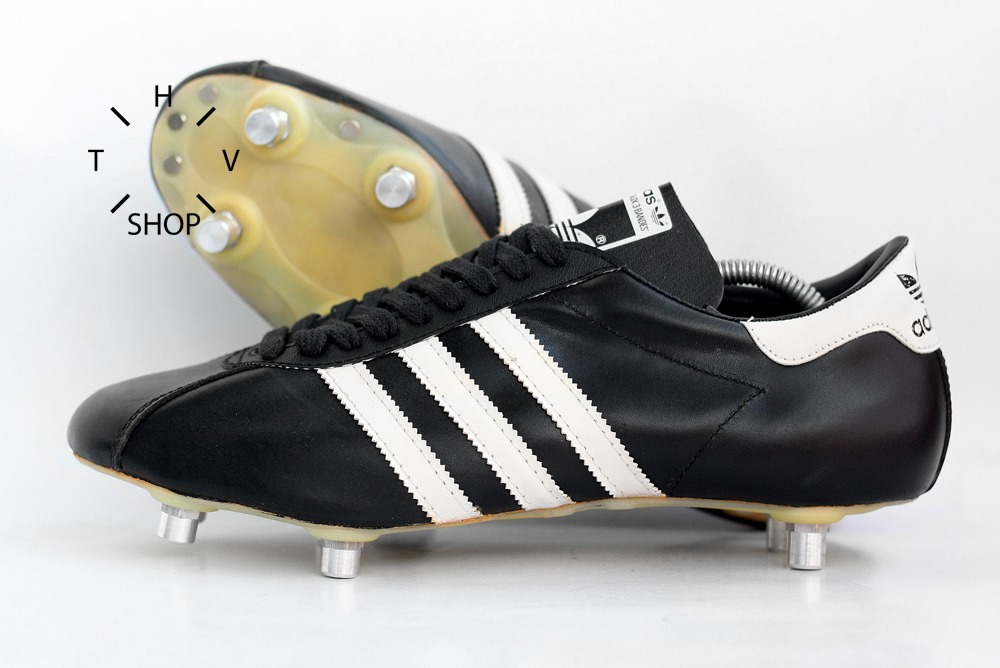 As you can see, the spikes on the lower pair are truly blunt-tipped when compared to the upper pair. I'm not sure why this would have been deemed to be a rules violation, except that, as Wills put it in the article, "[B]aseball doesn't want to try anything new. They've always worn the old type shoes and I expect they want to keep wearing them forever."
Also, gotta love Maury's line about the A's: "If the Kansas City players can wear white shoes with green shoelaces, I don't see why I can't wear my new shoes."
Two days later, on April 10 — one day before the season opener — The Pittsburgh Post-Gazette ran the latest update to the story, indicating that Wills would follow the league edict after all, but that Pirates GM Joe Brown, who was also a member of the rules committee at the time, was lobbying to have the rule changed (click to enlarge):

I couldn't find anything to indicate how the issue was ultimately resolved, but Jerry Wolper — the one who got this whole story rolling — turned up this item from the July 11, 1967, edition of The Pittsburgh Post-Gazette: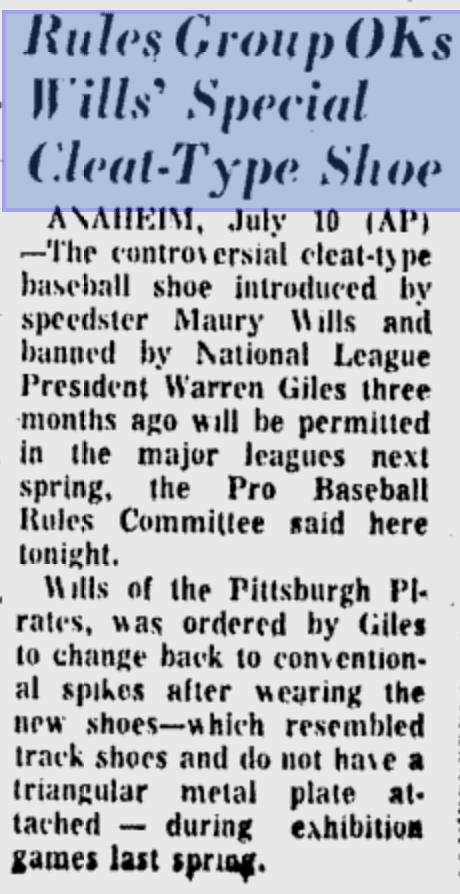 And there you have it.
One thing that's absolutely stunning about this progression of articles, at least from our contemporary vantage point, is that there isn't a single mention of who manufactured the shoes, nor any attempt to contact the manufacturer. Corporate theater had not yet hit the uni-verse.
This episode wasn't Wills's only brush with rules violations. In 1981, when he was managing the Mariners, he was suspended for two games for instructing the team's groundskeeper to enlarge the right-handed batter's box in order to provide an advantage for M's player Tom Paciorek. No word on what kind of spikes Paciorek was wearing.
Update: Thanks to some good photo research by reader/commenter Mark Guttag, it appears that the spikes in question may have been these: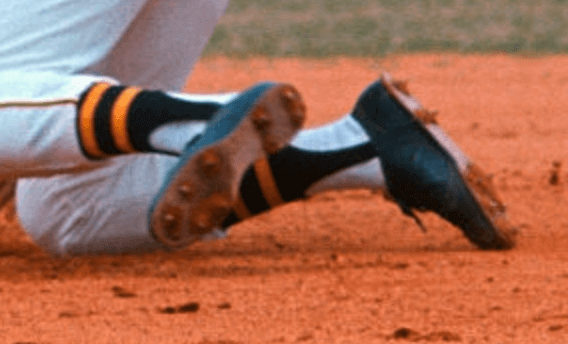 Hard to believe that that was so controversial, right?
(Massive thanks to Jerry Wolper, whose archival newspaper research continues to yield tremendous dividends.)
•  •  •  •  •
The Ticker
By Mike Chamernik

Baseball News: Add this to the list of angry mascots and logos: an aggressive railroad spike! That's the Cleburne Railroaders, a new team in the American Association (from Yancy Yeater). … As we know, the Astros are removing Tal's Hill, the sloped grass in center field. Doug Brei remembers that Engel Stadium in Chattanooga had a similar setup back in the day. "When I attended a Chattanooga Lookouts game in August of 1987, the centerfield fence was 475 feet from home plate," he says. "The ballpark had a centerfield hill similar to Tal's Hill. The hill was in play for most of its history, but at various times throughout the years a chain link fence was placed in front of it. When the stadium was renovated for the 1989 season, the hill was removed." … A new book chronicles the Cardinals' logo and uniform history (from Erik Spoonmore). … Pittsburgh Dad was mentioned in the NFL section of yesterday's Ticker. Joe Werner tells us the character also played a Little League coach in two videos, one for the Monongahela Monsters, and the other for the Century III Maulers. "The Monongahela Monsters uniform was also featured on a special baseball card, modeled after the 1987 Topps set, that Pittsburgh Dad made up a few years ago and gave out with orders of his merchandise. I got mine when my wife bought me a set of Pittsburgh Dad pint glasses for Christmas a few years ago. The logo on the glasses is a parody of the old Mr. Yuk stickers that were given out back in the '70s and '80s to mark containers of substances hazardous to kids." … Here's a 1979 shot of Bill Madlock, then with the Giants, wearing jacket with a nickNOB (from David Traub).

NFL News: The Packers will wear blue-and-gold throwbacks this Sunday. … The Browns have a logo to honor the 1986 team that went 12-4 and reached the AFC title game (from Robert Hayes). … Republican presidential candidate Donald Trump mocked the NFL's concussion rules at a campaign rally yesterday. No word on what he thinks about the one-shell rule. … Redskins WR DeSean Jackson was fined six grand for wearing caution tape cleats against the Ravens last weekend. He said he wore the cleats to bring attention to police brutality and violence within communities. … A character in last night's episode of The Goldbergs wore this nifty helmet shirt. The show has a loose timeline but takes place sometime in the 1980s (from Chris Flinn). … Former 49ers RBs Tom Rathman and Roger Craig, both Nebraska alums, wore "Huskers" on their nose bumpers until the NFL made them stop (from Phillip Schmidt).

College Football News: Kansas revealed a new "Limestone" alternate uniform, which will be worn next Saturday. Rock Chalk, Jayhawk indeed. … Utah will wear white-over-white and black helmets this weekend (from @UtesEquipment, via Phil). … This Saturday, UCF will wear helmets with chrome "reflective" decals. … Here's a day in the life of Illinois' equipment manager (from Erik Spoonmore). … "Innovative" jersey designs can sometimes have unintended consequences, like a player looking like he's wearing a bra (from Ben Whitehead).

Hockey News: With the NHL regular season getting underway last night, the Oilers gave away T-shirts for their season opener and arranged the shirts in a pattern that resembled the team's primary logo (from Steven Schapansky). … Tatiana Rafter was a late acquisition by the New York Riveters (NWHL) and they didn't have a jersey with her name and number, so she wore a blank jersey with the number added with hockey tape (from Zach Pearce). … Check out the great blob-shaped jersey crest used by the old Edmonton Flyers.

NBA and College Basketball News: Two worlds collided when the Cavs took the Larry O'Brien trophy to the Pro Football Hall of Fame (from Aaron Husul). … New home jersey for Creighton (from @omahattan). … New uniforms for Ohio. Here's what the Bobcats wore at home last year (from Kyle Arnott). … Iowa State revealed updated gold uniforms with the I-State logo. Last year, the jerseys just had "Cyclones" across the chest (from Phillip Santos). … New court for Michigan State (from Joey Zurek). … New unis for Ole Miss. The lettering and numbers were blue last year (from Matt Barnthouse).

Soccer News: Liverpool will wear a "Seeing Is Believing" jersey against Manchester United on Monday to promote World Sight Day (from Moe Kahn). … A special coin will be flipped to determine the first pick in the MLS priority draft between the two newest expansion teams, Atlanta and Minnesota (from @saulzbury). … YouTube FC vs. Spotify United? A site called Graphic UNTD created kits for the top apps in the AppStore. … New uniforms for Virginia Tech (from Andrew Cosentino).

Grab Bag: New logo and packaging for Turner Dairy Farms. I like the updated script logo. More info and images here (from Nicholas Yon, who was the lead on the redesign project). … An old Gray Matters comic poked fun at how brand-unconscious weekend warriors are (from Kevin Weir). … An Italian company made a jacket that changes color based on the ambient temperature (from Jason Hillyer). … "Scientists have proposed a space nation named Asgardia," writes Michael Bonfanti. "The goal is to create an area of space beyond the control of individual nations. The uni/design aspect of this endeavor is they are taking design suggestions for both the Asgardia flag and insignia." … New outfits for countries participating in the Audi FIS Ski World Cup (from @mike_d1980). … Pinktober has spread to cricket Check that, the pink cricket ball is being used for greater visibility, not for breast cancer awareness (from @TheLupineOne).