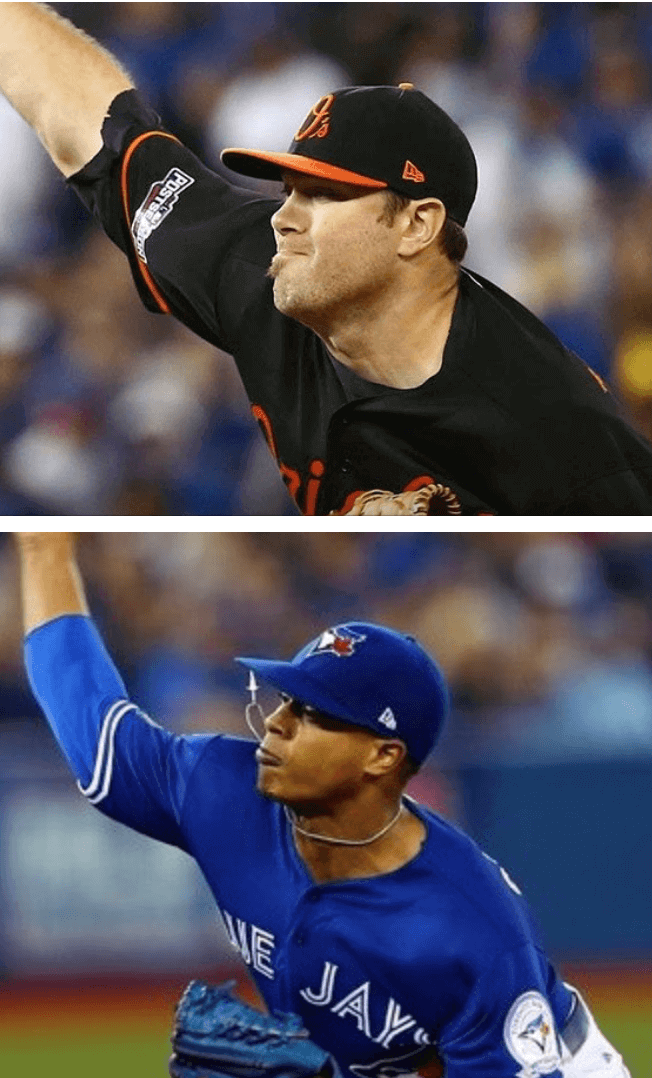 MLB caps entered the logo creep era last night, as the Blue Jays faced the Orioles in the American League Wild Card Game. As I've noted before in recent weeks, three teams wore the New Era logo on their special-occasion caps in 2005 (Padres on April 20, Twins on July 3, and White Sox of Sept. 9), but last night's game marked the first time the company's logo has appeared on standard game caps. It was also the first time that all the players on both teams in a given game wore the headwear maker's mark.
Well, almost all the players. Jays reliever Brett Cecil pitched one inning in a cap that was blissfully logo-free. Cecil did have the Postseason patch on the other side of his cap, however. So either (a) it was his "lucky cap" and they added the Postseason patch to it (as described in this article that was linked in yesterday's Ticker) but somehow didn't/couldn't add the maker's mark, or (b) it was a new cap with the Postseason logo and the maker's mark was either omitted or just fell off (remember, as we covered two weeks ago, that logo is glued/adhered, not stitched).
Also: After the New Era news was announced two weeks ago, a few people asked me if the logo would also appear on the umpires' caps. The answer, it turns out, is yes.
A few other notes regarding the game:
•  Both teams wore their solid-colored alternate jerseys — unusual for a playoff game, and doubly so for the Orioles, who usually wear black only on Fridays.
•  I got a few emails about Blue Jays third baseman Josh Donaldson's white high-tops. Turns out he's worn them before. People who know more about sneakers than I do tell me that's the LeBron Soldier X, but with cleats.
•  The roof was open in Toronto, marking the first time in more than 30 years that the Jays had played an open-air postseason game.
•  Speaking of the ballpark, reader Doug Brei sent in this observation:
There are two rows of seats behind home plate at the Rogers Centre. For a number of years, the padded wall behind these seats has been green, with the TD Bank logo. Aesthetically, the green has been very out of place in an otherwise all-blue ballpark. But for the Wild Card game, it was suddenly blue, with an MLB.com logo.
You can see what Doug means in these before/after shots (click to enlarge):
•  In case you missed it, there was a play in which O's outfielder Hyun Soo Kim was camped under a fly ball and almost missed it because some moron in the stands threw a beverage onto the field:
That prompted longtime Uni Watch pal/ally Tyler Kepner to post the tweet of the night:
Somewhere up there, Al Smith from the 1959 World Series can relate… pic.twitter.com/sx6hEs4qRf

— Tyler Kepner (@TylerKepner) October 5, 2016
•  •  •  •  •
The Ticker
By Paul

Baseball News: If you click on only one Ticker link today, make it this completely amazing story about bat flips in Korean baseball. Great writing, great animations, great all-around package. Trust me — you'll enjoy this one. My compliments to the chef. … The Cubs wore vests from 1940 through 1942, and Okkonen shows them wearing the white-yoked undershirt only with the 1941 and '42 home uniforms. But it appears that pitcher Claude Passeau wore the white-yoked shirt with the team's light-blue road uni at the 1941 All-Star Game (nice spot by Mark Guttag). … Very cool project: A Staten Island man is nearing his goal of photographing the same baseball with every living Hall of Famer and at the graves of every deceased inductee. … Here's an oddity: Phillies 1B Ryan Howard bats and throws left-handed but he writes — or at least signs autographs — right-handed. Look, there's even video evidence (good observation by Sean Kane). … Reprinted from yesterday's comments: Two nights ago Jeopardy! had a category called "Baseball in Uniform." Unfortunately, it was about ballplayers in the military, not baseball uniforms (from R. Scott Rogers). … Great feature on a 98-year-old usher at PNC Park (from Rob Ullman). … The Mets held a team workout yesterday and already had the postseason logo on their helmets — and their caps already had the New Era logo creep. … Hadn't seen this before: a 1984 shot of Joan Kroc, widow of Padres owner Ray Kroc, in a Padres uni, complete with her late husband's "RAK" sleeve memorial. Incidentally, if you're a fan of the Salvation Army and/or National Public Radio, you have Kroc to thank for keeping those organizations in good shape: Her will included $1.6 billion for the former and $225 million for the latter (from BSmile). … The Cubs held a workout at Wrigley yesterday, and OF Dexter Fowler took BP while wearing a Miami Dolphins helmet. … There's a T-Mobile commercial that shows Nats OF Bryce Harper wearing a cap that has the Postseason patch but no New Era logo (from Kevin Monahan).


NFL and College Football News: A Cowboys fan executed a fun modification to his Tony Romo jersey (from David Cline). … Throwback helmets this Saturday for Albany (from Jason Palatsky). … The radio station in Fayetteville, N.C., that normally broadcasts ECU games will not be airing this weekend's game against USF. The move is meant to punish the ECU marching band, several members of which knelt down while playing the national anthem last weekend (from Andrew Costentino). … Here's this week's uni combo for Vanderbilt. … People were so creeped out by Saint Louis University's new Billiken mascot that the school has decided to redesign him (from @GMMohr).

Hockey News: New uniforms for the Pensacola Ice Flyers (from @SinBingSPHL). … "Police and First Responders Night" jerseys upcoming for the Macon Mayhem. … Slasher-themed "scare away cancer" jersey for the Omaha Lancers (from Andrew Nordmeier). … The Saskatoon Blades have native son Gordie Howe's number and signature behind the nets this year (from Chuck Loads). … The Carolina Thunderbirds — a new team in the Federal Hockey League — are having a contest to determine the team's colors (from Mark Richter).

NBA News: With lots of NBA players changing teams, here's a look at some players in their new teams' jerseys. … ESPN will have a new NBA graphics package this season. … Here's a good view of the Knicks' 70th-anniversary patch (from Matthew M).

College Hoops News: Here's a word I didn't know until yesterday: dodransbicentennial. It refers to a 175th anniversary, which is what Fordham is commemorating this year with a patch. "The small Fordham logo under the collar is also new," says P. Costello. … New BFBS unis for Northern Iowa (from @fred__rick). … New uni set for Richmond (from Matt Estreich). … Dayton is apparently planning some sort of uni memorial for Steve McElvene (from Mary Lynn Delfino).

Soccer News: New uniforms for the Baltimore Blast (from Jim Vilk). … There's a new book about the Wolverhampton Wanderers' jersey history.

Grab Bag: Hoover, Ala., is the latest town to go with pink police badges (from Chase Troutner). … Ditto for the sheriff's offices in Meeker County, Minnesota, and Fayette County, Ohio, and the fire department in Columbus, Indiana. … Here's a look at some of the best and worst Ryder Cup looks over the years. … There is now a UNC T-shirt archive (from James Gilbert). … Nike is raffling off 89 pairs of self-lacing Back to the Future sneakers. … A children's museum in Maryland features an exhibit on Maryland sports teams. … There are lots of yellow ribbons tied around mulberry trees in Tehran. But they're not tributes or symbols — they're flypaper. … The great typographer Jonathan Hoefler has released a new family of typefaces, called Chronicle Hairline. Further info here. … Spectacular shot of the 1912 Stanford crew team (from Charles Rogers). … Sacramento State is bringing back the hornet as the school's secondary logo (from Russell Preston). … Party-color role reversal at last night's veep debate, as Democratic candidate Tim Kaine wore a red necktie and GOP candidate Mike Pence wore blue. … Also, as you can see that last photo link, Pence wore an American flag lapel pin, while Kaine did not. His pin is "the blue star," the symbol for families with a member currently serving in the military. This apparently led to some confusion when some political operatives criticized Kaine for not wearing the American flag and then had to apologize once they learned what he was actually wearing (thanks, Phil). … The girls' volleyball team at Marian Central Catholic High in Illinois wore pink last night. … Times are tough in Venezuela's state-run oil fields, where many workers are selling their uniforms for food.
•  •  •  •  •
For the second consecutive year, my favorite team is in the playoffs (first time since 2000 that I've been able to say that), so you know what I'll be doing tonight. I don't have particularly high hopes — I mean, even if they win tonight, they'll just get slaughtered by the Cubs in the divisional round, right? Still, ya gotta believe — Let's Go Mets!