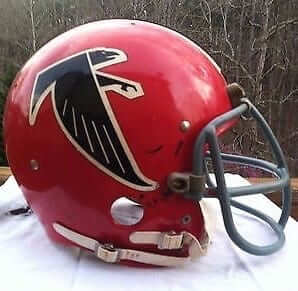 We all know the basics of the Atlanta Falcons' logo history. The team wore its original falcon logo from 1966 through 2002 (as seen on the helmet shown at right), and then in 2003 they replaced it with the more stylized logo that they still wear today.
But here's something you might not know (and that I didn't know myself until reader Matthew Dunn recently brought it to my attention): There were at least four different versions of that original logo — and there have been extended periods when two of those versions routinely appeared on the Falcons' uniforms at the same time.
Let's start with the Falcons' first two seasons — 1966 and '67. For those two years, the team's primary logo appeared on the uniform in two places: on the helmet and as a sleeve patch. But the two logos, while very similar, didn't quite match. Take a look at these photos, all of which are from those first two seasons (for everything in today's post, you can click to enlarge):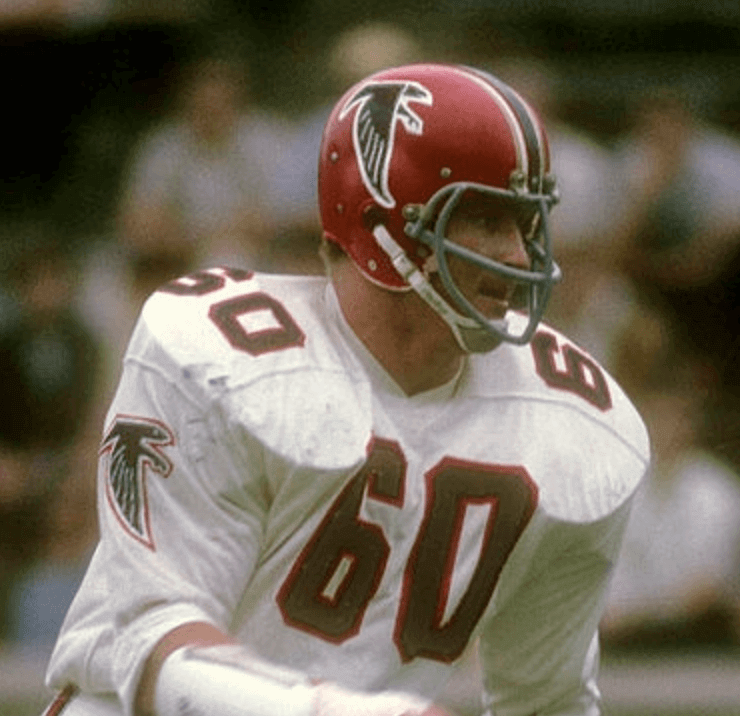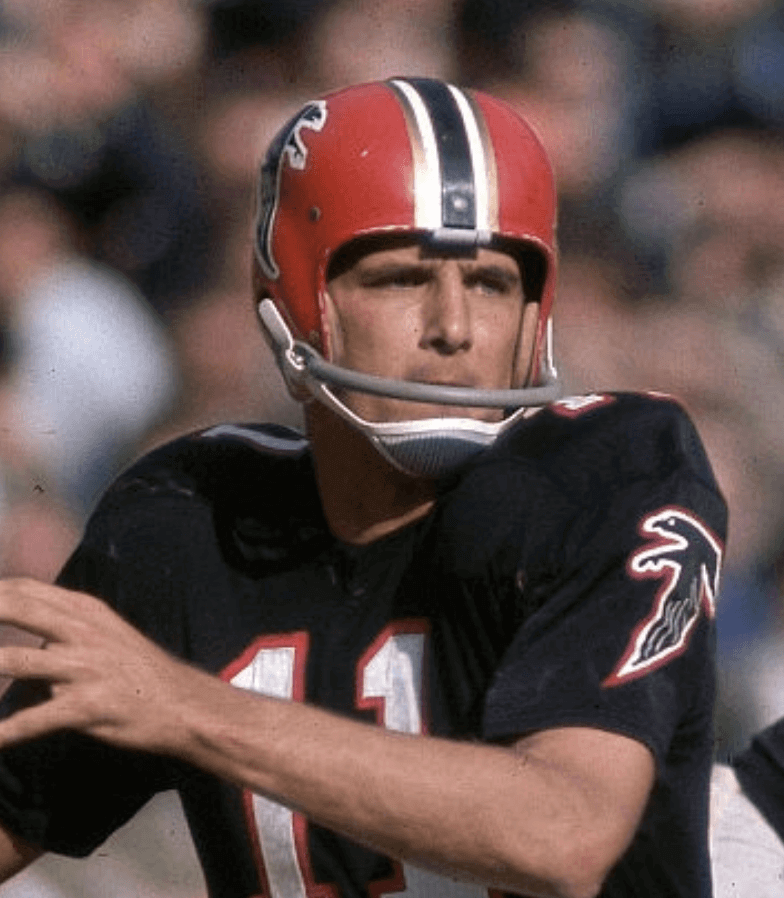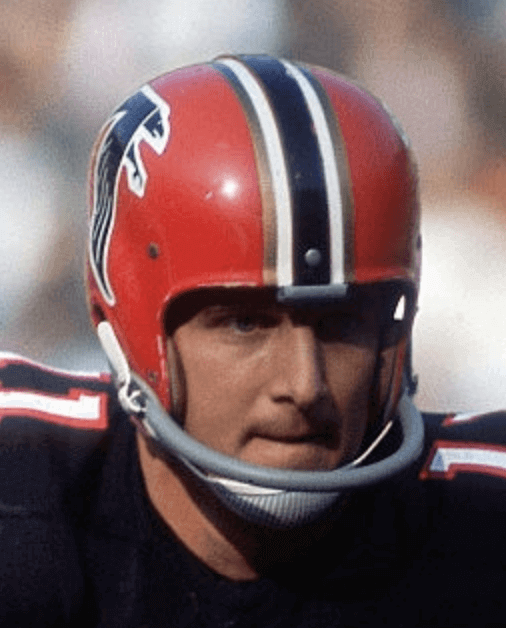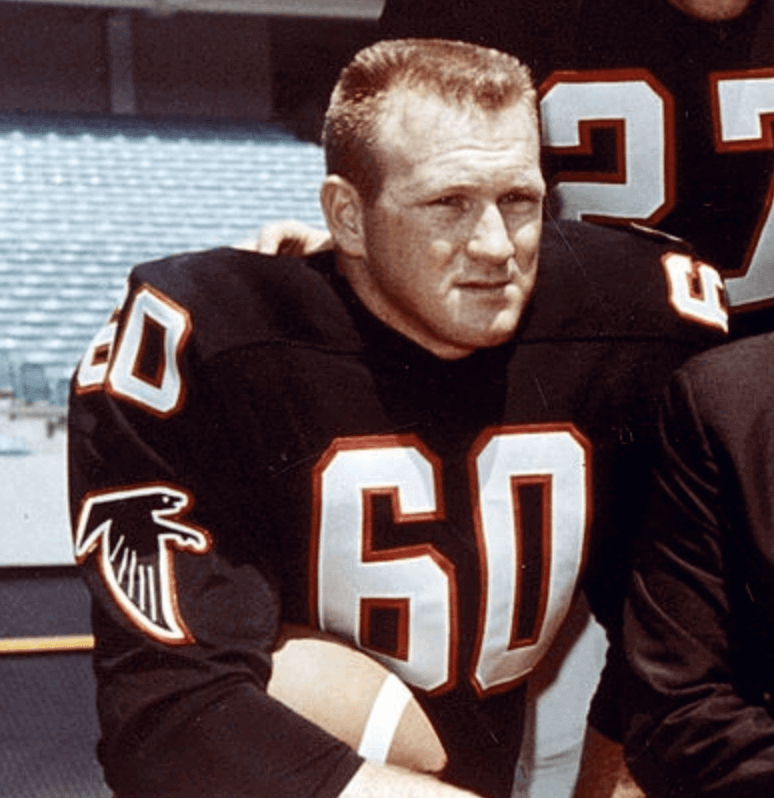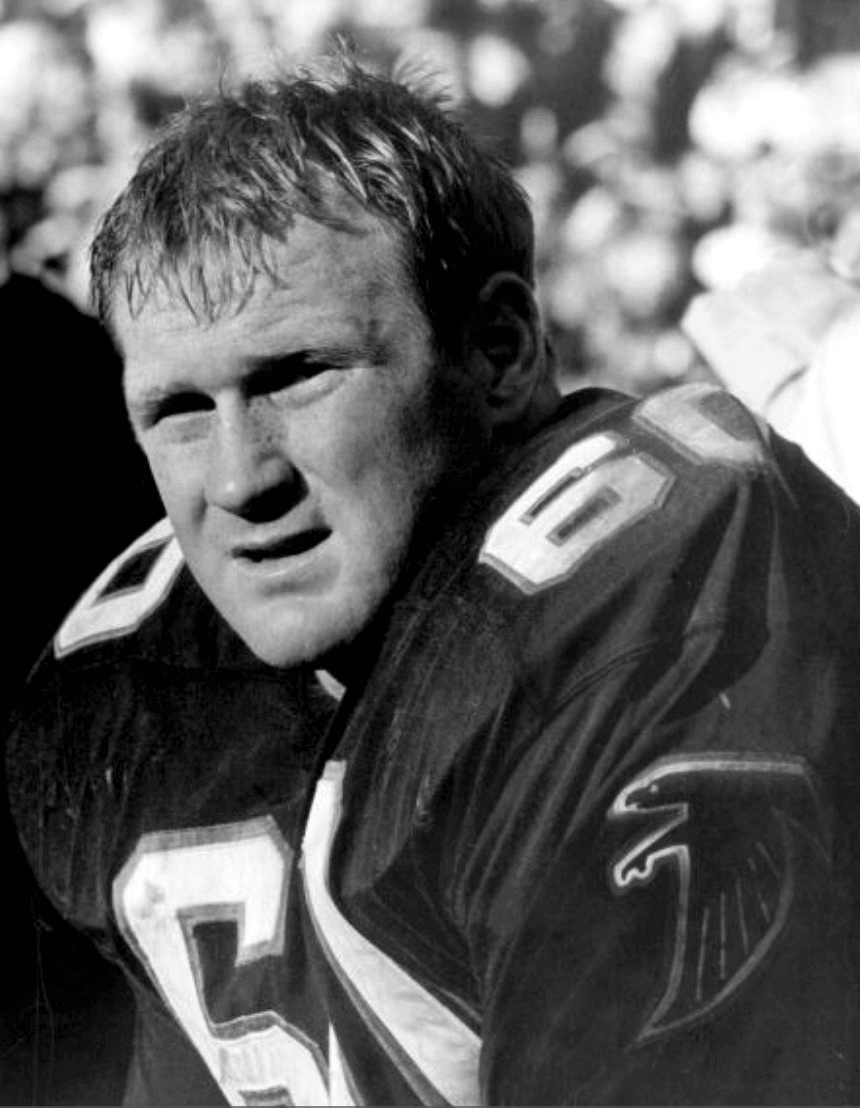 As you can see, the helmet logo has a vertical white line separating the falcon's head and claw from the rest of its body. This white line does not appear on the sleeve logo.
The Falcons got rid of the sleeve patch in 1968, but they brought it back in 1978. This time the sleeve patch included the vertical line separating the head and claw from the rest of the falcon's body. But there was a new inconsistency. To see what I mean, take a look at these photos:
If you look closely, you'll see that those five lines on the wing — I guess they're supposed to show the delineation of the feathers are floating against the black background on the helmet, but those same lines on the sleeve patch connect with the wing's white outline.
So once again, the helmet logo and sleeve logo didn't match. But this mismatch was completely different from the original mismatch in 1966 and '67.
This helmet/sleeve discrepancy lasted from 1978 through 1989 — except for one season. That was in 1985, when there was yet another mismatch. Take a look at some photos from that year:
As you can see, this time the five lines on the wing are consistent (in both cases, they connect with the base of the wing and are no longer floating), but the vertical line is once again a problem. It's there on the sleeve patch but not on the helmet. As far as I can tell, this mismatch only took place in 1985, because that's the only year that this version of the helmet logo appeared.
That brings us to the end of the Falcons' red-helmeted era. In 1990 they switched to black helmets. But the logo inconsistencies remained — from 1990 through 1996, the wing lines were once again floating on the helmet but touching the outline of the wing on the patch: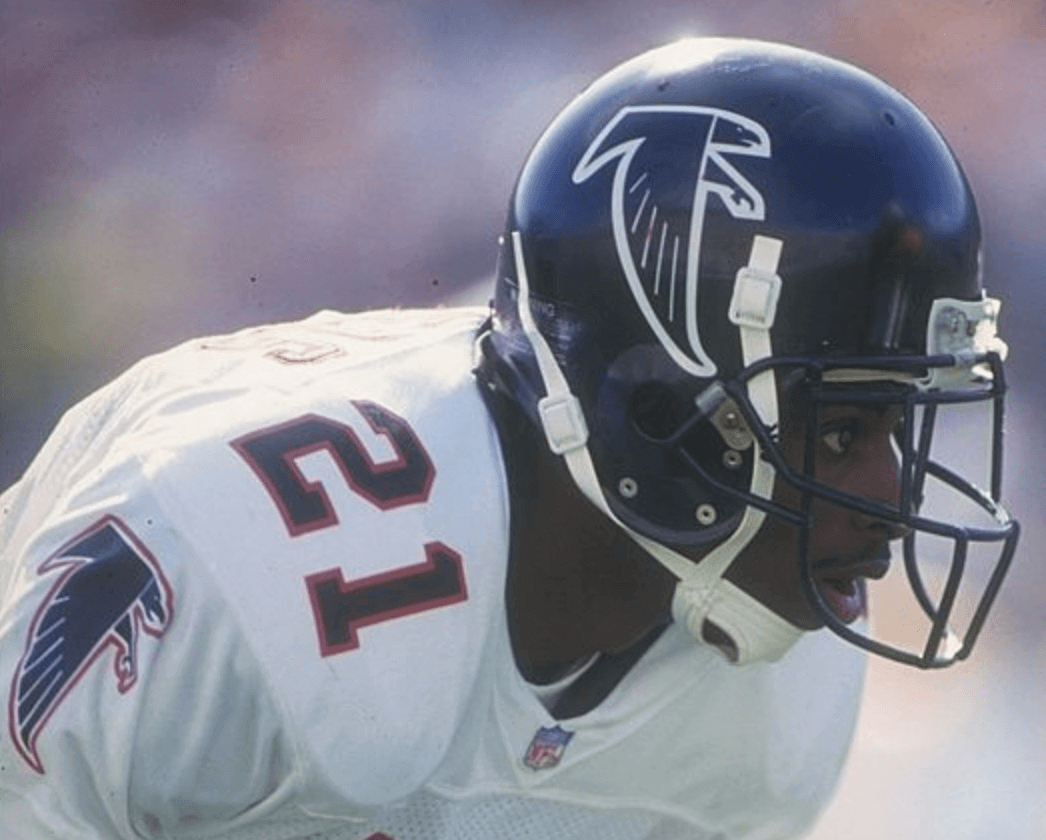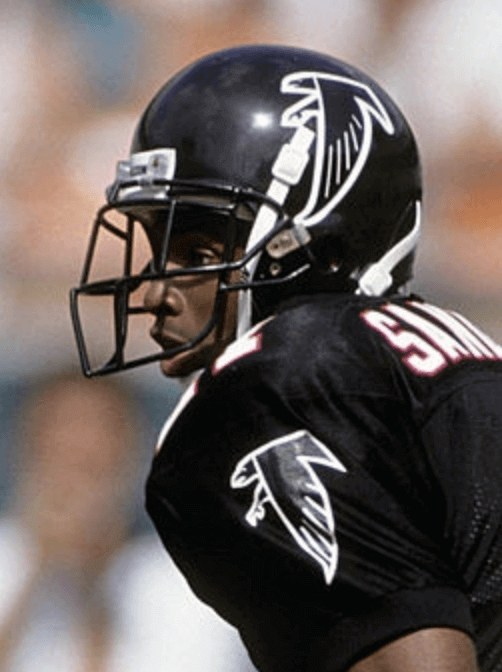 So there were at least four distinct versions of this logo floating around up through 1996, and two of them were being used on the team's uniforms at any given moment from 1966 through '67, and again from 1978 through '96:
[table id=30 /]
But in 1997, something amazing happened. Here, take a look at these pics: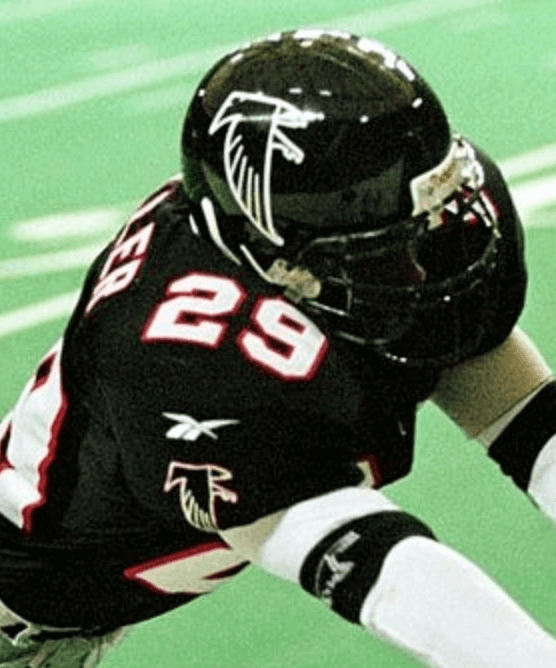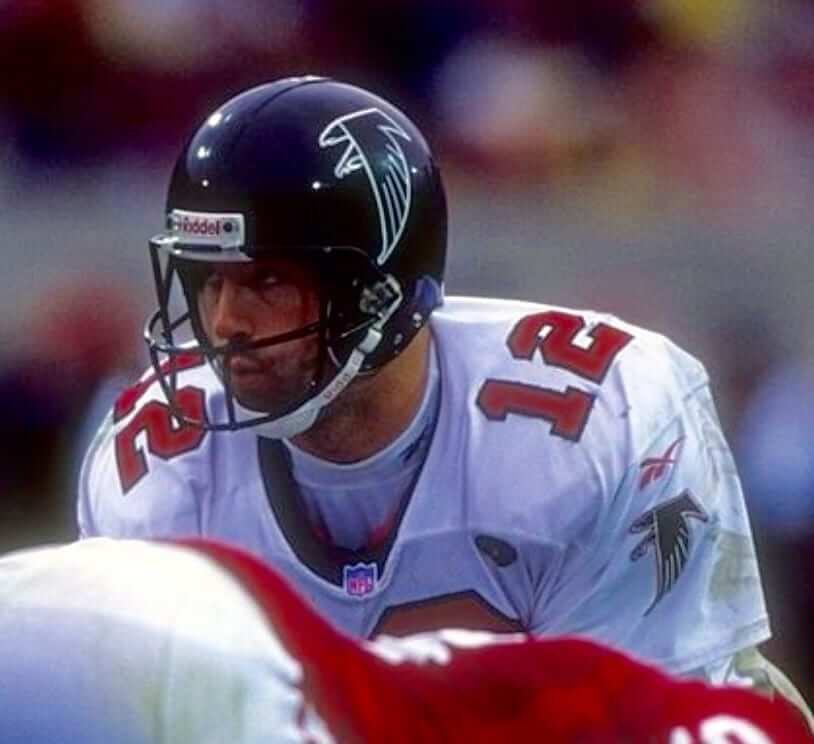 That's right — the helmet and sleeve logos matched! They were both Version 3. It was the first time in Falcons history that the helmet and sleeve logos matched up. Both logos stayed the same through 2002, after which the team got a makeover.
All of this is was news to me — a great example of a uni storyline that's been hiding in plain sight. Did anyone else know about it?
One additional point: The Falcons wore 1966 throwbacks from 2009 through 2012 — a period that includes the NFL's switch from Reebok to Nike. Throughout this period, regardless of manufacturer, the throwbacks used Version 1 of the logo (floating lines on the wing, vertical line present) on the helmets and on the sleeve patches: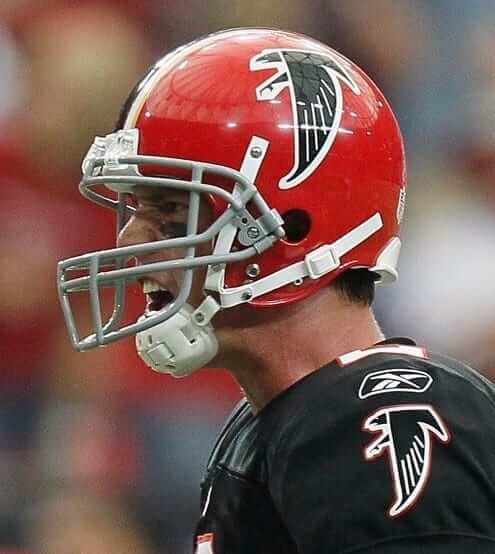 The good news is that the throwback helmet and sleeve logos were consistent. The bad news is that the sleeve logo was historically inaccurate — it should have been Version 2. But none of us realized that at the time.
(Major, major thanks to Matthew Dunn for letting me know about this one.)
• • • • •
ESPN reminder and more NFL stuff: In case you missed it, my annual NFL Season Preview column, with all the new uni changes for the current season, is avaialble now on ESPN.
Incidentally, we made a change to that column yesterday afternoon, based on the following: I wrote that Vikings wideout Moritz Böhringer, had he made the team's final roster cut, would have been the first NFL player to wear an umlaut as part of his NOB. But we removed that after readers Steve Lega and John McSweeney reminded me about a player I'd completely forgotten about: Tom Nütten, who played for the Bills and Rams from 1995-2005 (click to enlarge):
My thanks to Steve and John for setting me straight — greatly appreciated.
Another item missing from the ESPN piece (because it was announced while I was on vacation, although that's no excuse) is that the Rams will be wearing their throwbacks twice this season. To my knowledge, the dates haven't yet been announced: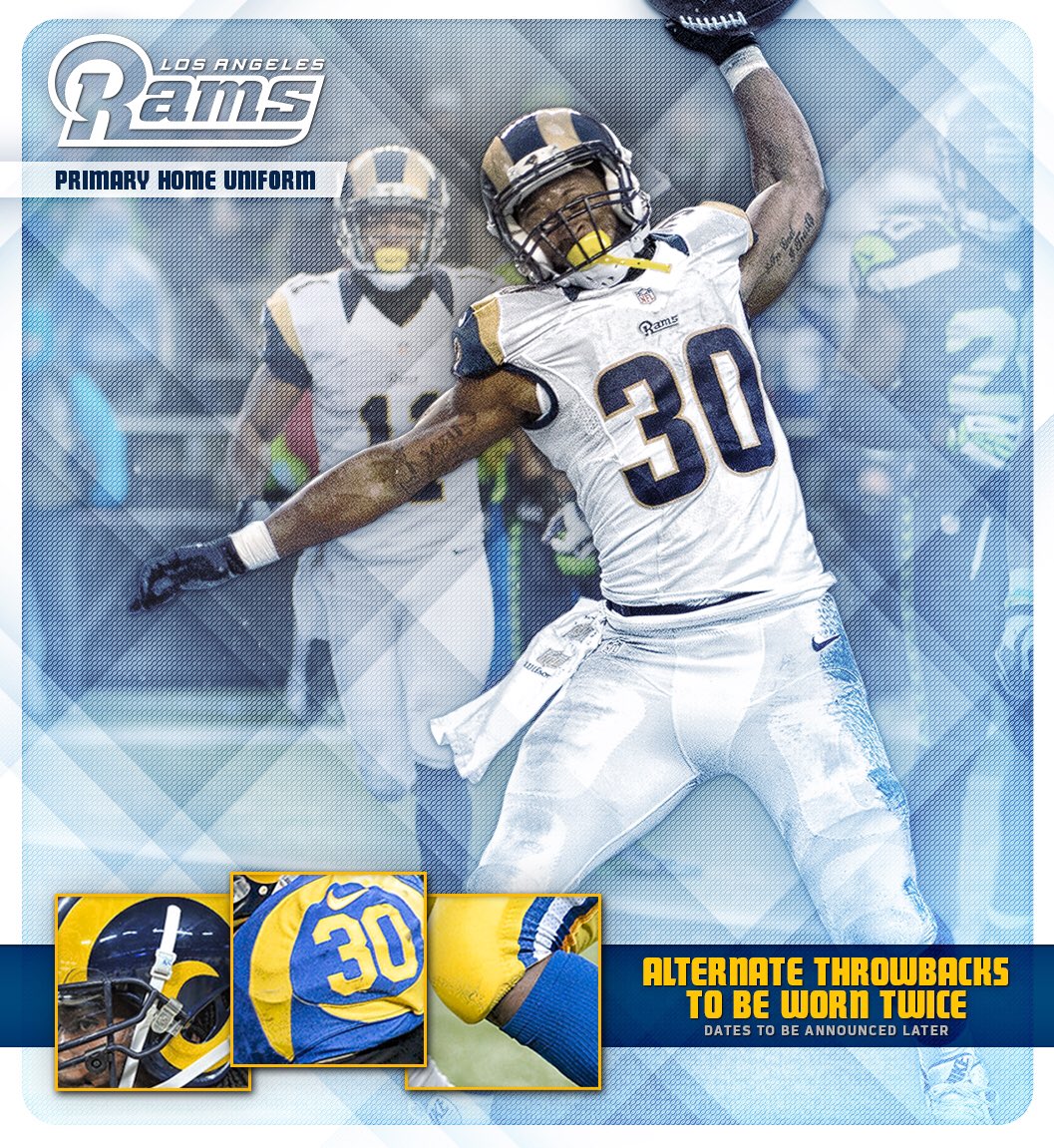 Thanks to Jim Bendat for filling me in on that one.
• • • • •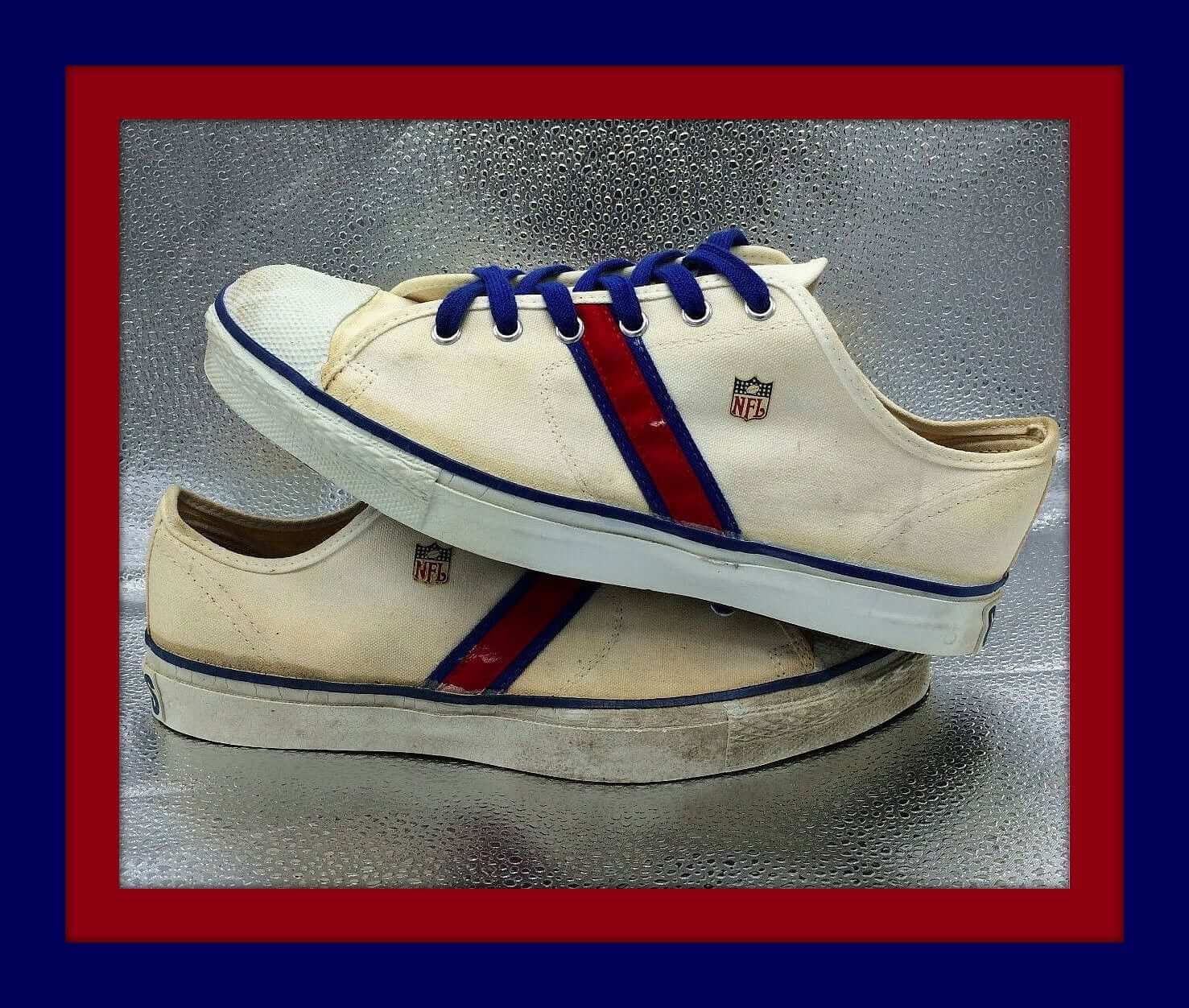 Click to enlarge
Collector's Corner
By Brinke Guthrie
It's Super Bowl 50 rematch tomorrow night, as the Broncos will kick off the NFL season by hosting the Panthers at "Your Name Here" Stadium, so let's get rolling with some vintage football stuff. Ever seen these before? Officially licensed 1970s New York Giants sneakers — from Goodyear, of all people. Back then, anyone could get a license for NFL stuff!
Now for the rest of this week's picks:
• Speaking of the Broncos, you'll be in retro style with this orange polo from Logo 7, with the embroidered left-facing helmet. See, kids, back in the day, they actually sewed these things on — no heat pressing!
• The boys are back in town — specifically, the Rams are back in L.A. Welcome them back home with this 1970s Gresh helmet plaque.
• NFL players who took part in the March of Dimes Celebrity Golf Classic took home this gym bag.
• Steelers fans, you'll always know what time kickoff is with this 1970s-era watch by Lafayette.
• Lions fans will fondly remember the days of Wayne Fontes (well, maybe not so fondly) with this Cliff Engle crewneck sweater.
• That's clearly Larry Csonka on this vintage Dolphins poster.
• Take a look at the Great Gazoo-like player on this 1970s Saints tee. Bring this guy back! [That is, of course, Sir Saint, and I agree that he definitely needs to be brought back into circulation. "" PL]
• One more from the Saints: Wouldn't they look great with black helmets? Here's a look at their brief flirtation with that look. More on that episode in NFL history here.
• How 'bout dem gumballs! They licensed everything else back in the day, so why not a Cowboys gumball dispenser?
• Who-Dey! Back to the days of Greg Cook, Nippert Stadium, and the legendary Paul Brown. Bengals fans, go retro with this 1960s Acrometal helmet plaque.
• • • • •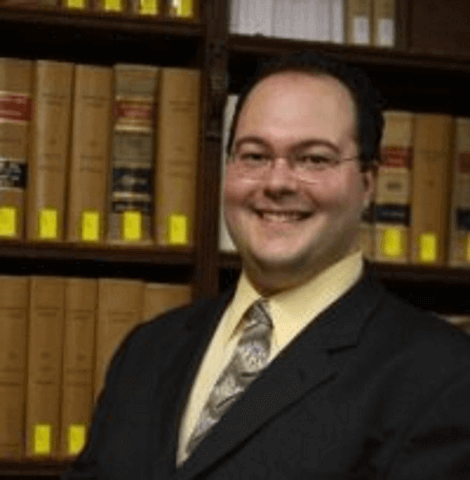 New advertiser shout-out: As you may have noticed in the right-hand sidebar, we have a new advertiser — Anthony Verna, an attorney who specializes in intellectual property law.
Longtime readers may recognize Anthony's name, as he's been a reader and contributor to the site for many years. I've consulted with him many times — sometimes to help clarify a trademark-related situation in the uni-verse, and sometimes to seek advice or potential representation regarding my own legal issues — and can attest that he's a sharp mind and a swell guy. If you're facing a legal issue involving trademarks, copyrights, or any other aspect of intellectual property, Anthony's your man. Tell him I sent you. Thanks.
• • • • •
T-Shirt Club reminder: In case you missed last week, we've launched our latest Uni Watch T-Shirt Club design.
My creative partner on the T-Shirt Club project, Bryan Molloy, no longer works at Teespring, so we're doing this shirt with his new employer, Represent, which operates almost exactly like Teespring does. From your standpoint, the customer experience should be virtually identical.
Now then: Our latest shirt is devoted to soccer. Here's the design (for all of these images, you can click to enlarge):
We're offering this design in four different shirt colors — maroon, black, dark green, and heather grey:
The shirt is available here. It's available for a slightly longer period than most of our previous shirts, in part because I want to build in some extra time because of the Labor Day weekend, and also because traffic here on the site is a bit lower during my August break. Basically, I just want to make sure everyone has a chance to see and order the shirt.
One more time, the soccer shirt is available here. My thanks, as always, for your consideration.
• • • • •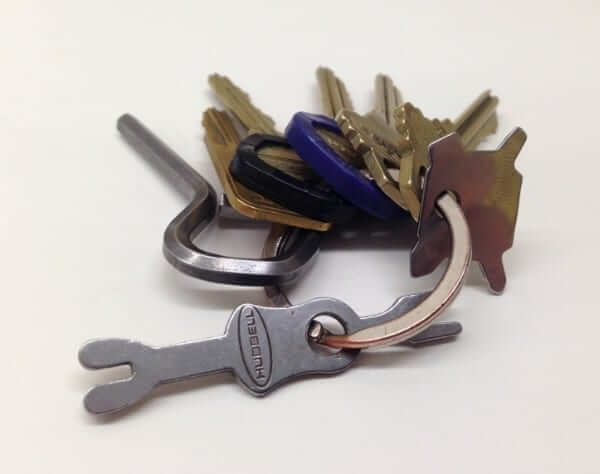 KRC update: The latest installment of Key Ring Chronicles is about a Hubbell light switch key — the kind used to turn on banks of overhead lights in schools and other large institutions. Check it out here.
• • • • •
The Ticker
By Paul

Baseball News: The Padres and Red Sox will wear 1936 throwbacks — a Pacific Coast League design in the Padres' case — tonight (from @MileHighPadres). … Cleveland SS Francisco Lindor wore a Space Jam T-shirt during pregame warm-ups yesterday. … The Fresno Grizzlies have wasted little time capitalizing on the "Taco trucks on every corner" line (thanks, Alex). … While watching last night's Mets/Reds game, I noticed that Reds starter Brandon Finnegan had a little mark on his cap. Some quick photo research revealed that he'd had it on his home and road caps since at least July 29. I posted a query on Twitter and was told by several people that it's a memorial for Superhero Micah Ahern, the TCU baseball mascot who lost a battle with cancer earlier this year. The cap mark is a rather inexact match for Micah's logo, but a nice gesture all the same. … Marlins 2B Dee Gordon's batting helmet logo was AWOL last night. Rumors that he removed the logo to protest Tom Brady's suspension are almost completely untrue. … You probably knew that a few D-backs players have worn black socks with teal stripes. But did you know that the teal stripes have red outlining? (From Tom Denne.) … Back in 1983, Miller Lite did a commercial featuring a softball game between the "Tastes Great" and "Less Filling" teams, both of which wore full uniforms.

NFL News: Here's a good look at the stripeless jerseys the Bears used to wear in the preseason. Looks like QB Bobby Douglass was wearing a windbreaker under his jersey, too (from Bob Gassel). … Bud Light has a new ad campaign. Key quote, from an Anheuser-Busch marketing exec: "Just like wearing your favorite player's jersey or team colors is a badge of honor, so is drinking from your Bud Light team can." Uh, right. … Washington is planning a burgundy towel giveaway for this Sunday's game against the Steelers (from Tommy Turner). … Speaking of the Steelers, this will be the last season for the bumblebee throwbacks, but that design is going on with a bang on this holiday ornament (from SmallPapi). … Saints WR Willie Snead is the latest NFL player to add RNOB. He had previously worn it at Ball State but not in the NFL (from Ernie Ballard). … A 49ers podcaster says the team's Color Rash uni will be red. And maybe it will be! Or it won't be! That's about the level of discussion this topic has descended to. … You know, if Color Rash looked more like this, that would work for me. … Sunday is Sept. 11, so expect to see a lot of this type of stuff on the field. … Return specialist Devin Hester signed with the Ravens the other day. He wore "Hester" as his NOB with the Bears and Falcons but will have SrOB for Baltimore (from Andrew Cosentino).

College Football News: It's hard to see, but Ohio State has added some lettering above the NOB. It spells out "Buckeyes," and was added for the spring game a few months ago (good spot by Scott Mason). … Cincinnati will be desecrating the flag this weekend (blame Phil). … Utah State has an updated navy uniform with "Aggies" on the pants (from Kurt Adison). … What's worse than biker shorts? Biker shorts with swooshstika leggings peeking out (from Brad Eenhuis). … 1941 throwbacks — or at least throwback helmets — apparently on tap this season for Oregon State (from John Malcolm). … High school teams in Texas rarely get to play on natural grass.

Hockey News: Reader Ryan Townsend notes that the Sharks are posting a series of "countdown to the start of the season" images, and they all show the team's jersey without the front jersey number. As you may recall, the number was replaced last season by an anniversary patch, and there had been some speculation regarding whether the number would return. It appears it will not, which I count as a good thing. … Kevin Clark is entering his 10th season as the Devils' PA announcer, so a creative Devils fan made this logo for him. … The Penguins are placing their anniversary logo at center ice (from Jared Grubbs). … "Yesterday's Champions Hockey League game between Red Bull Munich and HC Fribourg-Gotteron looked pretty clashy, with both teams wearing white/navy ensembles," says Bern Wilms. … Gorgeous 80th-season throwbacks for the Oshawa Generals.

NBA News: The Suns have restored the purple border to their court. It had been part of their floor design from 1968 through 2000 (from Josh Pearlman). … Ty Lawson will wear No. 10 with the Kings. "He wore 3 during his first six years in the league with the Nuggets, and also 3 with the Rockets at the start of last year," says our own Mike Chamernik. "He wore 10 during his stint with the Pacers at the end of last season."

Grab Bag: A bunch of Nike third soccer kits have leaked (thanks, Phil). … Really good article on how tennis balls are made. Recommended (from Ken Traisman). … "An acquaintance of mine recently launched a Kickstarter campaign for a product I thought you'd appreciate," writes Markus Kamp. "His partner, inspired by his kids' refusal to wear typical store-bought bicycle helmets, designed a helmet that resembles their preferred headgear: a backwards baseball cap." … In case you hadn't noticed, a lot of the U.S. Open participants are wearing the same neon-based outfits.