[Editor's Note: Paul is on his annual August break from site. Deputy editor Phil Hecken is in charge from now through the end of the month, although Paul is still on the clock over at ESPN and may be popping up here occasionally.]
By Phil Hecken, with Brinke Guthrie
It's been a while (a few years, in fact) since I did a tennis post with my "doubles partner" (and the man who brings you Collector's Corner every week) Brinke Guthrie. But with the 2016 US Open taking place in my back yard this Monday, I persuaded the second biggest tennis fan on Uni Watch to write up a little piece on the kits, er…uniforms, for the final tennis major of the year.
And while not uni-related, one of the bigger stories this year will be the new roof over Arthur Ashe Stadium at the Billie Jean King National Tennis Center. Hopefully, they won't need to use it (too often) but it will basically ensure the tournament will end on schedule and on time (something that hadn't happened for several of the past years, with rain forcing the tourney into an extra day). If you're actually attending the event, there's that and a new grandstand this year.
OK — enough of my yakkin' — let's get to Brinke as he reviews the uniforms of the…
________
U.S. Open 2016
By Brinke Guthrie
The U.S. Open returns to New York City, and the tennis brands "gear" up for one final assault on the hearts (and wallets) of the tennis playing (and buying) public. Here is a digest of the best of the best that I covered for Tennis Identity.com.
As usual, the Nike marketing machine leads the way with Nadal, Sock, and Dimitrov on the men's side among others, (no Federer, he's rehabbing and doing hilarious spots for Mercedes-Benz) and Serena, Madison Keys and Bouchard featured on the women's side.
Even though Federer is out of action at the Open, he's well represented by the second edition of RF Emoji T shirts.
The top men's player is Novak Djokovic. His clothing sponsor is Uniqlo (stands for Unique Clothing BTW) and you can see his and Kei Nishikori's rather boring lines here.
Adidas is well repped for the event– especially with the women. They have three of the top five WTA ranked players, (Muguruza, French winner..Kerber, Australian winner..and Simona Halep, along with current under achievers Caroline Wozniacki and Ana Ivanovic.)
On the men's side, they feature Jo-Wilfried Tsonga, young stars Dominic Theim and Alexander Zvereva, and others. Special shoe models include an updated Barricade for Djokovic, a red/white/blue men's model dedicated to president George Washington (honest) called the Adizero Ubersonic G Dub, and a men's and women's model called the Adizero Ubersonic 2.
Fila will roll out a new retro line called the Heritage Collection, and on the hardware side, French racquet makers Babolat and Tecnifibre will have patriotic-themed frames in action.
The biggest racquet news this summer was the release of a new "Darth Federer" matte black Wilson frame– we'll have to wait until January (we hope) to see him use it. Tune into Tennis Identity.com during the Open as I'm sure this list will grow just a little bit longer!
Wilson has unveiled a new signature frame for Serena Williams, only the second time (after Federer) they've released an autograph model in almost 40 years.
2014 U.S. Open winner Marin Cilic is back in Fila clothing and footwear after a few years with Chinese line Li-Ning.
________
Cool stuff, Brinke. I haven't been to a US Open in about a decade, but for a while there, I would go three or four days a year for 20+ years. It has been interesting to see the roof going on over Ashe — which I've seen over the past couple years not by going to the Open — but by seeing it go up from Shea Citi Field (which is literally across the tracks).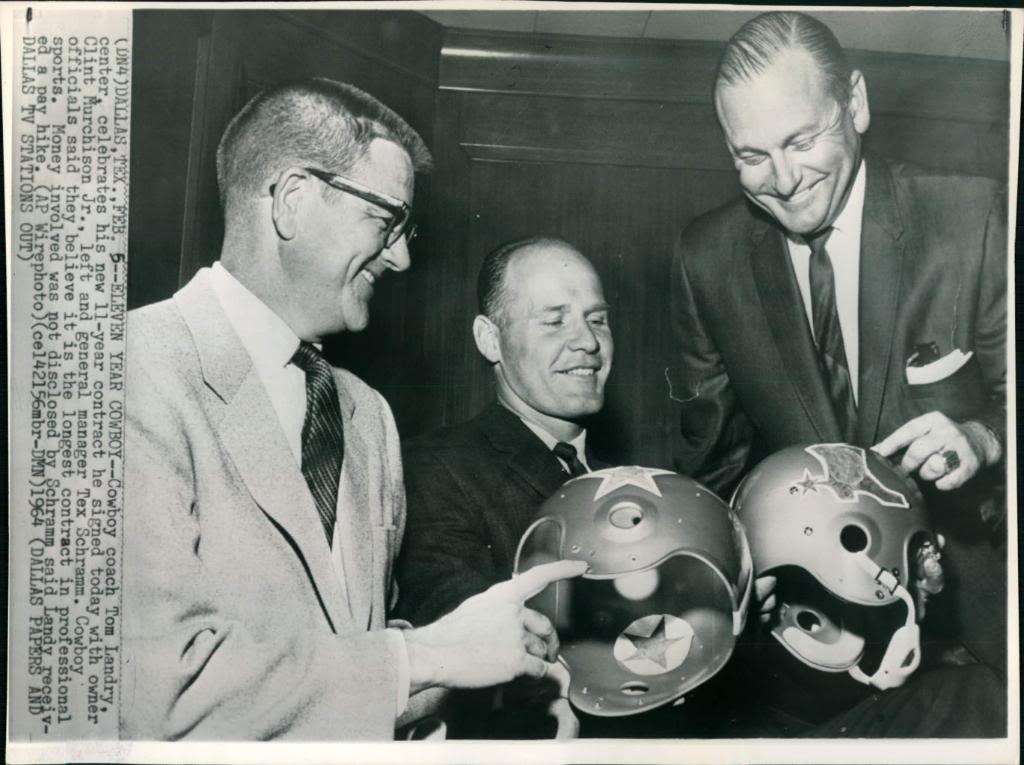 Click to enlarge
Friday Flashback: Paul here. With the NFL season fast approaching, my weekly Friday Flashback column on ESPN takes a look back at some NFL prototype designs that have surfaced over the years (including the Cowboys' cowboy-boot helmet design, shown above, which was considered in 1965 but ultimately discarded). Check it out here.
Uni Watch News Ticker

Baseball News: "Researching the Olympic venues of 1996 due to an upcoming trip to Atlanta, and I found Columbus GA's 'Golden Park' — home of the Columbus RedStixx at the time but was renovated for the Olympic softball tournament," says Dustin Semore. "Not sure if I've seen a squared home-plate area like this." … Not surprisingly, Twitter reactions to new name for White Sox ballpark was swift, full of jokes (submitter John Waller adds "I'm Still Calling It The Cell"). … The Lakewood Blue Claws will be rolling out Octoberfest-inspired jersey next Wednesday (from OT Sports). … The Toledo Mud Hens broke out these Elvis Night tribute jerseys yesterday (from MiLB Promos). … Mike Piazza's jersey will be on display at the 9-11 Memorial Museum. … The Frisco RoughRiders will be wearing these Big Tex jerseys on "State Fair Of Texas" Night, Friday, September 2nd (from Frisco RoughRiders). … Because "Guaranteed Rate Field" is a really awful "name" for a stadium, NBC has taken it upon itself to rank all 30 MLB ballpark names (from Brinke).

NFL/Other Football News: New socks for 'skins? "This was in ESPN the Mag's September issue," says Eric Wright. "I hope skins aren't getting rid of sock stripes. Their sock game is on point. More teams (ie ALL teams) should have striped sox." … Here are the 2016 season uniforms for one of Mexico's premier college football leagues (h/t Reddit CFB). … Check out this LA Rams Helmet Prep Video (from John Alexander). … When the Raiders move to Las Vegas (wait, what?), here's a look at their proposed new stadium, and here are some more. Oh, and they Raiders have also filed for three trademarks for the name "Las Vegas Raiders".

College/High School Football News: With college football season just around the corner, here's an interesting article on 'Uniformity' in the ASU Sun Devils over the past several seasons. … There's a new locker room for the OSU Beavers (from Kyle Van Cleave). Also note the white helmet with plain black facemask, which usually features the striped mask. According to Andrew Edwards, this is a permanent change. … A California High School has 28 uniform combinations. FFS (from Robert Hayes). … The Austin Peay Governors will wear white helmets with a red AP sticker for the first time in history in 2016 (from Kevin Young). … An Iowa professor thinks the Iowa Hawkeyes' mascot is too mean-looking (from Tommy Turner). … Because BFBS never gets old, Old Dominion has unveiled new black uniforms. … "This is a tradition that Paul has covered before in UniWatch," writes Brett Baker. "Millard North normally wears white athletic tape. Changing it up for the Nebraska toddler that was killed in an alligator attack at Disney world." … If you like purple and gold — lots and lots of gold — then the Iowa Yellow Jackets are for you (from Chris LaHaye). … Liberty High School (Ohio) added striping and a white outline to the paw on their helmets (from Robert Hayes). … "I noticed a couple of weeks ago you mentioned RMAC tem Adams State new helmets" says Zachary Martinez. "I would like to point you to New Mexico Highlands University another RMAC team who have some new looks this season. They also have a partnership with Nike. Take a look." … Last night, Virginia Sports TV published a video that was promoted as a reveal of Virginia's new football uniforms. The video was taken down shortly thereafter, but not before several people, including Daily Progress beat reporter Andrew Ramspacher, tweeted it out.

Hockey News: The Arizona Coyotes have hired their first full-time female coach. Says submitter Ted Arnold, "My daughter had skating lessons with her here in Toronto. She is amazing. She'll do well!" (yes, that's not particularly uni-related, but it's still cool — thanks, Ted). … This article contains a transcript of an interview with Gary Bettman, NHL Commissioner, in which he talks about jersey ads. Couple key lines: "Doing jersey advertising for the World Cup is not in the same universe as putting advertising on NHL sweaters," and "…you're going to have to drag us kicking and screaming. We won't be first. Obviously the NBA went first. And it would take a huge incentive for us to even consider it." So we can expect them when, the season after this? … (Yester)day in things that should've happened, but didn't. UM lost to Minnesota-Duluth in Championship game (from Tyler WÄ™soÅ'owski). … Will we be seeing matte helmets in the NHL this year (good spot by Ryan Connelly).

College Hoops News: The new Pittsburgh Panther hoops floor is ready to go (from interst8forty4). … Here's a look (but look quick, once these are seen, they cannot be unseen) at the Northern Kentucky Mens Hoops unis (from Andy Kroeger). … TIL U of San Diego has a basketball stadium called Jenny Craig Pavilion. They call it the "Slim Gym," from Alex Hader. Here's some more stupid stadium names.

Soccer News: Check out the black and white numbers on this old Washington Dips away kit. Minnesota Kicks asks if there are other examples of this type of numbering in any other sports. … The University of North Carolina Men's Soccer team has new kits that are tequila sunrise-esque (from Christopher Newbury). A lot of folks on Twitter thought that reminded them of the USMNT kit or even this true(r) tequila sunrise jersey, this alternate worn by the Houston Dash. … The Portland Pilots (women) have new kits for the 2016 season (from James Vega). Also, the Portland Pilots (men) have a new black kit (also from James).

Grab Bag: Oklahoma has new license plates. Submitter D. Hemple says, "Not a good response so far. Not uni-related but just as important." And here's a good article explaining the dissatisfaction as well as a photo gallery of Oklahoma license plates through the years (from Justin Cliburn). … Remember that Team USA Total Medals 1896-2016 graphic from the ticker two days ago — some of you noticed it was incomplete. Sender Caemin apologized and resent the full graphic. You can also check it out here. … Esquire has an article on the ugliest 20 sneakers of the past 20 years (from Jason Hillyer). … Western Michigan has announced a "brand refresh" (from Andrew Stone). … Here's a video featuring the Top 10 Ugliest North American Sports Team Logos (h/t Michael Pisano Jr.). … Nike has hooked up blind world-champ long jumper Elexis (Lex) Gillette with some innovative opaque glasses (from Dan Kennedy). … The National Park Service has added a centennial badge to celebrate its 100 years (from jon voight's LeBaron).
And that's it for today. Thanks to Brinke for his US Open gear preview, and I hope everyone checks out Paul's Friday Flashback.
I'm outta here for the weekend (you'll be treated to the unique stylings of Webmaster Johnny Ekdahl once again), but back for my final week filling in for Paul on Monday. So, everyone have a great weekend, and until then…
Follow me on Twitter @PhilHecken.
Peace.
.. … ..
"I swear, if I ever win Powerball, I'm going to start an awful, unprofitable business and then buy a ballpark's naming rights. You know you want to see a game at 'Backscratcher Warehouse Field'."
— Jon Rose