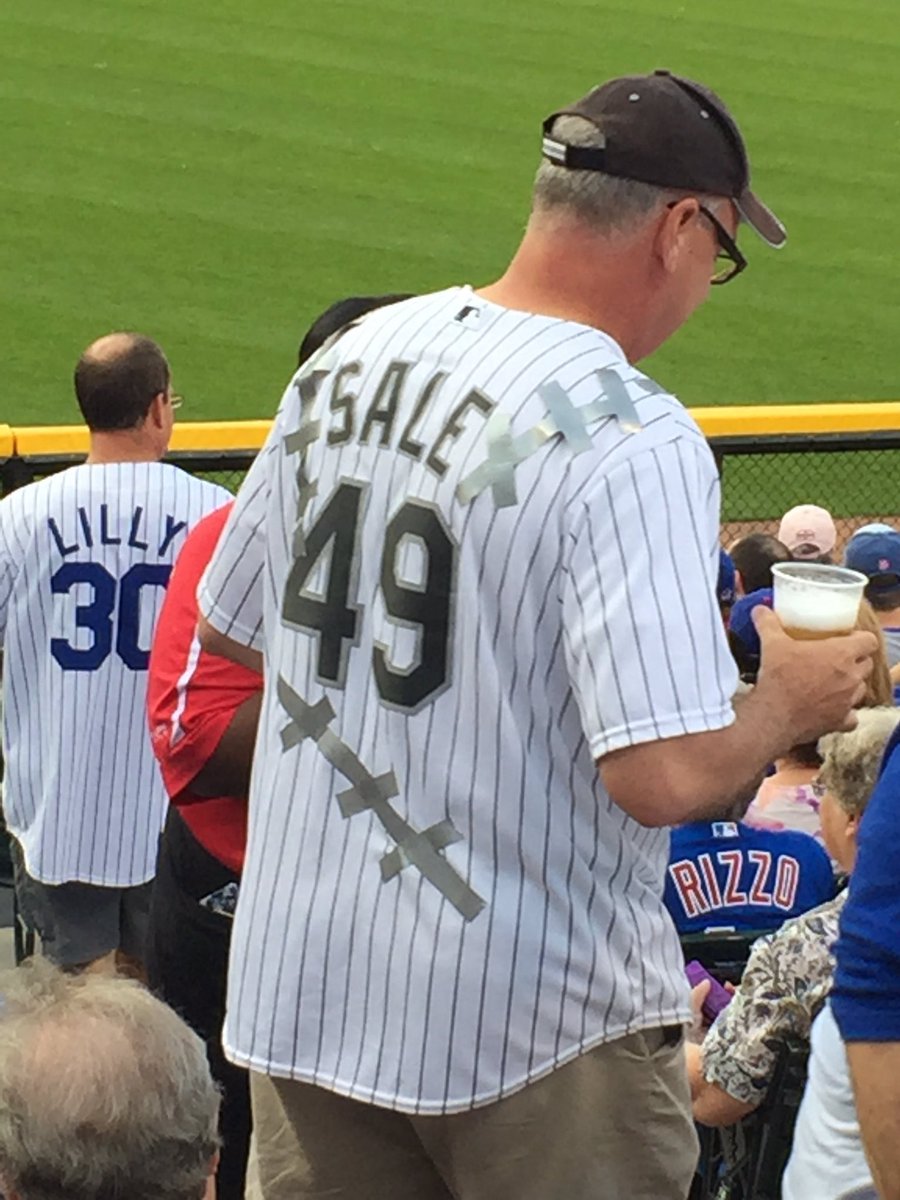 As you can see at right (and can click to enlarge), a fan at last night's Cubs/White Sox game had a bit of fun at Chris Sale's expense. I'm assuming someone will be showing up at Comiskey in full-on Edward Scissorhands regalia by tomorrow.
Sale gave an extensive interview to MLB.com yesterday, and it provided our first opportunity to hear what happened straight from the horse's mouth (or, really, from any mouth other than unnamed sources). Here are some key passages from that story:
The issue, for Sale, began in Spring Training when the players were fitted for the special jerseys, which in 2015 were too large and therefore uncomfortable to play in. Sale said that players were not fans of this jersey overall, and he said then that if the jerseys fell on his day to pitch, he didn't want to wear them, in part because he never had pitched in an untucked jersey in his life.

On the night before Sale's Saturday start, he was advised that the '76 throwbacks were set for his start and Sale asked the clubhouse manager for a different uniform, then expressing the sentiment to pitching coach Don Cooper. Sale was in favor of the '83 throwbacks, which eventually were worn Saturday, because he didn't want the untucked style of the '76 uniform.

When he arrived Saturday and the '76 throwbacks were set out for the players, Sale again took his issue to Cooper and manager Robin Ventura, with whom he admittedly lost his cool. He did not get the answer he wanted and, upon returning to the clubhouse, Sale reportedly cut up his uniform and then those of his teammates, rendering them unwearable.

[…]

"[The '76 uniforms] are uncomfortable and unorthodox. I didn't want to go out there and not be at the top of my game in every aspect that I need to be in. Not only that, but I didn't want anything to alter my mechanics. … There's a lot of different things that went into it. Looking bad had absolutely zero to do with it. Nothing."
In other words, Sale's saying his concerns about the uniform were all from a performance standpoint, not from an aesthetic standpoint. And it's true that this uniform is unique in that regard — no other jersey in MLB history has been designed to be worn untucked or had a billowy collar. (Of course, that didn't keep the White Sox for wearing it for five seasons back in the day.)
Although I've given some context and analysis about the Sale situation and have also explained how I came to write that piece, I haven't actually said what I think about Sale's actions. So let's talk about that for a few minutes.
On the one hand, I think what Sale did is really unprofessional. Part of your job — and part of what's stipulated in your contract — is that you suit up in whatever they put in your locker, whether you like it or not. And as I mentioned during a radio interview yesterday (I'm paraphrasing here), "On any given day there's at least one minor league team wearing some sort of wacky theme uniform that's a lot more ridiculous than those White Sox leisure suit throwbacks. The players probably roll their eyes at some of those designs, but they suck it up and go do their jobs. Sale probably had to wear plenty of those when he was in the minors. Maybe he thinks he's too good for that now that he's in the majors."
After I did that interview yesterday, I looked up Sale's background and learned that he played only 11 games in the minors — four at Single-A and seven at Triple-A — before being promoted to the bigs. So maybe he didn't wear any of those wacky theme uniforms. That may be a contributing factor here. (As an aside, I'd like to know more about how minor leaguers feel when they have to wear ridiculous theme unis. That might be a topic for a future piece.)
In any case, as Sale explained yesterday, his issues with the throwbacks were not rooted in aesthetics. I suspect he would respond to me by saying, "You're calling me unprofessional? Dude, I'm the one trying to be professional here. I take my job seriously, I take winning seriously, but that's harder to do when the team wants me to wear something uncomfortable, all so it can sell some more merchandise."
The merch angle didn't come up in Sale's interview with MLB.com yesterday, but it was part of the reporting that came out on Saturday night:
Sources say: Sale cut up throwbacks during batting practice. Upset that, in his view, PR and jersey sales were more important than winning.

— Ken Rosenthal (@Ken_Rosenthal) July 24, 2016
That has made Sale a hero to some people. In yesterday's Miami Herald, longtime columnist Greg Cote said Sale's act marked him as "the worst kind of petty, putulant [sic], pampered, tone-deaf professional athlete," but also said he had a point:
Sale's spasm of derangement is only defensible as a statement against sports' growing trend of throwback and other alternative jerseys. The anti-throwback movement finally has a face, and it is Sale's scowling mug.

Enough with this parade of decades-old uniform looks, most of which were hideous and have not aged well. That includes the '76 White Sox unis with that ridiculous collared jersey. Nobody needs to see the Pittsburgh Steelers stepping out of the 1940s or the Miami Heat in the pastels of the ABA Floridians circa 1971. Camouflage uniforms? Hide them. Forever.

Redesigned uniforms, throwback uniforms, alternate uniforms and different colors are done for one reason only: Money. It isn't to honor a franchise's heritage. It's to move new merchandise, which fan-consumers flock to like lemmings or Pavlov's dogs. You want to honor your heritage, teams? Do it with a video montage or a halftime ceremony, not by making your current players dress like clowns.
I don't fully agree with Cote's argument here, because I think throwbacks are fun and usually enjoy them. And I know that the very first throwbacks (which were created, coincidentally, by the White Sox) hit the field in 1990, when jersey merchandising was barely a ripple in the sports pool, so the basic concept of throwbacks was not about selling overpriced polyester shirts.
But Cote's argument isn't really about throwbacks — it's about how the larger merchandise-industrial complex has taken over what we see on the field, and he's right about that part.
It's interesting that Cote included camouflage uniforms in his litany of things he's had enough of. That touches on something I've been thinking about, which is that our perception of Sale's tantrum is almost certainly affected by the fact that he directed his rage at one of history's goofiest designs. I think that makes it easier for people to say, "Okay, he shouldn't have done that, but let's face it — that is a ridiculous uniform." But what if he had vandalized a more conventional throwback, like the ones the White Sox normally wear on Sundays? Or the pink Mother's Day uniforms? Or a camouflage uniform? I think he would've been vilified much more than is taking place now.
Of course, Sale would say, "But I'd have no reason to cut up any of those uniforms. They don't have untucked jerseys that distract me when I'm trying to do my job," or something along those lines.
There are lots of factors at play here, and it's all good food for thought. I'm still working out what I think of all of it. Feel free to keep discussing.
• • • • •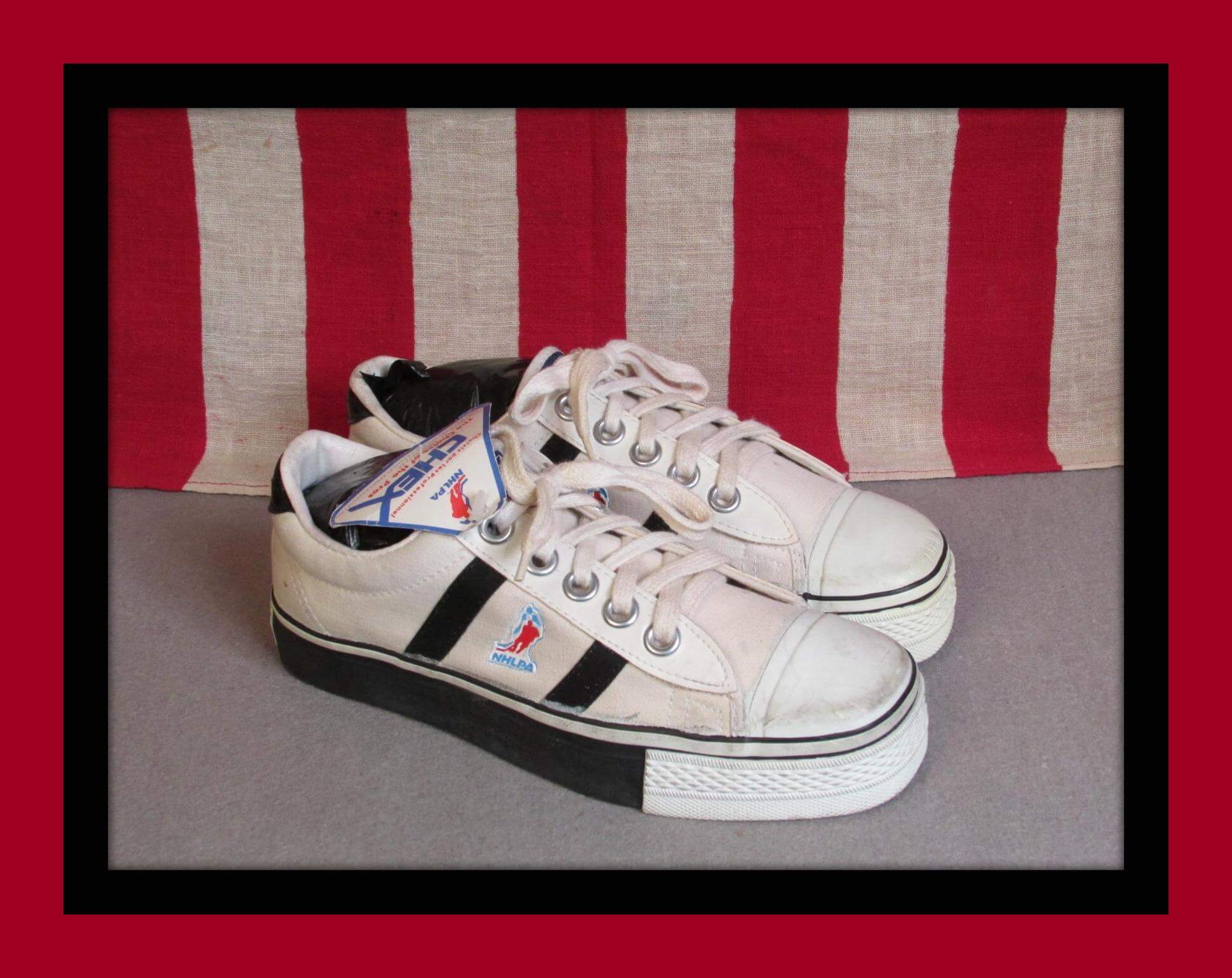 Click to enlarge
Collector's Corner
By Brinke Guthrie
It would appear that these sneakers made by "Chex" were the choice of the NHL Players Association in the 1970s. Says so right on the tag! Of course, why there would be an official basketball shoe for hockey players is another matter. And how did the cereal people feel?
Now for the rest of the week:
• • • • •
Timberwolves-redesign contest reminder: In case you missed it last week, I'm running an ESPN contest to redesign the Timberwolves. The deadline is tomorrow. Details here.
• • • • •
Raffle results, and today's new raffle: The winner of the Indians cap is Louis M Castrello. Congrats to him, and thanks to all who entered.
Our next '47 cap up for raffle is this White Sox snapback:
Here's a closer look at the logo on the side (against a different background). There's a '47 maker's mark on the other side. Memo to Chris Sale: Scissors not included.
To enter, send an email with your name and shipping address to this address (not to the usual Uni Watch email address, please) by 8pm Eastern TODAY. One entry per person. I'll announce the winner tomorrow, and I'll also announce tomorrow's raffle cap, and then we'll keep repeating that process for each remaining weekday this month. If you win one of the raffles, please be nice enough to step aside and stop entering the remaining ones. Thanks.
• • • • •
The Ticker
By Mike Chamernik

Baseball News: Here's a closer examination of what Ken Griffey Jr. wore for his Hall of Fame induction this weekend. His wingtip shoes had pieces of a game-used bat built into the heels (from Ryan Wise). … Blue Jays slugger Jose Bautista usually goes low-cuffed. On a rehab assignment over the weekend, though, he exposed his socks all three days. Bautista went back to pajama pants last night in his return to the Jays (from Tom Gronek). … Pitcher Jesse Hahn and several other A's wore throwback jerseys in the locker room after their game on Sunday. Richard Paloma thinks it might be a final fitting for their 1980s throwbacks game on Aug. 6. … The Reading Fightins wore Elf on Your Shelf jerseys last night (from Eric Scarcella). … "C'mon, blue! Uh, red, white, and blue!": Umps are wearing American flag-themed polo shirts for a baseball tournament in South Carolina. … The Lake Elsinore Storm will wear these jerseys for "Double Dare Night," an homage to the 1990s kids' game show. … Blue Jays OF Kevin Pillar had five teammates suggest a new walk-up song, and he's letting fans vote for the final choice. … The Brewers' TV broadcasters ridiculed the Diamondbacks' uniforms on the air. … Junior Griffey isn't the only one who's worn his cap backwards. That's none other than Shoeless Joe Jackson — wearing what appears to have been very nice shoes, ironically (from Jerusalem Stone). … Remember when Dave Parker broke his cheekbone and wore a variety of facemasks when he returned to action? Cubs 1B Karl Pagel mimicked Parker by wearing a mask made out of tape (from Jerry Wolper).

NFL News: Richmond is hosting the Electric Football World Championships and Convention this weekend (from Tommy Turner). … For a few weeks in 1981, Niners DE Fred Dean didn't have a serif on the "7" on his jersey. Odd.

College & High School Football News: Georgia might be bringing back black jerseys, but Bulldogs coach Kirby Smart would not confirm that (from Phil). … Bowling Green will unveil military-themed helmets today (from Tom Konecny). … A Notre Dame blog speculates that the Irish might wear an alternate jersey in 2017 (from Phil). … New chinstraps for North Carolina (from James Gilbert). … You can vote for the best helmet in Alabama high school football. Warning: there are a lot of helmets to sift through (from Blake Hunter). … New unis for Ottawa University (from Casey Wieder). … A Michigan blogger is very happy about Nike's impending return to Ann Arbor (from Brinke).

Hockey News: A standard blogger trick is to take a current event and apply it to your beat. So, here are five NHL jerseys that players should have cut up in disgust, Ã  la Chris Sale (from Rob Yasinsac). … A Redditor made clip art logos for every NHL team. … New Oilers D Adam Larsson will wear No. 6 in Edmonton.

Soccer News: Vote for your favorite EPL home kit, or just skip ahead for one observer's final rankings (from Donald Wine II and Josh Hinton). … New kits for the Russian club Rubin Kazan (from Josh Hinton). … New third kit for Celtic FC. Here's a closer look (from Rhys McManus and Sean McLaughlin, probably the two most perfect names to send in that item). … New kit for Panathinaikos (from @DinosArmy). … Charlie Mrosko of the old NASL had FiNOB in this 1978 game (from Jerry Wolper).

Grab Bag: The numerals on Team USA's basketball jerseys have some weird textured beveling. … Companies that are considering a redesign should be aware of potential backlash. Most companies, though, fare well when standing behind their new look (from Jim Brunetti). … A veteran lifeguard is fighting the State of New York over its Speedo requirement. He argues that the mandate was enacted to weed out older lifeguards. The state says that the rules are in place to prevent weaker lifeguard applicants from getting a boost from sophisticated speed-enhancing swimsuits. … Marvel designed a mission patch for the International Space Station (from James Gilbert). … New logos for WWE's two brands, Raw and Smackdown (from Kyle Martinek). … Starbucks relaxed its dress code a bit. … Some of the outfits for the opening ceremonies in Rio are prompting ridicule (from Christine Freeman).