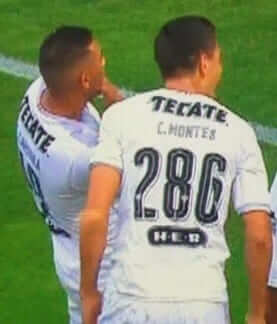 [Editor's Note: Today we have a guest entry from Omar Jalife, who's going to Omar-splain something that's shown up a few times in the Ticker. — PL]
By Omar Jalife
Throughout the season I've seen a lot of Ticker submissions about Mexican soccer players wearing three-digit uniform numbers. I've responded to a couple of these in the comments, but it keeps showing up, so here's an explanation.
Three-digit numbers are not uncommon in Mexico, and the reason is very simple. All LigaMX (first division) teams are required to field, besides their major team, U-20, U-17, U-15, and U-13 teams, which have a simultaneous championship as the top tier.
Now, all players registered directly in the LigaMX must have a two-digit number, as is usually done throughout international soccer. In an effort to avoid certain confusion in the youth tournaments, the Football Federation decided that numbers across all teams could not be repeated. So if the goalkeeper of the LigaMX club is No. 1, nobody else on the U-20, U-17, or other youth teams can be No. 1.
Imagine if an MLB team used this format throughout its farm system. If David Wright wore No. 5 for the Mets, no other player in the Mets' farm system could wear No. 5. And the whole system would quickly run out of one- and two-digit numbers.
Why do they do this in Mexican soccer? When a minor player is called up to the top team, he maintains his same number and registration. It streamlines the process and avoids kids having to change their numbers as they grow older. Also, if a player from the top team gets injured and needs to slowly get back into shape, you can send him to the U-20 to play a couple of games and he gets to keep his number, since nobody else is using it. This is done on a season-by-season basis when the teams register their players in August.
Every team has at least 23 players, and we're talking about five teams (four youth and one senior), so you can see why three-digit numbers become necessary. Although it's not a rule, teams have generally preferred to jump to the three digits for U-somethings as a way to make it easier to identify who is on the senior team and who's not.
The only other times that three-digit numbers have been used were as follows:
•  During the 1995-96 season, Jesús Arellano wore No. 400, because the city of Monterrey was turning 400 years old. I couldn't find picture, but here's a 2010 article, in Spanish, about how he got the jersey back from a fan.
•  In 2006, Adolfo "Bofo" Bautista wore No. 100 to commemorate the 100th Birthday of his team, Chivas de Guadalajara.
———
Paul here. Good stuff, Omar — thanks for the explainer. Now that I know the three-digit numbers aren't all that uncommon, we'll stop mentioning them in the Ticker.
•  •  •  •  •
The Ticker
By Mike Chamernik

Baseball News: Padres P Brad Hand wore his stirrups backwards yesterday. He had the high side in front (from Sean Mitchell). … Hanley Ramirez has varied up his sock stylings during his two-season BoSox tenure. Andy Chalifour reports that he started June low-cuffed, then went high-cuffed in mid-June, and has since gone back to pajama pants. … Wilson Ramos and his wife and daughter took a trip to the American Bison exhibit at the National Zoo while wearing customized Nationals jerseys. The catcher's nickname is "Buffalo," either because of his toughness or his husky frame (from John Muir). … Former Washington QBs Sonny Jurgensen and Billy Kilmer wore Nats caps at the game last night. Jurgensen wore the same cap, then a Senators hat, 45 years ago (from William Yurasko). … The Reds retired Pete Rose's number on Sunday. The team painted "14 Forever" into the dirt in front of the dugout for it (from Alex). … The Reds also painted the logo on the back of the mound red for last weekend's games. The wishbone-C is usually white (from Joanna Zwiep). … Also from Joanna, Reds P John Lamb wore stirrups Tuesday night. He normally wears solid red socks. … Mike Piazza's post-9/11 NYPD catcher's helmet is up for auction (from Phil). … A miniature Wrigley Field was made out of Lego blocks. … Yesterday's Ticker noted that Cubs 3B Kris Bryant planned to keep wearing his "lucky" torn pants from his record-setting Monday-night game. But Matt Shepardson notes that Bryant didn't wear the torn pants on Tuesday after all, and he says there was no sign of the tear in yesterday's game either.


Pro and College Football News: For a community service event, Browns players wore orange jerseys with "#Give10" on the sleeves, which means to give 10 community service hours (from Chris Keeney). … Abilene Christian will unveil new uniforms on Friday (from Chris Mycoskie). … Bill Simmons's new TV show used the wrong NFL logo last night.

Hockey News: The Maple Leafs are mulling over whether to take action against Snoop Dogg's new weed product company, Leafs by Snoop, whose name and logo are very Maple Leafs-like (from Charles Noerenberg). … The KHL's new franchise looks to have ripped off the logo of the Guild Wars 2 video game.

Basketball News: The Pistons' Stanley Johnson will change his uni number from No. 3 to No. 7 in honor of Ben Wallace. Detroit retired Big Ben's No. 3 in January. The Pistons apparently don't take numbers out of circulation before retiring them, because though the team retired Chauncey Billups's No 1 in February, current PG Reggie Jackson wears the number. … The Phoenix Mercury will wear a memorial band for Pat Summitt (from Phil). … The Tulsa Shock moved to Dallas and became the Wings before this season. ESPN ran a Shock logo (look at the header above the Dallas players) in Tuesday's Wings-Sparks box score (from Mario Cuttone). … New court logo for St. Bonaventure. … New camouflage jerseys for Italy (from Reinis Lācis).

Soccer News: Tons of new soccer stuff today: New kits for the Queens Park Rangers (from Mark Johnson). … New away and third kits for Sevilla (from Derek Noll). … New uniforms for the German team Hertha BSC (from Ed Å»elaski). … New away kit for the French clubs RC Lens and FC Nantes (from Anne Celestino) … MLS revealed the uniform schedule for this week's games (from Josh Hinton). … Here's a rundown of the best kits in European Championship history (from Blake Geschke). … The sparkly sleeves on the new Olympic jersey for the US women's team might be breaking FIFA rules. … Here's what it would look like if a few Euro 16 kits were modeled after the beers of their respective countries (from Anthony Nuccio). … After Iceland's upset victory over England, retailers can't keep Iceland merch in stock (from The Boot Room).

Grab Bag: Marcus Willis, who made a recent comeback into pro tennis, lost to Roger Federer in the second round of Wimbledon yesterday. Since he doesn't have an apparel deal, Willis mixed and matched Adidas and Nike items, including a Federer-branded shirt (from Brinke). … Also for Wimbledon, ESPN's score bug includes a graphic that indicates whether the roof is closed. Does the network do this for other sports? (From John Muir.) … Good list here of 10 dream Buffalo sports memorabilia items (from Aaron Husul). … New Zealand unveiled its Olympic uniforms (from Phil). … A coat of arms that traces back to William Shakespeare was recently found. … Here's the logo for the 2019 U.S. Open at Pebble Beach. … Army soldiers can now literally roll up their sleeves. … Nike revealed a new colorway and new track and field shoes. … Here's yet another story on Nike's Wimbledon dress snafu (from Andrew Cosentino).