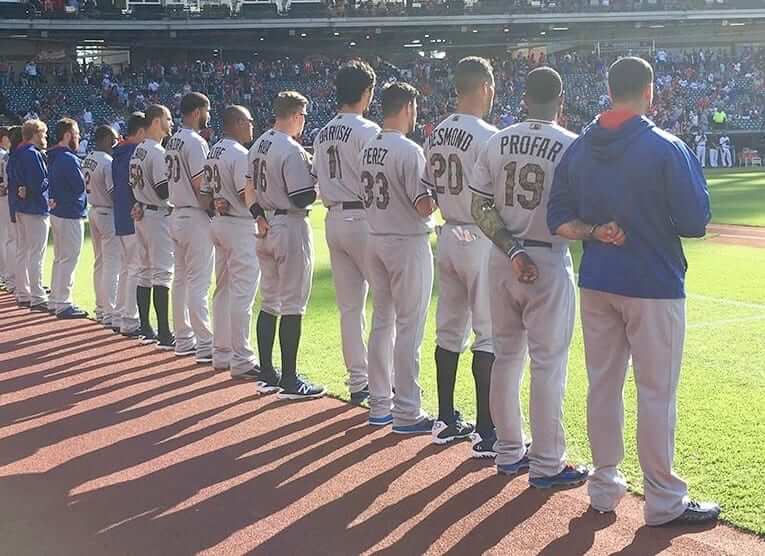 Click to enlarge
Good morning! Yesterday was Memorial Day. Amidst all the camouflage (which as you know I consider to be a toxic mix of bad design and bad civics, but we've already been through that enough times and don't need to go over it again today), a handful of players showed that they Get Itâ"¢. Three of them were in Texas, where outfielder Ian Desmond, outfielder Ryan Rua, and pitcher Alex Claudio went high cuffed with black socks.
Not camouflage, not stars and stripes, not some "bold" design from Stance — just black. A simple and effective memorial gesture, perfect for Memorial Day, and it really highlights how ridiculous the camouflage is. Imagine if every player went with the black socks — it would say so much more, and have so much more dignity, than MLB's current approach to this holiday. Good for those Rangers players, and also for Phillies infielders Freddy Galvis and Cesar Hernandez and outfielder Peter Bourjos, who did the same thing: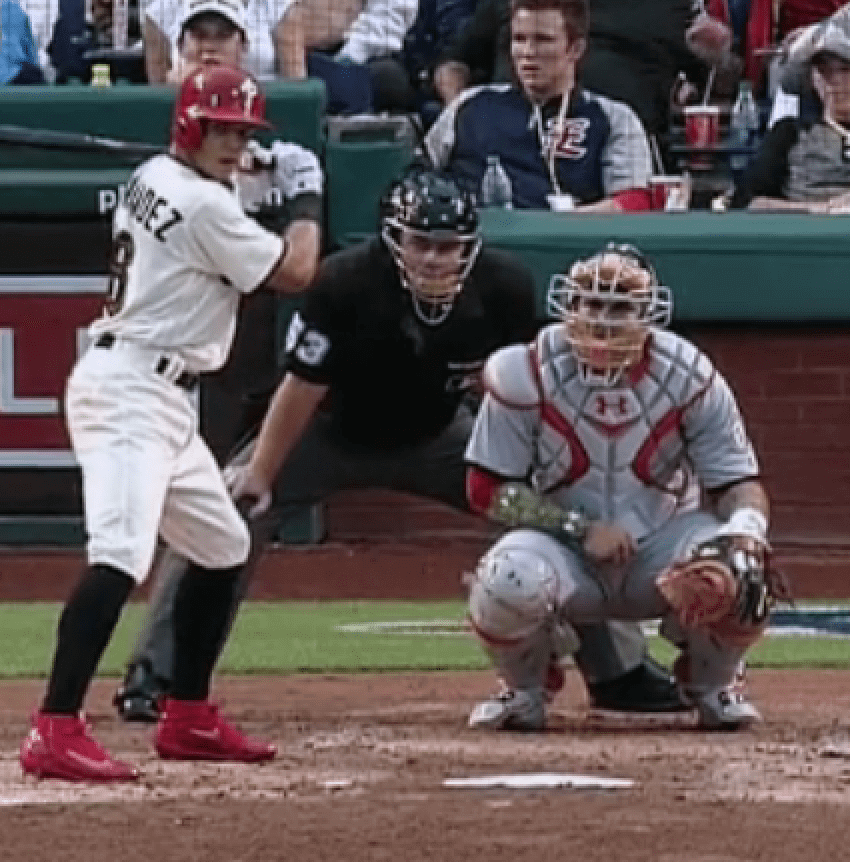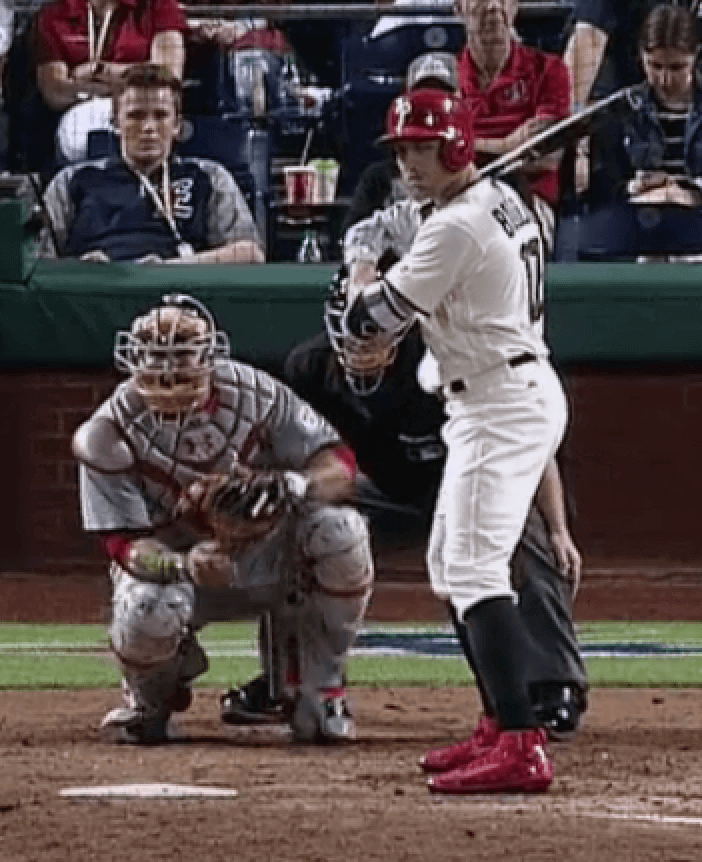 A few other notes from around MLB (for a few of these, you can click to enlarge):
•  The Red Sox were, to my knowledge, the only team that went the extra mile by wearing camouflage belts: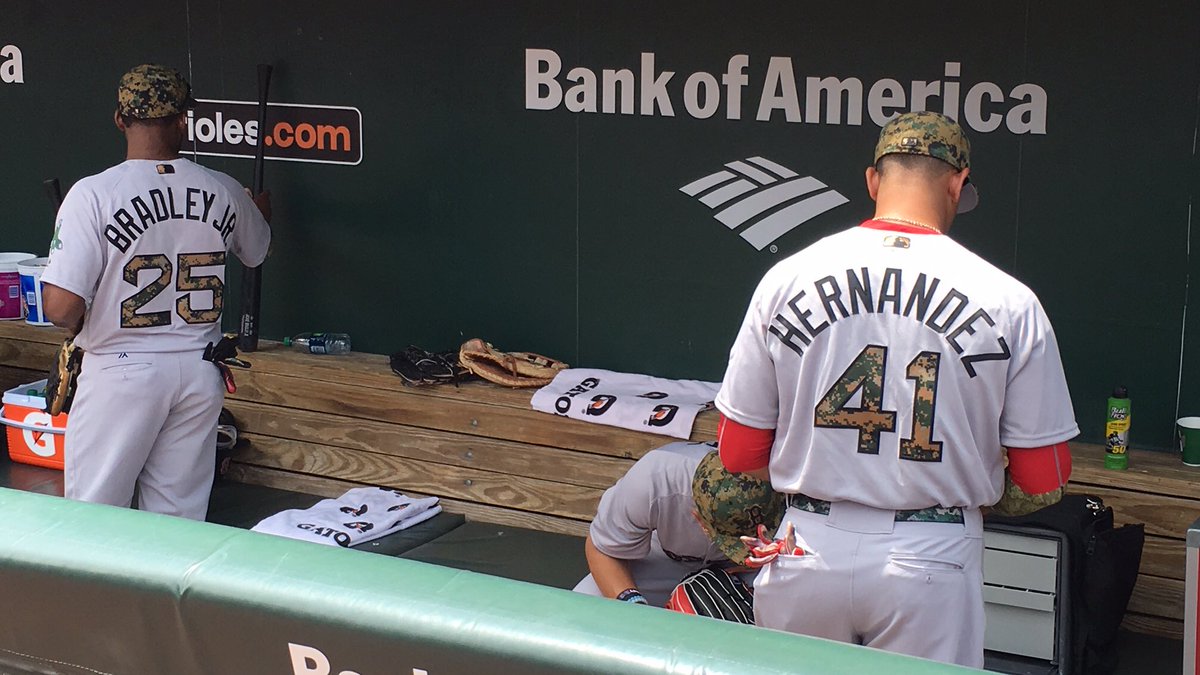 •   The Brewers were, to my knowledge, the only team to go with a camouflage batting helmet logo:
Brewers batting helmet has camo look for Memorial Day… pic.twitter.com/DWZCzd0bEH

— Kurt Crowley (@kacsportsblog) May 30, 2016
•  The Cubs' jersey logo didn't have the circle-R trademark symbol (which was also the case on Mother's Day):
•  Rare sight: The Yankees' jerseys had Majestic logo creep (which was not the case on Mother's Day):
@UniWatch @PhilHecken Yankees have Majestic logo under Yogi Patch pic.twitter.com/7o8njScLC2

— NYYDJ2 – Cole (@NYYDJ2) May 30, 2016
•  Just like on Mother's Day, pants piping was removed. But Blue Jays skipper John Gibbons didn't get the memo:
Gibby wearing the wrong pants tonight @sportslogosnet pic.twitter.com/DQm9pKzGjl

— Aidan Robertson (@AidanRoberston) May 31, 2016
•  Speaking of pants, some teams wore the MLB logo on the rear belt loop and others didn't:
•  Sleeve patches, like other jersey graphics were rendered in camouflage — except for Chief Wahoo, for obvious reasons:
@PhilHecken Indians logo isn't camo like every other team pic.twitter.com/YjQaSAinPZ

— Corey Zajicek (@GreenTailShiner) May 30, 2016
(Big thanks to Brady James for bringing the Rangers' black socks to my attention, and to Jeff Stumm for doing likewise with the Phillies' black socks.)
•  •  •  •  •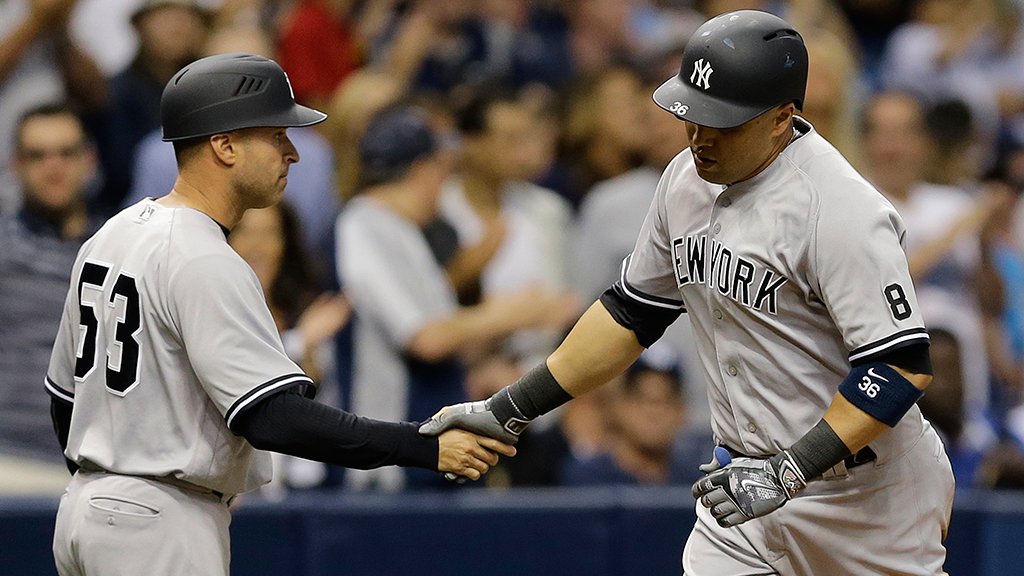 Click to enlarge
Yanks go matte: In case you missed it over the holiday weekend, the big news was that the Yankees are now wearing matte-finish batting helmets on the road — an earthshaking move, by Yankees standards.
The short version is that Rawlings gave equipment manager Rob Cucuzza some matte samples back during spring training. It took him a while before he showed the samples to some of the players, who liked them. Cucuzza then requested and received permission from GM Brian Cashman, ordered a full set from Rawlings, and here we are. There's additional info here and here. (There are some quotes from me in that second one, if you care about that kind of thing.)
When you think about it, Cucuzza has one of the cushier equipment manager gigs in the bigs. He has only one set of caps to keep track of, one set of home jerseys, one set of road jerseys, and so on. He doesn't even have to worry about NOBs! But now, for the first time, he'll have a second set of batting helmets to deal with.
Many of you are probably thinking, "Man, this matte thing has gotten so trendy." True, but just because something's trendy doesn't mean it looks bad. I happen to think most of the matte helmets out there look pretty good, and that includes this new Yankees headgear. I think Cucuzza was right on the money when he said, in one of those stories I linked to earlier, "[The matte helmet] looks good with the grey [road uniforms]. I don't think it looks good against white. We won't wear them at home."
Which team(s) should go matte next? Which team(s) should never go matte? Discuss.
•  •  •  •  •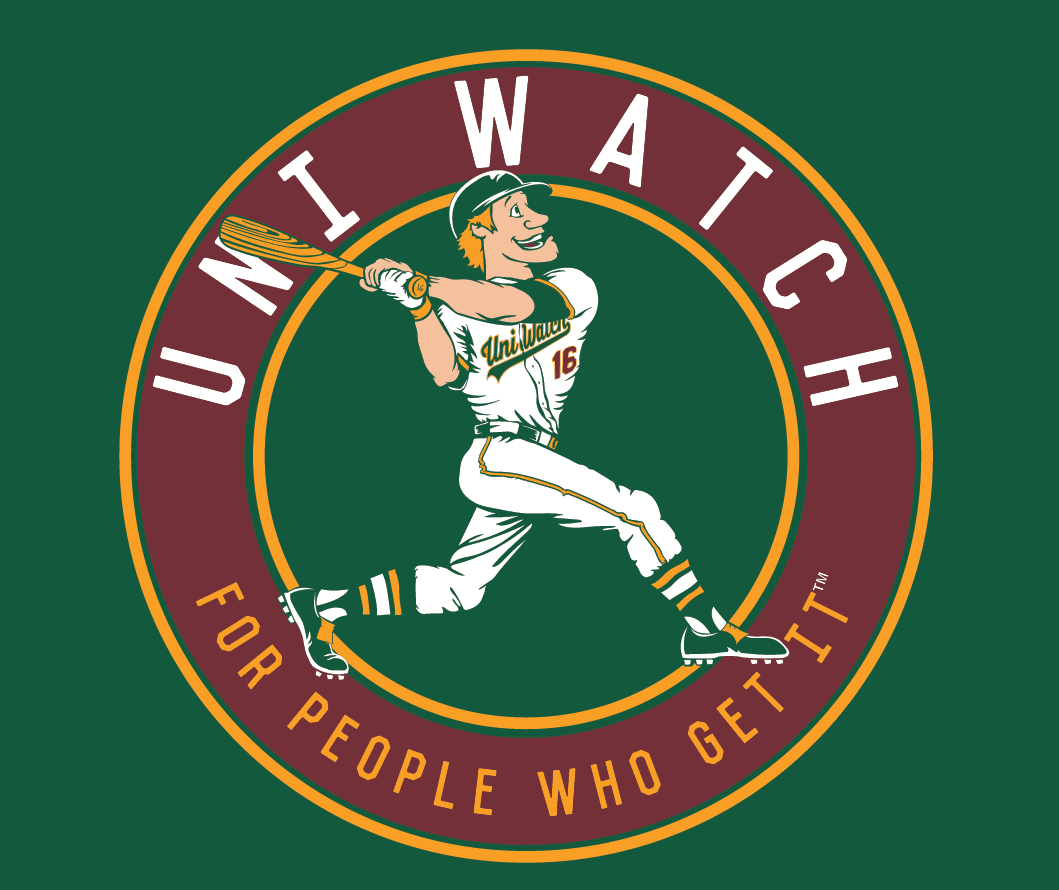 Baseball T-shirt 2nd chance reminder: We had some requests for the Uni Watch T-Shirt Club's baseball-themed design (shown at right; click to enlarge) after I wore the tee in last week's Friday Flashback video. So we've made it available again, but without the T-Shirt Club's jock tag graphic.
The good news is that the lack of the jock tag means the shirt is now a bit less expensive, plus we've been able to add a hoodie option; the bad news is that this version of the shirt will not count toward the T-Shirt Club's "Collect 'em all" status.
Again, the shirt is available here up through this Thursday.
• • • • •
Click to enlarge
Uni Watch sick bay: It's been a bit of a stressful time here lately, as Uni Watch boy mascot Tucker has been sick, necessitating several back-and-forths to the vet. After a bunch of tests, the diagnosis is an inflamed pancreas, which could be a temporary thing (relatively easy to treat), a chronic thing (more difficult to treat), or a sign of something much worse (I'd rather not think about that). We'll know more in a week or so, but for now I'm giving him a pill each day — an ordeal we both hate — and trying not to worry too much when he spends most of his time hiding in his Safe Place under the bed. Poor fella.
Compounding matters, Uni Watch girl mascot Caitlin is hissing at Tucker and is generally on edge because he smells like the vet. (Yes, I know there are certain products and tricks that supposedly help with this. Been through them all. No dice.) So one cat is sick, the other one is pissed off, and the whole household feels out of whack. Sigh.
For those of you who have pets, you know how hard it is when they're out of sorts. For those who don't have pets, I appreciate your indulgence. Either way, thanks for listening.
(For the story behind the 16-letter nameplate Tucker's posing with in the photo shown above, look here. I later gave away the nameplate in the 2011 year-end reader-appreciation raffle, where it was won by reader Nate Saunders. Nate, if you're reading this, do you still have the nameplate?)
•  •  •  •  •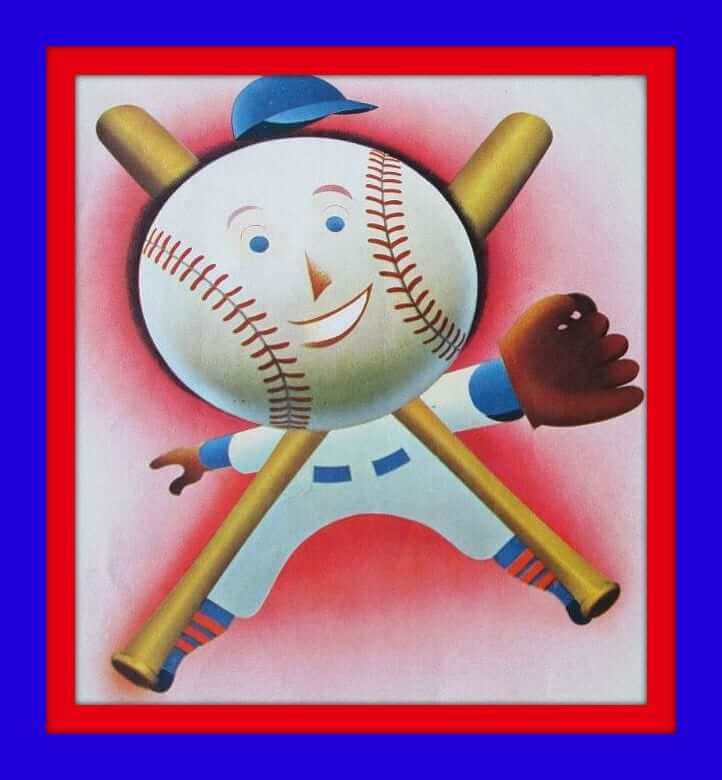 Click to enlarge
Collector's Corner
By Brinke Guthrie
This mildly scary baseball head fellow is from the program cover from a 1950s Giants/Indians exhibition game, played at Wrigley Field in Los Angeles. How's that for some retro simplicity?
Now for the rest of this week's picks:
•  Here's another nice game program cover: Boy, look at this cover art — takes you right back to 1950 for the St. Louis Cardinals and Boston Braves.
•  Sharp graphics on this 1970s-era Philadelphia Eagles trash can. That same seller also has the Chiefs and Dolphins, but as you look at the photos you can see the insides are, well, pretty much trashed.
•  Always wondered why leagues/teams would license things like ashtrays, like this one for the 1970s Chargers. Why would you want someone to cover your logo in ashes?
•  Do you think someone just hand-drew the Colts helmet for this 1967 Rams/Colts ticket?
•  This TV tray top from the early 1970s features all those great NFL graphics in one spot. No legs for your tray, sorry.
•  In honor of the San Jose Sharks' first-ever trip to the Stanley Cup Finals, here's a very comfortable 1990s hoody from Starter. (Had one of these for the Bengals and Cowboys — they have a very unique stitching to them. The felt-like logo on the front does tend to pill, though. A lot.)
•  Here's a 1970s Texas Rangers souvenir batting helmet, still in the bag. Max Klinger would be proud! (Yes, I know he followed the Mud Hens.)
•  We've got a 1970s promotional Atlanta Braves duffle bag right here.
•  If you've ever wondered why you don't see any MLB alumni walking around in really bright green jackets, wonder no more.
•  How about this 1970s Bobby Orr lunchbox?
•  Reds fans, this is the single most comfortable pullover you will ever wear. The quarter-zip 1990s pullover is from DeLong. But by now, you knew that.
•  •  •  •  •
Century mark: I hit a milestone of sorts yesterday, as my Twitter account reached 100,000 followers. That sounds vaguely impressive, until you consider a few things that kinda put the whole situation in perspective:
•  Nearly a third of those 100K followers came on one day. That was on April 3, 2012, when I covered the Nike/NFL unveiling here in Brooklyn. I was live-tweeting the event, and I went from 12,500 followers to over 44,000 in less than 24 hours.
•  Guy Fieri has over 1.88 million followers.
•  My car went over 100,000 miles last month, and that's a century mark I was much more excited about.
After seven-plus years and 20,000 tweets, I remain somewhat suspicious of Twitter. Its micro-format tends to trivialize things, and it brings out the best in exactly nobody. Still, it definitely has its uses. In fact, I'd say people now send about as much stuff to Uni Watch via Twitter as via email, which is pretty remarkable (and sometimes overwhelming). That embed function is pretty handy, too.
So okay, here's to all 100,000 of you out there who follow @UniWatch — hope you enjoy the stuff I put out there. Also, a hefty percentage of my feed consists of retweets of things that other people tweet at me, so my thanks to all those folks as well (and especially to Phil, who works hard to make sure I'm up to speed on Twitter stuff that I might otherwise have missed).
Tomorrow, incidentally, is shaping up as an epic Twitter day for @UniWatch. Don't say I didn't warn you.
• • • • •
The Ticker
By Paul

Baseball News: Here's a jersey-driven infographic on the College World Series regionals (from @DaveDoop). … Speaking of the CWS, here's the official baseball. … The Cedar Rapids Kernels desecrated the flag yesterday, instead of wearing camouflage (from Wyatt Beltz). … "A KC artist painted this 2015 World Series mural at 17th and Oak in downtown KC," says Dave Singleton. "The fans shown in the painting are actually people he lives with in that part of town." … Ron Roza's weekend project was to make the brick wall in his backyard look like Wrigley's outfield wall. "Need my vines to grow more!" he says. … New standards may be imposed to make chest protectors more chest-protective.

Hockey News: DIY genius Wafflebored's latest hockey jersey is a beehive-themed doozy. … Here's a video on how goalie pads are made. "The highlight (or lowlight" comes at the 2:10 mark," says Jeff Wilk, "where the narrator says, 'The players wear an array of corporate logos on their pants. It's all part of the commercial nature of the game and the industry.' Douchebags." … The triangle format of the Pens' and Sharks' logos makes for a good Frankenjersey (from Steven Maker).

NBA News: With Golden State heading back to the NBA Finals, Conrad Burry whipped up this proposed court design for the series against the Cavs. He also came up with a Cavs version, and here's his NBA postseason circle bracket.

Soccer News: Barcelona's new kit doesn't have a jersey sponsor advertiser (from Nile Smith). … Seersucker-esque jersey for Rafters FC (from Stephen Millet). … New away kit for Leicester City (form Tim Cross). … New home jersey for Manchester City. … New jerseys for Cameroon, Ivory Coast, and Ghana.

Grab Bag: SB Nation is conducting a Texas Tech football uniform poll. … New helmet design for MotoGP driver Eugene Laverty. … Tennis players Ana Ivanovic and Jo-Wilfried Tsonga talked about their ugly French Open outfits. … Here's a look at the evolution of Microsoft's logo. … It can take a long time to get all the Cheerios logos onto a NASCAR car. … Not uni-, sports-, or design-related, but this article about NYC ice cream truck turf wars was easily the most entertaining thing I read yesterday. (Yes, that probably means I need to read more fiction, but still…)