Click to enlarge
When the Red Wings recently announced that their new arena would be named after a "pizza" chain, lots of people asked me if I'd be coming out with an "I'm Calling It the Joe" T-shirt. That was a reference to my old "Naming Wrongs" T-shirt project with No Mas (see above), which was our way of protesting the proliferation of corporate-renamed stadiums and arenas.
The old Naming Wrongs shirts are no longer available, and I have no immediate plans to reactivate that project (although there could be something in the works down the road — stay tuned). But the other day I learned about a new way to address the same problem — and this one doesn't require you to spend any money on a shirt.
Here's the deal: A Trail Blazers fan has come up with a Chrome extension that changes all instances of "Moda Center" on the web to "Rose Garden." It functions perfectly. Obviously, it only works on Chrome, so it won't mean anything to people who use Firefox, Safari, or other browsers. It lacks the public-protest aspect of the shirts, but it's still an admirably simple solution to an annoying problem.
That got me thinking: Imagine if we had additional extensions for all the other corporate-named venues out there — how awesome would that be?
I'm not a software engineer, so I don't know anything about how to develop a Chrome extension, or how to make it available for people to install. But I bet some of you folks know something about that.
Is this something that could be feasibly developed? If so, is it something people would be interested in installing on their browsers?
Discuss.
• • • • •
Click to enlarge
A beautiful day for a ballgame: Longtime Uni Watch reader/pal James Huening was in town yesterday (some boy band he follows — Menudo, I think — was playing at the Garden), so he, Phil, and I headed out to Citi Field I'm calling it Shea to catch yesterday's Mets/Giants game. That's James in the center and Phil on the left, with Jackie Robinson Rotunda's big 42 serving as our backdrop.
The reason we were photographed down in the Rotunda instead of at our seats is that it was seriously cold, rainy, and windy at the ballpark yesterday. In fact, many fans were wearing their Curtis Granderson giveaway socks as makeshift gloves (click to enlarge):
After we shivered through a few innings, it was decided that Phil and I should give Jimbo a "tour" of the ballpark, which was basically code for, "Let's go someplace warmer." We kept an eye on the game, but soon the Mets were down 4-0 in the 6th against Madison Bumgarner, and the writing seemed to be on the wall. So we chose the better part of valor, said our good-byes, and departed.
As I was waiting on the subway platform for a train home, a guy approached me and the following conversation ensued:
Guy [tentatively]: Um, are you the Uni Watch guy?

Me: Yes, I am.

Guy: Wow, that's great! I love your work.

Me: Thanks, I really appreciate that. [Offering to shake his hand.] My name's Paul.

Guy [returning handshake]: Mine's Jeff. [Turns to friend.] This guy writes this great website Uni Watch. He's a big Mets fan!

Me [pointing to Jeff's Mets cap]: I guess you're a big Mets fan too, eh?

Jeff: Yeah.

[A beat of uncomfortable silence.]

Me: So, uh, I won't give you shit for leaving early if you don't give me shit for leaving early.

Jeff: Deal. It's nasty out there!
• • • • •
The Ticker
By Paul

Baseball News: An L.A. towing company has poached the Twins' logo. "¦ In a related item, the Beloit Snappers have poached the Dodgers' 50th-anniversary logo. "¦ For reasons that aren't clear to me, a Massachusetts high school team's ALS-awareness jersey design has completely different colors for the front and the back (from Mike Davis). "¦ Autism-awareness jerseys for Illinois and the Tulsa Drillers (from Craig Choate and Bill Fenbers, respectively). "¦ Stetson and Jacksonville went G.I. Joke vs. G.I. Joke yesterday (from Ian Anderson). … With the Mets wearing their 1986 Sunday throwbacks yesterday, the racing stripes on P Noah Syndergaard's jersey and pants were misaligned — a true throwback to the old days. "¦ "Now there's a realistic Brewers fan," says Jeff Ash. "¦ The Savannah Bananas have a really cool ticket design. "¦ Those protestors who stormed the Iraqi parliament building over the weekend included a guy in an Orioles jersey (from David Cline). "¦ The Cubs — including fun-loving skipper Joe Maddon, of course — dressed up in OppoSuits yesterday. Additional pics here. "¦ New Mexico State wears its mascot character logo on the sides of the players' stirrups (from Jon Aviles).

NBA News: Michael Jordan had some popcorn in his luxury suite for yesterday's Hornets/Heat game. The popcorn bucket had some Hornets-themed tissue paper — interesting, given that the game was in Miami (thanks, Mike).

Soccer News: Can a team's colors affect its performance? "¦ Denis Hurley has written a blog post about Kappa's time as FC Barcelona's kit supplier from 1992-98. "A feature of the final season was that the Barça goalkeepers, Vítor Baía and Ruud Hesp, went FNOS (full name on sleeve) as well as the traditional surname on the back," he says. "It was something totally unique and, as far as I can see, no manufacturer — Kappa or otherwise — has tried it since." "¦ New jersey sponsor advertiser for Celtic.

Grab Bag: New uniforms soon for Air India. "¦ New uniforms for Qantas, too. "¦ Great story about Draper & Maynard, the old New Hampshire sporting goods giant that was a big deal back in the day (from Dave Garabedian). "¦ Here's your latest chance to vote for the NASCAR paint scheme of the week.
• • • • •

What Paul did last night on Saturday: On Wednesday evening I was walking to my local subway station and saw a box of clothing, books, and other stuff that someone had left out on the sidewalk for people to take. There was a pretty cool-looking green striped sweater that seemed like it would probably fit me, so I grabbed it and put it in my bag. When I got home later that night, I tried it on — a perfect fit.
Three days later, on Saturday afternoon, I wore the sweater to the annual WFMU Record Fair in Greenpoint. By coincidence, it matched perfectly with some WFMU stickers they had on hand (for all these photos, you can click to enlarge):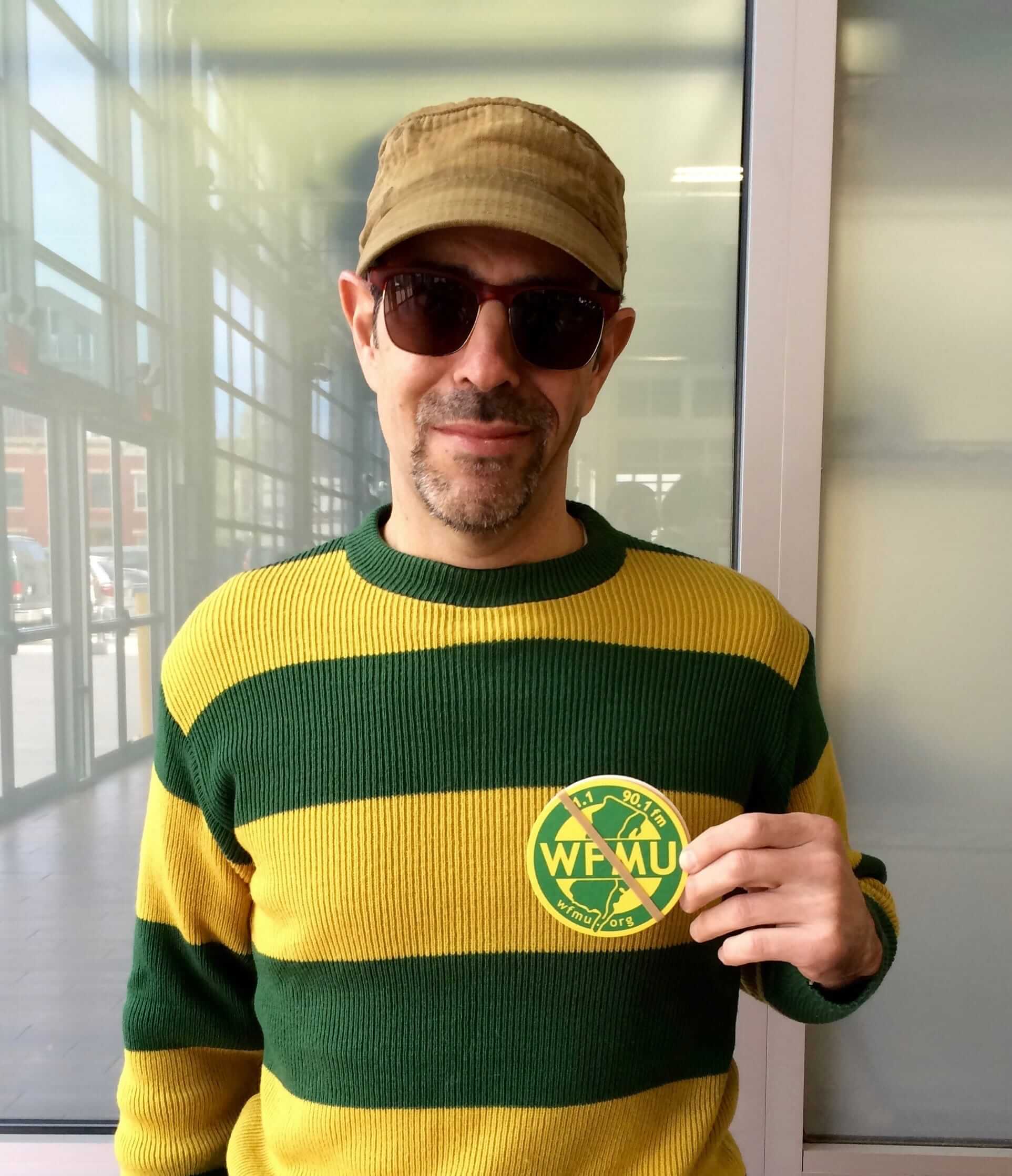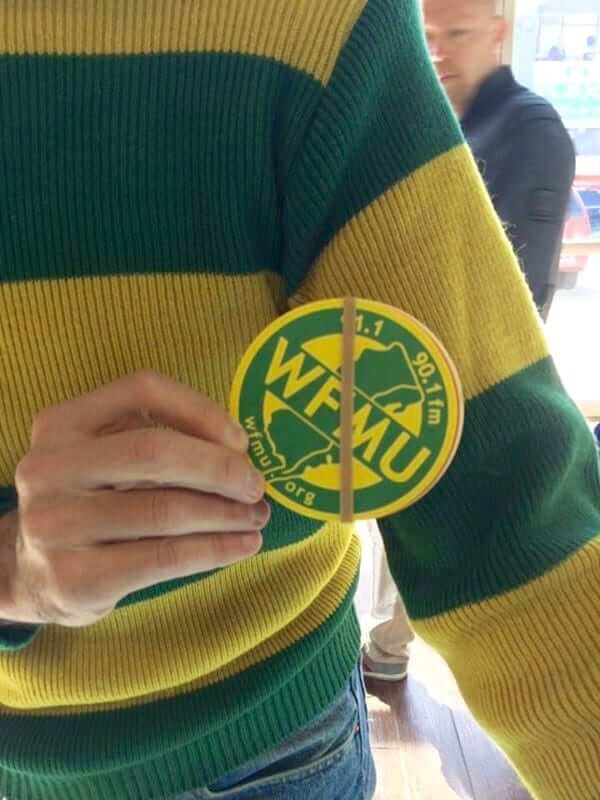 I wasn't really looking to buy any records, but I always go to the 'FMU Record Fair anyway — in part to support the station, in part because I know I'll bump into friends and allies, and in part because there are usually live sets from bands I like. In this case, I was particularly psyched to see the Moles, an Australian band I was heavily into back in the early 1990s. I've seen their frontman, Richard Davies, perform many times under his own name and as part of the chamber-pop act Cardinal, but this was the first time I'd seen him as part of the Moles since a CBGB show in 1992. They were soooo good — here's a photo, followed by two of my favorite Moles songs: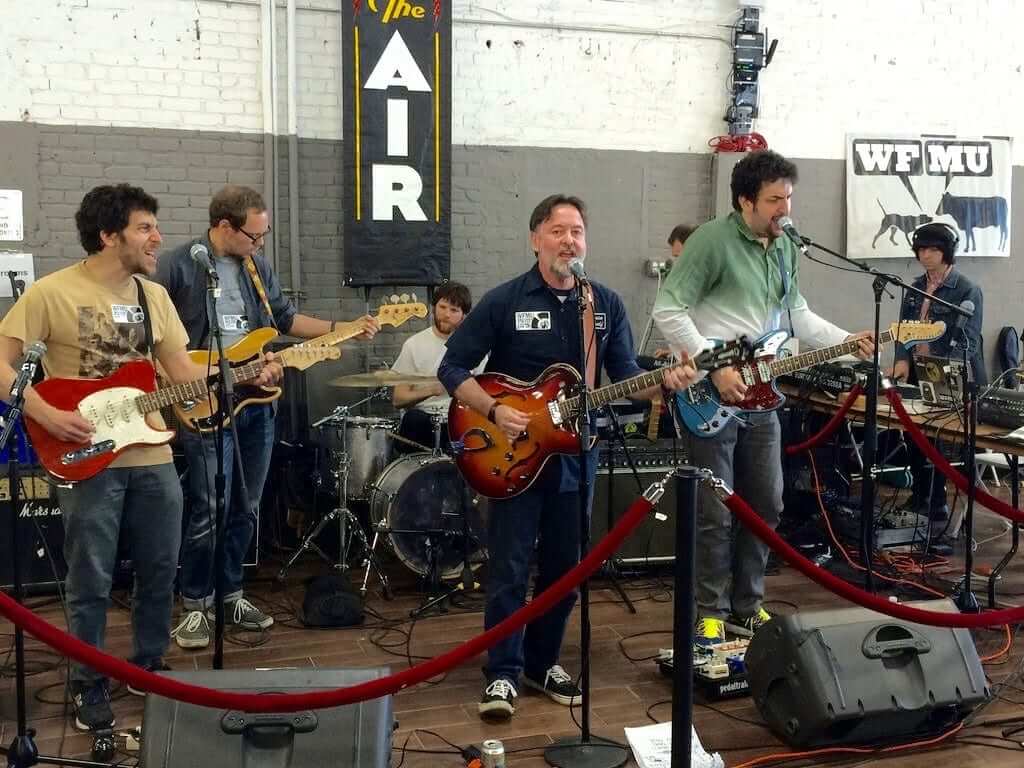 Also on the bill was Colleen Green, a one-woman band from L.A. She was great, and I particularly liked her cap — green with a green Prince symbol, which is perfect for her because of her surname but would also be great for me, since I hate purple and green has always been my favorite color: