Click to enlarge
The Sacramento Kings unveiled a new logo set yesterday (see above). I was given early access to this one and have all the particulars in this ESPN piece, which includes some exclusive quotes from team president Chris Granger.
The Kings said new uniforms that go along with the new logo set wouldn't be unveiled until later this summer. But their interactive web page about the new logo includes a background image of a new purple jersey with "SAC" lettering — presumably a new road or alternate jersey (click to enlarge):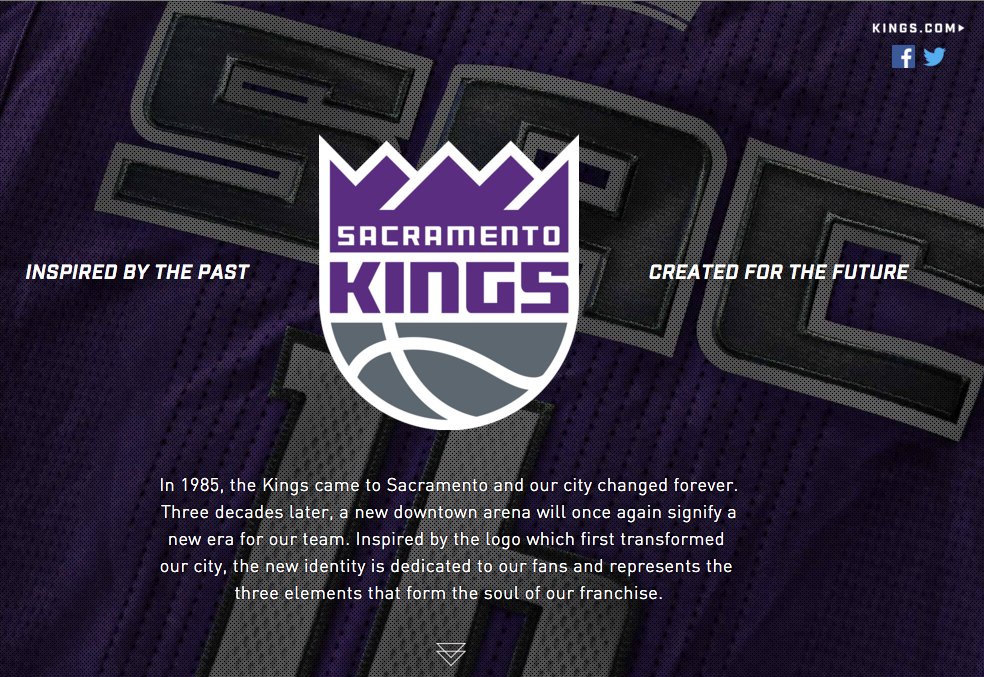 Here's the background image by itself, without the overlaid graphics, and brightened up (click to enlarge):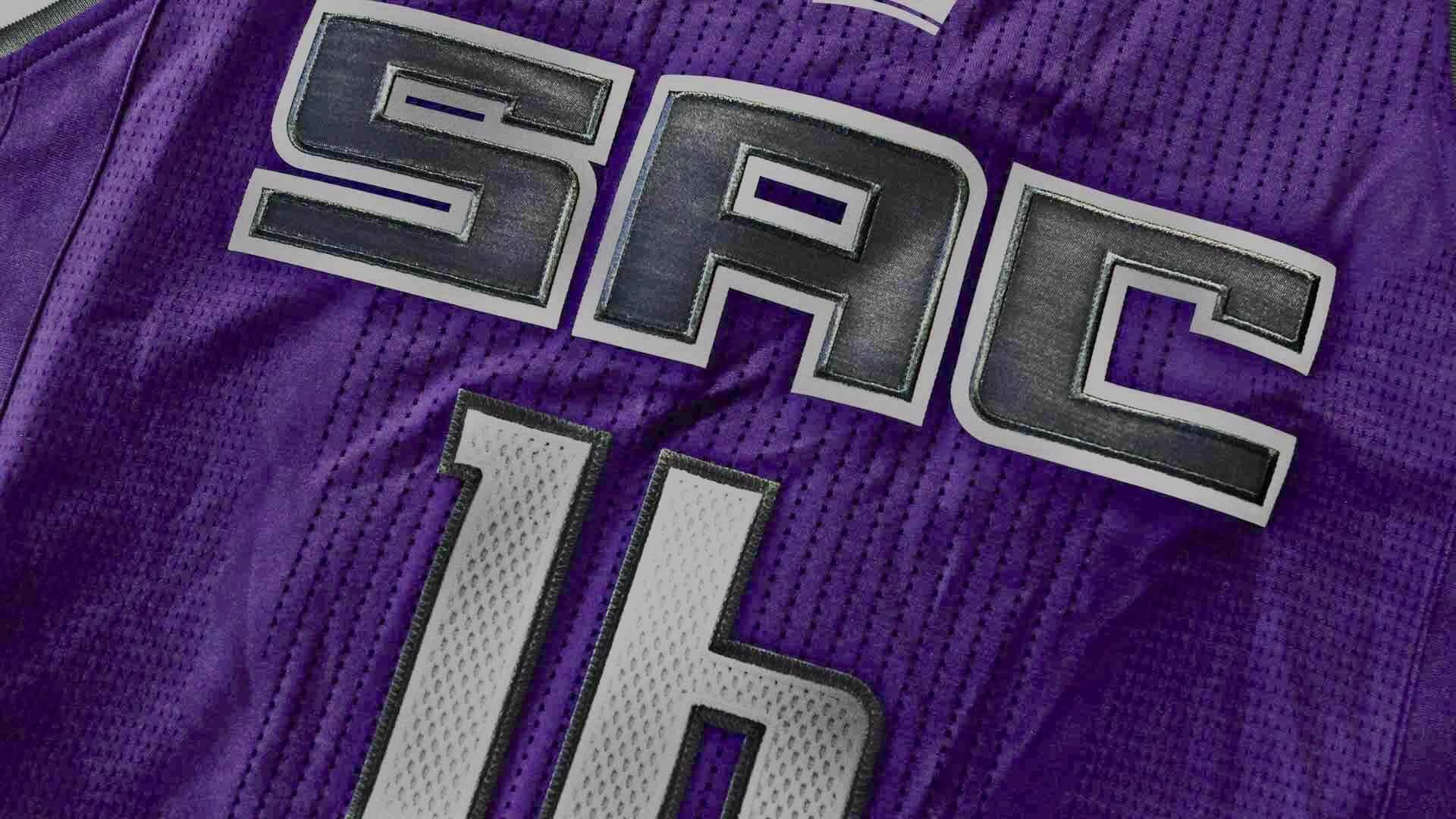 Okay, then, what do we think? Let's go one thing at a time:
1. The colors. Obviously, I'm not a fan of purple. But I like their new deeper shade better than the previous one, and I really like how it pairs with their new shade of slate grey (which they're calling "granite," but whatever), at least in the new logos. Chris Creamer has provided a good look at how the new colors compare to the old ones: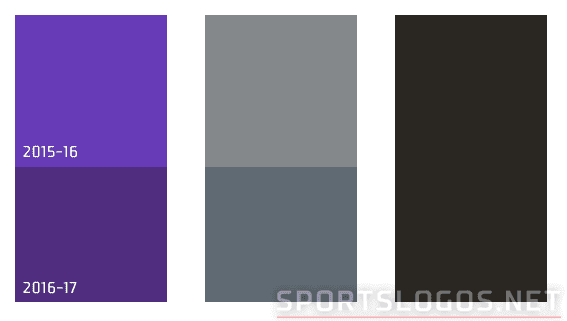 2. The primary logo. Again, I really like the color pairing. I also like that they're reviving and updating a logo from their past, something I wouldn't necessarily expect from this franchise.
But I think the execution is mixed. The basketball at the bottom looks good, and I'm fine with the typography (although it's odd that the "S" in "Kings" doesn't match the one in "Sacramento"), but the crown looks like a mix of an arrow pointing down and to the left, the Titanic sinking, and a collapsing building. The diagonal white lines of negative space feel too thick. All in all, this part of the logo isn't working for me.
But hey, if it's working for you, here's an opportunity for ya: The Kings will actually pay you to get the new logo tattooed onto your body. Any takers?
3. The "SAC" logo. As we all know by now, the NBA loves its three-letter city abbreviations. Granted, "Sacramento" is a long, unwieldy word, so going with an shortened version makes a certain amount of sense. I have no idea whether people in Sacramento actually refer to the city as "Sac," however — do they?
4. The lion logos. In theory, I love the idea of a lion dribbling a basketball — but wouldn't that be better for a team called, you know, the Lions? Also, as lots of people quickly pointed out yesterday, the lion designs look a lot like the logos for the Premier League, the NHL's Kings, Lowenbrau, and lots of other stuff.
5. The stand-alone crown logo. I actually like this one better than the crown on the primary mark, because the curved base makes it feel more crown-like. Would've been interesting if they'd tried something like that with the primary. Anyone wanna take a stab at how that might look?
6. The purple "SAC" jersey. Too soon to say — we need to see the full design. Not nuts about that "6," though.
Finally, there's this, which is pretty brilliant:
HAH! Upside down Hawks & Kings logos look like pacman! -> https://t.co/t196QUGOGA pic.twitter.com/4TtYDlcerX

— Phil Hecken (@PhilHecken) April 26, 2016
•  •  •  •  •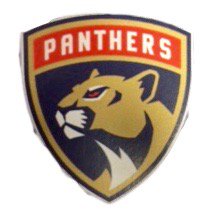 Meanwhile, over in the NHL"¦: Is the mark shown at right the new Florida Panthers logo? I'm pretty sure that it is. Sorry, can't share any details on how I obtained it.
As you may recall, a description of the Panthers' new logo and jersey was circulating back in January. According to someone who'd seen the design at the time, the logo featured a panther that was "more natural," with "red eyes" and "bared teeth." This new leak doesn't quite match that description (no bared teeth). But after I tweeted this new logo yesterday, SportsLogos.net honcho Chris Creamer told me that his own sources had confirmed that it is indeed the new Panthers logo. So there you go.
•  •  •  •  •
The Ticker
By Paul

Baseball News: Oh, baby, check this out: David Kendall sent along a scans of a 1977 article about the Pirates introducing their mix-and-match bumblebee set. Great photos — start here, and then go here, here, and here. "¦ Interesting to see that UNC's softball team has big inseam stripe panels (from Elena Elms). "¦ Here's a ranking of each MLB team's bobblehead giveaways. "¦ That didn't take long: The Nats are selling "Make Baseball Fun Again" merch. I'm curious: If you're a Nats fan but don't like Donald Trump, does this merch interest you? What about Trump fans who aren't Nats fans? (From Tommy Turner.) "¦ New uniforms for the Sioux Falls Canaries. "¦ Just what the world has been waiting for: a team wearing Fruity Pebbles jerseys. "¦ The Rays apparently have traditional "Tampa Bay" road greys in the works, along with late-'90s throwbacks (from Jonathan Arnholz and Jeff Easterling, respectively). "¦ The D-backs are letting their social media followers vote on which uni the team will wear this Friday. I guess fans who don't follow the team on social media don't matter. "¦ Check this out: a Blue Jays/tequila sunrise mash-up! "¦ Good spot by @AZJoshM, who noticed that one Arizona player has pinstriped belt loops while the rest of the players don't. "¦ Rays minor leaguers are now permitted to have facial hair and wear pajama pants. Depressing quote from Charlotte Stone Crabs manager Michael Johns: "With the pants down, we look better. We look like better athletes. It's the truth. Scouts told us. They said, 'You all look like a small team with the pants up.' It's weird. It's like an optical illusion. So it's a lot more comfortable" (from Nick Hanson).

NFL News: It appears that the Cowboys are the latest team whose players wear jerseys with big honking ad patches when making community appearances. Really disappointing to see a goodwill gesture turned into just another billboard opportunity (from Chris Mycoskie). "¦ Are reporters who work for league websites or individual team websites really free to report the bad along with the good? Are they free to ask tough questions? Are they compromised by inevitable conflicts of interest? Those issues are addressed in this fascinating piece about an NFL reporter who recently left NFL.com and joined TheMMQB.com. Highly recommended reading. "¦ This year's NFL training camp caps apparently look like this. "¦ Buncha new uni number assignments for the Ravens (from Andrew Cosentino). "¦ A Bills fan has donated his collection of team memorabilia — 100,000 items — to the Buffalo History Museum (from Mike Cline Jr.).

College Football News: I'm still calling it the Citrus Bowl (from Calum Johnston). "¦ Cool shot of UNC players getting 3D scans of their heads so their helmets can be custom-fitted (from James Gilbert).

NBA News: Who could blame 'em: Clippers coaches are using binders with the team's old logo (from Brian Love). "¦ In a related item, ESPN's Zach Lowe said in a podcast yesterday that the Heat created the Clippers' new logo and that the league is "embarrassed" by it. The segment about the logo starts at the 23:20 mark (from Alex Hider). "¦ Here's an article about how Steph Curry's rising stardom is and isn't affecting the sneaker wars (from Tommy Turner).

Grab Bag: Michigan's new contract with Nike has finally been finalized. "¦ And here's a closer look at Wisconsin's new deal with Under Armour (from Jesse Zakshesky). "¦ And Yale's new uniforms from Under Armour are almost ready (thanks, Phil). "¦ New uniforms for Boko Haram fighters. "¦ The U.S. Navy has a new, more permissive policy regarding tattoos. "¦ Here's an article about what your T-shirt says about you. No mention of Uni Watch tees, alas. "¦ Here's one observer's salute to the original X-Men costumes (from John Muir). "¦ Oh man, I might have to go out to L.A. just so I can bowl at this amazing-looking place (big thanks to everyone who sent this one my way). "¦ Rugby sevens is an Olympic sport this year. Here are the Great Britain uniforms (from @Stumpy7780). "¦ Additional Great Britain Olympic uniforms for various sports here, and the South Korean uniforms — with long sleeves to protect against Zika-carrying mosquitos — are here.
• • • • •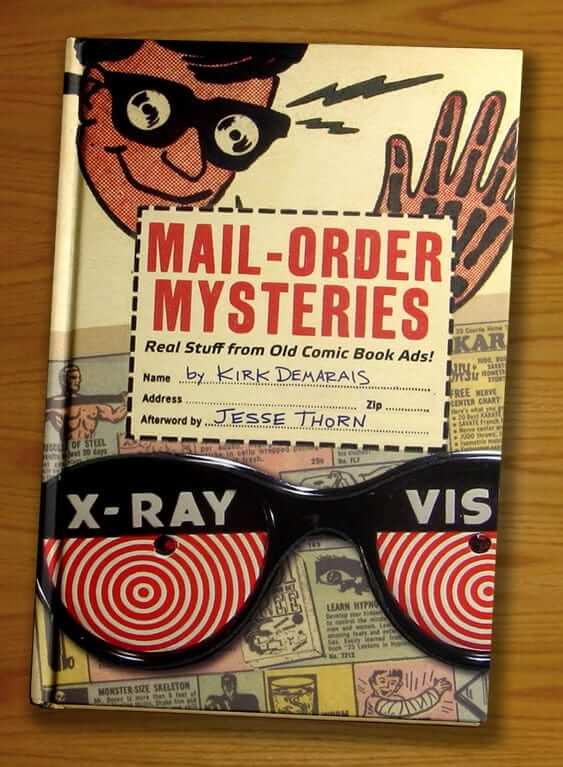 What Paul did last night: Kirk Demarais is a writer and artist who's obsessed with the ads for novelty products that used to appear in comic books — X-ray specs, sea monkeys, dribble cups, sneeze powder, magic tricks, etc. Last night he gave a two-hour presentation on that topic at the Parsons School of Design, and I could easily have sat for another two hours — that's how good it was. I was joined by the Tugboat Captain and our friends Jon, Karen, Shane, and Friederike, and afterward we all went out for eats and drinks at a local Spanish tavern. Such a great night that I didn't even mind missing the Mets' stirring late-game comeback.