The Pirates debuted their new bumblebee Sunday throwbacks yesterday, and it was a lot of fun. Naturally, there were plenty of things to nitpick about, so let's get those out of the way first, beginning with the fact that several players were wearing striped socks that the Pirates never wore back in the late 1970s (see above). The striping actually looked pretty good, but it's not period-accurate and shouldn't have been worn.
Even worse, many players went pajama-pantsed, which looked dreadful:
Also, the pillbox caps weren't true pillboxes. The top panels were rounded (or at least had a lot of give), not flat. We've known for a while that this would be the case, but it still looked a bit weird: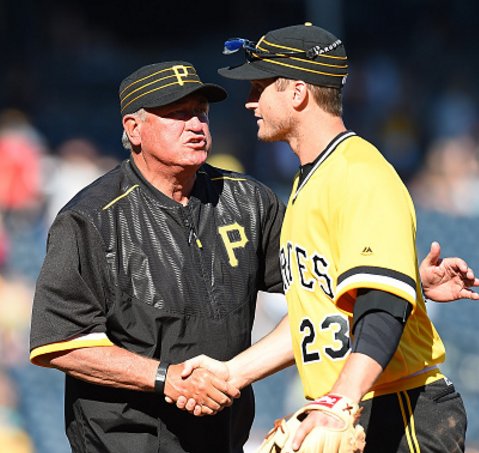 There was one genuine-seeming pillbox cap on the field, however. It was worn by the team's mascot, Pirate Parrot, who had his own throwback uni for the day (click to enlarge):
Also: No Stargell stars. MLB supposedly won't allow them. Dang.
And here's something I hadn't thought of: Since the throwback pants don't have belts, there was no rear belt tunnel for the MLB logo to appear on. So instead they just slapped it on the back of the waistband, which didn't look so hot:
On the plus side, it was great to see the gold jersey and the black pants again. And the Pirates' broadcast team got into the act with throwback attire of their own (click to enlarge):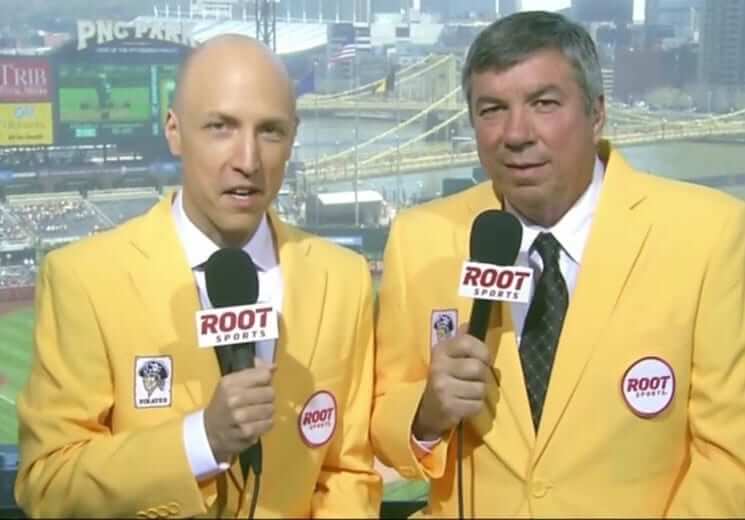 They later added throwback hair and facial hair to the mix (click to enlarge):
There are some additional photos here, and you can see the uniforms in action in the following video segments:
All in all, a good time. But here's a thought: One of the most interesting things about the bumblebees was that there were so many mix-and-match variations, because the jerseys and pants came in three separate iterations (black, gold, and white with gold pinstripes), plus there were two different cap colors (black and gold) and two different stirrup colors (black and gold). Using just one throwback configuration all year long — black cap, gold jersey, black pants — short-changes a big part of what made this uni set special. Obviously, it would be more work to have all of the different components on hand, but I still wish they'd offer more than one look from the bumblebee era.
Speaking of which: In the bottom of the 1st, Pirates broadcaster Bob Walk, who pitched for the Pirates in 1984 — the last year of the bumblebee era — mentioned something interesting about the original bumblebee uniforms:
Those uniforms — they all didn't fit the same. Nowadays, no matter what team you play for, the uniform's made by the same company, everything always fits the same. The Pirates, they had all those different uniforms, and they weren't all made by the same company, either. So, you know, the black pants and the white pants, they would fit and feel totally different.
This surprised me, because I thought the bumblebee unis were famously made by the Japanese company Descente (which was a big deal at the time, because no MLB uniform had ever been made by a Japanese company before). But according to Bill Henderson's guide, Descente only made the pinstriped and black unis. The gold ones were made by Rawlings in 1977 and then by Wilson for the rest of the bumblebee era. Interesting!
I was aware of a few teams that had their uniforms made by multiple manufacturers in a given season back in the day, but I wasn't sure how common that was. So I asked Bill Henderson. Here's his response:
It was actually not unusual at all for teams to spread the wealth in the '70s and '80s. Often they would have identical sets made in Set 1 and Set 2 by different manufacturers. Sometimes the grays were made by McAuliffe, the Yellows by Wilson and the Whites by Rawlings! This goes back to the '60s (at least), when teams had different manufacturers make homes and roads. They got more free stuff that way.

Besides the "Mix and Match" Pirates, the White Sox, Braves, and others often had full sets of home/road/alternate uniforms made by Wilson, Russell and/or Rawlings. The A's also had a hodgepodge of manufacturers from style to style, year to year.

It's always interesting to me when I see old photos of teams on the field with different players wearing jerseys from different manufacturers. Often the fonts would not all match, because each manufacturer had its own "house" version of the fonts. The mid-'80s Astros were a classic example. I guess everyone lived with it because that's the way it was then. There were no vector graphics files to exchange.
Great info from Bill. Anyway: An imperfect bumblebee showcase is still a lot better than none at all. The Buccos' next Sunday home date is May 1 — looking forward to it.
(My thanks to Joe Sewash for letting me know about the Bob Walk commentary, to Bill Henderson for sharing his expertise, and to everyone who submitted photos, especially Phil.)
• • • • •
Click to enlarge
Everyone calm down: Yesterday Phil Ticker-linked, with very appropriate skepticism, to a Color Rash cheat sheet (shown above). That photo is circulating all over the place, and people are getting all worked up into a lather over it, so here's a quick reality check:
1. The photo came from a Twitter account called NFL Leaks. I have no idea who's behind that account or how trustworthy that person is. I'm not saying the person isn't trustworthy, mind you; I'm saying we're dealing with an unknown quantity here. That means the legitimacy of this cheat sheet is open to question.
2. Even if it is legitimate, the sheet specifically says (a) "All designs subject to change" and (b) "Same color matchups will result in color change for one club."
In short: Everyone relax. We'll see the real Color Rash designs soon enough. Given how awful they're likely to be, I for one am in no hurry.
• • • • •
KRC update: The latest installment of Key Ring Chronicles, the column I edit over at McSweeney's, is now up. It involves a key ring with a library card. Check it out here.
• • • • •
How is this soda different from all other sodas?: Passover begins this Friday, which means lots of products normally made with high-fructose corn syrup are currently available with cane sugar. That includes Coca-Cola, whose Passover-approved version is easy to find by virtue of its yellow cap. Further info here.
• • • • •
The Ticker
By Paul

Baseball News: Phil had this in yesterday's Ticker, but just in case you missed it: Remember MLB's recent move to ban personalized bat knob decals? I'm now told that the commissioner's office issued a memo last Thursday to GMs and clubhouse managers, stating that after further consideration, personalized decals will now be permitted after all. However, trademarked characters or anything else that might have intellectual property implications, like Matt Duffy's Duffman decal from last year, are still off-limits. "¦ Rickie Weeks Jr. of the D-backs has JrOB this season. "¦ David Wright has been wearing an orange undershirt for years, but he's been wearing blue this season. That's one of several 2016 Mets uni observations that Shannon Shark has cobbled together in this post. "¦ Yesterday was the Phillie Phanatic's birthday, an occasion that was noted on the base jewels for yesterday's Phils/Nats game (from @cg072014). "¦ The Richmond Flying Squirrels debuted their waffle-themed uni yesterday. .. Brewers INF Colin Walsh wore Utah jazz socks during pregame warm-ups yesterday (from Clinton Dybul). "¦ Marlins 2B Dee Gordon wore some nasty-looking two-in-ones yesterday. "¦ Giants pitching coach Dave Righetti was wearing the wrong jersey prior to last night's game. Here's another pregame shot. Not sure if he changed into the proper jersey once the game started. "¦ Cubs P Jason Hammel wore Miami Dolphins gloves for a pregame football toss. … There's a thoroughbred horse out there called Geaux Mets — and he won the second race at Aqueduct yesterday.

Hockey News: It had previously been reported that Anthony Zych, who designed those awesome Blue Jackets posters this season, was no longer with the team. I'm happy to report that he's joined the staff of the Devils, where I'm sure his considerably talents will be put to good use. I'm going to meet him in person later this week, which I'm very much looking forward to. "¦ Interesting WHA note from Jeff Kruger: "In the WHA's third season (1974-75), the Chicago Cougars initially wore gold breezers for with their white home uniforms "" a very nice look! Coach Pat Stapleton changed to green pants in an effort to break their early-season losing streak." "¦ The Red Wings have a new center-ice logo for the playoffs (from @jeffreybigmoney). "¦ Nice article on how Minnesota hockey fans still love the North Stars.

Soccer News: FC Kansas City's championship rings have a typo (from James Gilbert). "¦ Dortmund's new kit may have leaked. "¦ Ditto for Celtic.

Grab Bag: NASCAR fans will want to read David Firestone's assessment of the Stewart-Haas announcement. "¦ "I have no idea what this is all about," says James Huening, but a vodka bottle wearing a jersey screams 'Uni Watch!' to me." Indeed. "¦ Thermal camera footage appears to show that a bunch of pro cyclists had illegal motors on their bikes. "¦ Here's your latest chance to vote for the NASCAR paint scheme of the week. … A museum in London has a new exhibit on the history of underwear.
• • • • •

What Paul did last night over the weekend: Living in NYC can be a pain in the ass in all sorts of ways, but sometimes the city really delivers the goods, and that was the case for me this past weekend, as I checked out all sorts of cool stuff.
The festivities began on Friday night, when the Tugboat Captain and I joined our friends Jon and Karen at the American Folk Art Museum, which has a great exhibit on Masonic and Odd Fellows artifacts. I was struck by how team- and uni-like a lot of the stuff was — the Masons and Odd Fellows both use ceremonial aprons for members who achieve various levels of status, and the repeated visual motifs (all-seeing eye, heart in hand, beehive, representational axes, etc.) began feeling like team logos.
Here are some photos I took (if you can't see the slideshow below, click here):
The Tugboat Captain and I spent most of Saturday in Queens, beginning with a visit to the Queens Museum to see their new Ramones show. I had big misgivings about this one, because punk rock usually isn't the kind of thing that translates to a museum context, but the show acquits itself pretty well. And once again, it was impossible not to think about uniforms, because the Ramones had a pretty strict dress code throughout their career — motorcycle jacket, T-shirt, torn jeans, sneakers. They also had a rule about not smiling in press photos, but the show includes a rare shot of them breaking that rule, from the same photo shoot that produced the front-cover image for their first album. It's nice to see them breaking character and enjoying themselves (there's an entire article about this photo here):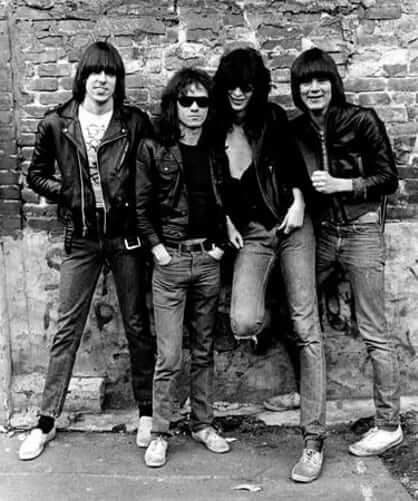 After the museum, we sunned ourselves at the Unisphere, visited the Candela Structures, made friends at a local watering hole, and then had dinner at Cheburechnaya, a wonderful Kosher Uzbek kebab house in Rego Park that's been a favorite of mine for years. One of the many things I love about the place is that they cook the kebabs over a long, narrow pit of charcoal, which they stoke with a old, beat-up hair dryer (click to enlarge):
As for Sunday: Longtime readers may recall that someone close to me runs a blog devoted to the $2 bill. She's featured in a new documentary about the $2 bill, which made its NYC debut yesterday at a local film festival, so we went to check it out. It's really good — definitely worth seeing if it shows up in your town. Here's the trailer:
That, my friends, is one sensational NYC weekend. Hope your weekend, wherever and however you spent it, was even better.