Celebrating 70 years of 49ers football. #FaithfulSince46https://t.co/HbkpzRTKpghttps://t.co/orgLf57OtP

— San Francisco 49ers (@49ers) March 7, 2016
The 49ers unveiled a 70th-anniversary patch yesterday (see above; further info here). It's a muddled design that's part of a muddled category of patches, and we're going to look at that category today.
First, a quick primer: There's a difference between an anniversary and an ordinal. An anniversary is the same as a birthday — you celebrate it at the conclusion of the numbered year in question. Example: When you turned 10 years old, you celebrated your 10th birthday, which was also the 10th anniversary of your birth. An ordinal is always one number ahead of the anniversary. Example: On your 10th birthday, you began your 11th year.
Generally speaking, our culture celebrates anniversaries, not ordinals. Let's say your parents got married in 1986. That means last year, in 2015, they marked their 29th wedding anniversary and they began their 30th year of marriage. But did they have a big blowout party to mark the start of that 30th year? Of course not — they'll wait until this year and have big party to celebrate their 30th anniversary (which will also mark the start of their 31st year of marriage, but nobody cares about that because our culture tends to celebrate anniversaries, not ordinals).
Sports teams used to routinely celebrate anniversaries, too. For example, Yankee Stadium opened in 1923, so in 1973 the Yankees wore a 50th-anniversary patch for the ballpark (the first stadium-anniversary patch in sports history, don'tcha know). If they had wanted to celebrate the ordinal, they would have worn a 50th-season patch in 1972, but they didn't do that because our culture celebrates anniversaries, not ordinals.
But at some point things started shifting. Some teams — not all of them, but just enough to make things confusing — began celebrating ordinals instead of anniversaries. The Montreal Expos, for example, played their first season in 1969, so their 25th anniversary was in 1994. But they didn't wear a patch that year — instead, they wore it in 1993, which was their 25th season (but their 24th anniversary):
Even more confusingly, some teams have used the term "anniversary" inaccurately. In 1986, for example, the Mets wore a "25th anniversary" patch:
But 1986 was not the Mets' 25th anniversary; it was their 25th season (and therefore their 24th anniversary). Their 25th anniversary didn't come until 1987. (As a footnote, this inaccurate patch is included on the '86 throwback that the Mets will be wearing this season. So the throwback has an accurate reproduction of the inaccurate patch. Nice!)
Some teams have even been inconsistent regarding whether they celebrate the anniversary or the ordinal. In 1993, for example, the Royals — just like the Expos — wore a 25th-season patch. Sixteen years later, in 2009, they wore a 40th-anniversary patch:
So that first Royals patch commemorated the ordinal; the second one marked the anniversary. Come on, people, make up your minds!
I strongly, strongly prefer anniversary patches, not ordinal patches — in part because of our cultural predisposition toward celebrating anniversaries, but also because anniversary patches look better and feel better. To see what I mean, let's start by taking a look at these logos: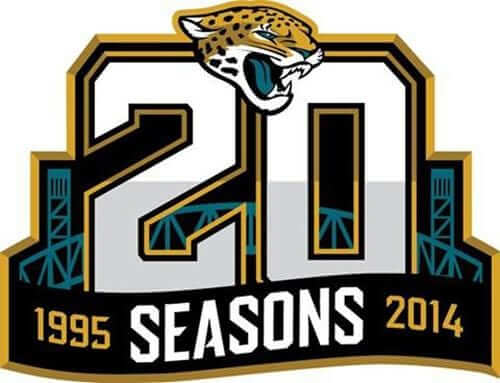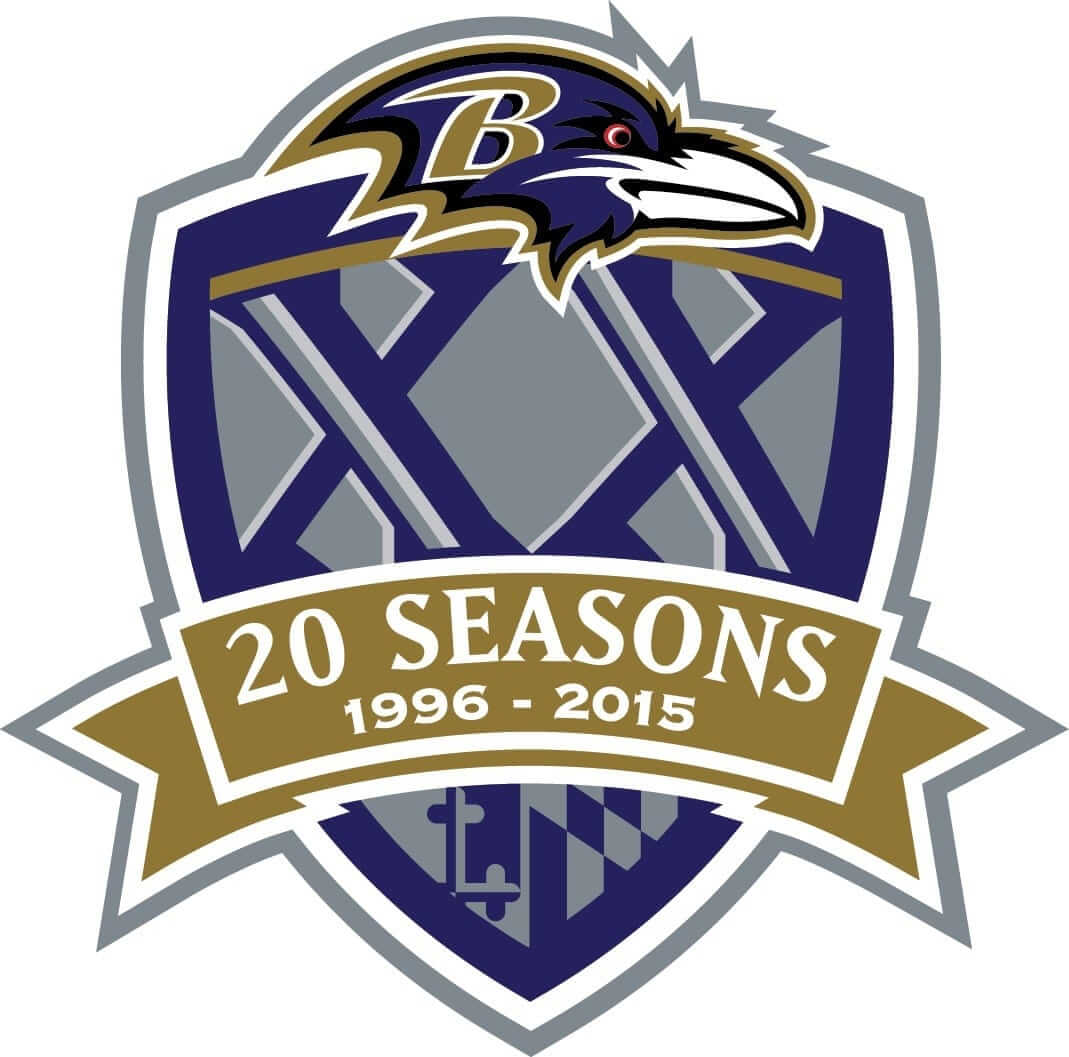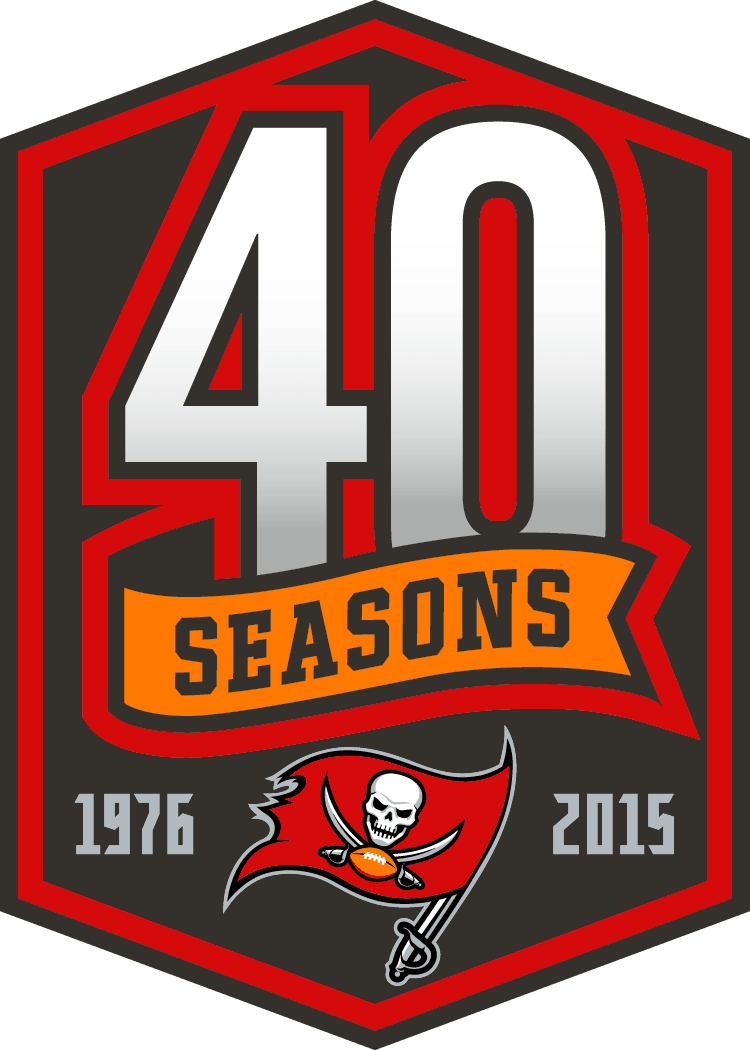 Now compare that set of logos to this next set: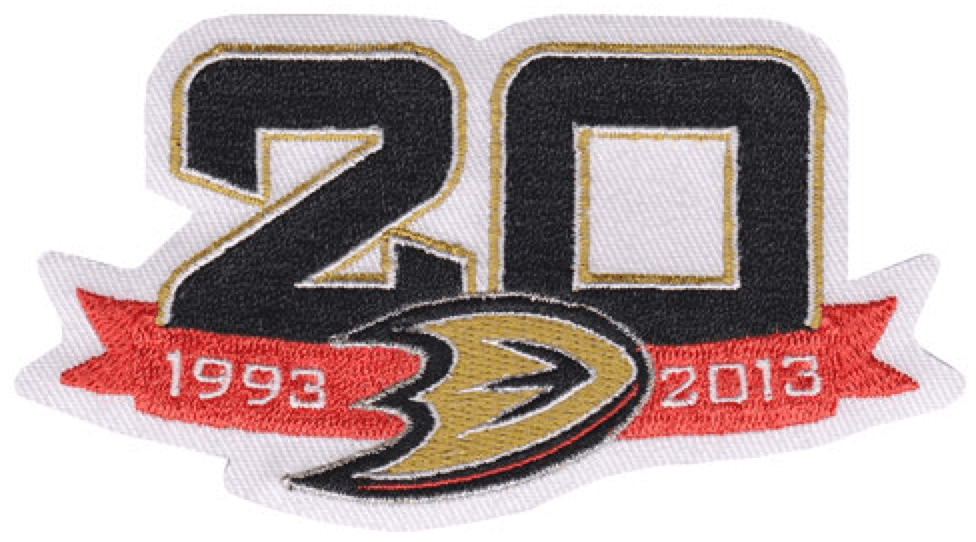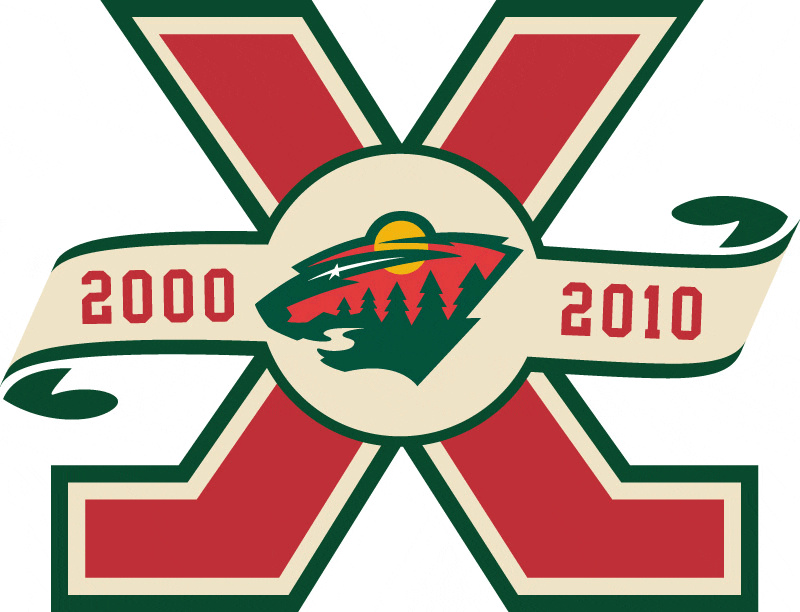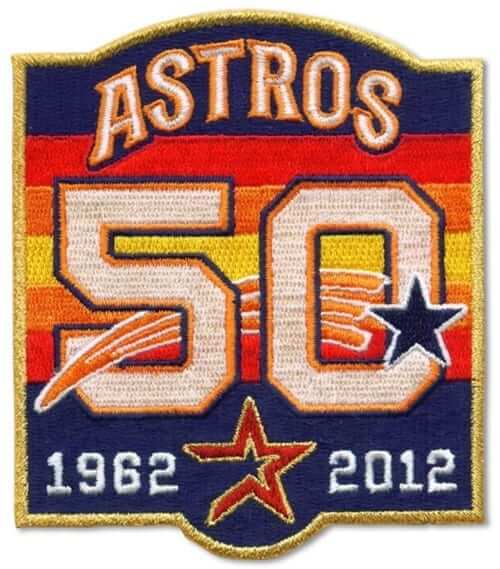 The first set, obviously, celebrates ordinals, while the second set celebrates anniversaries. And as you can see, there's a nice symmetry to the date ranges in the anniversary logos — the two years always end in the same numeral. That feels so much better, so much more intuitively right, than the date ranges in the ordinal logos.
Also, if you take the earlier date on the anniversary patches and then add the big anniversary number, you get the later date. Again, this makes intuitive sense. But if you try that same thing with the ordinal patches, it doesn't add up. Example: The Expos' 25th-season patch shows a date range of 1969 to 1993. But if you add 1969 and 25, you get 1994 — which is why they would've been better off going with a 25th-anniversary patch, not a 25th-season patch.
But sometimes the math isn't what it seems to be. For example, take a look at this patch:
At first glance, that looks like a 20th-anniversary patch. But it's not: The Canucks' first season was 1970-71, but they wore that patch in 1989-90, which means it was a 20th-season patch, not a 20th-anniversary patch. Basically, they cheated with the dates because NHL seasons cross over two calendar years — they used the first year of their first season and the last year of their 20th season (which was actually their 19th-anniversary season). There are lots of similar examples among NHL and NBA teams. And the situation with the NHL is even more confusing because the entire 2004-05 season was wiped out by the lockout.
Are you following all of this?
Now, finally, let's turn our attention to the 49ers, beginning with a bit of history. In 1986 and '96, they wore anniversary patches: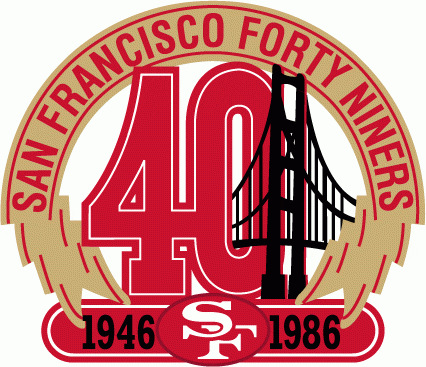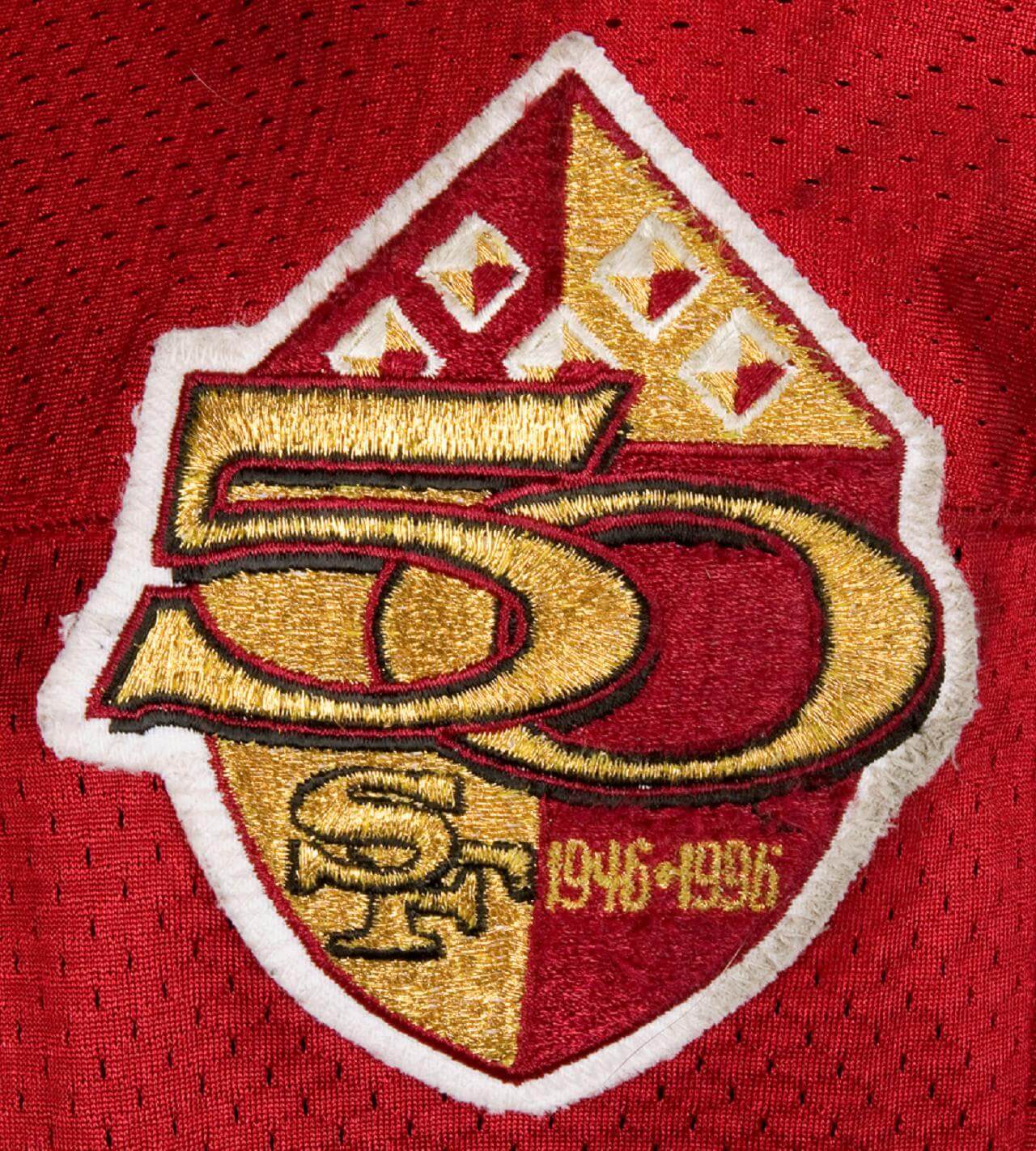 Ten years later, in 2006, they wore a 60th-anniversary patch, but they confused the issue by including the word "Seasons" in the design, making it seem like a 60th-season patch instead of an anniversary patch: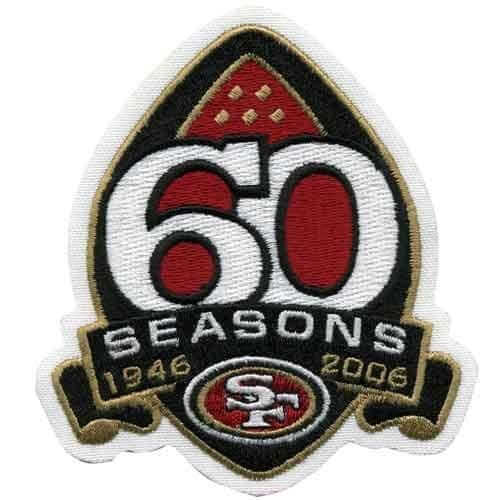 Technically speaking, that last patch was wrong. If you count all the seasons in the date range — 1946 through 2006 — you get 61 seasons, not 60.
And now we have their latest patch — the one that was unveiled yesterday. Numerically speaking, it's an anniversary patch, because 2016 will mark the Niners' 70th anniversary. But look what they've done: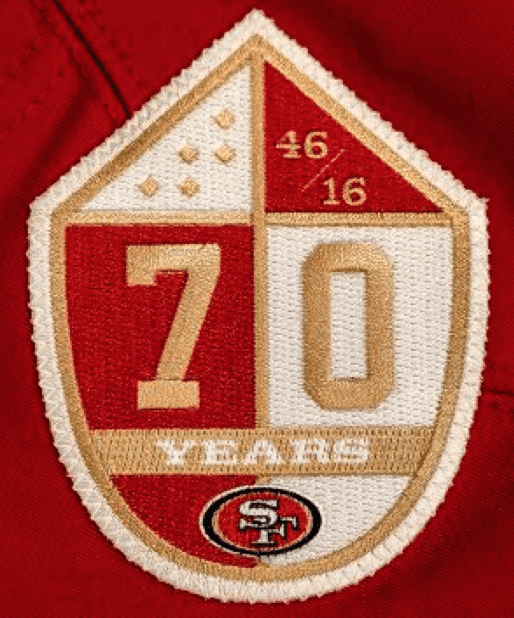 Now they've switched from "Seasons" to "Years"? Come on, man — how many different ways can one franchise celebrate its decennial anniversaries? (Yes, it's true, I just wanted to use the word "decennial" there.)
The "Years" trope isn't unprecedented — several teams have done it. The problem is that they've sometimes done it while celebrating an anniversary, as seen here: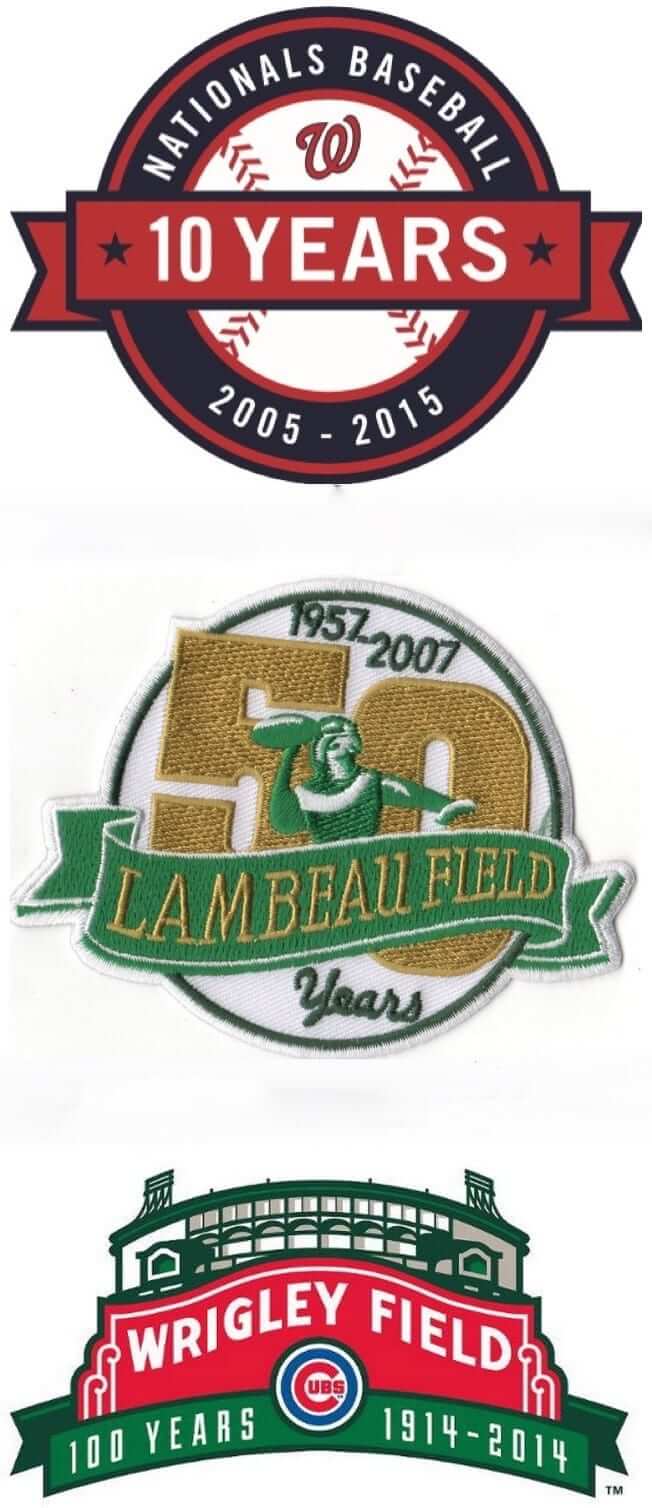 And sometimes "Years" has been used while celebrating an ordinal, as seen in this next patch design: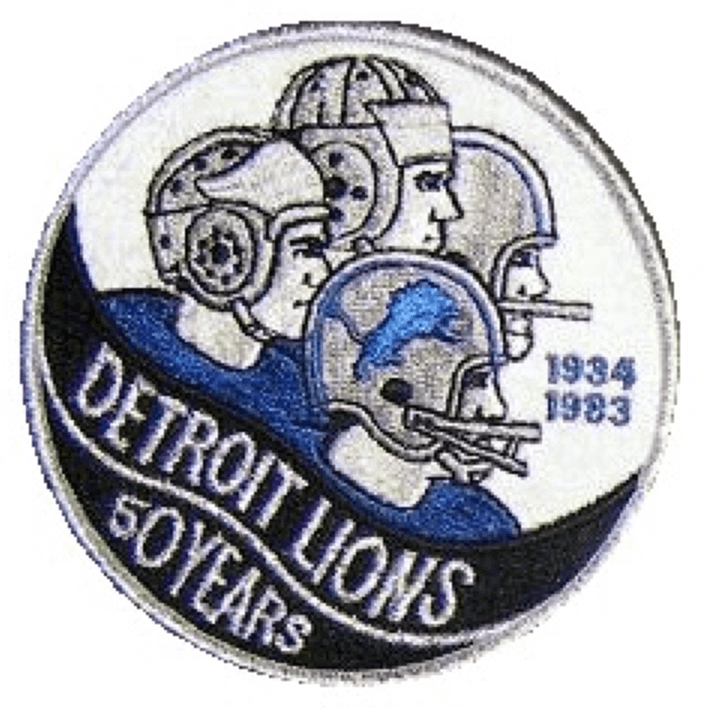 What a mess! Look, it's really simple: Only celebrate anniversaries, not ordinals, and stop using "Seasons" and "Years" on patches, the end.
• • • • •
Design contest reminder: In case you missed it last week, I'm running an ESPN contest to redesign the Detroit Lions. The deadline is tomorrow evening. Full details here.
• • • • •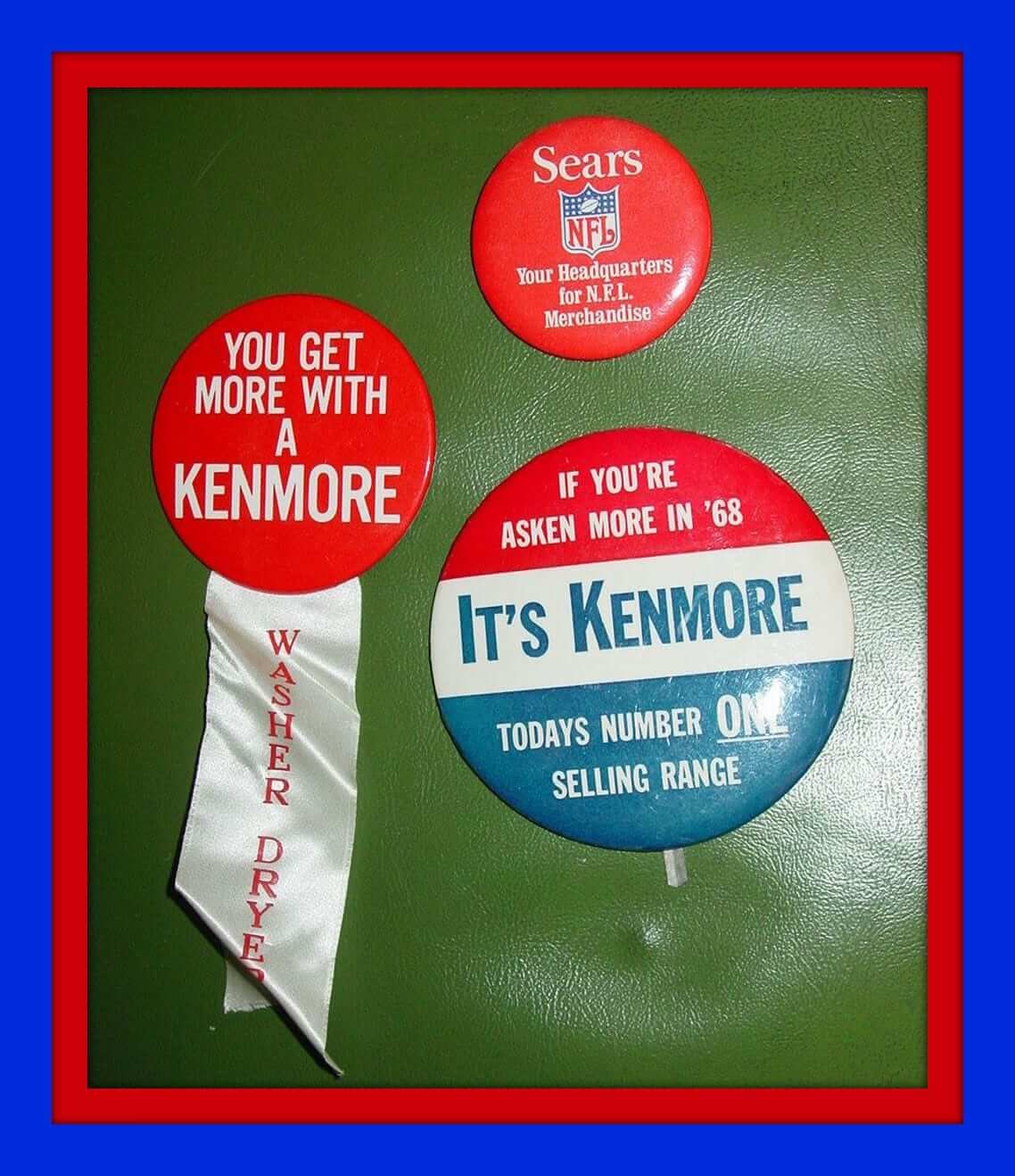 Click to enlarge
Collector's Corner
By Brinke Guthrie
"If You're Asken More In '68, It's Kenmore." That's the slogan (and spelling) on one of the buttons in this Sears set, which also includes one that says "Sears, Your Headquarters for N.F.L. Merchandise." Truer words were never spoken. If they sold that one by itself, I'd buy it.
Now on to the rest of this week's picks:
• This week's edition of Collector's Corner is brought to you by Stroh's, of course. This was a bar countertop sign, and you could tear off a copy of the "TV-Football" schedule. Are the times all Eastern? Which networks?
• Here's another beer promo sign, this time for the Baltimore Colts and National (So Good You Can Taste It) Beer. Could that be Ray Berry on the front there?
• Check out this 1970s Miami Dolphins/IHOP placemat. "Take this place mat to the game and have the players autograph it." Don't think they nailed the helmet logo, either. Since it's an NFLPA item, most likely didn't have the rights.
• My very first wearable pro sports logo item, right here; this 1970 Vikings hoody from Sears. (Got the matching PJs at the same time, too.) Why the Vikings, when I lived in Louisville, just 100 miles from the Bengals? I liked the helmet design. I Got Itâ"¢, even when I was 10. (I also had a Chiefs pennant from a Bengals game. Same rationale there, too.)
• Here we have one of those 1970s Acrometal plaques, this time for the short-lived Minnesota Fighting Saints of the WHA.
• Fairly basic design to this 1970s Buffalo Bills rain poncho. It seems the Bills helmet is displayed in a white background resembling The Shield.
• I certainly do remember this design: The Reds were not shy about displaying their many championship banners in the 1970s — this one is on a glass dish celebrating the 1975 Series title. And as we all know, they weren't finished yet!
• Always wondered why the Vikings were shown in their white road uniforms, as opposed to the classic purple, in this great 1970s poster. After all, would Dave Boss have painted the Cowboys in blasphemous blue? (Acutally, yes he would've.)
• This Rawlings Packers jersey from the 1970s has an NFL shield on the sleeve, and is now what you'd call "distressed."
• Very rarely ever see a Pat Patriot helmet plaque on eBay, but here it is.
Follow Brinke on Twitter: @brinkeguthrie
•  •  •  •  •
The Ticker
By Mike Chamernik

Baseball News: A few people sent this in: Mets reliever Sean Gilmartin explained the proper way he puts on his stirrups. Here's a step-by-step guide as to how he does it. … Mets closer Jeurys Familia was spotted wearing a pink compression sleeve. Brian Erni thinks it might be in honor of Shannon Forde, a longtime PR staffer who passed away on Friday after a lengthy battle with breast cancer. … Speaking of Familia, he microwaved his glove yesterday. … The Tigers are again holding University Days this year, where they'll give away Tigers caps in the colors of local schools (from Alex Dewitt). … The Cubs and Royals went blue-vs.-blue yesterday (from reader Anne K). … Also, the Padres and Brewers went navy-vs.-navy, and the Reds and Angels went red-vs.-red. … The Reading Fightins will wear some garish jerseys celebrating 50 years as a Phillies affiliate (from Michael Lipinski). … The Bowie Baysox released their promotional schedule. Dates include Ginger Night and Back Hair Appreciation Night (from Andrew Cosentino). … Orioles minor leaguers played Keio University of Japan this past weekend. Look at the weird kerning on Keio's jerseys. Here's another look (from Robert Andrews).

NFL & College Football News: The 'Skins presented Nancy Reagan with a "Just Say No" jersey in 1988. More details here (from Tommy Turner). … Peter Fredrickson and I enjoy the orange-and-brown plaid pants that Browns coaches wore in the 1977 team photo. … Check out the noseguard an unidentified player wore in this 1915 photo (from Nash Villain). … Yesterday was National Cereal Day, so Mike Powers found a box of Randy Moss cereal from back in the day. Moss wore a pseudo-Vikings jersey on the cover. Here's a good compilation of other athletes who had their own cereals.

Hockey News: McDonald's held a promotion where the Bruins' Zdeno Chara met with Canadiens fans, but apparently the company didn't have NHL rights so all the logos are blurred out. … The Knoxville Ice Bears will wear country-themed jerseys on Saturday.

Basketball News: The Bucks wore white on the road and the Bulls wore red alts at home last night. … A Jayhawks blog reviewed the uniforms Kansas wore this year (from Phil). … The ACC tournament uses conference-branded speakers (from James Gilbert). … Savannah State and Delaware State went gray-vs.-powder blue. Ted Chastain couldn't tell which team was which. … Two teams played white-vs.-gray in a Mississippi high school playoff game. We really need to make a universal decision as to whether gray is considered white or color. … Georgia held its high school state championships on a court that was the wrong size. The baskets were a foot farther back than they should have been. … College basketball crowds love their giant heads.

Grab Bag: "Found this today," says Omar Jalife. "Farmacia is pharmacy in english. In Spanish we don't use apostrophes and instead normally use "de" (of) "" Paul's beer: la cerveza de Paul. Most likely, the pharmacy is called Farmacia's so the apostrophe is 'correctly' used. In the end, it is Farmacia Farmacia's (Pharmacy's Pharmacy). You can tell because it says Farmacia on the right side of the entrance. Mexico can be weird." … Reggie Love, President Obama's former top aide, wrote about how he helped the president learn how to dress (from Brinke). … The logo for Wrestlemania 33 has leaked. … Students are protesting the logo for the Harvard Law School, which is a shield based on the crest of an 18th-century slaveholder. … Someone has ranked all 45 New Zealand Warriors jerseys from over the years. The Warriors are a rugby team (from @Naly_D). … Some people within women's lacrosse believe that the new standardized protective headgear will lead to more aggressive play, ruining some of the nuances of the game.