The jerseys for the World Cup of Hockey were unveiled yesterday, and for the most part they're not bad. Here are the home designs, except for Russia, for which we have the road design):
Russia

Absolutely gorgeous, Россия. These uniforms by @adidas will be worn at #WCH2016 by Russia's best and brightest. pic.twitter.com/GzYElM9NRT

— NHL (@NHL) March 2, 2016
.
Czech Republic
Czech them out! These are the #WCH2016 Czech Republic uniforms by @adidas. pic.twitter.com/ddjDRFYSrp

— NHL (@NHL) March 2, 2016
.
Sweden
How "Swede" are these? @adidas has designed some stunning #WCH2016 uniforms for Sweden. pic.twitter.com/N5ZnQPvFiF

— NHL (@NHL) March 2, 2016
.
Canada
Canada will be looking very sharp at #WCH2016 in these beauties by @adidas, eh? pic.twitter.com/A1N2M06wFR

— NHL (@NHL) March 2, 2016
.
Finland
The finest Finnish hockey players will be rocking these uniforms by @adidas for the #WCH2016. pic.twitter.com/UPjjC7JYeg

— NHL (@NHL) March 2, 2016
.
Europe
Signifying a unity of nations, behold the #WCH2016 Team Europe uniform by @adidas. pic.twitter.com/AdOshnmxZt

— NHL (@NHL) March 2, 2016
.
North America
Now that's a look fit for hockey's rising stars. Here are the Team North America uniforms from @adidas. #WCH2016 pic.twitter.com/OrKsW388PH

— NHL (@NHL) March 2, 2016
.
USA
Red, white, and beautiful. These USA uniforms by @adidas for #WCH2016, that is. pic.twitter.com/KrBIB1vymz

— NHL (@NHL) March 2, 2016
You can see my initial thoughts on each design in this ESPN piece, which was written yesterday afternoon, based on the eight videos shown above. Since then, Russia's home jersey has been released, along with the road jerseys for all the other teams. Here they are (click to enlarge):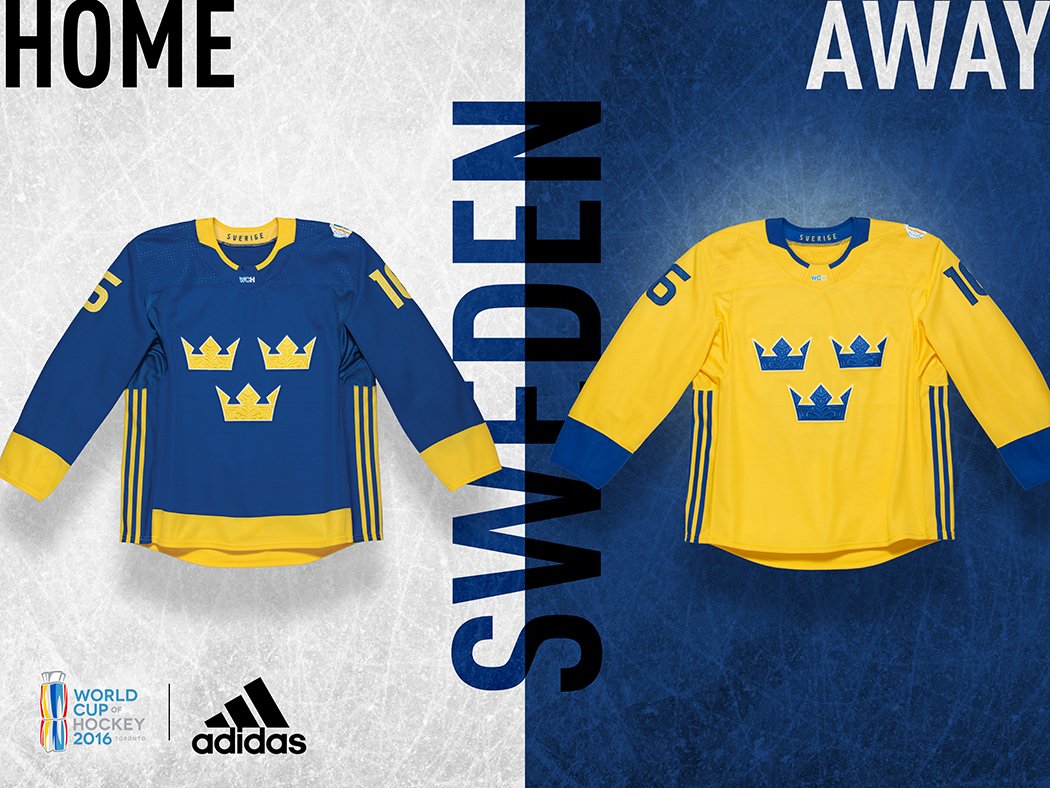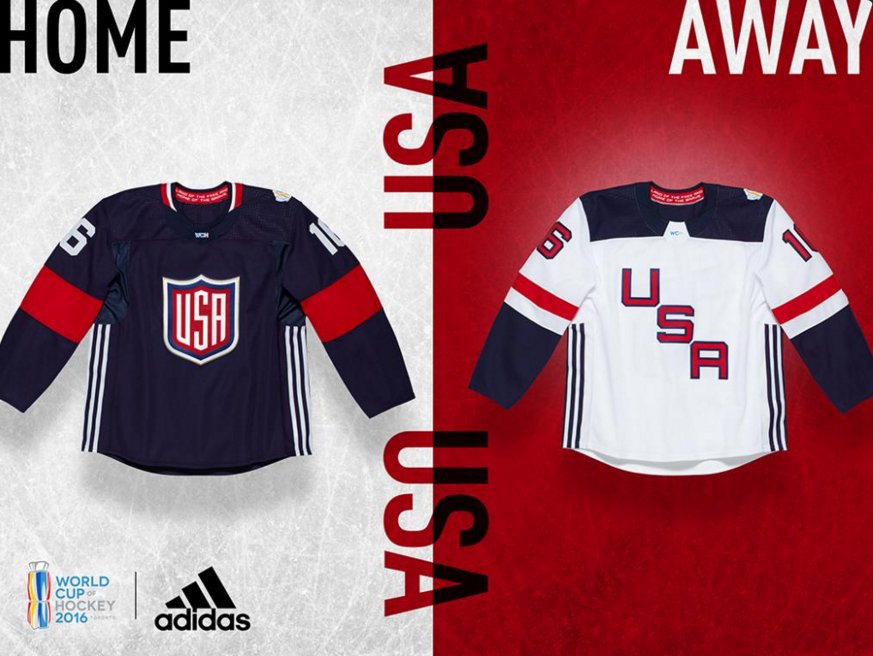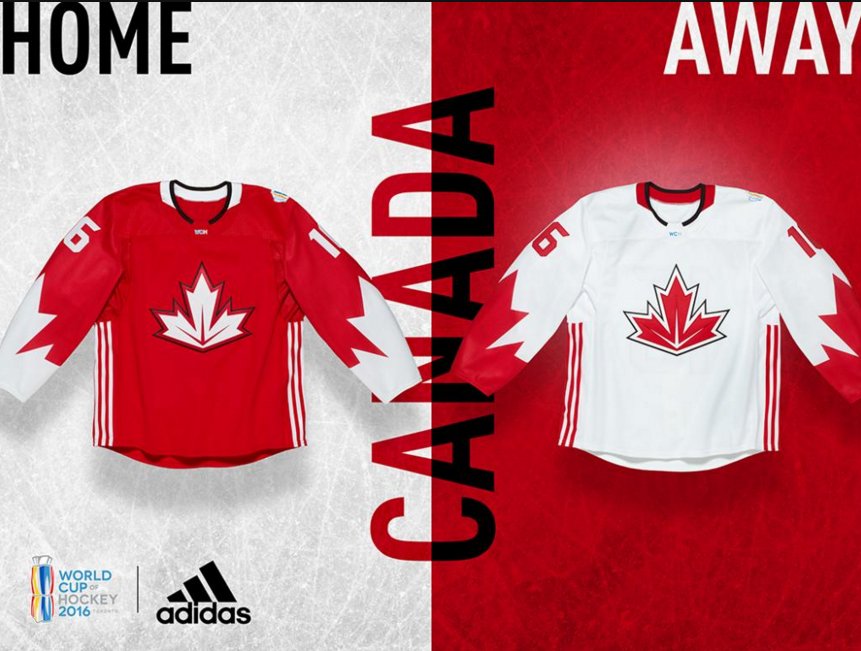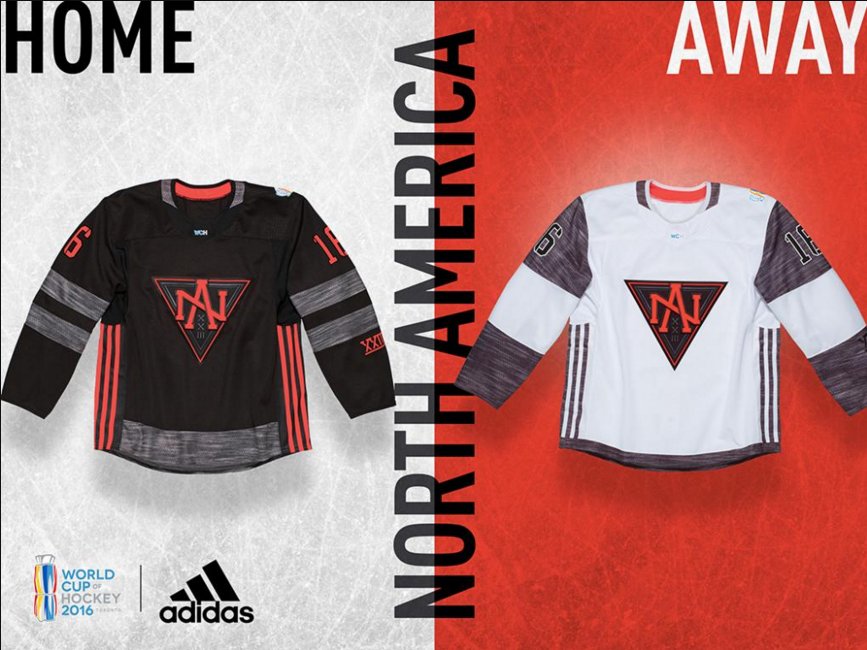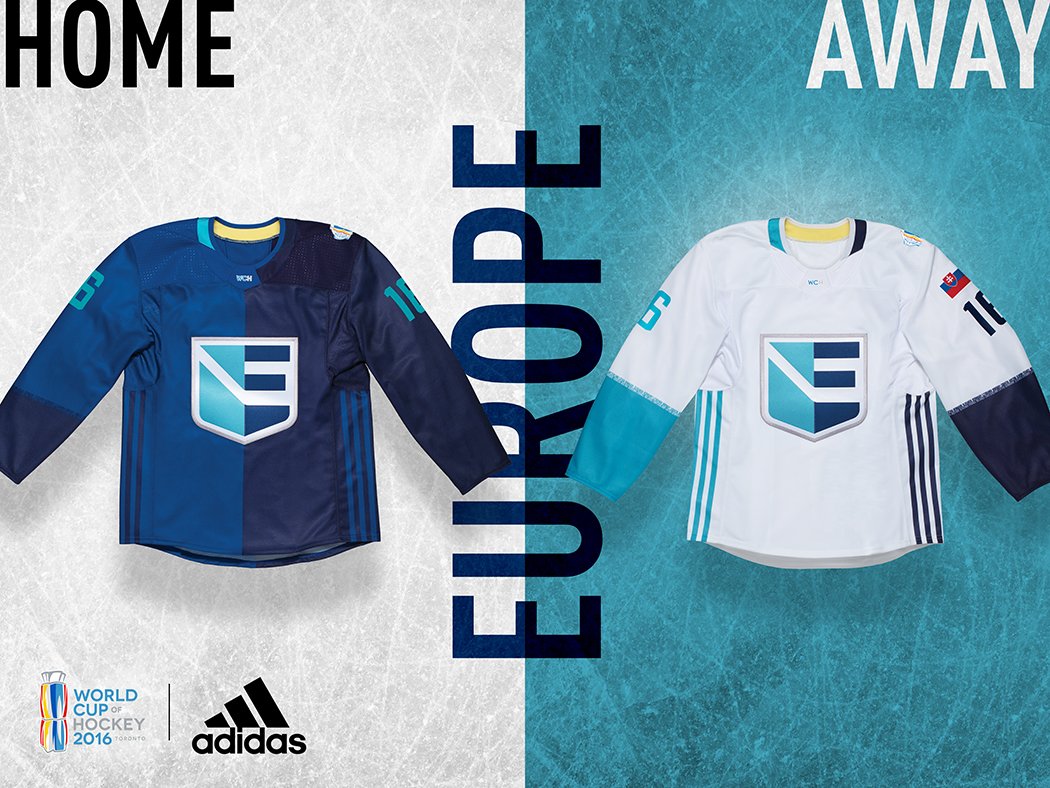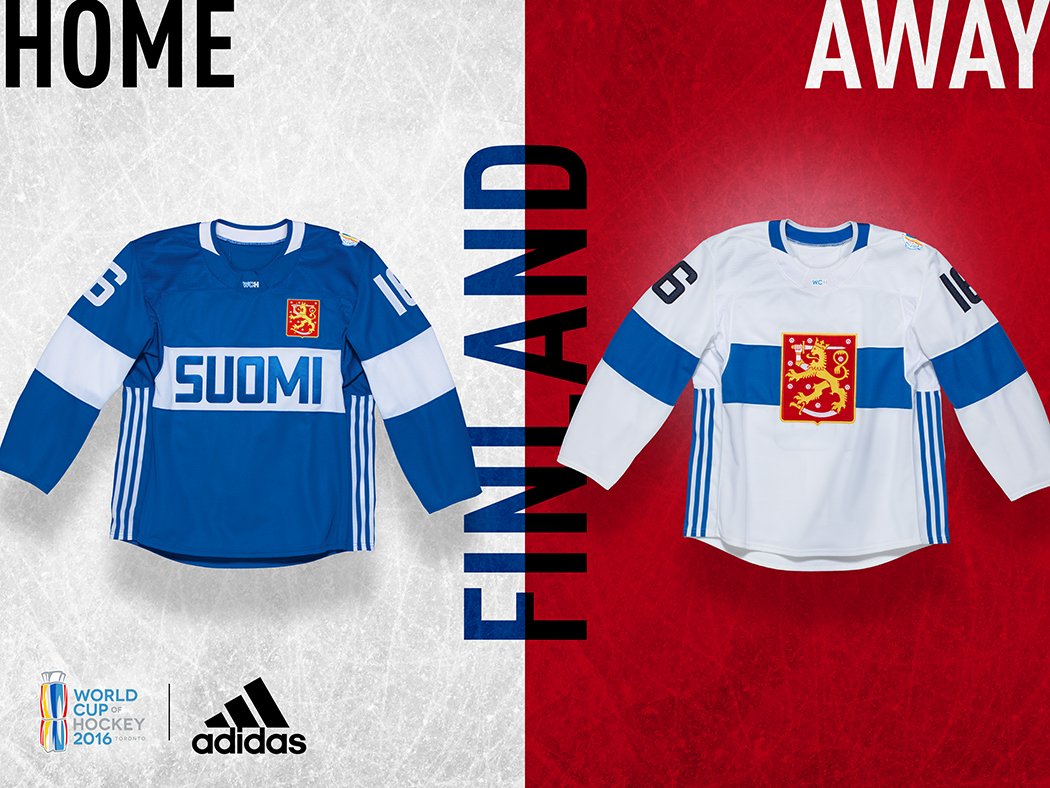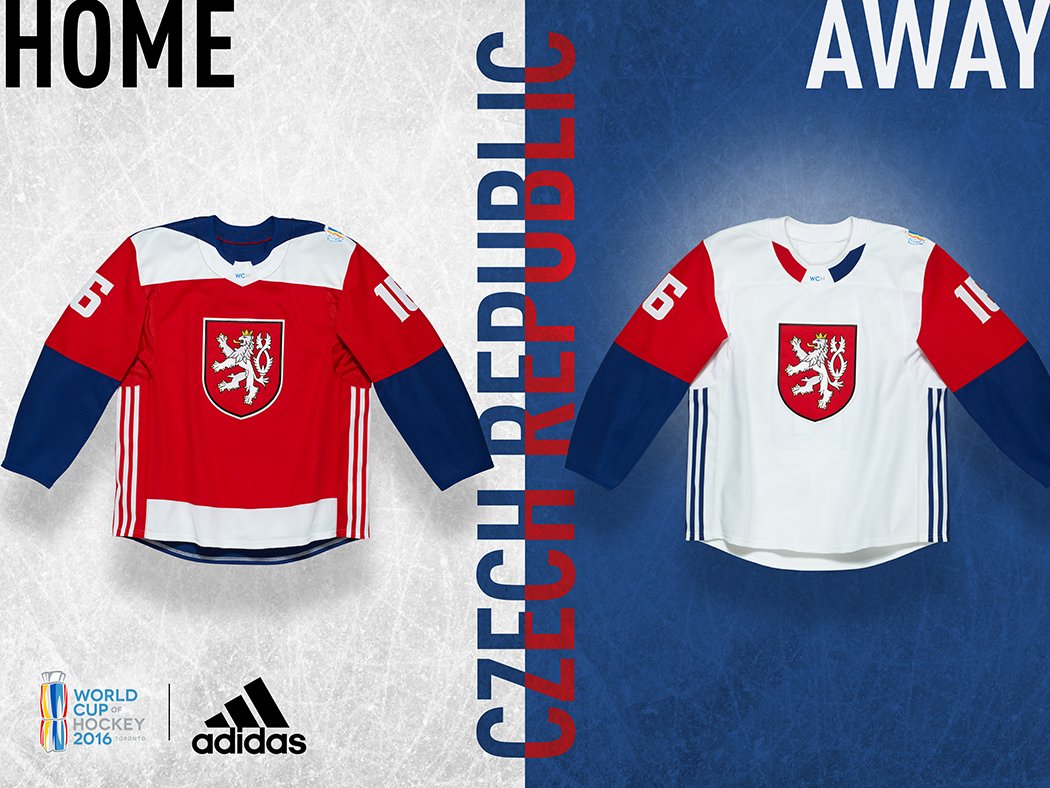 In some cases, I think the road version is a big improvement (USA, Finland), but overall it's a mixed bag.
Meanwhile, it's tremendously frustrating that they've unveiled the jerseys without showing us the entire uniforms. There are a few other promo videos and images floating around that provide peeks at some of the pants, but to my knowledge there's only one uniform (Europe home) that we can see from head to toe, and one other (USA home) for which we can see the pants and get a glimpse of the socks: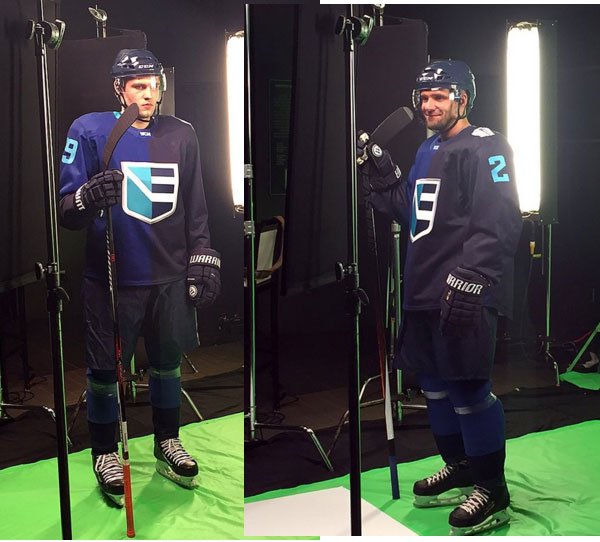 Red white & blue. Your first look at Team USA's #WCH2016 sweater, designed by @adidas pic.twitter.com/cjAeZHRtYM

— NHLPA (@NHLPA) March 2, 2016
If you want to see the press release with all of Adidas's embarrassing descriptions of the designs, look here (but don't blame me if you end up with a cringe cramp).
Meanwhile, the tournament's logo suggests that an unpopular trophy design may be making a comeback.
(Several of the images in this entry first appeared — or at least I first saw them — in Chris Creamer's Twitter feed. My thanks to him.)
•  •  •  •  •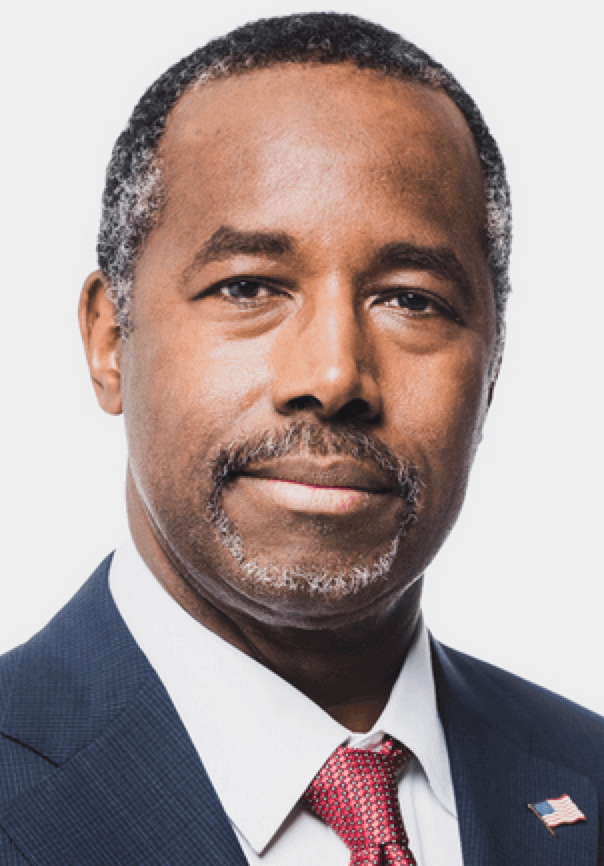 Hairy situation: Republican presidential candidate Ben Carson essentially ended his campaign yesterday, thereby assuring that two little-noted streaks will continue: We have not had a president with facial hair since William Howard Taft (who served from 1909 through 1913), and we haven't had one with a beard since Benjamin Harrison (1889-1893).
I found it rather startling to see a presidential candidate with a goatee. (Yes, I know it's technically a Van Dyke, but that rhetorical battle has been lost.) Then again, I also found it startling the first time I saw a goatee on an MLB umpire, an MLB manager, an MLB general manager, an MLB commissioner, an NFL head coach, an NHL head coach, an NBA head coach, a Sunday-morning talk show host, and so on, all of which would have been unthinkable a generation ago. It really shows how far our collective concept of formality has shifted over the years. So while Carson may be the first presidential candidate in memory with facial hair, I suspect he won't be the last.
And yes, I have a goatee myself, which I've worn since 1993. I can assure you that I have no ambitions to run for president, but it's nice to know that I could now do so if I wanted to. (But I still couldn't play for the Yankees, which is A-OK with me.)
• • • • •
Design contest reminder: In case you missed it earlier this week, I'm running an ESPN design contest to redesign the Detroit Lions. Full details here.
• • • • •
The Ticker
By Paul

Baseball News: Royals C Salvador Pérez has gotten the team's World Series patch as a tattoo (from EggsTyrone). … The New Hampshire Fisher Cats will wear split-colored "bipartisan" jerseys for Opening Day (thanks, Phil). … Good for the Orioles, who wore their regular home whites, instead of the new spring training jerseys, for yesterday's Grapefruit League opener (from Andrew Cosentino). … Speaking of the O's, check out the logos on their bases yesterday. … Yanks and Tigers wore their regular unis yesterday as well, although the Tigers wore their brutal orange caps. … In that same game, a Tigers pitcher forgot to bring his jersey and had to wear coach Gene Roof's jersey instead (thanks, Mike). … Meanwhile, Majestic maintains that the Yankees will wear the Flex Base mesh panels like everyone else, even though the mesh hasn't been shown up yet in their spring training camp (from Joey Boots). … Oh baby, check out this amazing old ad featuring Shoeless Joe Jackson living up to his nickname while wearing stirrups! (Thanks-a-plenty, Phil.) … Kentucky wore new blue tops for yesterday's home opener. … Jar Jar Binks jerseys upcoming this season for the Altoona Curve (thanks, Mike). … The Harrisburg Senators are doing a promotion with life-size bobbleheads (from @acustom). … Pirates P Jared Hughes, who had experiemented with the new protective pitcher's headgear last month, wore his regular cap for yesterday's game (from Jerry Wolper). … The Royals and Rangers went blue vs. blue yesterday. Also, note that Mike Moustaka has his name on the top strap of his shinguard (from Brandon Fischer). … We reported yesterday that the Reds will be adding a memorial patch for longtime equipment manager Bernie Stowe. Perhaps it will look like this graphic that they've added to the top of their dugout. … The trend of wearing gold-trimmed uniforms to celebrate the previous season's championship has spread to the minor leagues. … As you've probably heard, Mets OF Yoenis Céspedes recently bought a hog, which is now going to be butchered. Too bad Céspedes doesn't have one of these theoretical T-shirts, eh? … Here's a really nice segment on longtime reader Jimmy Lonetti's glove-repair service. … ALS-awareness cap patches this weekend for East Carolina (from Matthew Moss).


Pro and College Football News: Yesterday's Ticker mentioned that Sports Authority might be filing for bankruptcy. Now they've gone ahead and done it, which could create problems for the Broncos. Aw, what a shame. … New uniforms for the University of Northwestern (from Drew Elrick). … Check it out: a UNC uniform from — get this — 1890! That's from this exhibition (from Ryan Frazer and James Gilbert). … New uniforms for Oklahoma State. Further info here (from Jeremy Moore).

Hockey News: Great story in Popular Mechanics about the origins of the Zamboni machine (thanks, Mike). … Parade Day jerseys this weekend for the Binghamton Senators (from Mike Kuruc). … You can now buy smart phone cases adorned with hockey skate laces. … Newly acquired F Brandon Pirri will be wearing No. 11 for the Ducks. "This means the Ducks now have Perry (No. 10) and Pirri (No. 11)," notes Chris Cruz. … Star Wars jerseys this Saturday for the Quad City Mallards.

NBA News: All three Jeopardy! contestants failed to identify the Warriors' logo the other night (from James Gilbert). … You can now hear the radio call of Wilt Chamberlain's 100-point game (thanks, Mike). … NBA teams are wearing "Los" shooting shirts this week, but the Nuggets' version has last year's font (from Alan Baca, via Phil). … Check out Knicks teammates Robin Lopez and Kristaps Porzingis wearing bowling shirts patterned after the team's throwback uni.

College and High School Hoops News: An annual rite here at Uni Watch is when Jesse Gavin checks in with some notes from the Iowa State Basketball Tournament. Among his observations this time around: "The girls from Cherokee are all wearing headbands this week, including one with a massive swoosh (far left). A girl from the opposing team, Osage, had a headband with an even larger swoosh." Also, we had previously reported that there's a school called the Nikes (referring to the Greek goddess, not the company). Unsurprisingly, their uniforms are made by Nike, but their coaches are wearing Under Armour. … The women's ACC Tournament will have a pretty crazy-looking court design (from Cameron Ilich). … Oklahoma honored Blake Griffin's jersey but, per team custom, didn't retire his number (thanks, Phil). … UT-Arlington is going G.I. Joke tonight (from Chase Stevens). … Brutal combo last night for Virginia Tech, which went pink-trimmed BFBS (from Andrew Cosentino). … USC and Oregon State went gold vs. orange last night, while West Virginia and Texas Tech went gold vs. red.

Grab Bag: The Colorado Rapids' new jersey may have leaked (from Leland). … Funny car driver Tim Wilkerson is wearing last year's driver suit. "Note the old Mello Yello Drag Racing Series logo on the suit, and new logo on cap," says eagle-eyed David Firestone. … New logo for the Hattiesburg, Mississippi, Fire Dept. … "I went to my son's high school track coach's preseason parents' meeting and was surprised to have the uni-industrial complex intrude," says a reader who prefers to remain nameless. "The coach mentioned that the team would be getting new unis this year — not because the old ones were worn out, but because Bainbridge High is 'now an Adidas school.' I wonder what will happen with the cross country team in the fall. It is the largest team in the school, with over 130 boys and girls running the past few years. A lot of the XC gear is bought by a parents' group that does a bunch of fundraising. I honestly don't recall the manufacturer (it could be more than one) but am certain that they won't be happy if they're told that they need to buy a whole new set to keep Adidas happy. Kind of silly for a small public school on a small island west of Seattle." … Interesting piece on the socio-cultural politics of the hoodie.