Click to enlarge and see additional players
About five years ago I did an ESPN feature about a mid-1960s minor league baseball team that wore a Confederate battle flag sleeve patch. But I'm not sure I've ever seen a college football team that wore the a Confederate flag patch until now.
These photos, which were sent my way last week by reader Dennis Jones (who says he found them in a magazine while cleaning out his attic), show the 1968 team from the University of Texas at Arlington, which at the time was called the Rebels. Anyone know if their roster included any black players?
The team name was changed to the Mavericks in 1971 (further info here), and the school's teams still use that name today.
After I posted the UT-Arlington photos on Twitter, reader Richard Lewis told me that former NFL quarterback Tommy Kramer's high school — Lee High School in San Antonio — also wore Confederate flag patches. I went looking for a high school photo of Kramer, and sure enough (click to enlarge):
It's not clear which year that photo is from, but Kramer played high school football from 1969 through 1972, so it's from somewhere in that range. The team was (and still is) called the Volunteers, but the school itself was named after Confederate Gen. Robert E. Lee, so that presumably explains the patch. Again, it would be interesting to know if the team included any black players.
I'm aware of one other instance of a college team wearing the Confederate flag, but not as a patch. When Florida faced Penn State in the 1962 Gator Bowl, the Gators wore the flag on their helmets (click to enlarge):
I don't mean to suggest that these instances are unique. On the contrary, I'm sure there must have been lots of other teams that wore the Confederate flag at some point during this period. But it's still powerful to see.
Meanwhile, here's an odd coincidence: As I was working on this piece, Phil directed me toward this tweet, which shows that the Confederate flag was displayed during pregame ceremonies at the 1976 MLB All-Star Game, which was played in Philadelphia:
'76 @MLB ASG: American flags over time + confederate, English, w/ holders in period military unis @PhilHecken pic.twitter.com/jOM2dChSzC

— Jordan Mayblum (@TownsmanJordan) February 17, 2016
1976 was American's bicentennial year, of course, and the flag appears to have been part of a larger display of flags from American history. Still, it's hard to imagine such a thing taking place at a sporting event today, no matter the historical context.
• • • • •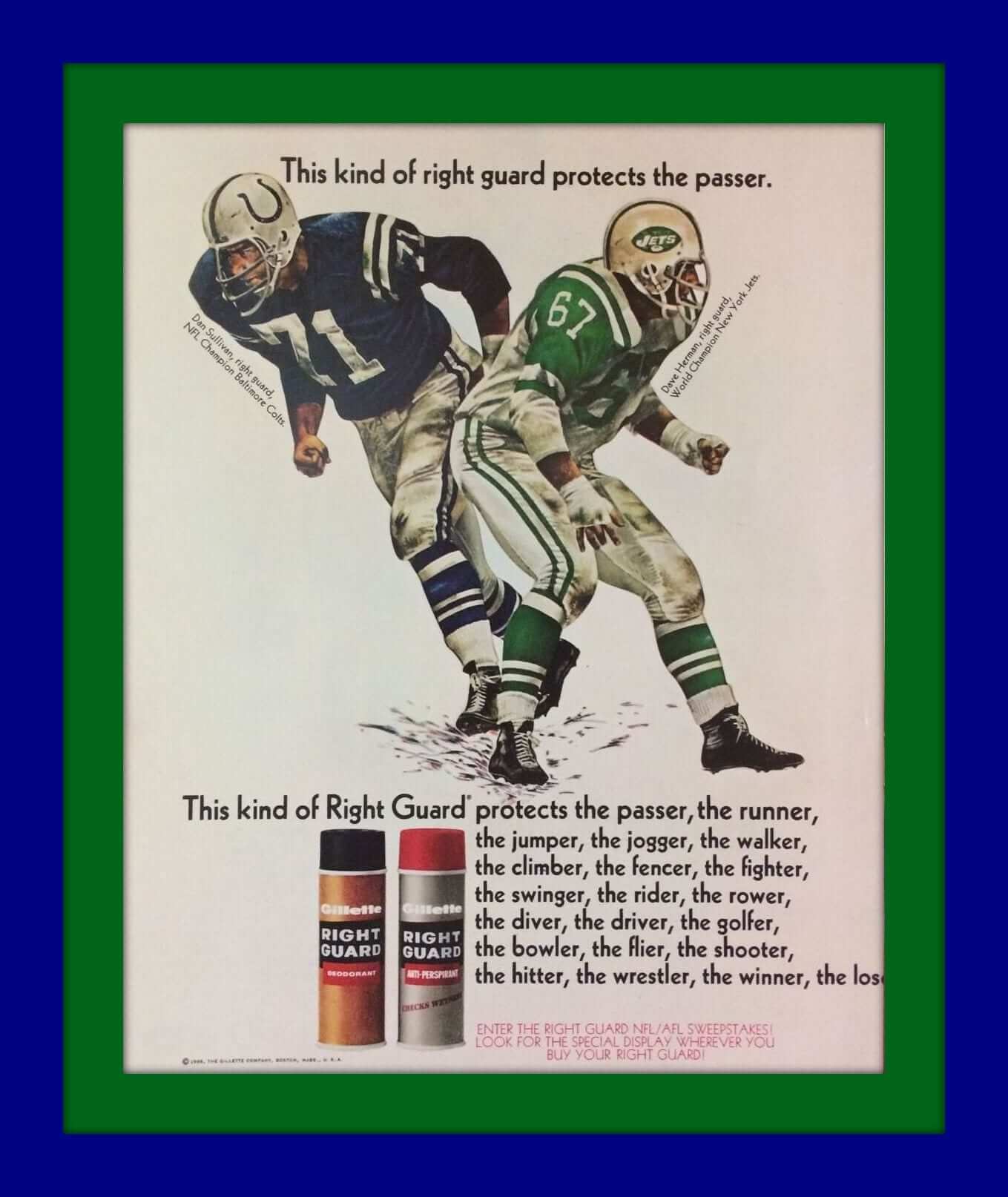 Click to enlarge
Collector's Corner
By Brinke Guthrie
This kind of right guard protects the passer (and the runner, the jumper, the jogger, etc.). Great Right Guard print ad, featuring Dan Sullivan of the "NFL Champion Colts" and Dave Herman of the "World Champion Jets." So this ad arrived following the Namath-guaranteed win in Super Bowl III. And if you like that, check out this set of vintage NFL player print ads, too.
Now to the rest of the week:
• Check out the artwork on this 1969 Chargers/Patriots game program. They just don't make 'em quite like this anymore, do they? And before you know it, they'll totally do away with programs, and you can just preview the game on your smartphone.
• Terrific art on this 1960s San Francisco Giants mini-pennant from Bazooka. Since you obviously can't get this inside a pack of gum, it had to be a mail-in premium kinda thing.
• Let's go, Big O! Here's a 1960s Oscar Robertson basketball strategy game. (Side note: I used to see his Rolls Royce in the Cincinnati suburb of Indian Hill. His license plate simply read, "O.")
• Before the Colorado Rockies were a baseball team, they were a hockey team. One of my favorite logos ever on this Rockies mug.
• Normally DeLong was spot-on with their logos, but couldn't they have done a better job with the Bears "C" on the chest? This one is a little more accurate.
• Hey, L.A. Rams fans! Here's a set of seven "Mint unused" 16 oz. drinking glasses with the cool "L.A. inset" font — and blue facemasks!
• Dave Winfield has some top batting tips for you on this 1970s promo record from Coca-Cola. Now all you need is a record player.
• This 1970 N.Y. Giants gumball helmet from IHOP is still sealed in its package.
• Here's a "commemorative limited edition decanter" for the 1969 K.C. Chiefs!
• "Sock 'Em, White Sox" with this vintage pocket mirror.
Follow Brinke on Twitter: @brinkeguthrie
• • • • •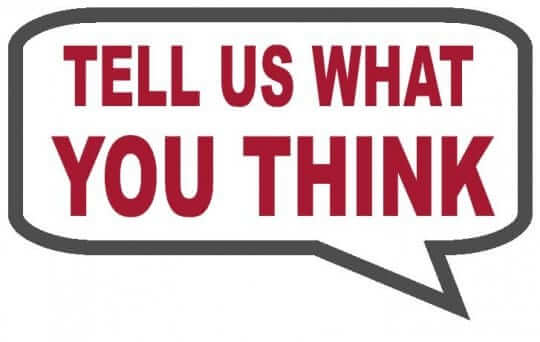 Question for you folks: My last two design contests over on ESPN have been for the NHL (Maple Leafs) and NFL (Rams). For our next one, I'd like to do an MLB team.
And that raises a question: Which team should it be? Should we redesign a team that could really use it (the Brewers, say), or a should we tinker with one of the supposedly sacrosanct designs (Dodgers, Yankees)?
Post your suggestions in today's comments.
•  •  •  •  •
The Ticker
By Mike Chamernik

Baseball News: The Diamondbacks wore their new dark gray pants, and here's another look at their bloody-cuff white pants. … Phenomenal work by Chris Creamer: He created a graph showing every color scheme ever worn in MLB. Definitely worth spending some time with. … New patches for the University of Arizona. … TCU wore throwbacks on Sunday (from Patrick Homa). … New pinstriped gray jerseys for BYU (from Ryan Bernal). … A Sam Houston pitcher wore a batting helmet with a facemask (from Nick Lineback). … Indians P Corey Kluber went high-cuffed with striped socks for yesterday's workout (from @Believeland1994). … New gray unis for Lebanon Valley College, a D-III team in Pennsylvania. I just learned the team's nickname is the Dutchmen, and that an angry Dutch Boy is its logo. Fantastic! (From Mike Williams.) … Hawaii softball has throwback jerseys. … Mike Hersh was watching an episode of Agent Carter recently. "From my novice viewpoint I noticed things wrong with the Brooklyn cap in the background," he says. "One, the show takes place in the late 1940s but that looks like a modern type 5950 hat. Two, displaying a ball cap at the office seems highly unusual for the time period. Three, the hat looks new but Dodgers hadn't worn a white cap since 1938. Sure feels like the someone in the prop department just wanted to point out that the guy is a New Yorker who's now living in L.A., historical accuracy be damned." Good eyes. But maybe it's like The Simpsons: Whenever you notice something like that, a wizard did it. "¦ Adam Spangler found this vintage satin baseball jersey at an antiques store in Louisville. He couldn't find what year it's from or what team wore it, but he still thinks Paul would enjoy it. [And he's right! "" PL] "¦ New uniforms for the Miami Hurricanes (from Jason Lefkowitz). "¦ New uniforms for the Japanese women's team Saitama Astraia (from Jeremy Brahm). … The Mets will wear their new 1986 throwbacks for Sunday home games this season.

NFL News: Chargers LB Manti Te'o proposed that his team wear all-navy at home this season. He even Instagrammed a mock-up of the look (from @BFTB_Chargers). … Kenny Kaplan found two film clips that show endzone lettering "upside-down," facing the crowd: One of the 1967 'Skins and one of the 1962 Steelers. "Was this a common practice in the '60s?" he asks. "¦ Look at this: A shot from an old Bills/Raiders game in Buffalo shows the Bills' logo on the chain gang's line of scrimmage marker. Was that because Buffalo had the ball, or because they were the home team? (Good spot by Peter Rayno.)

College Football News: A designer created some gaudy new helmets for a few SEC schools (from Phil). … New logo for the Army-Navy Game. On a related note: Back in 2011, our own Ricko recalled that Navy backs wore orange helmets with their all-gold jerseys in the 1961 Army-Navy game. While Ricko's memory is outstandingly accurate, I don't believe we found photographic proof of the game. Until now: Jim Considine found this photo of the game, and a Google search turned up this shot. So yes, it looks like backs wore the orange helmets, and the rest of the players wore gold.

Hockey News: The Blues will wear St. Louis Cardinals-themed warm-up jerseys on March 29. … Denver and Colorado College faced off at Coors Field on Saturday. Denver wore 1940s-era throwbacks and Colorado wore black alts. "Despite the Pioneers' 4-1 victory, some DU fans are fuming in response to a couple of uni-related incidents at the game," says Kary Klismet. "First, Coors Field security removed DU's popular sideline mascot, 'Denver Boone,' from the game. It appears he ran afoul of a stadium rule prohibiting patrons from wearing anything obscuring their faces. He wasn't granted an exemption because the university doesn't recognize him as an official mascot. In contrast, CC's official mascot, 'Prowler,' was allowed to remain on the field. Additionally, 'Mega-Boone,' a large banner DU fans unfurl to celebrate victories, went missing during Saturday night's game." … The Peoria Rivermen will wear Star Wars jerseys on Saturday. … This page allows fans to create and share a design for Blackhawks goalie Scott Darling's equipment (from Kyle Martinek).

NBA News: The Bucks wore their black alts at home last night, so the Lakers wore gold on the road. The game was played on the Bucks' alternate court, too (from @Carleeezy). … Remember when George Karl coached a game while wearing a Nuggets jersey in 2005? Clippers coach Doc Rivers says he wants to coach a game in uniform. The big news there is that someone actually wants to wear that crummy Clippers design (from Connor Boots). "¦ Larry Nance Jr. is wearing JrOB with the Lakers, although he didn't have the "Jr." on the jersey at his introductory press conference. Also: Last night his "Jr." didn't have the period at the end.

College Hoops News: Virginia Tech G Seth Allen injured his eye Saturday versus Florida State, so he wore bandages both above and under his left eye. "Brutal!" says Andrew Cosentino. … A few people sent this in: A poster for the ACC Tournament in Washington D.C. shows another dome-shaped building that is not the Capitol. … Weber State has its logo on its ice packs, or maybe it's on the tape that's wrapping the packs (from Sean L). … Florida State's women's team wore pink last night. The Seminoles faced Notre Dame, which wore gray unis with pink accents (from Phil). … An Ohio high school girls' team has ads on the backs of its warmups (from Chris Andrews).

Soccer News: Our guy Wafflebored created his own 1979 Vancouver Whitecaps jersey. … Houston Dynamo players have been wearing black bibs during the preseason. The bibs have devices in them that track player movement (from Ed Å»elaski).

Grab Bag: People who wear colorful socks have been found to be more interesting and successful than their peers. … Jeff Flynn has a 1959 pennant that shows Pittsburgh's three major sports teams on it. … A small cheerleader apparel start-up is challenging the industry's larger manufacturers (from Phil). … The U.S. Navy has been using the drop shadow block font on ships for decades, but Brian Codagnone found a photo of the USS Enterprise from WWII displaying a number in the McAuliffe font. … The British Olympic Association has issued a bunch of rules for its athletes, including "Thou shalt not cover up the Adidas logo" (from Phil).