For all photos, click to enlarge
Pirates pitchers Jared Hughes and Mark Melancon, shown above, became the first MLBers — at least that I'm aware of — to try out the new protective headwear for pitchers during yesterday's workouts. Here are some additional shots, all of Hughes (first photo by Zane Heiple):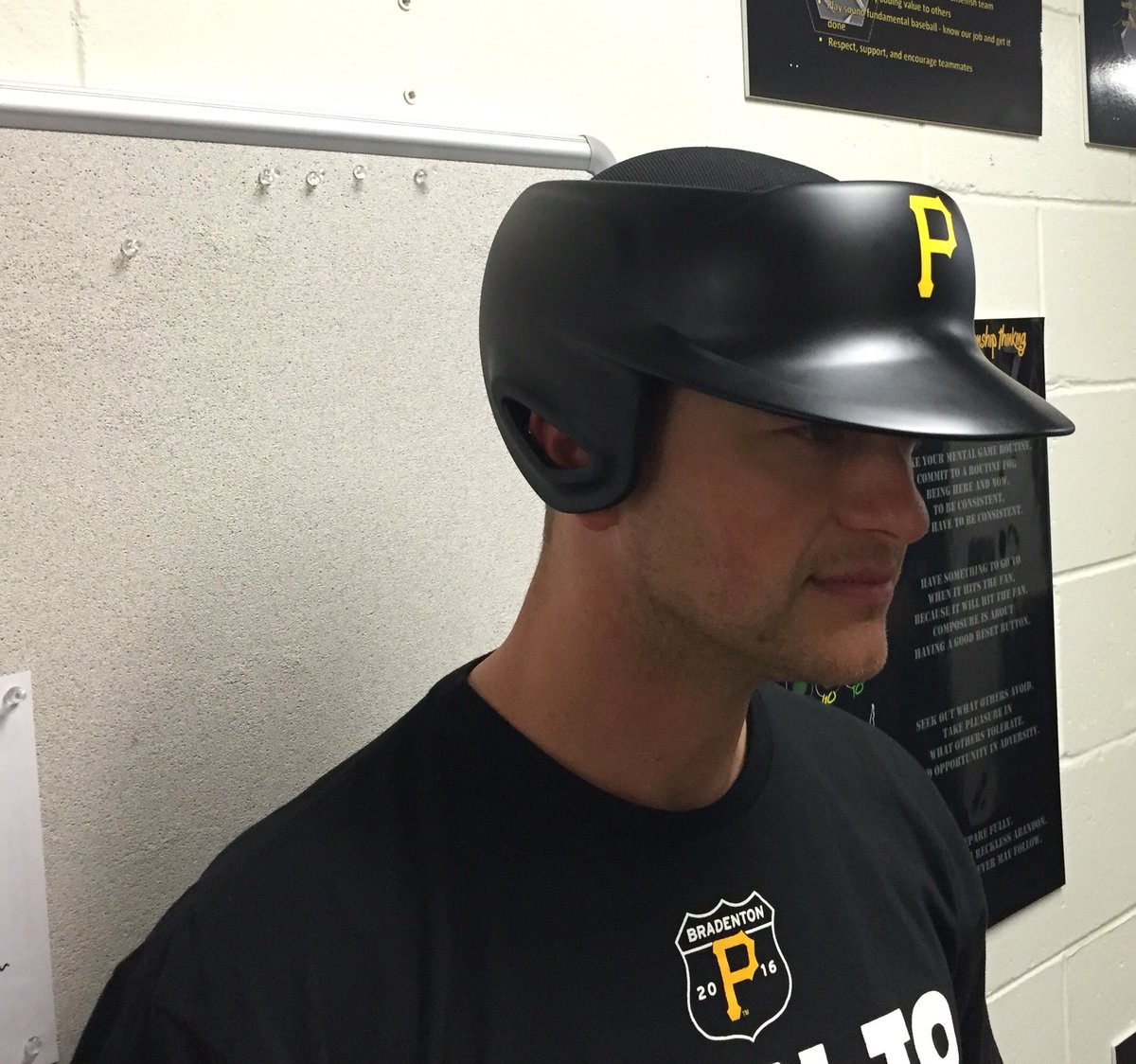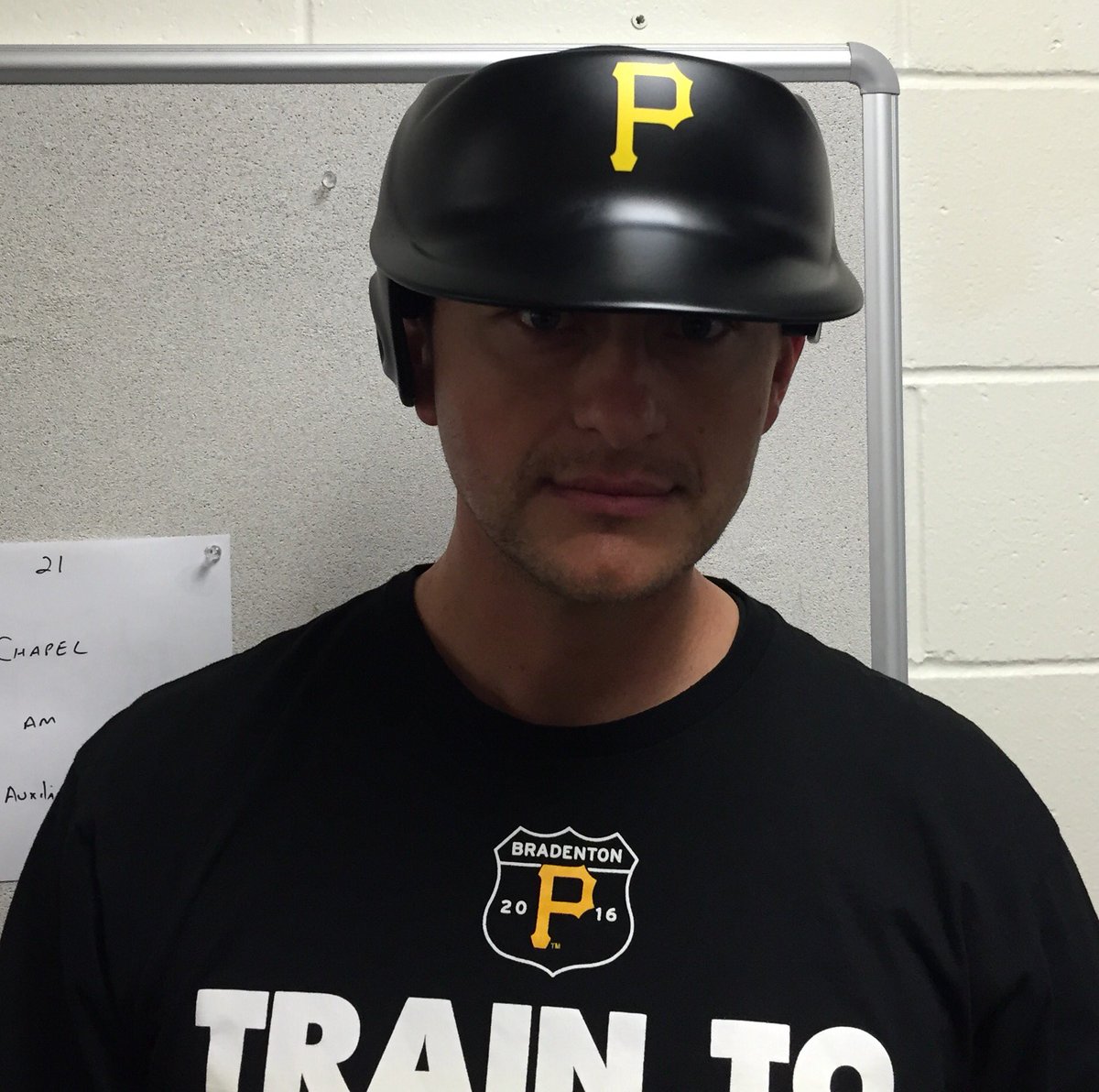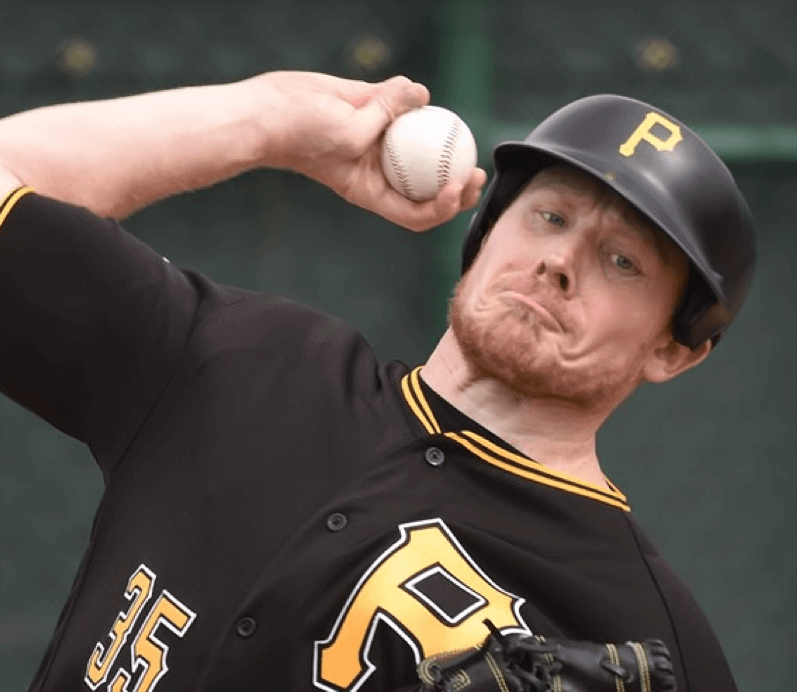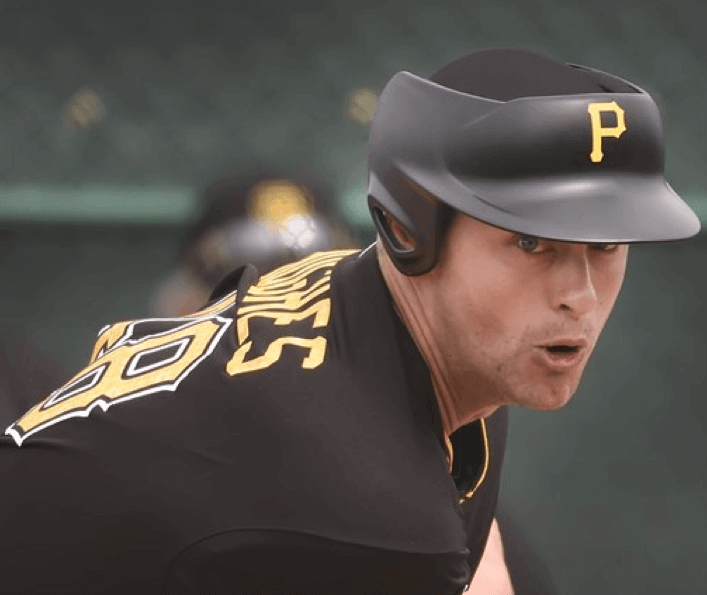 As you can see, there appears to be a thin layer of mesh fabric over the top of Hughes's head. According to this article, "Instead of a regular cap, the pitcher wears a thin skullcap underneath the headgear. The design makes it seem like the player has an extreme flat-top haircut "" or perhaps only half a head."
You can get a better sense of the skullcap in these next two shots: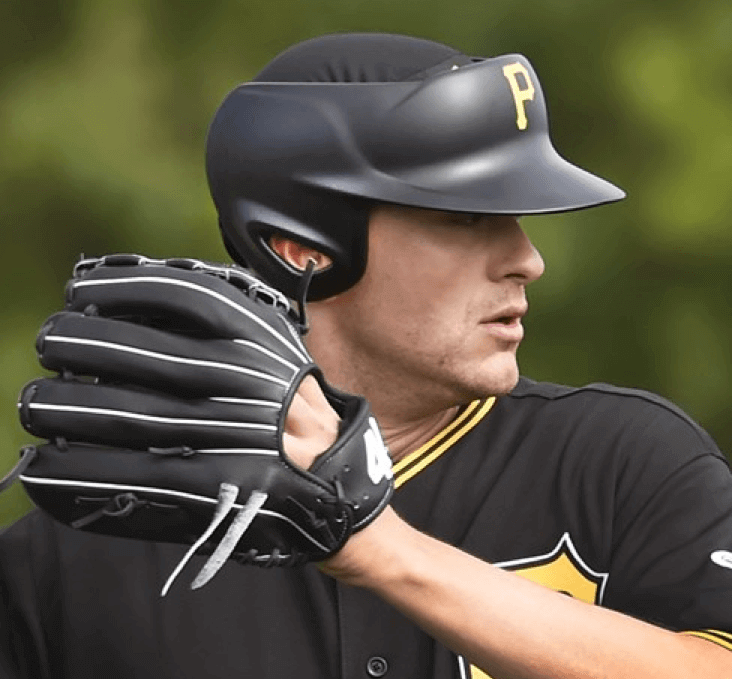 Afterward, Hughes said, "It felt like a normal hat. I plan on wearing it in a game and seeing how it is against hitters." But Melancon was less enthusiastic: "It looks funny. Just because of the looks, it might not be something that I wear during the season. As shallow as that seems, and I'm definitely not that guy "¦ I don't know. I'm just not there yet. Give me a little time, and maybe I'll get there."
There are lots of additional photos at the bottom of this page, and here's some video:
Finally, in case you missed it, Phil took an extensive look at the new gear two weekends ago.
•  •  •  •  •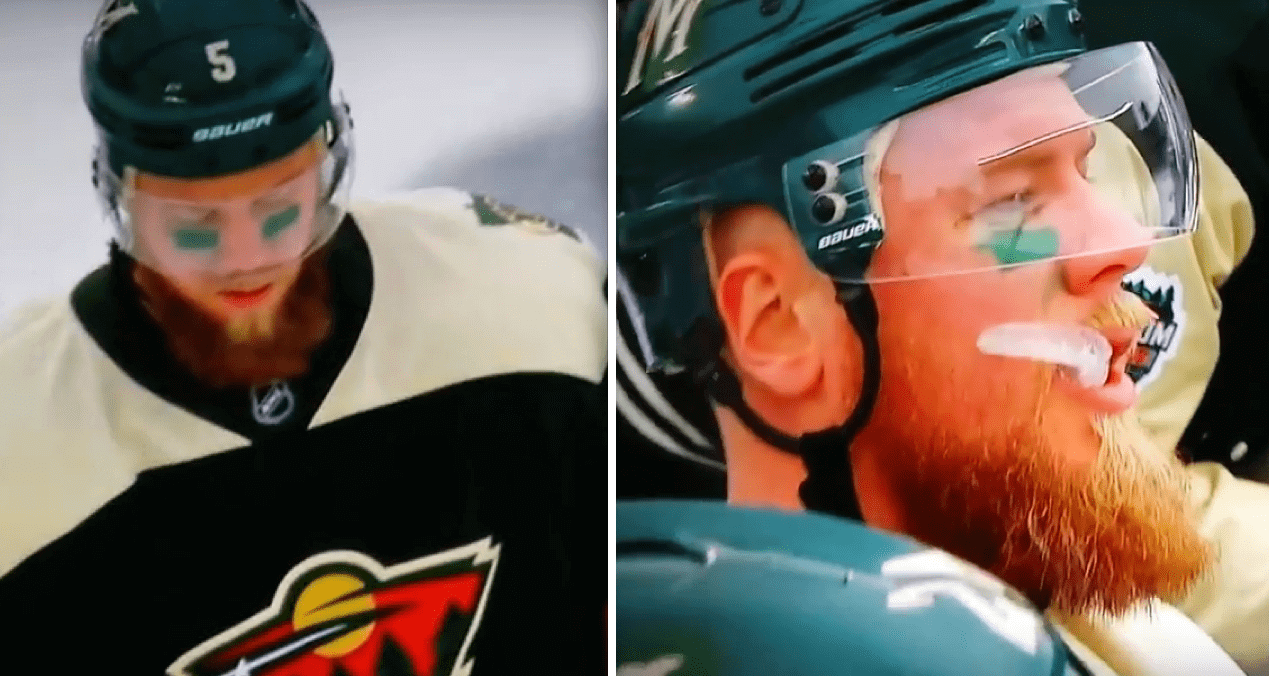 Click to enlarge
St. Paddy's Day comes early to Minnesota: We're used to seeing eye black in the NHL's outdoor games, but it's not often that you see eye green. That's what Wild defenseman Christian Folin was wearing for yesterday's Stadium Series game against the Blackhawks. As a lifelong green-ophile, I heartily approve.
A few other notes from the game:
• While Folin wore eye green, several other players wore eye black:
• As you can see in that last photo, the Blackhawks' collars and merch had stars inspired by the Chicago flag.
• As is typical for these outdoor games, the coaches wore really awesome varsity-style jackets:
• The TV numbers were comically oversized, especially for the Wild. I know, I know — it's so the people in the stands can see them (even the "best" seat in the house was really far away from the ice). Maybe so, but it still seemed like a bit much:
• Similarly, I see no reason for the Blackhawks to have had wider spacing on their sleeve and sock stripes:
These last two elements — the TV numbers and the striping — fall squarely into the "It's a Stadium Series game, so we have to make some kind of change to the uniforms" category. That's bullshit. I love these outdoor games, but I'd love them more if the teams just wore their regular unis, or if they wore throwbacks. These "special" unis aren't special at all — they're just change for change's sake (or for merchandising's sake, which is even worse).
• • • • •
Click to enlarge
Gromm•It update: Decided to put some round pegs in square holes. Additional photos (including some with butter and syrup) over at Gromm•It.
• • • • •
The Ticker
By Paul

Baseball News: Tequila sunrise jerseys the other day for Hawaii. … Maryland's new striped stirrups would be awesome if not for the insipid logo creep (from Alex Bearson). "¦ Here's a close-up look at the Blue Jays' 40th-season patch (from Ian Okorofsky). "¦ San Diego State and Oregon had an Xmas-themed color-on-color game yesterday. "¦ Check out the Texas Rangers cowboy boots that skipper Ted Williams bought the team in 1972. "¦ Powder blues yesterday for Mississippi (from Alex Wilson). "¦ Very nice cream throwbacks for Tennessee (from Adam Ingle).

College Football News: In last Thursday's post about college football players who'd worn No. 100, I said that WVU's Chuck Kinder had worn No. 100 in 1963, in conjunction with West Virginia's state centennial. That's true, but it's incomplete — it turns out Kinder kept on wearing No. 100 in 1964 and '65, as explained on this page: "Kinder continued to wear [No. 100] until the 1966 season, when he was asked to stop wearing it by the new coaching staff due to all the questions they were receiving about the odd number." And sure enough, you can see Kinder wearing the century mark in the team portraits for 1964 (he's in the second row, slightly right of center) and 1965 (front row, slightly right of center). Big thanks to Too Tall Paul Deaver for setting the record straight on this one. "¦ Buried within this article is the following quote from former Illinois coach/AD John Mackovic: "I saw a picture of Josh [Whitman, Illinois's current AD], and next to him was the traditional jersey and helmet. I like the traditional look, the way we were branded at the time. It ticks me off when people try to change things. I call them costumes. I hope Josh will consider returning to the classic Illinois uniform" (from Kenny Kaplan).

Hockey News: New logo for the Kontinental Hockey League (from Mark Grainda). "¦ Here's an unusual sight: Two NHL teams wearing same-colored socks. That's from the late '60s, when the Bruins inexplicably wore white socks for all of their games, even when wearing their black jerseys (from Tom Donnelly). "¦ Colorado College G Jacob Nehama wore a tuque over his mask in Saturday-night's outdoor game against Denver (from @oddmanrushnews). "¦ The Connecticut Whale went pink in the rink yesterday.

NBA News: Contrary to what had been previously reported, the Lakers are not opposed to advertising on uniforms (thanks, Phil). … Here's something I didn't know: The SuperSonics' new uniforms weren't ready in time for the 2001 preseason, so they had to wear old ones.

College Hoops News: Penn wore blue at home two nights ago, forcing Yale to wear white on the road (from Robert Brashear). "¦ More women's teams wearing pink: Syracuse and Pitt (from @NY_Raider). "¦ Also Michigan State and UNC (thanks, Phil). "¦ Throwbacks yesterday for Indiana State.

Soccer News: The new U.S. Men's National Team jerseys and a new crest will reportedly be unveiled before the World Cup Qualifiers in March (from Terry Mark).

Grab Bag: No photo, but the crew of the U.S.S. Constitution — also known as Old Ironsides — wore period uniforms to mark the 201st anniversary of the ship's final battle in the War of 1812. "¦ New interview cap design for the winner in the NHRA Mello Yello Drag Racing Series (from David Firestone). "¦ Here's your ballot to vote for the latest NASCAR paint scheme of the week.