The Rams-related hits keep on coming. Reader Andrew Kupka was watching the Rams' 1972 year-in-review video (which is awesome — check it out above) and has found something cool.
Toward the end of the video — at the 25:46 mark, specifically — the video announces that the Rams will have new uniforms for 1973. Here's what the narrator says:
Next year there'll be new players, a new coach, and a new look in uniforms for Carroll Rosenbloom's Rams.

Because a team's uniform is its outward symbol, the Rams have changed to one with more color, sparkle, and glamour, but with a rich tradition reminiscent of the early Ram years. The new look will prevail in both home and away uniforms, and will symbolize a team that has changed much in one short year.
The interesting thing is that the uniforms shown in the video aren't quite what the Rams ended up wearing in 1973: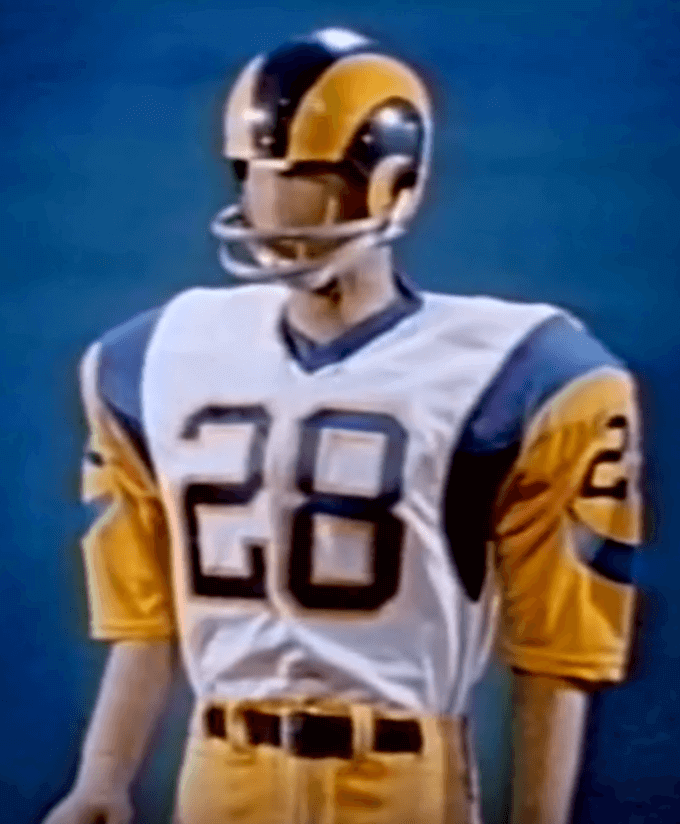 As you can see, the front, back, and TV numbers on the blue jersey have white outlining, and the front and back numbers on the white jersey have yellow outlining (but the TV numbers do not). All of that outlining had been scrapped by the time the Rams took the field for the start of the 1973 regular season.
But here's an important asterisk: A version of the blue jersey with the white-outlined numbers was worn during the 1973 preseason, as shown in the Gridiron Uniform Database's entry for the '73 Rams (click to enlarge):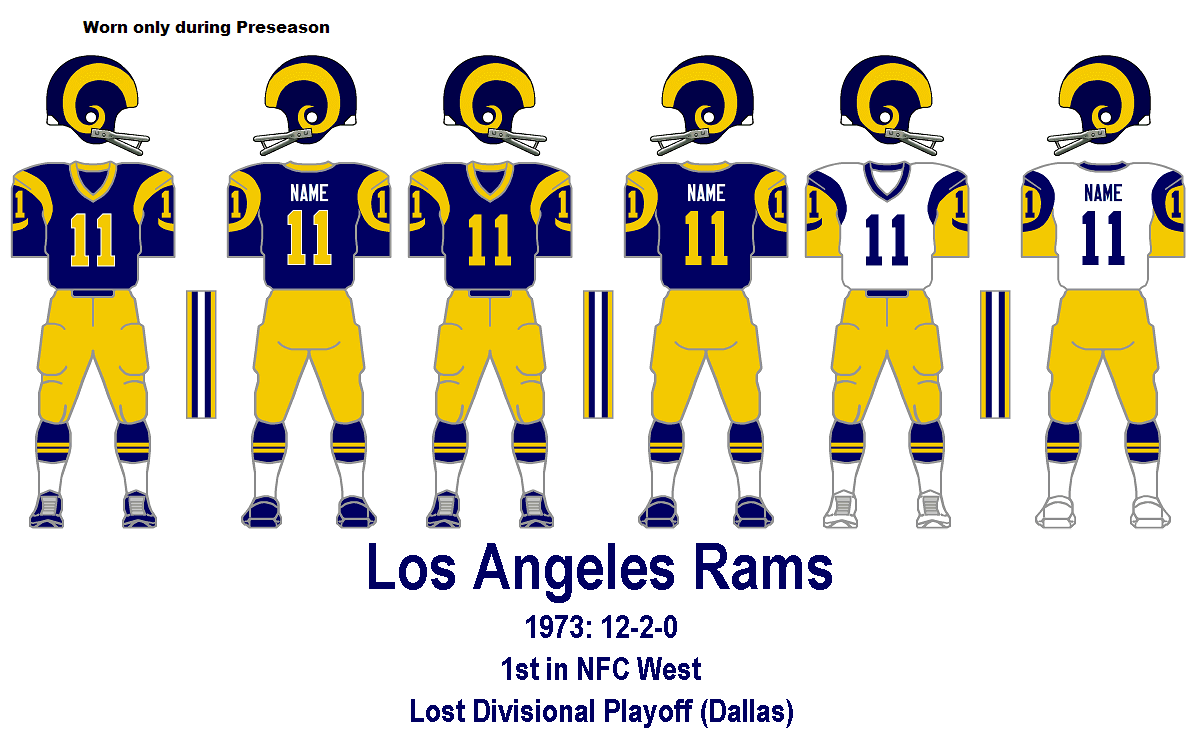 I hadn't seen a photo of that preseason uniform until about a month ago, when the following item showed up in a weekend Ticker (click to enlarge):
That screen shot is from this short video clip about former Rams great Tom Mack. But if you compare the prototype shown at at the end of the '72 highlight film with the preseason jersey Mack is wearing, there's a difference: The early prototype included white outlining on the TV numbers, while Mack's preseason jersey did not. (The GUD graphic properly shows the preseason TV numbers without any outlining.) So they had already made one change between the proto and the preseason, and they made another between the preseason and regular season.
Meanwhile, what about the white jersey with the yellow-outlined numbers? Was it worn during the 1973 preseason as well? The white jersey isn't shown in the Gridiron Uniform Database, but is that because the GUD guys are certain it was never worn, or do they simply not have any evidence one way or the other? So I checked with the GUD guys, who checked their photo files. Their conclusion: The white jersey with the yellow-outlined numbers — the one shown at the conclusion of the 1972 highlight video — was never worn on the field. Not in the preseason, not in the regular season, not ever.
Hmmm, so what happened to the prototype jerseys shown in the '72 highlight video? There's a holy grail for all you jersey collectors out there.
One footnote to all of this: At various points in the '72 highlight video, you can see the Rams' midfield logo — a single-bar helmet graphic. The thing is, it shows the helmet with yellow horns, even though the Rams were still wearing white horns in 1972:
Maybe we've covered this before and I just don't remember, but I find it odd that the midfield graphic showed a blue/gold helmet, even though the team was still wearing a blue/white helmet. Does anyone know more about this?
Update: I wrote this entry late last week and had kept it in reserve. Last night, as I was preparing it for today's post, I learned that another site, Pro Football Journal, had just done a post on the exact same topic. If you want to see their take, look here. (And as an aside, the guy who runs that site, John Turney, has also done some very nice colorizations.)
•  •  •  •  •
LAST CALL: Today is the final day to order the first Uni Watch T-Shirt Club design of 2016, which is available here. If you still haven't seen it, here's the design, including a close-up of the jock tag graphic (for all of these, you can click to enlarge):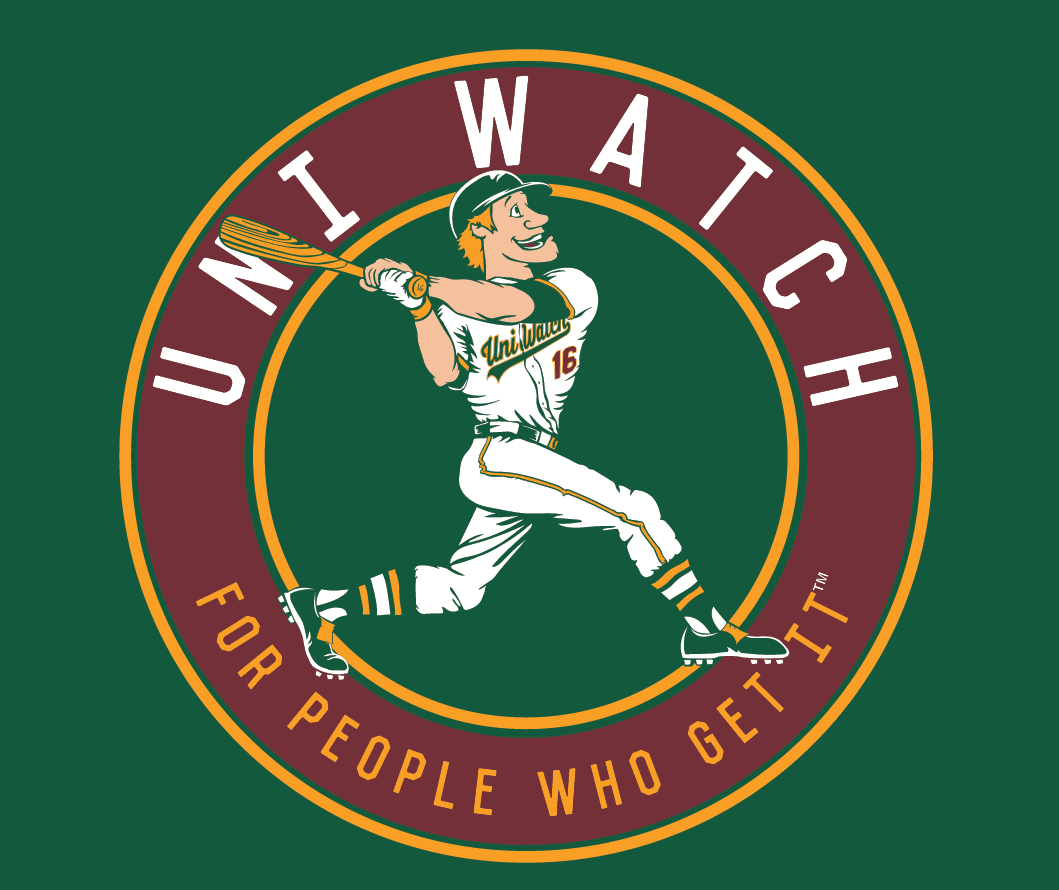 The Uni Watch ballplayer shown on the shirt is intended to evoke a time when sports graphics and mascots were built around fun, not ferocity. And as you can see, he totally Gets Itâ"¢ when it comes to wearing his uniform, with lots of old-school details like a flapless batting helmet, one batting glove, picture-perfect stirrups, and more.
The shirt is available here until 11pm Eastern tonight. For further info on how the T-Shirt Club will work this year, click here. Thanks for your consideration.
• • • • •
The Ticker
By Paul

Baseball News: Here's more of our own Phil Hecken and Jim VIlk talking uniforms on Sully's Baseball Podcast. "¦ New jerseys for East Carolina (from Michael Grubb). "¦ The Eugene Emeralds have some sort of cartoon jersey (thanks, Phil). "¦ GOP presidential candidate Marco Rubio apparently perspires a lot, which reminded me of one of my favorite MLB factoids: Yankees great Whitey Ford could only sweat on one side of his body toward the end of his career. It's true! Here, see for yourself. Additional citations here. "¦ No surprise, but this item confirms that the Red Sox will wear green jerseys for St. Paddy's Day. "¦ New shoes for Southern Mississippi (from Connor McElhenney). "¦ New uniforms for the New Britain Bees (from Kevin Fleming). "¦ I think we might have to break out the Uni Watch magnifying glass to see the teeny-tiny chest lettering on Virginia Tech's new grey jerseys (from Andrew Cosentino). "¦ Here's a fairly detailed look at Auburn's new softball uniforms.

NFL News: Anyone who breaks the Scouting Combine's 40-yard-dash record will get a $1 million bonus — if he's wearing Adidas shoes (thanks, Brinke). "¦ Great video of former Rams RB Eric Dickerson suffering a seriously torn jersey. Also, note the Adidas stripes drawn onto his spatting tape (from @RNs_Funhouse). "¦ Here's a look at the Vikings' new stadium under construction (thanks, Brinke). "¦ The Patriots' website has posted a story on the evolution of the team's logos and uniforms (thanks, Phil).

College Football News: Here's a slideshow of 10 proposed alternate uniforms for Tennessee. "None is exceptionally garish, and most are based on historic uniforms the Vols have worn, some of which I didn't even know existed!" says Adam Spangler. "¦ Big feature story on Oregon's equipment manager. Haven't had a chance to give it more than a quick skim, but it looks promising (thanks, Phil).

Hockey News: I was doing some North Stars research yesterday and came across this page, which among other things indicates that the team wore NOBs from 1972 through 1975, but only for televised games. Is that accurate? Have we ever discussed it before? I did some quick photo research and couldn't turn up anything showing the team wearing NOBs during this period (although that doesn't prove anything), and NHLuniforms.com shows the team going NNOB during those years (ditto), although this page does show two NOB'd jerseys purported to be 1974-75 gamers. Anyone know more? Did any other team use TV-only NOBs? On the one hand it makes sense, because NOBs are useless in a non-televised game. But it also means having an extra set of jerseys. Hmmmm. "¦ We've run several photos of Dion Phaneuf's gloves Leafs-turned-Sens gloves in recent days. Here's a whole article on that subject (from Jeff Bryniarski). "¦Denver's "Battle on Blake" uni looks as good as we'd been led to believe. "¦ Sabres C Jack Eichel was missing the "1" on his helmet last night. "¦ Cleveland Barons throwbacks this weekend for the Lake Erie Monsters (thanks, Phil). "¦ The Devils wore their green-trimmed throwbacks last night, and goalie Cory Schneider had green accents on his mask and pads (from Wade Heidt).

NBA News: Cavs beat reporter Chris Haynes is reporting that most teams at last Sunday's owners meeting were in favor of ads on jersey. Disappointing. "¦ Here's a look at the Mavs' record and stats as broken down by uniform (from Drew Solka). "¦ The Hornets are already selling merch for next season's All-Star Game.

College Hoops News: Very nice retro-style Black History Month uniforms for Kansas. "¦ Speaking of BHM designs, Nebraska will once again wear these awesome throwbacks tonight (from Pat Norris). "¦ Grey throwbacks last night for Ohio State. Or at least that's what the tweet says. Did OSU really wear grey in the past? "¦ Man, in 1979 — not really that long ago — there was a college women's team that wore skirts and polo shirts! (From @mjpull47.) "¦ The 1983 Connersville (Ind.) Spartans captured the state championship while wearing these very Marquette-ish untucked uniforms (from Marc Viquez).

Soccer News: The Fort Worth Vaqueros are the latest team to conduct a jersey design contest (thanks, Phil). "¦ New second kit for the Houston Dynamo.

Grab Bag: Awesome, bordering on heroic: an entire website devoted to spotting upside-down Ns (big thanks to Eric Bangeman). "¦ Check this out: a wooden bike helmet. "¦ Three F1 drivers have new helmets. "¦ New logo for the South Dakota State Lottery. "¦ The U. of Tulsa is leaving Nike and has inked an eight-year deal with Adidas (from Steve Braun). "¦ There's been a lot of buzz of a photo that Adidas posted to Instagram on Valentine's Day, which appeared to show — or at least imply — two women kissing (from the Tugboat Captain). "¦ Here's the logo for L.A.'s 2024 Olympic bid (from @OMGaPolarBear).
• • • • •
Click to enlarge

What Paul did last night yesterday: The completely awesome 1970s Long Island power pop band Milk 'N' Cookies have been enjoying an unlikely career renaissance in recent years. Circumstance has kept me from seeing their NYC shows in recent years (one time I was out of town, another time I couldn't get to the club because of a blizzard, blah-blah-blah), but last night they played a free in-store set at Other Music to promote their new box set retrospective, and there was no way I was gonna miss that.
Milk 'N' Cookies still play their 1970s material, which shouldn't really work, because the band members are now middle-aged and the songs are all about teenage suburban angst (girls, high school, parents, girls, making out on the sofa, did I mention girls?). If the band had been playing these for 40 years straight, it might seem pathetic. But they had been broken up for about 25 years before recently reuniting, and they're visibly psyched to be playing again. But not as psyched as I was to see them last night.
Here are a few of their best tunes: