Click photos to enlarge
After the Rams announced their move last week, I received a lengthy email from reader Dave Truman. Here's an abridged version of it:
If this were sports talk radio I'd be saying "longtime listener, first time caller." The Uni Watch version, I guess, is that I have been reading Uni Watch a long time but have not done much communicating with the community beyond the (very occasional) comment.

I grew up in Washington DC, so my favorite NFL team is, naturally, the one located in that city. But at some point in the late '70s, I latched onto the Rams as my second-favorite team. I have fond memories of being 10 years old and watching them almost beat the mighty Steelers in the Super Bowl. Even as the Washington NFL franchise finally got their stuff together and won three Super Bowls, I continued to root on the Rams from afar.

In 1992 I moved to St. Louis to attend law school at Washington University. Naturally, when the talk started that the Rams might move to St. Louis, I was thrilled. When then-owner Georgia Frontiere announced, during my third year of law school, that she was going to move the team here, I made the somewhat impulsive purchase of an "authentic" Jackie Slater Rams jersey. (This was no small thing in 1995, when it was a lot harder to buy jerseys than it is now.) I specifically chose to get a Slater jersey because he had spent his whole career with the Rams and it looked like he was going to finish it out in St. Louis; I wanted somebody who was going to bridge the gap between the two cities (and, candidly, I wanted somebody who wasn't going to be traded). In the meantime, not only did the Rams move to St. Louis but I stayed here after law school, and have now lived longer in St. Louis than I have anywhere else in my life.
This remains the only Rams jersey that I own. Without rehashing the recent events, it suffices to say that I have declared myself done as a Rams fan. Although I originally backed the team from afar when they were playing in L.A., having the team taken away from my adopted hometown makes it too painful for me to try to do that again.

I am never going to wear my Slater jersey or the other Rams shirts/hats/etc. that I own. But I would like to see the jersey find a new home with someone who will appreciate it. I can relate to those fans who were in L.A. when the Rams left and are now excited about getting their team back, so I'd ideally like to give the jersey to an L.A.-based fan who's old enough to remember the original L.A. Rams and, specifically, Jackie Slater.

The jersey is a size 44. I'm not interested in getting any money for it, aside from the the cost of shipping. It will be free to someone who can prove to my satisfaction that he or she had backed the Rams during Jackie Slater's L.A. career, rather than someone who is just jumping on the bandwagon now that the Rams are back in Los Angeles.
And there you have it. Powerful stuff, right? As you all know, I'm not a jersey guy, but I really respect what Dave is doing here. If you'd like to put yourself forward as a worthy recipient of the jersey, contact him directly. Good luck.
•  •  •  •  •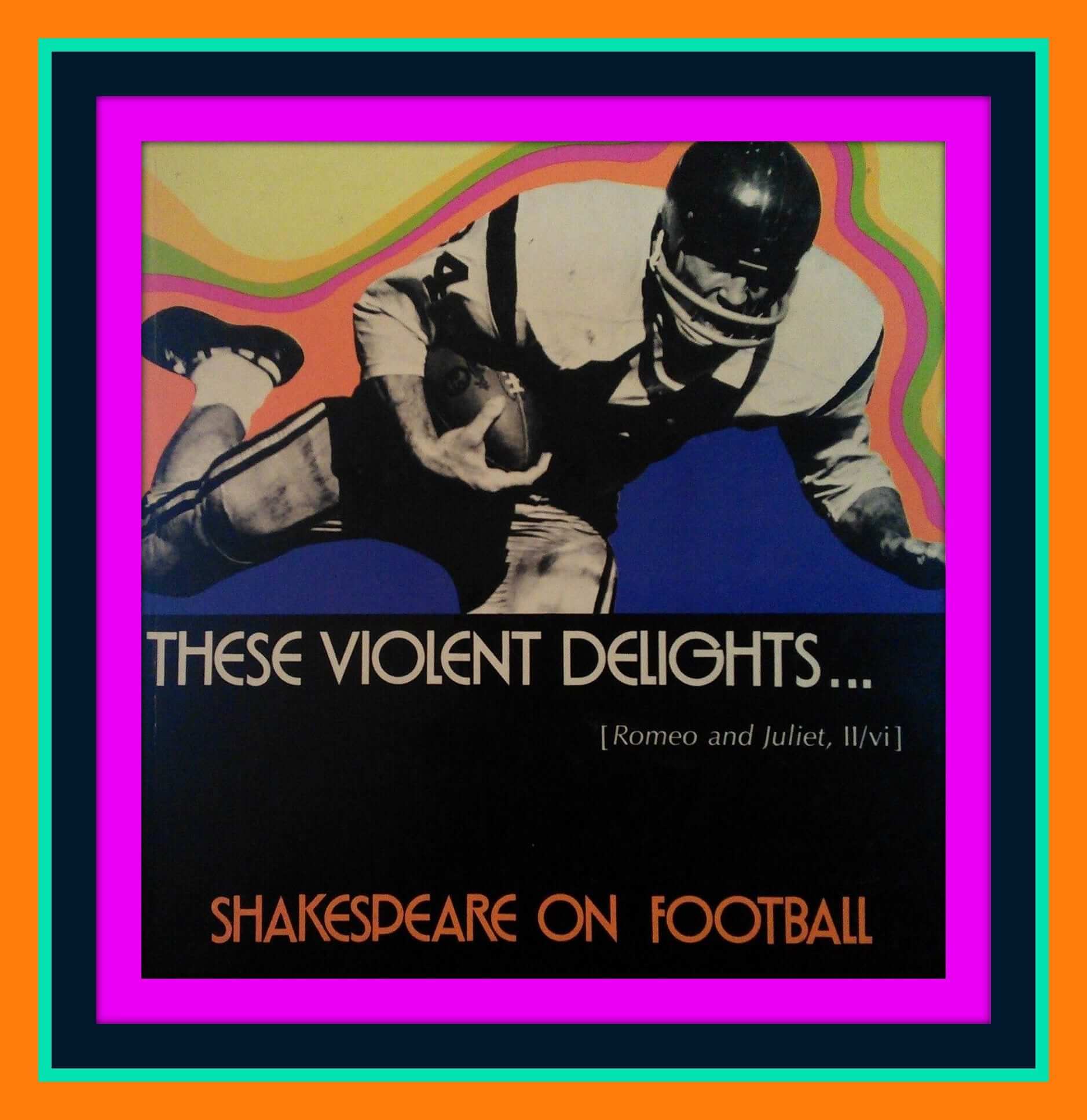 Click to enlarge
Collector's Corner
By Brinke Guthrie
These Violent Delights, a hardcover book featuring black-and-white photos of gridiron greats accompanied by various quotes from William Shakespeare. Will look great on your bookshelf next to the requisite NFL: The First 50 Years (or your copy of the collected works of Shakespeare, as the case might be).
Now on to the rest of the week:
• While the smart money says the Rams will revert to their "Greatest Show on Turf" look now that they're back in L.A., there's a lot to be said for the simple navy and white of the Roman Gabriel era. Kids, ask your parents. Nice helmet plaque here from that period, too.
• Speaking of teams that have moved around a bit, here's an early-1970s Acrometal copper plaque from the Chicago-St. Louis- Arizona Cardinals.
• And speaking of helmet plaques, got a couple of vintage Dolphins examples for you. The one from the 1980s seems to be in a bit better shape than this one from the 1970s.
• Check out the number and NOB for this 1971 pro football guide!
• Also from 1971: Outstanding cover art on sportscaster Chris Schenkel's "Sportscene Football 1971," including All-Pro and All-America Teams! Johnny U., Bart Starr, and Bullet Bob Hayes are a few of the stars on the cover.
• This Stanley Cup porcelain bank was given away at a Winnipeg Jets game 34 years ago, according to the listing. That would make it 1982, instead of the "1970s" reference on the listing. Still a nice item!
• How about the cover art for this 1962 Wrigley Field All-Star Game program!
• Staying in Chicago, this isn't exactly a vintage hoodie, but you can see what someone is trying to do with this Cubs/North Face logo. Can't believe this is a legit item, but they've also got T-shirts. Two! Two! Two copyright infringements in one!
• Here's a nice Packers jacket from the 1970s-1980s, Good, simple design. The maker is a new one, though, at least to me. Ever heard of "The Active Generation?"
• Not too much in the way of team branding on this vintage Kansas City Chiefs mug.
Follow Brinke on Twitter: @brinkeguthrie
• • • • •
Reminder No. 1: I'm currently accepting entries for an ESPN contest to redesign the Rams. Full details here.
Reminder No. 2: In case you missed it last week, all of the Uni Watch T-Shirt Club's 2015 designs are available from now through the middle of next week at our Second Chance Shop. Further details here.

• • • • •
Uni Watch News Ticker
By Phil Hecken

Baseball News: Everyone remembers the great Hank Greenberg had a long and storied career with the New York Yankees, right? Of course he didn't — Greenberg played almost his entire career with the Tigers, before being traded to the Pirates for his final season. But the reason Greenberg was traded to the Pirates may have been because of that one photo of him in a Yankees uni (thanks to Chris Flinn). … Fans of the Binghamton Mets will have two (awful) choices for "Super Hero Sunday" jerseys (from Tony Arnoldine).

NFL/Football News: Rivals of the Eagles often point to the fact that they have won exactly zero Super Bowls. But wait, here's something Eagles fans can own that says otherwise. The phantom SB XV pennant can be yours for the low, low price of $75 (thanks to Jeff Flynn). … EnigmaSolutionz saw this tweet showing retro Rams colors and wonders if this is foreshadowing for a royal/athletic gold color change. … Looks like the Madden Mobile app hasn't updated teams/logos yet (from Gavin Lane). … The Mesquite Marshals of the Champion Indoor League have some pretty wild uniforms (from Jim Collier). … During the kickoff following Carolina's first touchdown against Seattle on Sunday, Tre Boston, who made the tackle, appears to have torn his pants. Close-ups seem to confirm this (nice spot by Dave Baker). … Whoa, check out how Eric Dickerson split the "O" in "National" on his Pro Bowl jersey. Looks like he also had three Adidas stripes Magic Markered onto his spatting tape, and the Roos logo appears to have been added to Walter Payton's spatting tape.

Hockey News: "My youngest just turned 8. Here was the cake," says Jimbo Huening. "Yes, the giant #8 candle was definitely redundant." He adds that Robert Marshall was "not impressed. He is similarly unimpressed with my other two kids' actual hockey jerseys." … "A couple of things I found going through a stack of sports papers from the '90s," writes Susan Freeman. "Apparently the guy had mailed each MLB and NHL organization to get free stuff: Winnipeg Jets final season logo/letter. Postcard announcing Calgary uni change for their 15th anniversary. The printing on the back is all about the uni change." … the San Diego Gulls goalie Dustin Tokarski, recently acquired by the Ducks from Montreal and assigned to the Ducks' AHL team, is still wearing his Canadiens helmet design (from Chris Cruz). … Eagles guitarist Glenn Frey, who passed away yesterday, really liked to wear hockey jerseys. Further info here. … Here's Don Beaupre breaking in gear for the North Stars alumni game. "Still sporting his cheater cage," adds J. Walker. … It's pretty odd to see No. 99 on any hockey sweater these days, even if it's a JJ Watt mockup (h/t Evan Knode). As you're probably all aware, 99 is retired league-wide for Wayne Gretzky. "¦ Lots of info on upcoming NHL throwback games here. "¦ Speaking of throwbacks, the Sharks wore theirs yesterday, but goalie Alex Stalock didn't wear the throwback socks (from Sean Robbins).

Basketball News: Yesterday's ticker item about NFL mascots going numberless (or any mascots going numberless, for that matter), brought forth this observation of the Milwaukee Bucks mascot (Bango) — originally numberless — now sporting number 68 (from Michael James). … Al Horford (of the Atlanta Hawks) warmed up in Black History Month sneakers yesterday (from Josh Sánchez). … The Philly 76ers also wore BHM shoes yesterday (from Kurt Esposito). … Looks like the UT women's hoops team will be breaking out grey uniforms (from Jason Yellin). … On Saturday, Petersburg HS honored Moses Malone with their socks (thanks Paul). … Tweeter Brent Yarina thinks this has to be one of the best Final Four logos ever. I'd agree. … The Pelicans and Grizzlies played a color vs. color game yesterday (from Chance Hester). … Here's the first-ever all-black basketball court at a High School. More on that here (via IndianaHoops.com). … Or, is it?

Grab Bag: "An Iraqi Police Kiosk, from BBC World News," writes Cort McMurray. "The roof is shaped like a policeman's hat, and the walls appear to be a giant white shirt and tie. It's like a Middle Eastern Law Enforcement bullpen buggy." … When Johann Cruyff left Ajax in November 1978, the team played a friendly game against Bayern Munich wore a special shirt with Cruyff's name and the date of the match featured on the front (thanks to Graham Clayton). … All sports at Alabama recognize athletes who graduate while still playing with new addition (from Griffin Smith).
• • • • •

What Paul did last night yesterday: One of the best things about New York is that the city is so fucking big that there are always new things (and often old things) to discover. Case in point: I've lived in NYC for nearly 30 years now, but I still know pathetically little about the Bronx — it's like this big undiscovered country. It's part of my city, and it has more than 1.4 million people (that's more than San Diego, Dallas, San Francisco, Indianapolis, Seattle, Denver — enough to make it the eighth-biggest U.S. city if it were on its own), but it's mostly unknown territory to me.
But over the past six months or so I've been making more forays up to the Bronx. The latest one was yesterday, when the Tugboat Captain and I went up to the Bronx's Wakefield neighborhood to check out the highly touted fried chicken at a storefront joint called Paula's Soul Cafe.
I got a leg and a thigh (white meat's for suckers) with collards and mac-and-cheese. The leg and thigh were huuuge — like, almost turkey-sized. Well, okay, capon-sized:
I was actually worried that they might be too big — maybe a little tough or not cooked through. But they turned out to be sensational — great outer crust, tasty interior meat. I'm not sure if this was the best fried chicken of my life, but it's definitely in the running. Plus the mac-and-cheese was top-notch and the collards were shot through with hunks of pork. A first-rate meal.
After that we toddled a few blocks down the road to Cullen's Tavern, the kind of old-school watering hole that has largely disappeared from most of Manhattan, Brooklyn, and Queens. Hard to express how much I loved this place — my kinda bar: