I think that about covers it. If you somehow need more, look here.
Oh, okay — here.
• • • • •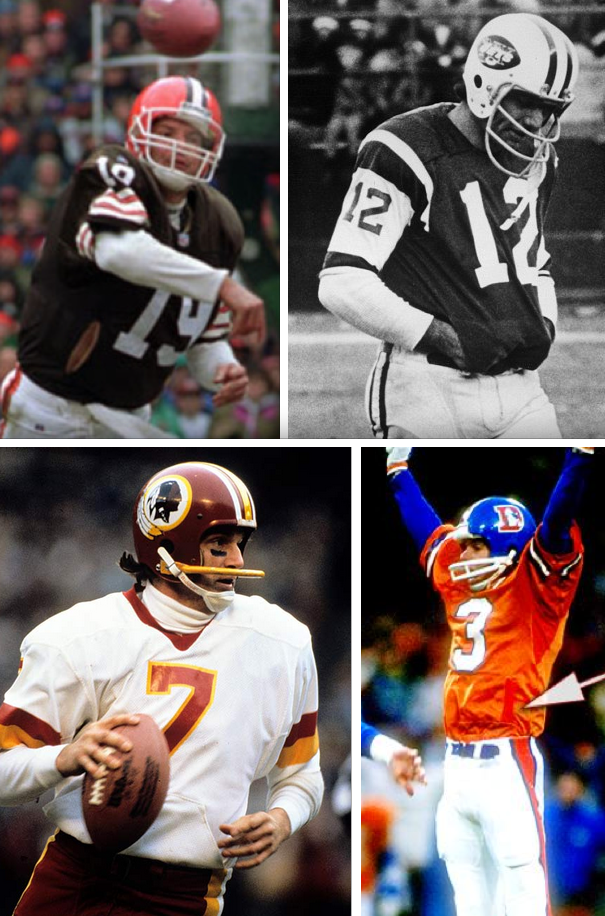 Friday Flashback: My weekly Friday Flashback piece on ESPN takes a look at various methods used by football players to keep their hands warm, from pockets sewn into jerseys (see above) to the Pupello pocket and more. Check it out here.
• • • • •
Year-end raffle reminder: In case you missed it earlier this week, I'm giving away lots of very cool stuff in my annual year-end reader-appreciation raffle. Check it out here.
• • • • •
Leafs-redesign contest reminder: My latest ESPN design contest is a challenge to redesign the Maple Leafs. Full details here.
• • • • •
T-Shirt Club year-end prize update: In case you missed it yesterday, the prize for those of you who ordered all 12 of the Uni Watch T-Shirt Club's designs has arrived. Check it out:
For all of you who've already claimed your prize, your patches are mailing out today. If you're eligible for the prize but haven't yet claimed it, you need to prove that you ordered all 12 shirts by either (a) taking a photo of the 12 shirts or (b) taking screen shots of your 12 order-confirmation emails from Teespring and putting the 12 shots into a folder. Then email the photo or the folder to TshirtClubProof@gmail.com (note that this is a new address — please do not send your proof to the regular Uni Watch email address), and be sure to include your mailing address so I know where to mail your patch.
Incidentally, it's been fun to see the photos sent in by the "collect 'em all"-ers, who've taken varying approaches to documenting their 12 T-shirts. I've gathered a bunch of the photos into this gallery (if you can't see the slideshow below, click here):
• • • • •
Gift Memberships: Want to get a Uni Watch membership card for someone this holiday season but don't know which design to get for the lucky recipient? Here's an easy solution: Purchase a gift membership. We'll send you a voucher that you can give to your special person, who can then redeem it with me.
You can order a gift membership here. And as always, you of course you can order a custome designed card here, you can see all the cards we've designed so far here, and you can see how we produce the cards here.
• • • • •
Click photos to enlarge
Grommets, continued: Yesterday I showed you grommetized Swiss cheese. Today, as you can see above, I'm sticking with the deli counter theme. I ask you: Why settle for olive loaf when you can have grommet loaf?
The cheese and the cold cuts made an appetizing pair (I added the capers just because):
Incidentally, part of the fun of this project is getting to punch holes in things and ending up with very satisfying little pucks of bread, or meat, or cheese, or whatever. In this case, I particularly like that two of the olive loaf divots included little shards of olive:
Meanwhile, a question for all of you: I want to set up a website and/or an Instagram account for this project, but first it needs a name. I'm usually pretty good at coming up with snappy names for creative projects (Permanent Record, Inconspicuous Consumption, One-Man Focus Group, Uni Watch, etc.), but this one has been stumping me. The best ones I've come with, none of which I'm completely satisfied with, are these:
Grommet Project
Chronic Grommet
Grommet on It
Grommet? On It!
Gromm-It
Induce Grommeting
Let Me Grommet That for You
Processed Food
Factory Food
Hole Foods
Feedback, brainstorming, and further suggestions welcome.
• • • • •
The Ticker
By Paul

Baseball News: John Fetterman, a U.S. Senate candidate in Pennsylvania, posted a childhood photo of himself in his Little League uniform — with what appears to be an NFL belt buckle! (From Sean Spitzer.) "¦ Blue Jays P Marcus Stroman has unveiled a new set of personal logos (from Marc Bauche). "¦ Here's something you don't often see for sale: a game-used 1970s Phillies usherette jacket. "¦ Love the sleeve patch on this vintage Vermont jersey. Here's a closer look at the patch.

NFL News: Rams DE William Hayes had "12" inscribed on his helmet last night, presumably a gesture of support for teammate Stedman Bailey, who was shot last month (screen shot from @RNs_Funhouse). "¦ From that same game: In keeping with the Color Rash theme, the Rams turned their end zones and midfield logo yellow. "The end zones were pretty much the same treatment as for throwback games, but the midfield logo was a first," notes Chris Callan). "¦ Not sure what took them so long to do this: Every NFL logo redesigned as Donald Trump (blame Matt Fedorka). "¦ Love the multi-colored sleeve striping on this 1957 49ers jersey (from Jeff Flynn). "¦ NFL helmets, something-something, Star Wars, something-something, whatever (from AW Rader).

College and High School Football News: Here's Utah's uniform for the Automotive Lubricants Bowl, Ohio's uni for the TV Broadcasting Bowl, and the jersey patch for the Cheap Lodging Bowl. "¦ Meanwhile, the Hawkeye logo on Iowa's equipment truck now has a rose. Will they be making that same logo adjustment on their helmets for the Rose Bowl? "¦ College football playoff unis, something-something, Star Wars, something-something, whatever (from Phil). "¦ In a related item, this Wall Street Journal article begins like so: "It may seem like sheer coincidence that 'Star Wars: The Force Awakens' and college football's bowl season open on the same weekend. But on closer inspection, these two fantastical worlds aren't so far, far apart. Both feature absurd costumes, ridiculous names, and copious amounts of corporate branding." Amen (from Doug Keklak). "¦ This is interesting: American football is becoming increasingly popular at Israeli high schools, in part because local teens view the game as a good way to prepare for military service, which is compulsory for most Israeli citizens. No mention of camouflage uniforms. "¦ Here's the number font that Oregon will be wearing in the Petrochemical Bowl.

Hockey News: Here's one publication's view on which NHL teams are most in need of a makeover. Very first word of the piece is "Rebranding," which is a strong giveaway that the people who wrote the piece don't know what the fuck they're talking about (from Chris Bisbee). "¦ Ugly sweater jerseys on Saturday for the Binghamton Senators. "¦ Someone in Edmonton has designed rainbow-patterned stick tape to support LGBT youth.

NBA News: A special ball design for the Xmas Day games? Sure, why not, wheee! It will apparently be accented with snowflakes. While they're at it, why not make the nets snowflake-patterned too? And maybe the refs can wear Santa beards. And, and, and "¦ The contest to name the Bulls' new D-League team is down to three finalists (from Ryan Lindemann). "¦ Cavs and Thunder went color vs. color last night in Cleveland.

College Hoops News: New throwback design this weekend for Seton Hall. Not a bad design, although it's too bad about the collar, and the Springsteen tie-in is the sort of nonsense that makes it so hard to take the uni-verse seriously these days. Look, it's a nice uniform — just wear it and stop trying to spin it into some kind of bullshit pop culture marketing narrative.

Grab Bag: A state legislator in Alabama wants the Confederate flag to be removed from state trooper uniforms, a move that seems, oh, a century or so overdue. "¦ Pitt will unveil new script uniforms for all sports in May (thanks, Phil). "¦ Lots of great 1970s and '80s sports pics in this Twitter feed. "¦ Auburn's various sports teams broke out lots of new uniforms in 2015, and Clint Richardson has provided a round-up of them.