Click to enlarge
[Editor's Note: Due to an unforeseen personal situation yesterday, today's lede and Ticker are both a bit shorter than usual. My apologies to those of you who submitted things that ended up not making the cut — I had to be more selective than I usually am. Hope to get things back to normal tomorrow. "" PL]
Brutal game yesterday in Buffalo, as the Bills went mono-blue while hosting the Bengals, making for a costume-vs.-costume game. Further photos here.
In other news from around the league yesterday:
• The Bills weren't the only team to go mono-blue — the Titans did so as well.
• The Packers' new throwbacks made their on-field debut. Interestingly, running back Eddie Lacey appeared to be wearing green socks under his navy throwback socks.
• From that same game: You've heard of blue cheese? Check out these Chargers fans in Green Bay.
• Teams wearing white at home included the Jaguars, Saints, and Jets.
• The latest team to outline their end zone logo in pink is the Jets.
• Meanwhile, the Browns applied pink outlining to their 50 yard line markers.
• Washington linebacker Riley Perry Jr. was missing the lower part of his white helmet stripe.
(My thanks to all contributors, and especially Phil, who was extra-helpful yesterday while I dealt with a difficult personal situation.)
•  •  •  •  •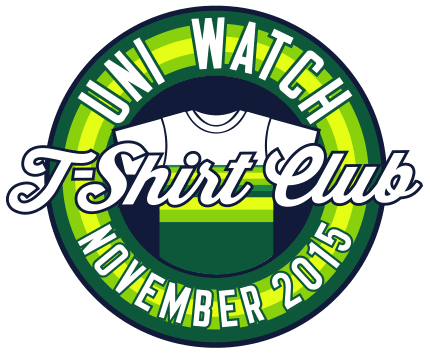 T-Shirt Club LAST CALL: Today is the LAST DAY to order the Uni Watch T-Shirt Club's latest offering — the amazing tequila sunrise design. It's available here.
As I explained a few weeks back, the design and production issues on this one were fairly complex, so we decided to have some samples made — so much better than just looking at a mock-up. Check it out (click to enlarge):
Not bad, right? Additional details here, or you can just order it here.
• • • • •
PermaRec update: Who is this guy named George, why doesn't he have a last name, and why am I so interested in him? Find out over on Permanent Record.
•  •  •  •  •
The Ticker
By Paul

Baseball News: With all the other playoff teams wearing blue, Mets fans are increasingly turning to orange. "¦ Speaking of the Mets, they put a Band-Aid on the home run apple after Travis d'Arnaud hit a home run off of it in Game 1 of the NLCS. "¦ Interesting shot of Mariners 2B Robinson Cano choosing next season's footwear (from @SeahawksUnis).

NFL News: The Eagles will go mono-black for tonight's game against the Giants. "¦ Interesting infographic on NFL salaries and net worths. "¦ I'd been meaning to write something on this topic, but New York Times sportswriter Ben Shpigel beat me to it with this excellent article about NFL players who swap jerseys after games. … The NFL has decided that Steelers DL Cameron Hayward will continue to be fined if he keeps wearing an eye-black tribute to his late father, but he won't be prohibited from playing (thanks, Brinke).

Basketball News: Nets forward Thaddeus Young was wearing an old jersey with the NBA logo on the front for yesterday's preseason game. "¦ New uniforms — and a vertically arched RNOB — for Presbyterian College (from Jason Reynolds).

Grab Bag: Lots of plaid car designs and plaid firesuits lately in NASCAR. Further info here. "¦ Good article about the company that operates those stadium/arena kiosks where you can have custom-lettered jersey made for you on the spot.
•  •  •  •  •

What Paul did last night over the weekend: The High Bridge, which spans the Harlem river and connects the Bronx neighborhood of Highbridge to the Manhattan neighborhood of Washington Heights, is the oldest standing bridge in New York City. It originally opened in 1848 as an aqueduct and then became a pedestrian bridge in the 1950s before being closed in the 1970s due to safety concerns (check out the video above for more info). In recent years it has been the subject of a major restoration project, and back in June it reopened to much fanfare. I'd been meaning to check it out, so the Tugboat Captain and I finally did that on Saturday.
We packed a few sandwiches and took the subway to the Bronx, where we walked about 10 minutes to get to the High Bridge's eastern terminus. The walkway is studded with edumacational medallions, which we enjoyed, and there were spectacular views of the river. But the whole walk across the span took only 10 minutes, maybe less, which felt a little anticlimactic. "It's a high bridge, but it's not a very long bridge," the Captain observed.
On the Manhattan side, the bridge lets you off into Highbridge Park, where we encountered a chair-themed sculpture exhibit. One of the pieces seemed to have a typo, which we took the liberty of addressing (click to enlarge):
Next we sat on some bleachers and enjoyed our sandwiches and a couple of beers while watching a gaggle of neighborhood kids play a game that started out as softball but soon morphed into kickball. They were jibber-jabbering in Spanish the entire time, except when this one kid smiled and yelled, "Motherfucker!" for no apparent reason, which cracked us up. Then we realized we were pretty damn cold, so we scurried to the nearest subway station and headed home, where we warmed up with some tea and hot cider while watching a bit of the Jays/Royals game. (I pointed out that David Price's cap doesn't have a squatchee and explained that Salvador Perez's gold Rawlings label signifies that he's a reigning Gold Glove winner, to which the Captain, who's still new at this uni-watching stuff, replied, "Watching a ballgame with you is really a different kind of experience.")
Sunday was even better. For the second time in three weekends, I was invited to a pig roast, this one hosted by Mets by the Numbers impresario Jon Springer and his lovely wife, Heidi. Great people, great times, and the guest of honor was delicious (if you can't see the slideshow below, click here):
The Tugboat Captain particularly enjoyed this primo piece of hog jowl (click to enlarge):
From there we went to my friend Freddie's 78rpm record hop, after which we scooted home to watch the Mets move one game closer to the Fall Classic. Now that's a good Sunday.
Oh, and I had a nasty bike accident on Sunday and broke my arm. Bit of a drag, but shit happens — more on that tomorrow. in any case, it was still a great weekend!