My Friday Flashback piece on ESPN this week is about the 1995-96 NBA season, which featured the debuts of fairly outlandish uniforms from the Grizzlies, Raptors, Hawks, and Bucks (among others). Check it out here. "" Paul
•  •  •  •  •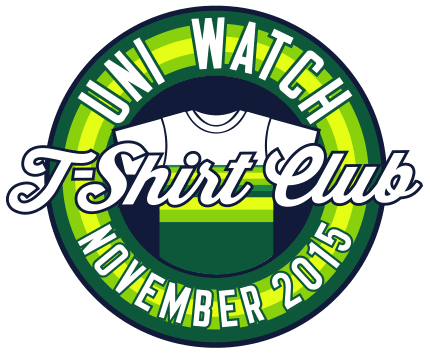 T-Shirt Club reminder: In case you missed it earlier this week, the Uni Watch T-Shirt Club's latest offering — the amazing tequila sunrise design — is now available for ordering. As I explained a few weeks back, the design and production issues on this one were fairly complex, so we decided to have some samples made — so much better than just having a mock-up. Check it out (click to enlarge):
Not bad, right? Additional details here, or you can just order it here.
• • • • •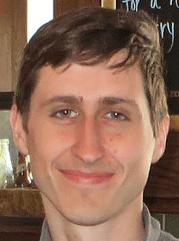 Mike's Question of the Week
By Mike Chamernik
During Game 4 of the Cubs/Cardinals NLDS matchup on Tuesday night, Cubs reliever Francisco Rodney did his signature bow-and-arrow pantomime — after getting pulled in the middle of an inning during which he allowed the tying run on base.
Classic stuff. Since the Cubs won, it won't go down as a monumental jinx.
What's your favorite athlete celebration? What's your least favorite? Do you have any celebration routines? As always, leave your answer in the comments.
•  •  •  •  •
The Ticker
By Paul

'Skins Watch: California Gov. Jerry Brown has signed legislation that bars the public schools from using "Redskins" as a team name. The move affects four high schools in the state (thanks, Phil). "¦ The Washington Post's editorial board says the new California law is further evidence that the 'Skins should change their name already (from Bryan Martin Firvida). "¦ A pair of idiot Texas Tech fans, apparently taking a rather expansive view of the term "Red Raiders," showed up for last weekend's game in redface and headdresses. Classy (from Kary Klismet). "¦ A leading Native American media outlet thinks Nikegon football's recent "pioneer" uniform represented a whitewash of Native history. That sentiment was echoed in an open letter to Nikegon from the school's Native American faculty, staff, students, and alumni (from Matt DeMazza and Ryan Hamilton, respectively). "¦ Goshen High, the Indiana school whose teams will no longer be called "Redskins," has narrowed its list of potential replacement names to four finalists. "¦ Jeb Bush has added the 'Skins to his stump speech. Key quote, from his speech at a town hall meeting in New Hampshire on Wednesday: "I was asked on a sports talk show, I was asked my views on the Washington Redskins. And I said look, you know, there's a lot of big pressing problems here; I don't think we need to be so politically correct, and try to, through government, take the name Redskins off." Of course, that's a classic straw man argument, because nobody in government (or, to my knowledge, out of government) has proposed any legislation to force the Washington football team to change its name (from Bryan Martin Firvida).

Baseball News: Holy moly — a tequila sunrise pancake! Outstanding! "¦ Check this out: There was a high school whose logo was basically an upside-down version of the Phillies' 1970s mark. "¦ Our pal Todd Radom put together an GIF animation of Mets jersey lettering through the years. "¦ Good article on the increasing prevalence of bat flips. "¦ I'm still calling it Carolina Stadium (from Joel Mathwig). "¦ As we all know by now, all four remaining MLB postseason teams have royal blue caps. Jesse Gavin says the last time the four finalists had same-colored caps was 1998, but that's assuming you think the Yankees' midnight navy belongs in the same discussion with more traditional navy, which is arguably a stretch. "¦ Here, watch a baseball bat being made from scratch (thanks, Brinke).

NFL News: Mid-'70s Colts RB Bill Olds had an NOB that was sitting a bit low (from Matt Barnett). "¦ Disappointing news out of Buffalo, where the Bills will be going mono-blue this weekend. Transforms them from one of the league's best-looking teams to one of the worst. "¦ The NFL logo on Saints RB Mark Ingram's helmet was coming loose last night.

College and High School Football News: Here's a story on the renovation of Texas A&M's stadium. Key quote: "[T]he story of the renovation of Kyle Field is one of a university that found itself with more money than it knew what to do with." "¦ Maryland may wear throwbacks against Penn State next weekend (from first-time contributor Caleb Finesurrey). "¦ Here are seven things to know about Ohio State's BFBS uniforms (from David Feigenbaum). "¦ Nice-looking uni combo this week for Oregon State. "¦ A Florida school district has told its football cheerleaders that they can't wear pink uniforms for Pinktober (from Tom V). "¦ Penn State coach James Franklin says the team is considering a move to add an alternate uniform (from Alex Sinclair).

Hockey News: The Ohio University hockey team is going G.I. Joke. "¦ This is pretty funny: The co-ed U. of Minnesota law school hockey team was once called the Fighting Mondales (from Jason Hillyer). "¦ Here's an infographic of NHL captains by position (from Justice C). "¦ Good spot by John Gworek, who points out that the Sabres have inconsistent McNOB styles — one with a raised "c" and one with a base-aligned "c." "¦ I don't like it when a team tells fans what to wear, but that goes double for tonight's Red Wings game, where the team wants fans to wear pink (thanks, Phil).

NBA News: New alternate uni for the Spurs. It'll make its on-court debut for the home opener against the Nets on Oct. 30. Additional info here.

College and High School Hoops News: New uniforms — and a JrOB! — for Creighton (from @alexKnust). "¦ This is pretty awesome: James Dean in a high school basketball uni, circa 1948 (big thanks to Jonathan Daniel). "¦ New uniforms for Utah. "¦ New sweatbacks for UVA (from Ricky Schumaker).

Grab Bag: Very interesting piece aboutlogo-free athletic gear. Recommended reading. "¦ Very good profile of the great graphic designer Michael Beirut here. … Denis Hurley has created a new website that charts all Rugby World Cup jerseys worn since 1987. "¦Duke has extended its apparel deal with nike through 2027 (thanks, Phil). … Amusing analysis of British Premier League badges (from Chris Sorenson).