In yesterday's Ticker I noted that someone had shown up at a Jeb Bush campaign event with a very SEC-esque "Jeb" sign (shown at right; click to enlarge). I figured the sign had been made by the person holding it, but I was wrong: It was produced by the Bush campaign, which has slapped that SEC-style logo on assorted campaign promotional items and merchandise. That activity has now drawn a rebuke from the SEC, which has told the campaign to stop.
According to that story, the Bush campaign's attempt to leverage an SEC connection goes beyond the logo. For example:
• "Bush recently has appeared at tailgating events prior to football games at the University of Georgia and the University of Tennessee. He's scheduled to do the same before games in November at the University of Alabama and Mississippi State." The tailgating events were promoted with the SEC-style logo.
• "The Bush campaign website also has been carrying a video titled 'Jeb's SEC Favorites,' in which the candidate discusses — among other topics — mascots, rivalries, and his pick for which teams will play in the SEC championship game. [What, no talk about uniforms? "" PL] As Bush speaks, the logos of Alabama, Auburn, Mississippi, Mississippi State, Florida and LSU alternately appear in the background." At least two of those schools, Alabama and Mississippi, expressed mild concern about their logos being tied to a presidential candidate.
This is all particularly interesting in light of the larger tussle over intellectual property and political campaigns. As you may have heard, Aerosmith frontman Steven Tyler recently told Donald Trump to stop playing "Dream On" at campaign events. That made Tyler the latest in a long run of musicians who've told candidates to stop using their songs without authorization, a well-established trope that dates back at least to 1984, when Bruce Springsteen disavowed Ronald Reagan's repeated use of "Born in the USA." To my knowledge, though, Jeb Bush is the first candidate to run afoul of a sports conference.
One might say this incident reflects the aesthetic disarray of the Bush campaign, which has been a laughingstock in the design world since introducing that logo with the exclamation point back in June. But the dust-up also reflects the strength of the SEC logo — seriously, how many other conference logos are recognizable enough to even bother ripping off? The Big 10's, I suppose, but most of the others are either too blah or have changed too often to establish themselves visually.
Still, it would be interesting to see other conference logos adapted for some of the other presidential candidates. Maybe the Pac-12 for Carly Fiorina? The B1G for Bernie Sanders? If someone wants to take a crack at it, I'd be curious to see what you can come up with. It can't possibly be worse than most of the official campaign logos.
Meanwhile, there's another White House aspirant who's pushing the SEC angle. That would be Rand Paul, who was wearing a University of Kentucky logo belt during a campaign appearance yesterday at Drake University in Iowa: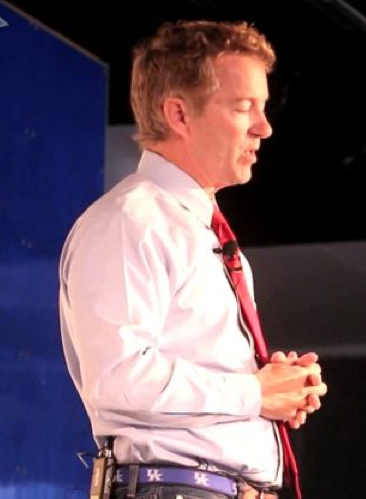 For all I know, maybe he wears that belt all the time (he represents Kentucky in the U.S. Senate, after all, and I'm told that his son attends the school). If so, though, I hadn't noticed it until now. Are Bush and Paul destined to hold competing UK tailgate events this fall? Stay tuned for the exciting (read: not at all exciting) answer!
•  •  •  •  •
White whale update: Longtime readers may recall our lengthy investigation into the Broncos' early-1962 helmet decal. Was it brown, as most databases indicated, or was it actually blue, as several folks insisted, including our own Rick "Ricko" Pearson? About four years ago we finally had our answer: It was blue.
But even that conclusion was based on a series of half-century-old recollections. Granted, the recollections were all from reputable sources, and they all matched up with each other. But we still didn't have a smoking gun in the form of visual evidence.
Until now (click to enlarge):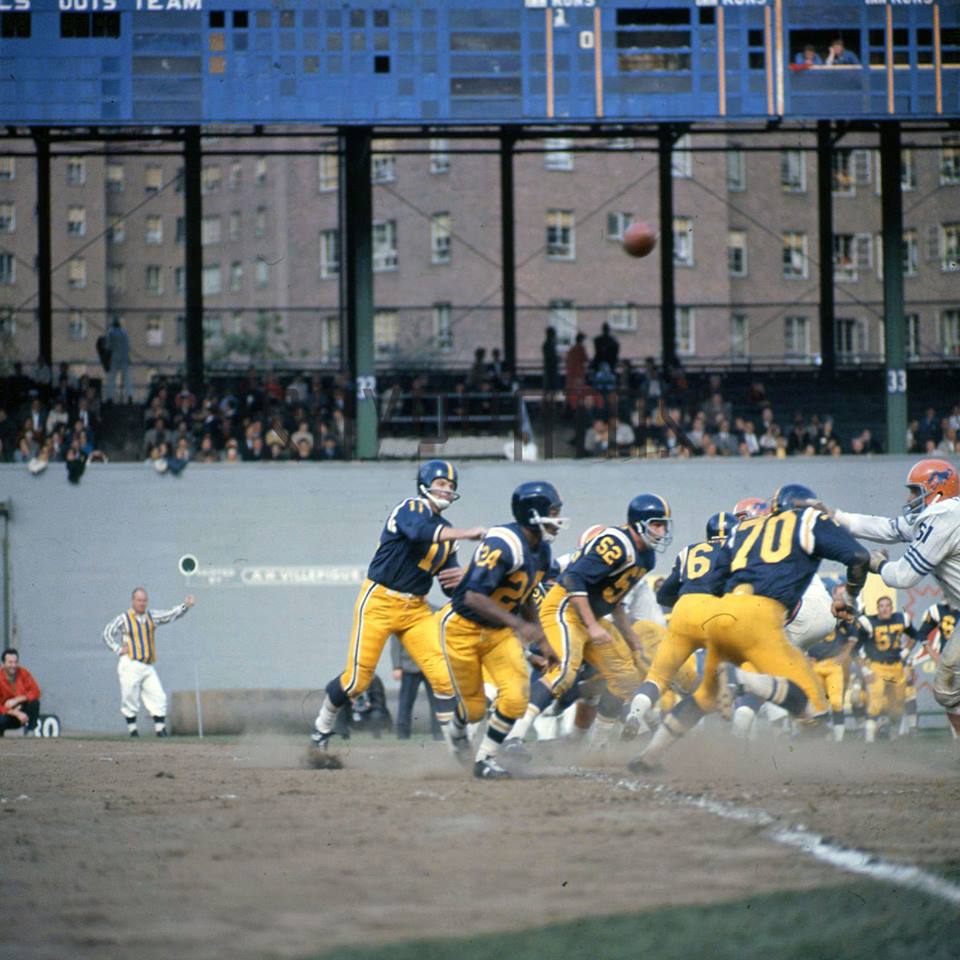 That photo was posted yesterday by the excellent Twitter account Sports Paper, which specializes in old programs, photos, and related ephemera. As you can see, the Broncos were playing the Titans, and Sports Paper's tweet said the game was played at the Polo Grounds. That means it was this game, played on Sept. 30, 1962.
The Sports Paper guy tells me the photo was posted on a Polo Grounds Facebook group and shared on a vintage NFL Facebook group. Turns out two more photos from that same game were also posted on Facebook. They're not as good as the first one, but they're enough to confirm the color of the helmet logo (click to enlarge):
(Big thanks to Leo Strawn Jr., Gene Sanny, and Phil for their contributions to this section.)
•  •  •  •  •
Royally speaking: As many of you have already figured out, the five remaining MLB postseason teams have something in common:
Regardless of who wins in @Mets vs @Dodgers, it's going to be a very royal playoffs from here on out pic.twitter.com/TWsvkzHy6T

— Phil Hecken (@PhilHecken) October 15, 2015
So regardless of who wins tonight's Mets/Dodgers rubber game (and it damn well better be the Mets, or else there's gonna be one very cranky uniform columnist around here, and a pretty cranky weekend editor too), we're looking at a pair of all-royal league championship series and, of course, an all-royal Fall Classic. And aside from the color consistency, these are five very good-looking teams, so the rest of the postseason should be easy on the eyes — nice. Thank god the Rangers were eliminated yesterday, as their insistence on wearing the red cap with the blue-lettered home jersey was driving me bonkers.
•  •  •  •  •
Read this: Yesterday's entry about Steelers running back DeAngelo Williams wanting to wear pink for the rest of the NFL season prompted an unusually powerful comment by reader Peter Einersen. It was posted in the early evening, so many of you probably didn't see it. I'm reproducing it here without further comment, as it speaks for itself quite eloquently:
As someone who lost my mother to breast cancer at 16, the NFL exploitation of the cause has long driven me postal. I get what drives the appeal to the pink campaigns"¦ why wouldn't we all want to do something to make a positive out of a disease that affects so many and so many we know? Pink efforts feel fun and strong and proactive.

I fell into this trap early in the aftermath of my mother. I held an annual fundraiser in her honor, with pink to the max. And raised and donated significant amounts of money. I was appalled when I started to follow the money trail. The National Breast Cancer Foundation is easily the worst offender here. This organization is absolutely capitalizing on this disease. They use a high profile disease to drive a high income business for their executives while contributing the minimum they can legally get away with to the cause while still qualifying as a charity. I felt so ashamed to have sent the money of people who supported me and my cause to these profiteers.

Upon further investigation, American Cancer Society is better but not much. And Komen is the best of the bunch with respect to what portion of money goes to the actual cause"¦ but still not immune to the corporate salary structure. But at least I believe that Komen as an organization exists to try to address this problem. NBCF on the other hand absolutely exists primarily to make a handful of people wealthy while the bare minimum trickles down to the cause.

So, what's the NFL's angle here? Hard to say. We have all seen the critical articles outlining the cash flow on this. The most recent Huffington Post piece demonstrated that 3.5% of money raised by the Pinktober assault goes to the ACS, and remember that contribution will be diluted even further by ACS salaries and overhead.

The NFL has defended itself saying that it doesn't see a profit. That whatever money is left in its coffers at the end is reinvested in the campaign. And the numbers breakdown that the majority of this money is captured by merch production companies and vendors.

Still many questions for the NFL remain.

1) Isn't NFLshop.com the vendor profiting the most from this initiative? Hint: Yes, it is. Next in line, the individual teams.

2) As perhaps the most corporately savvy sports entity in history, are we expected to believe that if the goal of this campaign were actually to make money for Breast Cancer research, screening, treatment etc., that the NFL couldn't develop a model with better than 3.5% yield for the cause????? Hint: Please

3) Aren't there other important diseases? The truth is the disproportional shunting of money to breast cancer is a bit of a laughing matter in the medical community. I am not diminishing the importance of vigilance on breast cancer, the disease that took my mom, and threatens all of the women in my life including my sisters and daughters"¦ but we have bigger fish to fry right now, both cancerous and benign diseases.

And while it is not the NFL's responsibility to eradicate world disease, I do not think it is a preferential interest in breast cancer vs. pancreatic cancer or diabetes or obesity or mental illness or domestic abuse or AIDS or lung cancer (the number 1 killer cancer killing Americans) or alcoholism or gambling addiction etc. etc. etc.

What makes breast cancer the NFL's pet project is that it is easily the most marketable and most profitable. And while the "NFL" doesn't profit per se, its vendors like NFLshop.com and all 32 teams, and its corporate partners do. Pure profiteering. And if a more marketable "cause" should emerge, Pinktober will evolve in a hurry.

It is devastating to me that they have gotten away with this ruse for so long. You want to believe that somewhere in the club of owners, there is a decent person who says no. Who refuses the cashflow or who publicly declares they are donating their cut as well to the cause"¦ to create awareness and put pressure on the others to do the same. But, this is pure naivete. Cash is king. And the well-meaning but incredibly gullible fans that buy into this scam year after year will continue to be exploited to maximum effect.
•  •  •  •  •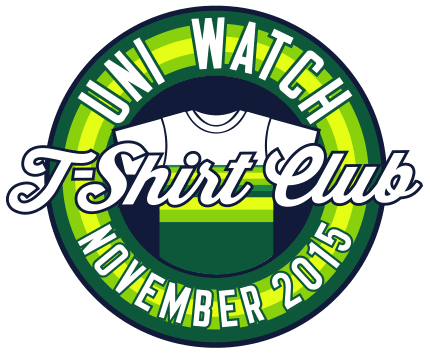 T-Shirt Club reminder: In case you missed it earlier this week, the Uni Watch T-Shirt Club's latest offering — the amazing tequila sunrise design — is now available for ordering. As I explained a few weeks back, the design and production issues on this one were fairly complex, so we decided to have some samples made — so much better than just having a mock-up. Check it out (click to enlarge):
Not bad, right? Additional details here, or you can just order it here.
•  •  •  •  •
Uni Watch Hit Parade: The Rolling Stones have always been my favorite band, and Keith Richards has always been my second-favorite Stone (after Charlie, natch). I no longer expect much from him artistically — he's been a self-parody for at least 20 years (or, rather, a series of interrelated self-parodies: Keith the mystic, Keith the pirate, Keith the lovable rogue, Keith the junkie-survivor, Keith the asshole, Keith the anti-Mick, etc.). Still, it's been a decade since the Stones' last album — long enough, I hoped, for Keith to have written maybe three or four decent songs for his new solo LP, which came out a few weeks ago.
He came close: It has two and a half good songs. The first keeper is "Robbed Blind," a slow, lounge-y, piano-driven tale of revenge that finds Keith delivering some surprisingly plush whiskey-soaked vocals (almost certainly enhanced and smoothed out by digital post-production trickery, but still):
Next up is "Trouble," a straightforward rocker that could easily hold its own on a good Stones album. When I saw the title, I thought, "Oh great, another obvious cliché," but in this case it's not Keith who's in trouble — the song's about a friend who's in jail. Good stuff:
The "half" a good song is the title track, "Crosseyed Heart." It's less than two minutes long and needs at least one more verse. (Keith apparently agrees: At the end of the track, he says, "Uh, that's all I got.") Stylistically speaking, it's completely derivative — a boilerplate Mississippi blues that Keith probably learned to play while listening to Muddy Waters records in the early 1960s. But the title conceit of a "crosseyed heart" is a good one, and the two verses he managed to scrape together work quite well. What really gets me, though, is the opening couplet, where he says he loves this one girl but also loves another and then says, "Oooh, I'm a greedy mother" — a line he tosses off with such perfect nonchalant charisma that you remember how he and the rest of the Stones built their legend of casual vulgarity and self-indulgence. Dig:
The rest of the album ranges from forgettable to unlistenable, but whatever. Keith will soon turn 72 and like they say, it ain't the years — it's the mileage. He won't be doing this much longer. Two and a half good songs? I'll take it.
•  •  •  •  •
PermaRec update: The love letters shown above were written in 1915 and were recently found in the rafters of a house being renovated in Atlanta. How did they get there? Get the full story over on Permanent Record.
• • • • •
The Ticker
By Mike Chamernik

Baseball News: A Houston hospital wrapped newborns in Astros garments before last night's 'Stros/Royals game (from Justin Shaddock). … During last night's Blue Jay/Rangers game, LF ump Alfonso Marquez had a massive plug of tobacco in his mouth. … Rangers 2B Rougned Odor used teammate Mike Napoli's bat last night (from Jordan Mayblum). … Also from Jordan: In that same game, umpire Dale Scott had an upside-down postseason patch above his shirt pocket. … The Twins have shown their new logo for Spring Training 2016 (from Steve Stoetzel). … Brown wore some great uniforms in the early 1900s (from Jonathan Daniel).

NFL News: It's still not clear when the first color-on-color Thursday-night game will be, but we know it won't be tonight, as the Saints will be wearing white over gold. … Steelers DE Cam Heyward says he was fined for wearing his father's nickname on his eye black on Monday night. Cam is the son of former NFL fullback Craig "Ironhead" Heyward, who died in 2006. Between this and the DeAngelo Williams story, this is quite a week for the NFL players and the league butting heads over personal memorial gestures (from Andrew Cosentino).

College Football News: With Steve Spurrier's retirement, here's a good look at something he helped pioneer: the coach's visor. That story includes an absolutely amazing shot of a visor-clad Vince Lombardi, by the way. … Washington will wear purple jerseys with gold helmets and pants on Saturday. … A Wisconsin alum is collecting all of the school's homecoming buttons since the event began in 1911 (from @SoCalMindset). … "I sometimes check out stadiums on satellite and recently discovered how Michigan makes the M in the stands," says Alex Putelo. "Here, you can see the M in action, and I circled a type of 'fill in the blank' seen in the empty Michigan Stadium." … Phillip Tutor saw this Memphis helmet at the school's sports hall of fame. It's from the 1971 Pasadena Bowl, and it appears to be made by Bell, a motorcycle helmet company. "Look at the black edging on it," Phillip says. "I've never seen that in football before." "¦ Oregon's student newspaper has had enough with all the new uniforms.

Hockey News: Coyotes rookie Max Domi wears No. 16 in honor of Hall of Famer Bobby Clarke. Domi was a fan of the Flyers growing up, and Clarke is a diabetic, like Domi (from Mike Engle). … Since the Oilers have new orange jerseys, here's a good gallery of the team's uniform history (from Phil). … A Maple Leafs fan created Babsocks: socks with a picture of the team's new head coach Mike Babcock on them. They're apparently a very hot item in Toronto. … The Blue Jackets have been producing retro game posters (from Patrick Thomas). "¦ Here's a look at this season's masks for the Milwaukee Admirals' goalies.

Soccer News: The paint company Valspar is the new jersey sponsor for the Chicago Fire (from Phil). … FC Dallas is adding the National Soccer Hall of Fame onto its stadium. It will be ready by 2018.

NBA News: The Kings will wear these Stance socks (from Phil). … "Spotted this logo on a sweatshirt on a mannequin at at Dick's Sporting Goods in the Portland Metro area last week," says Benjamin Kochman. "This was the only item in the store with this logo, and it was not for retail sale. I've never seen the pinwheel rendered quite this way. Is this the new, updated Blazers logo we've heard rumors about? Or, possibly, the red background version of the logo? If so, I'm excited!" Anyone know more? By the way, in researching the Blazers' logo tonight, I've come to realize just how marvelous it is.

College Hoops News: UCLA's new shorts feature pyramid striping in honor of late coach John Wooden, a proponent of the Pyramid of Success. … New uniforms (and trim) for Wisconsin (from Blake Geschke). … Also, new unis for South Carolina (from Joel Mathwig).

Grab Bag: A Syracuse pizza shop is using pink boxes this month (from Tony DiRubbo). "¦ Public school students in Puerto Rico are required to wear uniforms. But now, for the first time, all students can wear either pants or skirts, regardless of their assigned or perceived gender, a move aimed at promoting LGBT acceptance. "¦ Jimmy Fallon has proposed a line of sports apparel with logos positioned on the armpits — prime real estate, he says, because fans are always raising their arms in celebration.