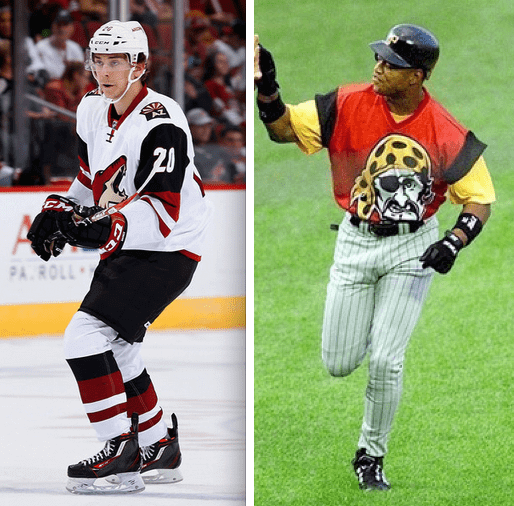 Big day for Uni Watch over at ESPN, as my annual NHL preview will be running, plus we'll have the debut of a new weekly feature, "Uni Watch's Friday Flashback" (yes, the original plan was for Thursdays, but we changed it), where I'll be taking a look back at a uniform or uni set from the past. We're kicking off the feature this week with an examination of MLB's futuristic uniform promotion from 1999.
The Friday Flashback piece is here, and the NHL preview is here. Enjoy. "" Paul
•  •  •  • •
Culinary Corner: I was in the mood for a hot dog last night, so I went ahead and made one. Nothing fancy — Boar's Head dog, supermarket-brand bun, some chopped onion. But as I was reaching into my fridge for a bottle of mustard, I noticed something sitting right next to it: a jar of capers.
I'd never put capers on a hot dog before, mainly because I'd never thought of putting capers on a hot dog before. But as soon as I thought of it, I liked the idea, so I went ahead and tried it. Here's how it looked right before I took the first bite (click to enlarge):
Worked really well. I think this is gonna be a regular thing for me from now on, at least when I'm making a dog at home. Only question is whether I can get away with sneaking a jar of capers into the ballpark.
Capers are interesting little items. They're great in salads, sauces, etc. (and, I now know, on hot dogs). They've even better if you fry them for about 45 seconds in some olive oil, which really opens up their flavor. Mmmmm, capers.
Which leads me to this story: On New Year's Day, 1979, my family and I went to see the remake of Invasion of the Body Snatchers. In one of the first scenes, Donald Sutherland, playing the role of a municipal health inspector, finds a rat turd in the kitchen of a French restaurant. He grabs it with a pair of tweezers and presents it to the chef/owner, who pleads with him, "No, no, Monsieur — eet ees a cay-pare!" Sutherland just looks at him and says, "It's a fucking rat turd, Pierre. I'm shutting you down." I was 14 yrs old at the time and had never heard of capers before (had to ask my parents what that was all about), but for years I wouldn't eat them because of the rat turd association. Eventually got over it, which I'm very happy about because I really love them.
• • • • •
PermaRec update: If you saw a paper airplane on the street, would you pick it up, or even think twice about it? Yeah, me neither. But one guy collected and cagalogued over 250 paper airplanes that he found on the streets of New York over a 26-year span. Get the full scoop over on Permanent Record.
• • • • •
Right back atcha: It's been a while since I've mentioned how much I love Gawker writer Hamilton Nolan, so this seems like a good time to mention that I fucking love Gawker writer Hamilton Nolan, who's the smartest, funniest, most brilliantly acerbic cultural critic plying his trade in America today. Latest case in point: When a new Gallup poll found that the public's trust in the media is at an all-time low, Nolan offered this response:
Well, guess what?

We don't trust you motherfuckers either.

Routinely failing to read past the headline. Forming strong opinions on issues with virtually no understanding of them. Loudly condemning entire segments of the media for the most shallow political reasons. Crying out for more substantive coverage and then paying attention only to sex, celebrities, and animals. Can't take a joke. Can't detect sarcasm. Always misspelling our names when you send us death threats via email. Always badmouthing us to pollsters. Always calling us crude names on the Twitter, even though we are human beings just like you and we only wrote that negative review of your shitty indie band because it is our job.

Sorry, Americans: You have a lot of work to do if you want to win back the media's trust. Frankly, we're sick of your shit.
I can especially relate to the bit about the misspelled death threats. Come on, 'Skins and Browns fans — it's Lukas, not Lucas.
• • • • •
The Ticker
By Paul

'Skins Watch: And so it has come to this: The 'Skins name is apparently being boycotted by the Eagles. This appears to be the first time that another NFL team has avoided using the 'Skins name. "¦ The Tigers' idea of rookie hazing is to make their rooks dress up as cowboys and Indians. Classy!

Baseball News: A classical pianist who's also a Mets fan has come up with a new arrangement of "Meet the Mets." "It's been making the rounds in the New York classical music community," says Keith Kreindler. "¦ Bo Baize notes that the Cardinals Radio Network has its own very snazzy logo, and that the Cubs appear to have trademarked the letter W. "¦ Reprinted from yesterday's comments: Here's more on Shin-Soo Choo's switch to a single-flap helmet (from VMoore). "¦ Brian Crago loves the way Cubs radio man Pat Hughes describes each team's uniform, and it's hard to disagree. "¦ For reasons that aren't clear, at least to me, the Rangers wore American flag-themed shorts for BP yesterday (from @asianorange). "¦ Hunt for blue October: Ken Traisman notes that every MLB team whose primary color is royal blue — the Jays, Royals, Mets, Cubs, Dodgers, and Rangers — will make the playoffs. "¦ Yanks SS Didi Gregorius has a personalized elbow pad. "¦ Speaking of the Yanks, this has got to be the lamest excuse for a celebration cap ever.

NFL News: Here are some NFL logo mashups with the past meeting the present (from Jonathan Daniel). "¦ Someone working for the Bills apparently has a great sense of humor. "¦ In a related item, the Steelers now have a pink Twitter avatar. "¦ There's a movement afoot in Congress to ban military-sponsored NFL salutes (from Robert Hayes). "¦ Here's something I'd completely forgotten about: In 1984 the Raiders wore a left-hip patch commemorating the 25th anniversary of the original AFL teams (from DavidS). "¦ The Cardinals are revealing what they'll be wearing each week on Snapchat. "¦ With the Cowboys slated to wear blue against the Saints this Sunday, it's also interesting to note that the cover of the Cowboys' current media guide shows Tony Romo in a blue jersey. "That got me wondering when was the last time the Cowboys media guide had a player on the cover wearing blue," says Kenny Kaplan. "Turns out it was in 1991!" "¦ Ravens WR Steve Smith had an Under Armour waistband towel, instead of the usual Wilson model, for last night's game against the Steelers (from John Koziol). "¦ And speaking of last night's game, it marked the beginning of Pinktober. Sigh. "¦ And speaking of Pinktober, this year's pink ribbon helmet decals feature the gold NFL logo.

College Football News: Further reports that Ohio State will wear this black jersey against Penn State on Oct. 17. "¦ Alternates on tap tomorrow for Oklahoma. "¦ The fantasy gambling site FanDuel used a pair of Georgia Tech players in its advertising without the players' knowledge, permission, or compensation (thanks, Mike). "¦ Good video on the Mississippi State equipment staff (from Dustin Semore). "¦ UNC will wear Pinktober accessories on Oct. 17 (from James Gilbert). "¦ Also from James: Georgia Tech has added a pink ribbon to its field. "¦ LSU's purple jerseys will be making a rare appearance this weekend (thanks, Phil). "¦ Miami wore a new all-white uniform with an embarrassing name last night against Cincy. The good news: new and much-improved NOB font. "¦ Word I'm hearing is that Hawaii will once again be wearing their throwbacks for tomorrow's game at Boise State.

Hockey News: Interesting story on the NHL's new official statistics licensee. "¦ New uniforms for the Regina Pats. "¦ Remember the story earlier this week about the Islanders getting a new goal horn as part of their move to Brooklyn? Response to that news was so negative that they've decided to use the old horn from the Nassau Coliseum instead. "¦ Six all-time great goaltenders will be featured on Canadian postage stamps. "¦ New uniforms for Arizona State, including a doozy of a captaincy patch. Further info here.

Pro Basketball News: The Warriors will wear gold-trimmed letters and numbers on Opening Night, when they'll also receive their rings and raise their championship banner. "¦ Some Serbian team you've never heard of has the most wackadoodle uniforms I've seen in ages (from Daniel Cotter). "¦ The Nuggets showed off their new jerseys. Impressive that the players could hold those pickaxes with a straight face.

College Hoops News: New gold unis for West Virginia. "¦ Jesse Justus collects game-used basketball shorts — he has several hundred pairs. But he recently came across he'd never seen before: a pair of Alabama shorts with small panels of plastic sewn on the inner waistband. Anyone know what that's about? He also came across a pair of St. John's shorts with a little inner pouch. "¦ New uniforms for Michigan State. Also Fresno State. Also Weber State.

Soccer News: Adidas has released a bunch of 1980s-inspired ManU merch (thanks, Phil). "¦ New CONCACAF patch for the USA U-23 team (from Mark Johnson). "¦ The Seattle Reign wore their purple/neon alternate jersey for the National Women's Soccer League Championship. "Other notable details include the championship badge on the chest and the event and date under the swoosh," says Saurel Jean, Jr. "¦ Same patch and event/date thingie for Seattle's oppoent, FC Kansas City (from @holycalamity, who also noticed a KC player whose socks were so short that they barely covered her shinguards).

Grab Bag: Got some promotional drinking straws in the mail the other day, and they were accompanied by this straw size guide. As always, there's something very satisfying about industry-specific classification systems. I especially like the little "actual size" diameter circles at lower-left. … Hadn't eaten a Carvel Flying Saucer since I was a kid (or maybe ever) and was surprised to see that they have the product name stamped into the wafer. The font isn't bad, and I like that they included little speed/motion lines (although I would have put them on the other side, because of our cultural predisposition toward things that move from left to right, not right to left). Can't decide if the " ®" symbol is corporate-pathetic or if it just makes the whole thing more endearingly plastic and junkfood-y. … Sportful is designing the jersey for new cycling world road race champion Peter Sagan, who will debut the new jersey on Oct. 8 at the Abu Dhabi Tour (from Sean Clancy). "¦ There's apparently a place in Chicago called Uni-BBQ. "They sell whole lamb and pig rotisseries, made for outdoor residential use," says Brian Crago. "Their website gives some pretty gnarly (but helpful) instructions on how to use their products and prepare your meat. Do I smell a Uni Watch Uni-BBQ in the future?" Indeed! "¦ Auburn has re-upped with Under Armour (from Andrew McCain). "¦ I've never much liked chocolate breakfast cereals, but I might make an exception for this French product just based on the box design. "¦ Students at some Atlanta-area schools can skip wearing their mandatory uniforms if they pay a small fee. "¦ Here's a look at the logo history of San Francisco's municipal railway (from Nicholas Roznovsky).