For all photos, click to enlarge
The 49ers have been my favorite NFL team for 45 years, which is longer than most of the people reading this have been alive. We've had our ups (all those Super Bowls in the '80s and '90s were nice) and some downs (people forget that the Niners went 2-14 two years in a row in the late '70s), but there's always been one thing I could count on: My team looked good out there. This isn't to say their uniforms were perfect "" the pants striping during the Montana era was way too wide, I could have lived without all the black trim that was worn from 1996 through 2007, and the current sleeve stripes are embarrassing and inexplicable. But the red/gold color scheme has always been a winner, the helmet logo has proven to be extremely durable, and the team's overall look has been solid.
Until last night.
Man, what a disgrace. Leaving aside how lame-o it is to hop on a bad trend more than a decade late, there are sooooo many things wrong with this design: the red numbers on the black background, the old school helmet (complete with grey facemask!) with the new-school look, and on and on. And if you think the base design is bad, check out cornerback Tramaine Brock, one of the handful of players who went with black socks instead of red:
Aesthetic considerations aside, the uniforms also presented practical issues. Having trouble making out the uni numbers in these photos? Yeah, well, you're not the only one, as noted in this email I received during the game from reader Ed Wright:
I'm listening to the 49ers' home radio broadcast tonight, announcer Ted Robinson is struggling to tell his audience which 49er player(s) were involved in each play. He finally addressed the issue: "I'm only going to say this once tonight: I have to apologize to our listeners, but the numbers on these alternate uniforms are really hard to read."
Additional photos here. Meanwhile, in that same game, the Vikings wore captaincy patches, which I'm pretty sure they haven't worn in the regular season for quite some time (anyone know when they last wore them?):
Speaking of patches: In the other Monday-night game, we got our first on-field look at the Falcons' 50th-season patch, which wasn't worn in the preseason but has now been added:
•  •  •  •  •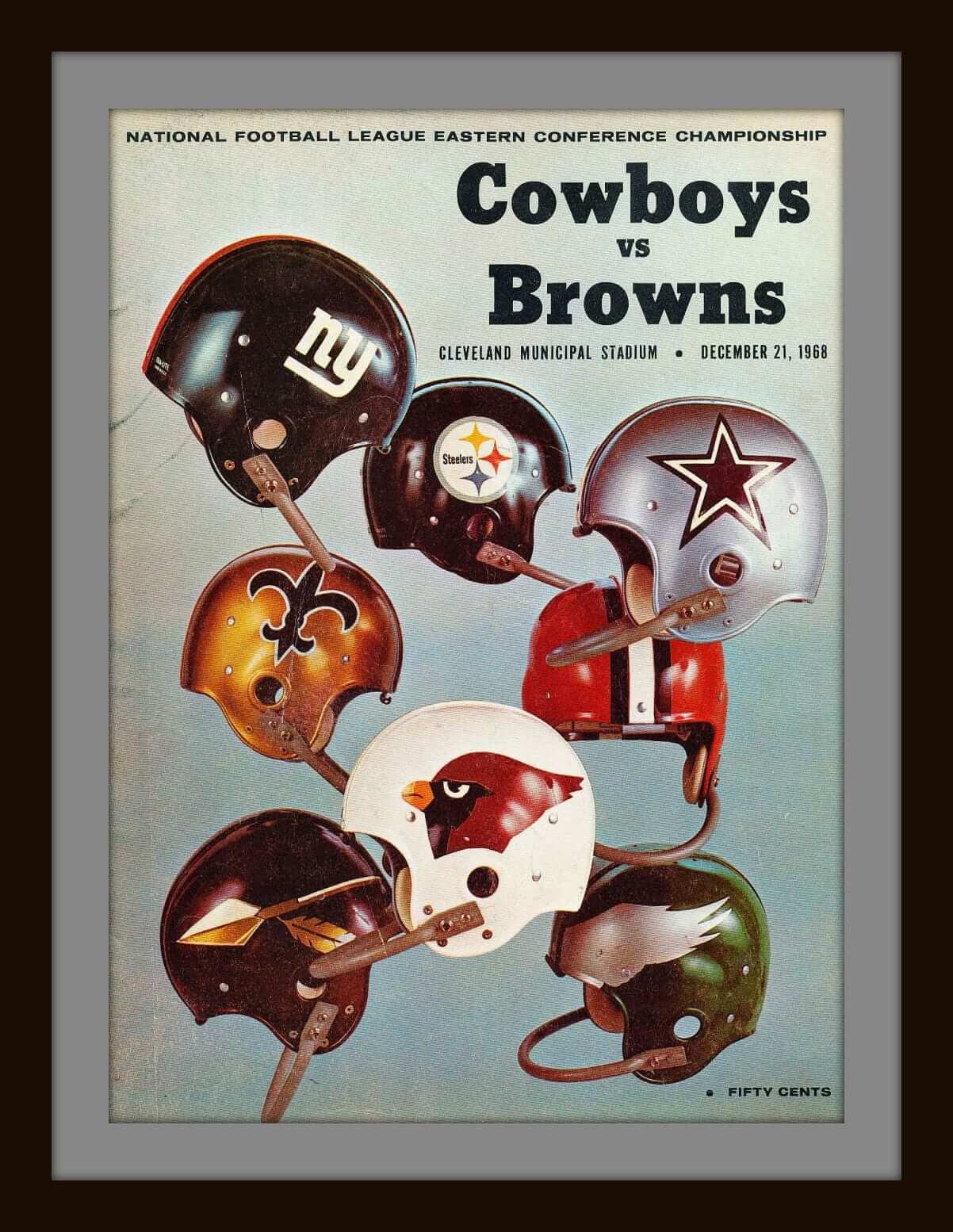 Click to enlarge
Collector's Corner
By Brinke Guthrie
We're featuring NFL program covers this week, 'cause, ya know, the season is finally here. First up: this great Cowboys/Browns program from 1968. Also from that same season, notice how simple yet effective this cover art is — just a battle-scarred helmet. (Wondering why a Steelers helmet was used for a Rams/Chiefs game? The cover says NFL Illustrated, which was the predecessor to Pro!) Finally, a program cover from Chargers/Colts game from 1969. Now, this was an August preseason game, as was the previous Rams/Chiefs game. That's because NFL and AFL teams played against one another (even though the games didn't count) prior to the 1970 merger.
Okay, here are the rest of this week's picks:
• Ever seen a 1950s Chicago White Sox jacket like this? This model is called the "Timberline," by Brill Brothers of Milwaukee.
• This is one terrific-looking "Evolution of the NFL Uniform" poster, sponsored by General Tire. Tiny tear near the top, but dry-mount/frame this guy and you're all set.
• From about the same period, check out the graphics on this New York Giants poster — a classic. Is that supposed to be Tarkenton?
• If you collected NHL stickers from Esso in 1970-71, you kept 'em in this NHL Power Player Trader Wallet.
• Skip ahead a decade, and if you collected MLB trading cards in the 1980s, this baseball-shaped case from Skilcraft was the way to go.
• A hundred bucks is the lowest price I've seen in awhile for a complete set of the 1970 NFL Chiquita stickers.
• Did anyone from the quality control department check out this 1970s Baltimore Colts ice cream sundae helmet before it left the factory?
• Took me a couple of looks to even figure out what this was: a 1970s L.A. Rams "Pic-Nic Helmet." Open up the top and stuff all your picnic stuff inside.
• This 1970s Fisher Nuts Steelers promo glass caught my eye for the simple reason you rarely ever see the facemask pointing to the left. (And there should be no logo showing on this side, either.)
Here's a 1970s Atlanta Falcons helmet plaque still in the (somewhat crumpled) box.
Follow Brinke on Twitter: @brinkeguthrie
•  •  •  •  •
The Ticker
Compiled by Mike Chamernik

Baseball News: A beautiful gold watch that served as a lifetime pass to Brooklyn Dodgers games at Ebbets Field had mysterious origins. … Marcus Stroman of the Blue Jays made his 2015 debut the other night and he is another one of the few single-digit pitchers. He wore No. 54 last year (from Mike Styczen). … According to this piece, "Allyne Price from the Players Association was in the Yankees' clubhouse showing several pitchers a new protective head gear that will replace the cap and has ear flaps" (from Fran Simmonds). … You might remember that the White Sox wore these uniforms from 1987 to 1990. Well, the Sox didn't include them on their uniform history page on their website. In the team's defense the Sox have worn a lot of distinctive uniforms (from Ferdinand Cesarano). … Good spot by Steve Shanabruch: The lines on Wrigley Field's marquee aren't symmetrical. Look at the horizontal lines at the ends of "Chicago Cubs." It's been that way for awhile, even during special events where the sign was painted other colors. … The St. Louis Browns had a great dog mascot in 1909 (from Will Scheibler).

Pro Football News: Yesterday we noticed that the Panthers wore blue alts on the road in Jacksonville. "The Panthers usually wear their light blue alternates on the road in September games where the temperatures could get really high (at Tampa, Bay, Arizona, San Diego, Miami and Jacksonville)," writes Florian Steininger. "Nothing out of the ordinary there. They'll wear them again in Week 4 at Tampa Bay." … Beginning next year, Adidas will be the official outfitter of the CFL. … A Wisconsin tourism commercial shows Packers WR Jordy Nelson in a Pack jersey with a whitened-out NFL shield.

College & High School Football News: Nebraska will wear these cleats against Miami this Saturday. The inside of the cleat has 17 "N's" and a palm tree design to represent the Cornhuskers' 17 Orange Bowl appearances, and the outside of the cleat has each player's number. … Colorado will wear white helmets on Saturday (from Phil). … New helmet for Old Dominion. The team will wear it against NC State this weekend (from Jeremy Walker). … Houston tweaked its matte white helmets by adding chrome decals, a red chrome facemask, and the Texas state flag decal. Here's another look (from coogrfan). … Not only is there a Bear Bryant Namesake Reunion, but the 20th annual version of it was this past weekend. … No pics of the NOBs, but Brice Wallace saw that Utah State has a Baker, Painter, Copier and an Artist. … Kentucky's North Hardin High School has a helmet memorial decal for an officer that was killed.

NBA News: The Rockets will unveil new alternates tonight. … This weekend a Clippers' blog posted a story on the team's new logo. As it says in the deck, "All the facts in this story came from a secondhand source who got it from a conversation with the actual source," so believe what you will. … Wizards rookie Kelly Oubre signed with Adidas (from Tommy Turner). … Reddit hosted an informal Thunder redesign contest.

Grab Bag: A Minnesota corn maze shows the Wild's 15th anniversary logo (from Luke H). … The creator of the mid-century Marshmallow Sofa has died (from Tommy Turner). … Donald Trump's hairstyle makes him look a little like Wichita State's mascot (from Andrew Cosentino). … New uniforms for North Korean flight attendants (from Chris Bisbee). … Christopher Cameron runs his own cornhole board company out of his garage and a few of his designs are uniform-themed. … Brice Wallace was ordering a class ring for his son and saw these camo options in the ring catalog. … Canadian box lacrosse league teams rival European hockey teams for the amount of ads on their uniforms. The indoor lacrosse photos come from the Mann Cup (from Kevin Mueller). … Here's the story behind Reddit's alien doodle logo. … A tech company is flaunting San Francisco's graffiti laws by stenciling its logo on sidewalks. Kind of reminds me of 2012, when Coke plastered its logo on the streets of New Orleans. … Here are some architects' drawings of the Los Angeles Memorial Sports Arena and Dodger Stadium (from Will Scheibler).