Concept by Ross Taylor
By Phil Hecken
The big uniform news yesterday wasn't the unveiling of another college football uniform, or a jersey snafu, or any of the usual mid-August stuff — it was the news, broken by TSN's Rick Westhead, that adidas had struck a deal with the NHL to produce the league's jerseys beginning in 2017-18.
According to TSN, adidas beat out Under Armour and Bauer Hockey to succeed Reebok, who currently produces the league's unis (Reebok could best be described as adidas' "cousin" in the apparel business, as Reebok is a "subsidiary" of the company). The current Reebok deal with the NHL pays the league "about $35 million per season, a source said. The new deal with Adidas will see the rights fee double, the source said," according to TSN.
That in and of itself is pretty big news, but contained within that story was some news we were expecting, like the possibility of jersey ads. The article states, "Moving to a new jersey supplier may be a natural transition for the NHL to begin introducing on-jersey advertising."
But there was some unexpected news as well —
Now, does that "familiar three-stripe trademark" mean adidas will seek to add their "3 stripes" to the jerseys, with those stripes going down the sleeves and pants, like many soccer kits currently have? Or does that mean it will "just" be an adidas 3-stripe logo somewhere on the jersey/pants? Or does it indicate something in between? Hmmmm.
As far as the proposed ads for NHL jerseys: This is not exactly new news — the NHL has already "warned us" they're coming — I believe it was a question of whether the NBA and the NHL would be "first" to have them — both say ads are coming. But would those ads be all over the unis like European teams or will they feature a more, shall we say, discreet appearance? The article doesn't say, and probably at this point no one is sure.
It's not even certain if ads will appear on jerseys before the adidas contract kicks in, or not until such time.
I can't see the NHL having big honking Euro-style ads, and my guess is if there are ads, they may be of the more subtle variety. But there is no question, the visual clutter is coming and once ads appear on a "Big 4" sports jersey, the other three leagues will probably be soon to follow.
Of more concern is the possibility of the "familiar three-stripe trademark" being added to jerseys and pants. I asked a few graphic artists on Twitter if they'd try their hand at possible adidas striping (or logos) on NHL jerseys. They range from the subtle to the extreme. Maybe we'll get lucky and adidas will settle for just their logos on the uniforms. But it is likely to range somewhere between the concepts below (my thanks to Ross Taylor, Ryan Cotter and CustomCoversUniverse for their efforts):
@PhilHecken U-G-L-Y…few options excuse the faded white stripes on first 2 pic.twitter.com/SKFm9xEyMg

— CustomCoversUniverse (@CustomCoversU) August 17, 2015
Of course — it might not be that bad. I stress the "might" part. Time will tell.
@PhilHecken @UniWatch Adidas really won't be that bad in the NHL if they follow in their NCAA footsteps. pic.twitter.com/nEMfCnGzP7

— Patrick Thomas (@PThomas19) August 18, 2015
We knew the day ads on NHL jerseys was coming. If it's not until adidas takes over, then that day is still a few years away — the only question now is will the first ads be on Nike's new NBA jerseys, or adidas' NHL ones? Anyone want to guess who goes first?
What do you say, readers? Is this just 'par for the course' and part of the cost of doing business these days? Will this make you no longer a hockey fan (or viewer)? Would you buy an authentic or replica jersey if it contains an ad? The #NoUniAds campaign seemed to have an affect on the NBA (or maybe that was just ex-Commish David Stern) — time to start one up for the NHL, or are we too far gone now?
Lots to discuss here. Go to it.
Collector's Corner
By Brinke Guthrie
Click to enlarge
The late Frank Gifford along with Terry Baker, in an ad for Jantzen; "Bulky Sweaters for Muscle Beachers." You can be a 190 pound weakling and STILL look like the sportsmen pictured. Who knew that was all it took?
Interesting graphics on this 1970s-1980s NFL team pillow with the Giants and Washington.
Reader Will Scheibler sent along two CFL items: an Argos Joe Theismann mug, and a 1976 DQ helmet set.
You don't see much Oilers merch with the blue helmet, like this 1970s thermal mug.
The very Tudor NFL game I had. Colts and the Cowboys, in Super Bowl V.
Here's another NFL game of the era, and I've never seen this one before. An "NFL Quarterback Game," featuring an "All Plastic Stadium" with "Computer Action." If that ain't compelling enough for a ten year old kid at the time, nothing was.
Here's a 1969 gear bag with replica signatures of all the "Boston" players, endorsed by the National Football League Players Association.
This 1970s pennant declared that Hammerin' Hank was now the Home Run King. Where have you gone, Al Downing?
This green jacket is embroidered with the logo "Major League Baseball Players Alumni."
Is that a Phillies dugout jacket? The P is just a bit off as you can tell. Whatever, it's made by DeLong and it's got that quilting on the inside, and that means it will be the most comfortable jacket you've ever worn.
Staying with DeLong, I had a Reds version of this jacket, with the C Reds in front, NL on the sleeve, and Running Man on the back..red wool with white leather sleeves. Awesome. This Chicago White Sox varsity jacket looks identical in its design.
. . . .
Follow Brinke on Twitter @brinkeguthrie.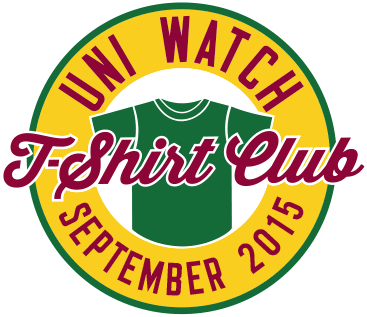 September T-Shirt Club launch: Paul here. As I mentioned last week, the Uni Watch T-Shirt Club's latest offering is the road grey shirt — the last of our "core" designs — and it's now available for ordering. Obviously, this one is pretty straightforward, but it's still plenty handsome. In fact, I think this is my favorite design we've done so far (click to enlarge):
We had originally planned on doing a different design — something much more elaborate — for September. But that design turned out to be so tricky that we've decided to have some samples made first, so we can troubleshoot any production issues in advance. That design is now slated for October, and it's going to be a doozy. I'm pretty sure you'll be excited about the November and December designs, too. You'll see.
Meanwhile, once again, the road grey design is available here. Thanks.
Uni Watch News Ticker
Compiled by Mike Chamernik

Baseball News: Here's a comprehensive look at what the Cubs have worn on the road since 1958 (from Phil). … Forbes' Maury Brown wrote about flat vs. curved baseball cap brim styles, and of course the piece shifted to white vs. black and old vs. young. I'm actually right down the middle on this one. Super flat brims (like where people go out of their way to flatten it) look dumb, but so do the extremely curved ones. Give me a slight curve. [Phil here — I plan on following up with Maury on this for UW at some point soon — so stay tuned. Now back to the ticker] … USA's 15U national team wears some sharp stirrups. … Florence Freedom wore bowling shirt jerseys two nights ago. … Straight Outta Compton has been well-reviewed but Uni Watchers have been sending in the film's sports apparel errors ever since the trailer came out. Here's another: In the film's opening scene, set in 1986, Eazy-E is shown wearing a White Sox cap that wasn't used until late 1990 (from Andrew Cosentino). … The Tennessee Smokies will wear University of Tennessee-themed jerseys in support of Volunteers women's hoops coach Pat Summitt (from Phil). … Can't remember seeing a manager wearing a captain's "C" on his uniform before (from Tris Wykes).

NFL News: The Packers considered changing their uniforms in the early 1990s (from several readers). … NFL game balls now feature the home team's logo decal under the NFL shield panel, rather than the team name (from a reader who didn't give his/her name). … Robert Griffin III is wearing four different camo-patterned accessories in this photo: sleeves, gloves, socks and a towel (thanks, Bryan Firvida). … New Colts RB Frank Gore is continuing his diabolical short pants game (from Charlie Welling).. … No photos, but the Giants will wear a No. 16 helmet decal for Frank Gifford this season along with a jersey patch for Ann Mara (from Phil). … Lions LB DeAndre Levy is selling more than 100 pairs of shoes from his sneaker collection, with the proceeds going to charity. … No new stadiums in the NFL this year, but five teams made notable modifications to their homes (from Brinke). … Lions DE Darryl Tapp finds motivation from being left out of the team photo last year. … The numbers on the Browns' practice jerseys have a drop shadow (from Alex Sinclair).

College Football News: A few people sent this in: Georgetown's new uniforms feature a kente-cloth pattern. … The head coaches at Ole Miss and Mississippi State both want the Confederate symbol removed from their state's flag (from Phil). … Florida State's Jalen Ramsey will change jerseys for kickoff returns since he and another deep man share the No. 8. Ramsey will still wear 8 on defense, but his new number isn't yet known (from Bud Elliott). … New jerseys for Old Dominion (from Phil). … New uniforms for North Dakota (from Patrick Thomas). … Charlotte altered its uniforms (from Phil). … Here are 13 new uniforms this season, most (all?) of which we've seen here before (from Phil). … New yard line font for North Carolina. … Illinois changed its midfield logo. … West Florida unveiled jerseys for its inaugural football season (from Phil). … Tennessee wore gray-trimmed numbers in the late 1980s. … Not sure if this is a poke at Oregon, but apparently the East Mississippi Lions will have 216 uni combos they'll unveil today.

Hockey News: The NHL Shop is selling an Oilers T-shirt with "Houston" written on it. As you know, the Oilers play in Edmonton; the NFL's Houston Oilers moved to Tennessee in the late 1990s and eventually became the Titans (from Alan Kreit).

Soccer News: Sergio Ramos re-signed with Real Madrid and was presented a jersey with a four-digit number. He signed with the club through 2020 (from David Shucosky). … In case we haven't seen this yet: England's blue-striped kit has leaked (from Tim Cross). … Bayern's Robert Lewandowski was fined for wearing a visible Nike logo under his shirt in a game against Hamburg (from @thEliasNevarez).

Basketball News: Might the Clippers have alternate blue jerseys? We will see if those are legit. … The Seattle Storm wore pink uniforms for Breast Health Awareness Night on Sunday. There wasn't enough room for numbers on the backs of the jerseys, so the Storm put the alternate logo there instead. A source tells us that "these uniforms were supposed to be next year's uni design, but the players have had a fit over it so the league is reconsidering. Many of the players wore undershirts or sleeves during this game."

Grab Bag: White-vs.-white matchup the other day in a South Africa-Argentina Rugby World Cup warmup (from Eric Bangeman). … Denis Hurley runs a site called Pride in the Jersey, a history of the uniforms worn in the Gaelic Games. He also had a radio hit where he discussed the origins of the colors of many county teams.
And that's a wrap for today. Thanks to Mike for the Ticker and Brinke for the CC. Make sure you check back tomorrow … Paul will be making a special guest appearance with a new lede. You won't want to miss that!
Follow me on Twitter @PhilHecken.
Peace.
.. … ..
"'ANCHOR DOWN' is what I yell through the bathroom door to my horrified and exasperated family at about 8:25 every morning."
–Rob Ullman