Click to enlarge
[Editor's Note: Paul is on his annual August break from the site and will return in September. Daily content is continuing under the direction of deputy editor Phil Hecken, who's running the site this month.]
By Phil Hecken
Ahhh…1969. Woodstock, the Moon Landing, the Beatles were still together. The Manson Murders, the Stonewall Riots. Lots of things were happening in that eventful year.
It was also, in my humble opinion, the absolute apex for baseball uniforms — the best year, bar none, of all the years in baseball. Baseball had just expanded (for the third time in less than 10 years) to include four new cities, three of which never had major league teams before, and spread out across the USA and into Canada (San Diego, Montreal and Seattle, plus Kansas City). Teams still wore flannel, but the uniforms were tailored and fit a bit snugly. Stirrups were (of course) still worn, but slightly higher than they had been for decades. Only two or three clubs (technically) had an alternate uniform, but not everyone wore only white or gray. Almost every club wore the Jerry Dior patch. We still hadn't witnessed the scourge of pullovers and sansabelt polyester.
In short, it was perfection on the diamond. Sure, not every team would be wearing the "best" uniform in their history during this year, but many were. I only wish I weren't three years old when it took place.
Lets take a quick look at the uniforms each team wore in 1969. I think you'll agree with me that you'd be hard-pressed to find another year when baseball uniforms looked so good. Click any photo below to enlarge.
+ + + + + + + + + +
Not their greatest uni, but still solid. Pinstripes at home, gray on the road, classic "A" on the cap.
+ + + + + + + + + +
Dressed to the Nines shows the O's with a vest (and with all clubs who wore one this season, it was a true vest, not the sleeveless shirt of recent vintage, like the Rockies
still wear
). Other than the thicker font, this is definitely one of the O's best ever unis. And the roads said "Baltimore."
+ + + + + + + + + +
Classic home uni, basically their best look ever. I'm not as big a fan of the block outline "BOSTON" for the road grays (in a non-Tuscan font), but still a good look. Almost perfect.
+ + + + + + + + + +
Not their greatest uni (that would be what they were born in), but still a good looking set nonetheless. The caps
still had the "halo" on them
— probably the second greatest cap in history — and second only to another cap worn in 1969. The contrasting sleeves and stirrups bring it down just a smidge, as does the "ANGELS" on the roadie.
+ + + + + + + + + +
This is just a gorgeous set — probably the second best set in their uniform history (I prefer the
zipper-front, non-pin
just slightly more), but as a home and road combo, it's probably their best historically. They may have had a bad year in 1969 (as well as 1909 thru present), but uni-wise, they were great.
+ + + + + + + + + +
OK. Not the best ChiSox home uni by any means (but they've had plenty worse over the years), but that road uni is beautiful, and (I'm sure some will disagree with me), one of only two seasons where a MLB club wore
darker sanis
than
stirrups
— a unique look they quickly jettisoned. But those roads were awesome.
+ + + + + + + + + +
It doesn't get much better than this. Seriously, it doesn't. When you think of the quintessential Reds uniform, this is it.
+ + + + + + + + + +
While this isn't one of my personal favorite sets, there's no denying this one is still pretty good looking. The zipper-front vest (!), the stirrups — that would look good today, and was still one of the better sets in the Indians history.
+ + + + + + + + + +
Best uni set in Tigers history. Classic. The block "DETROIT" on the roads should be brought back.
+ + + + + + + + + +
I've often said the 1965 (first "Astros" uni) set was their best, and they were still wearing that look in 1969 (they'd keep this until 1970, before swapping in the orange cap and uni elements). Still a beautiful uniform today, I was hoping they'd
bring it back
on a full-time basis.
+ + + + + + + + + +
A beautiful set, and
almost
their best look ever — for that, they'd need to wear their
button-front powder blue
roads, but it's pretty close. The Royals don't look bad in gray…they just look better in light blue.
+ + + + + + + + + +
Lets face it — the Dodgers have looked great for decades, and this uni is great looking, just adding to the uni awesomeness that was 1969.
+ + + + + + + + + +
Their best set was probably their first uni set in 1961, but this is still stellar. Their 1969 roadie is still their best road uniform ever.
+ + + + + + + + + +
Without question, this was the best uni the Expos ever wore. A new team, a new country — that crazy cap. Fantastic.
+ + + + + + + + + +
Lots of incredible stuff happened in 1969. The Mets taking down the mighty 109-win Baltimore Orioles to win the World Series was just one of those things. And those are certainly the greatest uniforms ever worn by the Amazin's.
+ + + + + + + + + +
The Yankees have pretty much been wearing the same set since the 1930s. It looked great then, it looks great now, and it looked great in 1969.
+ + + + + + + + + +
A white, a gray
and
a gold (the horror!). I kid, of course, but the A's were always one of the more progressive clubs when it came to uniform design (or at least they used to be, now they're just like everyone else). But that vest set in 1969 was still gorgeous. Not their best ever (yes, I liked their next set — with the polyester pullovers and multiple caps/tops — because they basically invented it) but still a fine, fine uniform for 1969.
+ + + + + + + + +
This was basically the set the "Whiz Kids" wore more than a decade previously, and it was a great set. Maybe not as great as when their red became maroon in the next decade, but a great set nevertheless.
+ + + + + + + + + +
Easily one of the best sets the Pirates ever wore (yes, I have a soft spot for the mustard Pirates set that would follow — again, because it was the first polyester uni in the bigs, although it led to mayhem when almost everyone followed suit). But this one was an all time classic. For some reason, the Pirates did
not
wear the Jerry Dior patch this year.
+ + + + + + + + + +
Another new club for 1969, I've always felt the Padres homes were their best home uni ever. I confess to liking their all gold road unis introduced a few years later a bit better than the '69 roads, but this was still a fine set.
+ + + + + + + + + +
McCovey, Mays and Marichal all wore this uniform and looked damn good doing it. Just a great looking set.
+ + + + + + + + + +
This was one of the greatest uniforms of all time, and it's a shame the Pilots only lasted one year (although the team the Pilots would become, the Brewers, basically used the shells of these uniforms in early 1970). The road uniform was perfection, and
the scrambled eggs cap
remains (IMHO) the greatest cap in MLB history.
+ + + + + + + + + +
This is basically (and arguably) the greatest uniform the Redbirds have ever worn (I've always loved
this particular uniform
, with the zipper-front and shoulder striping — a look that needs to return on some team). But the 1969 set, with the red cap on the road, is pretty damn close to perfection.
+ + + + + + + + + +
Once the original Washington club left for Minnesota, the Senators Part II
never really had great unis
, but this was probably the best of the bunch. It wasn't bad, but it was pretty basic — almost like they were just biding time until they moved to their next venue. Basic, but not bad by any means. The classic 'curly W' and script "Senators" was still a fine way to round out the greatest uniform year of all time.
+ + + + + + + + +
OK readers — what do you think? Clearly, opinions are just that, and I'm sure many of you will disagree with me — but if you do, what do you think was a better year for unis? Sure, we look back fondly at those crazy uniforms of the mid/late 1970s nostaglically, but there were some bad unis in the group. But hey, I'd love to hear what you think. Fire away.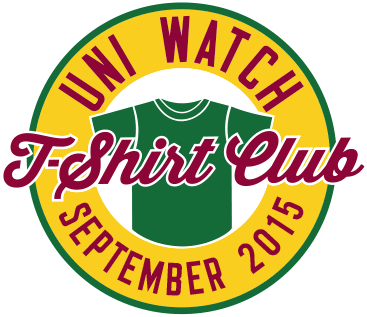 And now a few words from Paul: Hi there. I've been enjoying my August break, thanks in part to a beautiful Wurlitzer organ, an unusual breakfast encounter, and a killer flea market find. But I'm back today to tell you about the next release from the Uni Watch T-Shirt Club.
The next shirt will be the last of our "core" designs — the road grey (click to enlarge):
Obviously, this one is pretty straightforward. But still plenty handsome, right? It will launch next Tuesday, Aug. 18, and be available for ordering through the following Monday, Aug. 24.
After this one, there will be three more shirts left for 2015. I can pretty well guarantee that they're all going to be pretty special — you'll see.
Meanwhile: I'm hard at work on several big ESPN projects. More on that soon.
Classic Ballpark Scoreboards
I'm pleased to continue with a favorite weekend feature here at Uni Watch, but I'll run it during the week while Paul is on sabbatical — "Classic Ballpark Scoreboards," which are created by Gary Chanko. You probably know Gary best for his wonderful colorizations, but he has been a solid contributor for many years, and this is his new project.
Here's Gary (click on image to enlarge):
. . . . . . . . . .
Classic Ballpark Scoreboards – Series II
by Gary Chanko
In this edition of Classic Scoreboards we journey back to Canada (the previous visit was to Jarry Park) for a look at the "other mistake by the lake," Toronto's Exhibition Stadium. The characterization seems a bit unfair, but more on that later.
Exhibition Stadium

Home of: Toronto Blue Jays (1977""1989), Toronto Argonauts (CFL) (1959""1988)
Opened (after conversion to football stadium): August 1959
Inaugural Blue Jays game: April 7, 1977 (yep, it snowed)
Last Blue Jays game: May 28, 1989
Demolished: January 1999
Exhibition Stadium (aka Canadian National Exhibition Stadium and CNE) served as the home of the Toronto Blue Jays from 1977-1989. It was a multi-purpose facility located on the Exhibition Place grounds in Toronto.
As a ballpark Exhibition stadium can usually be found on one of those Top Ten Worst lists. However the original Exhibition Stadium grounds and that notable grandstand were never intended for baseball, AT&T Park has a sea gull problem, and it certainly snows at other MLB ballparks. So ranking it along side the hideous multi-purpose ballparks of 70s, Colt Stadium and the early domes is a bit unsporting. Plus the Stadium did host a number concerts featuring most of the legendary rock stars.
For more Exhibition Stadium history and analysis you will want to read this past Uni-Watch feature article.
Now about that scoreboard planted in deep, really deep right field. It wasn't part of the 1959 renovations that converted Exhibition Stadium for football. In this 1959 image an end zone scoreboard is visible, maybe this one from 1963.
The reconstruction of Exhibition Stadium for baseball in 1976 included the now familiar pedestal mounted scoreboard in right field (as best as I can determine). This photo from 1976 appears to show the scoreboard under construction along with the baseball playing field already in place.
The football configuration of the venue obviously constrained baseball diamond placement. This plus the need to serve both baseball and football impacted the location options for the scoreboard. It had to have been a challenge to see anything on the board if you were seated down the right field line.
The scoreboard illustration recreates the Blue Jays vs Red Sox afternoon game played on June 12, 1988. The Jays first baseman Fred Mc Griff, who was among the AL leaders at this point in the 1988 season, is the batter.

A Few Things to Know
• The first game played after the 1959 renovation was an exhibition football match up between the CFL Toronto Argonauts and the NFL Chicago Cardinals.
• In 1999, the stadium was demolished after sitting idle for a decade. The site was converted to a parking lot parking with plaques commemorating the base locations, like home plate. In 2007 a portion of the site became BMO Field, a soccer only venue.
• Exhibition Stadium was the only major league ballpark where the main seating between first and third was totally uncovered. The original main grandstand, of course, was covered.
• Richard Petty made his NASCAR Grand National Series debut (the 1958 Jim Mideon 500) on July 18, 1958 at no other than – Exhibition Stadium!
~ ~ ~ ~ ~ ~ ~ ~ ~ ~
If anyone is interested in purchasing a digital copy of these posters, Gary is working on an online purchase option. In the interim you can contact him directly at Classicscoreboards@gmail.com.
Uni Watch News Ticker:

Baseball News: After reading yesterday's entry on Hall of Fame plaques Paul Dillon found this video on YouTube about the company that has been making the plaques since 1983. … The Toronto Blue Jays are going turn back the clock for Sunday's game and wearing this hat. Submitter Mike Guterman adds, "Looks like the caps from the hr derby from the 2014 all star game as there is no baseball in the logo from the original version of the cap." … Last evening was Breast Cancer Awarness night for the Fargo-Moorhead RedHawks, and boy did they pink up the joint (via Reid Cure). … The Chicago White Sox have added a new memorial patch for Billy Pierce, a former pitcher who passed away on July 31st. … Ever wondered what a day in the life of a Cardinals batboy is like? You're in luck (thanks to Chris Flinn). … "I just came across this minor league baseball logo [Grand Rapids Dragonfish] that looks remarkably similar to the Simpsons 'Flying Hellfish' logo," observes Benjamin Gorbaty. … Will Scheibler ran across this Mets fantasy card blog that had posts picturing Mets scoreboards made up as baseball cards.

NFL/College/HS Football News: In yesterday's ticker, there was a question as to whether the Houston Texans added a larger helmet logo; Patrick Thomas whipped up a side=by-side and based on that, it looks like the logo is the same size as before. … "Saw this ad on Pandora [yester]day and it fascinated me," writes Jonathan Daniel. "If you're an official sponsor and presumably could use any player, why would you choose a backup QB (Hasselbeck) in your ad? He went to Boston College so there's no apparent connection to Olivet Nazarine there and the Colts train at Anderson University, which is a small school northeast of Indy. I'm not positive that's Hasselbeck, but I have no idea why you would put someone else in his jersey. Then he has one of those sports wedding rings on too." … The Seattle Seahawks have new 3D helmet bumpers. Mike Princip says, "Looks to possibly be their official wordmark/font, although with the tiered embossed look, it's hard to tell." … Who has the best new unis in Dallas/Ft. Worth High School football? This article lets you vote (from Jedi54). … "Looks like Jimmy Harbaugh continues to bring Michigan football uniforms back to the way they were when he played," says hawks sinbin13. "Michigan has now removed the block M off the back of the jersey. More surprisingly, looks like the block M is also gone off the new (original) maize pants. I believe Michigan has had the M on the pants every year since 1993." … Holy crap — check out this elaborate end zone — and it's for a High School! (from Kurt Esposito).

NBA/College Basketball News: Looks like Nike has declined to match adidas' $200 million offer to James Harden to wear their shoes. … Here's a look at the Miami Hurricanes adidas unis for the women's team (h/t Matthew Bunch). … Here's a look at Raptors rookie Delon Wright in the new red Toronto jersey. … Tennessee's got some checkerboard Nike trainer sneakers for the 2015 season (from Miles Crowther). … Whoa — check out this photo of Red Auerbach with Batman villains (great find from Phil Lawson).

Hockey News: New York Rangers' goalie Henrik Lundqvist has a new mask/cage for the 2015-16 season (from Matthew Hanes). … Looks like Marshall hockey is getting new uniforms for 2015-16 (h/t Rebirth Sports). … The Nashville Predators have unveiled a new gold helmet and events for "Golden Saturdays" (from Alexis W.). … Here's a first look at the Ducks and Avalanche's new third jerseys (thanks, Paul). … Here are mockups of the possible uniforms for the Red Wings vs. Avalanche Stadium Series on February 27, 2016 (h/t Justin Barsotta).

Soccer News: There is now a new USL team, FC Cincinnati (h/t Uniform Junkie). … There is also a new team in Florida, Miami FC of the NASL (h/t Leyland Privott). Here's that badge on a polo shirt. … Apparently Manchester United's new shorts have some inconsistent numbering (from Andrew Donnelly). … The Chilean national team has partnered with Nike and has debuted their new kit.

Grab Bag: The Channel 7 TV station in Perth, Western Australia had a ladies social netball team in the late 1960's/early 1970's, which wore a striking black and gold uniform (from Graham Clayton). … Southern Utah University has its logo on soap dispensers (via Benji King). … The James Madison University women got some new tennis gear (from Andrew Rader). … If you weren't already aware, here's the brand story behind Nike's "˜Just Do It' Campaign (thanks Brinke). … The Royal Navy has new unis.
And that's it for this fine Wednesday in the middle of August. Not a lot of uni news yesterday, but maybe that will change today. Thanks to Gary for his wonderful scoreboard feature, and to everyone who contributed by e-mail or tweet for the Ticker. Catch you folks tomorrow.
Follow me on Twitter @PhilHecken.
Peace.
.. … ..
"If you ask me, any hat with a Yankees logo is an awful hat."
— Dan J.