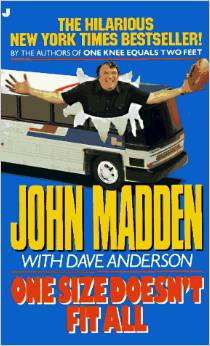 Before he became synonymous with video games, former NFL coach John Madden authored several books. Reader Barry Brite recently informed me that one of those books — 1989's One Size Doesn't Fit All — has a chapter devoted to an interesting concept: Madden had a habit of instinctively assigning football uniform numbers to non-football athletes and other celebrities, basing the numbers on the people's style, presence, and character.
I remember Madden occasionally talking about this concept on the air when he worked as a broadcaster, but he explained the concept more fully, and applied it to many more examples, in his book. Many of the celebrities he referenced now seem a bit dated because the book came out more than 25 years ago, but the basic concept is still interesting. Barry has been kind enough to scan the relevant pages for us to see — dig (for all of these, you can click to enlarge):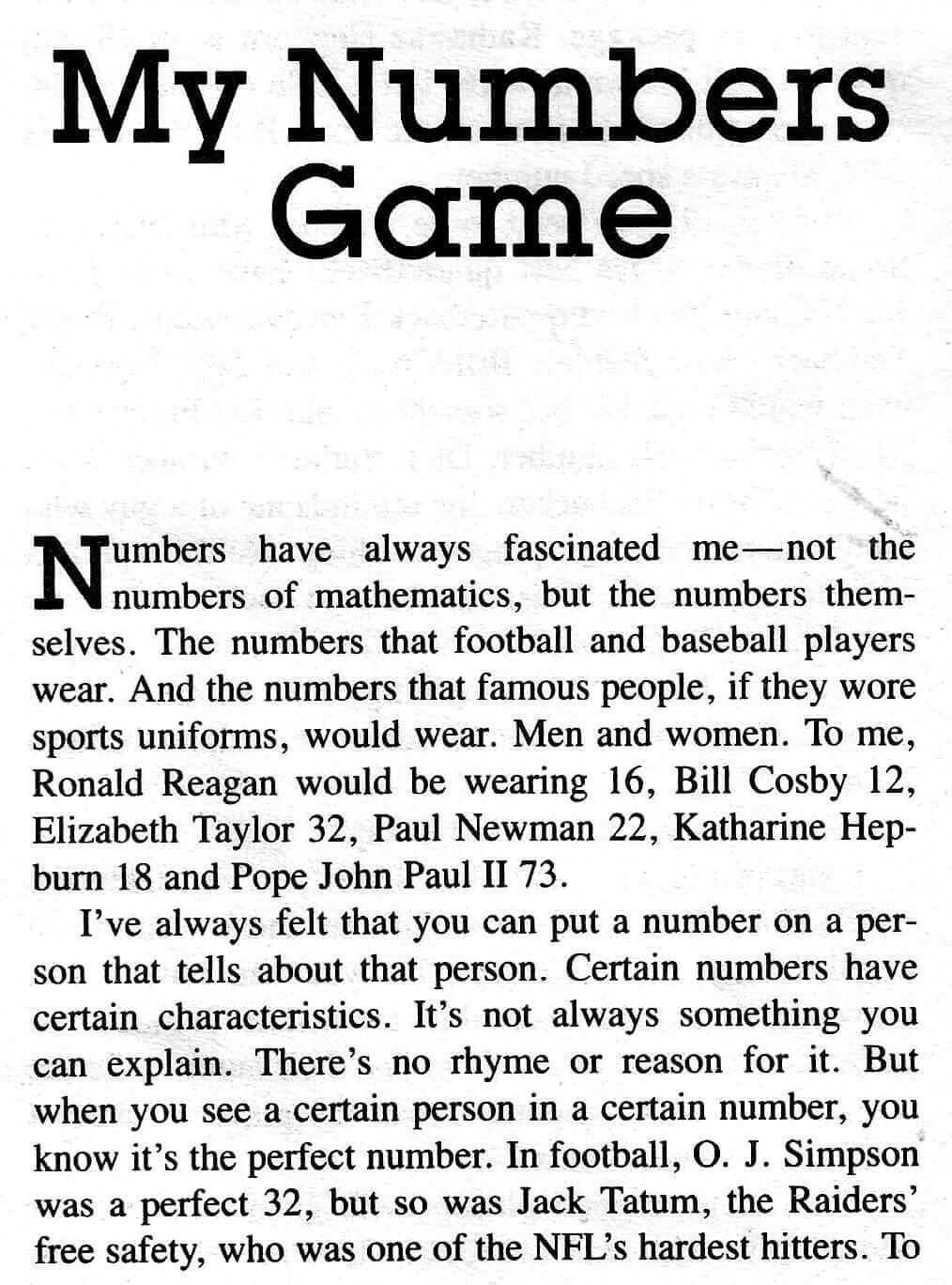 —————————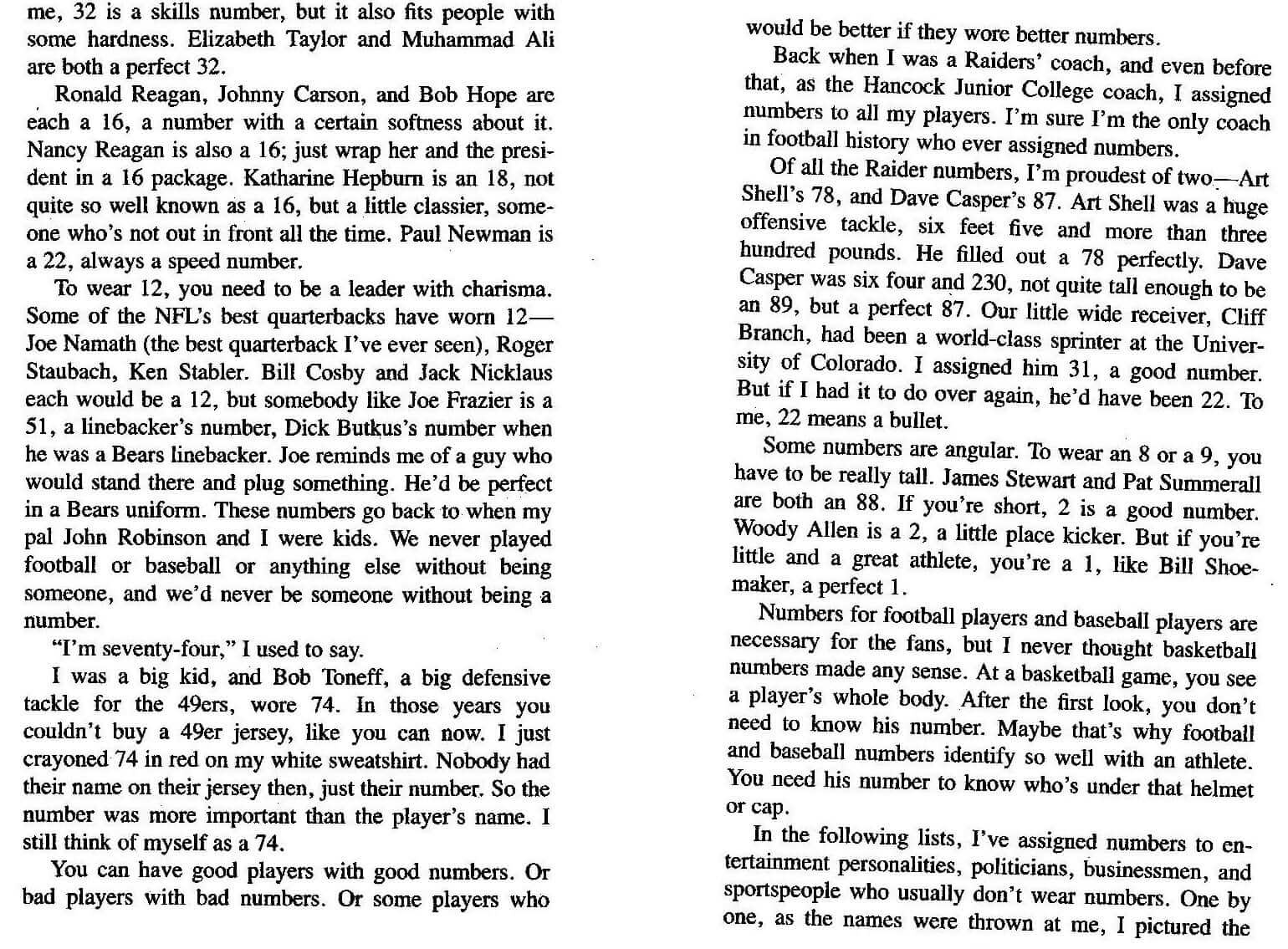 —————————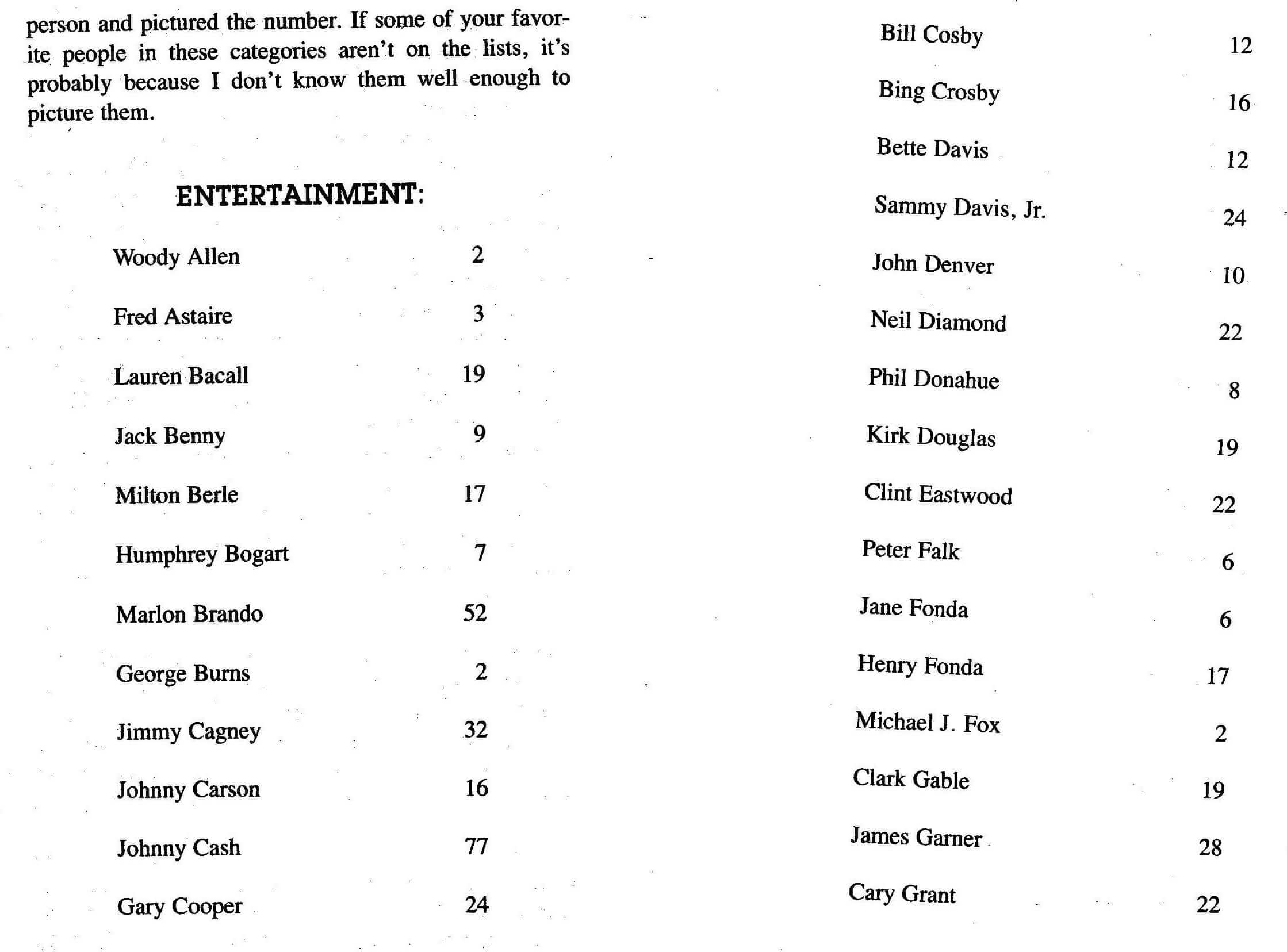 —————————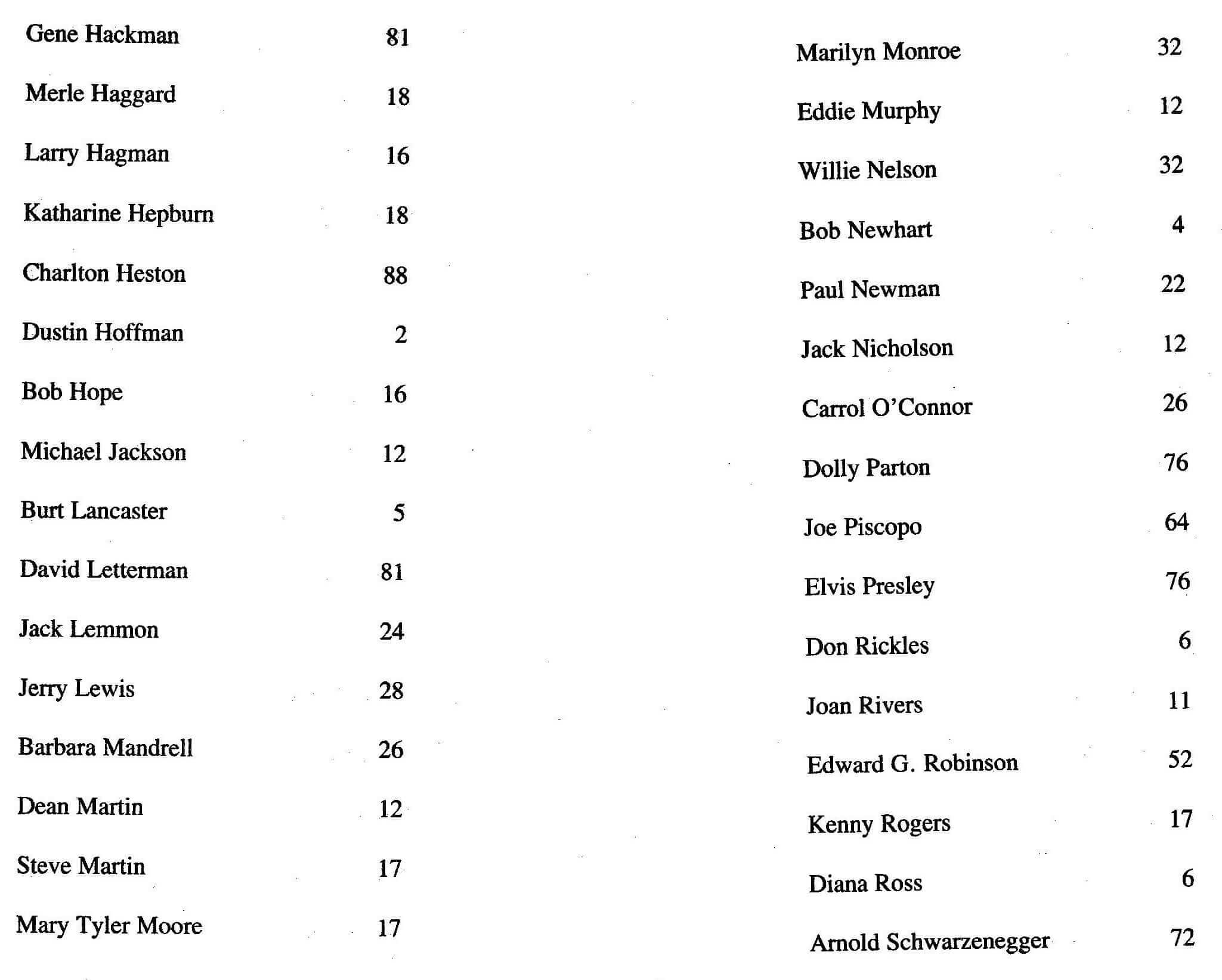 —————————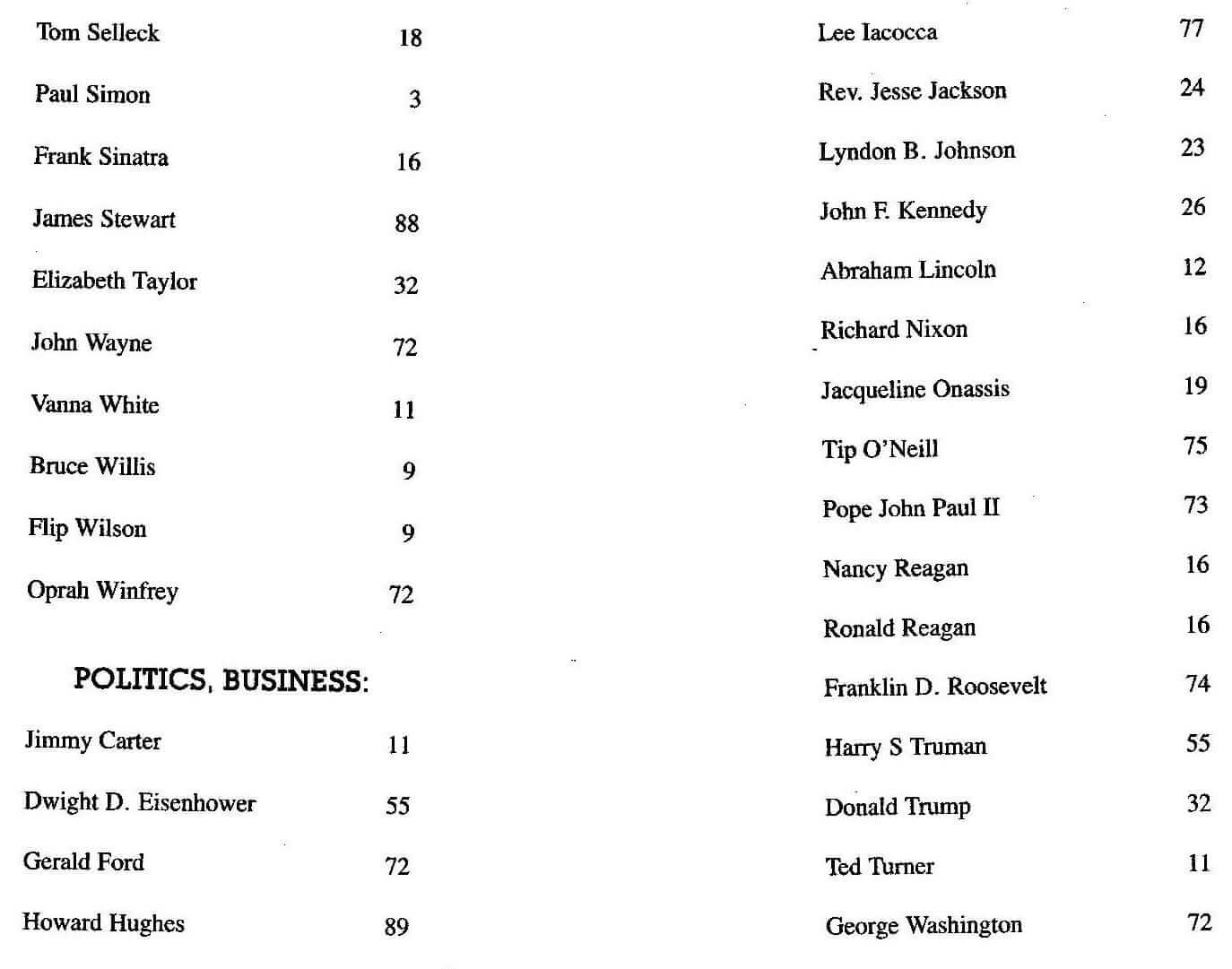 —————————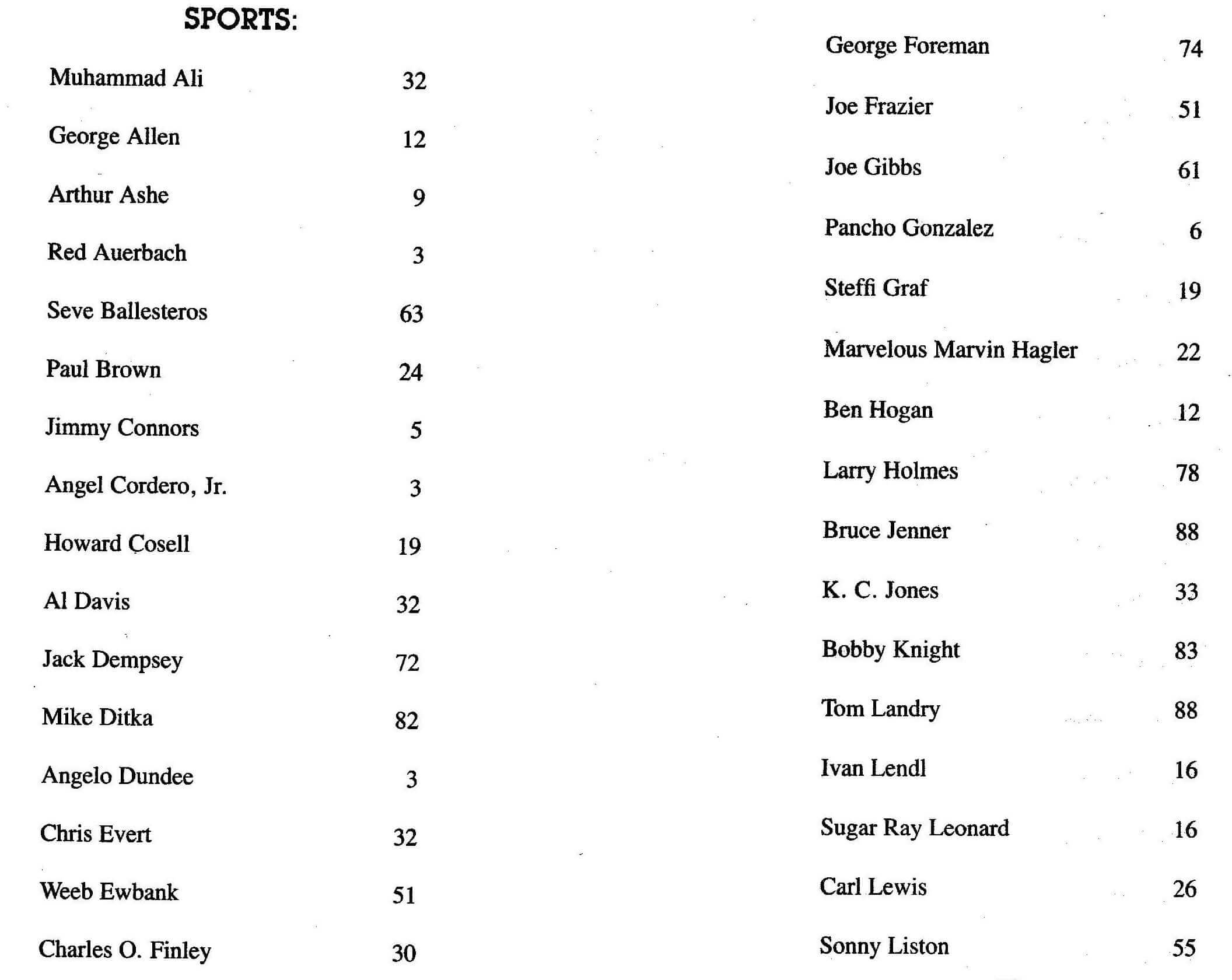 —————————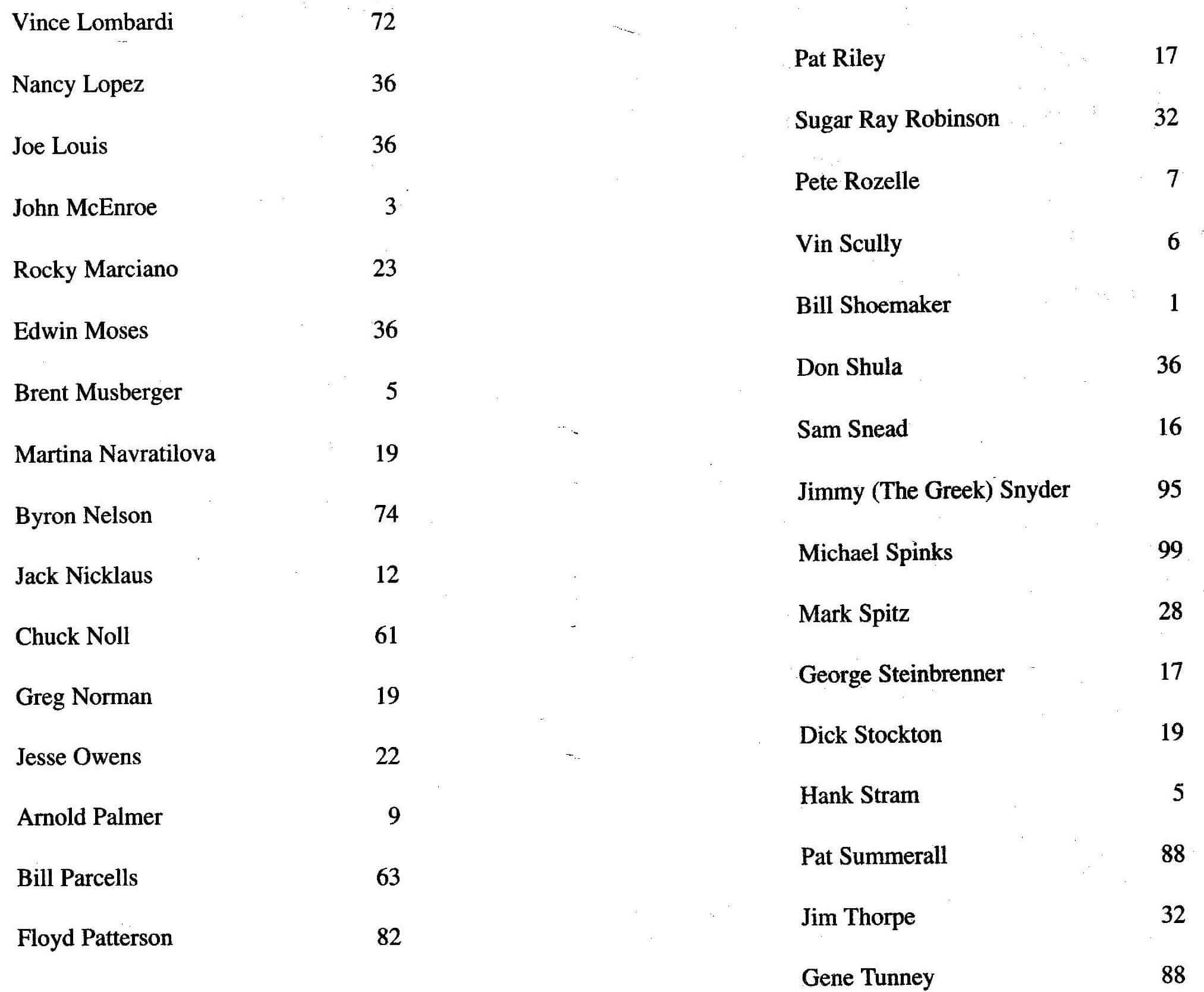 Like I said, many of the examples now seem dated, and Madden (and/or his ghostwriter) probably went on a bit too long in an effort to pad out the chapter. But the basic idea is an interesting one. What football numbers would you assign to public figures today? For that matter, what number do you think applies to you, and why? What number do you think would be good for me? Discuss.
•  •  •  •  •

Baseball News: Here's something I didn't know: The logo on the Big Red Machine-era Reds jerseys was chain-stitched. I love chain-stitching, but that was such a new-school uniform — seems odd for to have such an old-school detail (from @chk9418). "¦ Princess Day jerseys yesterday for the West Michigan Whitecaps. "¦ With Johnny Cueto being traded yesterday from the Reds to the Royals, someone at CBS Sports had a little fun putting Cueto in a KC uniform (from Andrew Cosentino). "¦ Cleveland Cavs-themed jerseys this Saturday for the Lake County Captains. "¦ Serious stirrup action yesterday for Cleveland starter Danny Salazar. Here's how it looked from several different angles (from David Feigenbaum). "¦ Rockies OF Brandon Barnes has a new purple glove emblazoned with a cross and "The Goon." "¦ Hall of Fame induction notes: There had been some question regarding which Astros cap logo would appear on Craig Biggio's plaque. Turns out it was the most recent one. Meanwhile, Pedro Martinez wore two crests as sleeve patches on his suit jacket — one Dominican and one American. "¦ Charleston Rainbows throwbacks on tap today for the Charleston RiverDogs. As they've done in the past, this design is being worn to coincide with Charleston's LGBT pride festival. … Two teams in the Alaska League played a red vs. red game last night (from Garrett Mansfield). … The Brazos Valley Bombers wore "international jerseys" last night, featuring lots of national flags. "¦ Lots of high-cuffed players yesterday for the Mariners, which meant lots of gorgeous striped socks (from Tim Dunn). "¦

Pro Football News: The Steelers are inviting former players to their training camp to celebrate their 50th camp at St. Vincent College. Interestingly, the jerseys they've given to some of those players appear to have the NIkelace, which the team hasn't worn in the past. Could that be a change for this season? I'll try to find out (good spot by Brian Skokowski). … The Arizona Rattlers — that's an arena team — wore blue ribbon decals yesterday to support foster families (from William Bristow).

Basketball News: Reader Chris Perrenot's mom spotted Robert Horry at a restaurant the other day. Check out Horry's license plate. "¦ Joe Namath's high school basketball team had seriously striped socks. That's Joe holding the ball and wearing No. 24 (from Douglas Ford).

Soccer News: This is pretty cool: a world map showing the uniform outfitters for national soccer teams (from Amanda Punim). "¦ FC Dallas midfielder Rolando Escobar had inconsistent number fonts on his jersey the other night. "¦ 1860 Munich had to wear their opponents' socks for yesterday's match vs. Heidenheim, because the ref felt that Munich's normal light and dark blue striped socks were too similar to Heidenheim's dark blue jerseys (from AJ Zydzik). … The Japanese team Vissel Kobe went BFBS for the club's 20th anniversary. The jersey features the Kobe skyline on the front and map on the back (from Yusuke Toyoda). "¦ Also from Yusuke: Barcelona was fined by the UEFA after fans displayed the Catalan flag and nationalist messages at the Champions League Final in May.

Grab Bag: Under Armour doesn't make golf shoes (yet), but someone on eBay is selling Under Armour football cleats that have been converted to golf spikes (from Chris Perrenot). "¦ Everyone else can ignore, but those of you who were fans of my 1990s zine, Beer Frame, may appreciate this. "¦ The Penrith Panthers wore early-1970s throwbacks for their recent game in the National Rugby League competition against the Canberra Raiders (from Graham Clayton). … NASCAR driver Kyle Larsen is sponsored by Target and has a patch on his racing suit that looks like a Target employee name tag (from David Firestone). … Also from David: "The big story comes from the NHRA, where it was announced that the Pro Stock division in the Mello Yello Drag Racing Series is being redesigned for 2016, and its most distinctive feature, the hood scoop, will be removed." … A bit of jersey-precedence protocol confusion on the final day of the Tour de France (from Ryan Cousineau). "¦ Sensational article/slideshow on classic American roadside signage (big thanks to H.B. Donnelly).
•  •  •  •  •

What Paul did last night yesterday afternoon: There used to be dozens of kosher Jewish delis in the Riverdale section of the Bronx. As of a few years ago, there were only three of them remaining, and now it's down to two. My friend Ed and I set out yesterday to check them out.
Further details and photos below:
Eduardo Hugo Gil and I went to the Bronx earlier today to check out Liebman's, one of two remaining kosher Jewish delis…

Posted by Paul Lukas on Sunday, July 26, 2015