Last Saturday, on Independence Day, I wrote, "If you're playing with pyrotechnics today, try not to blow off more than one or two body parts (save the rest for next year)."
This seemed like good, common-sense advice, but little did I know that two NFL players would be reading Uni Watch that day: Giants defensive lineman Jason Pierre-Paul blew off one of his fingers and Buccaneers cornerback C.J. Wilson lost two fingers — both within my recommended "one or two body parts" guideline. I'm flattered that they took my advice.
As I see it, there are now two key questions:
1. How long will it be before we see the press releases about Pierre-Paul's and Wilson's custom-designed four- and three-fingered gloves?
2. Will those gloves still be able to make the open-palm salute like other gloves?
In case you're wondering, Pierre-Paul appears to favor Under Armour gloves, while Wilson goes with Nike. Those companies might as well go ahead and design a two-fingered glove as well, since these guys are likely to lose another digit or two next July.
•  •  •  •  •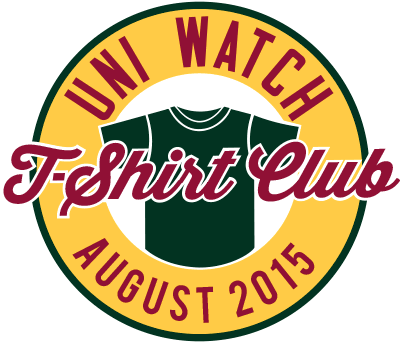 T-Shirt Club update: The August design for the Uni Watch T-Shirt Club will launch next Tuesday. After all of the discussion and debate about the last design, this one is much more straightforward — it's the long-promised green alternate, and I think you'll agree that it's pretty damn handsome (click to enlarge):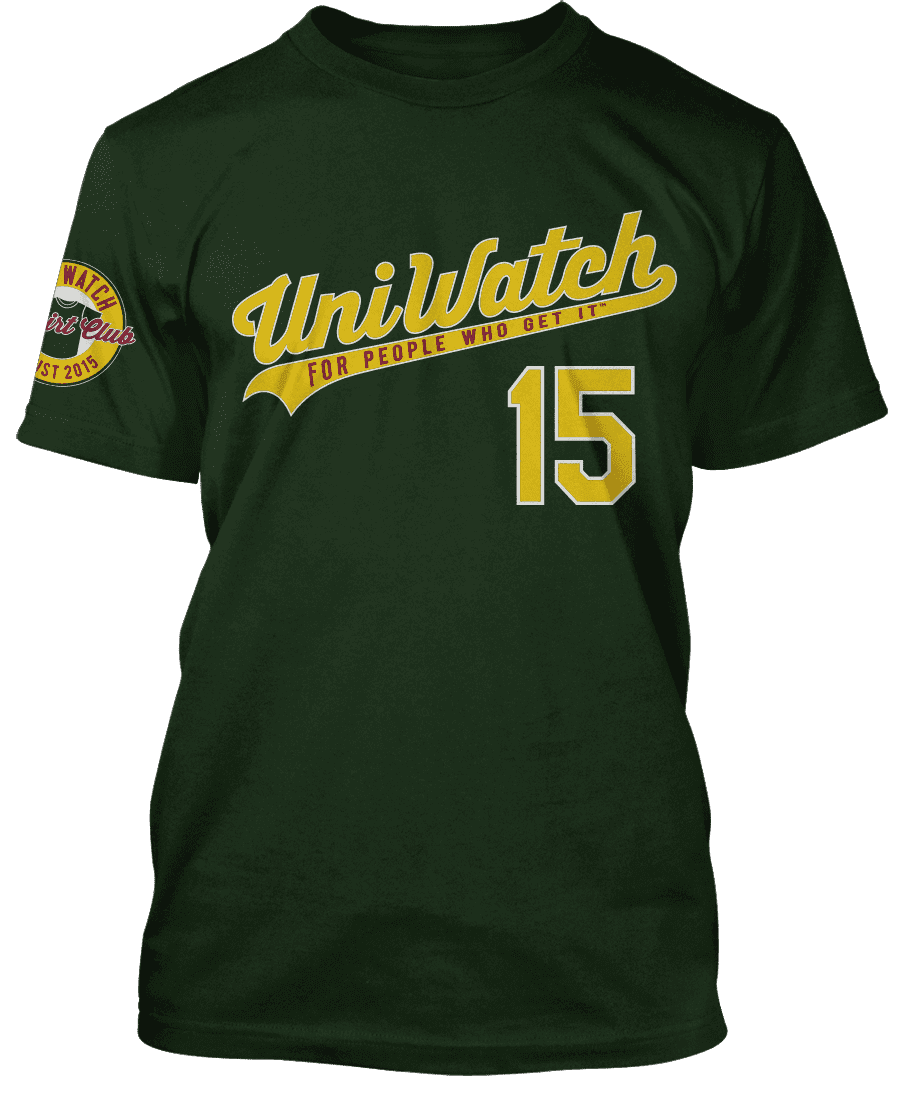 For the NOB, my original plan was to go with "Alternate," but I know many of you folks refer to solid-colored alternate jerseys as "softball tops." I don't often use that term myself, but it has achieved a certain currency in the uni-verse and I was curious to see how that would look, so I had my Teespring co-conspirator, Bryan Molloy, mock up versions showing both options (click to enlarge):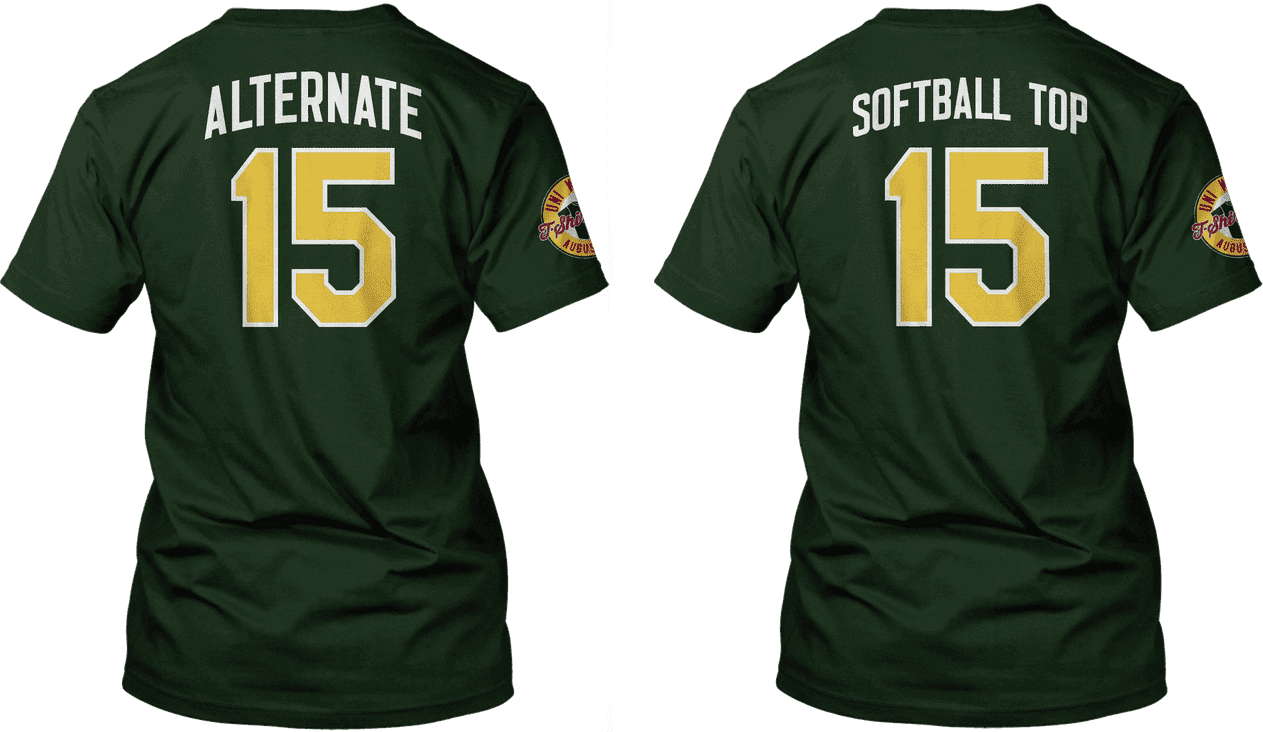 Yes, the back numbers are a bit too big, and the NOB lettering sizes don't match, but we'll fix that later. For now I'm more interested in which NOB we should use, and I'd be happy to go either way. What do you folks think? If you're considering ordering this shirt, cast your vote here (if you don't plan to order, please don't vote in this poll — thanks):
(Let the record show that I considered adding a "Pandering" option to the poll but managed, through supreme force of will, to resist that urge.)
Thanks for your feedback. We'll take it into account when finalizing the design.
•  •  •  •  •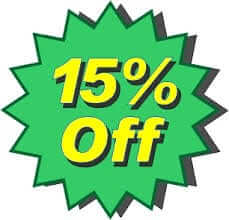 Discount reminder: In case you missed it yesterday, our friends at American Trench are offering a 15% discount to Uni Watch readers. The discount applies to everything on their website — not just for the socks that they advertise here on Uni Watch, but also their namesake trenchcoat, headwear, items already on sale, the works. Just start shopping and use the code UNIWATCH at checkout. Thanks.
• • • • •
ITEM! A new raffle: The MLB All-Star Game is next Tuesday, and we'll likely be seeing lots of new cleats on display. One of the new designs will be from Mizuno, which has made a pair of its all-star cleats available for me to raffle off. The cleats are Size 10 and look like so (click to enlarge):
To enter, send an email with your name and shipping info to the raffle address by 7pm Eastern next Tuesday, July 14 — the date of the All-Star Game. One entry per person. I'll announce the winner on Wednesday the 15th.
•  •  •  •  •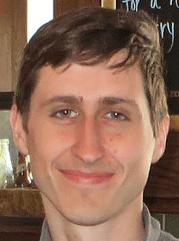 Mike's Question of the Week
By Mike Chamernik
Before a game against the Cubs at Wrigley this week, Cardinals rookies walked across the street to Starbucks in full uniform to fetch coffee for the veterans. Just a few weeks ago, Dodgers rookies had to do the same thing.
While other sports haze and razz their rookies, baseball seems to have the most fun with it. It's one of the sport's many traditions, like everyone in the dugout ignoring a player's first career home run or rally caps.
What are some of your favorite baseball traditions and rituals? I always liked that some batters show respect by giving the opposing catcher a tap on the shin guard when stepping into the box for their first at-bat. I'm partial to shaving cream pies and hot foots, and though this might be unpopular with Uni Watch readers, I like the Brewers' old postgame act of untucking their jerseys after wins (if only for the story behind it).
Are there any common baseball practices you don't enjoy? And, if you play baseball or softball, do you have any rituals or traditions? Post your responses in today's comments.
•  •  •  •  •
The Ticker
By Mike Chamernik

Baseball News: This year's MLB All-Star Game jerseys have a new feature: the player's autograph along with stars representing how many ASGs he played in. Unclear where on the jersey this will be located. … A pick-off throw broke through Royals 1B Eric Hosmer's glove Tuesday. This isn't the first time this happened to Hosmer. Last year, a line drive tore through his glove's webbing. … Speaking of Hosmer, the Omaha Storm Chasers are giving away a bobblehead of him this Saturday, but with the helmet's earflap on the wrong side (from Jeff Funke). … Angels P Andrew Heaney wore Mike Trout's batting gloves during a plate appearance the other day (from Brady Phelps). … During a windy rain delay Tuesday night, a Pirates grounds crew member was swallowed by the tarp. Someone made a memorial for him on the infield dirt yesterday. … The Hartford Yard Goats unveiled their logos, fonts and colors yesterday. The blue and green is an homage to the NHL's Hartford Whalers. … While Duke Snider, Mickey Mantle, and Willie Mays made the cut, Joe DiMaggio was airbrushed out of the cover shot of Terry Cashman's Talkin' Baseball album. The songwriter couldn't find a rhyme for DiMaggio's name (thanks, Steve Dodell). … MLB now sells game-used memorabilia from minor league games. Problem is that minor league teams don't have multiple sets of uniforms available, so Cubs prospect Kyle Schwarber, a catcher, wears a uniform that was meant for Kris Bryant (from Phil). … Two guys wore umpire uniforms and masks and pantomimed calls while they sat behind home plate at yesterday's Mets/Giants game. … The Rolling Stones visited Detroit last night and a bunch of merch in Tigers colors was sold (from Jeffrey Sak). … You can vote for your favorite minor league baseball cap here (from Josh Claywell). … With America celebrating its 240th birthday next year, Rich Paloma suggests that MLB teams should throw back to the bicentennial year of 1976 for July 4. The six teams that didn't exist then could wear their original uniforms from their inaugural year. Oh man, there would be so many colors — count me in! "¦ You know how some drivers will try to cheat by putting a mannequin in the passenger so they can drive in the HOV lane? Someone in Toronto was recently busted for doing that, with a twist: His mannequin was wearing an Expos cap (from Dave Kuruc). "¦ Clever Back to the Future promotion this Saturday for the Toledo Mud Hens. They'll be playing a doubleheader, so the first game will be "back" and the nightcap will be "future" (thanks, Phil). "¦ Ickey Woods jerseys, all with Woods's number and NOB, for the St. Cloud Rox last night. "¦ Here's an old shot of former A's P Don Shaw wearing a single-digit number. Clearly a spring training shot — Shaw never wore that number during the regular season. "¦ Angels P Matt Shoemaker wears his wedding band under his fielding glove.

NFL News: What are these extra rivets on Jack Lambert's helmet? Seth Shaw found the photos and didn't see any other Steelers with those rivets on their helmets. … Browns CB Joe Haden has the NFL's best-selling jersey since the draft in late April. The sales were boosted because the Browns have new uniforms (which, incidentally, former Browns WR Paul Warfield doesn't much care for).

College & High School Football News: Georgia Tech will use this gold-and-blue GT logo and discontinue its yellow GT logo and logos with their mascot, Buzz. … Massillon (Ohio) High School has a number of uniform and helmet combinations. Makes sense: Massillon is a fairly big-time operation for high school football. They have a historic stadium (with Bengals-esque end zone stripes) and a professional-caliber practice arena. And, the team's logo is fantastic (from Vince Guardado). [There's also an excellent documentary film about Masillon football. You can see the trailer here. "" PL] … New practice facility for Virginia Tech (from Andrew Cosentino). … Nike's new Vapor Speed uniform will debut this week at the awkwardly named Nike Football The Opening Finals. … New helmets for Frankfort High School in Kentucky. "¦ Lyon College in Arkansas is fielding its first football team this fall and has just released the uniforms (from Dustin Semore). "¦ New gloves — all with five fingers, presumably — for Illinois. "¦ UCLA will unveil a new jersey today, and it will apparently feature more prominent UCLA stripes.

Hockey News: The Reading Royals will again wear ugly Christmas sweater jerseys in December (from Phil). … A Blackhawks fan created a flipbook of some of the key moments of the Stanley Cup Final. "¦ The Predators give a gold helmet to the best player each day at their development camp (from Nathan Dearman).

Soccer News: In case we haven't seen it, Manchester City has a new home kit and Inter Milan has a new away kit. … Anecdotal evidence says that the USWNT's jerseys are selling well (from Phil). … For a few matches in 1974, Birmingham City wore a jersey that looked like Belgium's flag (from Graham Clayton).

Basketball News: John Wall unveiled his new shoes with a selfie video on the steps of the Lincoln Memorial (from Tommy Turner). … Sports Illustrated photographer Walter Iooss tells the story behind the iconic photo he took of Michael Jordan at the 1988 Slam Dunk Contest. … New jerseys for Butler. … The Cavs' mascot Moondog wore an outdated jersey at a kids camp the other day (from D.C. James). … @abparish found a guy playing pick-up hoops in Italy wearing a full Toni Kukoc Bulls uniform. … A glimpse of the new Raptors jersey numbers can be seen in this photo from a summer league game (from Conrad Burry).

Grab Bag: Subtle logo tweak for UFC. … A violinist created a line of athletic yet formal shirts for symphony musicians (from James Fernandez). … Here's a quick video that shows how the US Army's uniform has changed over the years (from Brinke). … Illinois State alum Ryan Lindemann got these great Reggie the Redbird socks after he donated to the school. … Two Tour de France notes from Sean Clancy: Here's a good gallery of riders' shoes, and Australian team Orica-GreenEdge wore a jersey recognizing the country's troops who served in World War I. … Facebook altered its "friends" logo just a little bit. … Coke cans in the Middle East will be label-less.