Very interesting storyline yesterday out of the Chicago, where the Cubs and White Sox announced that they'll be honoring Ernie Banks and Minnie Minoso by wearing late-1950s throwbacks for their game this Sunday at Wrigley, and again for their Aug. 14 game at I Still Call It Comiskey.
Here's how the uniforms will look, with the pairing for this Sunday's game on top and the pairing for the August game on the bottom: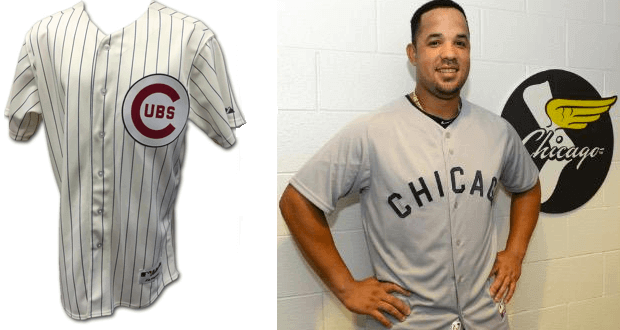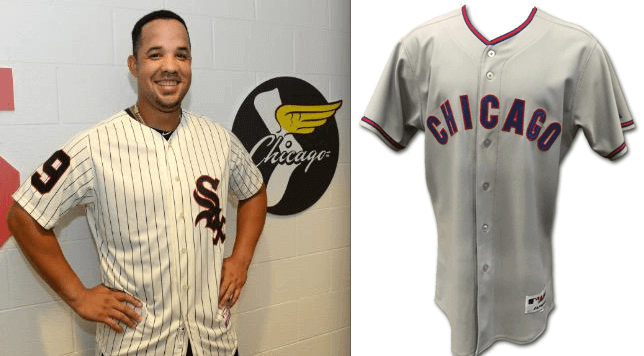 That's all very nice. The two Chi-town legends passed away within a few weeks of each other this past winter, so they're linked by their connection to Chicago and the timing of their deaths. The two teams arranging to honor both players is a really nice move, and a good example of how interleague play can occasionally have its advantages if the teams coordinate with each other (and if circumstance provides a good opportunity for same, obviously).
But there's an additional wrinkle. For the game at Wrigley, the Cubs players will all be wearing No. 14 for Ernie. The Sox players will pull a similar move for the August game, with all of their players wearing No. 9 for Minnie.
There are very few instances of all the players on an MLB team wearing the same number. The most obvious example takes place each year on April 15, when everyone wears No. 42 for Jackie Robinson Day. In fact, I thought that was the only example until Chris Creamer reminded me the Red Sox memorialized Johnny Pesky by having everyone wear No. 6 on Aug. 21, 2012. (I was on my annual summer break when that took place, so it didn't lodge in my memory the way it otherwise would have.)
My initial reaction to the players wearing the same number was "Man, The Jeff is really gonna hate this" mildly negative. That's because I really like Jackie Day and want it to be its own thing, without any competing promotions to water down its uniqueness. I also fear that this will become a ratchet situation, and that uniform memorials will start to get ever more elaborate and showy — a grief sweepstakes, so to speak.
Then again, that didn't happen when the Red Sox all wore No. 6. It's taken three years and a fairly unusual set of circumstances for this type of memorial to be repeated. Viewed in that context, I'm okay with it — although I hope other teams will save this gesture for very, very special players, assuming they use it at all.
Uni Watch intern Mike Chamernik happens to live in Chicago, so I asked him what he thought of this. Here's his response:
I think it's a perfect way to honor two of the most legendary Chicago ballplayers. That the teams are doing it during the Crosstown Classic is even better. While the novelty of interleague play has worn off, the two yearly Cubs/Sox series still have an edge to them, at least for the fans. The matchups are highlights of the summer for Chicagoans and they'll have even more significance attached to them this year.
So there you have it, from the Uni Watch Chicago bureau. What do the rest of you think?
Update: Shortly after this entry was posted, commenter Adam Newman pointed out another example: On Aug. 10, 2007, the Indians all wore No. 14 for Larry Doby. This was the same year that players started wearing No. 42 on Jackie Day and was was almost certainly inspired by that move.
•  •  •  •  •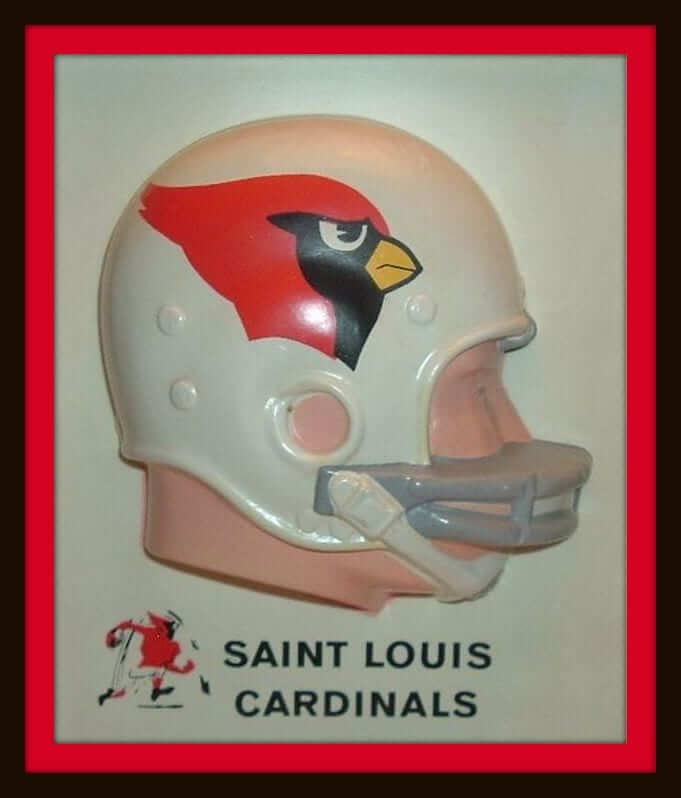 Collector's Corner
By Brinke Guthrie
Haven't shown any Technigraph plaques on Collector's Corner in awhile, so here's a whole lot of 'em! This seller has 17 NFL helmet plaques up, and five mini-baseball ones that you rarely ever see.
Here are the rest of this week's picks:
• Check out this lot of 1950s MLB patches from Post cereal.
• Dolphins fans, grab this one now — a switchplate from 1973! (Still have my Bengals one.)
• What did the 49ers like to eat in 1973? You'll find out with this recipe book.
• Astros fans, here's a perfect item for your office desk: a 1980 Tequila Sunrise NL West Champs flag.
• Here's a nice lot of NFL books, including the absolutely terrific NFL Fun Book. If you've never seen one of these, check it out "" a real treat.
• Just bid on it, baby — that's what Al would say about this 1970s Rayduhz helmet buggy.
• This makes sense: a 1960s/1970s Vikings snowmobile suit, for those chilly Sunday-morning trips to the Met.
• Although the auction has ended, it's worth checking out the uni on this 1960s Steelers bobblehead — Batman-style template with the team name!
• Vintage 1960s Cowboys tube socks here, never worn. How did I not own something like these back in the day?
• Reader Lamar Bourgeois III sent in the link to this set of 1975 NFL Icee cups.
•  And from reader Jim Ransdell, here's a great-looking USFL gumball helmet set.
Follow Brinke on Twitter: @brinkeguthrie
•  •  •  •  •
The Ticker
By Mike Chamernik

Baseball News: The White Sox have worn five different uniforms in their past five games (from Charlie Kranz). "¦
NPR did a story on the Greek debt crisis and the banner photo shows an old timer wearing a throwback Indians cap, or possibly a Chicago Bears hat (from Rich Rittenour). … Did you know Ted Turner wanted to rename the Braves in the mid-1970s? Turner wanted to call the team the Eagles (from Cort McMurray). … Los Angeles Clippers star Blake Griffin took BP with the Dodgers the other day and wore a personalized Dodgers uniform. Griffin wore his No. 32, which is retired by the Dodgers for Sandy Koufax (from David Feigenbaum). … Ryan Lindemann proposes that the White Sox should bring back the vests to honor the World Series champions of 2005. He's trying to get the hashtag #bringbackthevests going and he emailed the Sox's marketing department. … Harrison L. Michelson researched the 1967 MLB All-Stars vs. Celebrities softball game chronicled here yesterday. Although the game was billed as the "first annual," Harrison determined that '67 was the only year it was played. He also found a few newspaper clippings about the event. … The Reds placed 20 seven-foot mustaches around Cincinnati and one ended up at the base of an Abraham Lincoln statue near Patrick O'Neill's office. "What is ironic is that the statue shows Lincoln without whiskers — one of the few such depictions of the former President," he says. "So the statue shows no facial hair on his face, but now the Reds have placed facial hair at his feet." … The Iowa Cubs will wear Iowa Hawkeyes-themed jerseys next Friday (from Jullia LaBua).


Pro, College, and High School Football News: Here's Pats coach Bill Belichick's record in various types of hoodies (from Brinke and Domenico Delgado). "¦ The Texas Longhorns are apparently keeping their metallic helmet logo decals (thanks, Phil). "¦ A Virginia high school will continue to use the Confederate flag on its football helmets and as a school symbol (from Tommy Turner).

Soccer News: Since the USWNT won its third World Cup, the team updated its uniform with three stars over the crest. The stars are stacked like a triangle; JohnMark Fisher says that teams with multiple titles usually curve them around the team crest. And, the jerseys must have been rushed a little for the unveiling because the added star doesn't match the others (from Michael Kramer). … New away kit for Sheffield Wednesday (from Patrick Barnett).

NBA News: In the Bad Boys 30 for 30 film, a player on the 76ers had a really extreme jersey modification (good spot by Aaron King). … A Summer League promo for the 76ers shows the team's current updated logo but an old version of the Jazz's logo (from Chris Jastrzembski). … The Kings continue to perplex the basketball world with everything that they do, so the team's owner pledging not to shave until the VP of basketball operations stops signing players fits right into all the weirdness.

Grab Bag: Michigan is ditching Adidas and will switch back to Nike. The new deal doesn't go into effect until August of 2016, so Michigan teams will continue to wear Adidas until then. … Here are some proposed updates to the Virginia Tech logo. Further details are on the bottom of this page (from Andrew Cosentino). … Fox Business's anchors all wore purple-ish clothing or accessories the other day. "Is there an election coming up?" asks Chris Howell. … Here's a good interview with Jerry Cohen, the founder of Ebbets Field Flannels (from Neil Macleod). … Here's something you might not know: Adidas once made hockey skates. … Bowling Green State University is in Ohio, but this shirt maker got it confused with the Kentucky town Bowling Green (from James Gilbert). … Gatorade is reviving classic television ads and producing bottles with throwback labels (from Will Osborne).