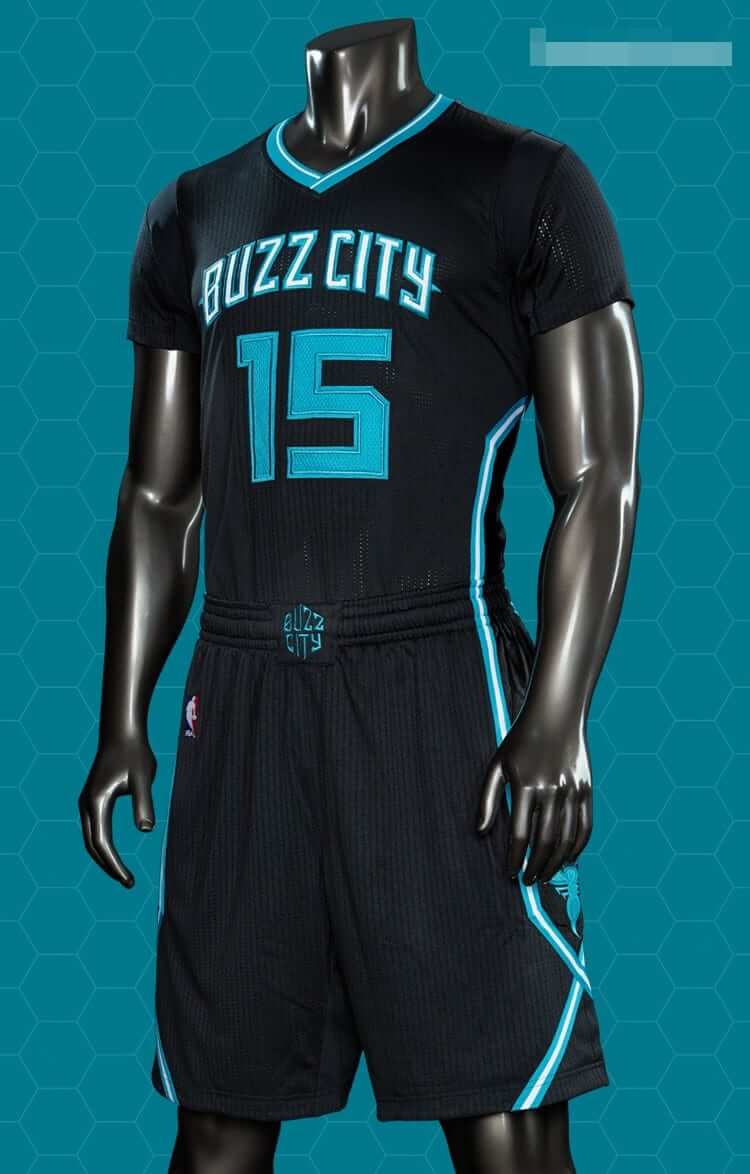 Click to enlarge
The Hornets unveiled their new alternate last night. As was widely expected, it's a "pride" uni with "Buzz City" on the chest. Despite the sleeves and the BFBS, I like it (or maybe I'm just relieved that it doesn't include any purple). Further info in this short ESPN write-up that I did last night. One element not mentioned in that piece and not shown in the photo above: striped socks! "" Paul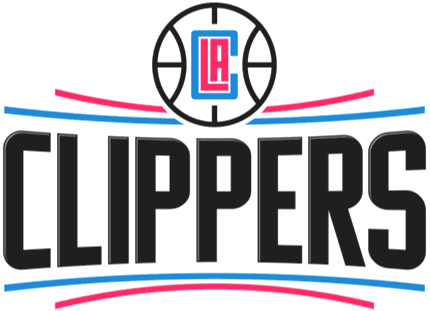 •  •  •  •  •
Design contest reminders: In case you missed it yesterday, I'm running an ESPN contest to redesign (or, if you prefer, re-redesign) the Clippers. The deadline is next Thursday, July 2, 7pm Eastern. Full details here.
Also: Phil is running a contest to redesign the Rays. Deadline for that one is next Tuesday, June 30. Full details here.

•  •  •  •  •
'Skins Watch: Thanks to some legal gymnastics, the 'Skins name controversy ended up being referenced in a Supreme Court dissent last week (from Tommy Turner). "¦ Reader Douglas Ford asks, "Is this the most racist MLB iPhone case ever?" "¦ With a tipping point apparently having been reached on the movement to remove or de-emphasize the Confederate battle flag in many states, Keith Olbermann draws a parallel between the flag and the 'Skins name. "¦ Vice Sports has made a similar connection between the Confederate flag and the 'Skins name (thanks, Phil). … And Dave Zirin of The Nation notes that if retailers like Walmart and Amazon have stopped selling the rebel flag, they should probably stop selling 'Skins merch too. "¦ Meanwhile, last week's Supreme Court case about the Confederate flag on Texas license plates — which is completely distinct from the current movement to de-emphasize the flag — is a bad news for the 'Skins and their trademark case (from Kary Klismet).

Baseball News: Great piece by Todd Radom on the uniforms and other trappings of the 1965 A's. … Following up on an entry from a few days ago, here's another shot of George Brett with his right pant leg unzipped (big thanks to Royals historian Curt Nelson). … Virginia's jersey script is embedded with little UVA logos (from Ben Matukewicz). … Embarrassingly over-the-top pandering costume on tap for the Omaha Storm Chasers. … Dodgers rookies had to go on a coffee run in full uniform (from Chris Flinn). "¦ I noticed that Mets third base coach Tim Teufel and first base coach Tom Goodwin were wearing orange undershirts yesterday, instead of the team's usual blue. They may have taken that idea from pitching coach Dan Warthen, who been wearing the orange base layer for the last few seasons. Bench coach Bob Geren wore blue, however (my thanks to Cork Gaines for the Goodwin screen shot). … Here's some video of a Pirates broadcaster talking about why Andrew McCutchen is wearing the striped socks. "On the plus side, the design is okay," says Brice Wallace. "On the negative side, do we want players coming up with individual designs?" Indeed, that is precisely the dilemma. … Good piece on the laundry logistics and — of course — the corporate branding implications of the Nats' chocolate syrup victory dunks (from Tommy Turner). "¦ Good story on MLBers who don't wear batting gloves. That story also includes some good batting glove history and lore, and even some info on single-glovers. Good stuff. "¦ So what sort of memorial is Charleston's minor league baseball team, the RiverDogs, going to wear for the victims of last week's church massacre? Surprise: a black armband. A rare example of dignity instead of grief fetishizing. Good for them (thanks, Phil).

NFL News: The Giants will wear their alternate white pants for two home games this season — once against Washington and once again the Pats. … Here's the logo for the 2017 Super Bowl host committee (from Jeremy, who didn't give his last name). … Bill Schaefer was doing some research and came upon photos of a 1971 Jets/Pats preseason game in which both teams wore white, which was noted in a newspaper game recap.

College Football News: Yesterday's Ticker included a look at Louisville's season-opening uniform. Here's a closer look at some of the elements from that uni, along with the other side of the helmet. Additional photos and info here, and here's a video. … Some uni tweaks for Michigan State (thanks, Phil). … Adidas appears to be devoting at least as energy work to their cleat box design as they are to their uniforms (from John Urbina). … Earl Campbell appearntly got the Longhorns equipment staff to repair one of his Oilers helmets (from Mark Johnson).

Hockey News: The Coyotes will unveil their new uniforms at their draft party today, and the Avalanche are due to reveal minor tweaks to their jerseys as well. "¦ Check out the uniforms in this story about Colorado rec league whose players survived cancer and other traumas — gorgeous Colorado flag-based jerseys, with "Survivor" as the NOB (from John Costigan IV). "¦ Orange third jersey apparently in the works for the Oilers (thanks, Phil).

NBA News: Yesterday was "half-Christmas." In honor of that and the NBA draft, the Timberwolves had draft prospect jersey gingerbread cookies at their offices (from Jared Hensch). "¦ Good piece on how the Bucks' new court design was developed (from Jesse Zakshesky). "¦ Check out the jersey that the Knicks gave to first-rounder Kristaps Porzingis last night. "They used the uni number 15 to mark the year but included an apostrophe so as not to give him Earl Monroe's retired number," explains Mike Engle. "The Buffalo Sabres regularly employ this practice too."

Soccer News: New home kit for Swansea City (from Miles Crowther). "¦ New uniforms for Dutch Eredivisie and Ajax. "¦ New kits for PSV as well.

Grab Bag: People are receiving their Uni Watch smart phone cases — nice! "¦ Really interesting article on ways the Confederate flag has been adapted and redesigned into a symbol of racial harmony and peace (from Chris Geis). "¦ The sculpture of Joe Louis's fist in Detroit is getting an overhaul. "¦ Interesting article on the history of the New York City flag, which just turned 100. "¦ Good article on the relative merits of high and low socks in cycling (from Sean Clancy). "¦ Also from Sean: "Riders will not be allowed to stay in motorhomes during the Tour de France. Team Sky leader Richie Porte slept in a giant RV instead of the usual cramped hotel rooms during the Tour of Italy. Cycling governing body UCI, however, has ruled that stage race riders must stay in the hotels provided by race organizers. "¦ New mascot at UMUC, whose teams will now be known as the Nighthawks (from Jason Nofsker). … The Denver Outlaws and Rochester Rattlers of MLL recently wore Grateful Dead-themed uniforms (from Stephen Basden). "¦ Duckpin bowling, rarely seen outside of Baltimore, is coming to Atlanta next summer. "It's going to take Atlanta by storm," says Mike Nessen. "A short, stubby storm." "¦ The U. of Arizona has told an Ohio high school to stop poaching the Arizona logo. Key quote: "Nowadays, logos are but a click away on the Internet." Aside from the ethical and legal issues of stealing someone else's mark, it continues to amaze me that schools would rather use something that's already out there instead of having something unique of their own (from Kevin Mueller). "¦ New logo for the car brand Mini. "¦ And speaking of autos, new badge design for Alfa Romeo (from Rahul Vyas). "¦ According to the second item on this list, U.S. military personnel have to pay for their own uniforms, which I hadn't been aware of. Definitely seems like something that should be covered by the government, no? "¦ Good story about a woman who always wanted to dress up as a Wimbledon ballgirl. … Faaaascinating article on grilling a steak by tossing it directly onto the charcoal. Gonna have to try that.