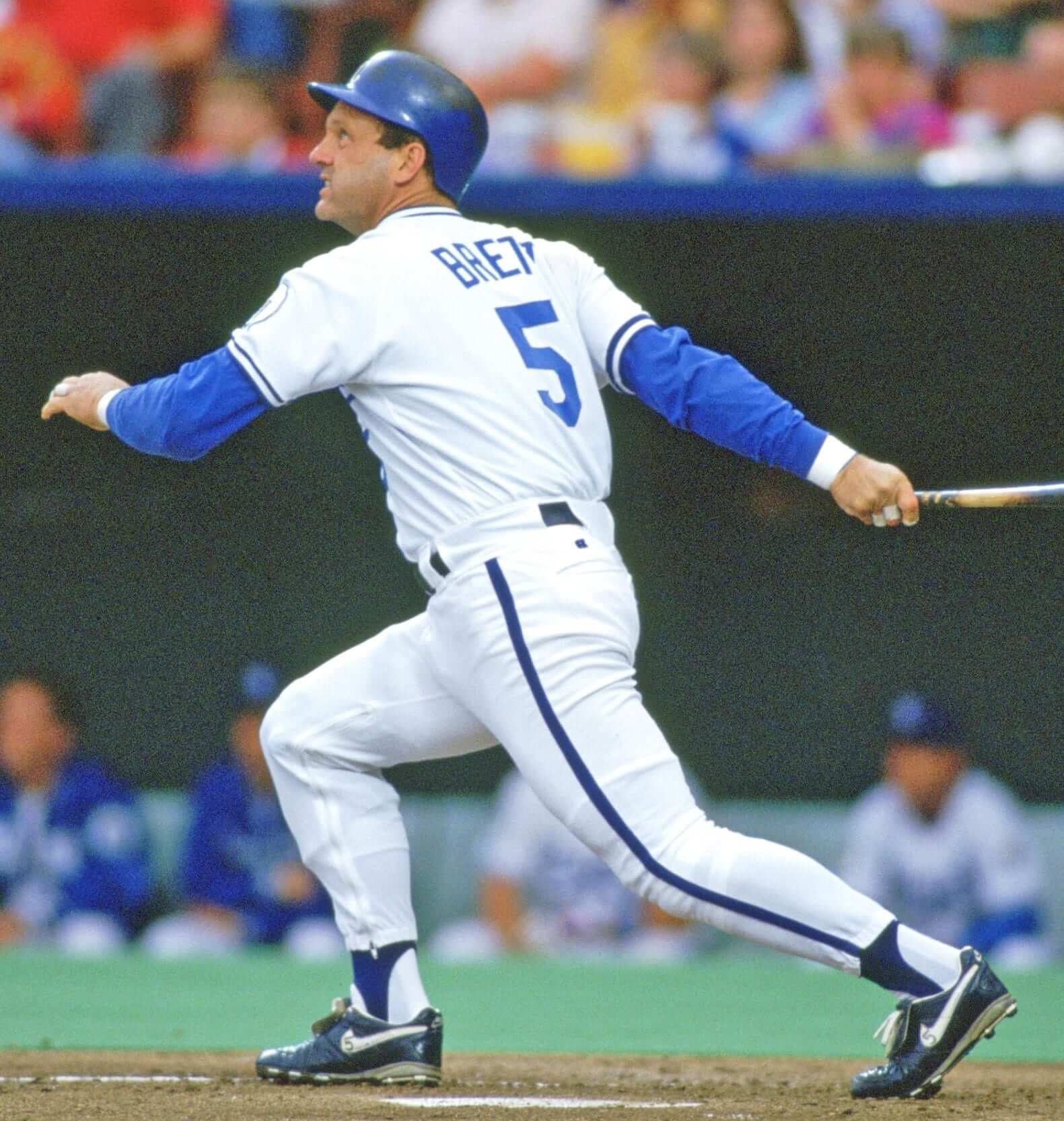 Click to enlarge
I always loved watching George Brett hit. The sweet swing, the big chaw of tobacco, the sense that he could wake up at 3am and knock a double into the gap. Okay, so he left a bit to be desired in the stirrup department, but whatever — I was willing cut him some slack on that one. That's how much I respected his game.
But here's something I didn't realize until reader Jim Pericotti recently pointed it out to me: Toward the end of Brett's career, his uniform featured a unique detail that, to my knowledge, has never been worn by any other MLB player. It's visible in the photo shown above, which is from 1992. Can you spot it?
In case you're not seeing it, here's an isolation shot of the pertinent part of the uniform: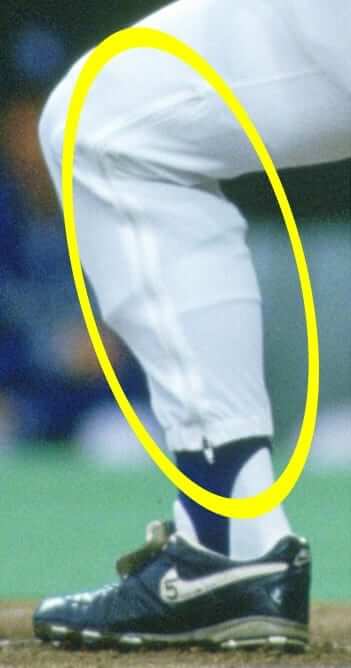 As you can see, Brett's right pant leg had a zipper running from the mid-thigh area down to the cuff. I've never seen anything like that before. When I ran it past my two go-to guys for this sort of thing, Baseball Hall of Fame curator Tom Sheiber and uniform designer/historian Todd Radom, they both said they'd never seen it either.
Brett's zipper isn't limited to that one photo. It's also visible, to varying degrees, in the following shots, which show that the zipper was included on Brett's home whites and road greys (for the first image, you can click to enlarge):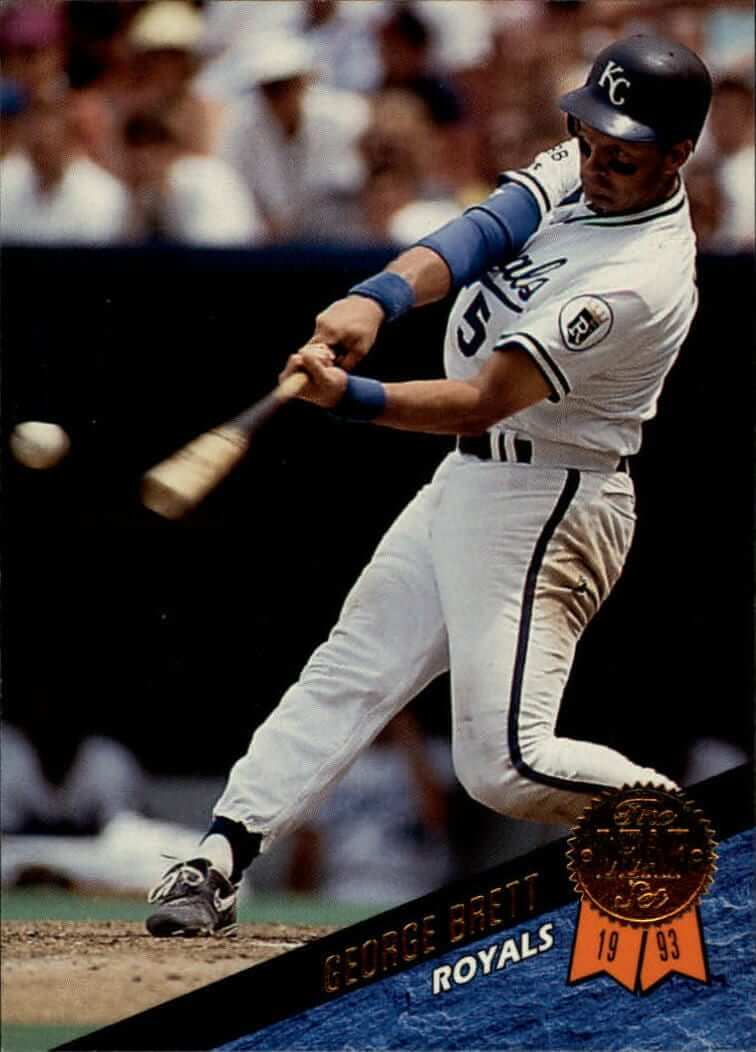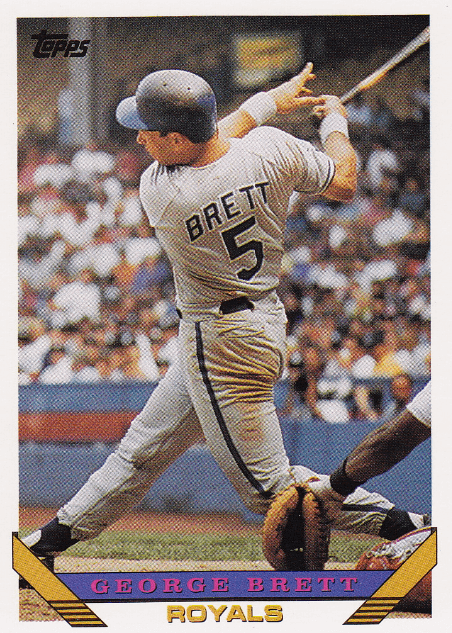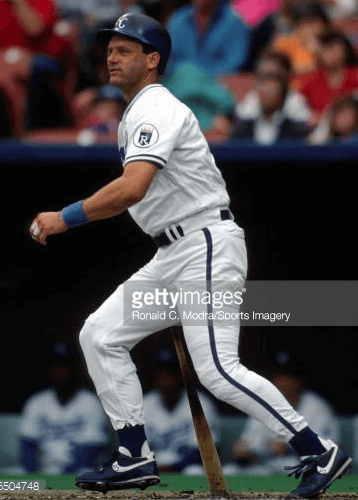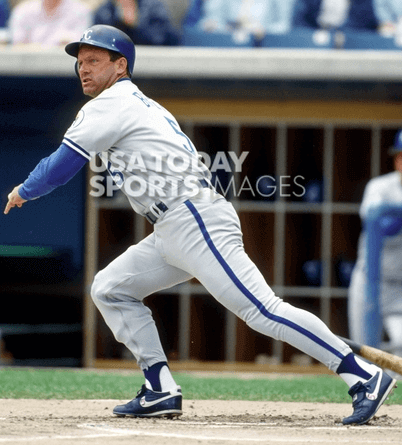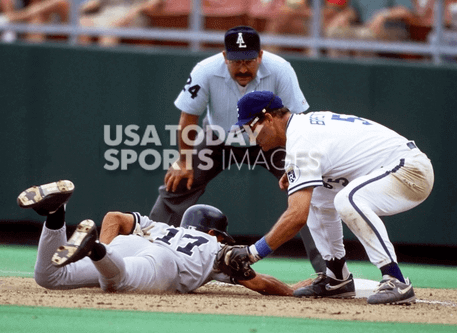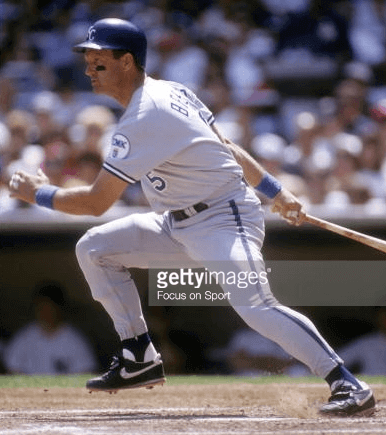 Most of those shots are from 1992, but the last one is from '93 (the giveaway is the telltale "EMK" memorial patch for Ewing Kaufman), which means Brett was wearing the zippered pant leg for at least parts of two seasons.
As you can see, Brett was wearing a rather bulky-looking knee brace during this period, so I figured the inseam zipper was designed to make his pants easier to pull on over the brace. I had hoped to discuss this with Brett himself (he still works for the Royals' front office), but when I called the Royals and asked to do a quick phone interview with him, they checked with Brett and came back to me with the following quote: "I had to wear a big bulky knee brace and it just made it easier to put on and take off the pants." So there you go.
I also contacted Curt Nelson, director of the Royals Hall of Fame, who said Brett began wearing the zippered pants at some point in 1992 and continued wearing them through the end '93, after which he retired. Nelson also provided this great Kansas City Star shot of Brett sitting in the dugout before a game (and/or maybe during spring training?) with the pant leg unzipped (click to enlarge):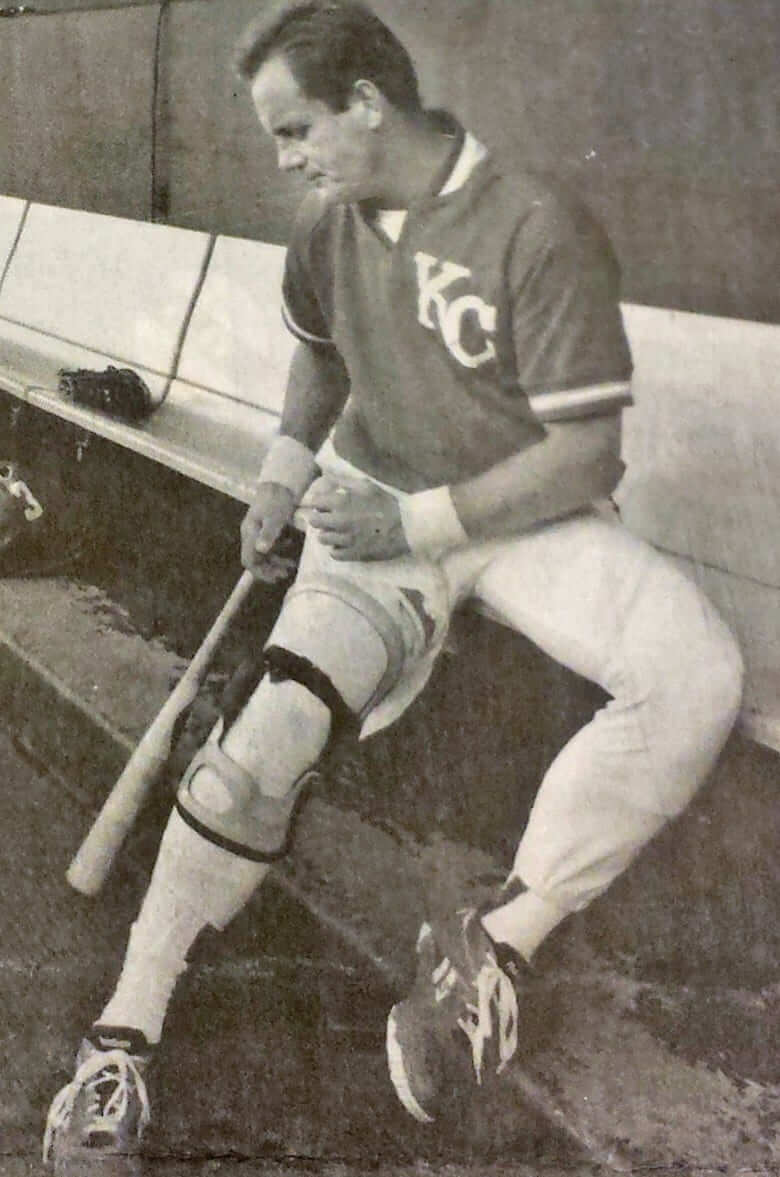 Nelson said he thinks the zippers were added by the Royals' staff, not by Russell Athletic (the team's uniform outfitter at the time), although he isn't positive about that. He also said Brett had some pants with the zipper on the outside of the right leg, instead of on the inseam, but I couldn't find any game photos showing that.
So, George Brett: 3,000 hit club member, Hall of Famer, and, as it turns out, the wearer of a very unique uniform. I have to say, this is one of my favorite entries on the site in quite some time — I get totally geeked out over discoveries like this one. Do you folks share my enthusiasm, or is this just a "Yeah, whatever" item for you?
•  •  •  •  •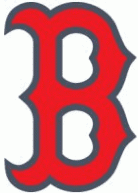 Theoretical update: The Brooklyn Beefsteak went on the road last weekend and made a stop in Boston. As usual, there was lots of beef, beer, and fun, and I got to thinking, just theoretically speaking, about what sort of T-shirt design might be appropriate for a Boston beefsteak — perhaps something like this.
If you'd like to discuss this situation, feel free to be in touch.
• • • • •
Father's Day story, a day late: I've told this story before, but once more won't hurt: In 1973, when I was nine years old, the Mets were running lots of ads that said, "Take Dad to the ballpark for Father's Day!" So I figured that would be my Father's Day gift to my dad — we'd go to the ballgame and I'd pay for his ticket.
But my allowance was only 25 ¢ a week, so I didn't have enough money to pay for my own ticket — only his. He still had to buy mine. And my mom's. And he had to pay for parking, and buy food/drink, and drive through Father's Day traffic. Later on I realized my "present" probably wasn't much of a treat for him, but none of that occurred to me at the time. When I mentioned this to him many years later, he said, "Oh, it was fine. It was always a treat to go to the ballpark with you."
Here's my ticket stub from that day. The Mets won, 3-1. I miss you, Pop.
•  •  •  •  •
Culinary Corner: Yesterday was a perfect day for grilling, but I had driven to Boston and back the day/night before, so I was a little wiped out and wanted to keep things very simple. It doesn't get much simpler than a London broil, so I met my friend Carrie at our local butcher and we picked out a nice piece of top round, a little less than two pounds.
We brought the meat back to my house, seasoned it with salt and pepper, and brought it out to my backyard, where I lit a fire in the grill. I didn't put a clock or a thermometer to the meat, but I must have had it on the grill for about 10 minutes total, turning it several times (along with a few ears of corn). Just as I was getting ready to remove it from the grill, a thunderstorm broke out, so we scurried back to my apartment and ate inside. Here's how the meat turned out:
It was insanely good. I had put salt, pepper, and Worcestershire sauce on the table, but we didn't reach for any of them — the meat was super-duper-flavorful on its own. I love it when that happens.
• • • • •
The Ticker
By Phil
[Editor's Note: There was no Ticker yesterday, so today's Ticker covers two days' worth of news. Big thanks to Phil for compiling it. "" PL]

Baseball News: Yesterday was Father's Day, so all MLB players wore blue ribbons, and many also wore blue wristbands. "¦ The Braves and Mets wore Negro League throwbacks on Saturday, with the Mets resurrecting their "Royal Giants" unis from last season and the Braves playing as the Atlanta Black Crackers. Interestingly, the Mets gave their fans no advance notice of the throwbacks. Not sure about the Braves. … Richard Paloma notes "Saw this on MLB Shop today. Looks to be the jersey for the 6/27 TBTC game (NOTE Spelling error "Atheltics")." … Vertical placket lettering alert! "Hey Guys, not a lot of info on this, maybe you've seen it before," says Bill Stewart, "but I snapped a pic of these Houston jerseys (on the wall) at downtown at the Market Square bar." … Reader Joe Werner was at the Rochester Red Wings "Darth Vader" jersey night and was able to snap a few pics. … Joe Werner was also at that Red Wings game and had this observation: "For one reason or another, there was a set of bases on a special base cart, parked right on the concourse. Since I've never been right up close to bases from a professional stadium, I figured I would take a couple of pictures. I also never realized that Schutt manufactures bases." … "Never seen this before," says Chris Flinn. "At Yankee Stadium you can buy a base from the current game and they'll deliver it to your seat later that day!" … From the Charlotte Knights (an affiliate of the Chicago White Sox), check out this vendor jersey (and here is a look at the back). Good shots from Ronnie Covert. … Tyler Kepner notes that Dr. Bobby Brown is "90 years old, rocking the stirrups at (Yankees) Old-Timer's Day. He gets it!" Too bad the Yanks continue to dress their old-timers in BP caps, though. … This is quite the camo rally cap(s) (from the Florida/Virginia College World Series game) the other evening (thanks to John Ekdahl). … Reader Tony Caliguiri took a tour of the U.S.S. Lexington when he was in Corpus Christi over the weekend and "they had this uni on display from the ships baseball team." Here is a close-up of the description. … The South Bend Cubs wore Star Wars jerseys on Saturday (via South Bend Cubs). … The Myrtle Beach Pelicans wore Doc Brown Back To The Future jerseys over the weekend. … Oops, looks like Cole Hamels was wearing a throwback cap on a night the Phillies weren't throwing back (good spot by @09Alum). … Here's a look at the All-Star Game Futures caps (from Ben Matukewicz). … Here's a great Father's Day photo of Babe Ruth and his daughter Dorothy (from Bruce Menard). … Looks like the Braves neglected to include a front uniform number for recent call-up Eury Perez's jersey (good grab by Matt Campbell). … "Coach Q at the White Sox game," writes Rich Picek. "I took my one-year-old daughter to the (White Sox) ball game (Sun)day and the Stanley Cup was in attendance. Coach Q was wearing a jersey with 'Qups' and the #3 (retired, Harold Baines)." … In what might possibly be the ugliest jersey matchup of MiLB, we had a camo (Everett AquaSox) vs. tie-dye (Eugene Emeralds) game yesterday (thanks, I think to Brandon Sparks). … Dee Gordon of the Marlins was wearing a custom Father's Day wristband yesterday to honor his dad (nice grab by Dylan Buell). … Here's an infographic that shows the dimensions of Korean baseball stadiums (thanks to Mike Chamernik). "¦ Cleveland celebrated the 20th anniversary of its 1995 pennant-winning team on Friday night, with lots of players from that squad in attendance and wearing throwback jerseys (from @JThrock45). "¦ David Arnott notes that many MLBers are using a bat grip on their bats this season, something rarely if ever seen on big league bats before. "¦ Not sure what the Fort Wayne TinCaps were doing the other day, but it sure looked, uh, different. "¦ Check this out: Jerry McGee (currently president of Wingate University) in his college days, pitching for East Carolina while wearing a helmet (from Andrew Fink). "¦ Brett Lawrie of the A's doesn't just go high-cuffed with striped socks — he has different stripe patterns depending on the game. "¦ "I attended the Florida State League All-Star Game Saturday night in Port St. Lucie," writes Michael Jaworski. "The teams were essentially orange sleeves (note the cap patch for FSL president Chuck Murphy) vs. blue sleeves. The jerseys had game logo on one sleeve with the FSL logo on the other."

NFL/Football News: A reader who prefers to remain anonymous (and apologizes if this has already been featured) notes the Louisiana Tech Bulldogs have a new field. … Here's why The Rock's new HBO show Ballers can legally use NFL logos without the league's consent (thanks to Jay Sullivan). … Duke Ihenacho wore "˜slippers' to Redskins practice (from Douglas Ford). … "I was grabbing coffee this morning and saw this installation using Nike NFL football jerseys," says Jason Cimon. "It involves statistics of some sort but math is beyond me. It was at Bleecker and Bowery. The gallery link kinda explains it a bit." "¦ Rawlings, which was trying to get back into the helmet marketplace, has decided to abandon that initiative and will discontinue its helmet and shoulder pad operations later this year (from Jeffrey Whitener).

NBA/Basketball News: "Binge-watching all of the 30 for 30s on Netflix," says Dustin Semore. "This one come from I Hate Christian Laettner. After Duke's victory over Kansas to win the 1991 NCAA championship, a fan at the postgame celebration showed off a Dodgers-themed Duke Jersey." … Dustin adds, "A shot of the 1992 'Dream Team' also piqued my interest. It shows the team in front on an American flag that's displayed incorrectly. According to the US Flag Code Section 7, Point i says that 'When displayed either horizontally or vertically against a wall, the union shovel be uppermost and to the flag's own right, that is, to the observer's left.' The Dream Team photo has the union on the wrong side." … Here is a look at the 2016 Women's Final Four logo (from Tres Lawless). "¦ Bizarre-o Superman-themed jerseys for the Nelson Giants, a New Zealand team.

Soccer News: What's with the bump under the NOB of the Canadian women's soccer team? (From @ericovalle.) "¦ "Adidas provided the kit for the Netherlands during the 1974 World Cup Final tournament in West Germany, but Dutch captain Johann Cruyff had his own personal kit contract with Puma, and refused to wear a shirt that featured the three stripes of Adidas," writes Graham Clayton. "As a compromise, the Dutch FA provided Cruyff with a shirt that only had two stripes on the sleeves, instead of the three stripes that were worn by all of the other members of the Netherlands squad."

Grab Bag: Reader Alan Borock saw this Washington cap on ebay and notes 202 is the area code for DC, however the state depicted is obviously Maryland. … Wonder Woman has a new costume — it has more of an armor-feel to it. And, there is a reason for that (thanks, Brinke). "¦ Here's a good look at how mascots have gotten angrier over the years (from Jay Wright).