Mets centerfielder Juan Lagares hit what turned out to be the game-winning three-run homer in the sixth inning of yesterday's game against the Braves. As you can see in the video above (if it's not embedding properly for you, look here), after Lagares crossed home plate he was greeted by teammate Curtis Granderson, who'd been on base, and Granderson made a big show of pointing to the orange wristband on Lagares's left arm. He did it again when they were back in the dugout.
As it turns out, that's because Lagares has started wearing one of those "Say No to Drugs"-style bands featuring his own likness. Here are some close-ups (click to enlarge):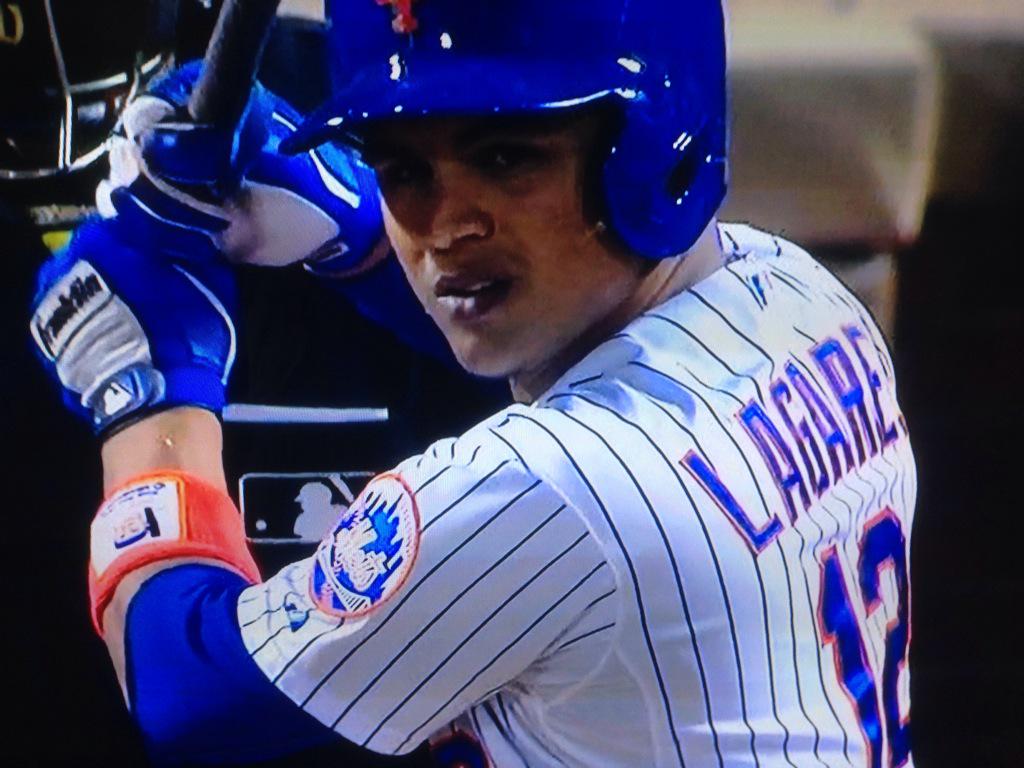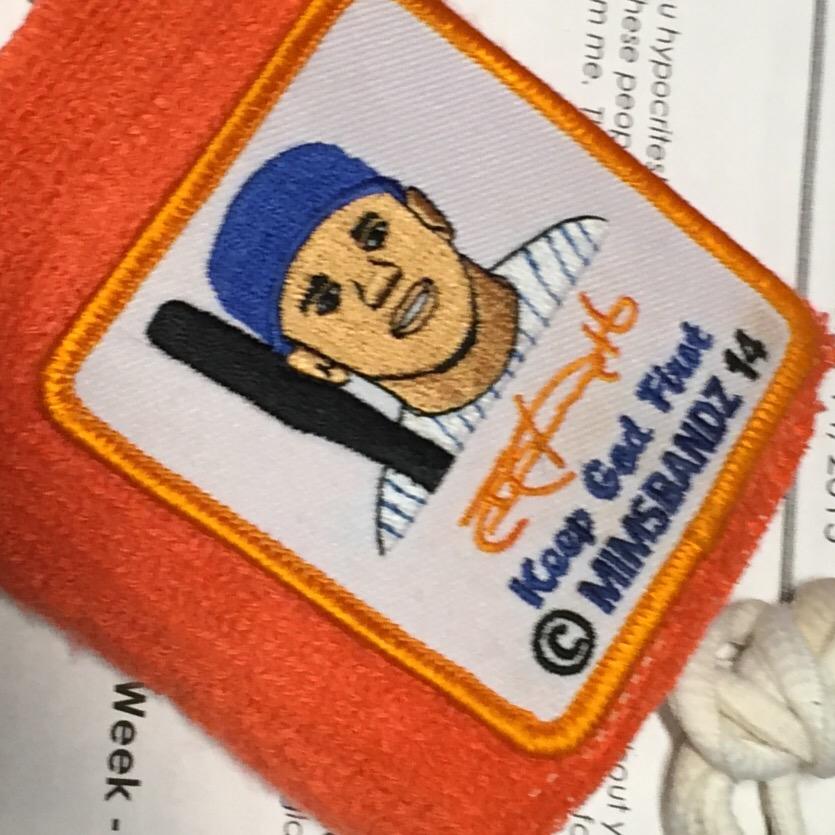 It doesn't really look much like Lagares, but that's part of the charm of these things, right? According to this NJ.com item, "[The wristbands] work for him. He began wearing them recently and has gone on a hot streak since. His teammates say it's the cause of his success. His performance Sunday — 3-for-5 with a go-ahead three-run home run — certainly won't make him stop."
(Big thanks to Eli Ganias and @SheaDugout for bringing this one to my attention, and to Mike Peters and Mark Carig for the close-up photos.)
• • • • •
One last time "" calling all "Collect 'em all"-ers: In case you missed it last week, I'm taking a show of hands to see how many of you have purchased all seven of the UnI Watch T-Shirt Club's designs so far. Knowing how many people are eligible for the year-end prize will help me determine what the prize will be. So if you've collected 'em all so far (and didn't already check in last week), please use this link to shoot me a note. Thanks.
• • • • •
Membership update: I put a batch of membership cards in the mail on Saturday (including Mike O'Connor's early-2000s Blue Jays treatment, shown at right), so recent enrollees should watch their mailboxes. This makes us fully caught up on membership orders.
As always, you can order your own custom-designed membership card here, you can see all the cards we've designed so far here, and you can see how we make the cards here.
• • • • •
Father's Day reminder: In case you missed it yesterday, Phil has put out the call for pictures of your dads and/or granddads in uniform (any uniform, whether it be sports, military, delivery, etc.), which he'll as a Father's Day feature this Sunday. Further details here. Email your photos, along with short descriptions (50 to 100 words) to Phil.Hecken@gmail.com by this Thursday, midnight Eastern.
In a related item, reader Kelly Levy is searching for photos of her dad, Harold Levy (although he sometimes went by Edward, his middle name), who was an all-city basketball player in NYC around 1956-58 and also briefly played for St. John's and for a Rheingold brewery team. Harold passed away earlier this month and Kelly can't find any photos of him in uniform. If anyone can help, contact Kelly here.
• • • • •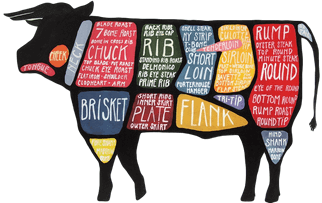 Boston Beefsteak reminder: For you carnivorous folks in Beantown, the Brooklyn Beefsteak is coming to Boston this Saturday, June 20, with two seatings — 1pm and 5pm — at the Cambridge Masonic Hall in Porter Square. Further info and tickets are available here.
• • • • •

Baseball News: I think we've seen this before, but once more won't hurt: Check out this video footage from a 1977 Royals/Brewers game in Milwaukee in which the Royals had to wear Brewers road uniforms because their own unis had been stolen (from Kevin Clark). "¦ I like the double-striped turtleneck collar in this old shot of Eddie Murray (from Tyler Kepner). "¦ Yonder Alonso of the Padres was moved from first base to third base the other day and wore one of his brother-in-law Manny Machado's gloves (from Andrew Cosentino). "¦ The Red Sox put their helmet numbers on the side without the earflap. "¦ The San Diego GOP gave presidential candidate Rand Paul a FNOB Padres jersey (from Stephen Scheffel). "¦ An American pitcher playing in Korea has been fined for wearing a wrong-colored undershirt (from @MyKBO).

Pro and High School Football News: Not sure I've ever heard of an athlete saying he doesn't want his number to be retired, but that's the case in Dallas, where former Cowboys star Michael Irvin wants his No. 88 to stay in circulation (thanks, Phil). "¦ The Packers played a charity softball game with pinstriped jerseys yesterday. Lots of photos here (from Nick Haering). … Here's a ranking of the high school football uniforms in the Mineral Wells, Texas region.

Hockey News: Never seen this early Lightning wordmark before. Reminds me a bit of the old Zenith logo. "¦ Whoa, check out the Caps player in the background of this photo — looks like he's wearing a lacrosse helmet/mask! Anyone know who that was? (Good find by Steven Schapansky.) "¦ Chris Creamer has created a sensational infographic showing the jersey worn by each Stanley Cup-winning team. Several great little nuances in the design, but I'll let you discover those for yourself. Chris says he wants to make this into a poster, and he should definitely do that.

NBA News: Reader Jeff Sorensen was at a Salt Lake Bees minor league baseball game the other day and spotted someone wearing a 1990s-style Jazz jersey with the famous Hot Rod Hundley saying, "Gotta love it baby!," as the NOB.

Grab Bag: I don't usually get too worked up about what rock bands wear, but on Friday night I saw Ex Hex, who made my favorite album of 2014, and the onstage attire offered a lot to like. Bassist Betsy Wright wore a denim jumpsuit, fishnets, and Chucks, while frontwoman Mary Timony had a gorgeous vintage sequined sweater, which turned out to be two great tastes that taste great together. "¦ Remember our discussion of bread clips vs. twist ties, which I later wrote about for Bloomberg BusinessWeek? A brewpub in Seattle is currently featuring what appears to be bread clip artwork (from Korey Traynor). "¦ Jeb Bush, who's expected to officially announce his White House bid today, released his new campaign logo yesterday. "¦ I've occasionally seen players in various sports wearing uni-numbered socks, but I don't think I've ever seen a player wearing one numeral on one sock and the other numeral on the other. That's WR Stefanie Engels of the New York Sharks, a women's semipro football team. As you can see, her teammates have their own ideas about hosiery (from David Dyte). "¦ Love this old label design for Touchdown Brand lemons, with a lemon substituted for a football (big thanks to Daniel Klempner). "¦ Yesterday was Flag Day, so The Pittsburgh Post-Gazette ran an article about the use of the flag on sports uniforms. "¦ Good article about French female Muslim soccer players wearing hijabs (from Mark Coale). "¦ Cyprus Airways is defunct, but its logo and trademarks are now up for sale. "¦ Lovelovelove this chart showing different kinds of screws (big thanks to @Univers47). Interesting NOB font for the Serbian U20 soccer team.