We've known for a month now that MLB teams will be wearing tacky caps for Independence Day. Yesterday came word that they'll also be wearing tacky jerseys. Here's the full set of them, paired with the full set of caps:
NL East
NL Central
NL West
AL East
AL Central
AL West
———
And how will the jerseys look from the back? Glad you asked:
NL East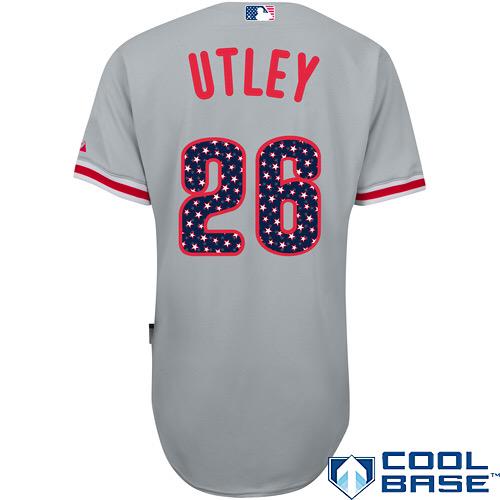 NL Central
NL West
AL East
AL Central
AL West
Notes: I showed the Blue Jays' items, even though they're for Canada Day, not Independence Day. Here's a better look at what they'll be wearing. "¦ There's no rear-view image currently available for the Twins (at least not that I could find), so I couldn't include that. "¦ I'll give them this much: At least nobody's wearing a colored alternate on Independence Day — not even the Nationals, who'll be wearing the tacky stars/stripes jersey shown above instead of the tacky stars/stripes jersey that's already part of their wardrobe. "¦ The same cap template is being used by minor league teams. Not sure about the jerseys. … Reader Michael Hersch sent me a photo of the Tigers' jersey, which he spotted in a shop the other day. It provides a much better look at the star pattern in the numerals, as well as the flag-themed version of the MLB logo (click to enlarge):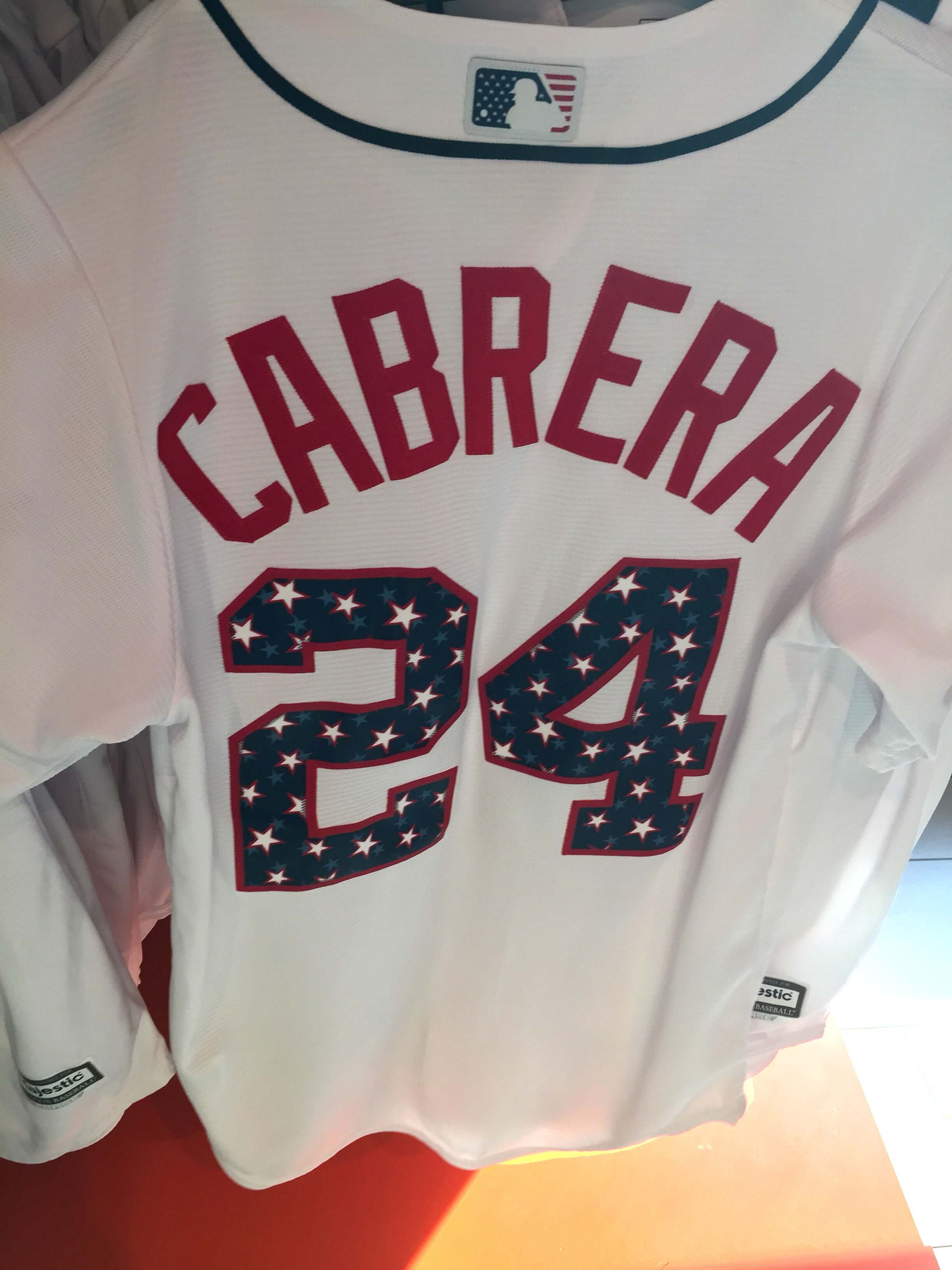 ———
Okay, now here's all the obvious stuff that I have to say anyway:
• Most of these look embarrassing, and the handful of exceptions are diminished by being part of a cookie-cutter template that feels more like a corporate marketing initiative than a holiday celebration.
• Blah-blah, bogus patriotism, blah, pandering, blah-blah, cheapening what the flag stands for, blah-blah-blah, jingoism, blah.
• As I've noted before, more than a quarter of MLB players are not Americans, and it seems really odd to make them wear American flag imagery to celebrate our holiday. Is it a privilege to play in the big leagues? Yes, for sure — that's why foreign-born players have to apply for work visas, pay American taxes on what they earn here, follow our laws, and so on. And I absolutely believe a player should wear whatever uniform is put in his locker, even if it's an ugly American flag jersey and a cap that looks like it should be sold at a gas station — that's part of his job. But my point isn't about the players; it's about us. These people are our guests; we are their hosts. And part of being a good host is being gracious. I think it would be more gracious not to expect so many foreigners — a quarter of the game's labor force! — to wear our flag on our holiday. If I were working overseas, I certainly wouldn't be thrilled if my employer expected me to wear his/her national flag on his/her national holiday.
• As in the past, MLB will be donating the net proceeds from sales of these jerseys and caps to Welcome Back Veterans. That's nice, but Independence Day has nothing to do with veterans or the military — it's the anniversary of the Declaration of Independence's ratification. So MLB is once again mixing bad design with bad civics, misrepresenting the meaning of an important holiday, and singling out the military for glorification. Unsurprising but still highly disappointing.
So where would I rather see the money go? How about a donation to the National Archives, where an original parchment copy of the Declaration of Independence is housed, or funding for educational programs on American history (which could teach, among other things, that not every holiday is a military holiday), or giving out copies of the Declaration of Independence to every fan who attends a game on the Fourth of July. Or how about not selling tacky stars/stripes gear to begin with. Or if you absolutely must sell it, how about not making the players wear it on the field. There are so many approaches here that would be better than what they're actually doing.
•  I got a funny tweet from reader Val Sobrevilla, who pointed out that it could be worse: If Nike were making MLB's uniforms, they'd probably use these colors instead of red, white, and blue.
Meanwhile, as it turns out, all the people who said they liked the front of this T-shirt but had issues with the back were right — we should have gone with a star-spangled number. I actually considered that during the design process, but I thought, "Nah, that'd be overkill." That's what I get for underestimating MLB's capacity for foolishness. Won't make that mistake again.
As I've stated many times before, I love the American flag and I love Independence Day. Both deserve better than this.
(As an aside: The annual Congressional baseball game took place last night at Nats Park. Given that the players were a group of politicians who are arguably the biggest panderers in the nation, tacky stars/stripes uniforms would have been perfect for the occasion, but they somehow managed to play the game without any of that nonsense. Everyone wore uniforms of the teams from their home districts. Lots of additional photos here.)
•  •  •  •  •

'Skins Watch: A school district outside of Buffalo is changing its team names from Redskins to Legends, a decision that led to some nastiness when it was announced. "¦ Two parents have asked an Indiana school district to consider changing the local high school's "Redskins" team name (from Terry Mark). … North Dakota's nickname search is down to 15 candidates (from Keith Sakatch). "¦ Here's more on that Wisconsin school district where kids can no longer wear clothing with Native American mascots (from David Petroff).

Baseball News: Hall of Famer Andre Dawson is selling off his memorabilia (from Jonathan Daniel). "¦ Good story on the history of the annual Congressional baseball game, this year's edition of which was last night (thanks, Phil). "¦ Mr. Rogers-themed jerseys upcoming for the Altoona Curve (from Ash Kumar). "¦ R2D2 unis tomorrow for the Northwest Arkansas Naturals (from Susan Freeman). … Bishop High School in Texas has some really bold uniforms and what appears to be even bolder eye black (from Cody Barker). … The Cardinals will be wearing 1985 throwback pullovers for Sunday's game against the Royals (who'll be wearing powder blues). "¦ No photo, but the Boise Hawks will be going G.I. Joke on Aug. 1 (from Brad Iverson-Long). "¦ The lowercase "d" on Mets C Travis d'Arnaud's NOB is well-documented, but he also had it while rehabbing at Triple-A Las Vegas (photo by Darryl Ginwright, sent by Jerry Reuss). "¦ Here's some very crisp video of Pirates RF Dave Parker wearing a Padres batting helmet and white shoes in the 1977 All-Star Game (from Frank Mercogliano). "¦ A high school team in Indiana is going high-cuffed to honor a player's brother who was awarded the Purple Heart while fighting in the Iraq War (from Zeke Clark). "¦ Cool soda displays saluting the Astros and Mariners (from James Poisso and Noah DuPont, respectively). "¦ Potentially major find by Jay S., who turned up some shots of Richie Hebner wearing an early-1970s Pirates road uni with pants piping! Never seen that before. Anyone know more? "¦ Best (or at least biggest) soda display ever: the Brewers' sausage racers! (From Tim Mazurkiewicz.)

NFL News: With Father's Day fast approaching, the mighty Fleer Sticker Project has found a great blast from the past that probably made a great gift for dad back in the day: NFL after-shave decanters. Never seen those before! "¦ Browns P Andy Lee, recently acquired via a trade with the 49ers, wore No. 4 in San Francisco but is now changing to No. 8 as a tribute to his late daughter, who lived only eight days (from Chris Flinn). … Yesterday's Ticker mentioned that the Chargers will be retiring LaDainian Tomlinson's No. 21. Michael Stoudt has done a bit of research and says this will be the first 21 ever retired by an NFL team. "¦ Eli Manning is now signing footballs with "Omaha" (from Chris Flinn). "¦ This is pretty awesome: Washington S Duke Ihenacho had previously taped up his cleats to make them look like Chucks, and yesterday he did a new tape job that made the cleats look like slippers. "¦ See those circles stitched into the shoulders of the Lions' practice jerseys? They're apparently impact-tracking sensors (from Cardz Hernandez).

College and High School Football News: Baylor's uniforms are apparently popular with recruits (from Bradley Maybin). "¦ Here's a ranking of SEC football uniforms, with Mississippi in the top spot. … Here are the chrome-finish helmets for the Empire Challenge, which is a NYC-area high school all-star game.

Hockey News: New makeover for the Dallas Stars' AHL affiliate, the Texas Stars (from Donnie Thomas). … If you've been wanting Nordiques prototype jersey with the ghost design that never came to fruition, here's your chance (from David Rivitz).

NBA News: The Clippers' new logos, which were leaked back in April, will reportedly be circulated all over L.A. next Thursday (which, by coincidence, is the same day the Sixers plan to unveil their new uniforms). "¦ The Cavs stoked boos from their crowd last night by putting the Steelers logo and Big Ben on their scoreboard (from Steven Zerhusen).

Soccer News: Swansea's new kit may have leaked (from Marty Albert). "¦ New kit for Southampton. "¦ Arsenal's new home kit has leaked (from Richard Nethercott).

Grab Bag: Here's a bunch of college logo mash-ups — some amusing, some horrific (thanks, Phil). "¦ Paul Bacon, one of history's greatest and most influential book jacket designers, has died. "¦ According to some study whose methodology I don't fully trust, Adidas is more popular than Nike. "¦ Lots of great hand-painted signs in this story about how technology is destroying local typography (from Yusuke Toyoda). "¦ Georgia Tech's Brandon Lasater ran a sub-four-minute mile while wearing a very interesting uniform. "I had never seen that 'P' logo before," says Britton Thomas. "It turns out to be a company called Phenetix, a company co-founded by a former GT track athlete." "¦ Concussion awareness has spread to the world of polo, where a British student has deisgned a new helmet with an impact sensor. "¦ The new iTunes logo is supposedly a shout-out to Apple's 1977 logo, although I think the writer is making a bit of a stretch there.
• • • • •

What Paul did last night: My brother Roy was 15 years old when I was born. I'm sure it must have been very odd for him to suddenly have a baby brother at that point in his life, and I think it would be fair to say that he's never been nuts about children in general, but he was always very, very good to me and imparted lots of life lessons during my youth — many of them pertaining to baseball. It was Roy who first explained batting averages and earned run averages to me; it was Roy who taught me how a rain check works (a story in itself, which I'll save for another time); and it was Roy who told me, when I was maybe five or six, "We're a National League family. That means we mostly root for the Mets, but you can root for other National League teams if you want, like in the World Series. But it means, more than anything, that we hate the Yankees." And thus has it ever been.
Like many adult siblings, Roy and I have a complicated relationship that doesn't always bring out the best in either of us, but we can always enjoy a ballgame together. Last night I took him out to see the Mets/Giants game, and we had a great time. Here's a shot of us taken during the seventh inning stretch (click to enlarge):
Meanwhile, prior to the game, I was walking from my car to the ballpark (I always park on the street about a 10-minute walk away, because what kind of idiot pays $22 for parking?) when I came upon this:
There's something perfect about the pathos of this discarded TV, face-down next to a tree just outside the Citi Field parking lot.

Posted by Paul Lukas on Thursday, June 11, 2015
• • • • •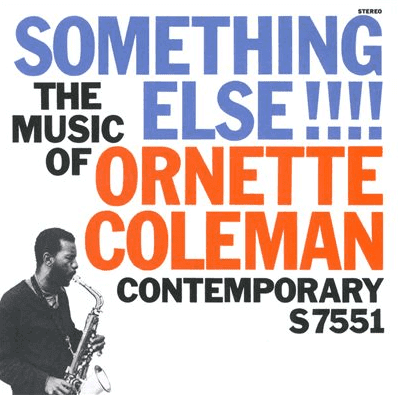 Something else, and how: Ornette Coleman, who died yesterday at the age of 85, was one seriously eccentric cat. He was also a genius, just as surely as Newton and Einstein. Like most geniuses, he was initially ridiculed and shunned because his ideas (in Coleman's case, his invention of free jazz and his contention that Western notions of melody and harmony were basically constructs that could be ignored in favor of improvisation) were too radical for people to grasp. And as with most geniuses, the world eventually caught up with him and gave him the acclaim he'd always deserved. By the end of his life, he'd won a Pulitzer, a lifetime-achievement Grammy, a MacArthur "genius" fellowship, a National Endowment for the Arts award, several honorary doctorates, and more.
I only saw Coleman once, in 1990. It was kind of an epic day of music: My then-girlfriend and I had first seen the Mekons opening for Yo La Tengo (or was it the other way around?) in Central Park, so we'd already been exposed to a lot of sun, heat, and alcohol by the time we got to Carnegie Hall, where Coleman was playing with his electric band. Or to put it another way, we weren't in the best condition for appreciating Coleman's gifts that night, which is something I've always regretted.
Coleman had reportedly been in poor health for a while now, so I'm glad his suffering is over. There'll be other geniuses, but there'll never be another one quite like him. R.I.P.