[Editors Note: Today we have a Special Lede from Mike Chamernik, who loves the Bucks, and accompanied Paul to the logo unveiling a couple months ago. I'll also have a link to Paul's ESPN review, and add a couple words at the end. Click on any photos below to enlarge. Enjoy — PH]
By Mike Chamernik
When the Bucks changed their logo and uniforms in 2006, I was excited. It was probably just for the sake of change -"' at 16-years-old, I was amused by new shiny things.
As a Bucks fan and as someone who bought NBA and NFL jerseys with whatever money I could scrape together, I purchased a Michael Redd jersey that winter. I wore it to school. In my physics class, one of the girls that sat at my table, Erica, saw me and said, "Hey, Christmas colors!" She was dead-on. That was the end of my fascination with the Bucks uni and logo set that they kept through the end of the 2014-15 season.
Everything about the look began to bug me. The red was much too bright and too liberally used, and it clashed with such a dominant dark green. The wordmark and beveling were cheesy; a fake way to appear forceful and serious. The main and alternate logos were unattractive. The alternate unis were garish. Nothing about the Bucks' appearance was pleasing.
The new uniform set, released on Saturday, is worlds better compared to the old one.
I don't want to fall into the same trap I did when I was 16, though, so I'll use more objective reasoning when analyzing the Bucks' new home and away jerseys. Here's a stab at that:
• I'm a fan of simple lettering, numbering, and other designs, in a less is more way (especially for basketball uniforms, where there's not space to get creative). The Bucks did this. The block letters and numbers are sharp and match the connotations I get when I think of a Rust Belt city like Milwaukee.
• The city name on the road set is a good call, a little more traditional. A word like "MILWAUKEE" could be a cluster on a basketball jersey, but it fits right here.
• The green is darker than it was before, which is an improvement.
• The Bucks introduced cream into their color scheme. Since the logos were released in April, fans have wondered if the team's home unis would be cream, not white. That is not the case. Though the Bucks could have owned the cream-at-home corner and made it a sort of franchise signature, I prefer the white. It allows the side piping, letters and numbers to pop more. And, personally, I don't care for cream. It tries evoke nostalgia but instead just appears off-white.
• About the side panels: they're a homage to the Bucks' 1980s uniforms. It's a good reference. The uniforms were very good looking and the team was a perennial contender. The touch of blue stands out.
• The side piping and logo on the shorts are both fine. Basketball shorts look weird without something on the sides of them.
• The "Fear The Deer" tags (the Bucks' slogan) on the hem is a little gimmicky but benign. They are more meant for retail, I'm assuming. Players tuck their jerseys in, but fans who buy Swingmen replicas do not.
• I don't care for the "M" logo on the collar. It's just too busy. It's like the designers wanted to get as many of the new elements of the Bucks' redesign into the uniform as possible. And, it doesn't match the home's green collar.
All in all, count me as a fan. If I were unbiased, I'd still like the overhaul. Since I am a Bucks fan, I just enjoy that they scrapped the Christmas colors.
+ + + + + + + + + +
Thanks, Mike! Nice review.
OK — if you want a different take, here is Paul's ESPN article with his synopsis of the new uniforms.
As for me — I can't much disagree with anything Paul or Mike have said, and I'm a big fan myself of these new uniforms. If you want to check out fan reactions, more looks at the home and road unis, plus a uniform history, check it out here.
But no matter what Mike, Paul or I say — there is still one final arbiter of the success of the new uniforms. Let's check in with him:
@PhilHecken I'd wear that!

— Jim Vilk (@JimVilk) June 6, 2015
Well, there you have it Uni Watch readers. It's unanimous. What say you?
Colorize This!
Occasionally, I will be featuring wonderful, high-quality black and white photographs that are just begging to be colorized.
Last weekend, I had posted a photo request for colorization — received one submission which I'll run today, and also a "quick" colorization from Bruce Menard, which follows:
First up is David Magana, who colorized Ronnie Poore's Rams/49ers photo:
Hi Phil,

It's my first ever attempt at colorizing in photoshop so please be kind to the amateur.

Thanks,

David M
Bedford, TX/i>
. . .
The next submission comes from Bruce Menard, who colorized a photo of the Great Yogi in a Navy uniform:
Hi Phil,

Just thought I'd send you the before and after of that picture of Yogi Berra in the Navy. It was a "quicky" I threw together this morning for the D-Day anniversary.

Cheers!
~Bruce
Thanks guys! Great stuff!
Uni Tweaks Concepts
We have another new set of tweaks, er…concepts today. After discussion with a number of readers, it's probably more apropos to call most of the reader submissions "concepts" rather than tweaks. So that's that.
So if you've concept for any sport, or just a tweak or wholesale revision, send them my way.
Please do try to keep your descriptions to ~50 words (give or take) per image — if you have three uniform concepts in one image, then obviously, you can go a little over, but no novels, OK? OK!. You guys have usually been good with keeping the descriptions pretty short, and I thank you for that.
Like the colorizations, I'm going to run these as inline pics — click on each one to enlarge.
And so, lets begin:
~~~
First up today is Ryan Melson with his solution to fixing the Jaguars:
Paul & Phil,

A few years ago, I emailed you a History of the Subtle Changes over the years of the Browns Uniform over the years.

I've never loved Jacksonville's unis, especially since Nike's new design a few years ago. The teal color dates the uniforms and logo, so I dropped it from the color scheme completely.

I set the yellowish-gold as the base color, with gold jerseys as the primary home jersey (to give some variation from the Saints) and black jersey as an alternate.

Let me know your thoughts.

Cheers,

-Ryan Melson
. . .
And we close today with Joshua Murphy who "fixed" the LA Clippers new logo — I'm only showing one of Josh's concepts, but there is a link to his entire rebrand project below:
Hi UniWatch

Big fan of the site and up until now I never made an online submission – I am a brand designer professionally and after seeing the Clippers leaked logo I felt I had to do something to correct it. Check out the PDF and go ahead and post to the site if you'd like. Hopefully you'll agree this is a good improvement on the current leaked solution and maybe the Clippers will agree ;) Take care.

JOSH MURPHY
Founder | UX Design
. . .
And that's it for today. Back with more next time.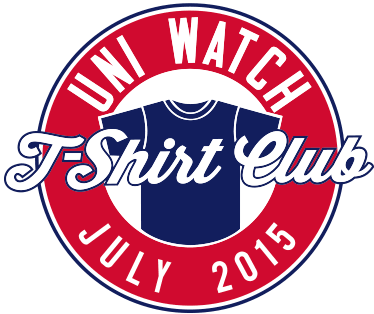 T-Shirt Club "" LAST CALL for Canada Day: In case you missed it earlier this past week, the Uni Watch T-Shirt Club's July designs — one for Independence Day and another for Canada Day — are now available. But we've decided to end the Canada Day campaign a bit early in order to ensure that the shirts will be delivered to Canada in time for the holiday. The Canada Day shirt will be available until 7pm Eastern TONIGHT (instead of 11pm on Monday). Please plan accordingly. The USA shirt will still be available through tomorrow night.
Here are the two designs (click to enlarge):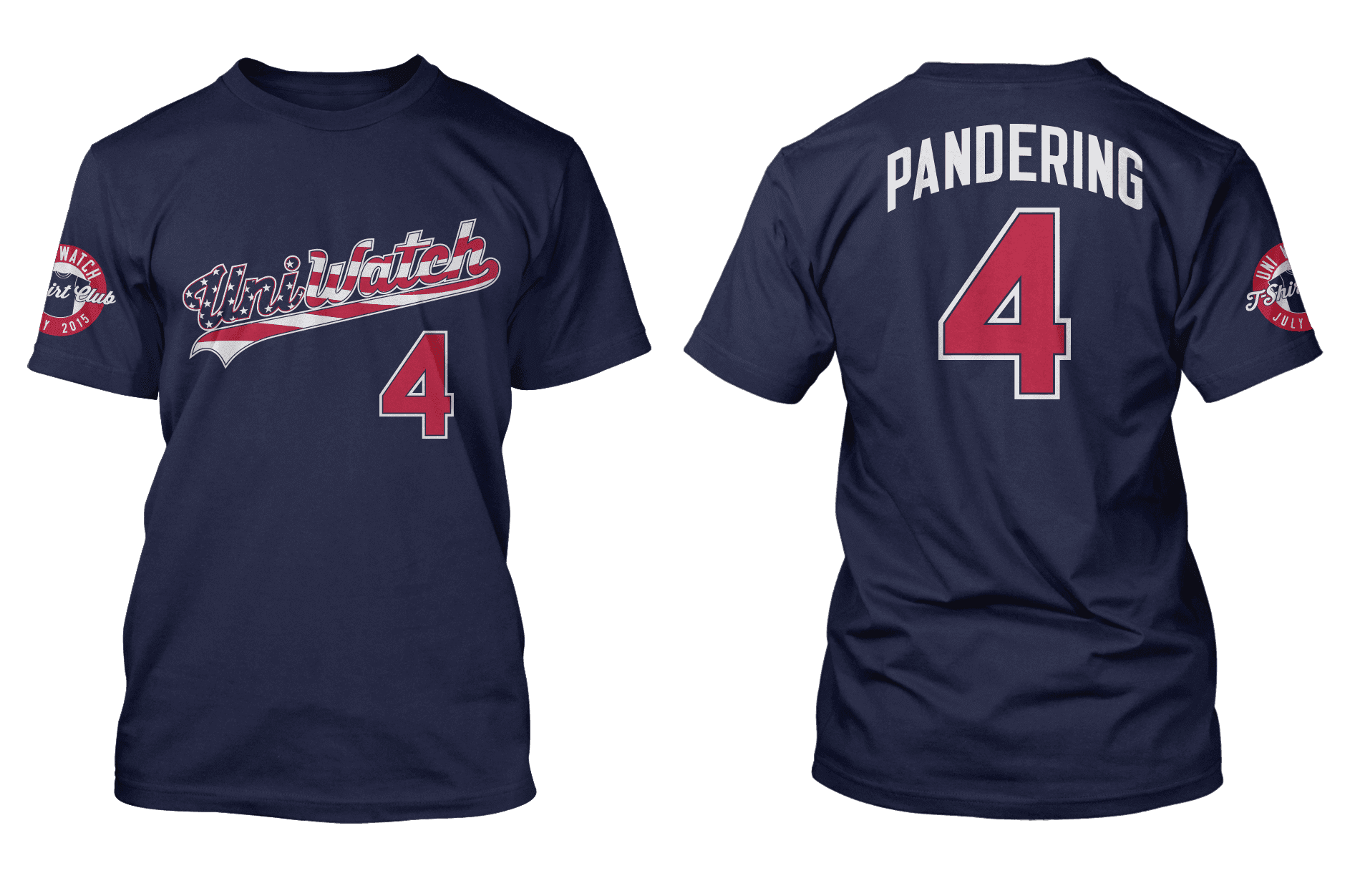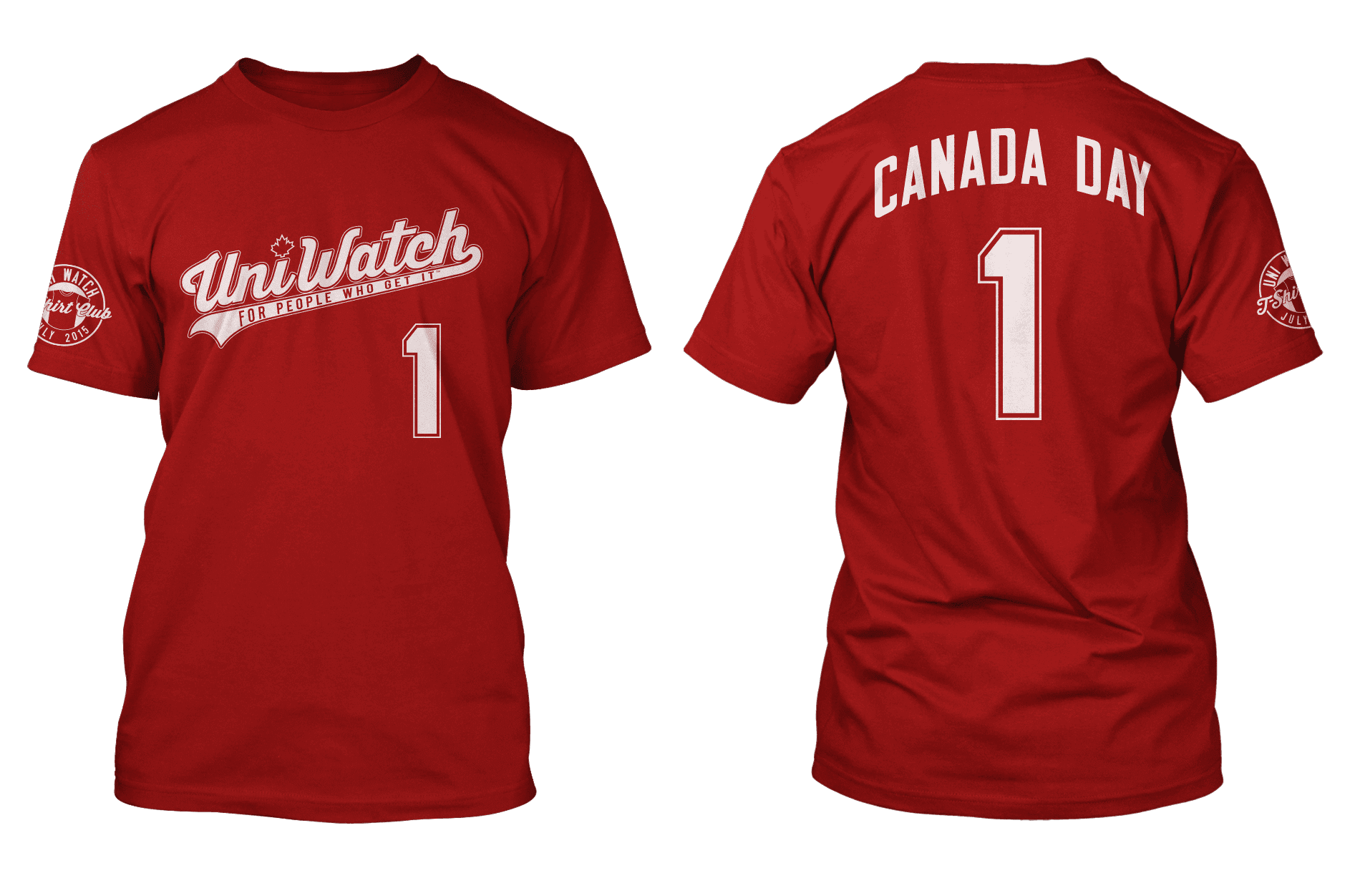 You can order Independence Day here and Canada Day here, and there's further info here. For those who have issues with the "Pandering" NOB on the Independence Day shirt, that topic is discussed in depth on this page.
Uni Watch News Ticker:

Baseball News: The other evening was Elena Elms' first time at Chase Field, home of the Diamonbacks, and she writes, "I see they have different color championship logos to match uni colors with year won." … Heres "a #NattyBoh Orioles logo on an Under Armour shirt in Minneapolis" (from Tater Q). … Last night the Tampa Yankees wore these Strike Out Cancer jerseys (from MiLB Promos). … The Tennessee Smokies wore Pinktober BC-themed jerseys last night (via Tennessee Smokies). … Also from MiLB Promos, the Myrtle Beach Pelicans became the Hurricanes (note font is Toronto Blue Jays, circa the 1970s-80s, which is similar to the Blue Jays' font today). … In preparation for the All Star Game in Cincinnati, the Pillbox Cap and mustache on the Scripps Building is coming along (h/t Trés Lawless). … Mathew Green was watching The Donna Reed Show and noticed this strange design on the back of a baseball jersey. … Next Friday (June 12) is Full House Night for the Frisco Rough Riders (via Cameron Craig). … More guys going with protective head gear: Dan Jennings, previously struck by liner, starts wearing cap insert (from Roger Smidstra). … The South Bend Cubs had cancer survivor night last evening, and the players wore pink jerseys (via Joe Reimers). … Couple of MLB 15 The Show mistakes noticed by Austin Glover, who writes, "I noticed that on Canada's version of the baseball game MLB 15 The Show, Russell Martin has what appears to be a matte helmet on, although the Jays don't use matte helmets. Since the cover was made before the season, I have a strong suspicion that they just photoshopped the picture below or one similar from when he was a Pirate. Speaking of the Pirates, Sony neglected to make their helmets matte. I guess the people behind The Show just don't 'Get It'." … Here's the latest cap to get the flag desecration America F*ck Yeah treatment (from Seth Caskey). … The Toledo Mud Hens are having Bacon & Eggs night in Aug (vs the Iron Pigs of course), and "these popped up in the shop" (h/t The Real Kub). … "From a recent high school softball state tournament game in Kentucky. Daviess County is in white/red, Central Hardin is in Columbia/navy blue," writes Josh Claywell. "Gotta love all the logo creep, from the Daviess County player wearing Under Armour socks and cleats with a Nike hat, to the Central Hardin coach wearing an adidas polo and cleats, the Central Hardin player wearing what looks like Mizuno cleats and an MLB arm pad. Also, notice the weird shoulder panels on Daviess County's jersey. That sure as shit reminds me of one of those things you can scan on a smart phone (I forget the name, dammit)."

NFL/Football News: Do you remember when the Detroit Lions wore blue pants and gray/silver socks? A lot of people would like to think it never happened (from RN's Funhouse). … Nice follow up to yesterday's WFL-themed lede comes from Bill Jones, who writes, "We just started selling our newest WFL Card Set – The QB Collection – today. I thought you might find this set interesting. Our Series 4 set, featuring more players and moments from the 1975 season – is up next."

NBA News: Whoa. Check out this pretty interesting set of NBA stickers from 1969 (or at least that's the copyright date), from Stirrups Now). I think it's actually from later than that, since the Trail Blazers didn't actually enter the NBA until 1970 (although certainly this could have been made with that knowledge in 1969).

Soccer News: "I made this handy Women's World Cup bracket that includes broadcast information for each match. At the very least people can enjoy matching flags to nations" (from Coachie Ballgames). … The Syracuse Silver Knights are looking for a Design Intern for the Summer and Fall (via Jim Vilk). … Here's some more cross-sport promotion from the City of Chicago: The Chicago Fire are supporting the Chicago Blackhawks with "this cool Twitter avatar" (from Mark Grainda). … Beautiful uni-matchup in the Women's World Cup with Netherlands in orange/white/orange and New Zealand in all black with silver accents (from Saurel Jean).

Grab Bag: We're frequently bemoaning the high cost of polyester jerseys here in America, but George Chilvers points us to this England rugby kit rip-off, which notes £120 is staggering record-high price for World Cup replica shirt. … At long last we have a look at a full view of new Tennessee font and new "My All" graphic from Nike (via Robby Gross). … "Goodell is taking over tennis!" exclaims WeHaveFive), as he presents this screenshot of the NFL logo over tennis. … Here's an interesting article about football teams that adopted the Adidas "diamonds" kit template of the mid-1990's (from Graham Clayton). … Cino Commisso was watching the NHL post game and noticed the Gatorade props look like Stanley Cups to him: "The red G sticks out, and the bottle is silver a la Stanley Cup."
And that's all for this fine Sunday — hey, how about that American Pharoah? Triple. Crown. Winner. — I live about 20 minutes from Belmont, and over my lifetime I've probably been to that track 50 or more times, including about 10 Belmont Stakes (probably 5 of which featured a Triple Crown Attempt — each time resulting in failure). Growing up in the 1970s, we had Secretariat (probably the greatest horse of all time), then Seattle Slew (whose owner, trainer and jockey I got to meet once) and Affirmed winning in 1973, 1977 and 1978 respectively. So — when spoiled like that as a young child, one kinda expects a triple crown winner every few years — or at least once a decade. Nope. Hadn't happened since 1978 (many of you readers may never have been alive for the last one) — and it is truly a remarkable achievement. So, I was extremely pleased to see it happen (on tv, this time) yesterday.
Big thanks to Mike for penning today's lede and everyone else who contributed by email or twitter. Have a great Sunday and I'll catch you all next weekend.
Follow me on Twitter @PhilHecken.
Peace.
.. … ..
"It appears that King Corcoran is the unofficial mascot of Weekend UniWatch, which I think is a fine thing, indeed."
–Cort McMurray