By Phil Hecken
A couple weeks ago, in the ticker, there was a link to uni watcher Gene Sanny and his electronic football projects, which (as you're about to see) are tremendous.
The Ticker item (May 27th) read as follows:
Gene Sanny has spent the past 10 months creating what he believes to be the most detailed set of WFL electric football teams in existence. You can click on the thumbnails on that page to see full-size versions. Impressive stuff!
Intrigued, I asked Gene if he'd like to go a little more in depth about the project.
We traded a few e-mails, and I was going to do a Q&A segment with Gene, but once he sent me his writeup of the project, it's pretty self-explanatory. However, before sending me the project, Gene did set things up thusly:
There's a bigger community than one would think of guys who play all the time in leagues and "tweek" bases to get them to perform better than stock bases. I'm not even close to as good as those guys at actually playing the game, but I've been accepted into their Facebook groups because of my painting. They want to know tricks etc. The real key for me is I approach it from a love of uniforms.

I want to recreate the real look from back then — dirty uniforms, retro facemasks etc, and I wanted to get the uniforms accurate. I would always post a pic of mine with a pic of the real team so they could see what I was recreating. My struggle versus what they paint is I was doing a whole league: 12 teams of 24 guys home and away, and they usually just paint their favorite team they use in a league, which could be like 48 players, but it's all the same team and they'd take their time.

I have precious little patience and I was hurrying to get mine done so I could play. Still they'd rave about them, and I thought "jeez, I should see what I can do if I focused on just one player and went nuts". I'm going to do that for one figure for an art show they are holding at an electric football convention in July… so we'll see how that goes.
For all photos below, you can click to enlarge.
So, with a full rundown, I am pleased to give you Gene, and his…
. . . . .
WFL Electric Football Project
By Gene Sanny
Last August I started painting the teams of the World Football League in the form of electric football players
I was three when the actual league began play, so it's not something I saw and fell in love with and couldn't let go of — not at that time anyway. What actually happened was when I was in junior high, I got a copy of Football Digest, and in the fan letters section, someone had requested that they print the logos of the old WFL. They were printed in black and white, but they were beautiful, and open to a million options for a young kid who loved football and drawing. I started drawing teams right away, and that Football Digest became my bible for a while. I made up the color schemes and just drew.
A few years previous to discovering the WFL, my dad had bought me an electric football game at a garage sale. I found the game incredibly frustrating, so I walked away from it, but not from the figures. My folks had bought me teams from the JC Penney catalog: the AFC West and the AFC East teams; they were crudely painted.
The Chiefs just had a white arrow on the helmet for example. I started painting the teams into USFL teams, because that was my new obsession at that time. Mine were crude, but way better than the stock ones you could buy in my opinion. I loved those figures and set them up on my desk to look at, I didn't play the actual game anymore, but I loved those figures.
So, fast forward to last August: I had just finished up six old AFL teams — my first foray into painting the figures since I was a kid. I had found out about water slide decals that can be printed on your desktop printer when I was customizing some McFarlane figures, and thought "Man I could really do up some electric figures using some of the tricks I've learned now." I was happy with the way the AFL teams turned out, but I wanted to try a few new things, like facemasks and adding dirt to the uniforms, so I decided to do the WFL.
I'd seen some images of teams people had painted on Google, and thought "I'm going to do the whole league." So, I ordered some blank players and facemasks, loaded up on some paints and other accessories. and off I went.
Here are some pictures of completed teams, my custom built field, and some of the tools I use. As some will notice, these are the 1974 teams, but I've included some 1975 players on the teams so I could have more "star power" when playing.
____________________
The figures are commonly known as the "Fab 5" poses: the originals from back when the game started. There are guys in the hobby now that sculpt their own figures, or modify existing figures, and they are incredibly detailed, but also very expensive. For this project I chose the Fab 5 because first, I love the original poses. They look good pre-snap and post-snap, and because you can get a bag of 11 for $6.00.
____________________
These are some of the tools and accessories I use: brushes, big tweezers for applying decals, grass to glue to the bases, old school facemasks (they have new school as well), Testors paint, and not pictured is a head worn magnifying glass, and decal paper. I make the decals myself in a vector art program, so I can do almost anything I want and as clear as possible.
____________________
Close ups of the first team I did: The Hawaiians. I showed these two a little closer so you could see some of the details that I included. I've always been a helmet guy, so it was important to me to get as much detail as possible. When *I started posting some of my AFL figures, people would comment that they never even thought of painting earholes, and I couldn't believe it "" that's so much part of the look. So with these I took it a step further. Besides the earholes, I painted the silver rivets that hold the interior padding in place. That's not so much seen anymore on modern helmets, but they were all over the 60s, 70s, and 80s helmets. Also, I included the WFL decal on back of the helmets ( which the WFL did) long before the NFL.
____________________
Southern California Sun: featuring Daryl Lamonica at QB.
____________________
Memphis Southmen/Grizzlies: featuring Csonka, Kiick, and Warfield.
____________________
Chicago Fire with the awesome fire around the earhole decal.
____________________
Houston Texans: This is John Matuszak, who played a few downs before being served papers on the sidelines from the Oilers with whom he was still under contract — he thought he had found a loophole. Just another of the strange WFL stories.
____________________
____________________
New York Stars: This is Jere Brown. I posted this pic on the WFL Facebook page and he's actually a member and saw the pic — pretty cool moment.
____________________
Detroit Wheels: The first facemasks I painted to that point. In 1974 Dunguard produced colored facemasks for the first time, and since the WFL season started in July, both the Wheels and Bell became the first teams in history to wear colored masks — they beat the Chargers by a couple months.
____________________
Birmingham Americans: This is where I hit my only hiccup in the process. I had been using old pics, and Gridiron Uniform Databases* website as my guide. I got lazy and only used GUD for the last couple teams. Well, they had the Americans' blue jersey stripe pattern wrong. The two thicker stripes should be red and the three thinner ones white. I got done and took some pics and thought, "Why do they look like the Bills?" Man, I was mad. I learned my lesson though: only real game pics from there on.
____________________
____________________
Portland Storm: Yup, that's Marty Schottenheimer, LB for the Storm. I think he might have coached in the NFL too for a while.
____________________
Philadelphia Bell
: Jim "King" Corcoran
____________________
These are some random match-up pics. This was one of the true reasons for the project: I couldn't wait to see the teams on the field together.
____________________
My custom field metal, next to a regular sized field. I had made a field cover for my standard field that was generic, so I could play any teams on it without it saying AFC or NFC in the endzones. I decided to build a scale field so the players would look more realistic on the field. There's a baseball field on it because it worked with the dirty look i gave the players. I miss dirty uniforms in football.
____________________
The Field
: First pic shows it put together, the second I
added my sparse crowd around the edge
. I found a photo of some soccer fans (because I needed more of a full body shot, and they seemed to be the only fans I could find pics of standing up). I manipulated the clothing colors in Photoshop, created stands, and placed the people in them. The third pic is of
the ivy covered brick I used around the inside of the stadium walls
. The fourth is of
me and my family at the 50 yard line
, along with Chiefs super fan Lynn "Weirdwolf" Schmidt, who is huge in this hobby. He makes field covers that are second to none (and he provided me with invaluable knowledge about making motors to run the board) so he earned a spot at the 50.
____________________
These are the cases I made for the WFL teams: $8.00 for a case from the dollar store. I'm not even really sure what they are for, but they work great for me. Also, some foam to hold the players in place so they don't get damaged when moving them around. I made some decals to put on front, and, ta_da: I organized the WFL better than it ever was in real life.
____________________
The "Dicker-rod": I made to measure first downs. The WFL's was metal; mine is balsa wood and plastic. If you care to learn more about how it functioned
you can read about it here
.
____________________
The whole collection
on one field
.
____________________
My next project is the USFL. I got one figure that was more detailed than the Fab 5 figures, and thought I'd try to raise my game a little. I sculpted longer sleeves, painted far more detail than I ever had on a figure, and tried something I hadn't seen anyone try before: mesh jersey look. Michigan Panthers' Anthony Carter playing in the 1983 USFL Championship game (even got the game patch on the sleeve). I'd love to do the whole league in these figures but it's just too expensive, so back to the Fab 5 I go, but I'm still going to go for even more detail like this.
. . .
Well, that's about it. It might seem obsessive, but I can't even tell you how rewarding it is to look at all these little guys. The guys in this hobby are so cool; they help with gameplay questions, help new guys out, post pics of their creations. No one seems to have a bad thing to say, no jealousy, no problems that I ever see.
It's kind of a dying breed, and i think that pulls these guys together — keeping the game they loved as a kid alive today and passing it down to their own kids. I've not personally met a single one of them, but they welcomed me right onto their Facebook pages. Not every community is like that: for a guy who loves football and creating art, it's the perfect place for me to be.
. . . . . . . . . .
Thanks, Gene! Tremendous project — and your attention to detail is incredible. Looking forward to the upcoming USFL project (which I hope we'll be able to feature on the pages of Uni Watch when it's complete).
.

.
Classic Ballpark Scoreboards
I'm pleased to continue with a favorite weekend feature here at Uni Watch, "Classic Ballpark Scoreboards," which are created by Gary Chanko. You probably know Gary best for his wonderful colorizations, but he has been a solid contributor for many years, and this is his new project. This segment will appear every Saturday on Uni Watch.
Here's Gary (click on image to enlarge):
. . . . . . . . . .
Classic Ballpark Scoreboards – Series II
by Gary Chanko
In this edition Classic Scoreboards lands in the Bronx for a look at the legendary Old Yankee Stadium.
Yankee Stadium

Home of: New York Yankees (1923""73; 1976-2008),
NFL New York Giants (1956-73)
Final game: September 21, 2008
Demolished: 2008-10
Probably more has been written about Yankee Stadium than any other of the classic ballparks from the past, including the various scoreboards that existed in right-center field. I doubt much more could be added to the legend and lore of this green cathedral.
All you need to know about the history of Yankee Stadium scoreboards is covered in this great two part video series: Part I, Part II.
In 1950 Yankee Stadium received its first electronic scoreboard. This is the scoreboard I remember as a kid watching the Yankees play in an endless stream of World Series. And so this version of that became the subject for the illustration. It has all the essential classic scoreboard elements; a Longines clock and a Ballantine Beer billboard.
The graphic recreates the game ending scoreboard for Don Larsen's World Series Game 5 perfect game on October 08, 1956.
A Few Things to Know
• You may have heard this story before, but Yankee Stadium's Ballantine Beer scoreboard was never sold to the Phillies for use in Shibe Park.
• Yankee Stadium's first electronic scoreboard remained in place until 1959. Before the 1959 season, the Yankees installed the first scoreboard to feature a changeable message display. The New York Times provided the specifics: "The board will contain 11,210 lamps with a wattage of 115,000, 619,000 feet of electric cable, will weigh 25 tons (not including the steel supporting structure), will have more than 4,860 push buttons on the master control console and will have a total face area of 4,782 square feet."
Classic Scoreboards is making a list of future destinations,so if you have suggestions please email me with your suggestions.
~ ~ ~ ~ ~ ~ ~ ~ ~ ~
If anyone is interested in purchasing a digital copy of these posters, Gary is working on an online purchase option. In the interim you can contact him directly at Classicscoreboards@gmail.com.
.

.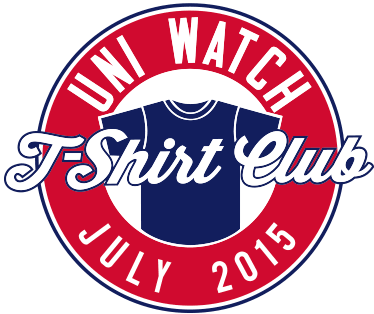 T-Shirt Club reminder: In case you missed it earlier this week, the Uni Watch T-Shirt Club's July designs — one for Independence Day and another for Canada Day — are now available. But we've decided to end the Canada Day campaign a bit early in order to ensure that the shirts will be delivered to Canada in time for the holiday. The Canada Day shirt will be available until 7pm Eastern tomorrow (instead of 11pm on Monday). Please plan accordingly. The USA shirt will still be available through Monday night.
Here are the two designs (click to enlarge):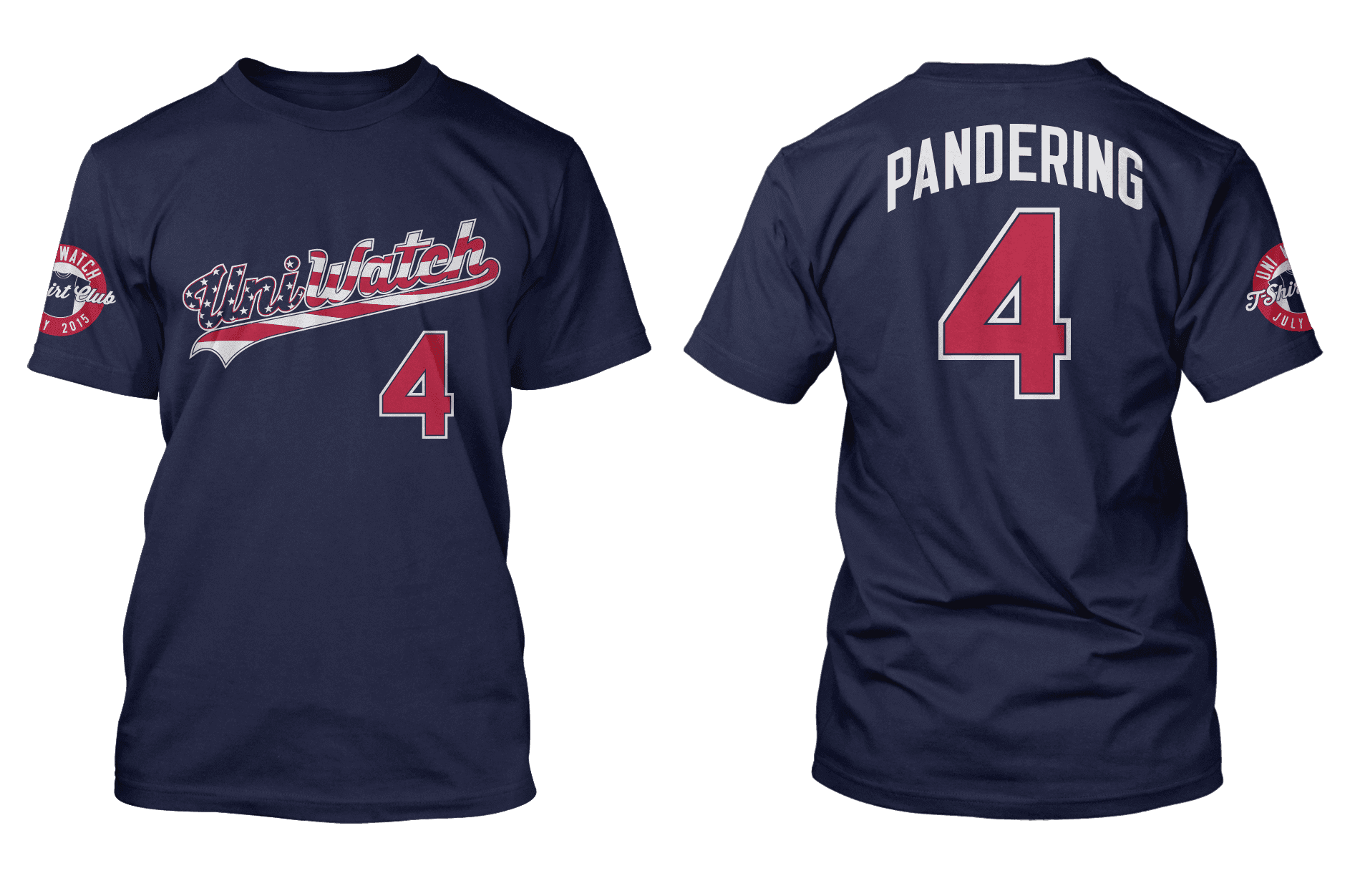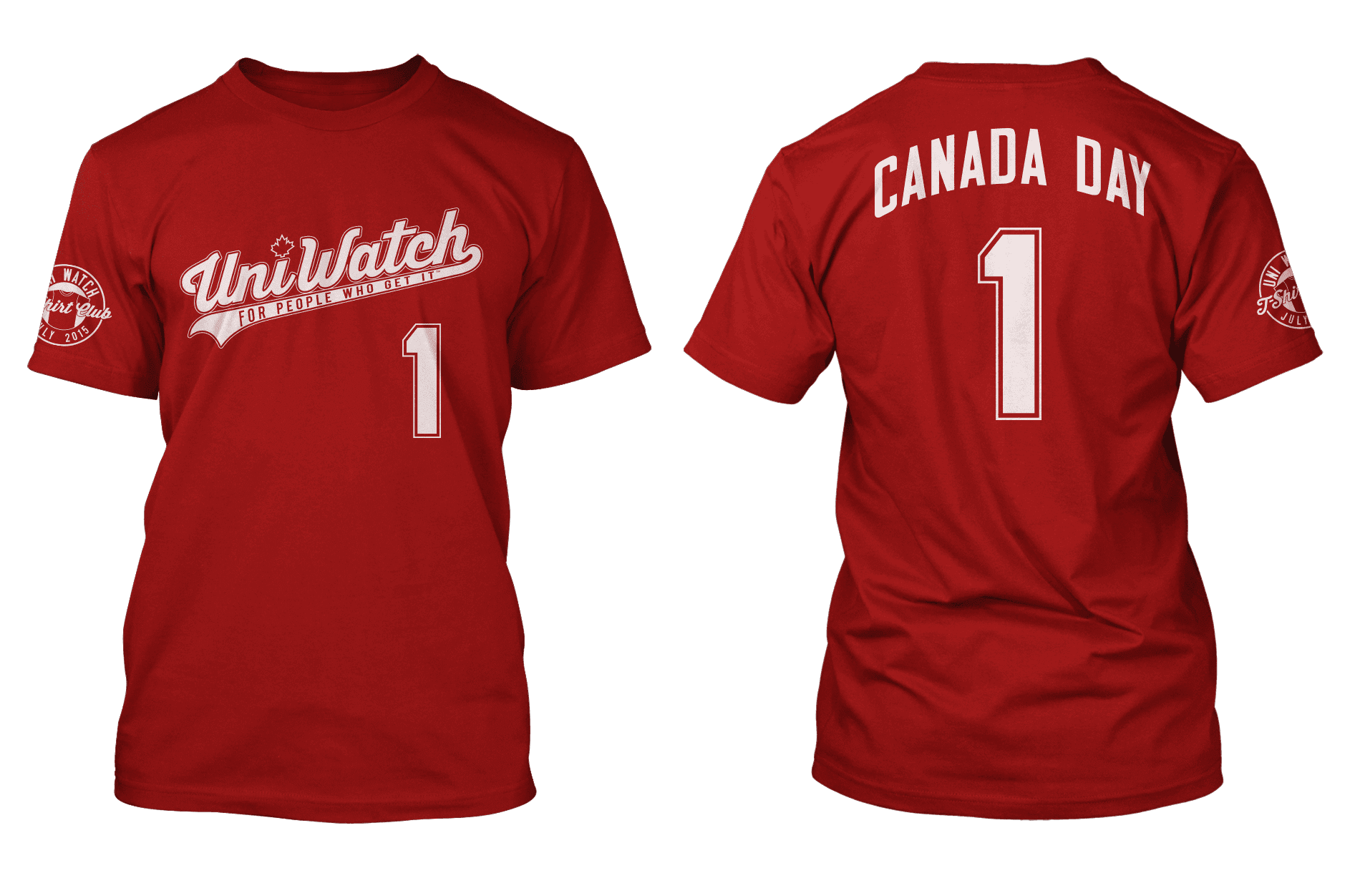 You can order Independence Day here and Canada Day here, and there's further info here. For those who have issues with the "Pandering" NOB on the Independence Day shirt, that topic is discussed in depth on this page.
.

.

Too Good…
for the Ticker
Got an e-mail from Scott Jamison, which follows up on a ticker item from June 4th on Elton John.
It's a bit too long for the regular ticker, so here it goes:
. . .
Reflecting more on that picture of Elton John wearing a Team Canada jersey that you posted Thursday, in case you didn't know I thought you might be interested in the fact that the timing of that photo coincided with Elton's extremely successful foray into sports ownership/management, namely of his local soccer club, Watford FC. Under his guise, in a mere seven years Watford not only moved from the fourth division of English football all the way to the top flight (Division One, known these days as the Premier League) "" a remarkable achievement in itself "" but even qualified for European competition by finishing runner's-up to Liverpool one season (Watford, by the way, is being elevated to the Premier League in the upcoming 2015-16 season, its first appearance there in around a decade I believe).

A write-up of Elton's involvement with Watford FC appears on his website (which also has links to his other sporting interests) is here.

Somewhat curiously, that page show Watford's current crest, which features a "male red deer" that looks suspiciously like a moose to me. But as this shot shows, Watford were known as The Hornets during the period of Elton's involvement with them.

As a final note, one might think that a team that Elton John owned and operated during the most commercially successful and flamboyant period of his career would play with a measure of grace and flair. One would be wrong. In a primitive case of sports analytics, the predominant philosophy in those days was that most goals were scored in three (or fewer) passes. Hence the development of what's now called "Route One football," which consists of little more than lumping the ball as far downfield as possible and hoping for a favorable result. Which is the style for which Watford (among a few others) were particularly renowned. An example.

Scott Jamison
Thanks, Scott. Great Stuff.
OK. Now, onto the ticker…
.

.
Uni Watch News Ticker:

Baseball News: On Thursday night, the Wisconsin Timber Rattlers wore these cow-themed jerseys. You can read more here (h/t Jess Heltsley and Brian Kerhin). … As pitchers are finding themselves more often targets for batted balls (or maybe it just seems that way), companies are seeking ways to provide head protection for players (thanks to Michael Pisano, Jr. and James McNamara). …"I may be behind, but did we know about this?" asks Ryan Connelly, referencing this this 1953 Pittsburgh Pirates Turn Back The Clock jersey. … This is great: the Myrtle Beach Pelicans played a scheduled doubleheader yesterday, and the jerseys they wore honored Mr. Cub, famous for his "let's play two" quip (h/t MiLB Promotions). And here's how they looked on the field. … Here's the game worn Jurassic Park-themed jersey that Justin Verlander will wear on Saturday (h/t Toledo Mud Hens). … "Just got word from A's Equipment Manager Steve Vucinich that the A's 1965 Kansas City A's throwback unis will be white on June 27," writes Richard Palmoa, "unlike the gold they wore for the 1969s in 2013." … WHOA! In 1979 you could buy the Yankees pinstriped bullpen car out of their catalog, only $8,349.75! (from Bruce Menard). … The Boise Hawks are now a Rockies affiliate. As such, they'll be wearing these in the accursed color of death for Opening Day in a little less than 2 weeks (h/t MiLB Promos). … Whoops: UVA was wearing mismatched shades of camo (credit Samuel Eastman). … Keep on Truckin': Last night the Saint Paul Saints wore these tie-dye jerseys for their Grateful Dead theme. Awesome. (Thanks, Paul). … Last night, switch-pitcher Pat Venditte threw in the bullpen and then made his MLB debut. (h/t Joon Lee). He warmed up with both arms. The tv crew had some fun with that. He also faced batters as a lefty and righty. Lefty & Righty. And here he is in action. … Interesting bat being used by Nick Swisher. Anyone know what kind (or type) that is? (h/t Mike Knapp).

NFL/Football News: Miami Hurricanes football, who recently dumped Nike as their uni supplier, now have some under gear with the adidas logo. … "Someone just posted this on my high school class Facebook page," writes Eric Bangeman. "It's the 1984 edition of the Gateway Olympians. We were threatened by the USOC for using the Olympic rings in our logo, changing it on threat of litigation. Our school colors were orange and yellow, so those are yellow numbers with an orange outline you're seeing. Home unis were solid orange. It was quite the color combo, but unique to us. Sometime in the mid-90s they changed to orange and black and have stuck with that." In case you were wondering, here is what the home unis looked like. … Hmmmm. Is the shirt (and yes, he's wearing a shirt, unlike in the many photos seen yesterday) Jim Harbaugh is wearing any indication that Michigan will go Nike? (nice spot by Brian Thomas). … Dirty McGirty notes the Rams are wearing Royal blue practice gear with old school logo, and asks, "Foreshadowing for uniform change?" … Looks like Adrian Peterson is now Under Armour (thanks, Paul). … Here's an interesting Seattle hat (gotta be Seahawks, right?). Anyone ever seen this logo before (h/t Trent Daniel). (Apparently Allen Iverson used to wear one back in the day; via Ry Votro). … Tom O'Grady explains "In early '90's New Era worked w/Leagues to create unofficial headwear marks." … Here is the Rockets version of that Seahawks hat. Kenny Smith's sig is far L if that helps date it (from Jason Triplett).

NBA/Basketball News: Looks like we're getting a look at the new adidas uniforms for Miami (who announced earlier they'd be dropping Nike as their supplier). H/T Joe Mueller. … Canes Cove likes his own concepts better.

Hockey News: Much has been reported recently about the Tampa Bay Lightning's "ban" on opposing team colors, but a Chicago design firm may have found a way to get around Tampa Bay's "playoff policy" banning Blackhawks apparel in certain sections of the Amalie Arena (thanks, Brinke). … If they're putting ads on the World Cup of Hockey jerseys, are NHL jerseys next?

Soccer News: As some (many? most? none?) of you are aware, the Women's World Cup kicks off this weekend, so here is a look at the uniforms of the USWNT. And here are some more. … Netherlands and the US played a friendly, and "I believe the Netherlands quit using this logo sometime between 2010 and 2014," says Roger Smidstra. … From Kenny Loo, Here are the uni match ups for the group stages of the 2015 Copa America:
Group A: (Notes: Mexico BFBS); Group B: (Notes: CLASSIC BLACK SHORTS for Argentina at least for one match); Group C: (Notes: Everyone has announced new kits for the tourney except for Brazil).

Grab Bag: "I thought that as a journalist you might be interested to know the (Columbus) Dispatch was sold this week to a New York media company," writes Jason Hillyer. "Another family-owned newspaper bites the dust." … Ball State has updated their Cardinal logo (h/t Shawn Crull). … Interesting Yahoo article, "Did Yahoo Inappropriately Copy Designs by a Cult Graphic Artist?" (thanks, Marc Malfara). … Apparently there is now a controversy over the Oregon Ducks cheerleaders outfits, and it involves pom-poms and midriff tops (h/t Nik Streng).
.

.
And that's going to do it for today. Big thanks to Gene and Gary, and to everyone who tweeted or sent in submissions by the e-mail. Will we see the first Triple Crown Winner since 1978 today? Love to see it. Have a great Saturday everyone, and I'll catch you guys tomorrow.
Follow me on Twitter @PhilHecken.
Peace.
.. … ..
"I am against all special causes, movie theme nights, etc., being promoted in the form of on-field uniforms and accessories. That includes GI Joke, Stars and Stripes, Pinktober, prostate cancer awareness, Earth Day, St. Patrick's Day, Christmas uniforms, etc. Leave your Star Wars Night, Insert Charity Here Night here, Insert Charity There Night here, to souvenir equipment signed by the players and sold by auction or in the team gift shop."
— Bob