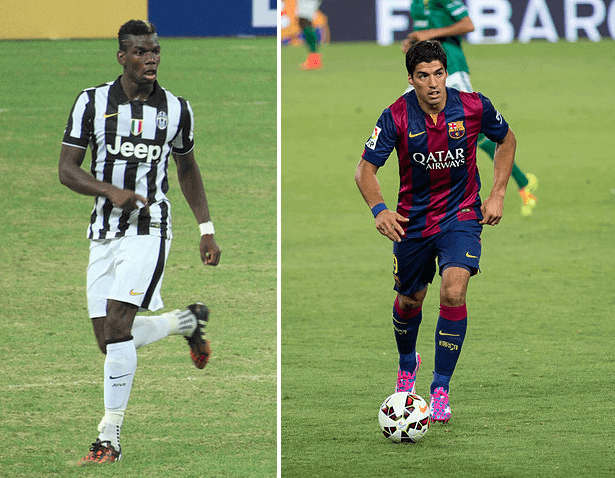 [Editor's Note: Today we have a guest entry from Yusuke Toyoda, who's going to give us a uni-centric preview of the upcoming Champions League championship match between Juventus and Barcelona. "" PL]
By Yusuke Toyoda
In terms of mass appeal, no soccer event captures the world's attention like the World Cup every four years. But for serious soccer fans, the pinnacle of the sport is the UEFA Champions League, featuring top club teams in Europe with the very best players. This year's final, which takes place on June 6 in Berlin pits Juventus of Italy against Barcelona of Spain, two storied clubs with equally storied uniforms. In fact, this just might be history's best-looking Champions League Final.
Sure, other clubs have iconic kits, but a red shirt isn't exactly unique and teams often end up wearing their change kits (AC Milan famously wear their "lucky" all-white ensemble in finals, instead of their usual red and black stripes). When you see the Bianconeri (Italian for "white-and-blacks") or the Blaugrana (Catalan for "blue-red"), however, you instantly know which teams you're watching. Let's take a closer look at these uniforms:
How did they get their colors? Juve originally wore pink jerseys and black ties (!) but had quality issues with their local manufacturer. So in 1897, they ordered a set from an English manufacturer, which sent them Notts County's black and white jerseys by mistake. There are further details in this video:
On the other hand, no one knows exactly how Barça got their colors, only that they've always been blue and red, a combination that came to be the symbol of Catalan resistance under the Franco dictatorship.
But you're serious when you say this is the best-looking final ever? You bet. Check out the historical matchups and judge for yourself. There hasn't been a final with such attractive and distinctive kits. Plus, both teams are wearing what's close to the best version of their colors.
Juventus has always looked best with more white than black and a sponsor logo that blends rather than clashes. In the past, they've used too much black or flashy accent colors, and they've been forced to wear the change kit in previous finals. My only quibble is the absence of the stars above the crest each signifying 10 league titles, but that's a long story. (Adidas, which will take over as the club's kit suppliers, reportedly wants the three stars added.)
Barcelona has also experimented with stripe thickness and shorts colors, and they're switching to horizontal hoops next season, but their current look with thick stripes and blue shorts is arguably their best combination (though the less said about their DayGlo change kits, the better).
What about patches? Players will wear the UEFA federation patch on the right sleeve and a "Respect" patch on the left. As the defending Italian champions, Juventus wears a shield on the front. (Most teams also apply some commemorative embroidery but that's not mandatory. There's more — way more — uniform minutiae in the super-thorough UEFA kit regulations PDF.)
And the sponsors? Barcelona once prided themselves on not having a shirt sponsor. That changed in 2006 with the UNICEF logo on the chest, but at that was for a good cause. In 2011, they began promoting the Qatar Foundation (with UNICEF relegated to the back), but still, that was a non-profit. In 2013, they gave up all pretense and switched to Qatar Airways and did this really embarrassing thing with "Intel Inside" inside the shirt. At least tournament regulations prevent Barcelona from advertising Beko on the sleeves.
Juventus has a less complicated sponsorship deal with a subsidiary of Fiat, the auto giant from their hometown. You might have heard of them.
What does the trophy look like? It's affectionately known as Ol' Big Ears. In my opinion, it's the second-best trophy in all team sports, after the Stanley Cup. Here, take a look:
And the match ball? It's a one-off design from Adidas featuring Berlin's Brandenburg Gate (not to be confused with the "Finale" ball that's been used throughout the previous stages of the tournament). Unlike the World Cup balls, Adidas has had a consistent star-based design. Here's a close-up of the ball design [click to enlarge]: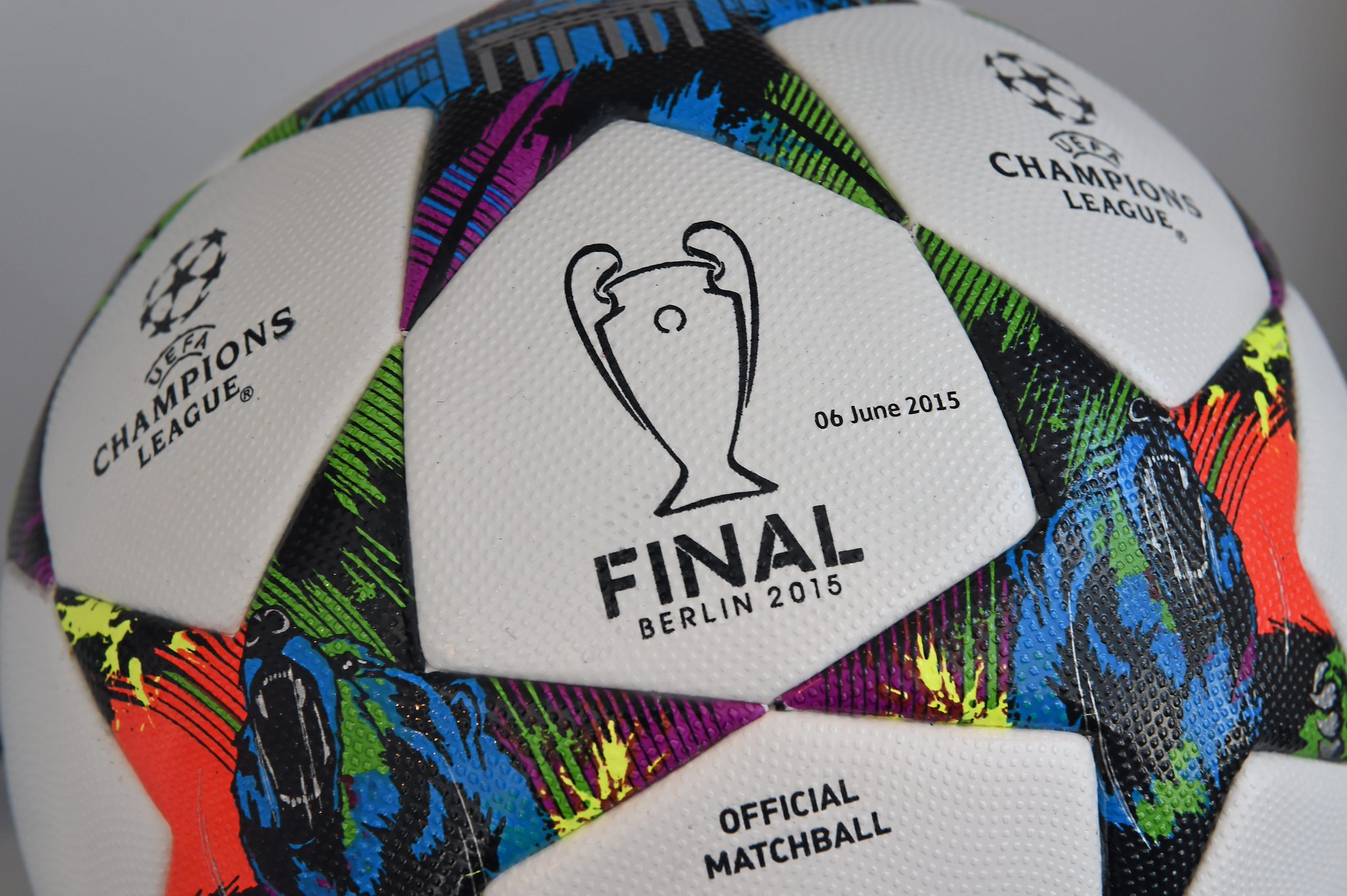 How's that Nike/Adidas war playing out? Both Barcelona and Juventus are outfitted by Nike and reached the final by beating Adidas-sponsored teams (Bayern Munich and Real Madrid, respectively). The two companies have dominated the Champions League finals, accounting for 19 out of the 20 champions and runners-up.
Okay, so where do I watch the game? The game is on Fox at 2:45pm Eastern on Saturday, June 6. Stroll down to your local Italian or Spanish bar for maximum atmosphere (though a British soccer pub will also do).
•  •  •  •  •
Solving a longstanding mystery "" I hope: I don't usually like to get too far ahead of a story, but I'm so excited about this that I can't hold back: As many of you are aware, for years I've been trying to determine the identity of the artist who created Mr. Met. (I came close a few years ago but didn't quite hit paydirt.)
Thanks to a recent tip, I think I now have the answer, although I'm still putting a few of the puzzle pieces together. The bad news is that the person in question is no longer alive; the good news is that I'm in touch with his widow and children and am working with them to try to document his role in Mets history.
Interestingly, this situation is very similar to the story of Jerry Dior, the MLB logo designer whose recent death has been in the news lately. Dior was never credited for his work and had no documentation to back up his claim, but his role was eventually verified by several colleagues who had worked with him when he created the logo. Finding contemporaneous colleagues may be trickier in the case of Mr. Met, because the character first appeared in 1963, so many primary sources from that period may no longer be living.
It's still too early to know how this will unfold, but I'm cautiously optimistic. More soon, I hope.
•  •  •  •  •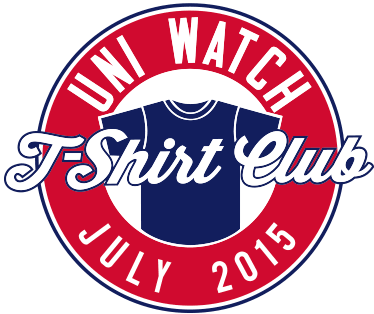 T-Shirt Club update: In case you missed it earlier this week, the Uni Watch T-Shirt Club's July designs — one for Independence Day and another for Canada Day — are now available, and we've decided to end the Canada Day campaign a bit early in order to ensure that the shirts will be delivered to Canada in time for the holiday. The Canada Day shirt will be available until 7pm Eastern this Sunday (instead of 11pm on Monday). Please plan accordingly. The USA shirt will still be available through Monday night.
In case you haven't seen the shirts yet, here they are (click to enlarge):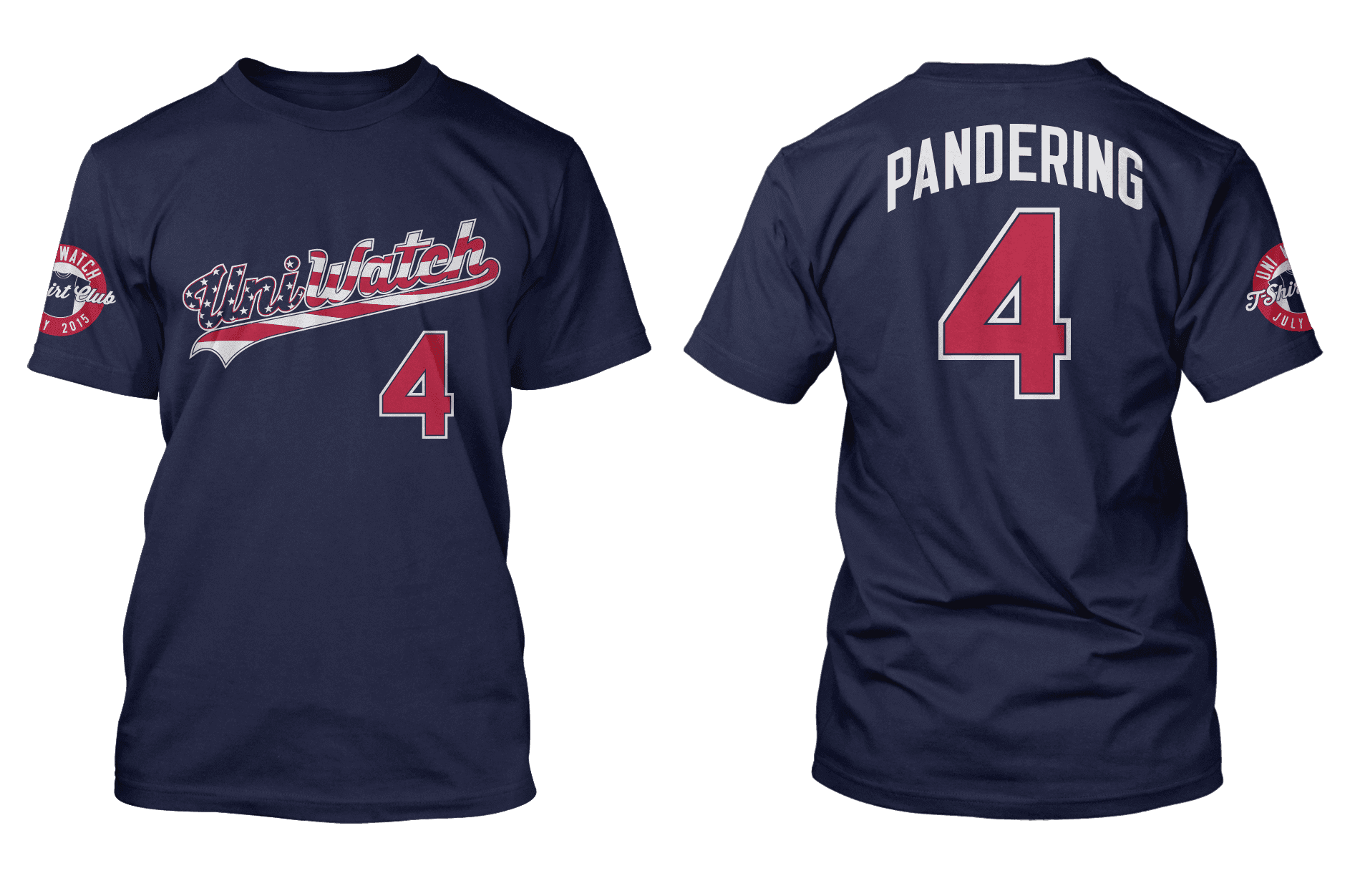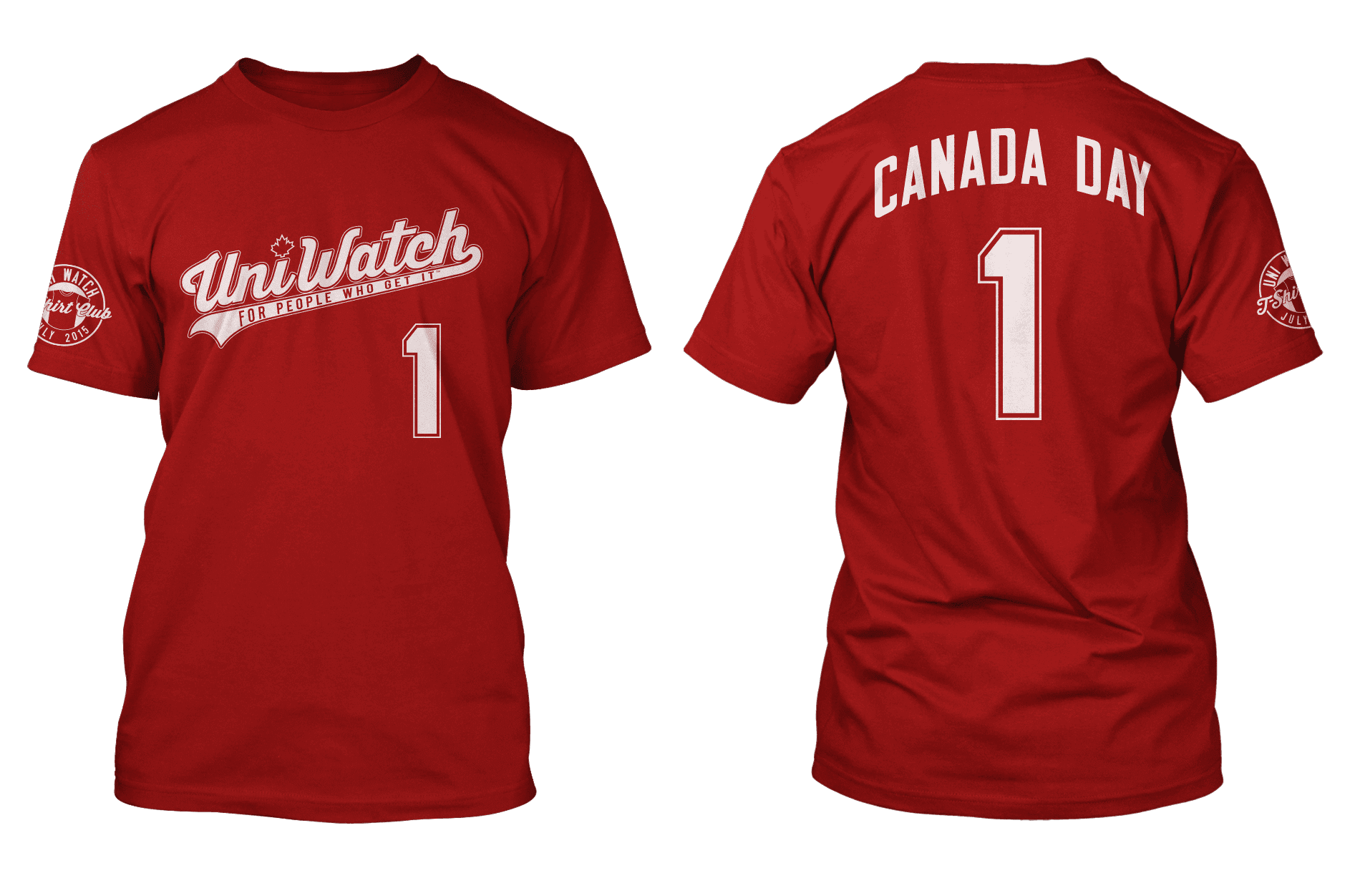 You can order Independence Day here and Canada Day here, and there's further info here. For those who have issues with the "Pandering" NOB on the Independence Day shirt, that topic is discussed in depth on this page.
•  •  •  •  •
A fond farewell and a well-earned promotion: For the first seven-plus years of this site's existence, I did all the weekday Tickers myself. Then, about 18 months ago, I took the momentous (to me) step of hiring two Ticker monkeys interns — Mike Chamernik (far right) and Garrett McGrath — and let each of them handle the Ticker for one day per week. It's been a big success (well, at least for me, because now I can spend two days a week watching Power Puff Girls reruns and taking naps).
Today I'm announcing a few changes to that setup. Garrett recently decided that he needs to devote more time to his writing projects, so he's bidding Uni Watch a fond farewell. Mike's been doing outstanding work, so I asked him if he wanted to take on Garrett's duties in addition to his own, and he readily agreed. I'm hoping Mike will also do more lede entries, like his recent series on team fight songs.
Both of these guys are awesome. Please joining me in wishing Garrett well and in congratulating Mike on his increased role in the Uni Watch family.
•  •  •  •  •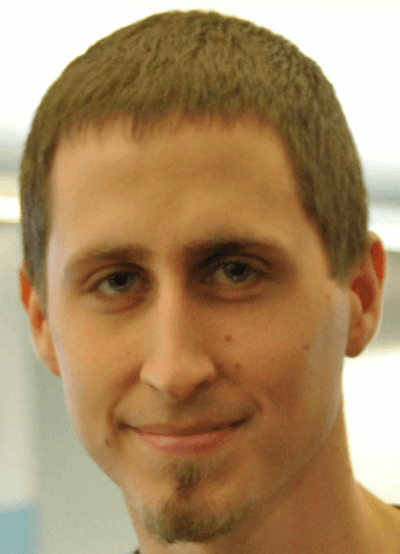 Mike's Question of the Week
By Mike Chamernik
What are some of your favorite smells in sports, and do they conjure up any memories? The aroma of popcorn in the air while watching a game is a pretty good one for me, as is the smell of a leather baseball glove. And for whatever reason, bowling alleys have a pleasant signature scent.
And what about your least favorite smell in sports? When covering high school sports last year, I learned first-hand that hockey locker rooms really are the most foul-smelling places on earth, just like they're reputed to be. However, that funk will remind me of the games I saw and the stories I wrote.
As always, post your responses in today's comments.
•  •  •  •  •
The Ticker
By Mike Chamernik

Baseball News: Indians P Carlos Carrasco had an orange rubber band on his left shoe the other day to honor Mike Aviles's daughter, who has leukemia (from @The_Har). … The Royals' Indpendence Day cap has surfaced. … The new Bryce Harper Gatorade commercial includes a Mets player wearing triple digits (from Cork Gaines). … To get into the All-Star spirit, a skyscraper in downtown Cincinnati will have a pillbox cap and mustache placed on it (from Jon Kramer). … The list of the five worst MLB Draft misses for each team has a nice touch with photoshopped caps for what could have been (thanks, Jonathan Daniel). … Cardinals manager Mike Matheny did a media session while wearing a pregame-used Cards/Blues hockey jersey. … Here's a look at what might have ben the very first baseball uniform (from Phil). … Maybe you all have seen bigger, but Jorge Soler rocks a pretty thick chain. … The first base ump helped White Sox 1B Adam LaRoche fix the laces on his mitt last night. … There was a charity softball game last night to honor the memories of several slain New York police officers, and there was a lot of chatter about the sight of New Jersey Gov. Chris Christie in a uniform. Hey, give him credit for putting himself out there like that. Meanwhile, Rudy Guliani wore golf cleats. Further info and photos here (from Phil). … The Indians bullpen held teammate Brandon Moss's 100th career home run ball hostage. While almost every reliever asked for an Apple product, Mark Rzepczynski also requested a 50-gallon drum of lube. … Someone wore some snazzy Texas socks during Rangers batting practice (from Mike Klug). … The Marlins are playing the Cubs this week, and Miami gave away Back to the Future-inspired "2015 American League Champions" T-shirts. Part of the film's plot was that the Cubs would beat a Miami team for the title in the far-away year of 2015 (thanks, Andrew Cosentino). … Illinois stand up! Two great stirruped matchups in the state playoffs, one between Montini and Nazareth, and one with Champaign Central and Champaign Centennial (from Steve Johnston and Jonathan Mayer, respectively). … Stony Brook won the American East tournament to go to the Fort Worth regional. "They had beautiful unis, beautiful striped socks, and ruined the whole look with camo caps," says Eric Wright. … Texas A&M and Cal had dueling rally caps on Saturday night. Then the next night, Iowa and Oregon had a cap stacking battle (from Kary Klismet). "¦ Star Wars jerseys tonight for the Tacoma Rainiers.

NFL and College Football News: The Steelers have a logo for their 50th training camp at St. Vincent College. … Though Marcus Mariota has the NFL's best selling jersey, Tom Brady still leads sales among veteran players (from Phil). … Oregon's university bookstore now carries Mariota Titans jerseys (from Ben Krakow). … An anonymous reader was at the Pro Football Hall of Fame recently and spotted someone that not only had the Steelers wordmark shaved into his head, but the team's signature hypocycloids as well. … Giants rookie safety Landon Collins will wear No. 21 to honor Sean Taylor (from Phil). … Here's a good look at the Browns new unis. … We've discussed striped NFL practice shorts in the Ticker a few times this week. "That's a Nike thing," says Stephen Volek. "The same shorts are made for all of the Nike college schools. If they have a signature line pattern, they will be on the shorts. If they do not have a design, like Penn State for example, it will be a solid line." … Earlier this week we surmised Bowling Green might have new helmets, but that will not be the case (from Tom Konecny).

Hockey News: The Islanders will keep their logo and uniforms after their move to Brooklyn (from Phil). … Looks like new alternates are coming for the Ducks, Flyers, Isles, Lightning, Avs, and Caps. … The lions statues outside the Chicago Art Institute are again wearing Blackhawks helmets (from Phil). … Hockey commentator Don Cherry wore a classic NHL tie last night (from Tom Gronek). … A makeup artist painted the Blackhawks and Lightning logos on her face.

Soccer News: Real Madrid has a blue third kit. … D.C. United held a Peace Corps Night yesterday (from William Yurasko). … The LA Galaxy have a neat poster for Sunday's match against the Vancouver Whitecaps.

Basketball News: The latest Sporting News pieces by Phil are on the uniform histories of the Warriors and Cavaliers. … As we had been tipped off via video game leaks, the NBA Finals patch will appear on the back of the jerseys this year. Is this the first time in any sport that a championship series patch has appeared on the back of jersey, instead of on the front or the sleeve? … The shooting shirts for next year's All-Star Game have leaked. "¦ Check out this gallery of the most recent Sports Illustrated covers for every NBA team. I'm a little bummed about how long it's been for the Bucks. … Here's a compilation of some of the best Mitchell & Ness throwback basketball jerseys (from Phil). … Dennis Rodman has a Phil Jackson Knicks jersey (from Paul Lee). … In 2004, the R&B group Boyz II Men released an album called Throwback Vol. 1, and the cover uses a basketball jersey to display the title. … New wordmark for Tennessee? … The iPhone edition of the new NBA Jam has some inconsistencies with the Hornets. First, in the arena banner towards the top of the screen, the game scrolls the old New Orleans Hornets alternate logo in the background. Second, the Hornets scoreboard graphic is in Bobcats orange (good spots by Chris Goeller).

Grab Bag: A Japanese company, called YKK, basically owns the worldwide zipper industry (from Andrew Rader). … Looks like BFBS has spread to the world of Greek yogurt (from Steven Zerhusen). … Elton John wore a Canada sweater in a 1976 pinball machine ad (thanks, Bo Baize). … Move over bullpen buggies and helmet carts — here's the Entenmann's Donut Mobile. "¦ Walmart is relaxing its employee dress code.