The Rickwood Classic took place two days ago. For the uninitiated, the Classic is a Double-A baseball game that takes place each year at Birmingham's Rickwood Field, which opened in 1910 and is America's oldest remaining ballpark. The two teams — one of which is always the Birmingham Barons — wear throwback uniforms honoring a particular era of Birmingham baseball.
This year's throwbacks paid homage to 1948, with the Barons wearing these uniforms:
The visiting Jacksonville Suns, meanwhile, wore mono-gold uniforms that, according to this article, were "non-vintage." If so, that's a pity, but they still looked pretty cool.
Uni Watch reader David Salters attended the game and took a bunch of photos, some of which I've gathered into this slideshow (if you can't see the slideshow, click here):
Big thanks to David for sharing his photos. One thing he emphasized to me, by the way — and I've heard the same thing from everyone who's ever attended the Rickwood Classic — is that Rickwood is a really special place that's worth checking out. One of these years I hope to get down there for the Classic.
• • • • •

ESPN update: Yesterday I said I'd have a new ESPN column breaking down the uni-related aspects of the NBA Finals match-up between the Warriors and Cavaliers. That column ended up getting bumped to today and is available now for your enjoyment.
• • • • •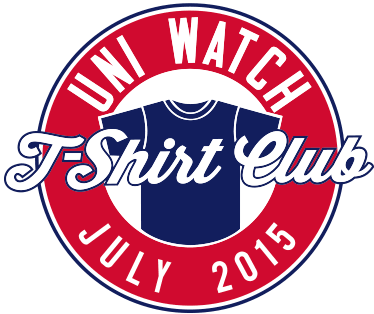 T-Shirt Club Update: In case you missed it yesterday, we've been planning an Independence Day theme for the Uni Watch T-Shirt Club's July offering, and I wanted to see if there was enough interest in this Canada Day design for us to add it as an additional July option.
I'm happy to report that there was enough positive response for us to go ahead with this, so the Canada Day and Independence Day shirts will launch simultaneously next Tuesday. If you've been doing the "Collect 'em all" thing, you'll only have to purchase one of these shirts in order to maintain your eligibility (although of course you're welcome to purchase both).
But hey, I haven't yet shown you the Independence Day shirt. Here it is (click to enlarge):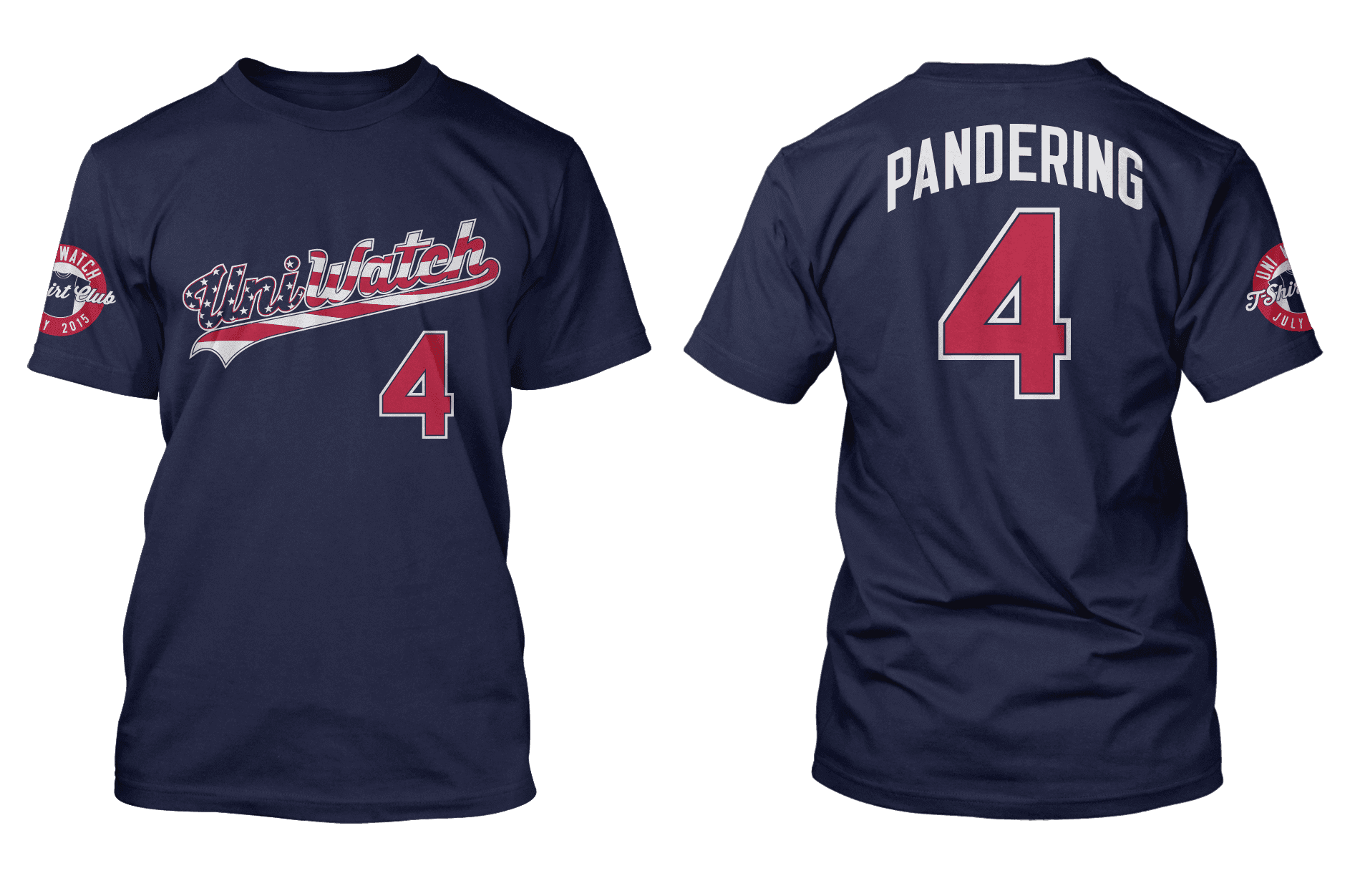 Nice, right? This is the first blue shirt we've offered, and it's likely to be the only shirt we produce in that color.
I know what you're thinking: Why does the American shirt have a "Pandering" NOB, while the Canadian shirt has "Canada Day"? And here's the answer: I had been planning all along — like, since last winter, when we first conceived of the T-Shirt Club project — for the July shirt to feature a stars/stripes script with a "Pandering" NOB. I've long referred to the MLB's stars/stripes designs as pandering, and the negative commentary is really no different than using "BFBS" on the black shirt.
When we decided to do a Canada Day design, I got in touch with several Canadian sports fans (including SportsLogos.net founder Chris Creamer, who's from Toronto) and learned that most Canadian teams, aside from the Blue Jays, don't wear special uniforms for Canada Day. Moreover, Canadian teams don't tend to wear flag-based uniforms for any occasion — Canada Day or otherwise. In short, pandering to cheap patriotism doesn't seem to be a major characteristic of the Canadian uni-verse like it is here in the States (which perhaps isn't surprising, since there also seems to be no Canadian analog for American culture's "U! S! A!" self-boosterism). So there was no need to embed any commentary into the Canada Day shirt's NOB.
Both shirts will launch next Tuesday.
•  •  •  •  •
Membership update: Half a dozen new designs have been added to the membership card gallery (including Alex Fabiilli's Buffalo Bills helmet treatment, shown at left). We still need one more order to fill out this batch; once we get that order, this batch will be printed, laminated, and shipped out in short order.
As always, you can sign up for your own custom-designed membership card here, you can see all the cards we've designed so far here, and you can see how we make the cards here.
•  •  •  •  •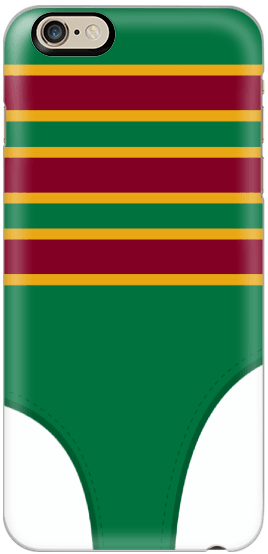 Phone case reminder: The official Uni Watch smart phone case, featuring a nifty stirrup-based design created by reader Matt Beahan, is available for five more days. You know what to do.
• • • • •

'Skins Watch: The Oregon Board of Education has ruled that 14 schools with Native American-based team names must choose new names by 2017. Further info (from Ron Burden). "¦ Hurricane High School in West Virginia calls its teams the Redskins and uses a Braves-style tomahawk for good measure (from Coleman Mullins). "¦ The school board in Madison, Wisconsin, has banned students from wearing clothing with Native American mascots (from Jake Kurtz). "¦ An Oklahoma high school whose teams had been called the Redskins will now call its teams the Red Wolves (from Joseph Anderson).

Baseball News: Johnny Bench could hold seven baseballs in one hand, plus you have to like that T-shirt he was wearing (from Douglas Ford). "¦ We've mentioned several times now that Phillies C Carlos Ruiz, who wears No. 51, has recently had "44" on his catching helmet and batting helmet. Turns out it's a memorial for a friend of his (from Josh Claywell). "¦ Love the vertically striped jerseys worn by the 1886 UW-Madison baseball team (from Nick Jablonski). "¦ Here's the promo jersey schedule for the Brazos City Bombers, a collegiate summer team. "¦ The Yokohama DeNA Baystars unveiled their blue camo-like alt unis (from Yusuke Toyoda). "¦ Former Yankees C Jorge Posada says he wore the same belt for his entire 17-year career (thanks, Mike). "¦ Also from Mike: "During the Bosox/Twins game, NESN showed a video of the Metrodome's implosion. Except that didn't happen — the video was actually of the Kingdome."

NFL News: I'm not sure if this is a new thing, but Cowboys rookies apparently aren't getting stars on their helmets. That's rookie Randy Gregory up against all-pro Tyron Smith (from Tim Perkins). "¦ Here's something I'd forgotten: Giants players wore yellow wristbands during the 1990 NFC title game, to show support for the first Gulf War. The Giants won that game advanced to Super Bowl XXV, where they and the Bills both wore American flag helmet decals, which I believe was the first instance of the flag appearing on NFL helmets (with thanks to Michael Kruse and J.Capace for the yellow wristband photo). "¦ Ravens QB Joe Flacco was wearing a black practice jersey with a purple number the other day (from Mark Johnson). "¦ Changing a flat tire on the side of the road? Tell the other drivers who you root for with these NFL team-branded emergency roadside kits (from Howie Lewis). "¦ Washington safety Duke Ihenacho taped his cleats to make them look like Chucks the other day (from Tommy Turner). … At the NFL rookie event in L.A., a bunch of rookies' new jerseys were displayed, but they used an old, now-outdated Browns jersey.

College Football News: Here's one writer's ranking of the best and worst uni combos of the Big 12. "¦ Under Armour is making a run at the U. of Texas apparel contract (thanks, Phil).

NBA News: The new Hawks logo, which was included in the Xmas uniform leak, is getting negative reviews (from Douglas Ford). "¦ Man, you know uni-watching has hit the mainstream when Rolling Stone, of all publications, gets into the act — although they chose to write a story about the design process behind the Bucks' makeover, which is a topic I already covered for ESPN six weeks ago. "¦ Ladies and gents, your NBA draft caps. "¦ Stephen Curry's ascent to the NBA Finals is good news for Under Armour (thanks, Brinke). "¦ Metta World Peace is now playing in Italy, where he was recently ejected from a game. Dustin Semore watched that video and had several observations: "(1) World Peace's NOB is 'The Panda's Friend.' (2) Interesting to see the benches behind LED signs. (3) Also interesting to see the scorer's table separated from the fans by Plexiglas. (4) We are used to seeing basketball coaches in suits and ties"¦ how about uniform-matching suits and ties? (5) The NBA trend of refs wearing super-tight jerseys extends to Italy. I do like the green/red stripes corresponding to the Italian flag, however."

Soccer News: Sevilla broke out their 2015-16 New Balance unis for the Europa League final on Wednesday, though the coaching staff was still decked out in the current Warrior-branded gear (from Yusuke Toyoda). "¦ Also from Yusuke: "Fascinating article about a prison soccer league in Uganda, with the teams named after European clubs and wearing donated uniforms." "¦ "The latest leak of Manchester United's alternate jersey seems to show a subtle homage to the pattern on a previous jersey, from 1990-92," says Alex Cohen. "That makes sense, because Adidas is just taking over this upcoming season, and they designed the jersey from the '90s as well." "¦ Stefano Tedeschi, writing from Italy, says, "In the late '70s and early '90s, Puma produced soccer jerseys with the a reversed logo — the tiger was jumping from left to right. We found in several instances of this, including Austria and Kuwait (World Cup 1982), Red Star Belgrade (1990-1991), Yugoslavia (1982), and even a Japanese example (Yamaha 1982). It was also found one case in 2006 (Deportivo Tenerife). If you want, you can follow the discussion (unfortunately in Italian) on Twitter, with the hashtag #pumagate."

Grab Bag: If you're in the market for a new wallpaper design for your smart phone, you could do a lot worse than these NHL team patterns (from Johnny Van Cura). … Thong underwear is reportedly falling out of favor with younger women. "¦ Check out this great sporst-centric artwork by a guy whose primary medium is felt. Great stuff! (Big thanks to John Dudzinsky.) "¦ Was flipping through this week's New Yorker and got a bit of a blood rush when I saw one of the cartoons includes a Brannock Device. "¦ Bounty hunters and bail bondsmen in Minnesota can no longer wear clothing that looks like police uniforms. "¦ Here's a site that lets you design your own marching band uniforms (from James Gilbert). "¦ Nike's new line of college golf shirts features uni numbers (from Patrick Thomas). "¦ By now you all know I love stripes, so of course I love this 1971 Helmut Newton photo of two Parisian cyclists (big thanks to @cdubs271).