Next season's NBA All-Star Game is being played in Toronto, and yesterday the league released the logo set for the game. The primary logo featuring Toronto's CN Tower rendered in Raptors colors, is nice enough. And the secondary logo, showing a toque, is sensational — nicely done. The logo with the maple leaf will presumably be worn on the jerseys, above the NOB.
According to this press release, "NBA All-Star 2016 will celebrate the 125th anniversary of the birth of basketball. Dr. James Naismith, a Canadian, invented the game in 1891, beginning the nation's rich history with the sport. Toronto also hosted the first game in NBA history on Nov. 1, 1946, at Maple Leaf Gardens." So will the game feature Naismith-era throwback uniforms and peach baskets? Probably not, but we can hope.
One thing about the logos: The word "Game" never appears. Similarly, as you can see in that press release quote from the last paragraph, the league is officially referring to the event as "NBA All-Star 2016." This is standard practice for the NBA, whose employees are in the habit of saying jargon-y things like, "Are you going to All-Star?" and "I can't wait for All-Star!" Okay, so the game is really just an excuse for a three-day marketing extravaganza, I get it. But the game is the whole reason the extravaganza is happening in the first place — would it kill them to include the word "Game" in the logo, as MLB and the NHL do?
Speaking of the NBA: With the Warriors having beaten the Rockets for the Western Conference championship and advanced to the NBA Finals last night, we now have our title match-up: Golden State vs. Cleveland. That's a particularly intriguing pair of teams, because over the years they've worn some of the best and worst uniforms in NBA history. I'll be exploring the uni-related aspects of the Finals pairing in a new ESPN column today — link coming soon. tomorrow.
• • • • •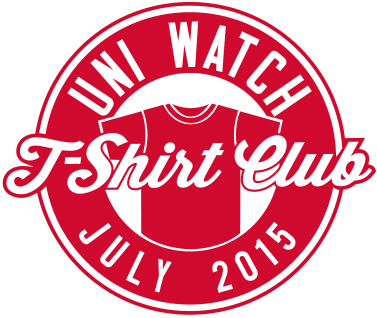 T-Shirt Club update: I recently indicated that the July design for the Uni Watch T-Shirt Club would have an Independence Day theme. That prompted a note from reader Mike O'Connor, who happens to be from Canada:
I was wondering if there had been any thoughts about also doing a shirt to celebrate Canada Day, which is on July 1. I suspect most of your readers are American, and I have no idea how many orders you've been getting from Canada (between the shipping rates to Canada and the exchange rate, it becomes almost a $50 T-shirt). But if the numbers warrant it, and if there is time to design it, I respectfully request a Canadian design option for July. This would allow for both our national holidays to be celebrated, and for the excellent work of Uni Watch to be spread.
This is an excellent idea (one that, I confess, hadn't occurred to me), especially since the Blue Jays always do a Canada Day jersey. So I conferred with my Teespring designer, Bryan Molloy, who liked the idea as well. Here's what we came up with (click to enlarge):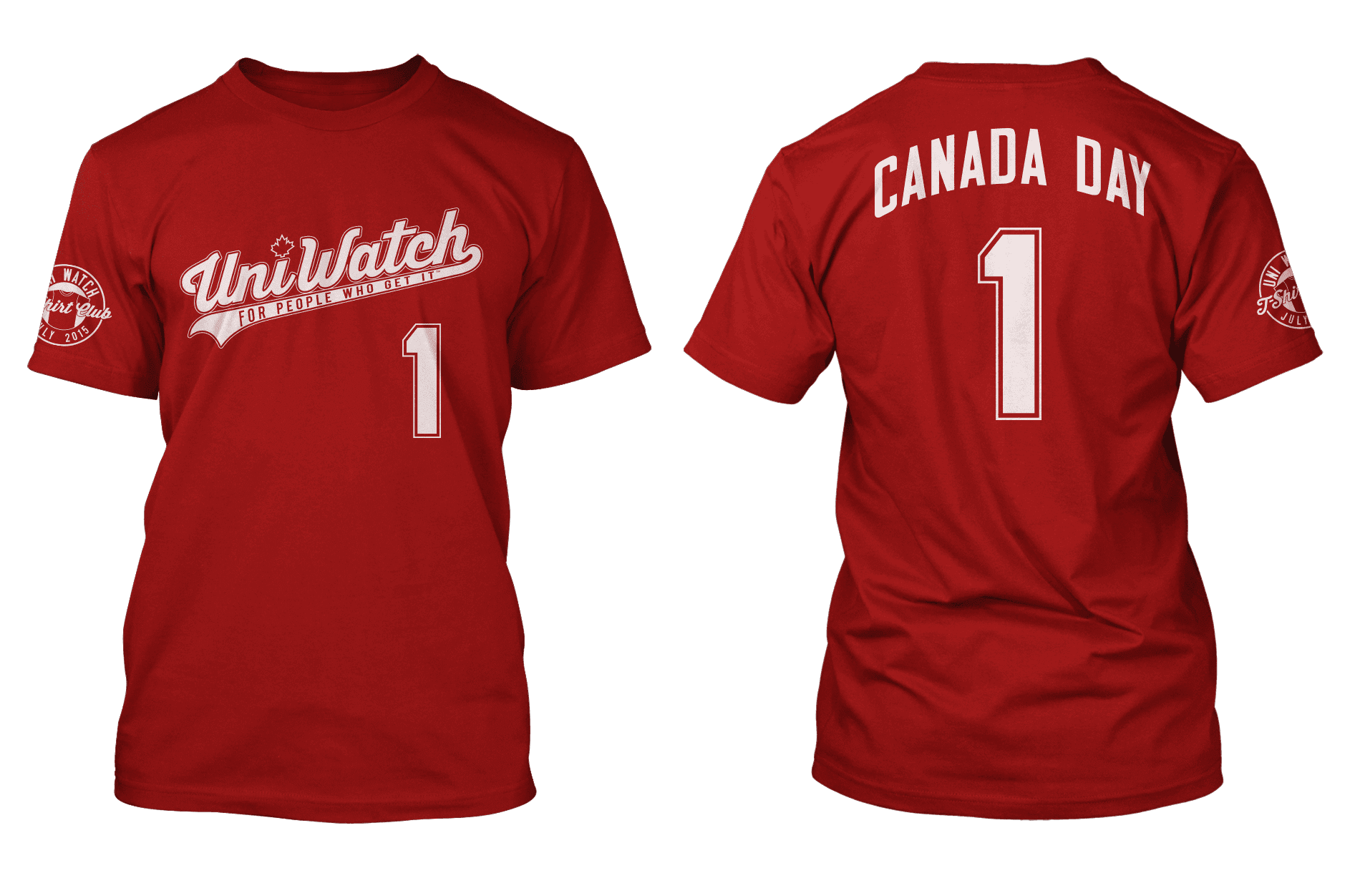 Nice, right? But before you get all excited, here are a few reality checks:
• We'll add this shirt as a July option if there's enough demand for it. As it stands now, we've only been getting about eight international orders per month (not so surprising, given the financial issues Mike mentioned in his note to me), which frankly isn't enough to justify doing this design. But hey, maybe a bunch of you north-of-the-border readers would be willing to shell out for Canada Day.
• Even if, say, 25 or 30 of you want this shirt, it's still likely to be pretty pricey. Part of that is due to the sleeve patch, which adds a ridiculous amount to the cost of each T-Shirt Club design because it's in an atypical spot. I considered not including the patch on this design, but then it would be another case of you Canadians getting the short end of the stick, which I know is a cultural sore point for many of you. And besides, it's not an official T-Shirt Club shirt unless it has the official T-Shirt Club sleeve patch! Gotta stay true to the program, I say.
• Okay, would you be interested in this shirt? If so, please tell me now. We'll decide how to proceed based on the responses.
(If we do go ahead with this shirt, people on the "Collect 'Em All" program will be able to maintain their eligibility by purchasing either the Independence Day design or the Canada Day design. You will not have to purchase both.)
As for the Independence Day design, I'll show that to you tomorrow.
• • • • •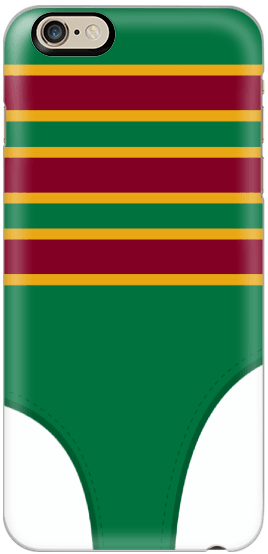 Phone case reminder: The official Uni Watch smart phone case, featuring a nifty stirrup-based design created by reader Matt Beahan, is available for six more days. You know what to do.
• • • • •
The Ticker
By Mike Chamernik

Baseball News: The Dodgers traded Juan Uribe to the Braves, and he made his debut with them last night. Unfortunately, the "I" on his BP jersey's NOB fell off, and here's how it was remedied. … In a related item, the Dodgers announced that they'll go ahead with their scheduled Uribe bobblehead giveaway, even though he's no longer with the team. "¦ Also: Looks like Uribe is still using bats with the Dodgers knob decal (from Robert Montenegro). "¦ The Gary SouthShore RailCats will wear Back to the Future jerseys on June 13 (from Phil). … Douglas Ford found Braves-branded lotion and lip balm at a gas station in Atlanta. … Jeffrey Sak found a good shot of Al Kaline wearing a script Tigers jersey (which Detroit wore in 1960) with a flocked logoless helmet. And while not uni-related, I liked this story about how Tigers OF Willie Horton saved Kaline's life in 1970. … The Clearwater Threshers are wearing centennial patches in honor of the city. The Phillies wore the same patches in spring training (from Steve in Florida). … The Bridgeport Bluefish have a sharp yet unconventional stirrups and sannies color combo (from Mark Wolven). … The Lakewood BlueClaws will wear Boy Scout jerseys and Christmas sweater tops next month. … Speaking of the minors, the Kalamazoo Growlers have a few themed nights planned for the next two months, including "Release the Kraken" jerseys on June 20 (from Brian Beebe). … A few readers sent in this shot of the 1908 St. Louis Cardinals in very nice buttoned warm-up sweater. … Here's a compilation of the best baseball throwbacks from Mitchell & Ness. Also, Nike is selling vintage-styled jackets (both from Phil). … Indians players shaved their heads to support Mike Aviles's daughter, who was diagnosed with leukemia. … Reading Phillies P Zach Eflin writes messages on the inside of his cap (from Pat Costello). … Even the umps wear period-appropriate garb at the Rickwood Classic, which this year celebrates the 1948 season. Paul will have more Rickwood photos tomorrow. … The Bowling Green Hot Rods will wear throwbacks on Friday (from Eric Leach). … The Kearney (Nebraska) Runza Legion team uses Rice's Olde English "R" logo (from Jason Johnson). "¦ Check out Nats OF Bryce Harper's old-school wristband (from Brad May). "¦ Braves P Jason Grilli was wearing the Mother's Day ribbon and a very beat-up belt last night.

NFL News: A few people sent this in: Grantland explored the NFL's relationship with the military. … Calvin Johnson's new training shoes have a peach on the back of them in honor of his home state (from Phil). … "Former football teammate Mike England received this 'small' 3×5 postcard sent to our track coach Dick Small at Defiance College in Ohio (a NAIA Division III program) inviting the Yellow Jacket stand-out to a tryout with the then Houston Oilers way back on March 4, 1974," says Gary Brackle. "The invitation was for March 23, and reminded Mike to 'report to Memphis Memorial Stadium on March 23rd at 8 a.m. with your own shoes, workout togs (sweat cloths, shorts, etc.).' My how we have come such a long way since then." … Ravens safety Will Hill is adding a suffix to his NOB (from Stephen Murphy). … New Jets coach Todd Bowles has been wearing some retro Jets logos on his caps at recent press conferences. I've always liked the 1980s-90s Jets wordmark (from Jay Braiman).

College Football News: Colorado State will do an orange-out on Sept. 5. "¦ Here's an NFL.com writer's picks for the top 15 college football mascots (from Andrew Cosentino).

Soccer News: New home shirts for Wolfsburg (from Ed Å»elaski). … I'm not a soccer guy, nor do I watch ESPN all day, so I'm out of the loop on whatever is going on with FIFA right now. Apparently, though, Nike is involved in this FIFA mess. Further info here (from DC Reiser and George Chilvers). "¦ Amber Brooks, who plays for the Seattle Reign, has a new set of shinguards featuring photos of her loved ones (from James Gilbert).

NBA News: The carpet pattern at the Portland International Airport is pretty popular. It has its own Facebook page, Twitter handle and online shop. Blazers PG Damian Lillard's new shoes have the pattern on them, too. To promote the sneakers, Lillard tweeted a rough photoshop of a PDX carpet-patterned Blazers jersey. Graphic designer Conrad Burry went one better and mocked up a full PDX Blazers jersey (thanks, Kristina Cruz). … While I was aware that NBA players like Stephon Marbury and Al Harrington marketed affordable basketball shoes to kids in the 2000s, I didn't know Hakeem Olajuwon did the same thing in the mid-1990s. "¦ With the Finals match-up now set, Conrad Burry has updated his beautiful circular NBA playoff bracket.

Grab Bag: Logo creep has expanded to the 3D-printed titanium jaw on an injured turtle. "I'm on the fence about this one but am leaning toward being okay with it," says David Greengard. "The turtle gets a second chance and the company get a bit of advertising, albeit on his jaw." … A Houston radio duo counted down the worst unis in sports (from Phil). … Not sure if we've had this already, but new camo pattern for the Army in July (from Emily Bennett). … Check out the style guides for Nike, Apple, Bing, Four Square and others (from Brinke). … As Phil points out, these New Era blank caps ain't exactly blank. … Here's how the Indy 500 logo for the 100th race, being run next May, was developed (from Tim Dunn). … Stanford's women's golf team wears numbers on their shirts. Neither Drew Mastin nor I have seen that before.