Back in 2012, I posted a series of entries in which I tried to nail down the specifics on the nickNOBs worn by the 1976 Braves, which had been the subject of a lot of misinformation and poor documentation over the years. You can see those three entries here, here, and here.
Now I have some new info on the Braves' nickNOBs, beginning with this photo of catcher Vic Correll, which was recently sent my way by reader Tony Cocchi: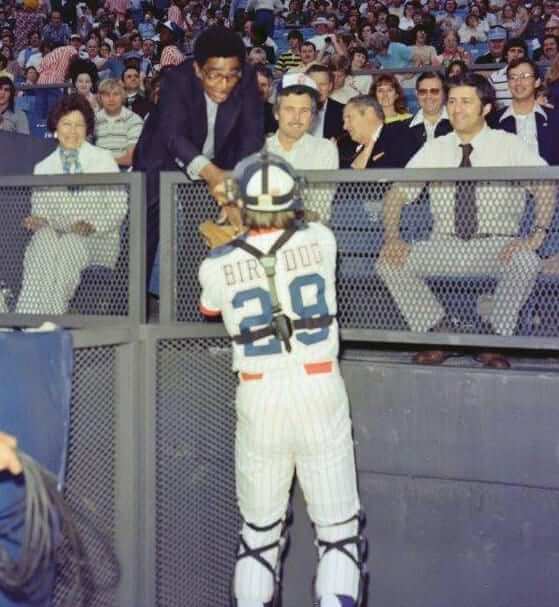 Correll's "Bird Dog" nickNOB had already been mentioned in several articles and confirmed to me by former Braves PR man Bob Hope, but this is the first photographic confirmation of it that we've seen. It's only the sixth Braves nickNOB that we've documented with a photo — still a pathetically low total given that the entire team supposedly wore the nickNOBs.
Tony Cocchi, who sent me this newly discovered "Bird Dog" photo, is a serious uniform collector and historian. (You may remember his name from this 2013 post about MLB prototypes.) He's also based in Atlanta and says he remembers several other Braves nickNOBs from 1976 that hadn't been listed or mentioned in my previous entries on this topic, and that he double-checked his recollections with a Braves beat writer. I ran his recollections past Hope, who wasn't sure about most of them but confirmed one of them — Dick Ruthven wearing "Rufus." As it happens, I recently met Ruthven's niece, so I asked her to put me in touch with Ruthven, which she did. His response: "I'm embarrassed to admit I don't remember. But if I had something weird on my back, that would have been it." So I think we can call that one confirmed.
Cocchi is a generally reliable source who cares about historical accuracy, so I've updated my master list of Braves nickNOBs with the new info he's sent my way, with the proviso that his non-Ruthven recollections are, for now, unconfirmed:
[table id=25 /]
I can't believe there aren't more photos of this phenomenon, but I've checked through the online archives of all the major wire services — no dice. No video of the '76 Braves on YouTube, either. Dang.
•  •  •  •  •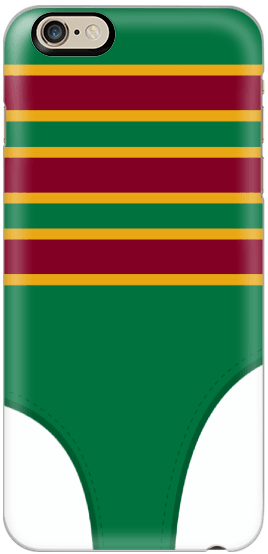 Phone case reminder: The official Uni Watch smart phone case, featuring a nifty stirrup-based design created by reader Matt Beahan, is available for one more week.
Meanwhile, thanks to everyone who bought the Uni Watch T-Shirt Club's June/BFBS design, orders for which are now closed. I'll have news on the following month's design soon — possibly tomorrow.
• • • • •
NYT reminder: In case you missed it yesterday, I wrote a piece for The New York Times about a bunch of fourth graders who've been finding a bunch of really interesting artifacts under the floorboards of their classroom's closet. This story has been a crowd-pleaser — lots of very positive response. I think you'll like.
• • • • •

Baseball News: A century-old former synagogue in Indiana has been repurposed as the souvenir shop for the South Bend Cubs. "¦ Here's a chronology of the Giants' Memorial Day uniforms over the years (blame Phil). "¦ Dodgers backstop A.J. Ellis talks about his catcher's gear, among other things, in this interview (from Tommy Turner). "¦ Oh great, now even baseball gloves — like, fielder's gloves — are going G.I. Joke (from Dustin Semore). "¦ Spider-Man jerseys this Saturday for the Gwinnett Braves (from Joel Mendelson). "¦ The Orioles will be giving away this Buck Showalter gnome on June 27 (from Andrew Cosentino). "¦ Someone at last night's Mets/Phils game had a Mets Phanatic doll. "There is so much wrong and so much blasphemism in this, I cannot even start," says Max, who didn't give his last name. "¦ Sean Marenkovic was at last night's Indians/Rangers game and spotted three guys wearing Expos jerseys. "¦ You've heard of the Toledo Mud Hens? There's now a team called the Oregon City Mud Turtles, and I kinda like their new logo (from Jared Gillingham).

Pro Football News: The Browns' visor tabs have featured Brownie the Elf in recent years, but the tabs in rookie camp have been blank. I asked a team spokesman if that's a permanent change or just a rookie camp thing, and he said a final decision on this year's visor tab styles hasn't yet been made (good spot by Justin Pietrasz). "¦ I say over and over again that I think overpriced polyester shirts are a waste of time and that the uni-verse would be better off if they weren't available for sale. So then what happens? The Steelers use my recent Uni Watch Power Rankings to sell overpriced polyester shirts. Sigh (from Terry Haines). "¦ Nice action shot of 49ers QB Y.A. Tittle with a Lucite facemask (from Ronnie Poore). "¦ Gene Sanny has spent the past 10 months creating what he believes to be the most detailed set of WFL electric football teams in existence. You can click on the thumbnails on that page to see full-size versions. Impressive stuff! "¦ Speaking of electric football, there's a CFL version.

College Football News: The College Football Hall of Fame in Atlanta has an exhibit on alternate helmets (from James Gilbert). "¦ A little odd that a piece on 15 classic college football uniform elements would run on NFL.com, but hey, ya take it where ya can find it, right? (Thanks, Phil.) "¦ New matte helmet for UND. "¦ New 125th-anniversary patch for Colgate (from Ryan Dowgin).

NBA News: Here's a quiz where you have to identify the faceless NBA player by his uniform and number (thanks, Mike). "¦ As several readers pointed out, the Hawks wore four different uniforms while getting swept by the Cavs.

Soccer News: Here's an oral history of MLS's first season. "It includes a great photo of the all team unis at an introductory event, as well as info on the development of the uniforms and logos," says Brian Mazmanian. "¦ Here's a gallery of unusual soccer uniforms (from DTE). "¦ New kit for Watford (from John Muir). "¦ Here's our first look at the NOB/number typeface for the new Barcelona kit. "¦ Here's the L.A. Galaxy's latest scarf of the match (thanks, Phil).

Grab Bag: Big congrats to longtime Uni Watch reader/pal Joe Hilseberg, who recently became the proud papa of twin girls — Grace and Oliva HIlseberg. My best wishes to the entire clan. "¦ An Ohio high school is spending $25,000 to have its inconsistent logos standardized (from Kevin Mueller). "¦ Emirates Airlines is launching a line of cabin crew and pilot uniforms for kids. "¦ New indigenous-round guernseys for all 18 Aussie football teams. "¦ "Sunday's NCAA D-III men's lacrosse final between Tufts and Lynchburg was a bit odd," says Scott Jamison. "Not sure whether it was due to Lynchburg being from a hot-weather climate, or them having an old-school coach who eschews glitz, or some of both, but their game jerseys were mesh and adorned only with the letter L. Not even a manufacturer's mark. Looked kinda scrimmage-y." "¦ David Firestone has noticed a quirk regarding funny car design. "¦ A street vendor in India is selling Adolph Hitler-branded ice cream cones (thanks, Mike). "¦ Really good article on Waffle House architecture (thanks, Brinke). "¦ Lindsay Resnick was at Barber Motorsports Park in Birmingham and spotted a car that looks like it would be perfect as the official Uni Watch car. … Love these shots of a young David Letterman in a Toronto Maple Leafs jersey (from James Gilbert).