[Editor's Note: Today we have a guest entry from Curtis Black, who's going to be volunteering at the U.S. Open golf tournament next month at Chambers Bay in Tacoma, Washington. Enjoy. "" PL]
By Curtis Black
I took my first swing at helping out for community events when I volunteered for the 2010 U.S. Amateur at Chambers Bay. They made me a Marshall — whenever a golfer was approaching the ball, it was my job to raise my arms and signal the crowd to be quiet. Then I volunteered for a Seahawks championship parade through downtown Seattle in February of 2014. My job was to create space for vehicles to drive through. My reward was a poorly produced neon green hat that said, "Seahawks Super Bowl Parade."
Now I have been assigned to the Caddy Shack at the 2015 U.S. Open. We're expected to work for four shifts but I plan to do five. My uniform set, which cost about $150, includes two polo shirts, one hat (I chose a bucket hat over the visor or baseball cap options), one jacket, and one water bottle, plus I'll also get free parking and access to the tournament. The apparel quality is much better than what I wore for the 2010 U.S. Amateur, which may simply be a reflection of this being a major PGA tournament.
Here's a look at the gear [for all of these images, you can click to enlarge]: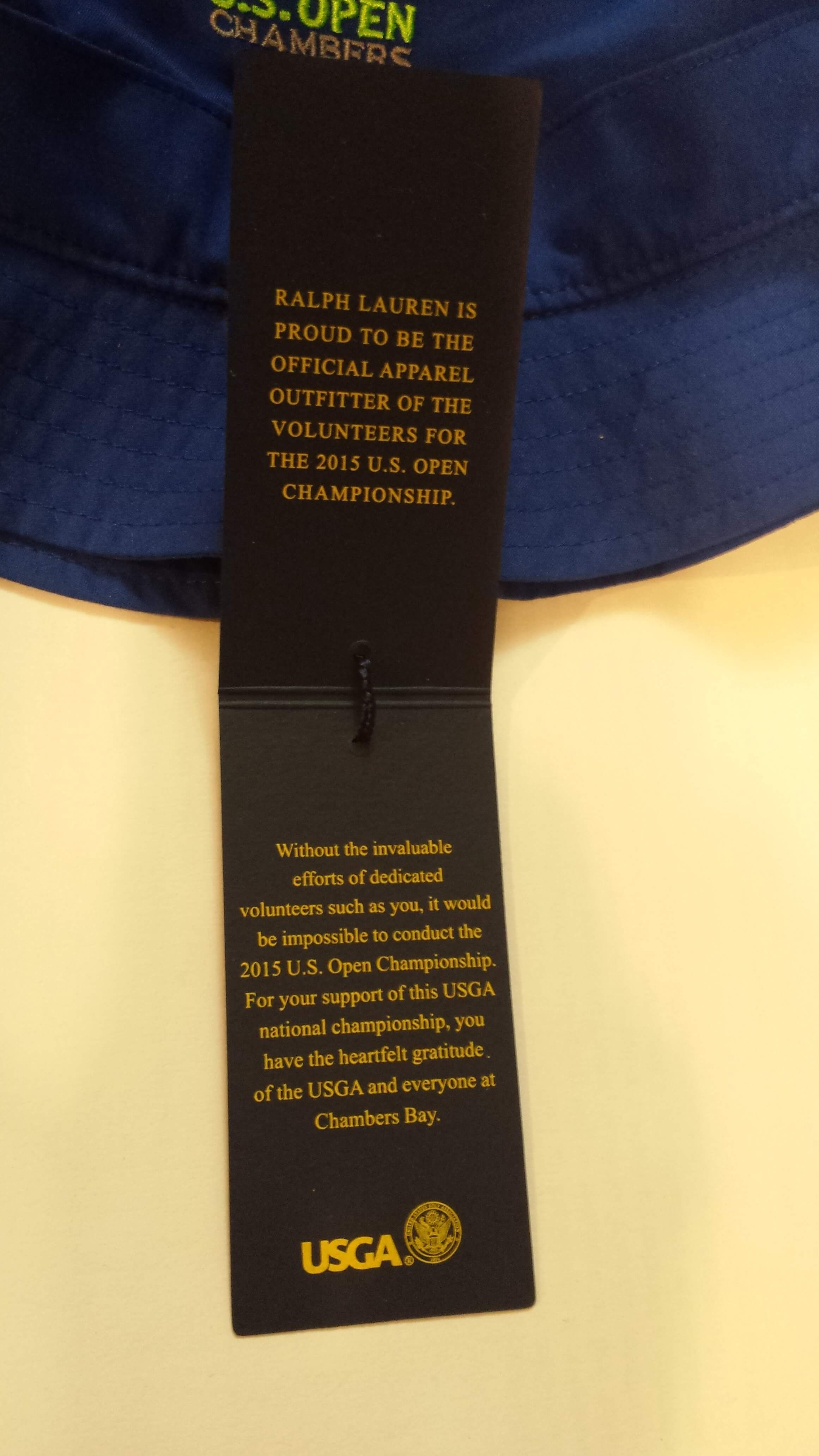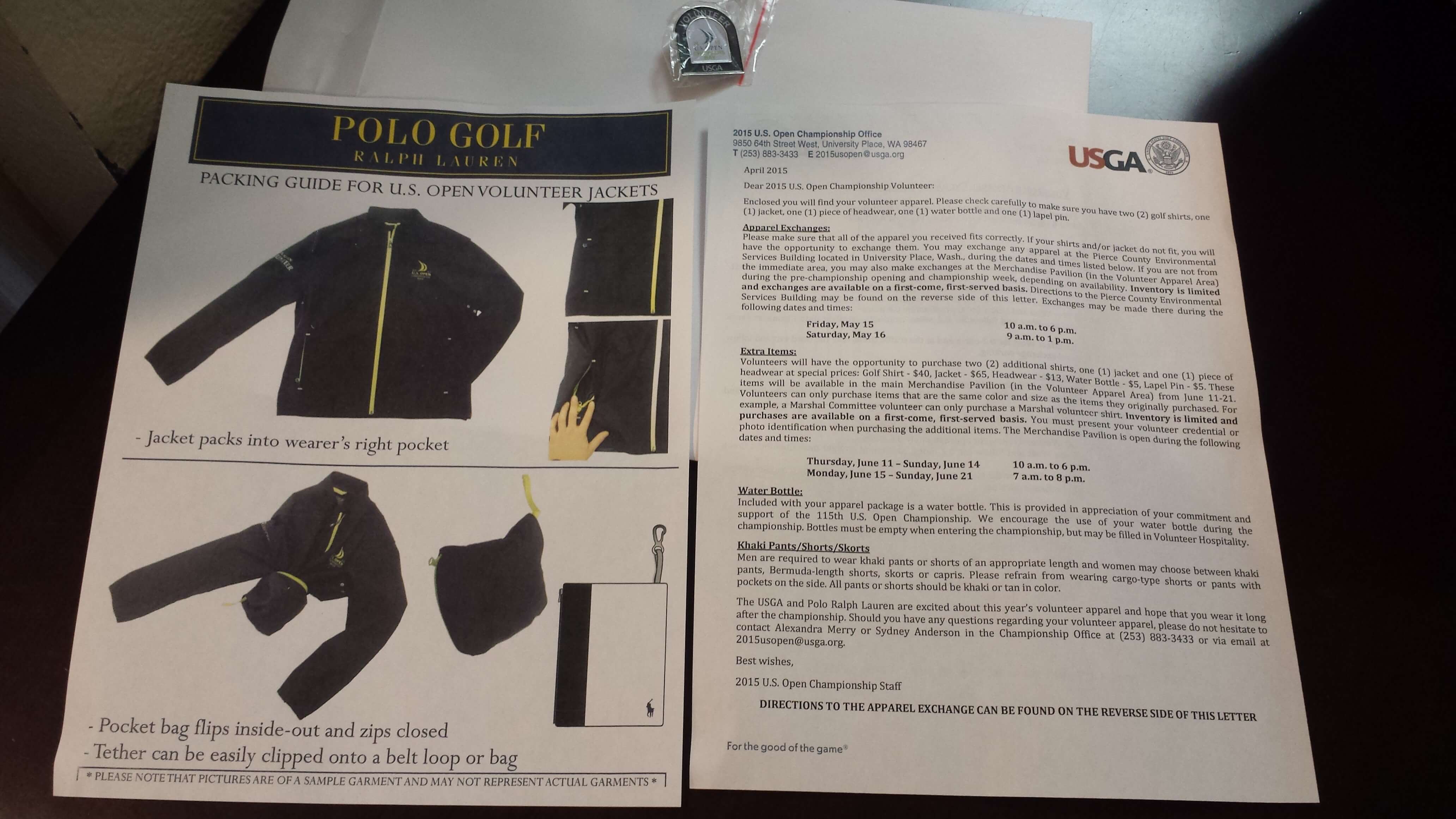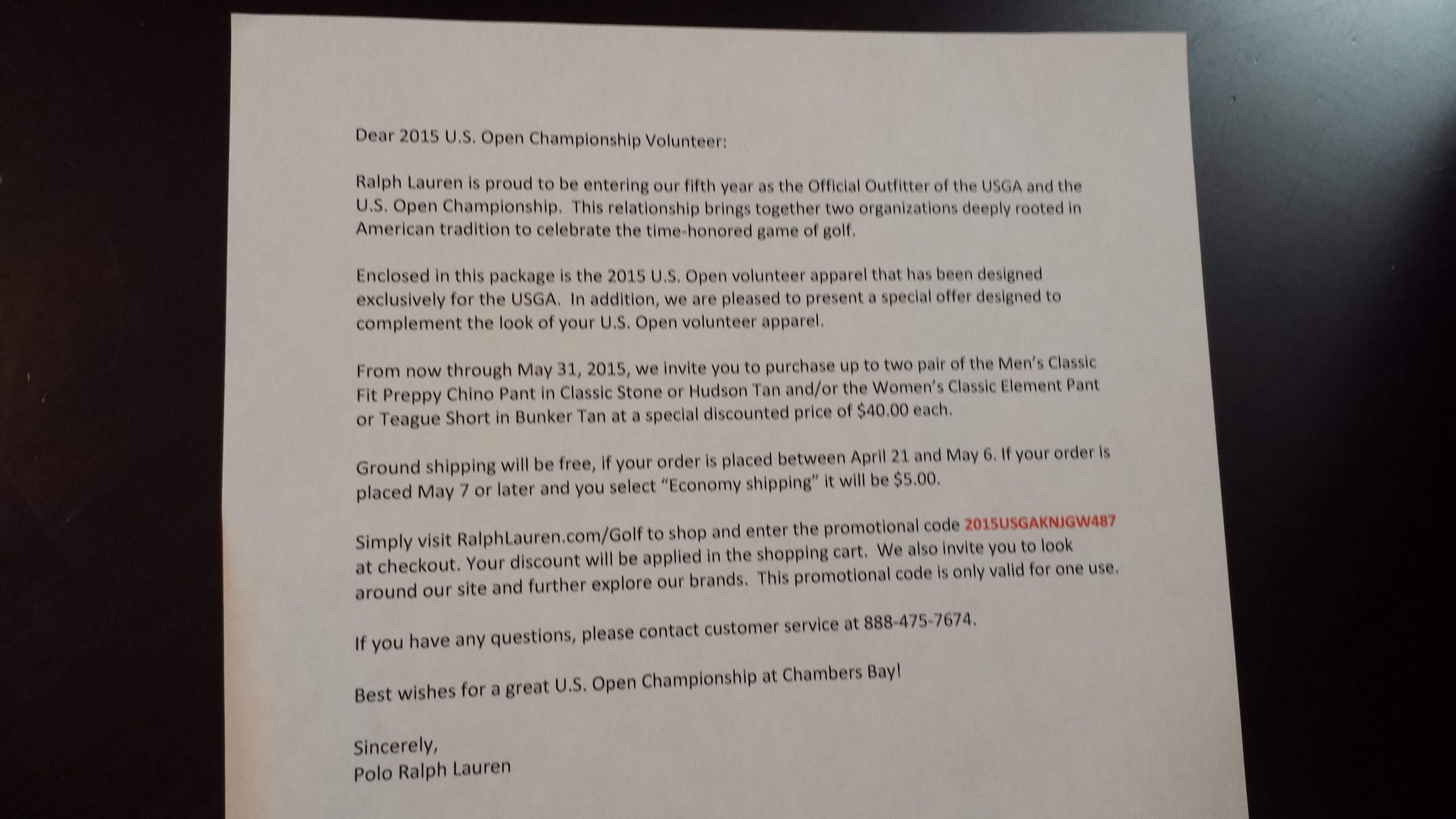 "¨Some of you are probably wondering why volunteers have to pay for their clothing when the tournament's prize pool is over $9 million. It's a fair question. The NFL, FIFA, and the Olympics all have this same policy for their marquee events. When I looked at the cost of parking and the cost of tickets, I decided that the $150 and my time as a volunteer was a fair trade for the access I'd be getting. For me, this is a rare opportunity to be a very small part of U.S. Open. I take pride in my community and am looking forward to being an ambassador for the region.
———
Paul here. Thanks for the photos and commentary, Curtis.
I think it's worth noting that while Curtis has provided a good explanation for why he thinks paying the $150 is worth it to him, that's not the same as saying it's right or proper for the USGA to be levying a fee on volunteers. Seems to me that they're leveraging and exploiting Curtis's civic pride, betting (correctly) that he'll be willing to pay for the "privilege" of volunteering. I bet they'd charge even more if they thought they could get away with it. Tom Sawyer would be proud.
•  •  •  •  •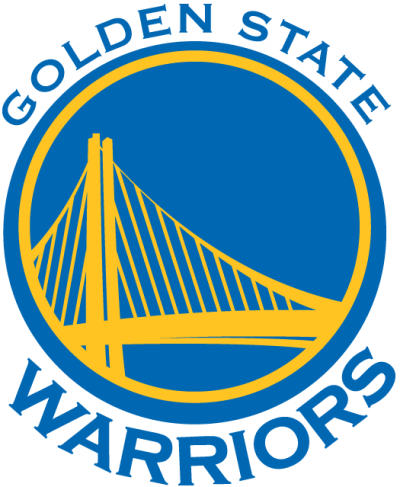 Research query: The Golden State Warriors of the NBA use a state nickname as their geographic locator (California's official nickname is the Golden State). Has any other pro team ever used a state nickname as part of its name? I can't think of any, but I'm worried that I might be missing one. Am I?
• • • • •
Uni Watch turns sweet 16: It was 16 years ago today — May 26, 1999 — that the following column appeared in the sports section of The Village Voice (click to enlarge):
That was Uni Watch's very first appearance. At the time, I thought of it as just another media project and certainly couldn't imagine that it would still be going strong 16 years later. (This website, which was designed to supplement my ESPN work, didn't debut until 2006.)
With the project now turning 16, Uni Watch's 15th-anniversary season has come to a close. My thanks to everyone who's helped us get this far.
• • • • •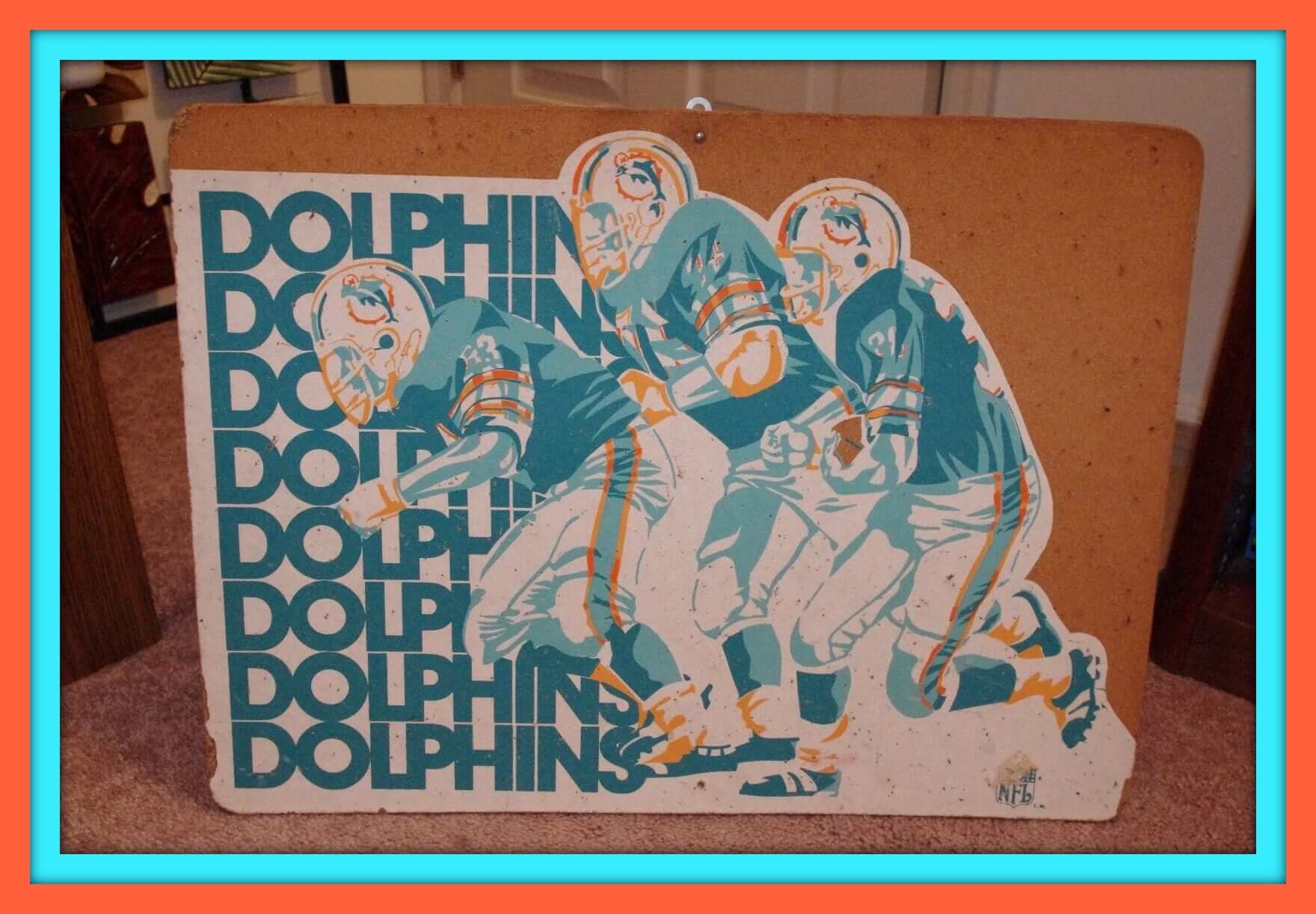 Click to enlarge
Collector's Corner
By Brinke Guthrie
This early-1970s Miami Dolphins bulletin board from Sears was a basic template for teaching me how to draw NFL players back in the day. The repeating wordmark was a trademark of 1970s NFL graphics, and I definitely took notice. Now, let's see what else we have this week"¦.
• I seriously recommend that you take a look at this 1976 NFL Media Information Book. I got one of these every year back then — totally cool.
• Kind of a different look to the Chicago Blackhawks logo on this 1969 pin.
• Showcased in this promo booklet: the favorite products of your 1967 Minnesota Vikings. Why, they won the Golden Helmet Award!
• Look at the artwork on the cover of this 1976 Bills/Steelers PRO!gram. Boy, I could not WAIT to get my copy of PRO! when I went through the gates at Riverfront to see the Bengals.
• If you were the MLB Player of the Week in the 1970s, you got this watch. Oh boy!
• Only one word can describe this cardboard poster for the NFL pro championship game: quaint. Hear it over NBC!
• Wonder if Roger Goodell would sport one of these 1970s "Patriots Country" stickers on his bumper?
• Here is a set of Phil and Phillis pennants from the 1970s. Why do these characters remind me of "South Park?"
• Check out this early-1960s kids' Cowboys helmet from MacGregor, still sporting a "Ford PPK Winner" sticker!
• Were the Pirates dressed in Christmas colors in the 1960s, as shown on this Bat Boy Bank?
Like the old-time vibe on this 1960s Chicago Bears water transfer decal.
Follow Brinke on Twitter: @brinkeguthrie
•  •  •  •  •
Treasure hunting: What you see above is a piece of an old Gabby Street baseball card. It's one of dozens of artifacts — old candy wrappers, buffalo nickels, ancient ticket stubs, Red Cross service pins, and more — that a bunch of Manhattan fourth graders have been finding under the floorboards of their classroom closet. It's an amazing little project, and I've written an article about it for today's New York Times. Check it out — I think you'll like.
•  •  •  •  •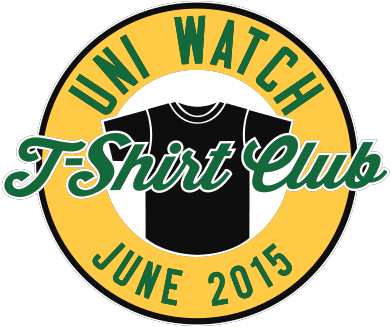 LAST CALL for this month's T-Shirt Club design: Today is the final day to order the June offering from the Uni Watch T-Shirt Club — the BFBS design. It's available here until 11pm Eastern tonight. (Yesterday would normally have been the last day, but we extended the deadline by 24 hours because of the Memorial Day holiday.)
Here's another look at the design, just in case anyone needs a reminder (click to enlarge):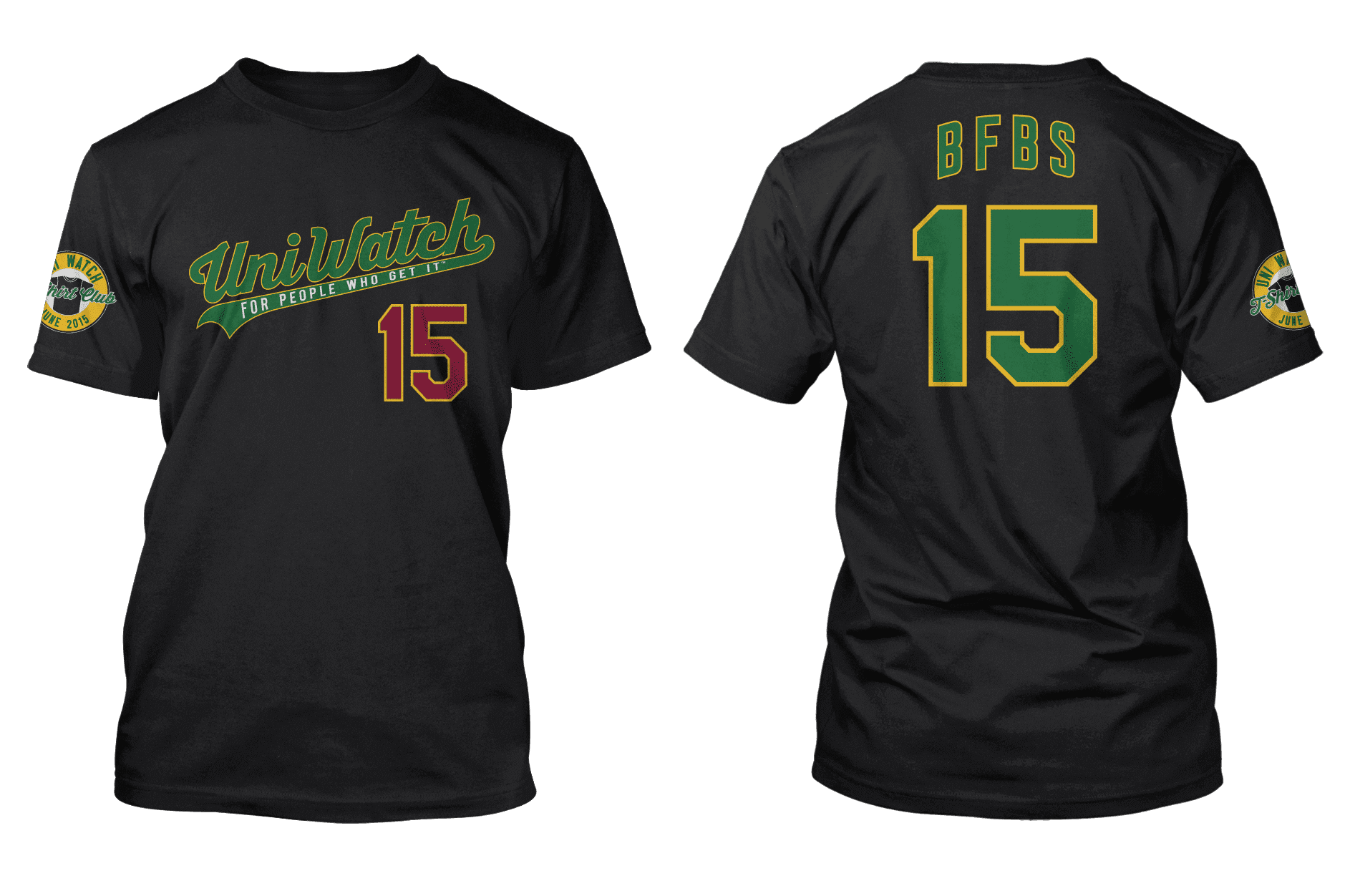 • • • • •

Baseball News: I see no reason to recap yesterady's MLB G.I. Joke shenanigans. If you saw it, you know how bad it looked; if you didn't see it, well, you still know how bad it looked. Either way, as I'm sure everyone knows by now, I'm opposed to this nonsense both aesthetically and socio-politically. And I'm not the only one (from Ragnar Danneskjöld). "¦ My old pal Tim Adams spotted Cubs C David Ross consulting a quarterback-style wrist-mounted cheat sheet yesterday. Not sure I've ever seen that on a big league backstop before. "¦ The A's doubled down on the pandering quotient yesterday by giving away caps with American flag patches — which happened to be backwards, but hey, it's the thought(lessness) that counts, right? "¦ Some early dugout jackets on display in this 1930s Cubs photo (from @JCasper268). "¦ Jose Canseco's going to play a game with the independent Sanoma Stompers, and the team will being giving away foam hands with the tip of one finger missing, just like Canseco's (from Christine Freeman).

NBA News: While looking for something else, I came across this 1970-71 Nets warm-up top with amazing lettering on the back, although the colors seem more Knicks-like. "¦ Next season's all-star game will be held in Toronto, and the logo for that event will be released tomorrow.

Soccer News: New kits for the Bulgarian team Levski (from Ed Å»elaski). … A shoplifter in Belfast was easily caught because he was wearing a Man U jersey with his own name as the NOB (from Vernona Elms). … Sevilla has new kits for tomorrow's Europa League final. "¦ Many City's new third kit is going the DayGlo route (from Cort McMurray). "¦ Paris Saint-Germain went into their final match having already clinched the league title, so they mowed stars representing their five championships into the grass. They also wore next season's kit (from Yusuke Toyoda). "¦ Good article about Canada's uniforms for the Women's World Cup.

Grab Bag: Remember when Nike saluted Derek Jeter by working his uni number into the word "Re2pect"? That started a alpha-numeric trend in the sports world that has now gotten seriously out of hand (from George Chilvers). "¦ In a development that I can only describe as tragically misguided, there's an initiative afoot to make local police departments more friendly-seeming by giving them purple uniforms (from Alan Tompas). "¦ A Swedish design student has created a flag for planet Earth (from Jimmy Lonetti). "¦ Travelers Insurance Co., whose logo is an umbrella, aggressively polices bullies small companies that use umbrellas in their logos. "¦ Here's a look at Andy Murray's new Under Armour outfit and a look back at John McEnroe's old Nike shoes (both from Brinke). "¦ According to this story about the fried-chicken wars, "Over the next few years, KFC will redo its packaging, uniforms, and dining decor in red-and-white stripes, which executives call a throwback to the classic look of carnival tents." "¦ Interesting note on whether the gamecock in the South Carolina logo should include the spur.