By Phil Hecken
I'm not an auto racing or car guy at all, although I do have fond memories of watching the Indy 500 (which is today) as a child (back then, it was on delay, not live), and I've always tried to catch the race whenever possible. In the past, I've had guest writers break down the race and cars, as well as provide some great history of the race itself (those were all penned by Rob Caplette, who posts on UW as "Inkracer"). If you're looking for a history of the sport and the race, those are some wonderful historical breakdowns, and well worth a read if you have the time.
So rather than repeat all that's great about the race and the track (which I actually visited back in around 1991, actually taking a lap around the brickyard), I'll just leave those articles for reference.
Today I'm joined by another racing enthusiast, Clark Ruhland, who will do this year's honors of breaking down the liveries for the 2015 Indy 500.
Here's Clark:
. . . . . . . . . .
Greatest Day of Auto Racing
By Clark Ruhland
Welcome to the greatest day of auto racing in the world "" The trifecta of the Formula 1 Monaco Grand Prix, the IndyCar Indianapolis 500 and NASCAR's Coca-Cola 600.
This year marks the 99th installment the 500 features 33 teams with some interesting paint schemes.
Row 1
9 "" Scott Dixon
The 2008 Indy 500 winner captured the pole with a 4-lap average of 226.760 MPH. The Target car is a staple of the IndyCar circuit and has won several 500s with different drivers.
1 "" Will Power
Power is the reigning series champion and has returned the tradition of carrying the number 1 after winning the title. His usual number is 12.
22 "" Simon Pagenaud
Pagenaud joins Team Penske and has a legitimate chance to win the 500. Penske has won at Indianapolis a record 15 times.
Row 2
10 "" Tony Kanaan
The 2013 Indy 500 champ is a fan favorite from Brazil and will no doubt be fired up after finishing 26th in last year's event.
3 "" Helio Castroneves
Helio is another fan favorite from Brazil that has won the 500 three times. He's looking to join the elusive 4-timer club that features AJ Foyt, Rick Mears and Al Unser.
25 "" Justin Wilson
Wilson joins Andretti Autosport after several years with Dale Coyne Racing. He's one of the taller drivers in the circuit at 6'4".
Row 3
11 "" Sebastien Bourdais
Bourdais wins the award for most interesting paint scheme with the monster-style nose design with the eyes and nose. Very cool look with the black and green.
27 "" Marco Andretti
The third-generation Andretti makes another attempt at winning the 500. Last year he was in car number 25, but he's changed to 27 for this year.
21 "" Josef Newgarden
Newgarden could not have a better number for sponsorship with Century 21 on the side.
Row 4
6 "" JR Hildebrand
Hildebrand was one corner away from winning the 500 in 2001. Pretty interesting with Ocean Spray as a sponsor.
26 "" Carlos Munoz
Munoz may not be a flashy name, but he has two top-five finishes in his Indy 500 starts, including a second place in 2013.
20 "" Ed Carpenter
Carpenter is starting a little further back than the previous few years when he started on the pole back-to-back years. He has one of the more noticeable sponsors with Fuzzy Zoeller's vodka on the side.
Row 5
32 "" Oriol Servia
Indy 500 history enthusiasts (like team owner David Letterman) love the school bus yellow 32 car designed to replicate the winner of the first Indy 500 from 1911 "" the Marmon Wasp.
83 "" Charlie Kimball
Kimball is a diabetic driver and has been a spokesman for the cause. His two-tone car designs always stand out on the track.
2 "" Juan Montoya
The 2000 Indy 500 winner won the race as a rookie and returned last season after spending years on the NASCAR circuit. He may be starting mid-pack, but he'll make his way to the front.
Row 6
28 "" Ryan Hunter-Reay
The defending Indy 500 champion returns with the same sponsor and the same look in 2015. His car is one of the easier ones to spot on raceday.
15 "" Graham Rahal
The son of 1986 Indy 500 winner Bobby Rahal (who co-owns the car with David Letterman), Graham is one of the favorite drivers on raceday in Indianapolis. He hasn't had much luck, with only one top-10 finish in seven tries. His sponsor, Steak "˜n Shake is one of the more unique ones on the circuit and his apron style firesuit wins the award for the best of 2015.
18 "" Carlos Huertas
Huertas finished 17th as a rookie last year, but did pick up a victory on the circuit last year. Unfortunately he still hasn't picked up a sponsor this season.
Row 7
29 "" Simona de Silvestro
Simona is one of two ladies in the field today and she's a veteran of the event. That's a bit of a surprise for any driver from Switzerland, where auto racing is banned.
7 "" James Jakes
Jakes is another one of those drivers in need of a sponsor today. His car could be tough to spot with that solid gray look.
48 "" Alex Tagliani
Wasn't real sure what Alfe was when I saw this car for the first time. It's a metal heat treating company. Pretty sleek and old school design based on Dan Gurney's car from the late 1960's.
Row 8
8 "" Sage Karam
The young driver is in his second Indy 500. Last year he has not even graduated from high school when he ran the event.
43 "" Conor Daly
An Indianapolis native, Daly is running his second 500 in a car that has a similar look to his No. 43 counterpart in NASCAR.
24 "" Townsend Bell
Bell is paying homage to 4-time Brickyard 400 winner Jeff Gordon with the stylized 24 on his car. Gordon, who is retiring from full-time competition in NASCAR, will be driving the pace car before the race.
Row 9
14 "" Takuma Sato
Sato drives one of the AJ Foyt-owned cars and is a big risk-taker when it comes to the 500. He made a last ditch effort to win the 2012 event on the last lap.
63 "" Pippa Mann
Mann is the other lady in the field today "" Her third start in the 500. During the season, she is a pit reporter for the IndyCar radio broadcasts.
98 "" Gabby Chaves
Chaves is one of two rookies in the field this year. He's no rookie when it comes to the speedway as he is the defending champion of the Indy Lights series Freedom 100.
Row 10
17 "" Sebastian Saavedra
Saavedra has only run two of the 6 races this season after running every race in 2013 and 2014. A good run could go a long way for his hopes to continue this year.
41 "" Jack Hawksworth
Hawksworth is driving another AJ Foyt car and it's pretty much identical to the 14 of Sato. No idea how we'll be able to tell them apart from a distance.
4 "" Stefano Coletti
Coletti is the other rookie in the field. He and James Jakes will be tough to tell apart on the track with that solid gray design.
Row 11
88 "" Bryan Clauson
Clauson will drive anything with four wheels. He's driven winged sprint cars on dirt, tiny asphalt midget cars, stock cars and now Indy cars. Last season, the car that started in this spot finished ninth, so there is hope for a good day.
5 "" Ryan Briscoe
Briscoe replaces James Hinchcliffe after his nasty wreck last week that sent him to the hospital. Briscoe's wife, Nicole, is an anchor on SportsCenter.
19 "" James Davison
Davison is a late addition to the field after Tristan Vautier qualified his car last weekend. He'll drop to the rear of the field for the start.
Sit back and enjoy a day of racing. It's the best day in the world for it. Coverage from Monaco begins at 8 a.m. on NBC, Indy coverage is at 11 a.m. on ABC and Charlotte starts at 5:30 p.m.
Let's go racing!
. . . . . . . . . .
Thanks, Clark!
Uni Tweaks Concepts
We have another new set of tweaks, er…concepts today. After discussion with a number of readers, it's probably more apropos to call most of the reader submissions "concepts" rather than tweaks. So that's that.
So if you've concept for any sport, or just a tweak or wholesale revision, send them my way.
Please do try to keep your descriptions to ~50 words (give or take) per image — if you have three uniform concepts in one image, then obviously, you can go a little over, but no novels, OK? OK!. You guys have usually been good with keeping the descriptions pretty short, and I thank you for that.
Like the colorizations, I'm going to run these as inline pics — click on each one to enlarge.
And so, lets begin:
~~~
First up today is Kevin Kurz with a Hokie concept:
Hi Paul & Phil,

I check your site daily and submit ticker items from time to time, but I think this is my first concept submission.

I wanted to create a modern, interchangeable set for my alma mater, Virginia Tech, using Nike's newest Mach Speed template. I also made a BFBS set, as Tech's original colors were black and grey, and our black pro combat jerseys from 2010 are still talked about among the fan base.

Kevin Kurz
Virginia Beach, VA
. . .
And we close today with Charles Cramer who has a slightly new look for Atlanta's basektball team:
Phil,

Atlanta Hawks re design

Twitter: @JuiceGriffey

Charles Cramer
. . .
And that's it for today. Back with more next time.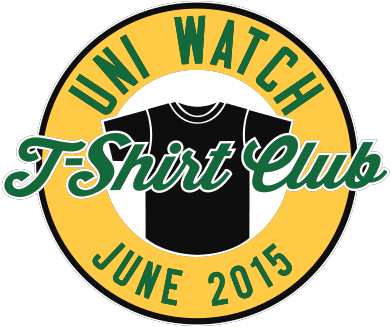 T-Shirt Club reminder: The limited-edition June offering from the Uni Watch T-Shirt Club — the BFBS design, which you can order here — is available from now through next Tuesday, and then it's gone for good.
In case you need a reminder, here's what it looks like (click to enlarge):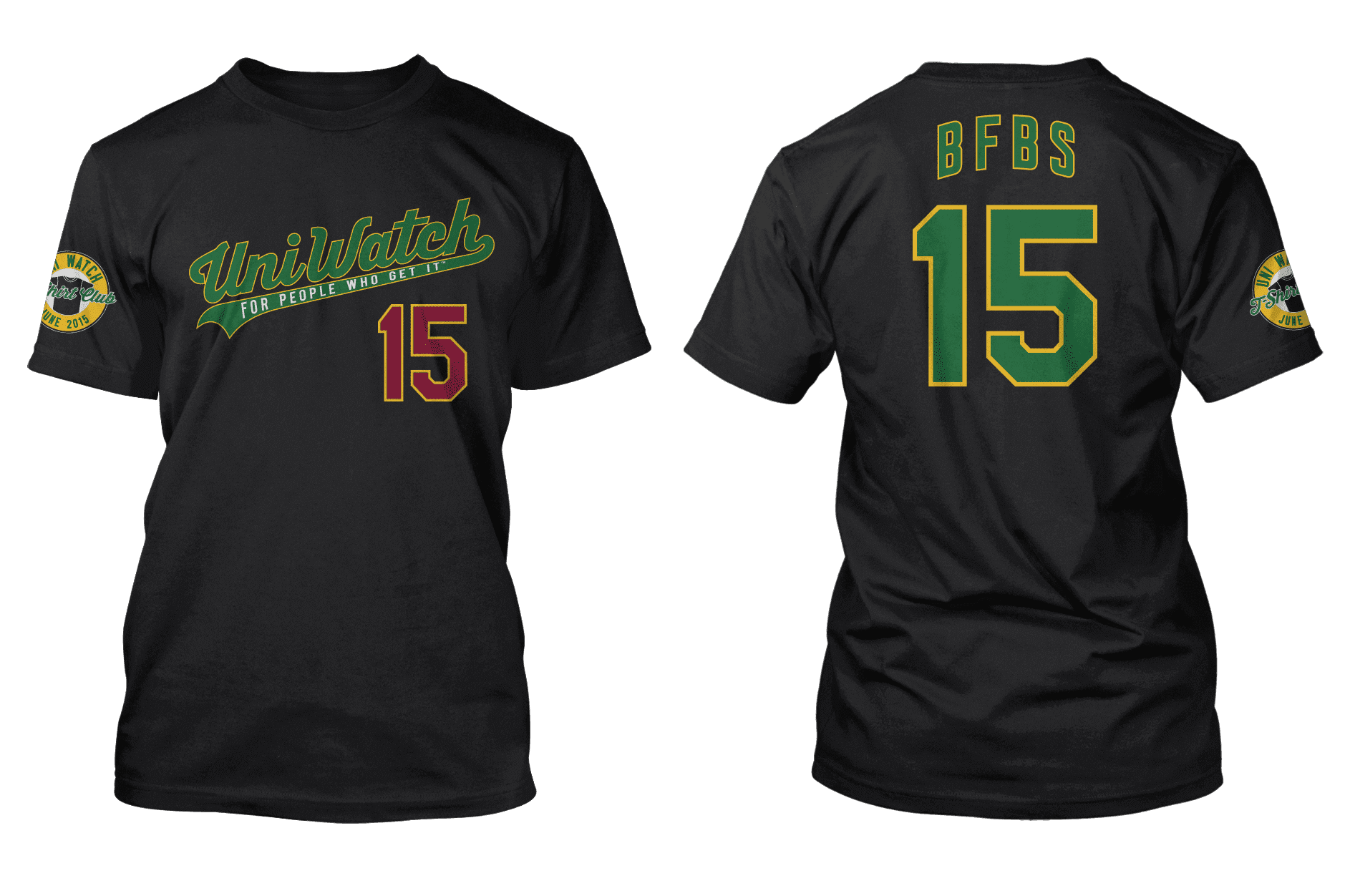 Too Good…
for the Ticker
Got another e-mail from Jimmy Corcoran, who, after yesterday's main entry, had a story and a photo about the Chicago Fire…
Jimmy's e-mails are always great, so enjoy:
. . .
Hi Phil, nice piece about the Chicago Fire helmets, I thought they were by far the best looking helmets in the WFL and as I mentioned before I saw every team in person except the Americans. The Detroit Wheels also had great helmets but their uniform was just OK. I remember thinking the Fire had better uniforms than most of the NFL teams. Here is a picture of my father playing against the Fire in 1974, this was one of the better WFL games. The King's old Pottstown Firebird WR Jack Dolbin caught the winning TD for the Fire, the King led the Bell back as time was running out and Mike Carter dropped a pass in the end zone that would have won it for the Bell, Ron Waller was so furious he cut Carter the next day.

When the Fire came to Philadelphia I remember a Fire WR landing right in front of me after a catch and getting the wind knocked out of him, I was looking at the size of that flame on his helmet as he was groaning, he rolled over and our eyes met and he was like "who the hell is this kid?" Then the Fire trainers ran over and told me to beat it.
Thanks, Jimmy. Great Stuff.
OK. Now, onto the ticker…
Uni Watch News Ticker:

Baseball News: For Friday, "Looks like the Lightning hooked up the Rays with some gear," says Jared Buccola. "Do you see a lot of cross sport support? Especially during playoffs?" … I suppose it all depends on one's definition of "great looking game," (as the subject of email read), but Taner Liby writes, "This is Northwest High School and Maize High in Kansas. This game had everything, tequila sunrise, the retro non-button pullover style jersey and check out the striping on the socks!" … Check out these interesting photos from 1966 A's magazine, sent in by Domenico Delgado: here, here, and here. … Reader Eddie Lee writes, "When you were discussing Bryce Harper's many styles, you mentioned him wearing just the one batting glove like Hunter Pence. Nori Aoki has also started wearing just one batting glove this season. Last year with the Royals. He was wearing two gloves during Spring Training though (and possibly earlier in the regular season). Not sure when he made the switch." … Sweet bobblehead for the Orioles (h/t Chris Vaccaro). … "I thought you would be interested in the following story from The Wall Street Journal, Perfectionist Graig Kreindler Paints Baseball's Greats," says Seth Horowitz. … Here's a pretty thorough look at the Blue Jays clubhouse (thanks, Mike). … With Memorial Day fast approaching, Tommy The CPA sends this WaPo article, Military tributes at baseball games: True honors or hollow gestures? … "My son's team recently played the Gold Glove Canes from suburban Kansas City. They have adopted the colors of the University of Miami, but taken it to another level," writes McCarthy Mayer. "My wife and I were pretty aghast and felt a Uni Watch submission was in order."

NBA/Basketball News: Here's another angle of the new Kentucky Wildcats logo at Memorial Coliseum (h/t Jason Calvert). … Josh Smith has the Atlanta Hawks pacman logo tattoo (nice spot by Jedd Skiles). … Check out the AWESOME floral print uniforms worn by the 1973-74 U of Hawaii Basketball squad (from PressRoomGFS).

Hockey News: Here's another Cross-sport support: The Chicago Fire sent Blackhawks' Andrew Shaw a jersey after his disallowed header in game 2 (h/t Michael Bochum). Here is a bit more on that (thanks, Mike).

Soccer News: Barcelona unveiled a special jersey to bid farewell to legend Xavi. The words "6racies Xavi" will be emblazoned beside the crest. … Here's a full view of the 2015-16 Barcelona home kit (from Conrad Burry).

Grab Bag: At the conclusion of the AFL match between Geelong and Carlton on Friday, Geelong player Cameron Guthrie and Carlton Player Chris Judd swapped jumpers (nice catch by Graham Clayton). … Here is what Roger Federer will be wearing at Wimbledon this year (via Andy Whitman). … Check out the patches the teams are wearing for the 2015 Men's Lacrosse Championships (h/t The Emblem Source).
And that's all for today folks. Thanks to Clark for the Indy 500 rundown and the concepters and Jimmy. Enjoy the race (or whatever you'll be doing and watching today — especially baseball because you might not want to watch the camo show on Monday). You guys have a great week and I'll catch you next weekend.
Follow me on Twitter @PhilHecken.
Peace.
.. … ..
"Dan Gilbert grew up a Pistons (spits on ground) fan, and loves putting the team in Pistons (spits again) blue. I can live with an occasional blue & orange genuine throwback, but enough of this hard-to-read-numbers mashup. Just. Go. Wine. And. Gold."
— Jim Vilk