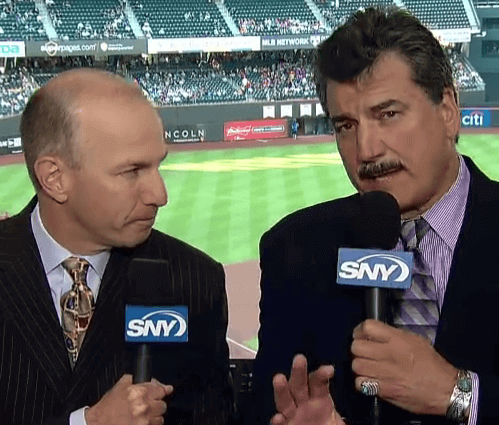 I mentioned in yesterday's Ticker that I wouldn't be watching the Mets on Monday night because they were scheduled to wear their brutal camouflage uniforms (which are even worse this season because they're now paired with the pinstriped pants). But I ended up flipping channels between the Rangers and the Mets, and it's a good thing I did, because I happened to be watching the ballgame when Mets play-by-play man Gary Cohen and analyst Keith Hernandez, both shown at right, ended up discussing Uni Watch on the air.
It happened in the bottom of the fifth with Mets third baseman Daniel Murphy at the plate, when Cohen and Hernandez began discussing the camouflage jerseys. Here's a transcript:
Gary Cohen: First time this year the Mets are wearing the camo jerseys. What I remember most about the camo jerseys last year? That's what Jacob deGrom was wearing when he struck out the first eight [batters of the game] against Miami.
Keith Hernandez: That's right.
Cohen: I'm sure our statistician will find for us the Mets' record in the camo jerseys last year. [Pause, while apparently consulting with the statistician.] He just shrugged his shoulders, as if to say, "I'm not sure I can figure that out."
Hernandez: I don't think that will be in the computer.
Cohen: You don't think so?
Hernandez: I don't think so.
Cohen: Somebody is keeping track of that. There's a website called uni-watch.com — I'm sure they"¦
Hernandez [sounding disgusted]: Nooo!
Cohen: Yeah! They keep track of every little subtlety in every uniform.
Hernandez: They have nothing better to do.
Cohen: What they're doing is carving out a niche for themselves. If you can be an expert in one sliver of an area, you can dominate your field.
And that was it. Based on this exchange, it would be easy to dismiss Hernandez as someone who Doesn't Get Itâ"¢, but that's actually not the case. He frequently offers uni-related observations. Later on in last night's game he pointed out, correctly, that this is Cardinals outfielder Jason Heyward's third season wearing his protective helmet extension. And Hernandez also makes it clear on a regular basis that he took his own uniform very seriously back when he was a player. Just the other day, in fact, he noted, with a discernible hint of pride, that the piping on his jersey and pants was always aligned. Asked by Cohen to name a teammate whose piping didn't align, Hernandez thought for a moment and then said, "Doug Sisk." And he was right!
Hernandez, in other words, is one of us, but he's selectively myopic when it comes to his own idiosyncrasies. He's hardly unique in that regard, of course (I think we're all guilty of that a certain degree), but it's funny to hear it when he's talking about Uni Watch.
As for the Mets' record while wearing camouflage last year, that's a question that can't be answered on Uni Watch — we don't track MLB records by uniform. It can be answered, however, over on SportsLogos.net, a site that Cohen apparently isn't aware of (and whose existence Hernandez would no doubt find doubly flummoxing).
That Mets/Cards game, incidentally featured a particularly uni-notable moment when Mets reliever Alex Torres came into the game. Torres, as you know, is the player who wears that protective halo over his cap. But the Mets have, like, eleventeen different caps, so Torres wears a different halo for each one. For weeks now Phil and I have been wondering what his camouflage halo would look like, and last night we found out (screen shot by Phil):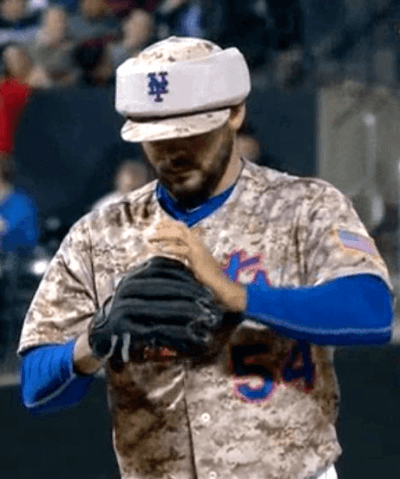 As you can see, his camo halo isn't actually camo — it's just khaki. Naturally, I see that as a big improvement, and of course now we can all make our "Why does Alex Torres hate America?" jokes, but it is surprising that Pinwrest, which makes Torres's padded halos, didn't use camouflage fabric. I'll try to find out why — stay tuned.
•  •  •  •  •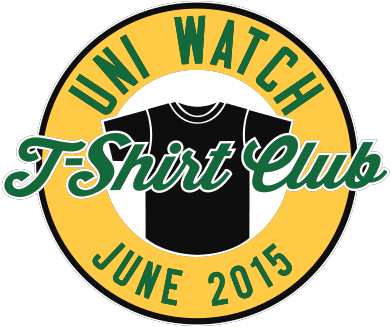 T-Shirt Club "" June design now available: Last week I gave you a sneak peek at the Uni Watch T-Shirt Club's June design. That shirt — the "black for black's sake" design, sure to be a conversation-starter with people who'll be puzzled by the "BFBS" NOB — is now available.
This shirt, incidentally, was instrumental in the creation of the T-Shirt Club. Last November, when Teespring designer Bryan Molloy first contacted me with the idea of designing a few Uni Watch shirts (this was before we'd come up with the idea for a monthly club), he said, "I'd really love to do a black one. It'd look great!" And I said, "Yeah, but come on — I'm always criticizing teams that go BFBS. I can't start doing that myself!" So Bryan mocked up a shirt with "BFBS" on the back, which I thought was pretty damn clever, and that's when I started thinking, "Oh, we can do all sorts of designs, even 'bad' ones, as long as we call them out as such." Then it becomes part commentary, part art project, and very meta, all of which I found appealing. And that's how the T-Shirt Club idea was born.
Okay, enough backstory — let's take a look at the June shirt (click to enlarge):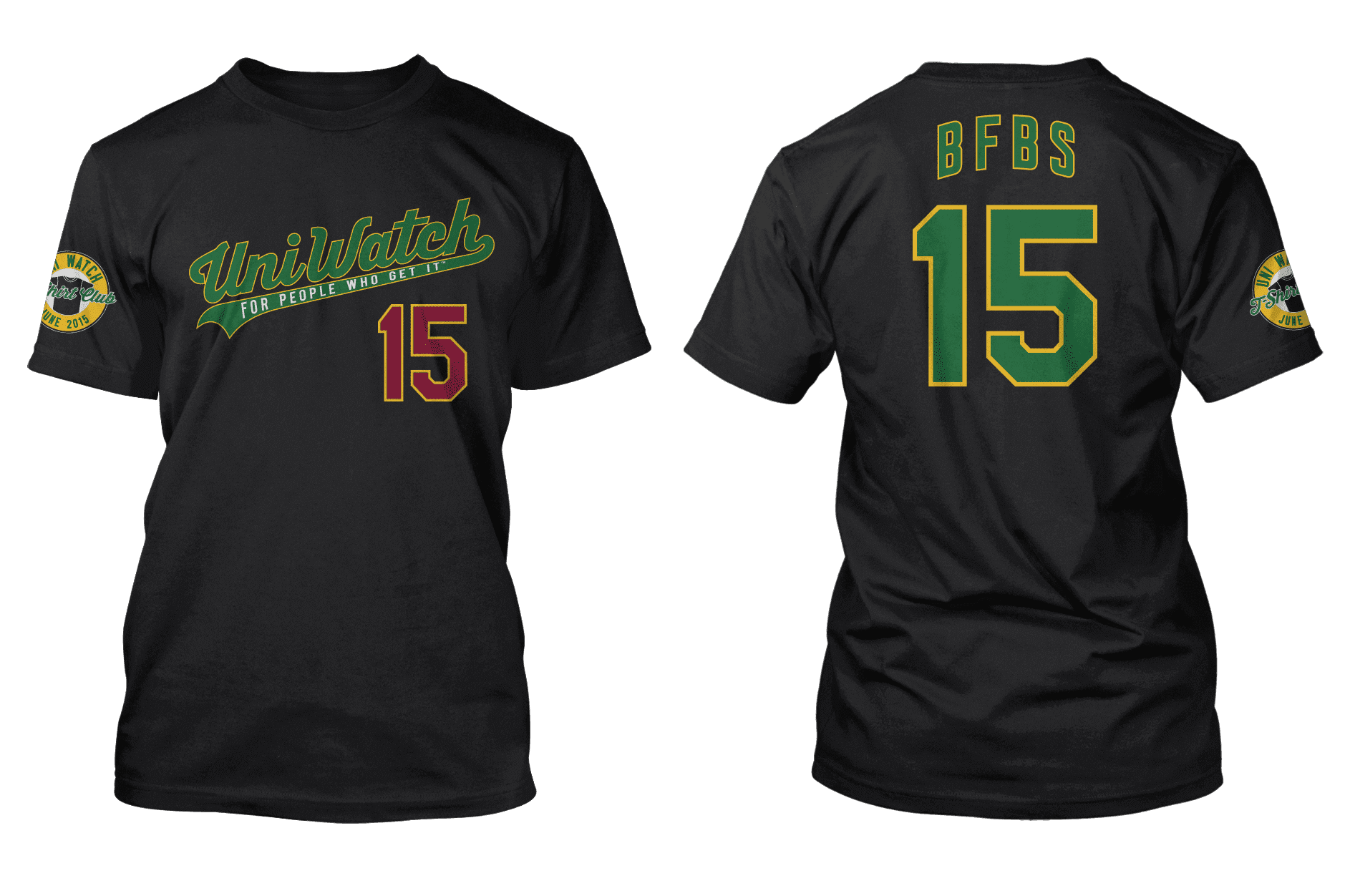 Here's everything you need to know about this shirt and how to order it:
1. You can purchase the June shirt on this page. (Ignore the bits about "reaching our goal" and the "campaign being successful" — that's for Teespring clients who use T-shirt sales as fundraisers.) Domestic shipping is $3.85 for the first shirt, $1 for each additional shirt; Canadian shipping is $9.50 for the first shirt, $4 for each additional; shipping to other international destinations is $12.50 for the first shirt, $4 for each additional.
2. As you can see on the ordering page, you have a choice of American Apparel or Hanes. Their tailoring and sizing are slightly different, so use the size chart button to see which shirt is best for you.
3. This design will only be available through next Tuesday, May 26, 11pm Eastern. (That's one day longer than usual, because of the Memorial Day holiday.) After that date, the shirt will not be offered for sale. All shirts ordered by then should be delivered by June 10, and in many cases well earlier than that.
4. We want the July shirt to deliver in time for Independence Day, so it will launch on June 9. I'll preview it on the site the week before that.
5. After we finish selling the July shirt, I'll check to see how many people have bought each design, so I have a sense of how many people are in eligible for the year-end bonus prize. Once I get a sense of the numbers involved, I'll have a better idea of how to proceed with the prize.
I think that's it. Again, the June shirts can be purchased here. If you have any questions, give a holler. Thanks.
(Special thanks to Teespring designer Bryan Malloy for all his great work with the T-Shirt Club designs.)
•  •  •  •  •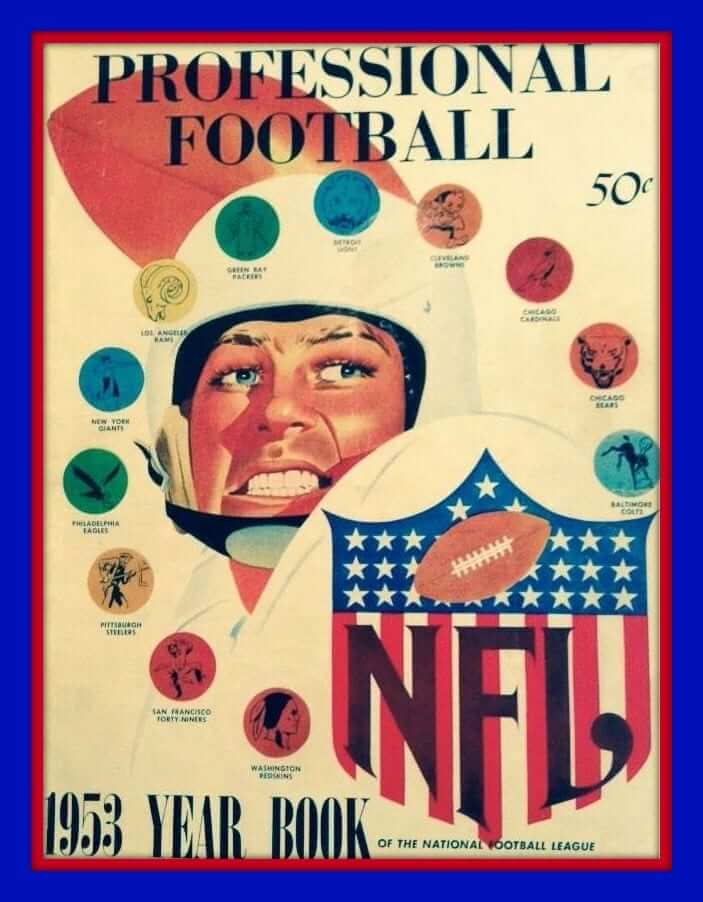 Collector's Corner
By Brinke Guthrie
Leading off this week some great art on the cover of this 1953 NFL yearbook.
This is a proven fact: If it's NFL retro, I love it.
Let's see what else we have this week:
• Here's a Dave Boss poster I've never seen before, featuring the San Diego Super Chargers. You'd almost think this was painted from a John Hadl/Paul Lowe photo, given the jersey numbers. Never seen this Raiders poster, either. That same eBay seller has several other Boss posters for sale, including this Bills poster. Usually the featured team player is doing something heroic, but in this case he's getting sacked!
• Did we say John Hadl? Here he is sporting classic uni and helmet look on the cover of The Sporting News from 1968.
• I have a set of ABA Kentucky Colonels Pro Star Portrait thermal cups with the Volpe art. Here's a set for our then-arch-rival Indiana Pacers. What's interesting here — and I had forgotten about this — is you could also get a full-size poster featuring all the photos in the set, as well as a collector's album. I don't think I owned those, though.
• More ABA: Take a look at the logo in the top-left corner of this 1968-69 Miami Floridians media guide. Great cover art on this Minnesota Pipers guide, too.
• From reader Will Scheibler, here's a game-worn Rollie Fingers jersey from the West Palm Beach Tropics. Definite Dolphins vibe here.
• I don't think I've ever seen gumball helmets for the USFL before, but here's one for the L.A. Express. Speaking of gumball helmets, this NFL set is impressive, and look at the helmet stripe on the CB Browns.
• Here's a 1970s NHL Mini-Sport kit that's never been assembled.
• Always liked the "roster" pennants. I had one for the 1975 and 1976 Reds for their Series wins, but this Reds pennant for the 1961 World Series against the Yankees was a bit before my time.
• Nice design on this 1969 NFL Pro Bowl ticket stub.
• Here's a lot of 16 different Mets pennants from the 1960s and '70s.
• Not sure when this "vintage wood oil painting" was created, but it provides an interesting take on a late-1960s Cubs uniform.
Follow Brinke on Twitter: @brinkeguthrie
•  •  •  •  •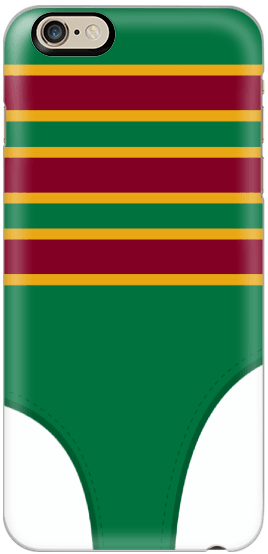 Phone case reminder: In case you missed it last week, the Uni Watch smart phone case, shown at right, is now available. Additional details here, or just go straight to the ordering page.
• • • • •
Accursed color update: Yesterday's Purp Walk went well — lots of purple-centric membership sign-ups, and people seemed to enjoy the site's one-day purple makeover. My thanks to all who helped make the day a success. The next Purp Walk will take place on Tuesday, May 17, 2016.
• • • • •

Baseball News: Lots to like in this old photo of Ty Cobb talking to some kids. Cobb's sweater, the kids' caps, everyone's knickers — tasty (big thanks to Austin Gillis). "¦ Louisiana-Lafayette softball pitcher Christina Hamilton wears Major League-style glasses on the mound (from John Gogarty). "¦ At first I thought Angels pitcher C.J. Wilson's cap was splitting along a seam or something like that yesterday. But when I posted that photo on Twitter, people quickly pointed out that he's actually wearing a red headband beneath the cap (thanks, Mike). "¦ Here's a set of uniform trackers for the SEC teams (from Kevin Ives). "¦ Astros P Lance McCullers made his MLB debut last night and wore Batman logo shoes for the occasion. "¦ 1906 Fresno Raisin Eaters throwbacks upcoming for the Fresno Grizzlies (from Jared Buccola). "¦ When the Marlins moved Dan Jennings from the GM's suite to the manager's office yesterday, people jokingly said, "Will he wear a tie?" And the answer turned out to be yes! (Thanks, Mike.)

NBA News: Here's a really good article on the logistics, economics, and psychology of NBA postseason T-shirt giveaways. As you might imagine, I take a pretty dim view of the way teams pressure fans to wear the tees (using the scoreboard to shame your paying customers into dressing like everyone else seems particularly odious), but the larger phenomenon of these tees is definitely interesting. Recommended reading. "¦ This is pretty great: A bunch of Philly-based actors who play Ben Franklin in various contexts were asked to assess the Sixers' new Dribblin' Ben logo (from Tom Hirt). "¦ That same artist who's been doing great representational drawings for each round of the NBA playoffs has done a new set for the conference finals (thanks, Mike).

Soccer News: "Football League in England (2nd-4th division soccer) has new sleeve patches for its promotion playoffs," says BW. "¦ Valencia players showed concern for the Nepali earthquake victims by wearing Nepali NOBs, with the jerseys being auctioned off for relief charities (thanks, Phil). "¦ Steven Gerrard will be playing for the LA Galaxy soon, but he's not a Galaxy player yet, so he refused to sign a fan's Galaxy jersey after his final game for Liverpool (from @holycalamity).

Grab Bag: Pitt will apparently have new football uniforms in 2016. … Students at Texas A&M were so upset about the school's recent change to the beveled logo that they changed the school's entrance sign (from Greg Keith). "¦ New logo for Northern Colorado athletics. "¦ The Obama administration's newly announced ban on federal agencies providing military equipment to local police departments includes a prohibition on "certain types of camouflage uniforms." … As you may have noticed, Triple Crown hopeful American Pharoah's name does not have the proper spelling of "pharaoh," which has led to lots of typos as editors mistakenly impose the "correct" spelling onto his name (from Brian Spiess). "¦ You know how many apps and websites (but not this one) have those three lines that indicate the presence of a menu? That's called a "hamburger icon," which I didn't know until I read this article about it (thanks, Brinke). "¦ "With Dave Letterman doing his final shows this week, it seems appropriate to share this pic of him and the Comedy Store basketball team in their unis from 1976," says Phil Johnson. "Here's the related blog entry with the backstory (and a whole lot more)." "¦ A rugby team in New Zealand had its uniforms stolen. "¦ A North Carolina boy was banned from his prom because he wore his grandfather's kilt. "¦ '47 Brand is selling a line of MLB and NHL caps with rainbow team logos for gay pride (from Matt Porges). … Oooh, check out this L.A. Rams bowling pin! That's pretty good — someone should DIY a full NFL set! (Big thanks to Larry Brunt.)