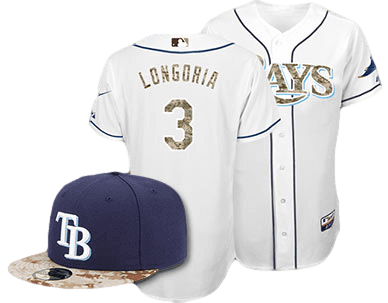 MLB's annual Memorial Day pandering uniforms are now upon us. As had been widely expected and leaked, the caps will have camouflage brims, and the jerseys will feature camouflage type, which is the same as last year.
A few points:
• All this stuff looks like crap, as usual.
• The Blue Jays' cap and jersey have a different camo design to match the Canadian military, which sounds nice until you realize that Canada doesn't even celebrate Memorial Day. (They have Remembrance Day in November, which they celebrate with poppies, not with camouflage.) And yes, they're actually going to be wearing a camo jay. Sigh.
• I don't necessarily adhere to the notion that a cap's brim and squatchee have to be the same color, but I know some of you folks do. For those of you who fall into that camp, does it bug you that caps don't have camo squatchees?
• I didn't check all 30 teams, but several clubs will apparently be wearing solid-colored jerseys on Memorial Day, including the Royals, Rockies, Diamondbacks, and Brewers.
•  Several teams, including the Mets, Padres, Pirates, and Reds, already have camouflage jerseys as part of their uniform sets. Why can't they just wear those miserable camo jerseys, instead of these new miserable camo jerseys?
• MLB's continuing insistence on misrepresenting the point of Memorial Day is infuriating. It's absurd that I even have to explain this, but here it is one more time: Memorial Day is not about celebrating or even honoring the military; it's about mourning the fallen. A pregame moment of silence would be appropriate. If they insist on having a uniform gesture, the right move would be a black armband. Going G.I. Joke for Memorial Day isn't just bad design — it's bad civics. That's not a good thing for any institution to be promoting, but it's particularly egregious coming from something that considers itself the national pastime.
• I hate that New Era continues to call these caps "the Stars and Stripes Collection." For one thing, shouldn't that term be reserved for the awful Fourth of July caps instead of the awful Memorial Day caps? More importantly, referring to camouflage merch as "Stars and Stripes" reinforces the insidious notion that support for the military and patriotism are synonymous, which is patently false.
• Related to the above: The sport's world's endless drumbeat to glorify the military over and over and over again, to the near-exclusion of all other sectors of society, is highly disappointing. When there are special uniforms to honor Peace Corps volunteers, teachers, civil servants, social workers, and other deserving parties, we can talk. Until then, I'll keep calling this stuff what it is: race-to-the-bottom pandering.
•  Here, let's play a little game. See if you can spot the similar elements in these tweets that were issued yesterday by three MLB players:
Just got this @NewEraCap from @lids4hats. Look forward to wearing it on Memorial Day pic.twitter.com/8c1mOvGufw

— Curtis Granderson (@cgrand3) May 7, 2015
Thanks for the hookup @NewEraCap is great !! pic.twitter.com/k1FwiAwxpI

— Brett Lawrie (@blawrie13) May 7, 2015
I am honored to wear this neweracap on Memorial Day. Thank you @lids. https://t.co/aWdMXP1bOt

— Buster Posey (@BusterPosey) May 7, 2015
Yeah, there's nothing more patriotic than being a corporate shill. What a disgrace — really tells you everything you need to know about this promotion.
Two final thoughts: If you're mourning a fallen military service member, please accept my condolences, as well as my hopes that MLB eventually comes up with a more appropriate gesture for Memorial Day. And if you're a military service member yourself, please know that my beef is with MLB, not with you — I respect what you do. But I also know that not all soldiers are heroes and not all heroes are soldiers.
•  •  •  •  •
Cell phone case voting results: Big congrats to reader Matt Beahan, whose cell phone case design, shown at right, won the first round of reader voting and then also won the run-off voting yesterday. He's won himself $100 and a free phone case.
I want Matt to make a few teeny-tiny adjustments to his design before we put it into production, but it should be available for purchase next week. Stay tuned.
•  •  •  •  •
PermaRec update: An Oklahoma man who bought an old building that used to house a commercial cafeteria found five file cabinets' worth of old recipes inside the building. Get the full story over on Permanent Record.
• • • • •

'Skins Watch: The U. of North Dakota has released a list of proposed new team names to replace "Fighting Sioux" (from Jerry Nitzh). … The California bill that would ban "Redskins" as a school team name has passed in the State Assembly.

Baseball News: Our own Phil Hecken's latest Sporting News piece is a ranking of National League uniforms. … This is interesting: When Nats OF Bryce Harper had that three-homer game on Wednesday, he did it without wearing batting gloves. … Matt Shepardson was watching an old Andy Griffith Show episode and spotted some nice little league uniforms. "The only thing that would've made it better is if Opie and his Mayberry teammates had worn the super-awesome striped stirrups that Aunt Bee is seen giving to him along with his washed uniform, instead of the standard-awesome orange stirrups they wore in-game," says Matt. "¦ Here's a whole site devoted to sophomoric but entertainingly modified baseball cards (blame Dennis Budell). "¦ In what I believe may be an unprecedented move, the White Sox wore their 1983 throwbacks for the third game in a row yesterday. … New orange jerseys for the Dayton Dragons (from Ben, who didn't give his last name). … The Pirates went G.I. Joke last night. … The Medical College of Virginia's baseball team used to use a skull/bones jersey insignia (from Phil Chapman). … "I had Gameday up for Thursday's Cardinals game," says Tom Qualls. "I got rid of the usual two side panels they have up and noticed an oddity for the illustration on the outfield wall: In Busch stadium that part of the wall has a mural of all of the retired numbers and accompanying pictures of those players. But Gameday shows a '50' and a picture of Adam Wainwright. I'm a pretty devout Cardinals fan and I do not remember them retiring his number just yet. I understand that the adverts would not match up, as they don't own the rights, but the retired numbers are shown on the brick building in right-center, so why not put them on the wall as well? Maybe they don't have rights to the images of those players? Weird." … Some G.I. Jokes are bigger jokes than others. Seriously, how ugly is that? Perfect for Mother's Day, too (from Kary Klismet). … The Royals will mark the 30th anniversary of their 1985 World Series title by wearing an odd-looking cap patch on May 24 and June 14. … While listening to last night's Yanks/Orioles game on the radio, I heard something I hadn't been aware of: O's skipper Buck Showalter wears No. 26 as a tribute to former MLBer Johnny Oates, who was his first manager in the minors. … Holy moly, check out the mask being worn by Florida infielder Peter Alonso to protect his broken nose. Never seen a ballplayer wear anything quite like that before (big thanks to James Gilbert). … And if you think Alonso's mask looked weird in that last shot, check out how it looks next to a pair of Vanderbilt uniforms — wow. Here's another view (from John Furstenthal and @ashavadyn). … Remember when Will Ferrell played for 189 different teams in one day, or whatever it was? Topps has now produced a series of trading cards showing Ferrell in each of the uniforms he wore that day (thanks, Mike). … Check out this Yankees Old-Timers Day BP cap, complete with a miserable hashtag on the back (because nothing says old-timers like a hashtag). There's also a grey-brimmed version. Altough it's not explicitly stated in the listing, I think these caps will be worn during the old-timers ceremony/game. … The Diamondbacks wore their throwbacks last night and even issued throwback-style game notes (from Adam Vitcavage).

NFL News: Here are the Browns' new helmets, ready for rookie camp. … Here's a weird one: Former MLB pitcher Kyle Farnsworth is now playing semi-pro football and is wearing a Justin Tuck-style facemask (from Chris Flinn). "¦ Here's a video of Broncos rookies being fitted for their new gear.

College Football News: Whoa, check out this shot of Wake Forest in mono-black vs. UNC in this 1948 color vs. color game (from James Gilbert). … Georgia Gov. Nathan Deal signed the so-called Todd Gurley bill into law yesterday, making it a crime to entice college athletes to break NCAA rules for money. According to this story, the bill was officially known as House Bill 3, to match Gurley's uniform number.

Hockey News: Evgeni Malkin has been wearing his Penguins gloves while playing for Russia at the world championships (from Layne Davison). … Meanwhile, Belarus captain Alexei Kalyuzhny, who wears No. 17, lost the "7" from his helmet (from Derek Smith). … Discover has renewed its sponsorship with the NHL, and one aspect of the new agreement is that people can apply for a Discover card with the NHL logo or any of the 30 team logos. … Here's something I'd never heard before: According to this trading card, the Whalers got their name in part because the first three letters are "WHA" (from Aaron Husul). … Dane Drutis posted this comment on the site last night: "The first Canadiens goal tonight was scored by Markov and assisted by Subban and Pacioretty — uniform numbers 79, 76 and 67. That made me wonder what is the highest number combination to produce a goal in an NHL game. Have Hossa, Kane, and Richards (81-88-91) been on a line for the Blackhawks? The Penguins may have come close a couple of times, with Lemieux, Jagr, and Coffey (66-68-77) or Letang, Malkin, and Crosby (58-71-87) (or very briefly, Hossa). I can't find a third high number on the Kings when Coffey and Gretzky were there." "¦ Blackhawks defenseman Michal Rozsival was missing the little "X" stitching on his left shoulder patch last night (good catch by Jeffrey Seals).

Soccer News: New uniforms for Olympique Marseille (from Alex Cohen). … This fan message at a Barcelona game was actually a Nike marketing campaign (from Stefan Schubert). "¦ Alfreton Town FC is letting fans choose the team's new kit (from Casey Wieder).

Grab Bag: Tennis player Andy Murray has his wedding band tied to his sneaker, just like NBA player Mark Jackson used to do (from Andrew Cosentino). … A Somali-American woman was hoping to join the Columbus police force but dropped out the program because she wasn't allowed to wear her hijab. She's now receiving offers from other police departments that don't have anti-hijab policies (from Jason Hillyer). … Here's a cause that I haven't seen represented on a uniform before: A Gaelic football team will be wearing a farm safety message on May 17. … European boarding schools are being urged to use gender-neutral uniforms to avoid discriminating against LGBT students. "¦ New athletics dept. wordmark for Metropolitan State. … Organizers of a North Carolina apple festival have revised their logo after people complained that the original design featured a musical note facing the wrong way. … Here are the five designs being considered for NASCAR driver Ben Kennedy's new helmet. … Speaking of NASCAR, Goodyear is rolling out some throwback tires (from Patrick Lindsey). … Nike execs say they will create 10,000 American jobs if the Pacific free-trade zone, which is currently a priority for President Obama, is approved.