Click to enlarge
UNC debuted new uniforms last night for all 28 of its teams, with two overriding themes: argyle and Carolina blue.
Let's start with the football team. The good news is that the argyle looks really good on most of the jersey, pant, and helmet applications: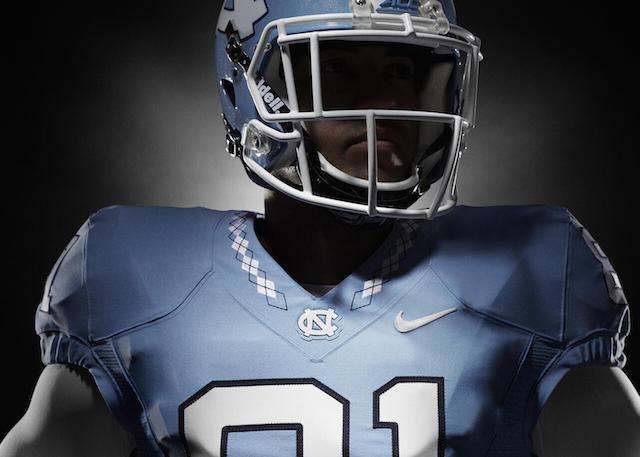 The bad news is that they're sticking with the BFBS option, which feels like a huge mistake. If you're trying so hard to honor your heritage, why go with a non-school color? Navy would've been better, but instead they'll have this: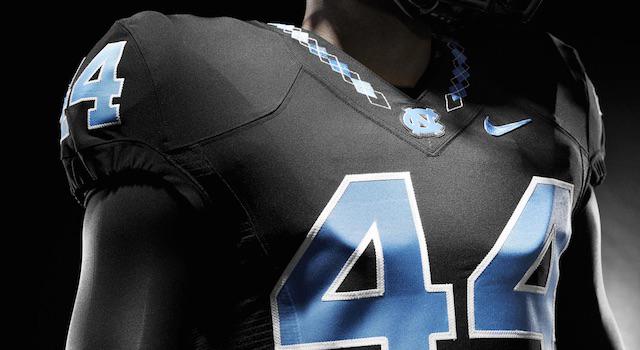 Also worth noting: No custom number font here — just traditional block numerals. Refreshing.
The basketball uniforms look largely unchanged, and therefore fine: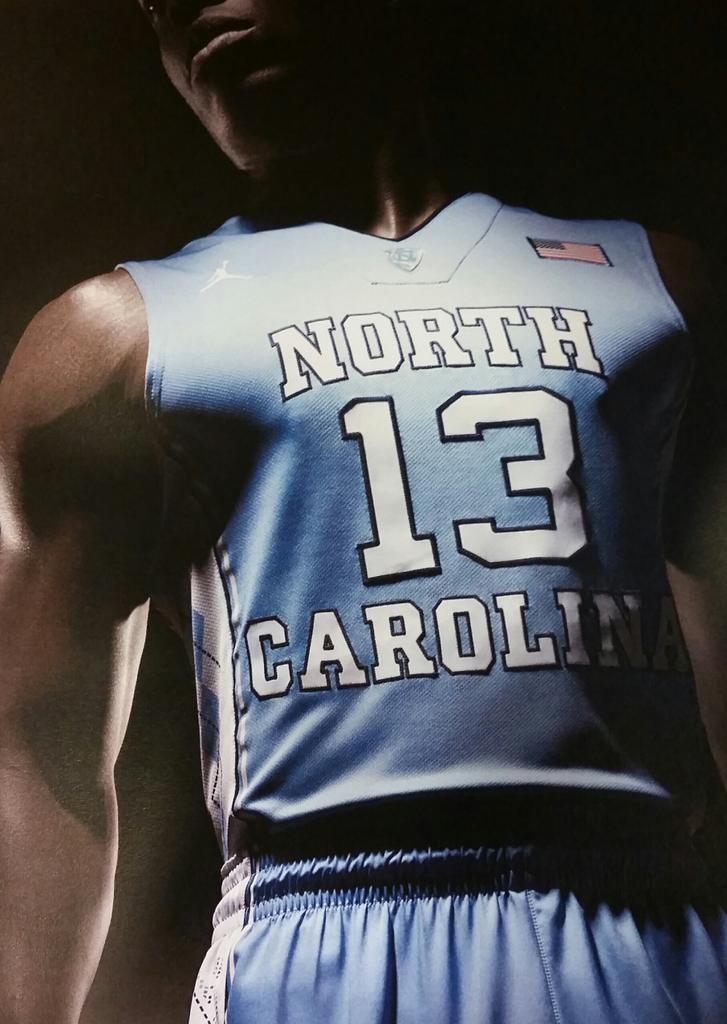 As for the teams nobody cares about the school's other 26 teams, you can see some of their new uniforms here (click to enlarge):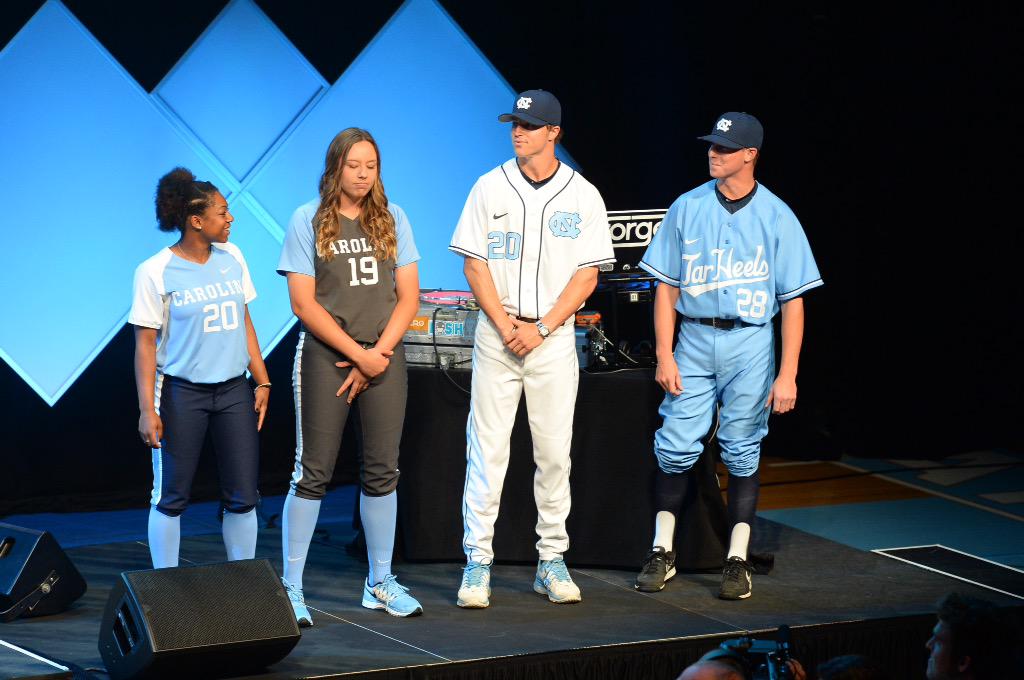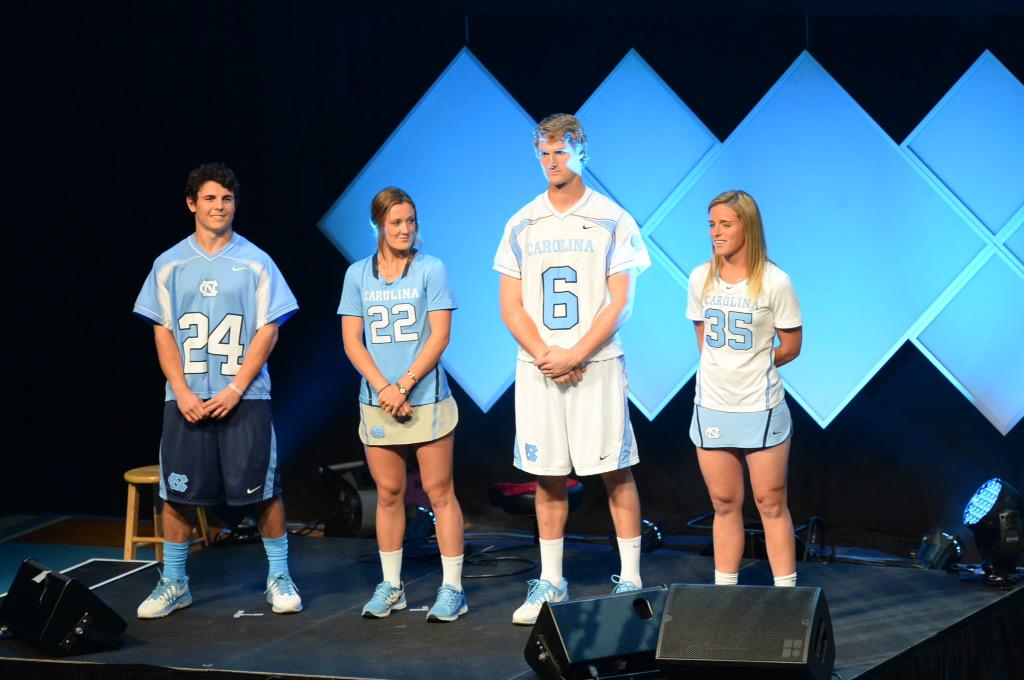 <
Bonus points for the stirrups on that one ballplayer, but someone needs to teach that boy how to blouse.
Overall: Very nice job. That one BFBS football uni is the turd in the punch bowl but hey, ya can't have everything.
Wanna see more? Here's the athletics department's new logo sheet and style guide (kudos to them for making those materials available), along with some additional photos.
•  •  •  •  •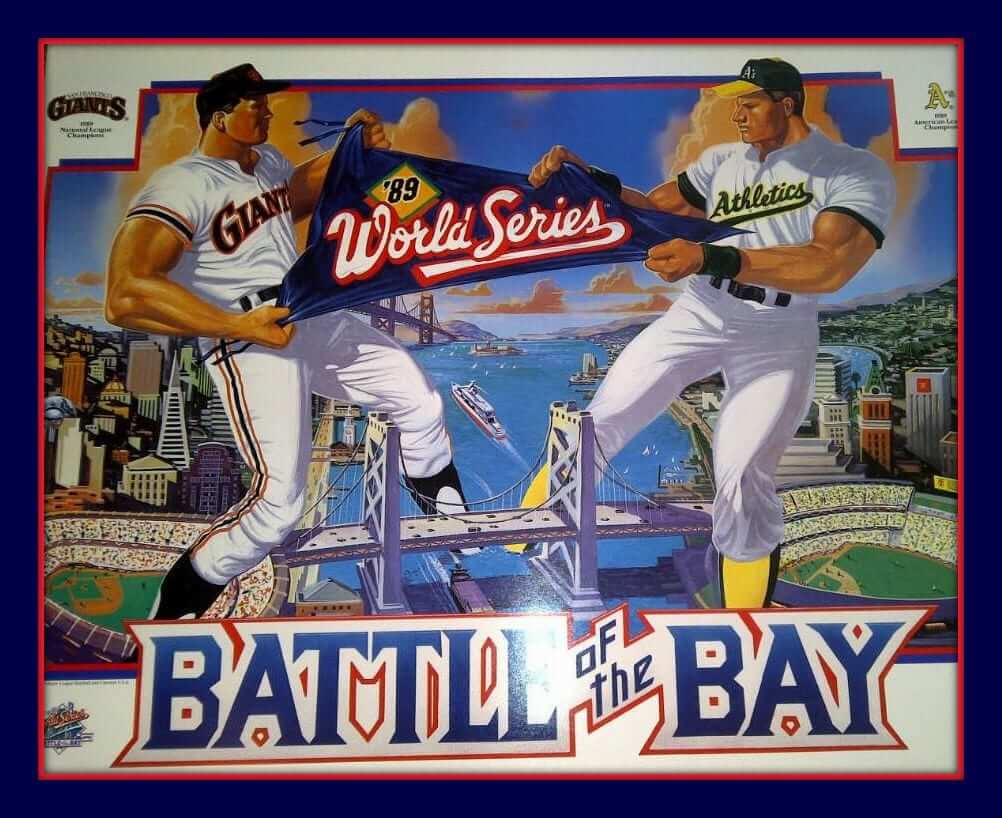 Click to enlarge
Collector's Corner
By Brinke Guthrie
Remember the 1989 Battle of the Bay? That was the World Series with the huge earthquake. I remember exactly where I was when that happened — Reds reliever Rob Dibble and I had just finished an appearance at a "DARE" (Drug Abuse Resistance Education) event in Cincinnati's suburban Anderson Township. We got in the station van just after 8pm Eastern, I pulled out my Sony Watchman (how quaint) to turn on the game, and it was right at that moment — "Whoa, looks like a quake!" If you want to bid on this poster, it's up tonight.
Here are the rest of this week's eBay picks:
• I don't think these are Sears items, but interesting nonetheless: Notice the Vikings helmet pointed to the left on this ski cap and scarf set.
• Need a card locker to store your NHL trading cards? Here's a 1970s version that should do the trick, from O-Pee-Chee.
• Check out this 1960s patch/pin/coin set from the Ted Williams Baseball Camp!
• Here's a pair of 1970s WHA puzzles: Eastern Division and Western Division.
• Here's a 1960s Cincinnati Reds pin from Crane Potato Chips. Ever seen the team's C logo look like that?
• Obviously, this isn't close to being an authentic Bears jersey. But what do you think about the numerals? Should they go to these? (Seems like they used them once in preseason or something.) Definitely gives the jersey a different look.
• Here's a 1960s Original Six hockey crest to sew on your jacket.
• Dave Boss alert! Here's a 1960s painting of the Philadelphia Eagles.
Camping out back in the day was more fun with an NHL pup tent!
• Reader TJ Zimina sent in this nameplate from a Richie Zisk jersey. One of the great surnames in MLB history, right?
Follow Brinke on Twitter: @brinkeguthrie
•  •  •  •  •
Uni Watch News Ticker
By Garrett McGrath

Baseball News: The Red Sox, as per their new tradition, wore their "Boston" whites and a Boston Strong patch for yesterday's Patriots Day game (from Joe Kuras). … Here's short profile on Washington Nationals player Clint Robinson, who's a bat hoarder (from Tommy Turner). … Seattle Mariners player Brad Miller wore some sweet stirrups with the team's throwback uniform. … Astros pitcher Pat Neshek wore his throwback stirrups over dark blue sannies on Sunday (from Jordan Fleck). "¦ The Holy Cross softball team has some awesome purple uniforms (thanks, Purple Paul). … "My mother-in-law made this Brewers cake and cookies for my sister-in-law over the weekend," says Marc-Louis Paprzyca. "She made Bernie, Hank and the fondant herself." "¦ Astros infielder Luis Valbuena wore some odd socks last night. Tough to be sure if the outer socks were patterned or if the pattern was showing through from an interior layer. Either way, not a good look (from Nicholas Roznovsky). "¦ Speaking of the 'Stros, several reader noticed that Evan Gattis's belt last night appeared to have a lot of wear and tear, which is odd considering this is his first year with the team.

NFL News: As the coach of the 49ers, Jim Harbaugh wore black on black cleats (from Michael Korczynski). "¦ Niners OL Alex Boone, who called Harbaugh "clinically insane" yesterday, actually mentioned the cleats last September, when he had a more positive opinion of Harbaugh: "He's a great guy. How can you not want to win for a guy that wears cleats during the game?"

College Football News: Michigan State will wear this patch for their spring game on Saturday. … Here's a slideshow of some of the more interesting items that were available at Oregon's surplus equipment sale (from Scott Cummings). … It appears that Virginia Tech may go color vs color for their spring game on Saturday (from Andrew Cosentino).

Hockey News: A shot of the penalty box during last night's Penguins/Rangers game led Alan Kreit to ask, "Where do the non-Gatorade towels go? I guess they can have other kinds of bottles but only one towel brand." … A Calgary Zoo gorilla wrapped itself in a Canucks jersey, as you can see in this cute video (from John Muir). "¦ Last night marked the first NHL playoff game in Winnipeg since 1996, and Jets fans in revived their playoff whiteout tradition. But it made a lot more sense when teams wore white at home.

Soccer News: A semi-pro soccer player in the UK was removed from the team after he was caught having sex in the dugout while in uniform (thanks, Paul).

NBA News: The Houston Rockets are giving out red and silver T-shirts for everyone at tonight's playoff game (from Shaymes Harden). … Someon on Reddit created an NBA playoff bracket the NBA Playoff bracket with 8-bit characters for each team (thanks, Mike). "¦ Also from Mike: Another Redditor created some illustrations showing the NBA's first-round playoff match-ups, and they're pretty good! Illustrating the Nets was a challenge, though. "¦ One more from Mike: "The NBA on TNT gang received personalized Harlem Globetrotters jerseys last night — except for Charles Barkley, who got a Washington Generals jersey."

Grab Bag: The Japanese men's national volleyball team has a new look (from Jeremy Brahm). … Doug Flutie was being interviewed prior to his charity run in the Boston Marathon while wearing a cap with a logo that combines the Boston's four major pro sports franchises (from Dave Garabedian). … Under Armour is expanding their presence in Portland, Oregon, location of Nike and Adidas' North American headquarters (thanks, Brinke). … New logo for Saint Vincent College athletics (from Jim Iovino).