On Friday I posted some Clippers leaks. That prompted a new source to come forward with some additional materials connected to the team's upcoming redesign.
As you'll recall, the images I posted on Friday appeared to be from a rebranding proposal prepared by a design firm. I've now acquired that entire proposal. Here it is (for all of today's images, you can click to enlarge):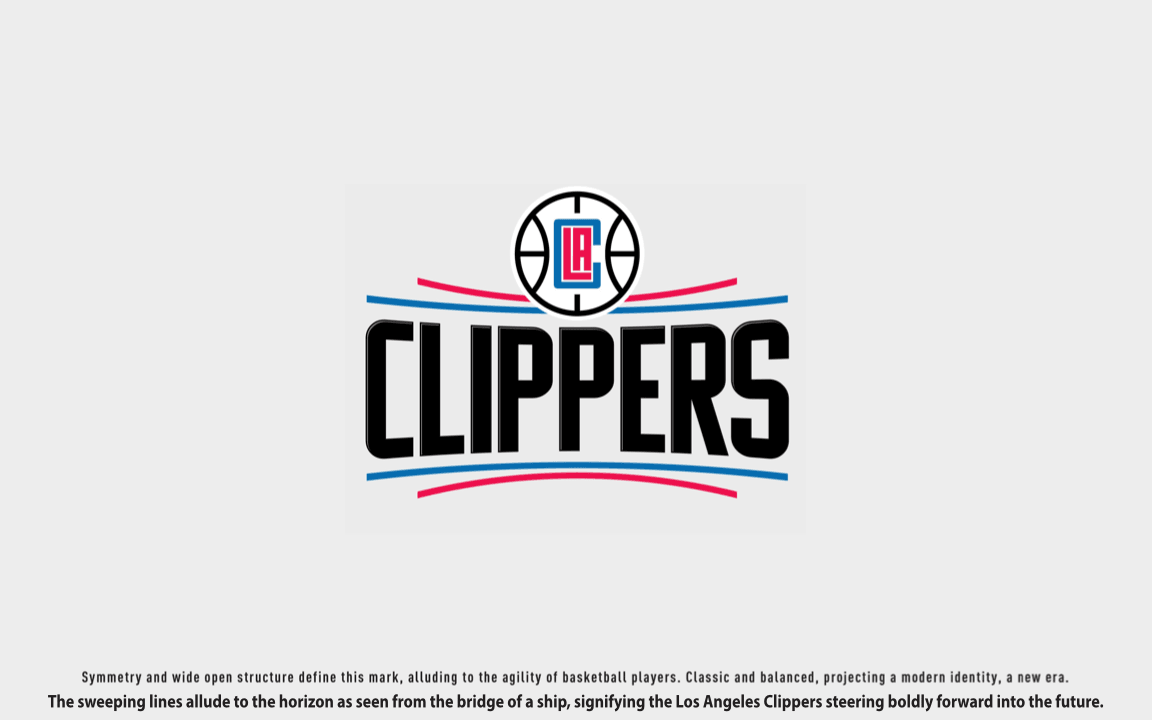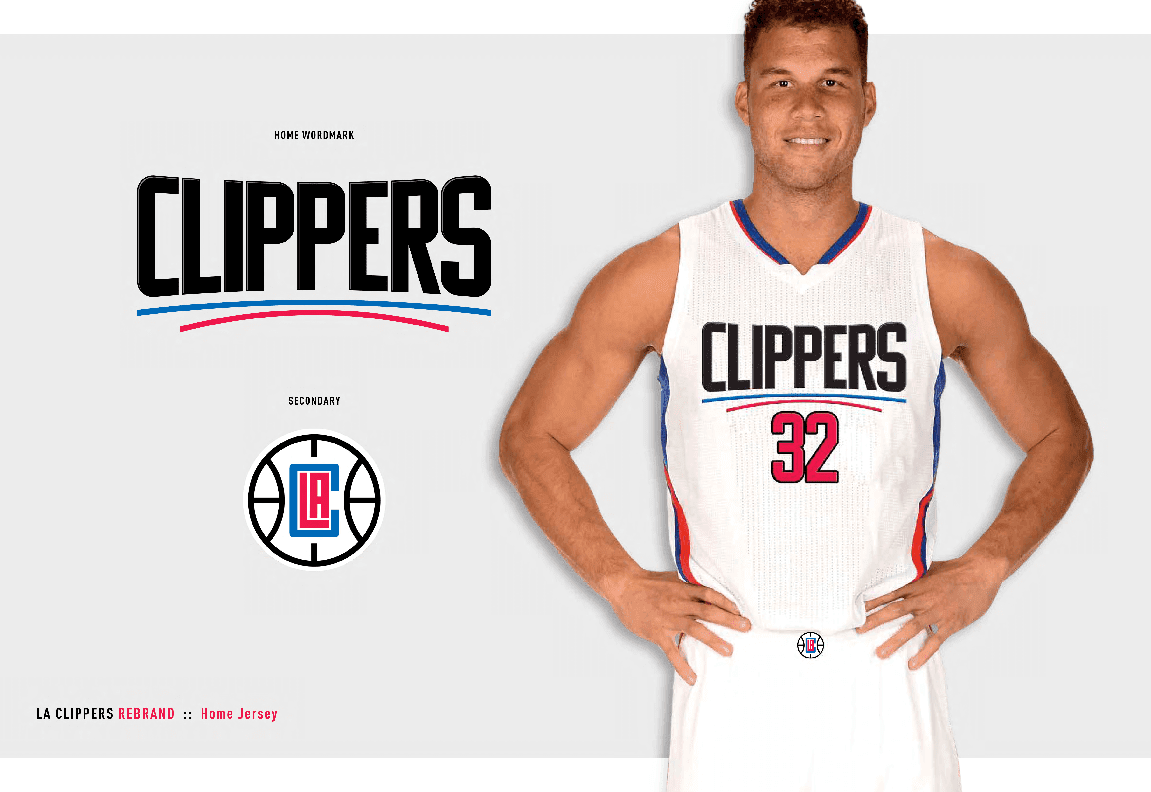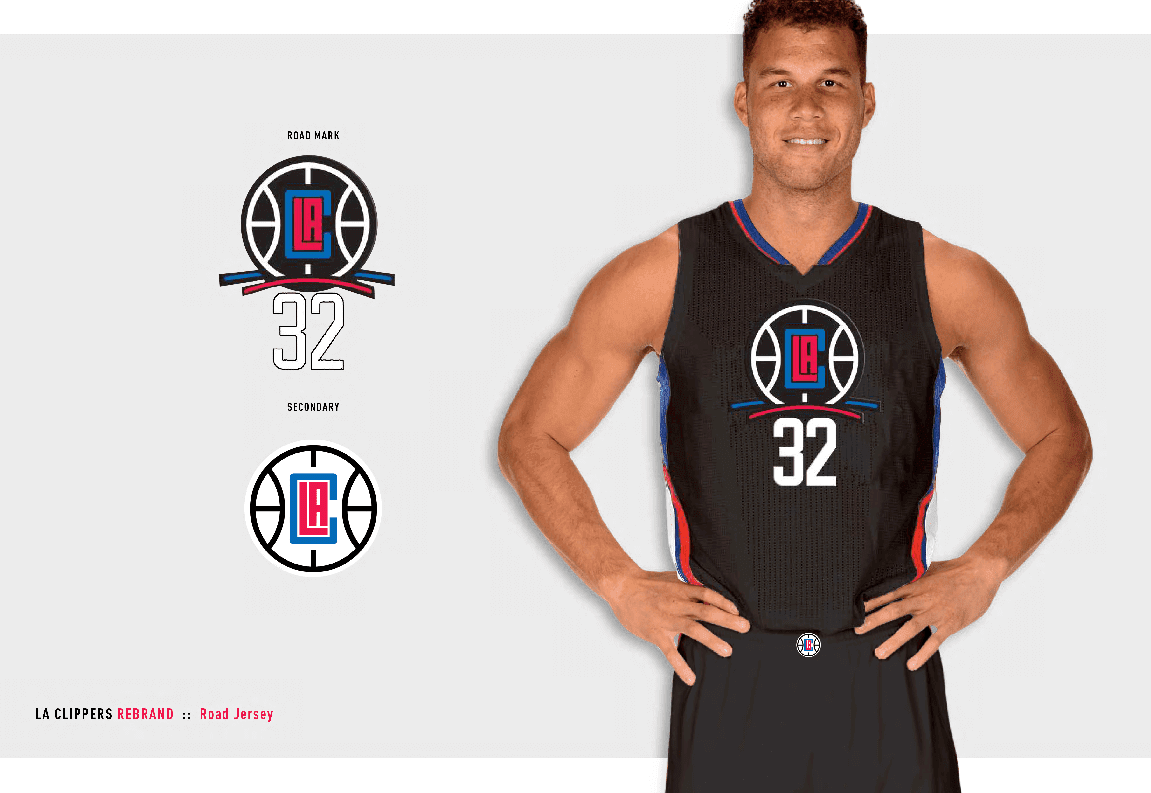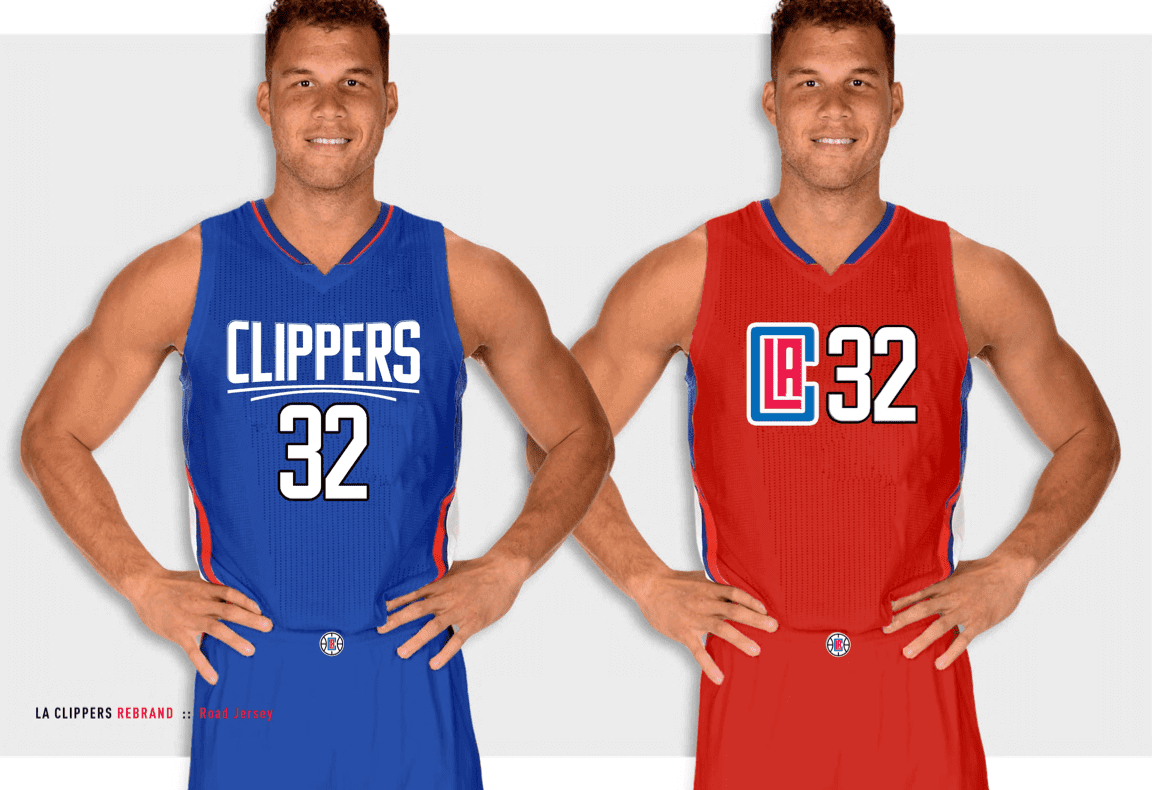 Now, you might be saying, "Okay, so somebody proposed this design. But are the Clippers really using it?" Several different sources have confirmed to me that they are. And one of those sources came up with something more official than the design proposal: the team's new logo style sheet. Take a look: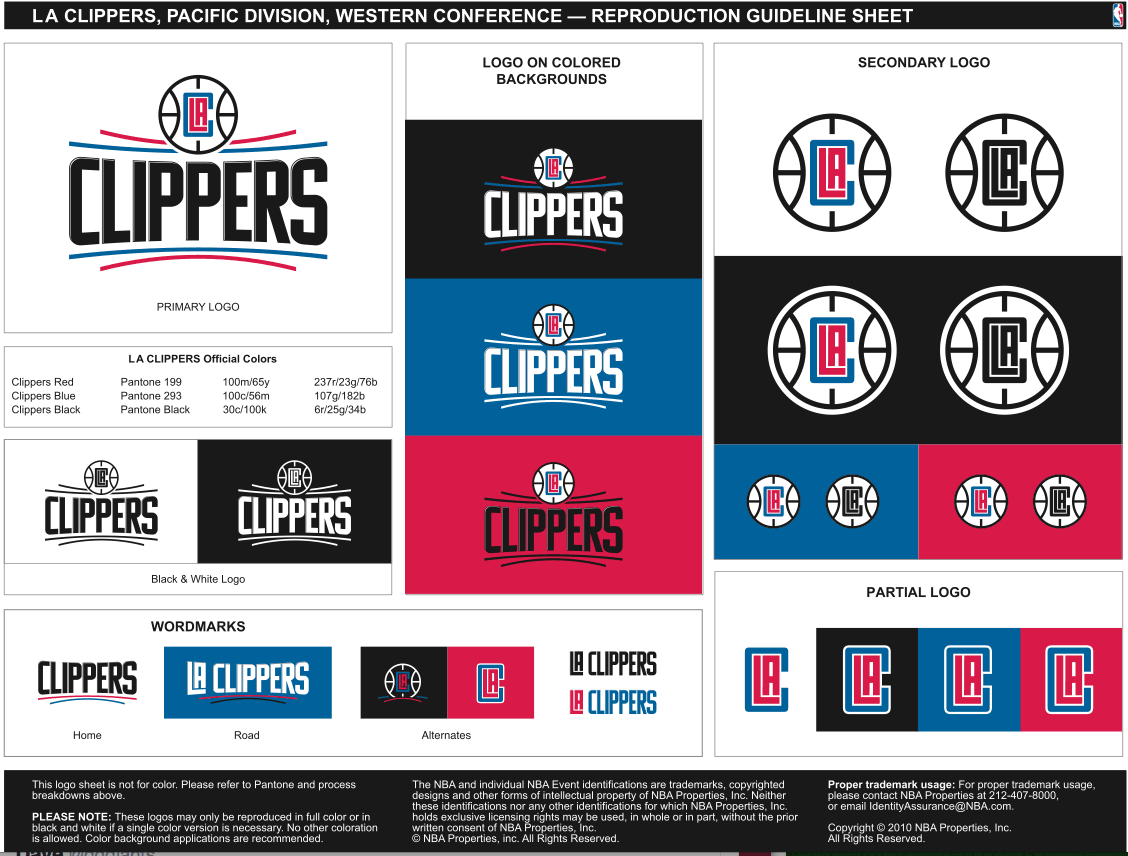 There's a lot to process here. Let's go one thing at a time:
1. This is our first look at the white home uni.
2. The note about the "sweeping lines" on the logo pertaining to "the horizon as seen from the bridge of a ship, signifying the Los Angeles Clippers steering boldly into the future" has got to be history's lamest, most pathetically willful attempt to inject "story" into a team design. Enough already with the bogus "story" nonsense — just say you used the curved lines because you think they provide the design with balance and graphic interest (which they don't, but we'll worry about that later).
3. It's hard to see in that first run of images, but there's some subtle (and really amateurish) edging on the wordmark. It's more apparent in this close-up: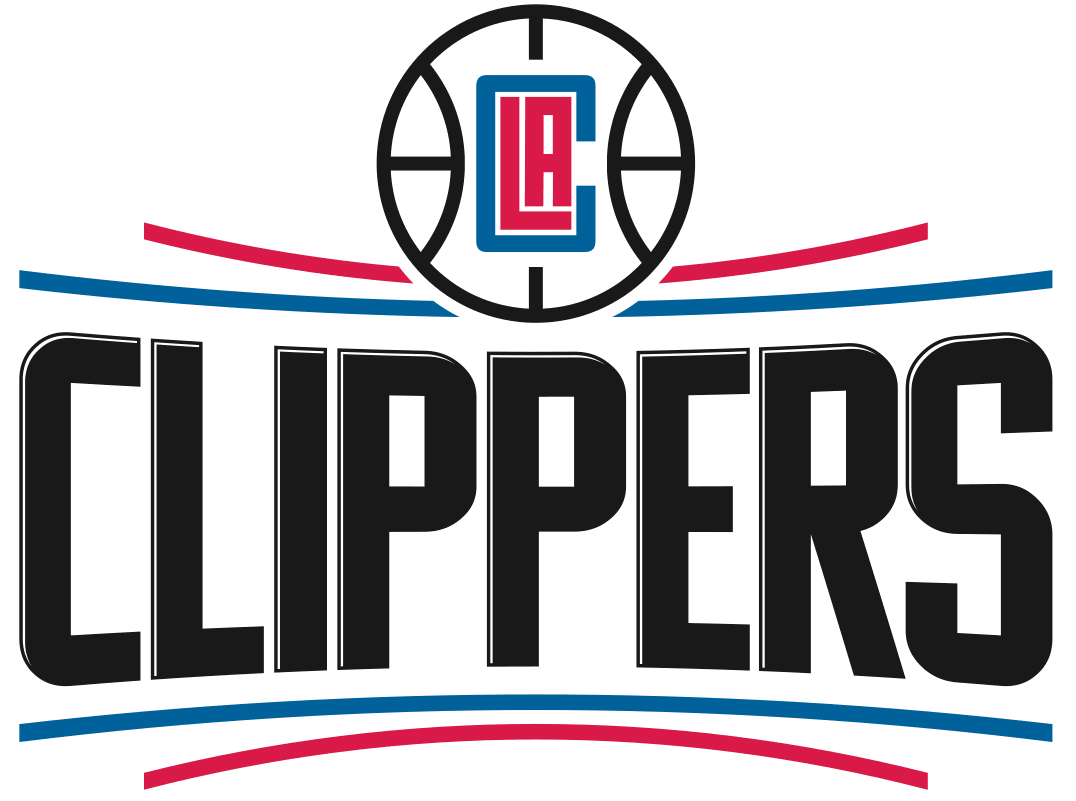 4. The design proposal lists the black uniform and the blue and red uniforms as "road jerseys" (which, obviously, can't all be true). The style sheet clarifies things, indicating that blue will be used on the road, with the red and black designs used as alternates.
5. The style sheet also shows a road wordmark that doesn't appear in the design proposal and was presumably developed as part of the revision process.
I think that covers it, at least until someone comes along with the style sheet that shows the final versions of the uniforms (which I figure should happen any day now). As for the design itself, it's clearly a train wreck, but you no doubt figured that out for yourself already. Can't wait for the unveiling!
[Insert obligatory "Yo, NBA people, you could inoculate yourselves against these types of leaks and stop playing a losing game of Whac-a-Mole if you worked with me like you used to" notice here.]
•  •  •  •  •
And speaking of the NBA"¦: I've been impressed by how many people — at least a dozen — have been in touch to ask why the NBA's "Playoffs" logo didn't appear on the court during this past weekend's games. I have no idea, although can think of several good answers to that question (they figured the whole damn world already realizes that these are playoff games; it's embarrassing to hype your postseason when three of the teams that qualified for it didn't even have winning records; the courts are cluttered with enough graphics as it is; etc.).
The real surprise was that most of the people getting in touch with me were pretty upset about the logo's omission, with many of them saying that "the atmosphere doesn't feel right" without it, or something along those lines. Granted, I'm not a big NBA fan, but it seems to me that if you need a logo on the court to get yourself psyched up for a playoff game, something's wrong, no?
• • • • •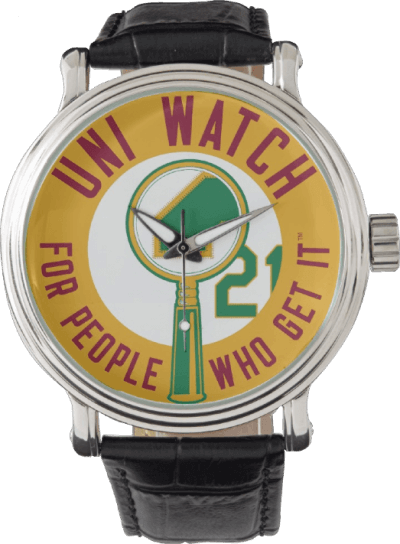 Can't believe I never thought of this before: Phil and I were talking the other day about how it would be funny to have a Uni Watch watch. I know that the folks at Zazzle, who will happily slap your logo on a T-shirt, coffee mug, tote bag, or whatever, are always expanding their range of product offerings, so I checked to see if they now offer wristwatches. And sure enough, they do! So behold: the Uni Watch watch, available in dozens of different styles.
Of course, cell phones have pretty much made watches obsolete, so I don't really expect many people to buy these. But it's fun to know they're available.
• • • • •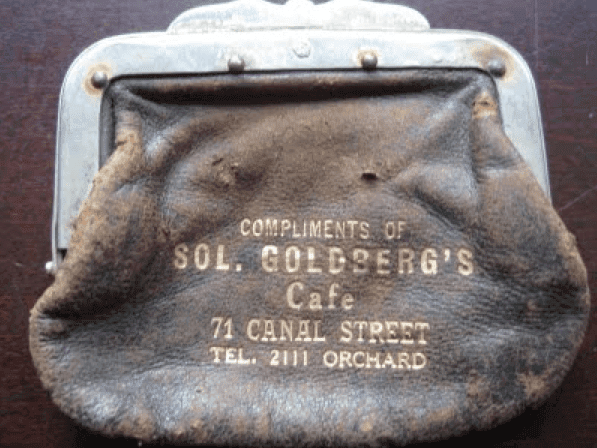 PermaRec update: I've recently been introduced to the work of a writer who enjoys sleuthing out the stories behind found objects (including the promotional change purse shown at right) just as much as I do. Learn more over on Permanent Record.
• • • • •

Baseball News: Today is Patriots' Day in Massachusetts, so the Red Sox will once again be wearing their white "Boston" jerseys. "¦ Memorial Day is approaching, which means it's time for MLB's annual mix of pandering, misrepresenting the holiday's meaning, and bad design. This year's version features camouflage brims. What, no matching camo squatchee? An insult to the troops, I tells ya! "¦ We've all seen batting helmets gunked up with pine tar, but Alex Rodriguez is using rosin. I don't recall him (or anyone else) doing that in the past. "¦ Speaking of A-Rod, he's one of several Yankees who appear to be wearing Cool Base jerseys, at least on the road — something the Yanks have never worn before (good spot by Mark Barnett). "¦ I like this: a cap with a logo that shows another cap. "¦ Tigers P David Price has some personalized socks (from Jerry Nitzh). "¦ A bizarre Tigers logo in the window of a Detroit barber shop has become a hit on T-shirts (From Dan Kennedy). "¦ Attention DIYers! Here's something you don't often see: a bunch of blank tequila sunrise jerseys. You know what to do. "¦ Mets P Matt Harvey's embarrassing bat knobs have now been covered up by embarrassing bat knob decals (from Mike Engle). "¦ The Nashville Sounds did the G.I. Joe thing yesterday (from Jerry Lawless). "¦ Kerning looks a bit off on Giants OF Justin Maxwell's NOB. "¦ Very nice Sunday creams with striped stirrups yesterday for UConn. "¦ The Las Vegas 51s and Fresno Grizzlies are both wearing Jerry Tarkanian tribute jerseys. "¦ The Nats have this odd display promoting their customized jerseys. Why would they use white letters/numbers on a white jersey? (From John Muir.) "¦ Braves P Cody Martin has the finger protector on the middle finger of his glove, instead of the index finger (from William Clark). "¦ The Mariners debuted their very nice cream/royal/gold Sunday alts yesterday. "¦ Several Pirates wore two-in-ones in yesterday's game (from Curtis Galvin). "¦ Cubs P Jon Lester caught a comebacker in the yesterday and couldn't get the ball out of the webbing of his glove, so he tossed the whole glove to first base to get the out. Reminds me of several players who've done the same thing, including Jose Abreu of the White Sox last year and Orlando Hernandez of the Yankees in 1999. "¦ Royals pitchers Yordano Ventura and Edinson Volquez traded jerseys for a pregame autograph session yesterday.

NFL News: Powder blue Monday: Some great looks at old Chargers uniforms not to mention some 1960s and '70s hairstyles — in this photo essay on former Chargers player Sam Gruneisen (nice one from Douglas Ford).

College Football News: Some players in Auburn's spring game were wearing jerseys from 2008. "¦ Speaking of spring games, Pitt's had inconsistent number fonts (from Michael Korczynski). "¦ UNC's new helmets have an argyle stripe down the middle.

Hockey News: The Capitals will be wearing their throwbacks for all road games throughout the playoffs (from Brendan Bailey). "¦ About 50 Flames fans had their jerseys blessed by a Calgary minister prior to yesterday's playoff game against the Canucks. "¦ Speaking of the Flames, their organist has a musical note for a jersey number. "¦ Ditto for the Flames' anthem singer (from Mike Engle). "¦ Example No. 723 of how life would simpler and better if people didn't buy overpriced polyester shirts: Canadiens management has attempted to contact and make amends to two Senators fans who were harassed during one of the Sens/Habs playoff games in Montreal beause they were wearing Ottawa jerseys. Further details here. "¦ New "arena's final season" logo for the Oilers. "¦ Blackhawks G Scott Darling talks about his new mask in this article.

NBA News: LeBron James had to remove the label from his water bottle after yesterday's playoff game, presumably due to corporate sponsors' requirements. Douchebags.

Soccer News: Aston Villa forward Gabriel Agbonlahor was wearing a San Jose Sharks hat during the FA Cup semifinal yesterday. "He was not in the game due to injury but was sitting on the bench along with all of the reserves," says Joe Pitzonka.

Grab Bag: Here's a good summary of the reactions to Hillary Clinton's campaign logo. "¦ A bat and two jerseys that belonged to Phil Hughes, the Australian cricket player who was killed after being hit by a pitch last fall, will be carried by a sherpa to the summit of Mt. Everest. "¦ A police force in England mistakenly had the word "Police" printed upside-down on their uniforms. "¦ 250th-anniversary jerseys this past Saturday for Brown lacrosse. "¦ Answer to the question posed in this headline: Y-E-S!