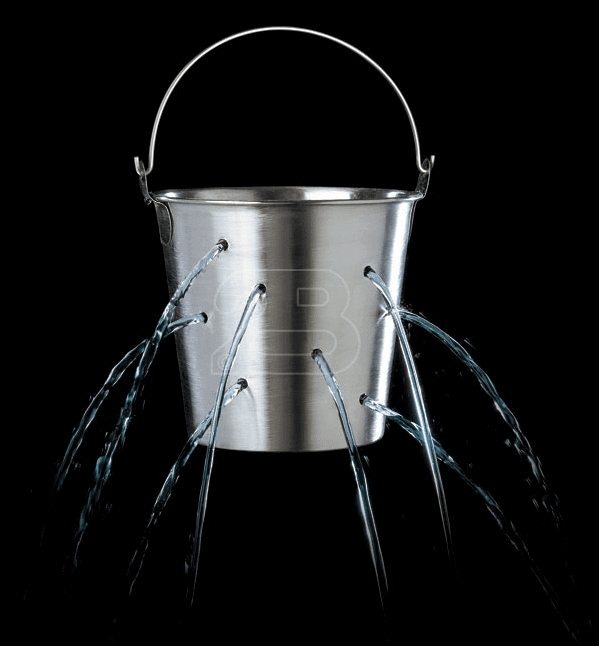 About a month ago someone sent me some graphics that he claimed to be from the Clippers' upcoming redesign. I wrote back to this person — let's call him Source One — and asked him all the things I usually ask when someone claims to be sending me a leak: Who are you? How did you gain access to these materials? How do I know that this content is legit? He didn't respond, so I asked him again a few days later. Again, no response.
The graphics appeared Photoshopped and looked like something that would be included in a design proposal, not in a final design package. That, along with Source One's failure to respond to my queries, made me pretty sure the whole thing was bogus.
Yesterday, however, I heard from someone else — let's call him Source Two — who said he had seen the Clippers' new logo. I asked the same questions (who are you, how did you get to see the logo, etc.), and Source Two responded in a way that satisfied me as to his legitimacy. So I pulled one of the logos that Source One had sent me a month earlier, sent it to Source Two, and said, "Is this what you saw?"
His response: "Yes."
Now, this doesn't necessarily mean that the Clippers are definitely going with the entire graphics package that was shown to me by Source One. But it probably means that they're going with something pretty close to it. With that caveat in mind, here's what Source One originally sent to me (you can click the first one to enlarge):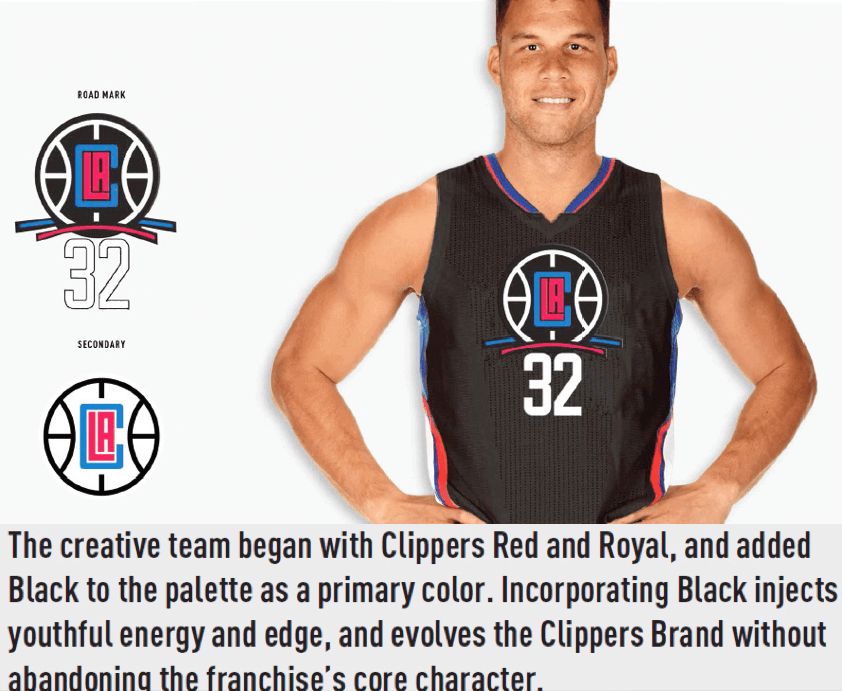 .
.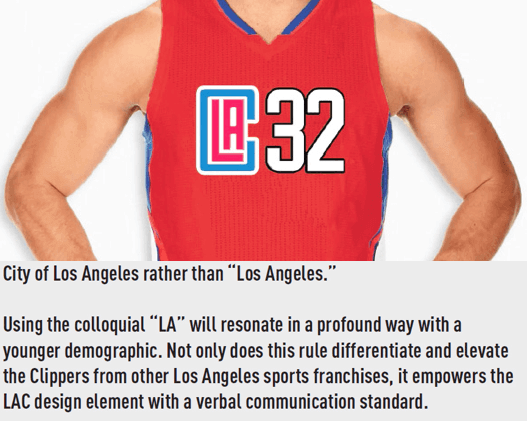 The logo tagged as "Secondary" is the one that Source Two says he's seen. The captions are similar to what you'd find in a branding proposal from a design firm, and I suspect that's where these were taken from. I expect some details will be different in the finished design. And just to be clear, I do not have any independent confirmation on any of these elements except for that one secondary logo. But if that logo is being used, it seems like a fair bet that the rest of the package, or something similar to it, is also in the works.
Update: Another source has confirmed that these Clippers designs are legit.
Meanwhile, in a related item, yet another reader — we'll call him Source Three — has provided an early look at a new uniform and style sheet that the WNBA's Chicago Sky will be using in 2016 (click to enlarge):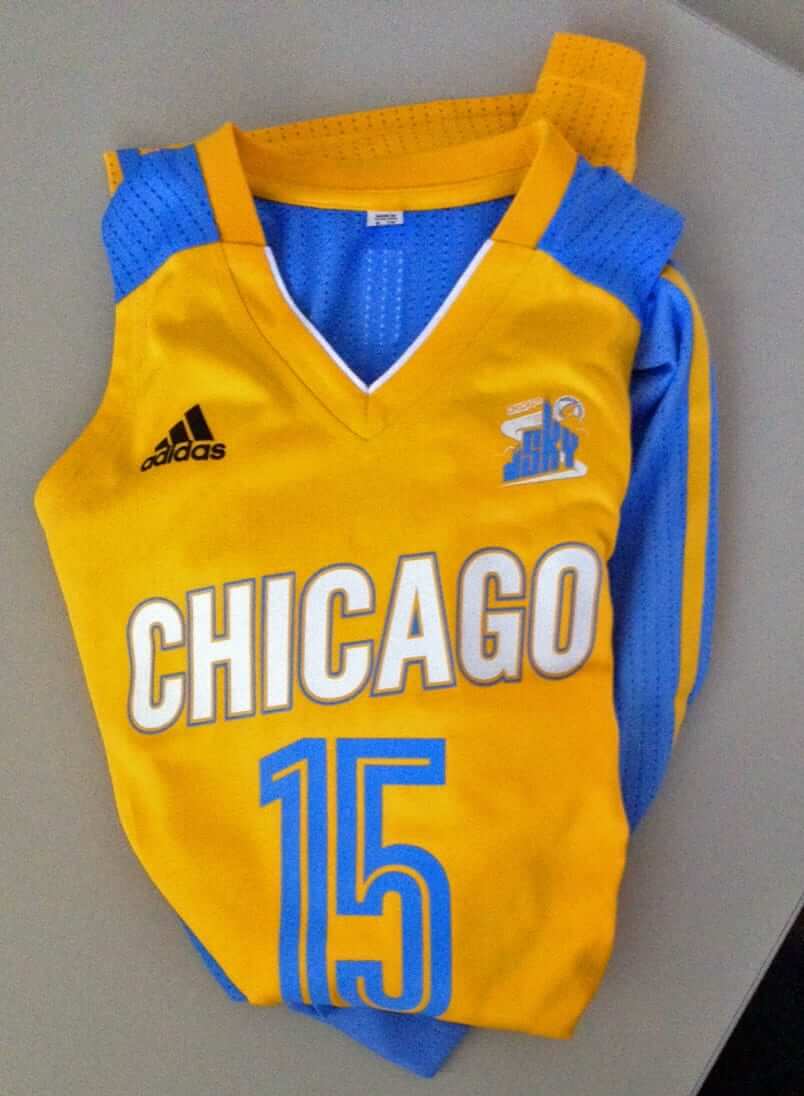 .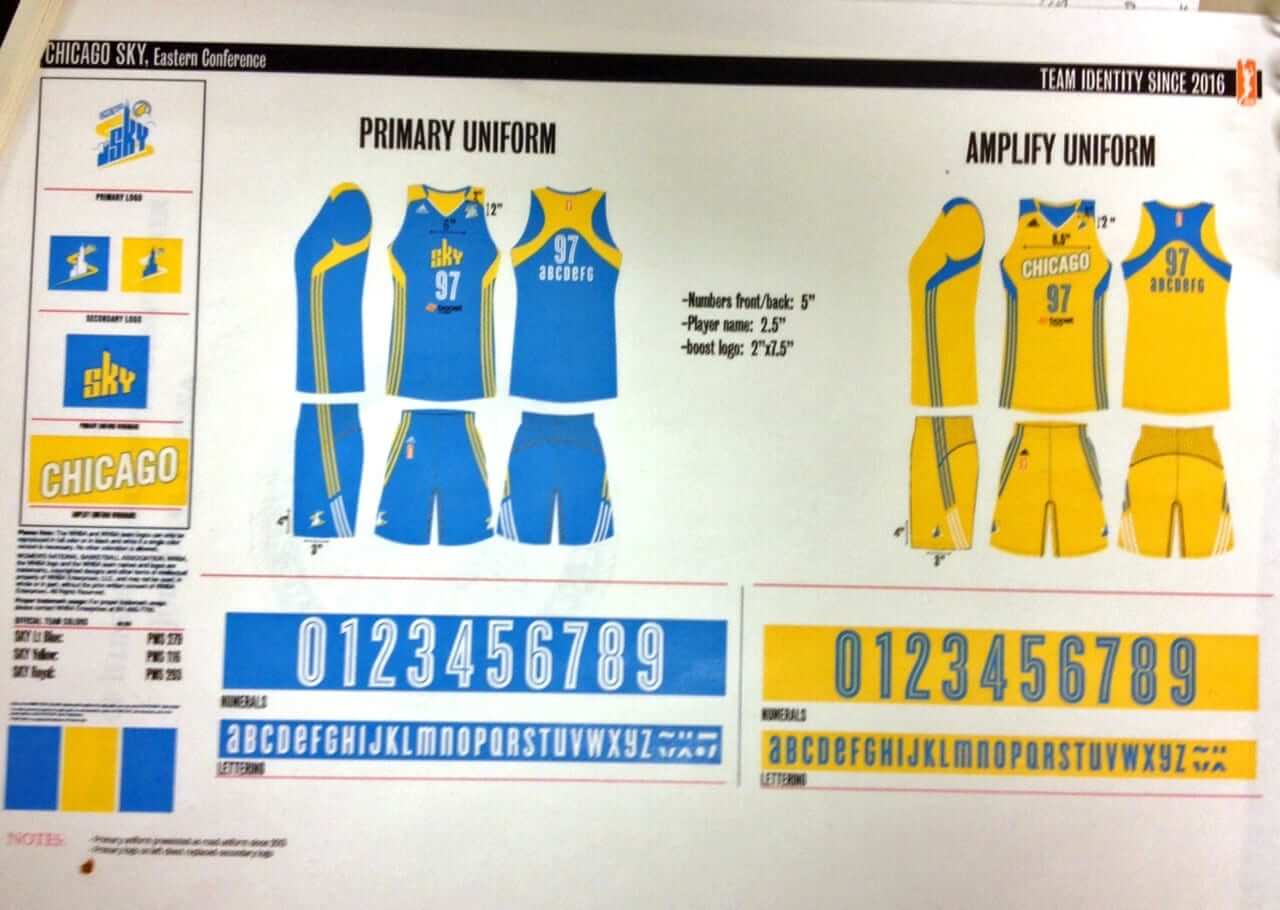 "At first I thought they were getting rid of the white home jerseys all together," says Source Three, "but now I think the 'Ampilfy' set must be an alternate series like 'Heritage' in the NBA. Maybe something to tie in with the WNBA's 20th anniversary in 2016..? Just my educated guesswork at this point."
I'm sure there's going to be a lot of gnashing of teeth in the NBA offices over this post, which means it's time for me to trot out my usual reminder: Teams and leagues could easily inoculate themselves against these types of leaks (at least from me) by working with me and showing me stuff in advance on an embargoed basis. If the NBA had done that with the Clippers and Sky designs, I wouldn't have been able to post these items today, because I've never revealed embargoed content and I never will. But if you don't work with me, then everything's fair game. Think about it, people.
Finally, it's worth noting that some leaks don't come from anonymous sources — they come from the teams themselves. That may be the case in Minnesota, where two Timberwolves execs tweeted photos of the team's new practice facility and, in the process, appear to have given a sneak peek at some changes that are afoot. Since these photos came from high-ranking team execs, I'm assuming they intended the tweets to be teasers for the team's upcoming changes, but I took the liberty of saving the photos, just in case they have a change of heart and delete the tweets (click to enlarge):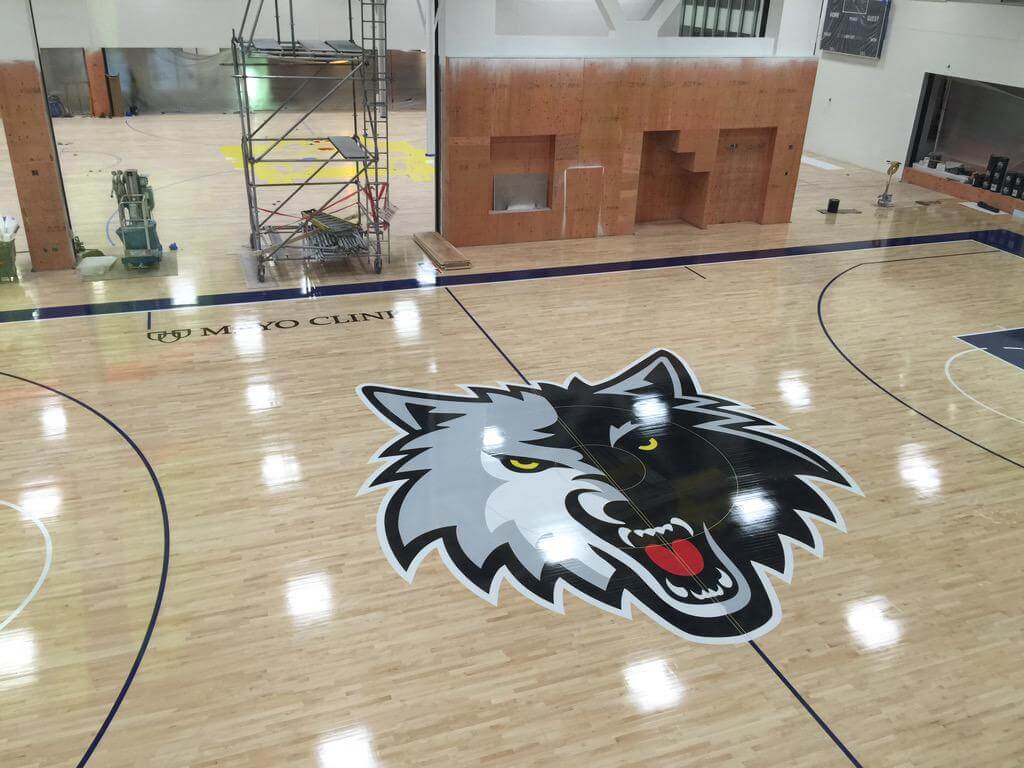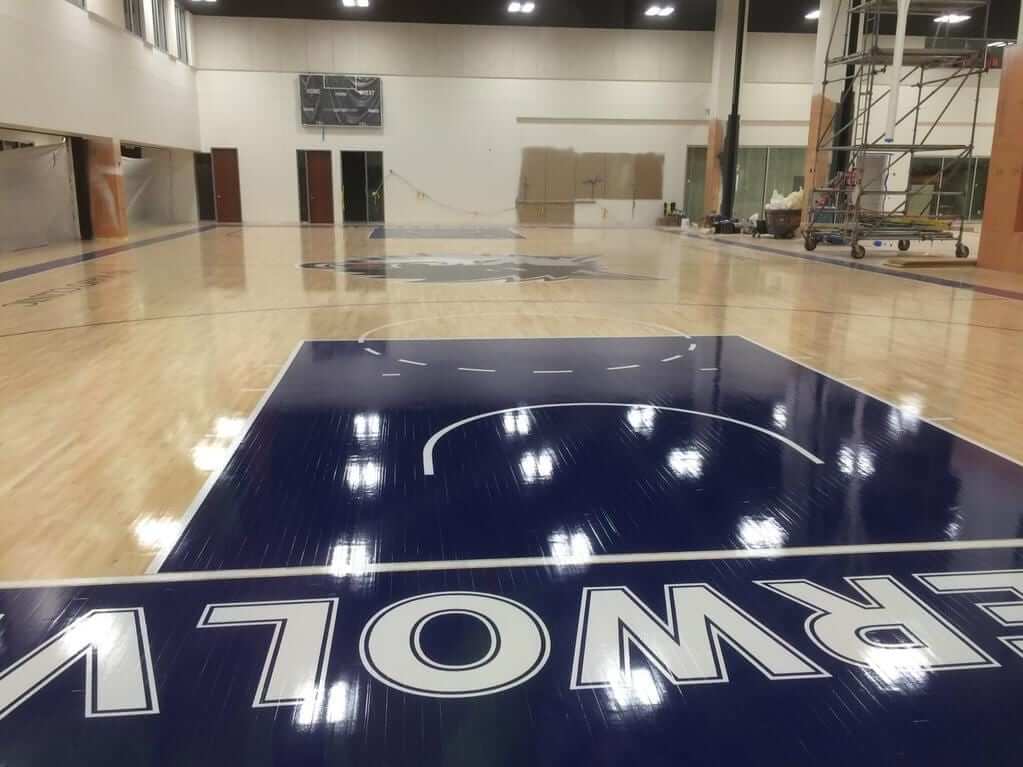 As reader Josh VanKlompenburg points out, there are at least three changes evident in these photos: (1) A deeper shade of blue; (2) a new wordmark; and (3) the trim on the upper-right portion of the logo has changed from blue to grey.
Update: Just got a note from Timberwolves marketing exec Ted Johnson, as follows:
Want to correct a couple of items regarding our new facility and the design on the courts that just appeared on your site. Short answer is that we are not changing our uniforms. The Navy blue and Benton Sans font that you see on the court is a "facility" font and color for our new training complex that houses the Wolves, Lynx, Team Pro Shop and a Mayo Clinic Sports Medicine Center. We'll be unveiling the name of the facility and logo soon but that is why you see these on the court design. The Lynx court is being painted this week and will have the same border coloration and font usage. You will also note the practice courts do not carry the same stain coloration as our performance courts and the naming partner is different (Target Center for performance court and Mayo Clinic for the new practice facility). The idea is that we would have a simplified design for everything in the facility that will work for multiple teams/tenants/brands and not be subject to as much change as our courts/uniforms over the lifespan of this facility ""which should be 20 years or so.
And there you have it.
•  •  •  •  •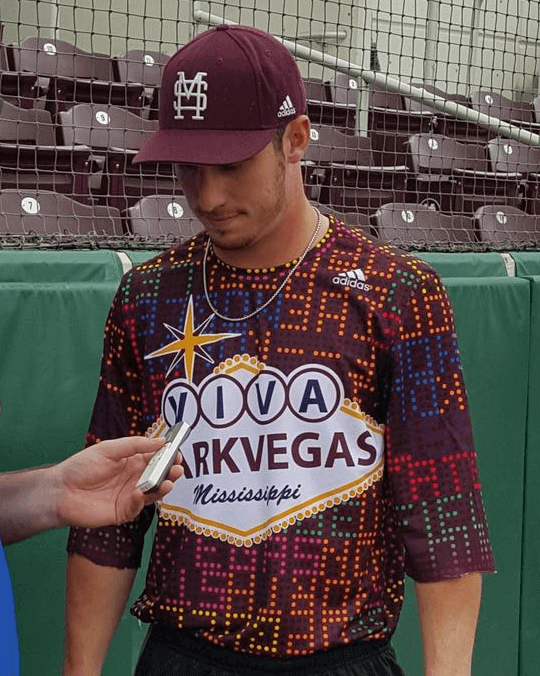 Boys with toys, part 713: Major idiocy last night from the Mississippi State baseball team, which wore these "Viva Starkvegas" BP jerseys — a play on the school's location in Starkville, Mississippi. The design is bad enough, but the jerseys also had some hidden digs at the Bulldogs' rival, the University of Mississippi. In at least two spots, the pattern spells out "F–k the school up north":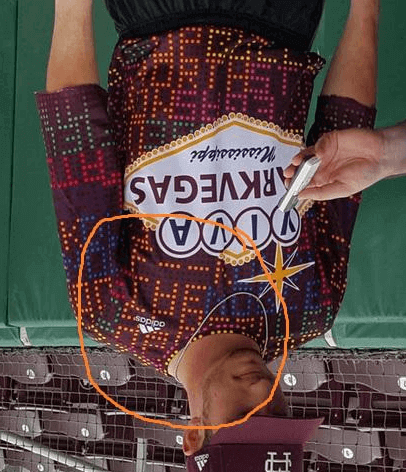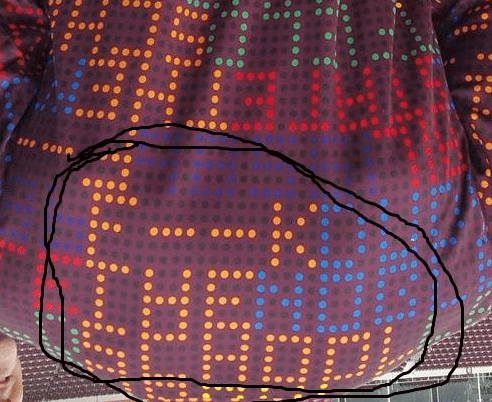 The school's athletic director quickly apologized. So did Adidas, whose spokesman issued the following attempt at damage control:
"The Bulldogs' base-layer graphic today featured old artwork that was never presented to the university. This graphic does not reflect our brand values nor those of Mississippi State. We take full responsibility for this error and wish Mississippi State the best of luck during Super Bulldog Weekend.
I don't really care who's more at fault here, because these clowns all deserve each other. A pox on all their houses.
•  •  •  •  •

'Skins Watch: Machinations over a new stadium for the 'Skins have been complicated by the team's name (from Tommy Turner). "¦ Here's video of some of the protests and confrontations that took place at the Indians' home opener (thanks, Phil). "¦ Native American tribal leaders in Maine are meeting with a local high school to discuss changing the school's team name from "Indians" to something else (from Paul Dillon). "¦ Kenn Tomasch's girlfriend got a credit card offer from Bank of America in the mail the other day. "They used Chief Wahoo on the envelope, but he appears nowhere else in the enclosed offer," he says. "¦ Some students at VCU have developed some concepts to rebrand the 'Skins (from @SeanPLastName). "¦ The bad news is that Montville High School in Connecticut calls its teams the Indians. The worse news, as you can just barely see in this photo, is that they also use Chief Wahoo (from Matthew Edwards).

Baseball News: Lots of great visuals in this illustrated history of Toronto baseball, dating back to the 1850s (from Ted Arnold). "¦ Great early shot of Babe Ruth with future U.S. president George H.W. Bush, with the latter in his Yale baseball uni (from Gordon Blau). "¦ Dodgers P Hyun-jin Ryu wore a yellow ribbon pinned to his jersey two nights ago, presumably to mark the anniversary of last year's South Korean ferry disaster. There were lots of ribbons in the Korean sports world as well (from Matt Ryburn and Allen Kim). "¦ "My son received his first-ever Little League uniform Wednesday," writes Andrew Hoenig. "They handed out the T-shirts (dark blue with Columbia blue printing), caps (Columbia blue), grey pants, and dark blue socks. My first two thoughts were (1) there are no stripes on the socks and (2) I'm going to have to teach him how to blouse his pants properly. Man, you really get inside a guy's head." "¦ Father Judge High School in Philly wore "42" jerseys for warm-ups on Jackie Day (from Chris Hickey). "¦ Nats 1B Ryan Zimmerman's cleats have the logo of his charitable foundation on the tongue. "¦ Kudos to Mets reliever Sean Gilmartin, who says he's proud to wear real stirrups, not two-in-ones (from Alex Giobbi). "¦ Good piece on the origins of the Tigers' old English D (thanks, Phil). "¦ Here's a video on the making of the Pawtucket Red Sox's championship rings (from Brian Codagnone). "¦ "Strike Out Ovarian Cancer" helmets tomorrow for LSU softball. "¦ Here's the UCLA squad in their Jackie Robinson throwbacks (from Brian Porreca). "¦ "OKC" alternate jerseys last night for the Oklahoma City Dodgers. "¦ Mr. Met showed up on The Odd Couple last night. "¦ One thing that has annoyed Mets fans in recent years is that the team's retired numbers had black drop shadows, even though (a) the team's uniform no longer have the shadow and (b) none of the retirees ever wore the shadow. They have fixed that this year.

NFL News: Saints CB Keenan Lewis is considering a new uni number and says he'll buy fans new jerseys if he makes the switcheroo (thanks, Phil). "¦ The release of the new Star Wars trailer means, of course, a bunch of lame-o Star Wars-themed NFL helmet concepts.

College Football News: "A few days a go I was able to see in Mike Sensibaugh's 1969 Ohio State game helmet in person," writes Mike Knapp. "Consistent with what I've seen in old videos and pictures from that time frame, it has a yellow back helmet number, which I find almost sacrilegious. I'm told the reason was because of some rule that helmet numbers had to be easily seen in contrast to the helmet. While that makes sense, I would find it hard to believe that most teams back then even had back helmet numbers to begin with." Anyone know more?

Hockey News: Blackhawks goalie Scott Darling has a new mask for the playoffs (from Steve Johnston). "¦ The Blues gave away David Backes jersey rally towels for their playoff opener (from Elena Elms). "¦ "Finland just hosted Russia in European Hockey Tour play," writes Mira Katriina. "To celebrate the 50-year anniversary of the Tampere Arena, as well as the World Championship home team from the same year, Finland and Russia donned replicas from their 1965 contest for the first period, before changing to their regular uniforms for the rest of the game." "¦ The Red Wings logo on goalie Petr Mrazek's pads doesn't have spokes (from Michael Hersch).

NBA News: Nike is reportedly closing in on a deal to become the NBA's next uniform outfitter beginning in 2017-18. "¦ Here's a very cool time-lapse video of a wall-sized version of the Hawks' Pac-Man logo being created with nothing but Post-its (from Andre Torres). "¦ I really like Conrad Burry's circular NBA playoff bracket.

Soccer News: Arsenal's new away kit has leaked. "¦ What if Irish advertising agencies were soccer teams? (From Charlie Kranz.) "¦ New uniforms for Detroit City FC. "¦ New jerseys for Real Madrid (thanks, Phil).

Grab Bag: Wearing a mascot head is hard work (from Jason Hillyer). "¦ Speaking of mascots, the American Sports Network, a new national network devoted to TV and online coverage of college sports, is conducting a mascot design contest, with a top prize of $1,500. "¦ The State of Missouri's official airplane has a pretty gonzo livery (from Andrew Hoenig). "¦ New airline uniforms in the works for Qantas. "¦ New higlighter-toned alternate kit for the rugby union club Sale Sharks (from Eric Bangeman). "¦ Whoa, check out these early primitive bike helmets (from David Firestone).
•  •  •  •  •

What Paul did last night: My friend Rob Walker (a great, great writer with lots of very wonderful projects) teaches a graduate-level class at the School of Visual Arts called "Products of Design," and last night he asked me to sit in and help critique a bunch of projects that his students were presenting.
As Rob introduced me to the class, I noticed that the student sitting to my left began sketching me in his notebook. As the class went on for the next three hours, he continued sketching, based on what each of his classmates was presenting. Rob later told me that the guy has a long history as a graffiti artist and that this is how he takes notes.
After the class was over, I asked the guy if I could take a photo of his sketches (click to enlarge):
Turns out he had mis-heard (and therefore misspelled) my surname when Rob introduced me. I also think his rendering looks nothing like me, but hey, artistic license and all. Anyway, I can't draw for shit, so it's always impressive to see someone who can produce artwork like this on the fly. An interesting aspect of an interesting evening.