Greetings from Milwaukee, where I'll be covering the unveiling of the Bucks' new logo set tonight. Uni Watch intern Mike Chamernik, who's a big Bucks fan, will be coming up from Chicago to join me. I'll have two ESPN pieces on this: Tonight there'll be a basic reaction/assessment piece, and then tomorrow I'll have a big feature on how the Bucks' new identity was developed, including exclusive quotes from the designers, developmental sketches, and more.
Meanwhile: Last week Mike gave us his list of MLB fight songs. He's back today with the NFL installment. Enjoy. "" Paul
NFL Fight Songs
By Mike Chamernik
Before we get into our song-by-song breakdown, here's a quick reminder of the ground rules: I ignored adopted songs, like how "Chelsea Dagger" is now a Blackhawks song and "Sweet Caroline" is an anthem for Red Sox Nation. Those songs don't make references to those teams and were their own pieces of music before being attached to sports. I ignored team remixes to popular songs, because nearly every team has its own terrible version of Wiz Khalifa's "Black and Yellow." I also didn't include fan-made songs because any yutz can make an EDM beat on his laptop and lay over some half-baked lyrics. And I stuck to things that are available on YouTube.
Ready? Here we go.
Baltimore Ravens – "The Baltimore Fight Song" and "Ravenstown"
The Baltimore Colts had a famous marching band, but after that team moved the band eventually joined the Ravens. The Ravens' fight song is just a current version of the "Baltimore Colts Fight Song." Meanwhile, "Ravenstown" is a hip hop song from 2011.
Fun fact: The Ravens and Redskins are the only two NFL teams that still have marching bands.
Buffalo Bills – "Shout"
I'm breaking my own rule by listing "Shout" here, as the Bills just took the Isley Brothers' hit and turned it into a blue-eyed soul remix with some team references. But the Bills have adopted it as their own, and the fans have loved it: When the team balked at paying rising royalties for the song in 1993, fan outcry made helped reverse that decision.
Fun fact: Former coach Marv Levy wrote his own Bills fight song.
Chicago Bears – "Bear Down Chicago Bears"
The Bears probably have the fight-iest of all fight songs. This version, made by the Chicago Symphony Orchestra, is a very rich orchestral piece. The song was made all the way back in 1941 and the original lyrics included a reference to the T-formation.
Not quite a fight song, but…: Bears players also sang "The Super Bowl Shuffle" in 1985. High comedy. Lyrics like "Well, they call me Sweetness/ And I like to dance/ Running the ball is like making romance" are fantastic. Here's a lengthy oral history of the song. By the way, the song came out well before the Bears eventually won the Super Bowl. Could you imagine if a team did that nowadays? Like if LeBron and the Cleveland Cavaliers released a song called "Championship Ring Boogie" right now? My God, the internet would self-combust with mockery and hatred.
Cincinnati Bengals – "Bengals Growl," "The Who Dey Rap," and "Fear Da Tiger"
Created in 1968, "Bengals Growl" is still played after Bengals touchdowns, and it sounds like the theme song to a Hanna-Barbera cartoon. Before the Bengals run to the Super Bowl in 1989, several players made the quintessential late-80s rap song "The Who Dey Rap," which was influenced by the team's classic chant. Sixteen years later Cincy-native Bootsy Collins released "Fear Da Tiger" when the team was making a playoff push.
Notable lyric: "Fear the Tigers/ Fear the Tigers/ 'Cause we're the Tigers/ We're ready to rumble/ We're ready to rumble/ "Cause we're king of the jungle." On paper those are awful, awful lyrics, but they're not bad in the flow of Bootsy's song.
Cleveland Browns – "Hi-O-Hi-O for Cleveland"
Created in 1946, "Hi-O-Hi-O" has lyrics, but every video I've seen online is just a marching band instrumental version of the tune.
Fun fact: The song was rerecorded by the Cleveland Pops a few summers ago.
Dallas Cowboys – "Dallas Cowboys"
African-American country artist Charlie Pride released the single "Dallas Cowboys" in 1977. It reached No. 89 on the Hot Country Songs Billboard chart.
My opinion: This song is a mix of country, disco and the horns sounds of the 1970s. It's awesome.
Detroit Lions – "Gridiron Heroes"
Played after every score, "Gridiron Heroes" dates back to the 1930s. Theo "Gridiron" Spight sings the tune with a pleasing baritone at Ford Field on gamedays, and he wears a hardhat and a Lions No. 00 jersey with his nickname as the NOB.
Notable lyric: "With honor you will keep your fame" is wince-worthy when you remember that the team went winless a little while back.
Green Bay Packers – "Go! You Packers, Go!"
Milwaukee jingle writer Eric Karll made the NFL's first fight song in 1931. At Lambeau Field, the song is played after player introductions and after Packers extra points.
Notable lyric: The original line in the song was "On, you Blue and Gold, to glory," but was changed after the Packers switched to green and gold.
Los Angeles Rams "" "Rams Marching Song" and "Ram It"
We're going back in time with these team songs. Even without lyrics, The "Rams Marching Song" is about as fight song-y an NFL song imaginable. "Ram It" is a perfectly bad team pop music video, with the distinct 1980s sound, the cheesy effects, the overacting (and underacting) and the general L.A. feel to the song. And the interweb seems to enjoy the song's double entendres.
Remember, brevity is the soul of wit: The major downside is that the tune drags on for more than five minutes. So fittingly, Grantland wrote way too long of a piece on it.
Miami Dolphins – "Miami Dolphins Fight Song"
Just a standard 1970s fight song with a twinge of country twang to it, nothing special. Floridian rapper T-Pain and his auto-tuner jazzed it up a little in 2009, though, giving it a little more of a tropical sound.
Sham alert: Whoever wrote the Dolphins' fight song also wrote the Houston Oilers' fight song and didn't bother to change the lyrics.
Minnesota Vikings – "Skol, Vikings"
The song was made in 1961, around the time of the team's inception. "Skol" is a Scandinavian toast meaning "cheers" or "good health." The Vikings get bonus points for honoring their team's namesake.
Fun fact: Minnesota native Prince also made a team song in 2010. The less said about that, the better.
Oakland Raiders – "The Autumn Wind"
It's not quite a song, but I'll happily make an exception here. This poem was written by NFL Films president Steve Sabol and was narrated by John Facenda (who, of course, was nicknamed "The Voice of God"). Mix Sabol's words and Facenda's voice with music composed by NFL Films Orchestra mainstay Sam Spence and set it to old Raiders highlights and you have a work of art.
Notable lyric: "The Autumn Wind is a raider/ Pillaging just for fun./ He'll knock you 'round and upside down/ And laugh when he's conquered and won." Perfect. Raiders owner Al Davis said the poem epitomized everything the team stood for.
Philadelphia Eagles – "Fly, Eagles Fly"
Not a complex song by any means, but "Fly, Eagles Fly" is simple, catchy and easy to recite in a chant. The song dates back to the early 1960s and was even played in the 2012 film Silver Linings Playbook.
Notable lyric: "Him 'em low/ Hit 'em high" is an obvious affront to the safe football environment Roger Goodell has created over his tenure.
Pittsburgh Steelers – "Here We Go Steelers"
Steelers fan and singer Roger Wood made the song in 1994 and it has been updated after each Steelers Super Bowl since then, incorporating different players and coaches into the lyrics. For instance, "We'll get three points off of Jeff Reed's toe" became "We'll get three points off of Suisham's toe." The other tweaks are a little more exciting.
Replayability: Wood said in an interview, "I can listen to the song again and again. It is like a Christmas carol. You never, ever get sick of it." I respectfully disagree.
San Diego Chargers – "San Diego Super Chargers" and "San Diego Chargers"
"Super Chargers," a 1979 disco hit, has been described as kitschy and campy and still gets referenced on air by ESPN personality Chris Berman. It's upbeat and happy, obviously influenced by the Air Coryell era. Then, in 2008, alternative rock group Plastilina Mosh made "San Diego Chargers," a funky drum- and base-heavy instrumental song in honor of the team, with the chant of "Let's Go Chargers" faintly audible in the background.
Fun fact: In the late 80s the team scrapped the disco version and replaced it with a bad "modern" version. The disco song was revived in the 2000s.
San Francisco 49ers – "Who's Got It Better"
In 2011, Bay Area rapper Bailey took then-current Niners coach Jim Harbaugh's motto ("Who's got it better than us? Nobody.") and made a song off of it. Bailey added in some references to the city of San Francisco and current players and shot a video on the field at Candlestick.
Notable lyric: I know rappers usually make rhymes that are a stretch, but Bailey rhymes "body" with "party" in his first verse. That's a bridge too far for me.
Tampa Bay Buccaneers – "Hey Hey Tampa Bay"
The song was made my jingle writer Jeff Arthur in 1979, the year the Bucs reached the NFL title game. "Hey Hey Tampa Bay" easily brings the creamsicle Bucs unis to mind.
Fun fact: Arthur created other notable jingles, including "Make It a Blockbuster Night" and "Original Home Of The Whopper." I miss jingles.
Washington Redskins – "Hail To The Redskins"
In the late 1930s Redskins owner George Preston Marshall wanted a team song with plenty of pageantry, so his wife Corinne wrote the lyrics, band leader Barnee Breeskin set the music, and a 150-piece marching band made the song.
Notable lyrics: Of course, because it's the Redskins, the song originally contained the line "Scalp 'em, swamp 'um / We will take 'um big score" and also included the ending "Fight for old Dixie."
Do you know of more NFL fight songs? Post them in today's comments. We'll have the NBA and NHL songs soon.
•  •  •  •  •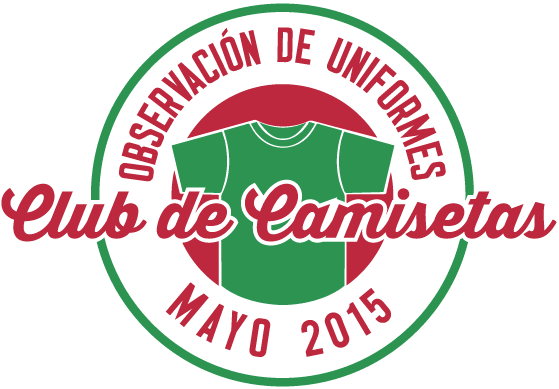 LAST CALL: Today is the final day to order the Uni Watch T-Shirt Club's latest limited-edition design, jointly inspired by Cinco de Mayo and the Brewers' "Cerveceros" jerseys, which is available until 11pm tonight. After that, it's gone for good, so get it while you can. Full details here, or go directly to the ordering page.
• • • • •

Baseball News: A small ballpark is sometimes referred to as a "bandbox." But what does that mean? What exactly is a bandbox anyway? Learn the answer here. "¦ This is interesting: a 1977 spring training shot that appears to show the Pirates' pillbox cap but without the stripes (from Jerry Wolper). "¦ During NBC's broadcast of Game 2 of the 1973 World Series, the broadcast team referred to the A's white-over-white uni as their "polar bear whites." "I've heard 'wedding gown
white' many times when referring to the A's, but 'polar bear white' is a new one to me," says Brendan Tarpey. Same here. "¦ Longtime reader/contributor Cort McMurray has written a piece for The Houston Chronicle about his memories of the Astrodome. "¦ Our latest hosiery hero: stirrups-clad Indians pitcher TJ House (from Geoff, who didn't give his last name). "¦ Speaking of the Indians, Matt Shadrake notes that they've worn their cream-colored alternate uniform for most (all?) of their home games so far, not just on Sunday which had been the previous protocol for the creams. "¦ Jeffrey Schmidt spotted this cool Mariners-themed car in San Diego, of all places. "¦ "I've noticed Braves players Chris Johnson, Kelly Johnson, and Jim Johnson are all simply wearing 'Johnson' for their NOB," says Michael Rich. "Seemed odd to me, but then I did a bit of Googling and discovered that the Braves did the same thing in 2013, when Chris Johnson, Reed Johnson, and Elliot Johnson were all on the roster." NOBs notwithstanding, this must surely approach the record for the most same-surnamed players on a team over a three-season span, no? "¦ Also from Michael: Someone at yesterday's Mets/Braves game repurposed his Jason Heyward jersey. "¦ Love WVU's new striped socks, but too bad about the brutal G.I. Joe jerseys (from Nelson Warwick). "¦ Here's a weird one: Yankees OF Chris Young played an inning with a baseball in his back pocket, although there was a good reason for it (from Chris Flinn).

Pro Football News: Another day, another Browns leak of indeterminate legitimacy. "¦ Texans DE J.J. Watt has signed an endorsement deal with Reebok, which is particularly surprising because the Reebok logo isn't even allowed to appear on the field during NFL games. "¦ Tommy LaSorda showed up for the L.A. Kiss's first game and wore a team cap, complete with his familiar No. 2 on the side (from Ferdinand Cesarano).

Basketball News: Jan van Breda Kolff often wore "VBK" as his NOB, but here he is with his surname fully spelled out. So many letters that they had to leave out the spaces between the words! (Nice find by Jerry Wolper.)

Grab Bag: New uniforms for all of Army's teams slated to be unveiled tonight.. "¦ Rugby players in Saturday's NRL game between the Melbourne Storm and the Canberra Raiders wore yellow armbands in memory of murder victim Stephanie Scott (from Graham Clayton). "¦ Also from Graham: Good video report on the manually operated scoreboard at the WACA Ground in Perth, Western Australia. "¦ Auto racing enthusiast David Firestone has designed a Uni Watch funny car. Nice! "¦ Lots of military tributes yesterday from Duke lacrosse — a camo helmet logo, a special back-helmet decal, and a pregame warm-up top (from Jared Buccola). "¦ If you're not impressed by newly declared presidential candidate Hillary Clinton's campaign logo, you're not alone. Additional info here and here. "¦ The Minnesota town of Lindström wants the umlaut restored to its highway sign (big thanks to Tris Wykes).