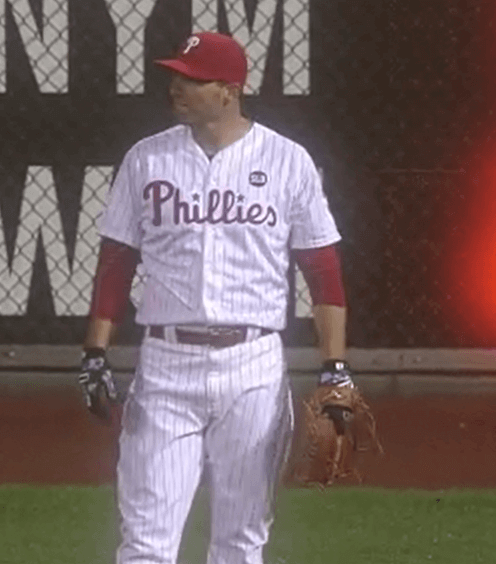 How cold was it last night in Philadelphia? So cold that Phillies outfielder Jeff Francoeur wore a batting glove on his throwing hand (and apparently laughed about it). Not sure I've ever seen that before.
This raises lots of interesting questions: Is it legal? Should it be legal? What if a shortstop did it? What about a pitcher? Did people ask these same questions when players started wearing batting gloves? Or when football players started wearing gloves? Or when football quarterbacks started wearing gloves? (Yes, they did. Or at least I did.) Should basketball players be allowed to do it? Discuss.
Frenchy wasn't the only player feeling the cold, incidentally. Phillies infielder Freddy Galvis was looking like a ninja: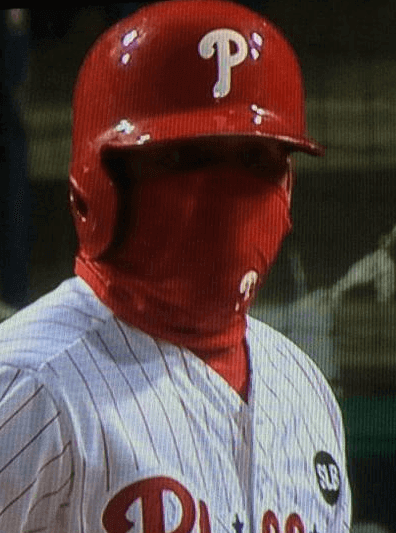 Meanwhile, a very odd development for the Indians: We already knew they had darkened their two Wahoo caps. But now, in a move that was neither publicly announced nor reflected in the MLB style guide, it turns out that they've also darkened their navy alternate jerseys (click to enlarge):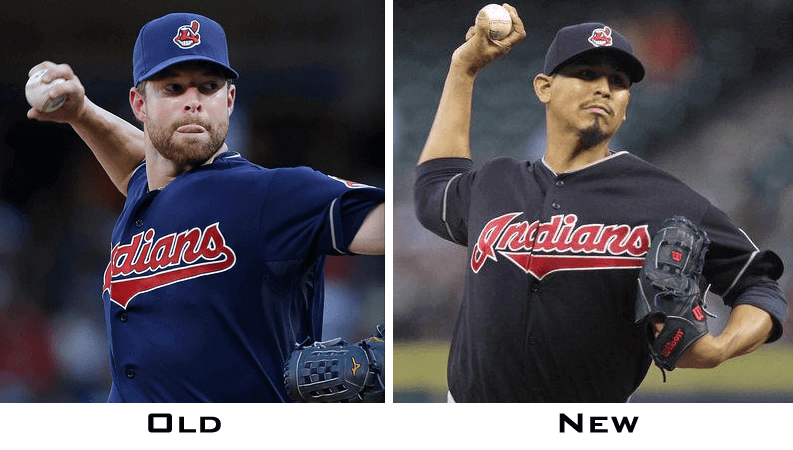 Social media was all over this one. By the end of the night the Indians finally felt obliged to acknowledge the situation:
To answer uni questions: We'll wear midnight navy this year when we wear dark, at home and on the road. pic.twitter.com/jbiA8hs1eq

— Cleveland Indians (@Indians) April 9, 2015
So there you go: midnight navy. And while the previous blue jersey had been designated as a road alt, this one will apparently also be worn at home. Like I said, none of this is shown in the MLB Style Guide (and neither is the change of cap colors, for that matter).
According to this story, the new darker jerseys also have "white trim, as opposed to [last year's] gray." But the trim on the sleeve and headspoon sure look grey to me. Hmmmmm.
Meanwhile, the team's new Al Rosen memorial patch was done in the old shade of blue, so now it doesn't match the new jersey: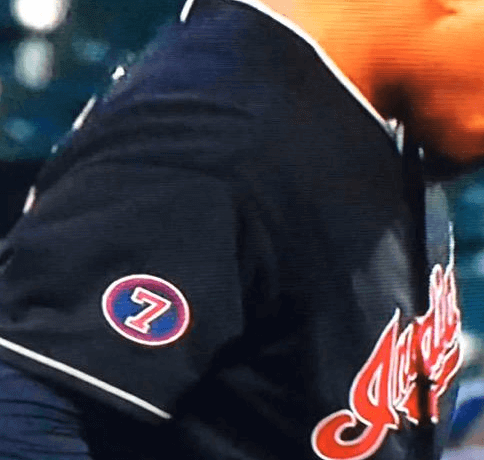 It's all very strange. There's gotta be some kind of odd backstory here. I'll try to find out what it is, but I suspect it's one of those embarrassing snafus that nobody's going to be willing to talk about on the record.
(My thanks to Kevin Chmura, Matt Ciciarelli, Pat Costello, @saulzbury for their screen shots.)
•  •  •  •  •
ESPN reminder: In case you missed it yesterday, my latest ESPN column features the results of our design contest to create an NHL expansion franchise in Las Vegas. Check it out here. In addition, some other ESPN writers chimed in with their own name and logo suggestions.
•  •  •  •  •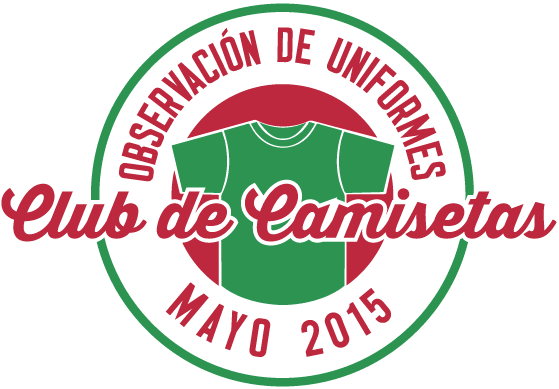 T-Shirt Club reminder: The Uni Watch T-Shirt Club's latest limited-edition design, jointly inspired by Cinco de Mayo and the Brewers' "Cerveceros" jerseys, is now available. Full details here, or go directly to the ordering page.
• • • • •
March Madness bracket winner: Intern Mike Chamernik, who was running our NCAA bracket contest this year, reports that our winner is Alex Brown, who had 47 games correct (including Duke in the title game) and 152 points. His prize will be an item from my freebie bag. Congrats, Alex!
• • • • •

'Skins Watch (a day early this week): As the Colorado state legislature considers a bill that would require high schools to get tribal approval before using Native American team names, the Lamar High School Savages are defending their name (from Perry Sailor). "¦ Good piece on why Chief Wahoo has got to go (thanks, Phil). "¦ And if you think Wahoo is bad, check out this giant mascot the Braves used to have. Classy (from Douglas Ford).

Baseball News: We had already seen the gold-trimmed cap that the Giants will be using for their ring ceremony on Aprli 18. Here's the jersey (thanks, Brinke). "¦ A seven-year-old Nats fan in DC is apparently very popular with local newspaper photographers. "¦ Interesting story on how new MLB commish Rob Manfred's signature was put on the new baseballs this season. "¦ Here's the 1915 throwback cap that the Phillies will be wearing today. Pretty sure the Red Sox will be wearing a 1915 cap as well, although they haven't previewed it. "¦ LSU wore G.I. Joe caps on Tuesday (from David Steinle). "¦ "Are the Sacramento River Cats changing their color scheme to match their new MLB affiliate, the Giants?" asks Joe Deanda. "Looks like a change from their normal reddish color to orange — notice the cap color vs. the jersey color." "¦ Looks like someone had a bit of fun with the Tigers logo on the back of the Comerica Park mound, turning the "D" into "Dios" (from Tony Natocci). "¦ The Albuquerque Isotopes, now affiliated with the Rockies, will be wearing Rockies-style purple jerseys on Sundays. "¦ The Giants are working on a memorial patch for broadcaster Lon Simmons and hope to have it ready in time for Monday's home opener. "¦ The D-backs' base coaches now have matte helmets to match the players' helmets. "¦ Here's a public service: an overview of all the A's socks and stirrups from the past few years. Really shows how they could use some standardization. "¦ "My girlfriend and I went to a Little League game last weekend to see one of her first grade students play," says our own Scott M.X. Turner. "It's a coaches-pitch league, ages 6 to 7. We were excited because we'd been told that her student's team name is the Grays — someone in the league was paying tribute to the Negro Leagues! Or that's what we originally thought. Turns out it's something else entirely." Okay, I know battleship grey is a thing (in fact, it's why the Reds became the first time to switch from green undervisors to grey in the 1970s — they cited government studies showing that gray was easier on the eyes and kept battleship crew members more alert), but these are first graders. Putting a military battleship on their jersey, complete with three big guns, is insane. Also vulgar. What were these clowns thinking?

NFL News: The Seahawks' newly acquired players now have uni number assignments (from Kyle Hanks). "¦ Eagles pro shops are not selling newly acquired QB Sam Bradford's jersey (thanks, Phil). "¦ A Washington NFL fan will no longer be able to use his vanity license plates that took a coded potshot at the Cowboys (from Tommy Turner). "¦ Great shot of the very unusual FNOBs worn by former Broncos players/siblings Doug and Dave Widell (great job by @itsjimmyfootbal to get them both in the same screen shot).

College Football News: Here's a good story about former Michigan WR Anthony Carter's use of tearaway jerseys. Lots of good details there — recommended (big thanks to Eric Skaugset). "¦ Maryland's poster for this Saturday's red vs. white spring game shows a red/white split jersey (from Matt Shevin). "¦ Here's a Tennessee logo from 1980 that I don't recall having seen before (from @BravesThomas). "¦ New teal field for Coastal Carolina.

Hockey News: Hartford Whalers logo sighting on SportsCenter yesterday morning. "¦ Check out Phil Esposito wearing a generic sorta-kinda Bruins jersey in this 1971 ad (from Douglas Ford). "¦ Speaking of the Whalers, it's amazing how much of their stuff is still available for sale at the Hartford airport. "¦ Rangers G Henrik Lundqvist's latest mask design salutes the New York fire department (from Alan Kreit). "¦ For reasons that aren't clear to me, the Capitals unfurled a giant jersey on the ice last night (from John Muir). … Marc-Louis Paprzyca spotted someone wearing a bedazzled Marián Hossa jersey the other night. "She must really love Reebok," he says.

Basketball News: Oops: A rendering for the Bucks' new arena shows fans wearing Atlanta Hawks jerseys (thanks, Phil). "¦ An auto parts shop in Quebec City is using a modified version of the Pistons' old logo (from Louis Droulin). "¦ Two players on a European team will wear cameras embedded in their jerseys. "¦ Duke is going to buy the court from Monday night's NCAA title game and — of course — sell off pieces of it. "¦ Interesting find by Jerry Wolper: a 1977 wire story about the the first game (or at least one of the first) in which Pete Maravich was no longer allowed to wear his "Pistol" nickNOB.

Soccer News: "Both teams in the French Cup semifinal between Paris Saint-Germain and Saint Etienne displayed the tournament sponsors instead of their usual jersey sponsors," reports Yusuke Toyoda. "By the end of the match, at least one temporary jersey ad was peeling off."

Grab Bag: Good story on the writer who coined the term "Amen Corner" at Augusta. "¦ Here's a review of a new cricket helmet. "¦ Kudos to Jersey City mayor Steve Fulop, who wants to limit chain stores in his city's downtown region. There's a good radio interview with him here. Here's hoping other municipalities follow. "¦ Good story about the guy who designed the iconic "trollface" graphic. "¦ I always think it's funny when a consumer product gets a new package design and then they add a note that says, "New Look, Same Great Taste," which is basically the same as saying, "Same Shit, Different Wrapper." But last night I saw something even better: a note that says a new look is coming soon. Oh boy — can't wait!
• • • • •

What Paul did last night: I'm a fan of Slate's weekly political podcast. It's usually recorded in a studio, but last night they recorded it live onstage the Bell House here in Brooklyn, which is about a five-minute bike ride from my house. Since I've written for Slate, I was able to weasel my way onto the guest list (plus they gave me a drink ticket, which was an unexpected bonus). Here's how the principals — from left, that's David Plotz, Emily Bazelon, and John Dickerson — looked from my vantage point (click to enlarge):
There was actually a uni-related component to the program: Next Wednesday is the 150th anniversary of Abraham Lincoln's assassination, so they did a segment on that, at which point Dickerson removed his jacket, button up a vest that he'd apparently kept hidden under the jacket, replaced his necktie with a bow tie (which he tied without the aid of a mirror!), and — here's the uni-related part — donned a mourning armband in honor of Lincoln's passing:
These armbands were once common after the death of someone close or important, and are the source of all the black armbands that we see in the sports world (or, rather, that we used to see, before memorial patches became more common).
Anyway: A very enjoyable time.
• • • • •
Busy day ahead, because it's my Mom's birthday — she's turning 91 (!). So I'm picking up my brother in Queens and then we're heading out to Long Island to take her to lunch. Or in other words, I won't be checking email or Twitter today. Thanks for understanding.