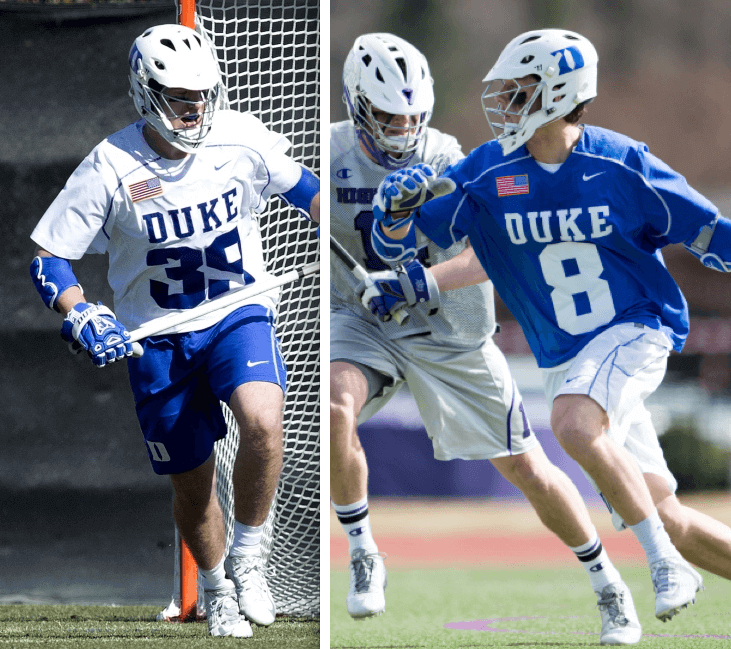 We all know by now that if an American flag patch or decal applied to the right sleeve or the right side of an object should always have the blue field facing forward, even if it makes the flag look "backwards," because that's how the flag would look from that side when advancing forward. This applies to sleeve patches, helmet decals, military uniforms, buses, the space shuttle, Air Force One, and so on.
But as you can see above, the Duke lacrosse team is taking this idea a step further. They're wearing the "backwards"-oriented flag on the upper-right chest area of their jerseys. They didn't have that there last season; it's something new they've added this year. I get the idea, but I don't really agree with it. To me, those flag patches aren't on the right side; they're on the front.
How have other teams handled flag patches in this same region of the jersey? Lots of college basketball teams have worn a flag patch there, and I'm pretty sure they've all been oriented the "normal" way, like so: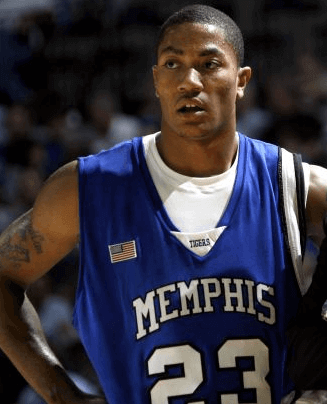 Also, the Reds wore a flag patch on the upper-right chest during the 1990 World Series (this was for the first Gulf War), and it too was oriented the "normal" way (click to enlarge):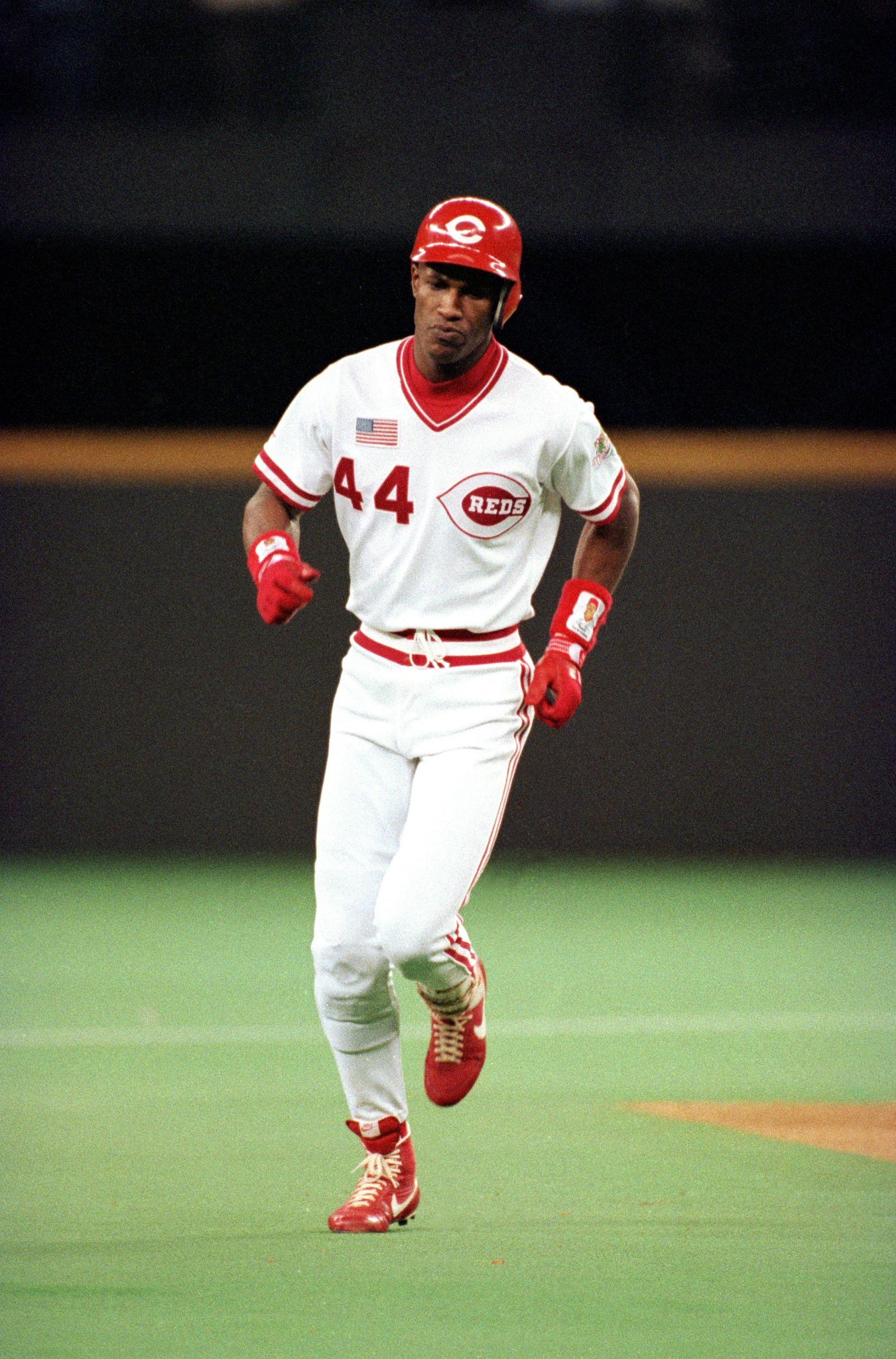 It's also worth noting that the back of each NFL helmet has a flag decal on the right side. If they went with the Duke approach, that flag would have the "backwards" orientation, but that's not how they do it: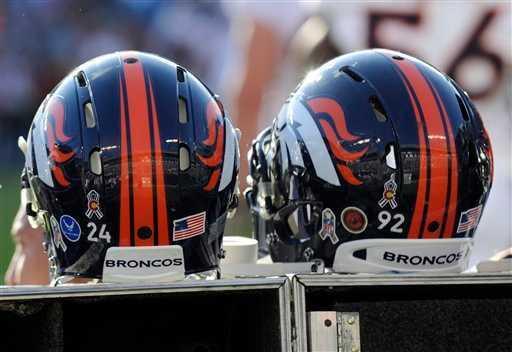 Obviously, the NFL doesn't view that decal as being on the left or right side; it simply views it as being on the back. I think that's the correct interpretation, and I think Duke's is wrong.
Incidentally, I've been putting "backwards" and "normal" in quotes because those are completely subjective assessments. Every single real flag on a real pole appears in both configurations, and we never say that one of them is backwards, do we? Or at least I don't. (It's important to remember that things like patches and decals are not flags; rather, they are representations of flags.)
Of course, there's a simple way to resolve all these issues: Teams could stop pandering to cheap "U! S! A!" jingoism and just skip all the flag patches and decals. But I'm not holding my breath on that one.
(Thanks to Mike Alper for bringing the Duke situation to my attention.)
•  •  •  •  •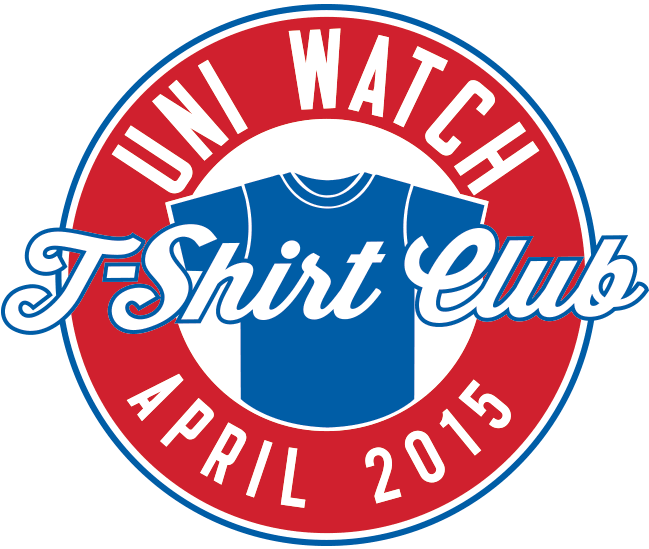 T-Shirt Club LAST CALL: Today is the last day to order the Uni Watch T-Shirt Club design for April, which was inspired by Jackie Robinson Day and is available in home white and road grey versions. 100% of my profits from this design will be donated to the Jackie Robinson Foundation, which builds on Jackie's legacy by providing college scholarships to disadvantaged students of color. ESPN will match my donation (that's their policy for charitable contributions), and Teespring may donate something as well. Full details here, or just go straight to the ordering page.
As of this morning, we've sold 264 of these, making it our biggest seller so far. Can we hit 300? I'd love to see that — let's make it happen.
• • • • •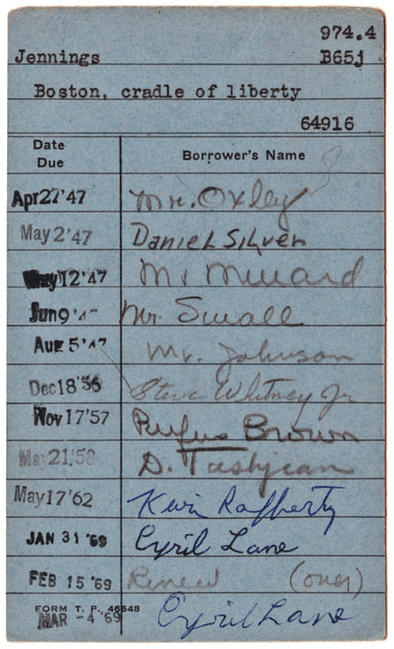 PermaRec update: Two new entries on Permanent Record: One is about a bunch of old library cards (like the one shown at right), and the other is about a long-lost letter from John Lennon that has inspired a new Hollywood movie.
• • • • •

Baseball News: Whoa, look at the jacket worn back in the day by Senators manager Clark Griffith! "¦ Interesting new look for Oklahoma. … I like the contrasting sleeves and dislike the side panels, but what's with the positioning on that script? It's sitting way too low. "¦ Who's the kid in the Expos cap? "It's from a comic about a transgender male-to-female child," says Sara Schieve. "As you can guess, the artist is from Montreal." "¦ Cool story about three brothers who snuck into the abandoned Astrodome in 2012 (from Chris Flinn). "¦ I'm on record as a big Joe Maddon fan, but this is not a good look, for multiple reasons (from @1010XLBeef). "¦ Jason Heyward, now with the Cardinals, has been sticking with his plastic faceguard attachment this spring. "¦ Adam LaRoche, now with the White Sox wore a G.I. Joe compression sleeve the other day. "¦ Really nice road greys for Tulane. Pelicans on the bat! "¦ "The Yomiuri Giants and Tokyo Yakult Swallows will play in the 'Tokyo Series,' which consists of six games in April — three in the Tokyo Dome (Giants home) and three in Meiji Jingu (Swallows home)," reports Jeremy Brahm. "The Swallows will wear this uniform for four of those games. It is called the Tokyo Enpower uniform (Chinese reading of Swallows in Japanese is En, and combining empower from English)." "¦ Keith Friedman spotted this 1972 Tigers schedule/calendar. Note the odd colors on the sleeves and waistband, plus the Tigers have never worn stirrups like those, plus-plus the orange headwear logo and the old English "D" were never worn together in the same uni.

NFL News: "I noticed that the new renderings for Rams owner Stan Kroenke's Inglewood stadium do not contain any gold in the end zone paint," says Sean Mitchell. "Could this indicate a Rams return to the Deacon Jones-era blue and white color scheme when they come back to Los Angeles?"

College Football News: New Penn State recruit Sterling Jenkins, who's competing for a spot on the offensive line, has such a big head that they had to order him a special helmet "from some Russian company in the middle of nowhere."

Hockey News: If you go to this page and click to the last four shots in the photo gallery, you'll see pics of Bell Telephone hockey teams with really cool jerseys (nice find by Will Scheibler, who also sent along this old shot of an Ontario Wind Engine and Pump Company hockey team, with a windmill on the chest). "¦ Lightning captain Steven Stamkos was wearing a Nike undershirt with the MLB-style logo creep on the collar. "Haven't seen many NHL guys wearing that," says Garrett Heller.

Basketball News: The Clippers and Pelicans went color vs. color last night. … Good article on the trend toward colored tights on the court. "¦ Douglas Ford was watching the 30 for 30 movie about Christian Laettner and spotted Larry Johnson of UNLV wearing a University of Texas cap. Although Johnson played for UNLV, his hometown is Tyler, Texas, which is also Earl Campbell's hometown. "¦ Throwbacks last night for Oregon, with a fir tree sweatback pattern. Interesting shooting shirts, too. "¦ Players sitting on Maryland's bench last night wore black-shouldered shooting shirts — except for one guy, whose shoulders were red (from Gus Soteriades). "¦ Speaking of Mayrland, F Jon Graham had a tear in his shorts last night (from Fergie, who didn't give his full name). "¦ This is sort of ironic: In the semifinals of the Red Sarachek tournament, which is the most prestigious tourney for Jewish high school basketball teams, two schools went color vs. color with Christmas hues — red vs. green (from Yosef Coleman).

Soccer News: Nike now has a coaching school that's producing high-level soccer prospects. "This puts Nike in direct competition with their clients," notes Yusuke Toydoa. "¦ Also from Yusuke: "Each time Chelsea coach Jose Mourinho wins a trophy, he retires his watch and keeps it in a safe deposit box. He now has 21 watches."

Grab Bag: When Tennessee decided to stop using the "Lady Vols" moniker for most of its women's sports teams, a few readers suggested to me that Nike, which is about to take over as the school's new outfitter, must have been involved in the decision somehow. I was skeptical of that, but it turns out they were right (from JD Hunter). "¦ Doesn't it seem like boxing promoters Bob Arum (who's promoting the upcoming Mayweather/Pacquiao superfight on May 2) and Don King (whose role in the sport is diminished but not extinguished) have been around forever? I was curious to know how old they are, so I looked it up: They're both 83! Interesting that they're the same age, and that they've both stuck around in the fight game for so long. Wouldn't you think they'd wanna kick back and enjoy their remaining years? "¦ Hmmmm, is this a sweatshirt, or sweatpants, or both? (Bizarre find by David Firestone.) "¦ Good overview of how the Walt Disney logo has looked in movies since 1985 (from Trevor Wilson Patton). "¦ Speaking of Disney movies, Toy Story may have a 20th-anniversary logo. "¦ "While competing in the 1988 British Touring Car Championship in his BMW 635," says Graham Clayton, "Peter Buxtorf adopted different color schemes for each round by putting different decals on his black car: pink circles, yellow diamonds, and orange triangles." Sounds like a Lucky Charms commercial, no? "¦The Supreme Court will hear arguments today in a case involving the Sons of Confederate Veterans, who were told by the state of Texas that they could not put their logo, which includes the Confederate flag, on a novelty license plate. The group has appealed that decision on First Amendment grounds.