Click To Enlarge
By Phil Hecken
As you know (or you should), I've really gotten into curling over the years — moving from a curling watcher to an actual (albeit not particularly good) curler this past fall and winter. In fact, tomorrow evening, The "Sweep To Victory" Team (I'm skip, and birthday boy Paul serves as my vice skip) plays its last match of the season at the Brooklyn Lakeside Curling Club (although that photo is of the outside rink, we actually curl under that shelter seen in the background).
We don't really feature curling too much on Uni Watch, if only because it's still a somewhat obscure sport, and — for better or for worse — the sport isn't really known for its uniforms. And with the exception of the Norwegian and Russian mens' teams in the 2014 Winter Olympics, it's still a sport where almost every team wears black pants. But when there is international play, the teams still break out shirts and jackets that represent the home countries, and they're usually pretty interesting (and sometimes even colorful).
Right now, the World Women's Curling Championship is taking place in Sapporo, Japan (and I've been trying to catch some of it on ESPN3). Earlier in the week, reader Clint Wrede approached me and asked if he could "cover" the uniforms for the event, and I was happy to oblige. So without further ado, here's Clint with his review of…
. . . . . . . . . . .
2015 World Women's Curling Championships
By Clint Wrede
While most American sports fans were filling out brackets and watching NCAA basketball this week, I was enjoying the 2015 World Women's Curling Championship from Sapporo, Japan. Twelve national teams from across North America, Europe, and Asia began a round-robin tournament last weekend, and they finish up this weekend with the playoffs and championship game. In the U.S., you can watch full games and highlights on ESPN3 and YouTube.
As a long-time curling fan and Uni Watch reader, I was intrigued by the teams' uniforms and consulted with Phil about contributing this feature. Below you'll see a composite image for each team, showing their various uniforms (you can click on these images to enlarge them), followed by a few observations. At the end are some more notes with links to corresponding images.
Like teams from most sports, each curling squad has two different uniforms to alternate. Most teams have a white and a color, but you'll see that a few teams have opted for a different scheme. Because of the relatively low temperatures in curling facilities to keep the ice frozen, players may also wear a uniform jacket while playing, so I've included shots of those jackets as well. Most teams have a mix of players who wear shirts or jackets, and players sometimes change over the course of a game. All players in this tournament had their names and the team name on the backs of both the shirts and the jackets.
And unlike the infamous Norway men's curling team, which is known for its variety of crazy pants, every team in this tournament went with black pants.
. . .
Canada

Colors:
white with red; red with black
Both the zipper Henley shirts and the jackets include one sleeve and other blocks in the secondary color, and the maple leaf logo and other elements feature a striped pattern. The red shirts and jackets are dark enough that the black lettering, with no outlining, can be difficult to read from a distance.
. . .
China

Colors:
yellow with red; red with yellow
The broad stripe across the front of each polo shirt features some intricate detailing, though it's hard to make out in most photographs. Chinese skip Liu Sijia (second and fourth photos above) seems to be channeling her inner Bill Belichick with the thick gray hoodie she almost always wears under her jacket.
. . .
Denmark

Colors:
white with black; red with white (jacket red with black)
Denmark may have the plainest uniforms in the tournament, with their T-shirt style tops that only feature the secondary color at the collar and sleeve hem, but there's something to be said for the elegance of simplicity.
. . .
Finland

Colors:
white with blue & black; blue with white & black
Their uniforms have enough accents, curved lines, and swooshes to make an NCAA football team jealous, but the unusual shade of blue, from the Finland flag, makes it all worthwhile. Interestingly, the brand name displayed on the zipper Henleys and jackets is "Noname," a Finnish company. As with the Olympics and other international sports competitions, I love seeing the names of countries as they're rendered in their native land, and none is better than the contrast between what we call Finland but they call Suomi.
. . .
Germany

Colors:
white with red, gold & black; black (jacket red with black & white)
The German women may be the Maryland football of curling, incorporating all three colors of the German flag plus white into their uniforms, along with the flag's eagle crest. The white uniforms are splashes of color, with the flag colors across the shoulders and collar of the polo shirt and jacket. On the other hand, the black shirt is the most sedate of any in the tournament: plain black with no secondary color except the crest and the NOB, resulting in a solid-color effect when paired with the regular black pants. But the primarily red jacket, which is worn with the plain black shirt, is similar to the other jacket, except that no gold is used.
. . .
Japan

Colors:
white with pink; blue with yellow
Their whites are very white, with just thin accents in a bright pink, not the red you might expect from Japan's flag. The blue polo shirts have no yellow on the front except for the maker's mark, but they feature a yellow design on the bottom of the back (a thicker one than on the whites).
. . .
Norway

Colors:
white with red (jacket white with gray); red with white
Norway's T-shirt style tops are sleek and simple, with no secondary color except at the slit collar. The red jackets have a few white elements, but the seldom-seen white jackets have no red at all and just light gray stripes on the sleeves.
. . .
Russia

Colors:
gray with black (jackets only gray); black with gray (jackets only black)
As with some other teams, Russia's two uniforms are opposite each other: black where the other is gray and vice versa. The polo shirts are simple, with only collars and buttons in the secondary color. But the most elaborate garments in the tournament are Russia's jackets. From a distance, they appear to be plain, single colors with no accents. But a closer look reveals front and back panels made with a glossier fabric that's also quilted, as opposed to the sleeves, which are more fleece-like. When the light hits these jackets right, they really catch the eye. But is Russia's color scheme curling's version of BFBS and GFGS?
. . .
Scotland

Colors:
white with blue; blue with white
The Scottish zipper Henleys fade from white to light blue to dark blue, or from dark blue to light blue, ombré-style (yes, I had to ask my wife for that term). The navy blue jackets don't seem to go with either the bright blue of the shirts or the black pants.
. . .
Sweden

Colors:
yellow with blue; blue with yellow
Walk into any international curling competition""women's or men's""and you'll easily pick the Swedish team out of the crowd. For years they've consistently used this color combination from Sweden's flag, sometimes with a little white thrown in. But here it's just Swedish blue and yellow, with one set yellow where the other is blue and the reverse. I love the Three Crowns design, from Sweden's coat of arms, on the back of both the zipper Henleys and the jackets.
. . .
Switzerland

Colors:
white with black; red with black & white
The Swiss uniforms are simple but attractive, the kind of thing that looks good on the curling rink but that you might not mind wearing on the street (minus the sponsor patches, natch). One distinctive: The Swiss players consistently wear the polo shirts with the collars popped, and it works for them. Also, check out the third photo above for a double bonus: the country name rendered in the French-language version Suisse and an umlaut in the NOB.
. . .
United States

In international competitions, we're used to seeing the US of A in in some combination of red, white, and blue, but the curlers have gone sans red this time around, save for patches of the flag and the curling federation. At first I thought the RAM on the front of the white T-shirt style tops and jackets must be some kind of memorial patch for someone with those initials, but it turns out to be just the name of a team sponsor instead.
. . .
Other notes
Sponsor-branded uniforms and patches are the bane of the uniforms of many international sports like curling, and that's certainly true of this tournament. The main sponsor's patch is so large and apparently so stiff that it seems to have a 3-D effect on some of the curlers' arms. And not only are the fronts and sleeves of shirts and jackets festooned with patches, but so are the pantlegs of some, but not all, of the teams. And of course, these pants patches are positioned to show when curlers are sliding down the ice. And for post-game interviews they don't mess around with just one sponsor logo in the background, but show five instead, even labeled as "Official Title Sponsor," "Official Presenting Sponsor," and "Official Main Sponsors."
One competitor, Sweden's Sofia Mabergs, wasn't afraid to show a significant amount of ink on her arm.
Finally, most long-haired curlers go to great effort to keep their hair out of their eyes by putting it up or pulling it back. Perhaps that's why the sight of Olympic champion skip Jennifer Jones of Canada, sliding down the ice with her long hair wafting in the breeze, has become almost iconic within the sport."‹
. . . . . . . . . .
Fantastic job with this Clint! In many ways, I think the women are more interesting to watch than the men (even more than the obvious ones), as their game is predicated much more on touch than strength (although the men can certainly employ the perfect freeze and the women can throw board weight with the best of them). But the men are definitely stronger and can usually get more out of their sweepers, so the ladies must play a different game in some aspects. Definitely worth trying to watch if you can (it's on at crazy hours in the US due to the broadcasting from overseas and it being online, rather than TV).
What do you guys think of the "uniforms" seen here today? Do they amply suit the teams, nations and the sport or would you rather teams go with something a little more interesting (or crazy)? Should curling even TRY to set itself apart by making unis more of a focal point? When Paul and I were interviewed (listen below) on curling uniforms, Paul's more of the mind that the unis are more akin track suits or sweats (or at very least not evocative of curling), while I feel they're more like golf outfits — but either way they could certainly be improved to the point of maybe becoming more exclusive to the sport.
Give a listen (if you haven't already — Paul & I start at about the 11 minute mark) and let us know what you think?
Colorize This!
Occasionally, I will be featuring wonderful, high-quality black and white photographs that are just begging to be colorized.
Back today with our good friend and long-time colorization expert, Gary Chanko, who is taking a break from his Scoreboards series to bring us "a colorization requested weeks ago; can't recall the date and think it was a Ticker item."
Here's Gary (click to enlarge):
. . .
Phil

Jim Garramone & The Coors Semi-Pro Baseball Team

As the photo notes Jim Garramone, team manager, is posed by the Coors team bus, or what today seems more like a stretch limo. It would be interesting to find a photo of the entire vehicle to see how many players it could actually convey.

Baseball in Denver contains a chapter on Semi-Pro, Amateur, Collegiate, and Youth baseball. There are several photos of the Coors team from the 1930s and 40s, including this colorized version. Garramone was apparently in demand as a local team manager. In addition to the Coors team he was the 1946 manager of perennial (Victory League?) champs, the O&M Cigar nine (p. 89).

There's not much background information to be found about Jim and the teams he managed. I did find that in the years following baseball, Jim was reportedly a restaurateur with locations throughout Denver.

Gary
. . .
Thanks Gary! Tremendous colorization as always — and looking forward to the return of the Scoreboards series next weekend.
UWFFL NEWS
by Rob Holecko
Due to various reasons, the UWFFL Fall 2014 season has gotten extended well into the Spring.. no matter, Champions must still be crowned.
We congratulate the Anchorage Orcas, who defeated the Hartford Whalers 226-176 in UWFFL Bowl XV a couple weeks ago. Great thanks go out to all of you who voted in the Championship game, it was a great turnout!
Now it is time to determine what teams will be promoted into the UWFFL from our Division II for next fall. There were four league Champions in Division II: Youngstown won the Eastern Association, Pontiac won the Central League, British Columbia won the Pacific Coast Conference and Little Rock won the Metro South Conference. Three of those four teams won their leagues in only their first year at the Division II level after being promoted from the Spring Developmental League last year.
Unfortunately there is only room for three of the four league champions to be promoted into the big league for next season. The winners of the national semifinals, Little Rock and Pontiac, clinched their spots for promotion to the big league and will meet tomorrow in the NyQuil Division II National Championship. The two other semifinalists, Youngstown and British Columbia, will meet today in a sort of "consolation game" – The Promotion Bowl in San Juan, Puerto Rico.
Vote for the winner of the "Promotion Bowl" here:
. . .
. . .
…and if that's not enough UWFFL fun for you, head on over to uwfantasyfootballleague.com and you can also cast your vote on two La Lega quarterfinals matches, and we'll be back tomorrow with the Division II Championship.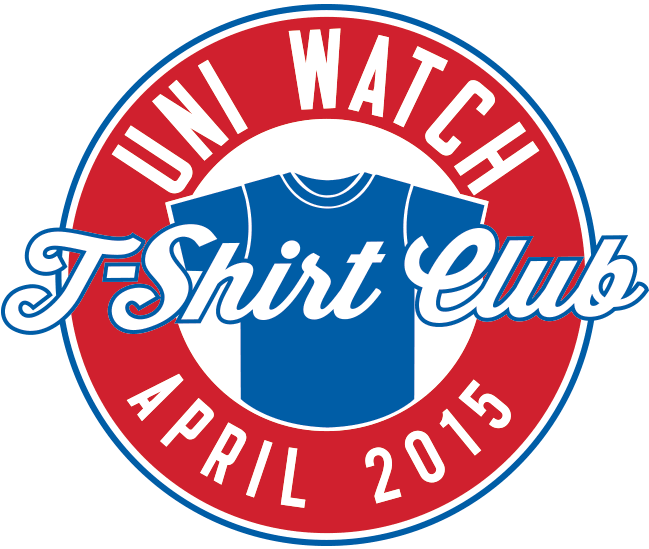 T-Shirt Club reminder: The Uni Watch T-Shirt Club design for April, inspired by Jackie Robinson Day, is now available in home white and road grey versions, with all of Uni Watch's profits being donated to the Jackie Robinson Foundation, which builds on Jackie's legacy by providing college scholarships to disadvantaged students of color. Full details here, or just go straight to the ordering page.

The Big Guy…
…turns 51
As most of you know (especially if you read yesterday's UW), today is the birthday of one Paul Lukas, our humble leader and founder of the world's most awesome uniform site.
So if any of you didn't wish him a Happy Birthday in yesterday's comments (or even if you did), join with me in wishing him a super great b-day today. And he got his rain precipitation (as he explained exactly one year ago today).
Paul's been more than a great friend to me — he's also a fantastic *boss* (I use that in the loosest of terms, but it's totally true) and one of the greatest human beings ever to grace the face of the earth. All of our lives are better because of Paul's love of (and skill in writing about) uniforms, but mine is immeasurably better because of his kind words, sage advice, and trust and faith in me. So, thank you, buddy. I hope your special day is awesome. We'll have some victory curling cake to celebrate tomorrow!
Uni Watch News Ticker:

Baseball News: Tweeterer Ron Peterson, Jr. notes Ga State's bracket-busting NCAA win brings to mind Georgia State Baseball's Hank Aaron tribute uni's. … The gentleman pictured behind Frank Pastore in this shot appears to have his stirrups on backwards (good spot by ChiTownTiger. … BYU wore full anthricite uniforms last night (h/t Andrew Devey). … The Delmarva Shorebirds will have a flag desecration and pink baseball-motif jersey this season (via Steve Uhlmann). … Yesterday's blog post from Rick Romero called RJ's Fro includes some neat alternate images of the Padres' friar mascot. Pretty spectacular — leading Todd Radom to note the Friar is clearly a 5-tool player. … According to the awesome Mark Anderson from @MLBCathedrals, this is NOT how you do trivia. … Great SI cover photo of the 1956 St. Louis Cardinals (from St. Louis Cardinal History). Of course, 1956 is the year the Cards inexplicably dropped the "birds-on-bat" uniform for just that one year — returning to their senses in 1957. … DeMatha (High School) has some pretty nice ruppage this season (h/t Christian Tingle). … Interesting alternate Mariners wordmark on this "Gonzaga Night" t-shirt (good spot by Keith Miller). … Great observation from Cody Barker, who rues when gorgeous hosiery is covered up by pajamas. … In a nice changeup, the Brewers went with their regular white unis for their spring training game yesterday (from Patrick O'Neill). … Here's a really neat photo of Johnny Bench & The Cincinnati Reds in basketball uniforms (from Bruce Menard, of course). … New baseball template for Clemson — apparently so (thanks to willchitty4). … According to UW friend Chris Creamer, the Marlins are bringing back the gray road jerseys! But — they're ditching the orange caps. NOOOOO! … Yesterday night, James Madison University sported uniforms with jersey numbers similar to the Blue Jays' (thanks to Dan Wyar). … The Southeast Missouri Redhawks will debut new white uniform tops today (via Kevin Blair).

NFL News: Of course parades and drinking lead people to do stupid things, so it should be no surprise that there was a "St. Patrick's Day Midtown Attack" following the big parade. Only in this instance, the perpetrators were wearin' o' the green Jets jerseys. … Has the new Cleveland Browns helmet leaked? I'm not sure if this photo is legit, but if so, it looks like the helmet will be matte (via @Believeland1994). I'm leaning towards it being a fake.

College Football News: Does anyone besides Jumpin' Jimmer Vilk care about the increasing number of NFL/NCAA uniforms with unreadable numbers? Maybe the NCAA doesn't, but we keep reading opinion pieces from blogs voicing their displeasure. Maybe something will get done.

NBA News: Reprinted from yesterday's comments (from Jordan): Check out this neat Slate piece on the evolution of the basketball sneaker. Highly recommended viewing (at least for those non-sneakerheads among us — you sneakerheads probably know all this already).

Hockey News: Reader Mikey Brethauer spotted these 2 great hockey jerseys on TBS' American Dad. Interesting. … What is that image on the back of the UND hockey mask? Looks like it says "Love You Grandma Susie" — that's from this article (thanks to Cassian Wykes).

Soccer News: Nice update from Bernd Wilms: "the German Bundesliga announced Thursday that this weekend's schedule will be played under the banner of "Integration Day". The campaign is designed to highlight soccer's opposition to prejudice against migrants, refugees and people of foreign descent and has the support of the federal government. Every team will wear a sleeve patch with the Integration Day motto (a play on words where parts of the word 'discrimination' are crossed out so as to leave the word 'never' in the middle). Furthermore, at least two teams' sponsors have agreed to special jerseys: FC Cologne's shirts will bear the word 'Tolerance' in place of the sponsor mark and Eintracht Braunschweig of the second division will be playing in shirts with the slogan 'Cross out prejudices'." … Here's a leaked image of Arsenal's 2015-16 home and (bold!) away kits (thanks to Conrad Burry). That prompted holycalamity to note they seem to be "Taking design cues from the 1996 LA Galaxy". … Here's a look at the 2015/16 Benfica away jersey (via Mike D.). … Umbro has released the Canadian National Team's 2015 home and away kits (h/t Conrad Burry). … Blogger "juanfutbol" imagines what the iconic Real Madrid jersey would look like if they played in Mexico's Liga MX (from Benton Payne). … Here's a good article about some of the more unusual number fonts worn at World Cup football finals tournaments (thanks to Graham Clayton). … SFCFC announced they have a jersey sponsor. … Nike, er, Norway has unveiled it's first ever Nike kits.

College Hoops News: (Un)surprisingly, the NCAA Tourney whistle is instrumental (and symbolic), and of course, branded. … Most of Michigan State's players wore bright green kicks yesterday (h/t Ryan Fagan). … Kansas has already ditched the special adidas uniforms they had gotten at the end of the season — you know, the templated one with the awful contrasting waist stripe (h/t N Maloney). … Funny commercial (grab) shows Christian Laettner is literally resting on his laurels, a hammock made out of cut down nets (h/t Cork Gaines). … There were, apparently, at least three Pistol Pete's in action yesterday (from T Vaughn). … OK, this is cool: "As a fellow citizen concerned with athletic aesthetics I thought you would be interested in the this petition to stop the NCAA from using those hideous and boring court designs throughout the entire NCAA tournament," writes Robert W Madel II. "I don't have a large social media presence (none really) so any help in spreading the word would be greatly appreciated." After receiving that, I tweeted it out, if anyone wants to retweet that to keep the campaign going. … Why do Buffalo's uni's read "New York" instead of "Buffalo" (we've focused on this for their football unis, which they changed in 2013, but now people are noticing the basketball team). … Jason Wyrick says "Looks like when Terry Rozier's jersey was being made they initially forgot the III and they put it on after." … Villanova's 'Father Rob' is a man of cloth among jerseys. … OSU (the Oklahome one) went Color vs Color against Oregon yesterday. Early clubhouse favorite for the top Jim Vilk "One Shining Moment" 5 & 1. … Christopher LaHaye notes, "Tracy Wolfson just tweeted this photo, looks like the NCAA is taking care of business as usual." … It's not only fun to see upsets, but sometimes we not only lose fun teams early, but sometimes we lose awesome mascots. Other times, they ain't going anywhere. … It was a neon fest in the NIT. Vandy in neon accented unis, and the Jackrabbits in neon shoes (via Trés Lawless). … Wow, Providence's mascot is the stuff of children's nightmares (thanks, I think, Kimmie).

Grab Bag: Reader Alex Rubin came across this very cool article (mostly with pictures) on the '11 ways women's sports uniforms have evolved.' Great stuff there. … Looks like Butler University broke out new branding yesterday (thanks to Jeff Demerly). … Here's an interesting use of two different sports logos on one item of street wear (thanks to Terence Kearns).
And that will do it for today! Big thanks to Clint for that great curling writeup, plus Gary and Rob and everyone who sent in or tweeted.
And of course a super awesome Happy Birthday to Paul.
Follow me on Twitter @PhilHecken.
Peace.
.. … ..
"Why again are we cool with Native Americans using the wrongly applied name Indians to themselves? Shouldn't we stop perpetuating that major screw-up Europeans made? Now Native Americans misrepresent people from India. Seems if we're going to be sensitive to others, that name should really get the kibosh."
— Jon