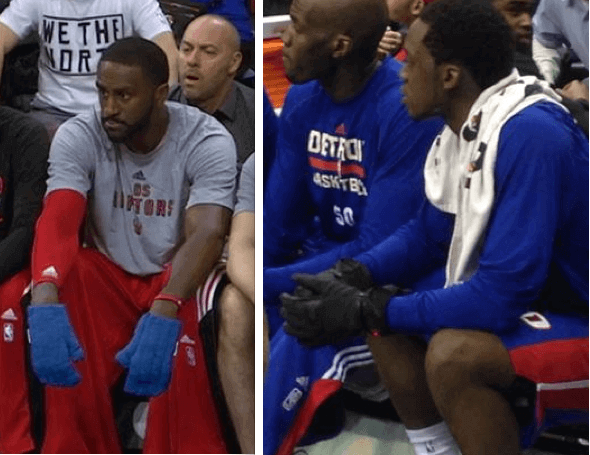 There's a new trend in the NBA: players on the bench wearing gloves to keep their hands warm. Patrick Patterson of the Raptors (above left) did it on Monday night, and Reggie Jackson of the Pistons did it two nights before that. Here's a close-up view of Patterson's (click to enlarge):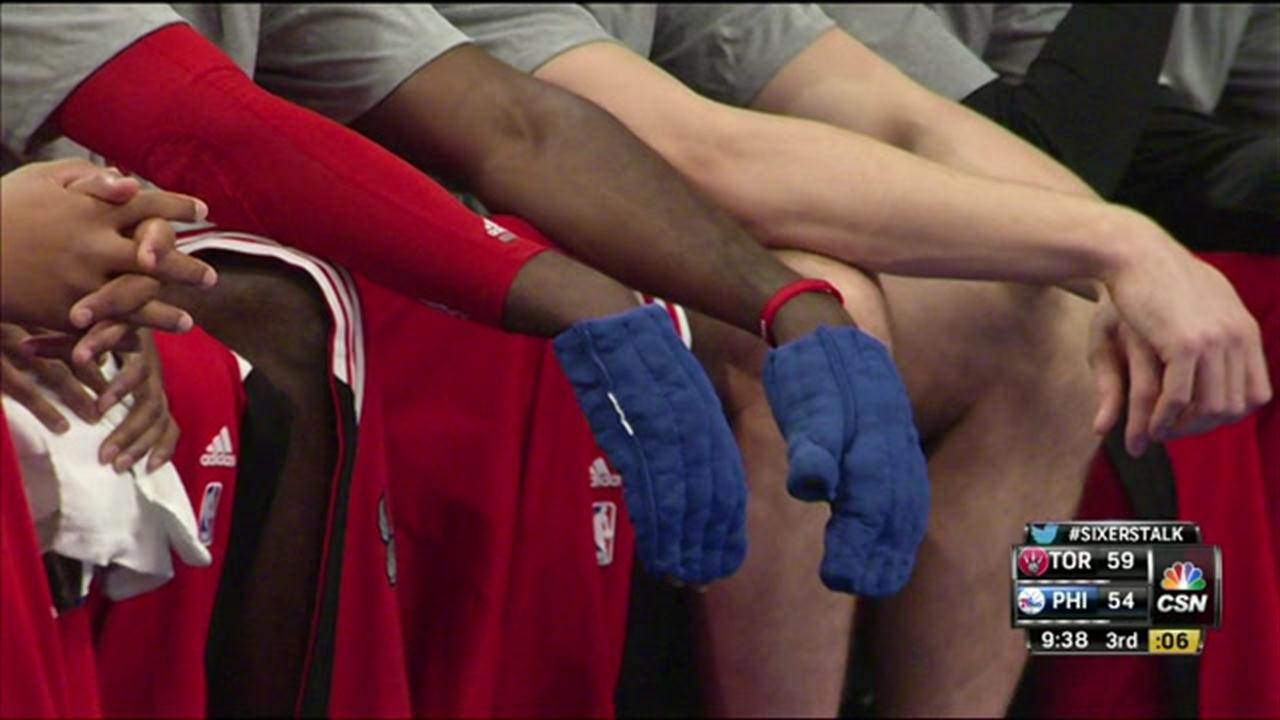 I tend to wear fingerless gloves quite a bit this time of year — I'm wearing them right now as I type this, in fact — so I can relate.
As you can see, so far nobody has provided Patterson or Jackson with team- or league-branded gloves. What do you think the over/under is on how long it'll take for that to happen? I figure by the end of this week.
Meanwhile: New ESPN column today, about football-style facemask attachments that've been worn by MLB players. I think you'll all enjoy this one — check it out here.
Speaking of which: For years my standard go-to photo of Ellis Valentine's two-bar facemask has been this one. But while researching today's ESPN column I came across a Valentine photo I'd never seen before. Check it out (click to enlarge):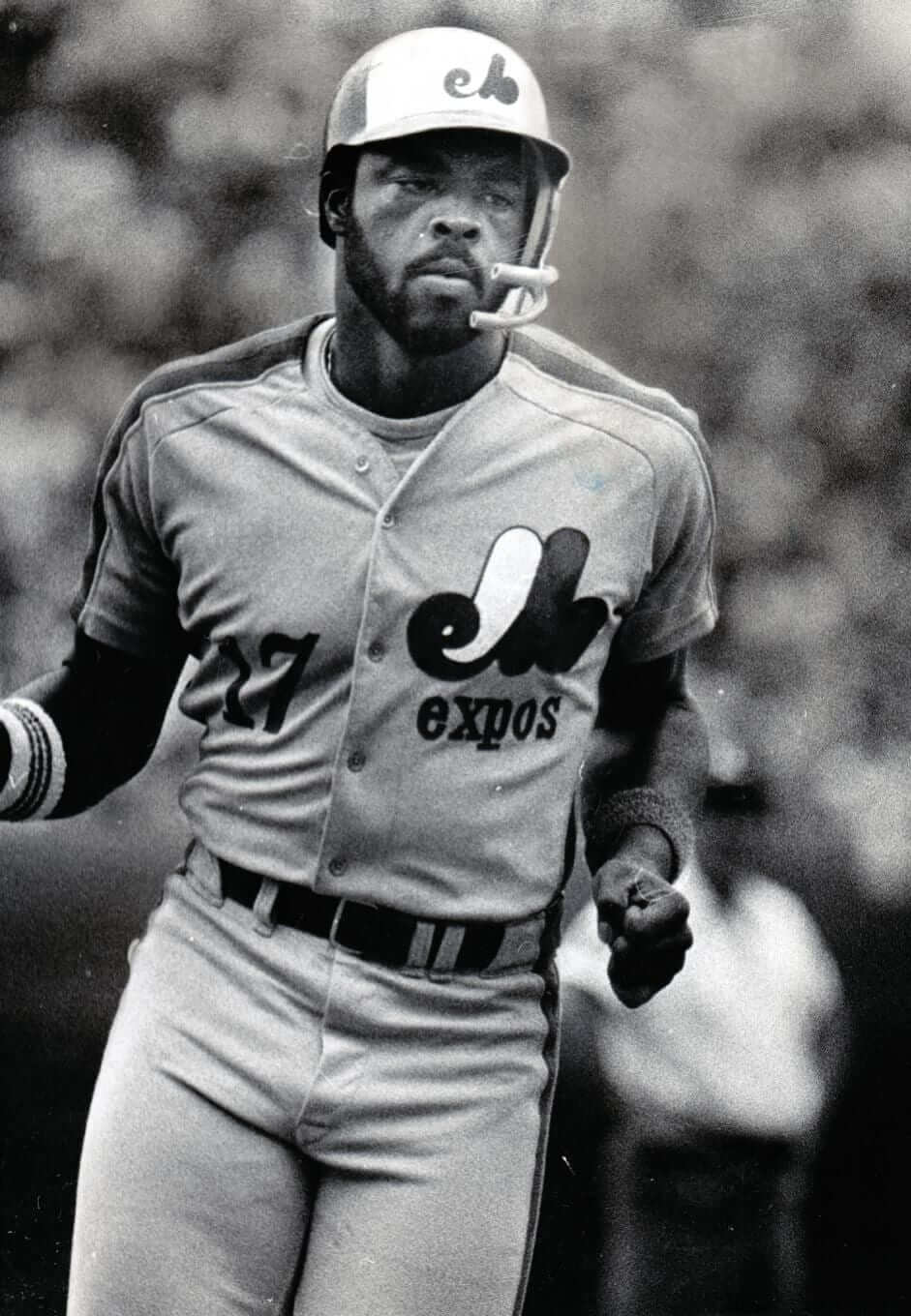 Doesn't seem like that'd offer much protection, eh? Like, if a pitch hit him in the mask, it'd just drive the mask bars right into his face. Definitely an interesting look, though.
• • • • •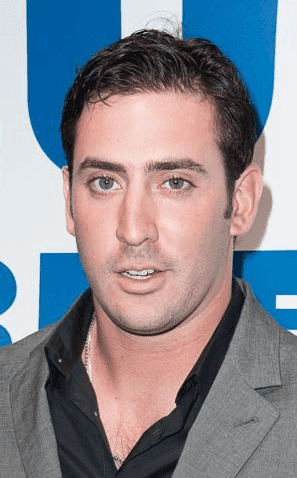 Boys with toys: Matt Harvey, who's back with the Mets this season after missing last year with Tommy John surgery, may (or may not) turn out to be a great pitcher. For now, he is a 25-year-old who has a career record of 12-10 and has managed to complete zero MLB seasons. Despite this, Harvey's behavior consistently suggests that he is under the mistaken belief that he is a celebrity. This belief appears to be largely a function of his ego — an ego that may eventually serve him well on the field (as a Mets fan, I hope so) but for now just makes him come off like a jerk.
One aspect of that jerkitude is Harvey's penchant for showing up in doucher men's fashion spreads, or discussing his taste in menswear, or talking about how he'll stroll down to the boutique on a Saturday afternoon and pick out a new suit, or saying how he wants to be on the best-dressed lists. These adventures tend to be chronicled in the type of men's magazines whose business models are predicated on making their readers feel insecure about their wealth, their wardrobes, their tech gadgetry, and their dick size — insecurities that can only be assuaged by running out and buying the types of conspicuously consumptive products offered by these magazines' advertisers.
Anyway: The photos of Harvey that appear in these articles often show him wearing a jacket but not a tie, or sometimes the tie is untied. (These photos are not to be confused with the ones in which Harvey is wearing more casual clothes, or the emperor's new clothes.) Up until now, I had assumed this lack of neckwear was part of Harvey's bro-ish image, along with the perma-stubble and all the gunk in his hair.
But then the Times ran this story about the Mets asking their players to participate in some video shoots that'll be shown on the Jumbotron later this year. Here's the key passage:
During one video feature, the players were asked to tie a tie. [Noah] Syndergaard, a top pitching prospect, and Matt Harvey admitted they did not know how. Harvey asked to be excused, although Syndergaard played along. He tied the tie in a knot around his head.

"I'll watch the video board to learn how" to tie a tie, Harvey said.
So let's review: Matt Harvey, a 25-year-old who shows up at fashion shows, likes to drop major coin on suits, and has all sorts of opinions on clothing — a guy whose stated ambition is to appear on best-dressed lists — doesn't know how to tie a necktie.
Have I mentioned that Matt Harvey is 12-10 lifetime?
(Apologies to Mets Police honcho Shannon Shark for stealing some of his best lines.)
•  •  •  •  •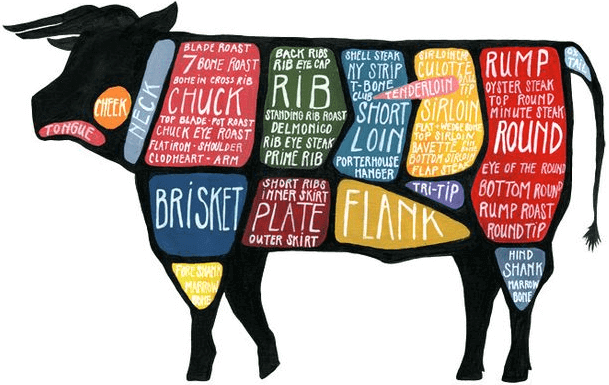 Major beefsteak announcement: The Brooklyn Beefsteak has now been delivering the beef, beer, and fun for six years running. Many of you have no doubt seen my various beefsteak reports during that time and thought to yourselves, "Dang — I wish something like that could happen in my town!"
Your prayers are about to be answered, because the Brooklyn Beefsteak (which, I note with a certain pride, was inspired by this article of mine) is taking its act on the road. Over the course of 2015, Brooklyn Beefsteak events will be held across the nation and even across the pond! The tour is shaping up as follows:
New Orleans: March 29
London: May 3
Boston: June 21 (Father's Day beefsteak!)
Chicago: Aug. 16
Washington: Oct. 11
Philadelphia: Oct. 25
Austin: Nov. 15
For now, tickets are available only for the New Orleans event. Further details regarding the other cities will be coming soon. All events will feature the same mix of unlimited beef, unlimited beer, and hearty good cheer that have been the hallmarks of the Brooklyn Beefsteak experience, and the plan is for the mighty Susquehana Industrial Tool & Die Co. to be onstage for each stop on the tour. I will probably be on hand to handle my usual onstage duties for the events that are relatively close to NYC (Boston, Washington, Philly) and may try to attend one of the others as well. The tour will conclude with a triumphant homecoming beefsteak here in Brooklyn at the end of the year, and of course I'll be there for that.
I'm impressed by how far Brooklyn Beefsteak honchos Derek Silverman and Andrew Dermont have taken this concept, and I'm proud to have played a small role in their success. If you're lucky enough to live in one of the cities slated to be on the tour, don't miss.
•  •  •  •  •

Baseball News: Our own Phil Hecken's latest SportingNews.com piece is about the best National League uniforms of all time. … Lots of new uniform combos for Shepherd University. … Cool move by Brewers P Matt Garza who's given uni-themed bathrobes to his fellow Milwaukee starters. But man, those rear views really show how bad the team's name/number font is. … Cactus League-themed Duff Man bat knob decals for Giants infielder Matt Duffy (thanks, Phil). … As we've noted earlier, A's pitcher Pat Venditte can throw with either hand, so he wears a special glove. What we hadn't noted before is the way he's listed on Oakland's breakdown of available pitchers (from Colin Nicholas). … Several years ago I wrote several times about the Dodgers having their minor league players wear letters instead of numbers during spring training. Now Keith Olbermann has found a new example of that phenomenon that we hadn't seen before. That's Gordie Windhorn, a prospect who never panned out. … Phillies P Mario Hollands was wearing his stirrups backwards yesterday. But hey, that's what spring training is for, right? (From Frank McGuigan.) … Speaking of the Phils, they wore their BP caps with their regular uniforms yesterday (screen shot by David Cattai). "¦ Former MLB player Billy Bean, who came out as being gay after his playing career was over, has been visiting many team camps this spring, but the Mets went a step further by putting him in uniform. Disappointing, though, to see that at least one Met is still clinging to the mistaken notion that being gay is a "lifestyle." "¦ Padres asst. clubhouse manager Tony Petricca dressed up in a throwback uni the other day, although he forgot the stirrups (from Barry Brite). "¦ Ian Okorofsky notes that the Blue Jays' roster currently includes two pitchers with single-digit numbers: Kyle Drabek and Marcus Stroman (who wore No. 54 last season but has changed to No. 6 this year). Imagine if they both make the final roster cut — when's the last time a team had two single-digitized pitchers? "¦ Several promo jerseys on tap this season for the Modesto Nuts and the Wisconsin Timber Rattlers (thanks, Phil). "¦ Whoa, what's the deal with MidAmerica Nazarene University's pants striping? Makes for an odd pairing with the striped stirrups. That pant design is apparently an Adidas template, and holy shit does it suck. "¦ Central Michigan and Texas State went G.I. Joe vs. tequila sunrise a few days ago (from Zach Williams). "¦ Hartford's new baseball team is trying to narrow down its list of potential team names (from Dan Budak). "¦ The Red Sox and Boston College all saluted ALS-stricken Pete Frates by wearing his name and number in yesterday's exhibition game. "¦ Very nice tequila sunrise jerseys and gold pants for Georgia Tech softball. Some serious compression on that NOB lettering, too. … Another cap from MLB's "Special Events Collection" has appeared — this time for the Cubs. Basically the same as their current cap, but a darker blue. "It's slated to be worn on April 25, which is a road game at Cincinnati," notes Brendan Hickey. The Reds are planing a Nasty Boys bobblehead giveaway on that date, so this will apparently be a throwback game. No sign yet of the Reds' throwback cap, however.

Pro and College Football News: The 49ers have quietly removed some Jim Harbaugh memorabilia from their team museum, which seems pretty petty (thanks, Brinke). … South Carolina helmet concepts, wheee! "¦ Some great video quality in this early-1960s Navy/Pitt game. "I especially love the end zone wordmarks — way ahead of their time," says Jeff Flynn.

Hockey News: Jets goalie Ondrej Pavelec has a Bruce Springsteen-themed mask design. "My new favorite player," says Alan Kreit. "¦ St. Paddy's Day warm-up jerseys upcoming for the Blue Jackets (thanks, Phil).

NBA News: The Spurs will go G.I. Joe this Friday. … I don't think we've seen the Wizards' Latin Nights jersey yet, but here it is on a video game. … The Cavs and Celtics went color-vs.-color last night (screen shot by Matt Harris). "¦ Unusual color-vs.-color game last night in Charlotte, as the Lakers wore gold on the road against the teal-clad Hornets. "¦ Los Bucks jerseys apparently in the works in Milwaukee.

College and High School Hoops News: The high school girls' hoops team that was bounced from the playoffs for wearing unauthorized pink uniforms has been reinstated on appeal, but their coach has been banned for the rest of the playoffs. … When Auburn wore memorial ribbons the other day for former NBA player Anthony Mason, who was the father of current Auburn player Antoine Mason, they got a big assist from Texas A&M's equipment staff. Very nice story (from Lenny Vangilder). "¦ Nike has produced a timeline of college basketball uniform innovations — well, Nike innovations — over the past 25 years. "¦ Nike's new March Madness uniforms appear to have almost a women's-style racer-back cut. "¦ Best team name and chest insignia ever: Ladies and gents, I give you the Lusk Kittens! "¦ Filmmaker Errol Morris has done a short film on how someone took the Michael Jordan jersey banner from UNC in 1998 (thanks, Mike).

Soccer News: A player in yesterday's Hull/Sunderland match was wearing a blood jersey. "¦ New alternate jersey for the New England Revolution, a new primary for the Houston Dynamo, and a new secondary for the Philadelphia Union. Man, I hate it when a sentence mentions three teams and none of them ends in an "s." … This may come as a shocker, but it turns out that there have been some bad soccer uniforms over the years. Who knew? (From Tom Gronek.) "¦ Finally, MLS news about a team whose name ends in an "s": New primary kits for the Portland Timbers.

Grab Bag: Lots of new uniforms for the Gaelic Games (thanks, Phil). … National Rugby League referees will no longer wear pink jerseys because nobody was taking them seriously (thanks, Phil). … Should women's lacrosse teams wear skirts or shorts? … Some military veterans in Brooklyn are turning their old uniforms into works of art. … Good slideshow of British school uniforms. "¦ Volvo has come out with a high-tech bicycle helmet that warns cyclists and car drivers of each other's positions.