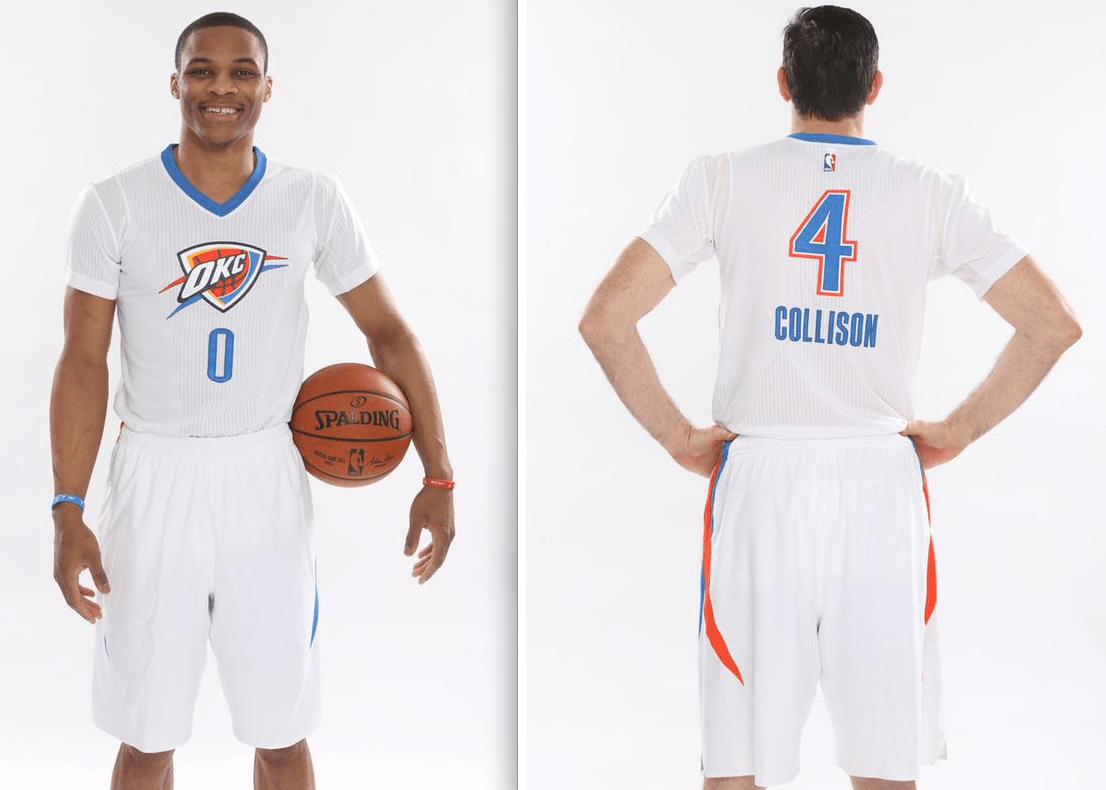 Click to enlarge
Another day, another sleeved NBA jersey, this time for the Thunder. It'll be worn for the final four Sunday home games of the regular season, beginning this Sunday, March 8.
A few thoughts:
• I don't think this uniform is unattractive per se (I've always liked the Thunder's color scheme), but there's certainly no compelling reason for it to exist.
• Some people like to say the sleeved jerseys look like T-shirts, but this one really looks like a tee, what with the white background color and the ringer collar. They really could have used a sleeve patch here, just to make it look more uniform-y.
• The subscript NOB feels gimmicky, but there's one thing good thing about it: With the NBA logo moving to the back of the jerseys this year, NOBs and numbers have been pushed down a bit too far for my liking. Moving the NOB lets the number sit at a better level, and the visal transition from the NBA logo to the number feels pretty smooth — smoother than the transition from the logo to an NOB.
• This jersey, like many of the recent NBA alts, has been designated as a "Pride" jersey, meaning it's supposed to reflect some aspect of the team's and/or the city's heritage. The Nets' "Pride" jersey, for example, has echoes of the team's old Dr. J-era design, and the Pistons' version has the "Motor City" chest mark. But what exactly is "Pride"-ful about this new Thunder jersey? The team couldn't even come up with a plausible-sounding answer to that question on its own website:
"We're excited to tell the story of our team, our fans and our hometown with this new alternate uniform," said Brian Byrnes, senior vice president of Sales and Marketing for the Thunder. "We believe the uniform embodies the spirit of this city, with simple and forward-looking design elements that showcase the three letters that resonate in our arena and have come to represent our team and our community: OKC."
How lame is that? Aside from the last bit about the three letters, you could apply the rest of that mush-mouthed corporatespeak to virtually any uniform worn by any team in any sport! And this is your senior VP for marketing? Yeesh.
And as for those three letters: In case anyone forgot, the Thunder already wore those letters this past Christmas and also the Christmas before that. So I guess those jerseys were "Pride" jerseys too. Who knew? It's a (retroactive) Christmas miracle!
• • • • •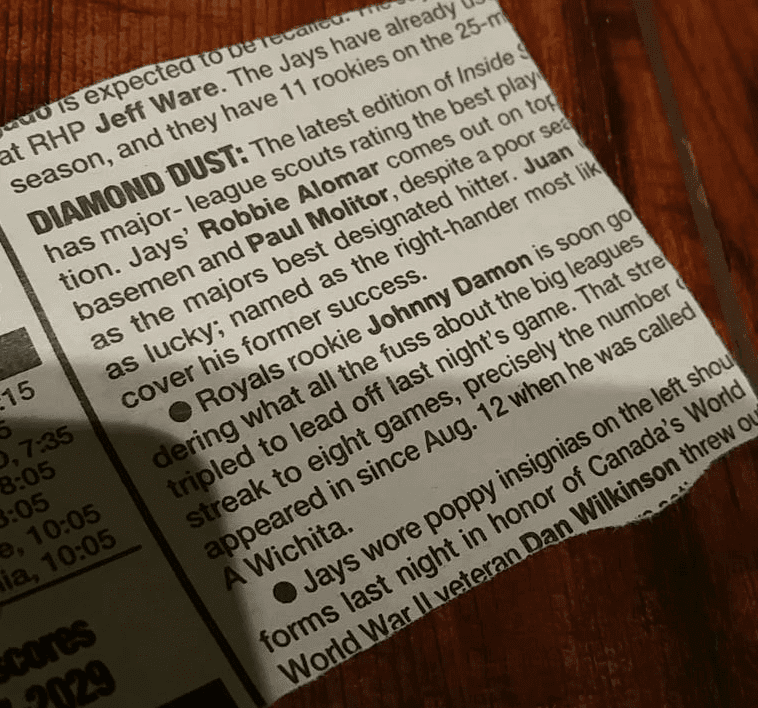 An early MLB poppy? SportsLogos.net honcho Chris Creamer recently came across this Toronto Star clipping (which you can click to enlarge), the bottom item of which indicates that the Blue Jays "wore poppy insignias on the left shoulder of their uniforms" on August 19, 1995. Chris, who's from Toronto, was unaware of this, and it's news to me as well. It's not referenced in Bill Henderson's guide or in any other uniform database I'm aware of.
Chris has been unable to find any photos from the game in question and wondered if any Uni Watch readers might know more. Do you? If so, speaketh up. Thanks.
• • • • •

Click to enlarge
Too good for the Ticker: The jersey you see above is currently selling on eBay. It's from the days when such garments were made of wool, which of course is unthinkable today. It has a tremendous chenille chest logo with chain-stitched detaiiling — here's a closer look at that (click to enlarge):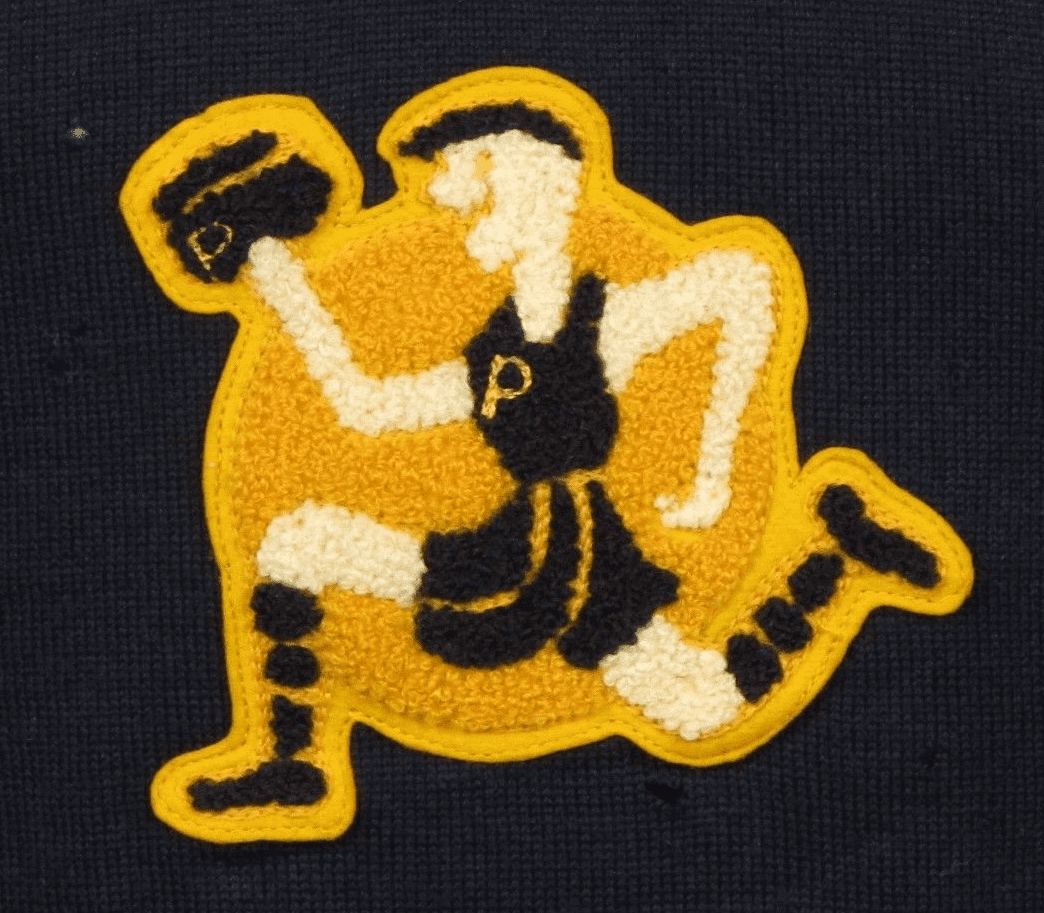 So much to like here: the big grin on the guy's face, the negative-space striping on the socks, the chain-stitched striping on the shorts, the chain-stitched "P" on the chest and also on the — well, what is that in his right hand anyway? A baton? A boxing glove? A not-very-round basketball?
Of course, his chest mark really should have been a running guy, wearing a jersey showing a running guy, and so on — an infinite regression. But there's only so much detail you can show on a patch.
This jersey was manufactured by Champion, back when the company's logo looked very different than it does today (click to enlarge):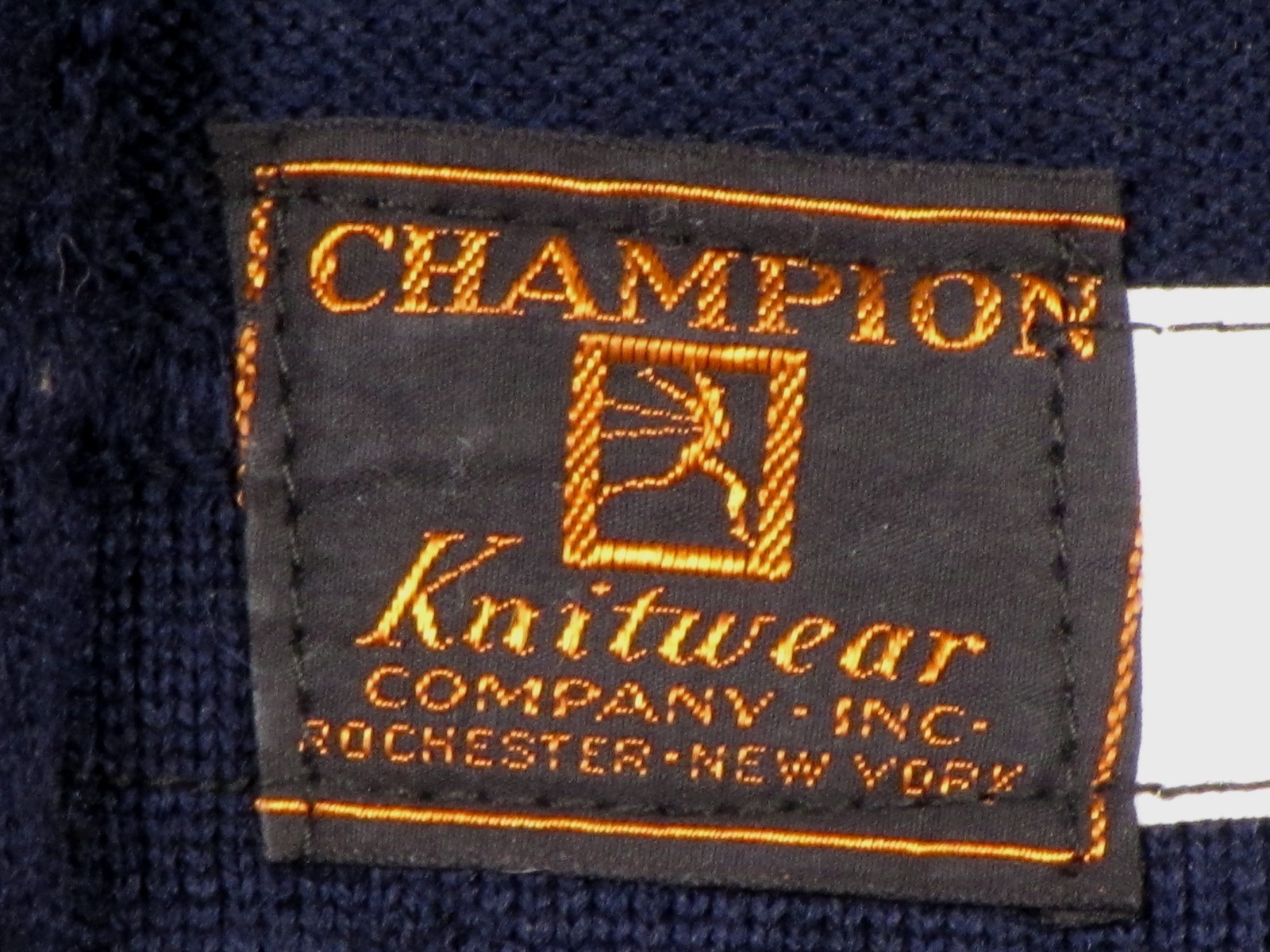 (Big thanks to my pal and vintage clothing maven Robin Edgerton for letting me know about this one.)
•  •  •  •  •
Membership update: A few more designs have been added to the membership card gallery (including Pete McNally's Islanders fish sticks design, shown at right). We have one slot open in the current batch, which means the next person to sign up will get his or her card very quickly. You know what to do.
As always, you can sign up for your own custom-designed card here, you can see all the cards we've designed so far here, and you can see how we make the cards here.
• • • • •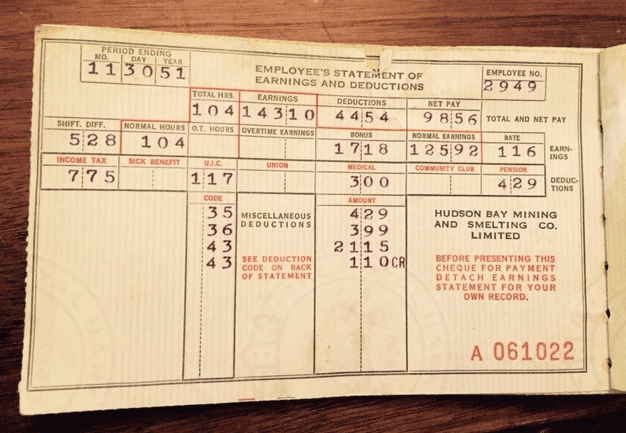 PermaRec update: The pay stub shown above, issued in 1951 by the Hudson Bay Mining and Smelting Co., is part of large pay stub collection — an entire lifetime's worth — that Jim Wooley found after his parents died. Get the full story on Permanent Record.
• • • • •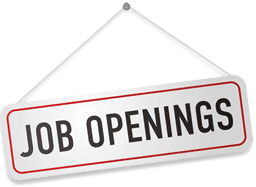 Help wanted (but not by me): David Plotz is a very, very smart guy who was the editor-in-chief of Slate when I did my 10-article "Permanent Record" series there a few years ago. Last year he left Slate to become the CEO of Atlas Obscura, a great site devoted to the wonder and adventure provided by special and unusual places. It's sort of a travel site, but it's really more about what an amazing place this world can be. I'm already an Atlas Obscura fan, and I know it's going to get even better under David's stewardship.
David is now building a new staff to take AO to the next level, and he's looking for people to fill three positions for AO's New York offices: deputy editor, staff writer, and photo editor (part-time).
Let me put this as straightforwardly as possible: If you're a young-ish journalism/media type in the NYC area and have a somewhat quirky sensibility, you could do much, much worse than to be working for David Plotz. Trust me.
• • • • •

Baseball News: While looking for something else, I came upon this photo of John Kruk and Darren Daulton wearing "Phillies Alumni" and "Phillies Hall of Fame" patches. … Let the "Fuck Face" jokes commence: new bat knob decals for the Orioles. … New knob decals for the Red Sox, too. In addition to the basic template, there are special designs for Dustin Pedroia (Sasquatch), Shane Victorino (Flyin' Hawaiian), and Hanley Ramirez and David Ortiz (Dominican Republic). "¦ One more team with new bat knob decals: the Royals. "¦ Someone on eBay is selling a big assortment of stirrups. "¦ Here's a close-up of the Nationals' 10th-anniversary patch. "¦ Big story on the Brandiose guys, who at this point have designed about one-third of all MiLB teams. … David Goodfriend spotted Sandy Koufax, who's assisting at Dodgers camp, wearing a grey-underbrimmed cap the other day. "¦ Brutal G.I. Joe uniforms yesterday for FSU softball. "¦ Good article on the design of Mets OF Juan Lagares's glove. "¦ Steve Markahm has launched a new blog called Baseball Card Photo Sleuth, which is exactly what it sounds like. "¦ With Minnie Minoso's death yesterday, there have been lots of photos of him circulating, including this one. Check out that sticker on his windshield! (Good spot by Alan Tompas.) "¦ Beautiful cream throwbacks with Northwestern-striped stirrups yesterday for Eastern Michigan (from @3MTA3__3MTA3). … Good article about how the Yankees' bumper crop of retired numbers creates problems when assigning numbers to new players.

NFL News: Pretty cool video showing the planned renovations to the Dolphins' stadium (thanks, Phil). "¦ The Seahawks unveiled their then-new color scheme 13 years ago yesterday (from Paul Stave). "¦ A gym in Manhattan has poached the NFL Red Zone logo (from David Greenwald).

Hockey News: Check this out: NHL team ponchos! Dave Schneider says a friend of his spotted those down in Puerto Vallarta. "¦ Some thoughts on the OHL's new Flint, Mich., team's search for a name. "¦ Vince Vaughn took the Polar Bear Plunge over the weekend while wearing a Blackhawks jersey (from Chris Flinn). "¦ I think we've seen this before, but once more won't hurt: Check out the crazy vertically stacked number format for Malden Catholic High School in Massachusetts.

NBA News: Yesterday's Clippers/Bulls game featured sleeved alternates, "Los Bulls," and color-vs.-color — all at once! … In a related item: A coupla years ago I asked Hispanic Uni Watch readers what they think of the "El" and "Los" jerseys. Their responses are worth revisiting — take a look here.

College and High School Hoops News: Check out the variety of high school hoops uniforms in this shot of the 1982 All-Nebraska team (sent almost simultaneously by Brett Baker and Greg Mays). "¦ The USF and UCF women's teams had a seriously loud shoe match-up yesterday.

Soccer News: Villarreal has got to have the weirdest-looking "4" ever to appear on a uniform. It's part of this font. "¦ FC Barcelona players traveled to Saturday's match at Granada wearing denim over denim because of a sponsorship agreement with a clothing company (from Yusuke Toyoda). "¦ Also from Yusuke: Here are the mascots of all 40 J. League teams ranked by popular vote.

Grab Bag: Public works projects throughout the UK will be adorned by the Union Jack. … Irish cricketer John Mooney has added a throat-protection attachment to his helmet. "¦ Throwback paint scheme in the works for NASCAR driver Brad Keselowski (from David Firestone). "¦ Also from David: You've heard of a team's uniforms being lost in transit? That's nothing compared to what happened to Team Xtreme, who had their trailer and Sprint Cup car stolen.
• • • • •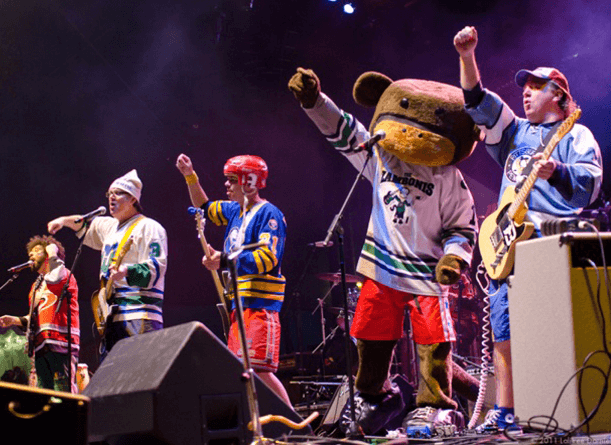 What Paul did last Friday night: On Friday evening I went out to see the Zambonis, the hockey-themed band that always wears hockey jerseys and pants onstage. Drummer Mat Orefice is a longtime Uni Watch reader and occasional Ticker contributor, but I'd never seen or met him or the rest of the band until now.
After their set, I gave them a coupla Uni Watch 15th-anniversary patches and they gave me a CD (look it up) and a T-shirt, both of which carried some fine print: "Zamboni and the configuration of the Zamboni ice resurfacing machine are registered in the U.S. Patent and Trademark Office as trademarks of Frank J. Zamboni & Co. Inc."
And that's not the only thing the band has had to do in order to keep calling itself the Zambonis. The company gets a cut of the band's revenue, and band members aren't allowed to say, "shit" or "fuck" onstage, because that might besmirch the company's good name.
Mat says he doesn't mind any of this. In fact, he's become something of an evangelist for the company, as exemplified by this one story he told me (I'm paraphrasing his comments here):
Just a month or two ago I saw this story on CNN about people in Wisconsin who'd gotten sick from Zamboni fumes. So I looked into it and could tell from the photos that it wasn't actually a Zamboni — it was an Olympia, which is Zamboni's competing brand. So I called up Zamboni's legal office and told them. Two hours later, the CNN story was changed.
Pretty interesting mix of sports, visuals, and branding, eh?